On Tuesday I ran a post about a photo that showed someone renting Minnesota Wild jerseys out of the back of a truck for $20 apiece outside the team's arena last Thursday, Oct. 12. It generated a few number of comments, including this one from a reader named Noah:
Hi! I am the owner of the company! It's called Tarps Off Jersey Rental. Thanks for sharing this article! If you want to do a deeper dive into the specifics, let me know!
I checked out Noah's website, which shows four Wild jerseys available for rental. Customers can obtain the jerseys from him either in person outside the arena or in advance via delivery. I was intrigued, so I got in touch with him to arrange an interview.
Before I go further, I want to say something about some of the reaction I've seen to Noah's operation: As far as Uni Watch is concerned, there is no "wrong" thing to wear to a game. Wearing an authentic jersey is fine, but wearing a lower-priced replica is also fine, and neither one makes you a "better" or "worse" fan. Same goes for wearing the visiting team's jersey, or a jersey for a team that isn't even playing, or a Yankees jersey with an NOB, or a bootleg knock-off, or a DIY jersey, or a suit and tie, or a plain white T-shirt, or whatever. Some people like their game attire to be performative; others don't. Nothing wrong with either approach. Everyone can wear whatever makes sense to them — and that goes for rental jerseys, too.
All of which is a long way of saying that if renting a jersey isn't your thing, that's 100% fine. (It's not my thing either.) But it's not cool to judge or ridicule other people who choose to go that route, at least not on Uni Watch, so please don't do that. Thanks.
Now then: Here's a transcript of the Zoom interview I did yesterday with Tarps Off honcho Noah Beer, edited for length and clarity.
Uni Watch: Tell me a little bit about yourself. How old are you, and what do you do for a living when you're not renting jerseys?
Noah Beer: I'm 26 years old, I attended the University of St. Thomas in St. Paul, and I graduated from there in 2020 with a computer science degree and an entrepreneurship degree. I did a couple years of corporate work at Optum, in their technology development program. And then after that, I kind of went off on my own. I started a boat-captaining and -licensing company that I did in the summer. And then I went into property services with one of my college roommates. And then this past summer I had the idea that I was going to do this [jersey rentals] as kind of a little hobby business on the side.
Uni Watch: Are you a jersey collector yourself?
NB: I wouldn't call myself a collector, but I probably have about 15 jerseys. I have maybe 10 for the Wild, a couple for the Twins, and a few others.
UW: How and when did you get the idea to do this rental business?
NB: My friends know that I have those Wild jerseys. With the Wild in the playoffs last year, they played three home games, and every single one of my jerseys was being borrowed by a buddy, or a buddy of a buddy, for those games. So the idea kind of came to me — like, people my age either don't have jerseys or have outdated jerseys. So if people are asking me to borrow my jerseys, this is possibly an opportunity to make something out of it.
UW: Is there anyone involved in the operation besides you?
NB: I am the whole staff at the moment. I have buddies who are helping me out a bit, but they're not on the payroll or anything like that.
UW: When did you officially launch?
NB: Last Thursday, at the first home game.
UW: Oh, so that photo I saw was from your first day! You weren't doing preseason games?
NB: Correct.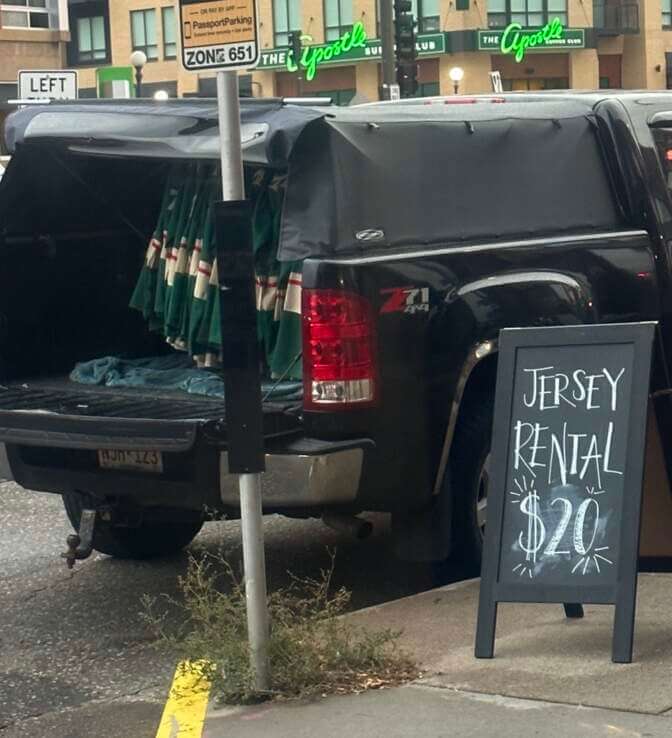 UW: When did your website go up?
NB: Over the summer, I think in July.
UW: Who do you envision as your typical customer?
NB: I think there's a lot of different typical customers, My original vision was people my age who just don't have jerseys and go to one or two games a year. I think people my age are a lot more likely to rent something if it's an expensive item. Then there are people who go out to a nice restaurant before the game or a fancy club after the game, and they don't want to wear a jersey for that. And then there's the person who attends one or two games a year — they get tickets from work, or a friend asks them to go out one night, but they don't have a closet full of jerseys.
UW: How much inventory do you currently carry? You offer four different Wild jerseys on your website, but how many of each of those different jerseys do you have on hand?
NB: I have 172 right now — 51 of the green Kaprizov, 51 of the Reverse Retro Kaprizov, 35 of the Reverse Retro Eriksson, and 35 of the green Boldy.
UW: Wow — that's a lot more than I would have guessed. And I assume that as you go along, you'd like to offer more than just those four options.
NB: Yes, I have a lot of ideas, like adding an alumni collection, adding throwback jerseys. But that's probably not something that will happen this year. I'm just taking things a step at a time.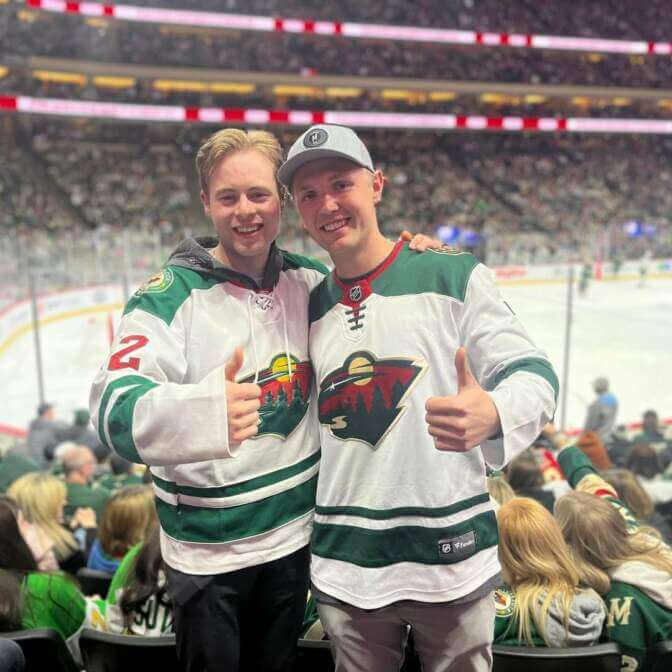 UW: Do you plan to expand into other sports?
NB: Not right away. Assuming things go well, I want to do MLB next summer. And then next winter, I'll see if I want to add NBA. I don't see any use in the NFL, because there are only eight home games a year.
UW: Are these authentic jerseys, or replicas, or Chinese knockoffs, or what?
NB: These are replica jerseys. I don't market them as authentic or anything like that, although I do have plans to offer both at some point in the future. I conducted questionnaires when I was setting things up, and people never seemed to have any interest or need for an authentic jersey, so I went with that.
UW: Oh, so you you did market research ahead of time?
NB: Yeah. Not, like, professional market research, but I talked to people I know, people who are consistent Wild fans, and asked them their thoughts on it. You know, if you saw this service being offered, how much money would you be willing to pay for it? What would you expect the process to be like? That kind of thing.
UW: You did your homework!
NB: I tried to, yeah. I also tried to contact some of the people who've run jersey-rental businesses in the past, but I didn't have any success reaching out to them.
UW: Speaking of those earlier operations, were you surprised to learn this had been tried before?
NB: Yeah. I was a little nervous knowing that it seemed like all these companies had failed. But I also knew that I was going to be doing it differently by renting in person and on-site. Honestly, I originally had no intention of even offering shipping — I only added that option because I saw those other companies had done it, so I figured I'd offer it too. Like, why not?
UW: Has anyone ordered a rental for delivery?
NB: No, not yet.
UW: Where are you sourcing these jerseys from?
NB: DHgate.
UW: And what is your typical unit cost per jersey?
NB: Because I'm buying in bulk, about 40 bucks.
UW: So you can break even if a jersey rents twice.
NB: Yes.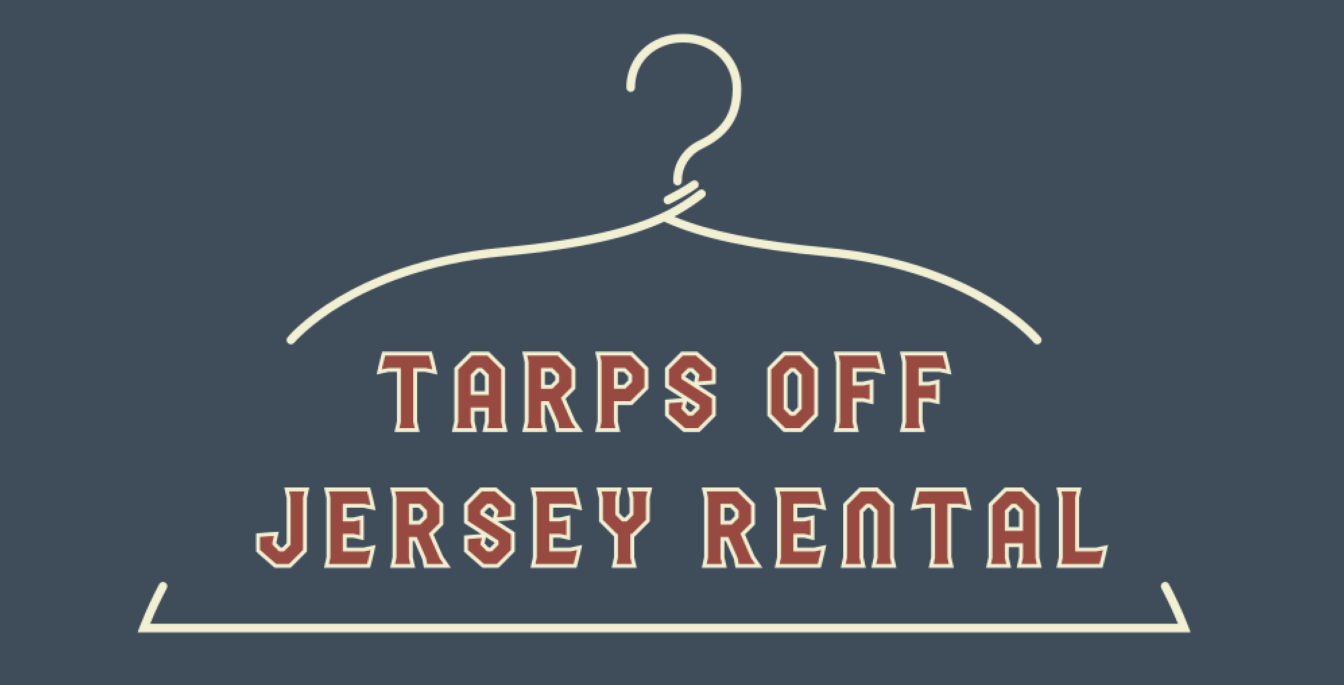 UW: What is your total investment so far?
NB: Probably a little under 10 grand. Most of that is for the jerseys [172 jerseys at roughly $40 apiece would be $6,880 — PL], then there's the fees for the website, and I had to buy the top to put on my truck, I bought a bunch of hangers, stuff like that.
UW: How many jerseys did you rent for that first Wild game on Oct. 12?
NB: We rented 12 that day. It was raining, so I was standing out there under an umbrella — I think we'd do better if it wasn't raining. Also, I'm going to move to a different location, which I think will work better.
UW: Let's say I see your truck and I want to rent a jersey. How does that work?
NB: I'm gonna have a QR code up on my sign, so I'd have you scan that QR code, which will pull you up to our website. Then you'd select the date, the jersey you want, the size, all of that. Then you have to sign the terms and conditions, essentially stating that you're going to return the jersey when the game's over and return it undamaged, or else you can be charged further. Then you're prompted to pay for the order with your credit card, you place the order, and I hand you the jersey. You go to the game, hopefully take a couple pictures and enjoy yourself, and then I'll be at the same location for you to return the jersey on your way out.
UW: How often do you clean or wash the jerseys?
NB: I store all the rented jerseys in a separate area of the truck after the game, and then those all go through the washing machine once the game is over.
UW: So you launder them after each rental.
NB: Yes.
UW: Let's say I'm wearing one of your rental jerseys and I get a big mustard stain on it, or the guy next to me is drunk and he spills his nachos on me and there's a cheese stain. Will you charge me for that?
NB: It's kind of a judgment call. Technically, in the terms and conditions, it says you could be charged for it. But I will do my best to get the stain out myself, or even bring it over to my mom's house, because she's a lot better at that than I am. I'll try not to charge you unless you, like, rip the jersey in half or abuse it in some way, so that there's no way it can be used again.
UW: For the 12 jerseys you rented last Thursday, did all 12 customers return them in a relatively timely fashion after the game?
NB: Yeah. The last person was probably 20 minutes after the game ended.
UW: What if someone doesn't bring it back?
NB: I have each customer's email on file, so I'll reach out to them first and say, "Hey, did you forget?" And then if I don't hear back in a day or two, I'll take it from there.
UW: Do you need any kind of business license or permit to set up shop on the curb like that?
NB: I called the city of St. Paul and tried to explain what I was doing, and they basically said that a food truck can use any metered parking spot on the street, so I should be able to do that too. So from my understanding, no, I don't need any sort of permit.
UW: A fan buying a particular player's jersey is taking a risk, because the player could get traded or injured. But now you're the one taking that risk. Are you worried you could get stuck with a bunch of obsolete jerseys?
NB: I tried to choose players who have no-trade clauses, or who at least are, you know, very much in the team's plans for the future. But yes, I do understand that crazy things can happen. I can always donate the jerseys and get a tax write-off or whatever, so it's not like I'd be completely screwed.
UW: Did you consider avoiding that issue by getting jerseys that are blank on the back?
NB: It crossed my mind. But when I asked people about it, they were like, "That's kind of lame." I mean, I would never wear jerseys with no name on the back myself.
UW: Are you worried the Wild might steal your idea and do their own rental operation?
NB: I actually tried to partner with the Wild. I asked them, "Hey, can I have a table or booth in the arena?" And they said I need to have a corporate partnership, which costs $100,000 a year, so that was out. Then they offered me their small business program, which would let me use their "Small Business Partner" logo. But that costs $12,500, and the guy I was talking to kinda stopped answering my emails, so I didn't do that either. So yeah, I'm a little worried that they would use my idea.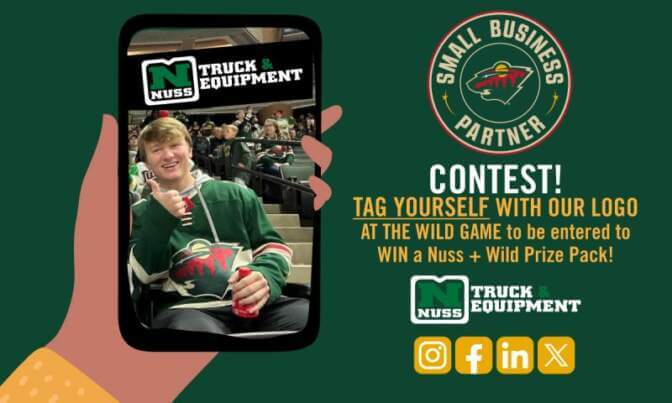 UW: You mentioned that it was raining last Thursday. But in a Minnesota winter, rain could be the least of your concerns. Do you plan to be out there for every home game, no matter what?
NB: I hope so, but we'll see. Hopefully, I'll have a heater out there, or maybe a tent. Again, I'll have to look into what kind of laws there are about that, because that's a public sidewalk. But if there's a blizzard, maybe I'll just, you know, take the night off.
———
And there you have it.
In case you're wondering: "Tarps Off" is hockey slang for "shirtless" and is a bit of a thing for the Wild:
Granted, shirtlessness seems like a weird naming principle for a shirt-rental company, but whatever — Noah seems to be having fun with it. I have to say, he was a fun interview, and I admire his approach and his can-do attitude. I'm not a jersey guy myself, but I'm rooting for him to succeed.