Good morning! Hope everyone had a great weekend and that those of you observing Yom Kippur are having an easy fast.
Now then: NFL uni history was made yesterday in Seattle, as the Seahawks — the only NFL team never to have worn white at home — went white over navy for their game against Carolina. As I explained on Friday, they did this to celebrate the 10th anniversary of their victory in Super Bowl XLVIII, where they wore that same white/navy uni combo. So now every current NFL team has worn white at home at least once.
This was the second consecutive week that a team has worn white at home as a way of celebrating the anniversary of a past Super Bowl title. In Week 2, the Broncos wore white at home to mark the 25th anniversary of their 1998 season, which culminated with their victory over the Falcons in Super Bowl XXXIII.
To learn more about when NFL teams have worn white at home (recordkeeping complete up through 2018), look here.
In other news from around the league yesterday:
The Lions, sadly, went blue over blue:
The Vikings are now wearing their Bud Grant memorial, which appeared in Week 1 as a jersey patch on their throwbacks, as a rear-helmet decal (the decal actually debuted in Week 2 but I neglected to mention it until now):
The Jets' end zone was pockmarked with white footprints:
Very nice-looking interconference game, as the Bears visited KC:
CAN'T. STOP. STONECOLD. pic.twitter.com/bVYFGApwAy

— Kansas City Chiefs (@Chiefs) September 24, 2023
The Sunday night game was also very easy on the eyes, as the Steelers visited the Raiders:
Can't catch @CalvinAustinIII 💨

📲: Stream on NFL+ https://t.co/T87FSng3KS pic.twitter.com/SD13aApNL7

— Pittsburgh Steelers (@steelers) September 25, 2023
Patriots running back Ezekiel Elliott's pants didn't leave much to the imagination. Not sure I've ever seen such mesh-y NFL pants:
Steelers kicker Chris Boswell was still wearing the old Elite 51 jersey template: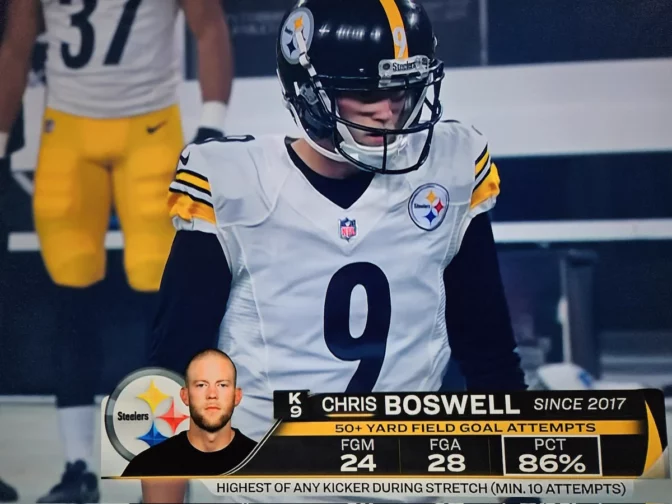 While this next item took place on an MLB diamond, not an NFL gridiron, it still seems MMUW-worthy to note that Philadelphia Phillies DH Bryce Harper wore Eagles socks yesterday:
And as long as we're talking about MLB/NFL crossovers:
A follow up:

Jake Diekman and Zach Eflin decided that for the final home game of the regular season, rookie Kevin Kelly, needed to enter the field to MNF music and a smoke machine.

Here it is.

Truly a master piece. pic.twitter.com/51sPVSFPC8

— Tricia Whitaker (@TriciaWhitaker) September 24, 2023
As for tonight, there are two games: The Rams and Bengals will go mono-blue vs. mono-white (pfeh), and the Bucs will wear their rarely used red-over-white combo, which I really like, while hosting the Eagles.
(My thanks to Mike Chamernik, Shaun Kernahan, Dan Medina, and Twitter-er @smokeyrun for their contributions to this report.)