Paul here, making a rare weekend appearance because Phil is off this weekend.
Amidst the flurry of NFL throwback news this summer, the biggest unresolved question has been whether the Bills would revive their red helmet now that the one-shell rule has been lifted. Speculation surged earlier this month when brewer Labatt released a hard tea with a Bills throwback theme, complete with a red helmet as part of the package design: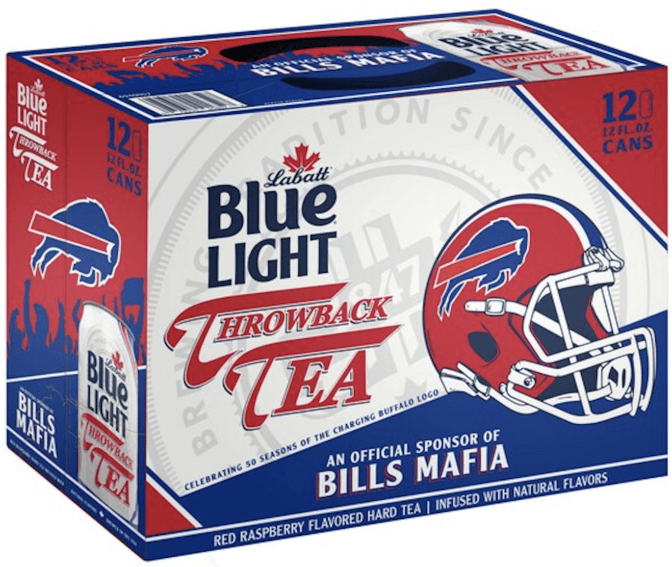 Despite that fairly obvious-seeming throwback harbinger, the Bills will not be bringing back the red lid this year. That's according to Bills beat/sideline reporter Sal Capaccio, who broke the news yesterday afternoon:
For those who've asked, the Bills have no plans on wearing an alternate uniform and/or helmet in 2023. They are still evaluating plans for the future. They do plan to wear their all-red uniforms this season. For more background on this you can read my thread from last year: https://t.co/KbMXVnYr8S

— Sal Capaccio 🏈 (@SalSports) July 28, 2023
I'm a bit surprised by this, if only because there seems to be a fair amount of fan demand for the retro design. But I can't say I'm disappointed, because I never liked the Bills in red. I much prefer the white helmet; if they wanted to add an alternate, I'd be curious to see blue. But the red never worked for me, and I'm glad we won't be seeing it on the field in 2023.
(Big thanks to Phil for alerting me to this news.)
• • • • •
Sorry, no Tickers this weekend, but I'll have at least one more post later today. — Paul