As usual, almost every NBA team is getting a new City alternate this season. Those won't be officially released until sometime in November, but — also as usual — we're starting to see leaks of the new designs, especially via retail merch (like that Timberwolves jersey that showed up in yesterday's Ticker). It's all part of what I refer to as the NBA's Silly Season, as leaks proliferate and everyone goes through repeated cycles of excitement ("Oh boy, new uniforms!") tempered by eye-rolling ("Eh, it's just the typical Nike slop"). We all know the drill by now.
But the latest leak — purported to be the Mavs' City alternate, which began circulating yesterday afternoon — breaks the mold a bit, because it's something I can unreservedly get behind. No caveats, no minor nitpicking, no "Yeah, but…" — this one is an unqualified winner.
Before we address the design, let's make it clear that this leak is almost certainly legitimate. For starters, retail/merch leak photos have proven to be 100% legit in recent years. Moreover, remember that big NBA catalog leak way back in February? Here's a side-by-side of that leak next to the new retail leak: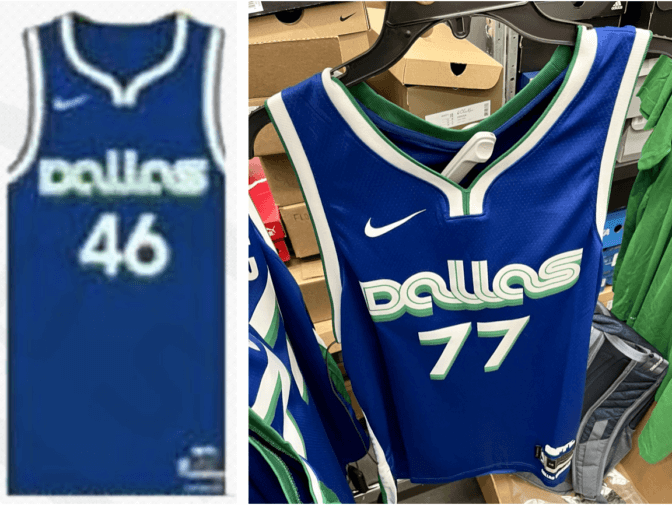 So the new leak corroborates the old one. Add 'em together and you've got a confirmed legit design.
Speaking of which: I have no idea what sort of local "storytelling" the chest script is supposed to evoke or represent (can anyone from Dallas fill us in?), but holy shit do I love it. Love the retro-styled curves, love the inlining, love the super-thick block-shadowing. Imagine a giant IRL version of this, like a sculpture in a park or something like that — it would be amazing!
My only two gripes (okay, I guess I do have some nitpicking after all) are the collar design and the sharp points on the "7," which don't fit well with the curves and blunt edges on the script. Aside from those two quibbles, however, I'm all in on this one, and I'm pretty sure I've never said that before about anything the Mavs have worn. Make this the primary!
---