The NFL, in a move that had long been hinted at, pulled the plug on the Pro Bowl yesterday. The game will be replaced by a skills competition and a flag football game.
It seems odd that the most popular sports league will now be left without a traditional all-star game. But the Pro Bowl, which was first played in 1951, wasn't just a game — in recent decades it also became a showcase for some of the most hilariously awful uniforms the sports world had to offer. At their best (read: worst [read: best]), Pro Bowl uniforms weren't just bad; they were bad in that particularly spectacular way that becomes entertaining, especially with the benefit of hindsight. With that in mind, here are my picks for the first worst (read: best [read: worst]) uniform designs in Pro Bowl history, going from least-worst to most-worst (read: best).
One note: For the years, I'm listing the calendar years in which the games were played, not the seasons that they were part of. I know some people prefer the season-based approach, but the NFL has always referred to Pro Bowls based on the calendar year (and so have I), so I'm going to stick with that format.
Ready? Here we go.
5. 2003-04: History's Most Bloated Thigh Panel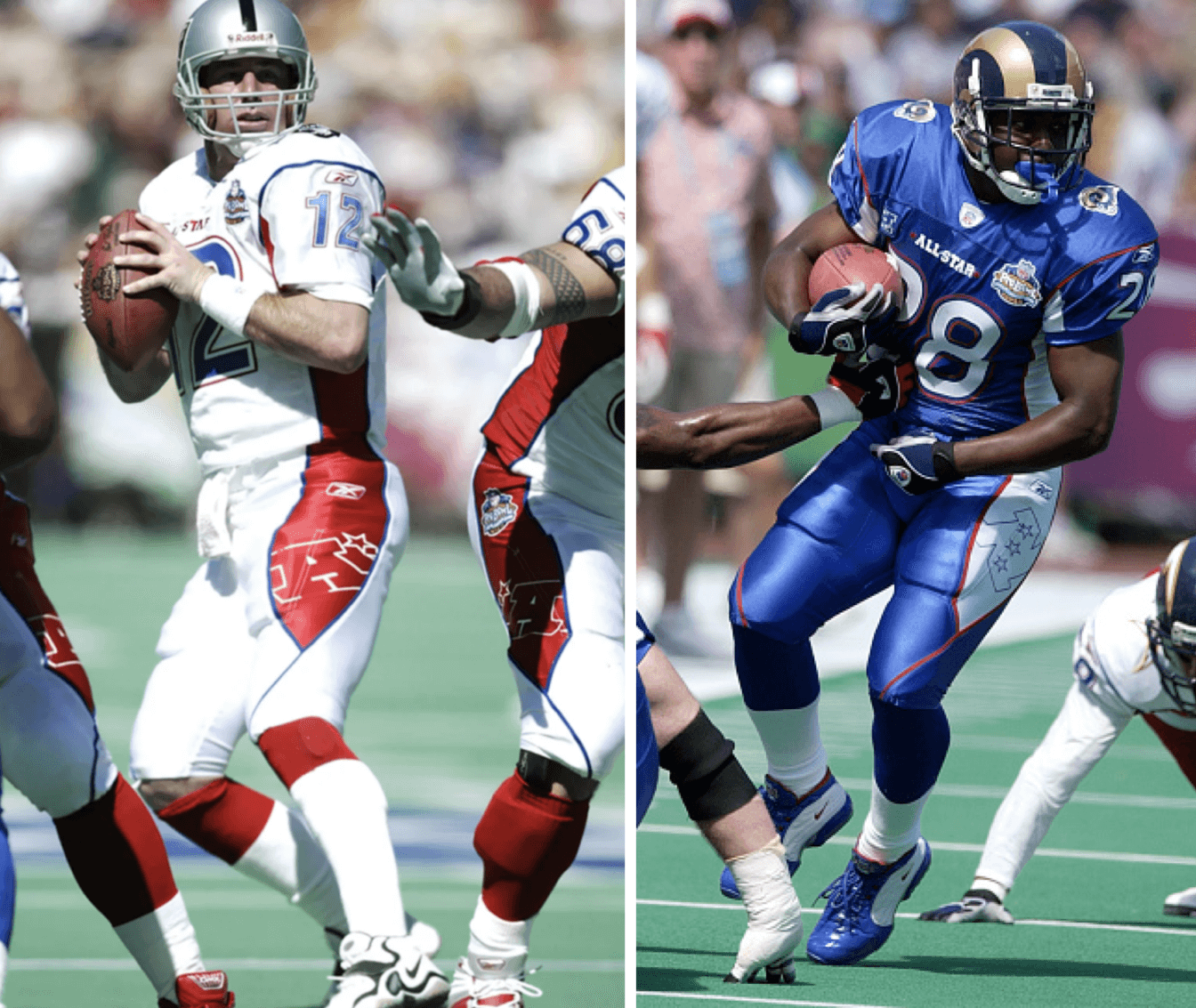 What's better (read: worse [read: better]) than completely unnecessary panels running up the sides of the jersey and pants? Making the pants panel so bloated it looks like an overstuffed pork chop and then slapping the conference logo on it. A masterpiece of sorts. Here are some additional pics:
———
4. 2007-08: Star Time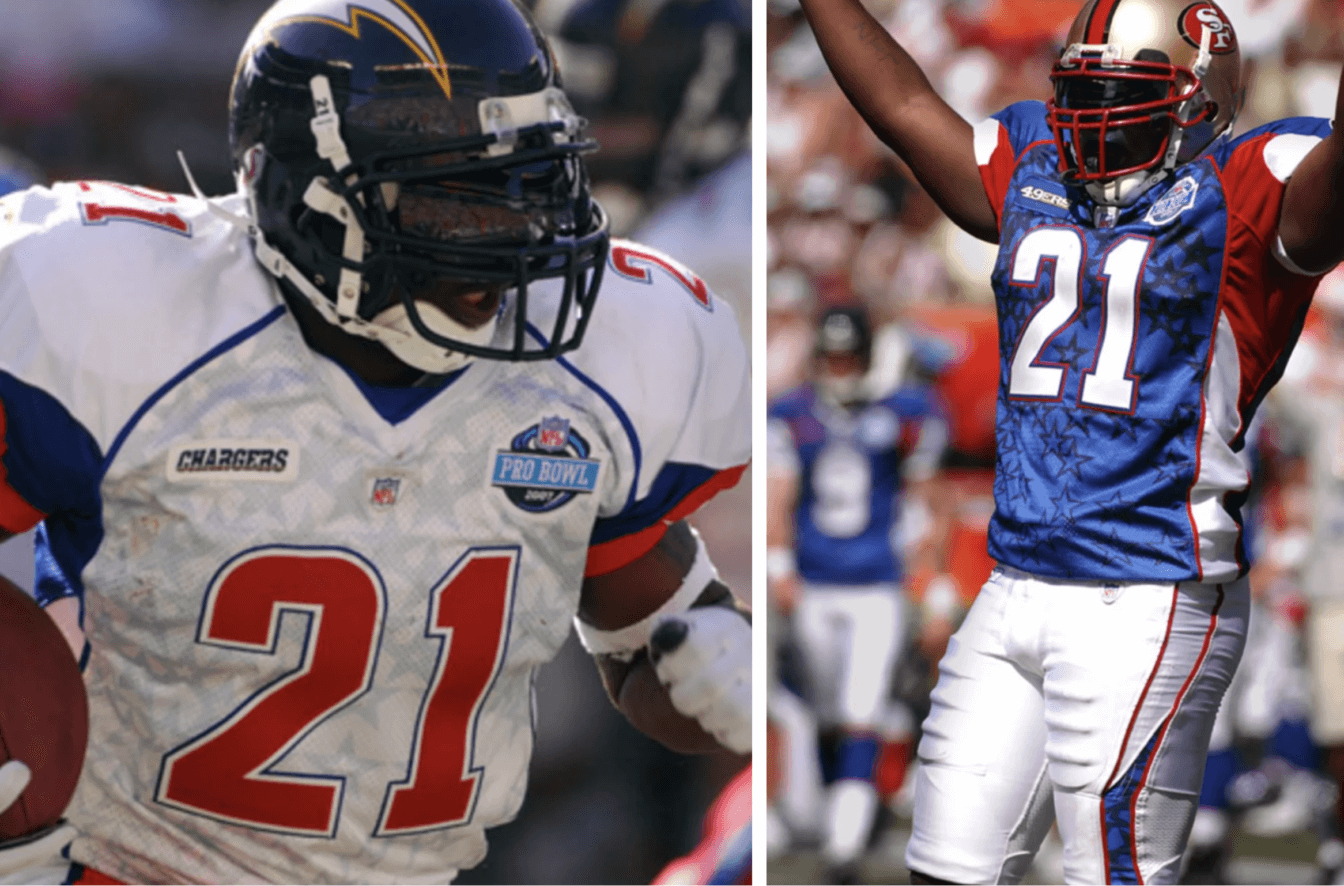 This was during a period when the league was experimenting with sublimation (only a decade or so after the NBA and NHL!), this time with a bunch of stars. Bonus points for the brutal side panels on the jerseys and pants.
Here are some additional pics:
———
3. 2014-15: The DayGlo Years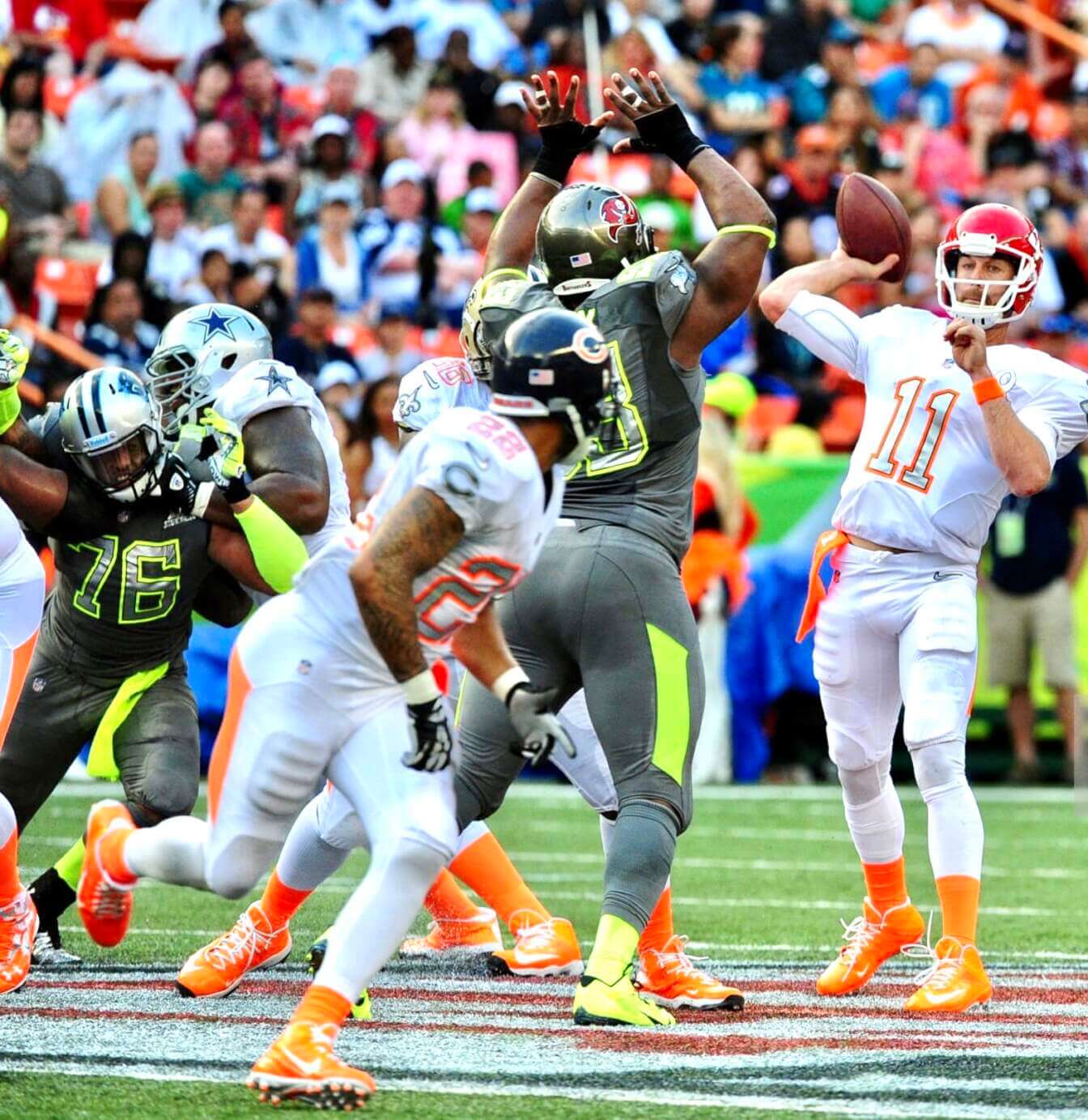 Neon/fluorescent hues and GFGS — two awful tastes that taste awful (read: great) together! This was Nike's first real attempt to put their visual stamp on the Pro Bowl (their first set for the game, worn in 2013, was surprisingly sedate), and they certainly delivered. Here's a slew of additional pics:
———
2. 2011: Here, Try It With a Longer Inseam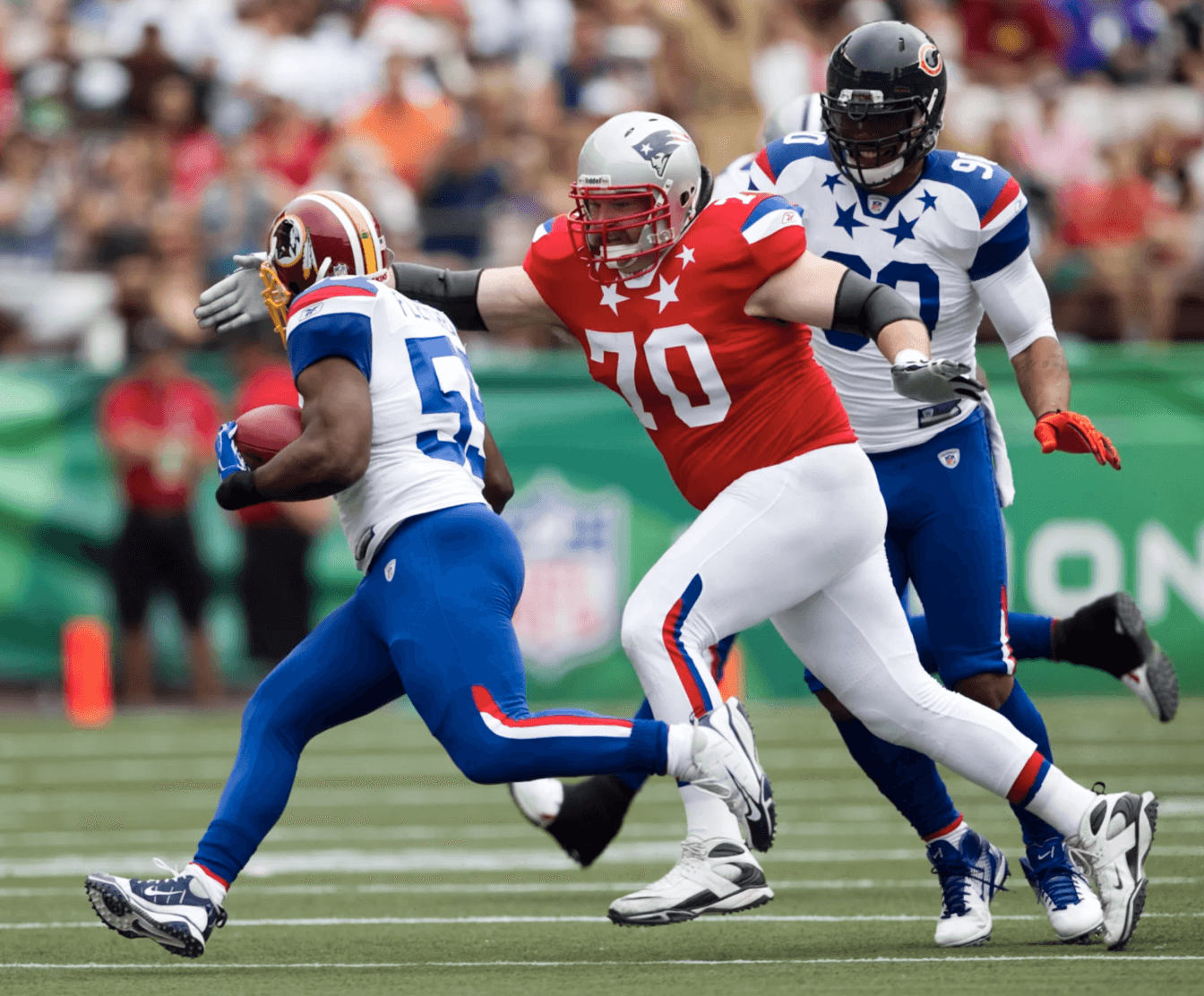 This was the year that some genius (read: idiot [read: genius]) at the NFL — or at Reebok, or both — decided it would be a good idea to offer Pro Bowlers the option of wearing long pants. Thankfully, enough players said yes to provide a very entertaining photographic record of a very bad (read: good [read: bad]) idea, as seen here:
———
1. 1995-97: There Are No Words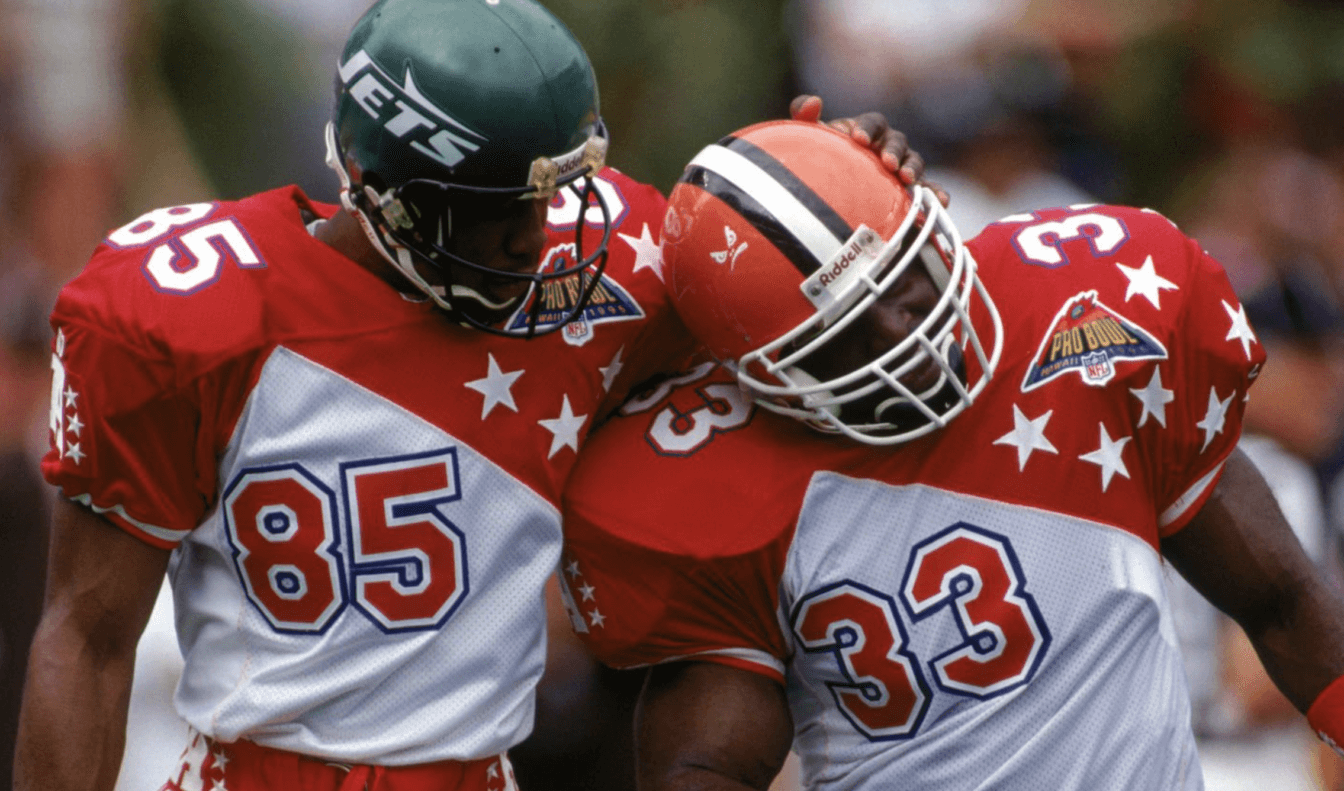 This was the first of the "wacky" Pro Bowl uni sets, and it's still the best (read: worst [read: best]). For three years — three years — the best football players on the planet wore costumes that looked nothing like any football uni before or since. Feast your eyes on these pics:
———
And there you have it: one observer's rundown of the most spectacularly awful uniforms in Pro Bowl history.
Disagree with my picks? Fair enough — there are plenty of other bad Pro Bowl uniforms to choose from! Also some good ones, back in the early days. You can see all of them on the Gridiron Uniform Database.
---