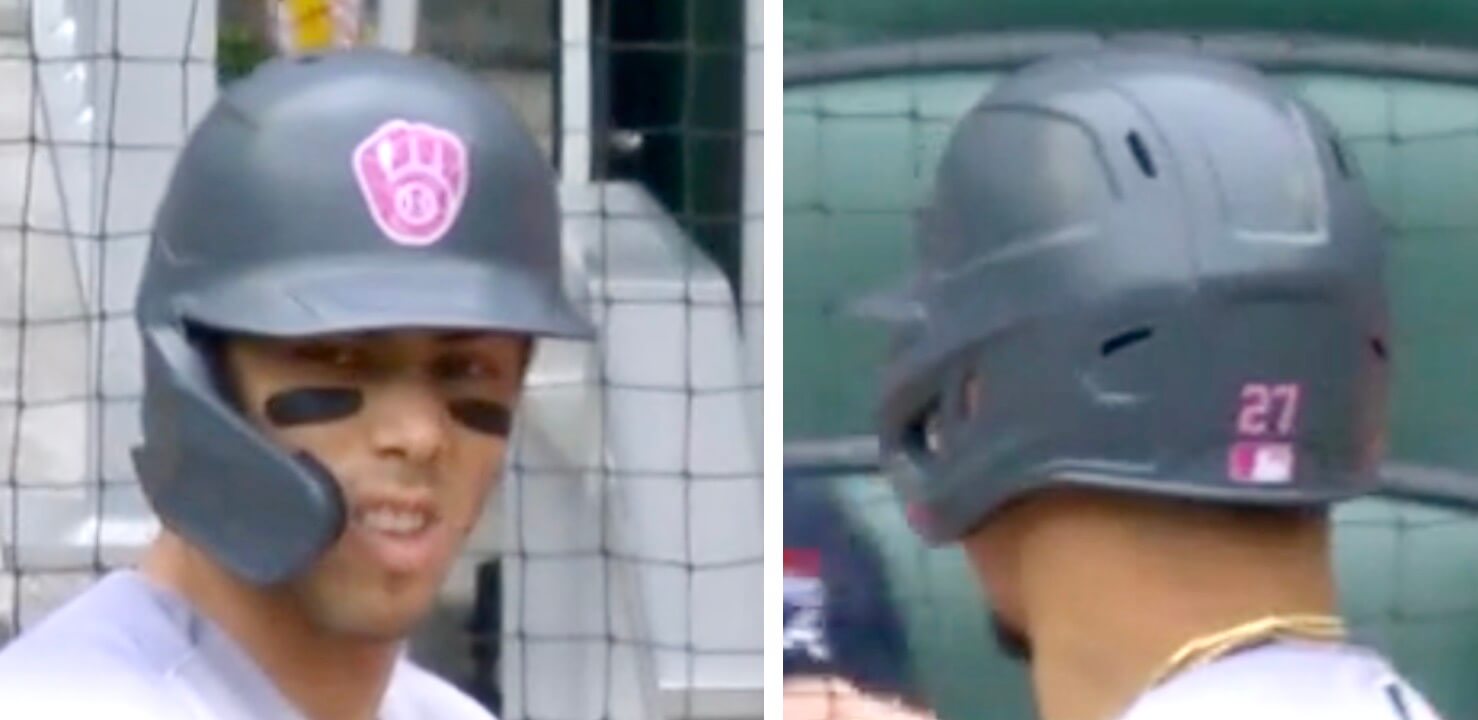 Click to enlarge
MLB did the usual pinkwashing for Ma's Day yesterday. We all know the drill by now: pink caps, pink jersey ribbons, pink wristbands, belts, shoes, socks, catcher's gear, eye black pink, compression sleeves, bats, ad pinkfinitum.
Most teams just wore their regular batting helmets. But Brewers equipment manager Jason Shawger always goes the extra mile on holiday helmets. For many years he's been giving the Brew Crew pink Ma's Day helmet logos, and when possible he tries to match the holiday cap. In 2019, for example, he gave the team pink helmet brims (just like that year's caps). And as you can see above, with MLB going with grey Ma's Day caps this year, Shawger had the Brewers decked out in grey helmets, with full pink graphics fore and aft.
Did Shawger procure a new set of helmets just for this game? Nope — he tells me he applied a coating of gray Plasti Dip to the team's existing lids. "I wish it was a lighter shade, to match the cap," he says, "but this is the only grey available in Plasti Dip!" He says it takes just a minute or two to remove the coating and restore the original color.
It's also worth noting that Shawger did all of this for a road game! Impressive stuff.
Also of note from yesterday:
• Phillies reliever José Alvarado inscribed two messages on his cap — "I love you mamá" and "Happy Mother's Day, specially for my mother" (click to enlarge):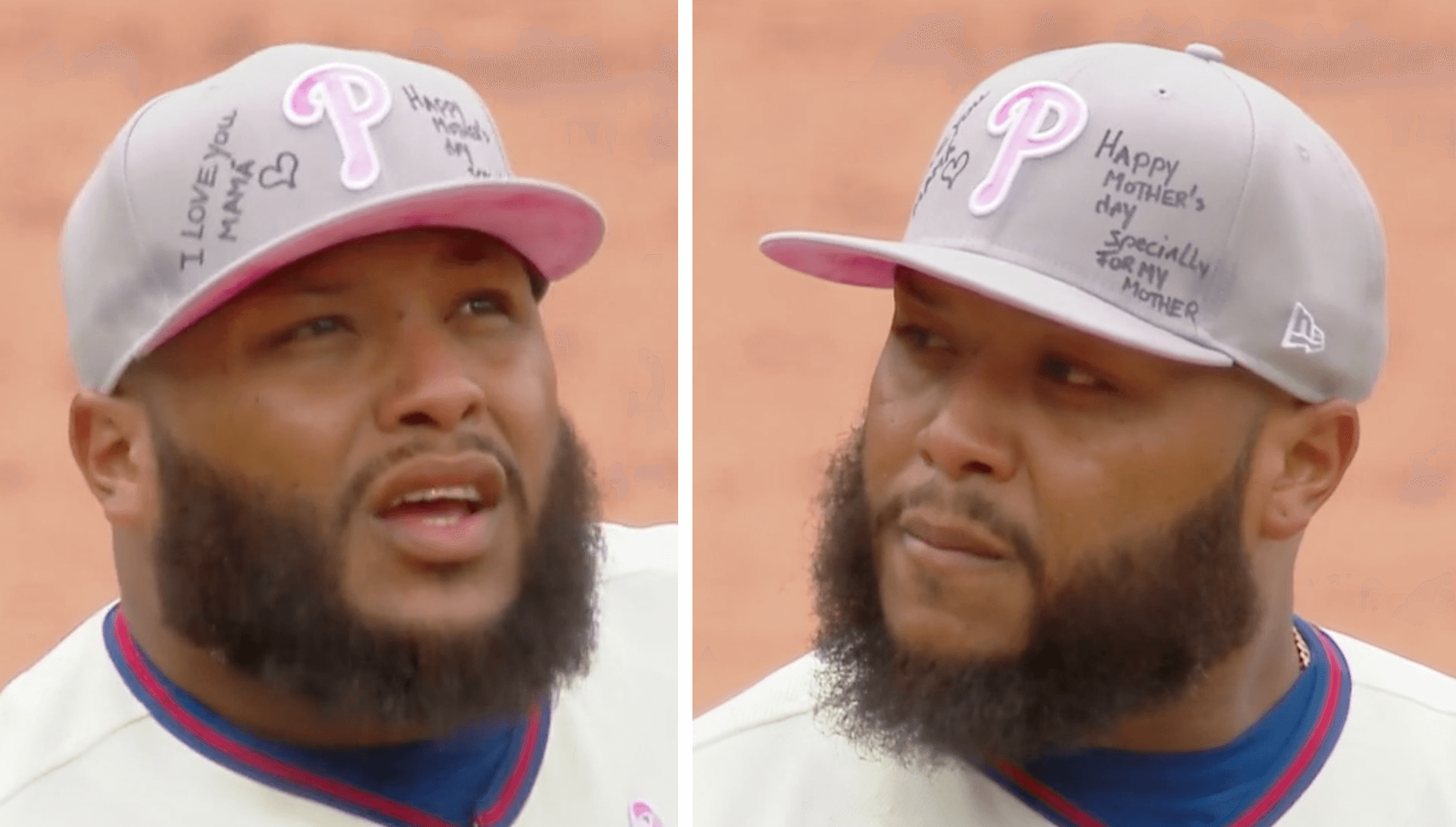 • The Padres do the G.I. Joke thing for Sunday home games, so they managed to combine two bad tastes that taste worse together (first time they've been home on Ma's Day since 2018):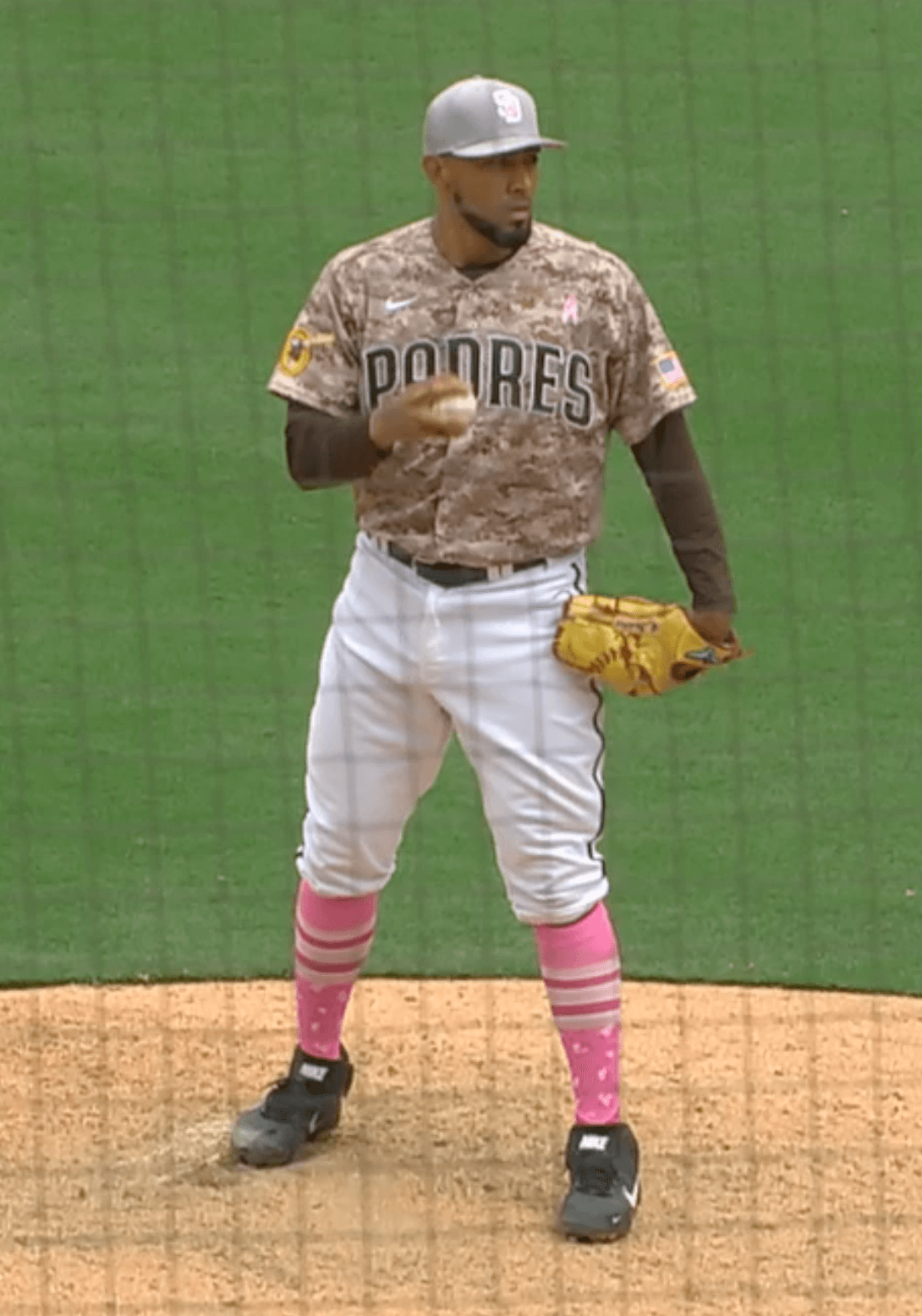 • Yankees outfielder Aaron Judge began the first game of yesterday's doubleheader wearing pink socks but changed to conventional navy after making an out during his first at-bat: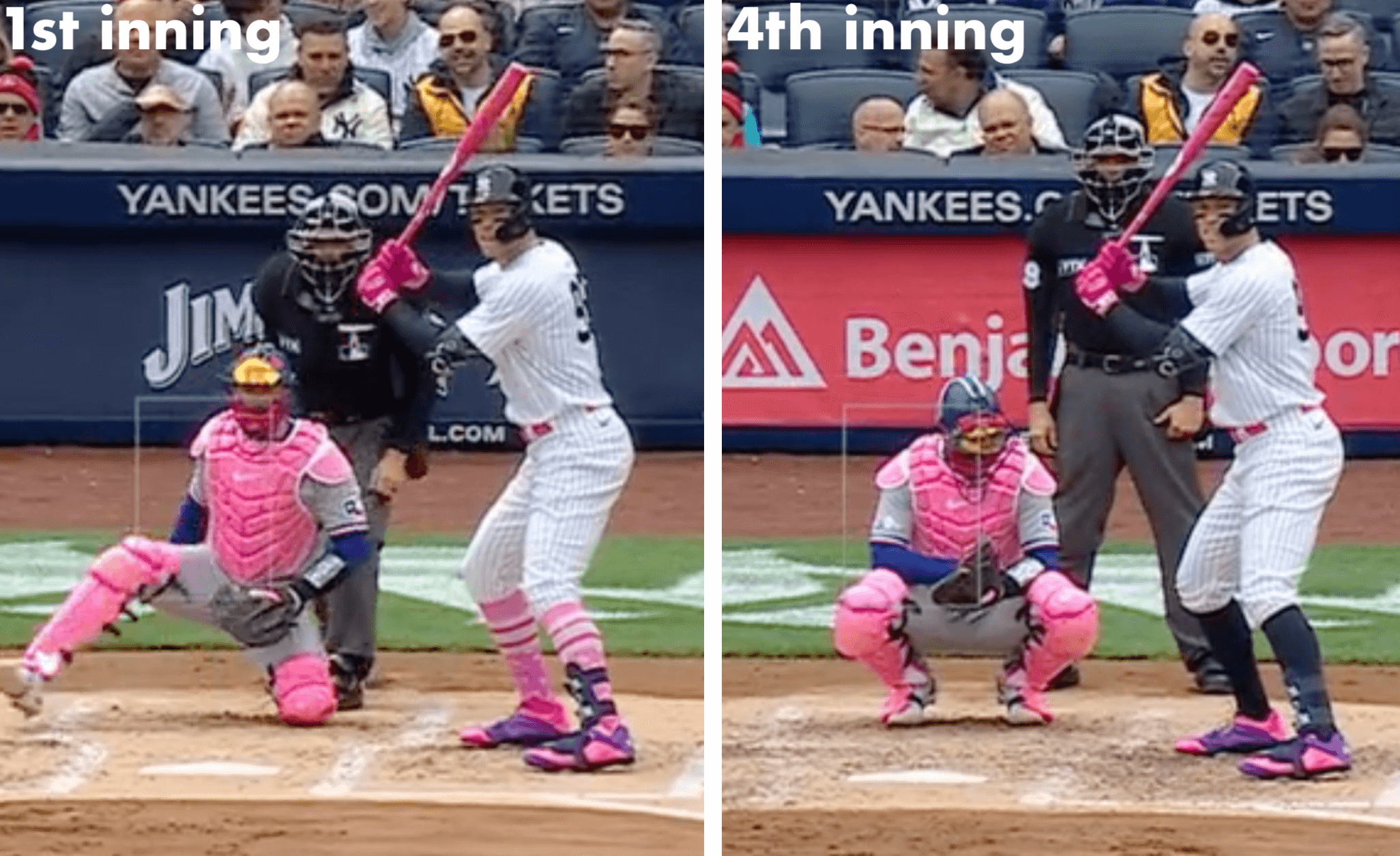 • Speaking of doubleheaders, there were two other twinbills yesterday — Mets/Phils and Orioles/Royals. In all three double-dips, both teams wore the pink gear for both games. (I'd been wondering if they might go pink for one game and non-pink for the other.)
Update: Reader/commenter Nate points out that the White Sox also had a pink helmet logo yesterday: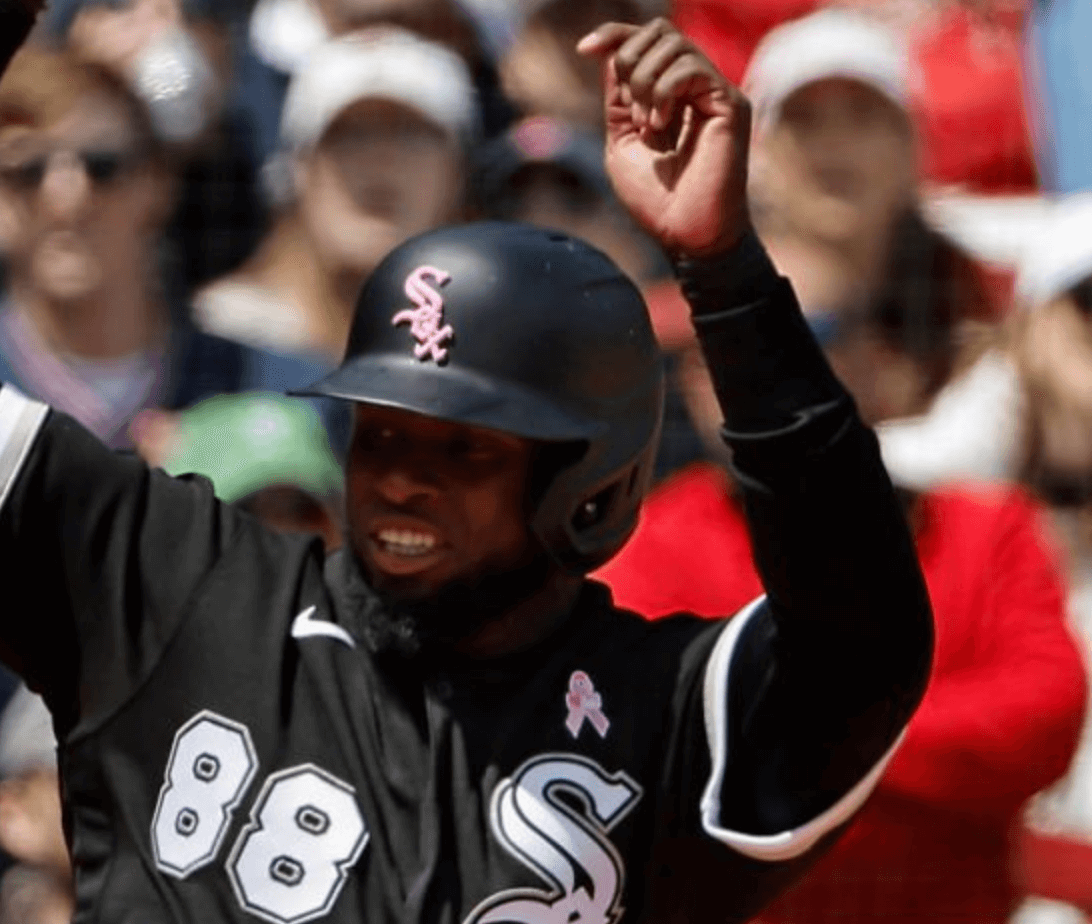 (My thanks to Trevor Williams for pointing me toward the Aaron Judge situtation.)
• • • • •
• • • • •
ITEM! Major uni-related exclusive: The Mets unveiled their Tom Seaver statue to much fanfare last month. But today I have a major scoop: The statue has a significant uni-related design inaccuracy that everyone missed, until a Uni Watch reader recently spotted it. I have an exclusive interview with the statue's sculptor and lots of background info — it's a fascinating story, and I don't mind saying I'm really pleased with it.
I've put this story on Bulletin, but it is not paywalled — it's freely available here. I hope you'll check it out.
• • • • •
• • • • •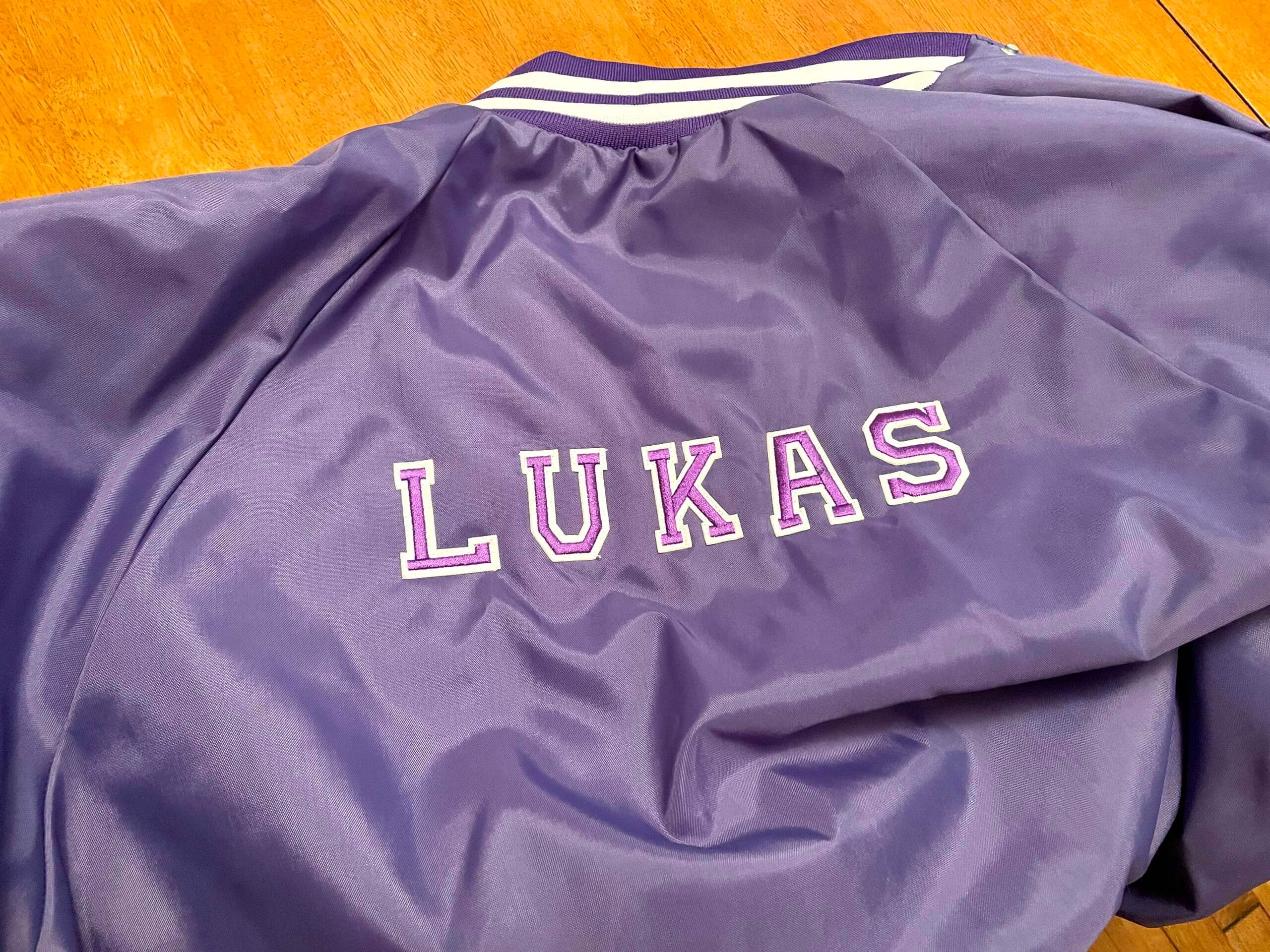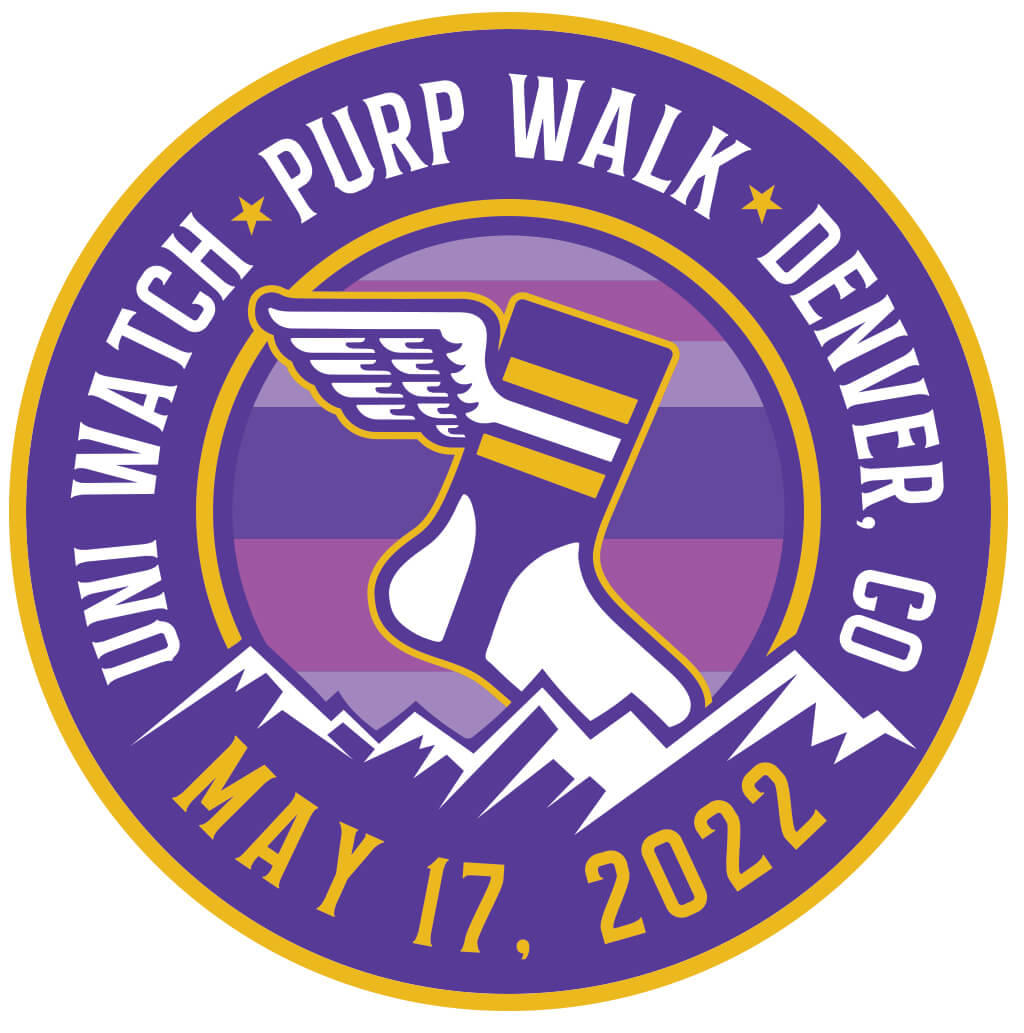 Purp Walk update: As you can see above, I'm continuing to gear up for Purple Amnesty Day. And in a new development, I'm excited to report that the Green Bay punk luminary and all-around obsessive genius known as the Rev. Nørb will be attending the Purp Walk festivities in Denver. Nørb, who I've known for years, is a serious fan of purple (he once tried to fuck with me by bringing three purple Bucks jerseys and some random purple items to a Uni Watch party in Milwaukee), so he's decided fly in and join us in Denver. I look forward to seeing his purple outfit!
Eight more days.
• • • • •
• • • • •
The Ticker
By Paul, pinch-hitting today for Jamie Rathjen

Baseball News: Mariners OF Jesse Winker has been wearing a white base-layer undershirt beneath his jersey over the past few days, instead of the team's usual blue. He's been doing it with at least three of the team's jerseys — white, blue, and teal (from @garbage_mets). … Vendors at the Phillies' ballpark wear the team's distinctive number font on their work jerseys (from Steve Dodell). … An LSU pitcher had his fly open on the mound yesterday (Benji King). … A trivia question on Twitter yesterday revealed that former pitcher Bob Miller may hold the MLB record by having worn 15 different uni numbers during his big league career. … Plate ump Ron Kulpa had to leave yesterday's Chisox/Bosox game after taking a foul tip flush in the mask.

Pro Football News: There's a guy on TikTok who's been doing really fun video recaps on the histories of NFL team helmets. Recommended (from Kyle Shaner). … The Jets honored a recently deceased Long Island boy by wearing his Little League number and his NOB at their rookie minicamp.

Hockey News: Kings G Jonathan Quick lost his glove during a scrum in front of the net last night and briefly had to play bare-handed (from Mike Chamernik). … Gross: The NHL has removed the playoff logos from the ice this season to make room for more paid ads (from Mike Lefko).

Grab Bag: Interesting interactive article about how F1 car design changes are changing the nature of racing. … New Indigenous guernsey for Aussie rules football teams Carlton FC (from @BluesBrother95)