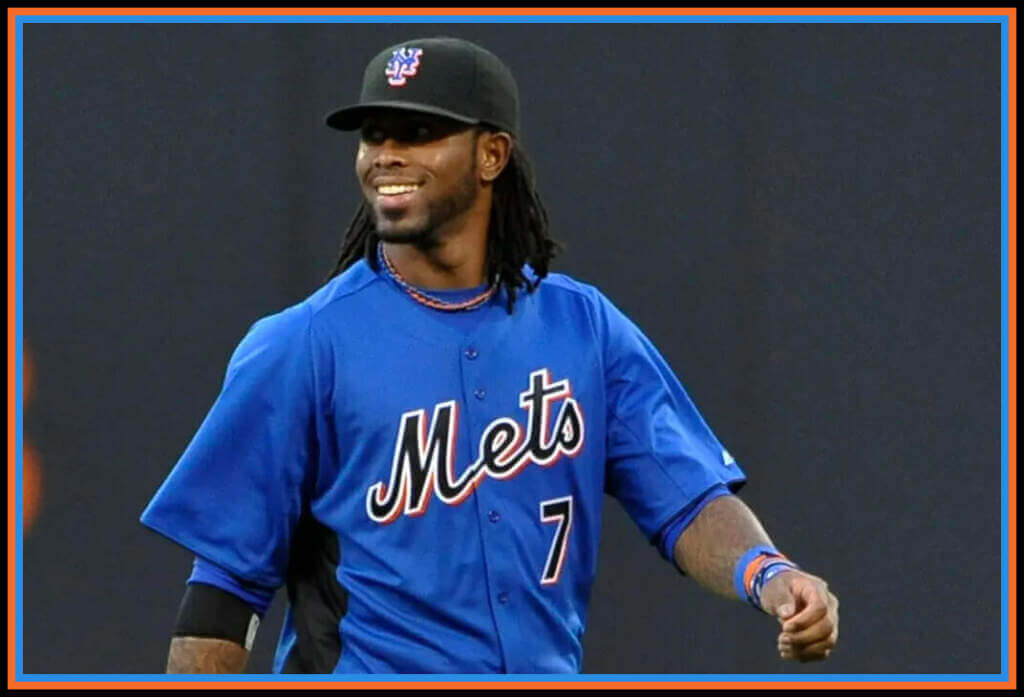 By Phil Hecken
Follow @PhilHecken

Good Sunday Morning, Uni Watchers — I hope everyone had a good Saturday. Today is technically the shortest day of the year for most of us in the United States, with 48 states moving their clocks forward to Daylight Saving Time at 2:00 am this morning. Coincidentally, today will also likely be one of my shortest posts of the year as well (for reasons not worth explaining, I had some family issues yesterday, and then taught curling for most of yesterday evening, so I simply didn't have time for one of my usual Sunday mega-posts). I'm sure most of you are thankful for that.
Before we get into today's lede, a quick "time change" aside — you could probably win a bar bet with a time change riddle. It goes something like this: a set of twins were born, a boy and a girl. The boy was born first, but on the official birth certificates, the girl was listed as being born 20 minutes before the boy. How could this be?
Answer: The boy was born at 1:50 am, and the girl arrived 40 minutes later. But because it was the annual "fall back," the clocks were turned back one hour at 2:00 am, the girl's official time of birth was recorded as 1:30 am, due to the time change. So even though the boy is older, his official time of birth is later than his sister.
Anyhoo … on to today's subject: "Uni Surprises."
The splash photo was from the second game of a Mets/Marlins double-header, which took place on August 29, 2011. I was actually at this game with Paul. This was the final season of the Mets' BFBS infatuation, so they had a number of jersey options (snow white, pinstripes, BFBS), but blue wasn't one of them. The team did wear a one-off "Los Mets" jersey earlier that season, but aside from that, a blue softball jersey was still a few years away. What the Mets wore that day was a total uni surprise: they received permission from MLB to wear their batting practice jerseys for the second dip of a late August DH, much to the surprise of a certain uniform columnist and his seatmate. Paul did a great writeup of the game the next day. You'll note he didn't have many positive things to say about it…and it was one fugly looking game: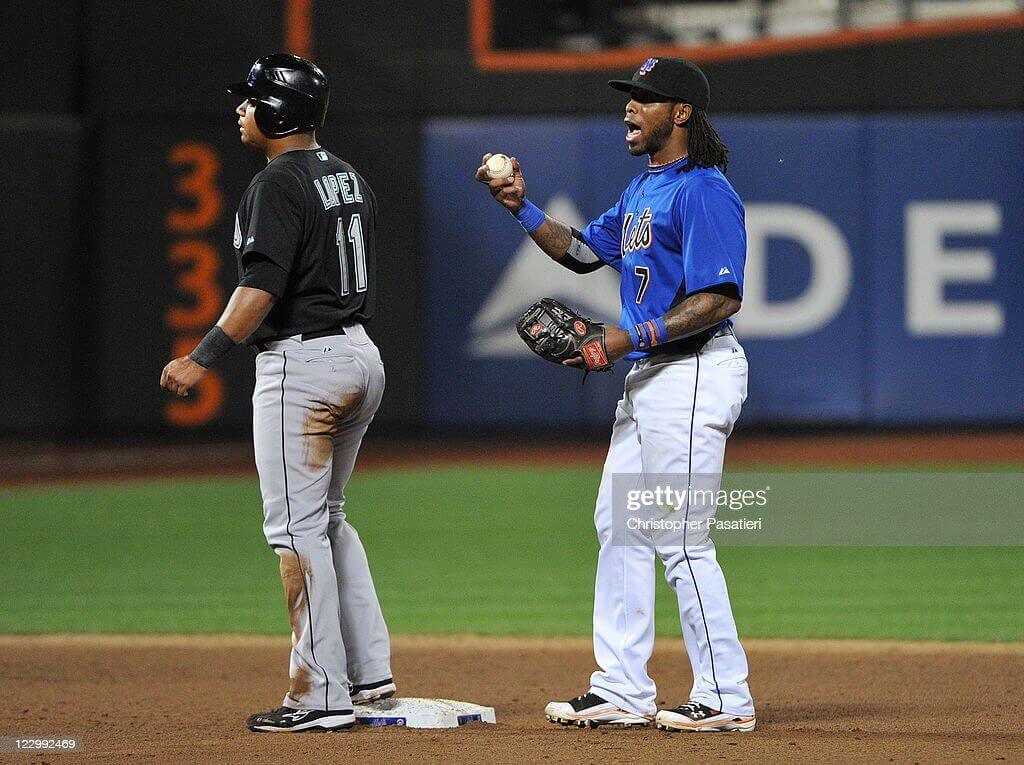 Obviously, neither of us (nor anyone else, I would imagine, other than the EQ manager and the players) had any advance warning of this uni surprise. I guess you could kinda say I "saw history" being made with a jersey debut (one and done), especially since it came, literally, out of the blue. I'd been thinking about this for some time — how often, especially in this day and age of social media, has a team broken out a "new" uniform element without any advanced warning?
I remember seeing the Mets play the Pirates in a TATC game in 1999 — it may have been the ugliest game I've ever witnessed in person: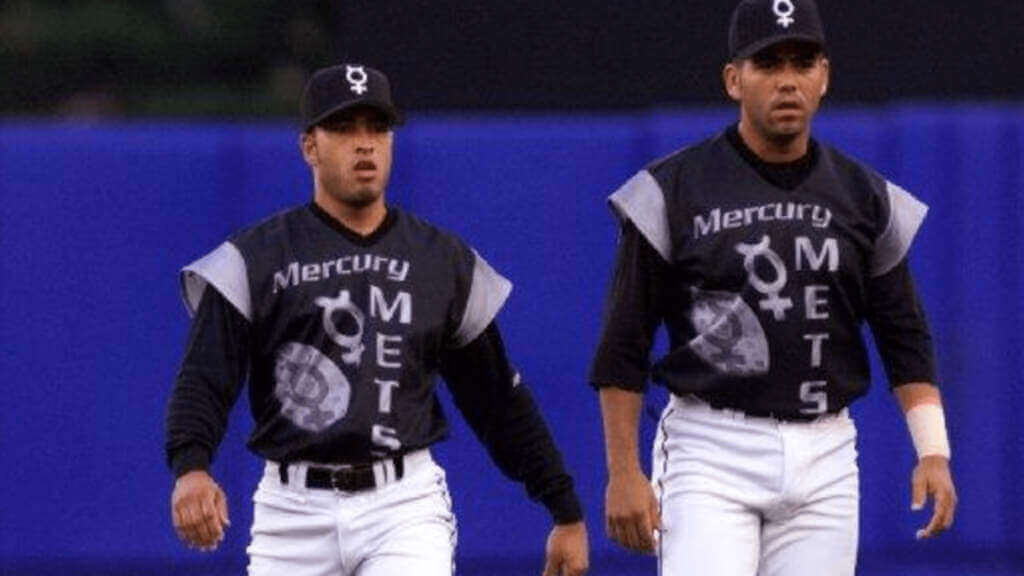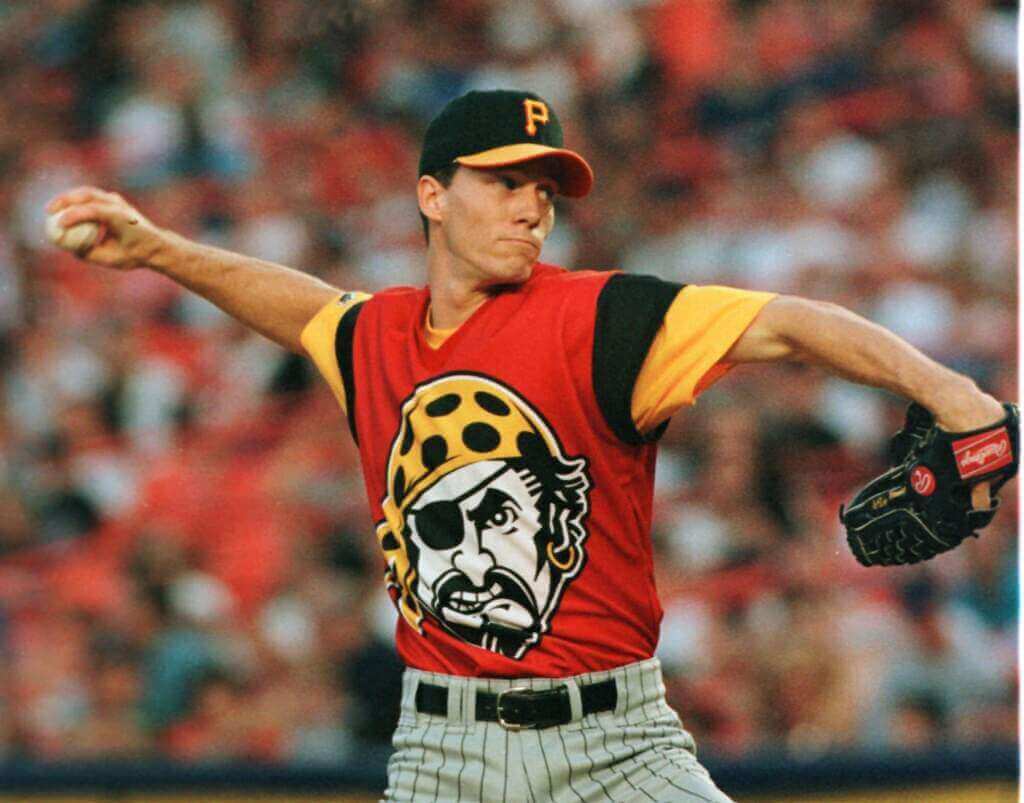 That game sort of a "uni surprise" — but only because I hadn't seen either team's TATC uniforms in advance. I knew going to the game that it would be a TATC game, so while I was mortified I wasn't surprised per se that the Mets weren't wearing their normal uniforms.
I'm sure a team has broken out a uni surprise in the past (in fact, before uniform unveilings became a thing, many times fans wouldn't see a team's new uniform or uniform element until the first game of the season, or in a few cases, during the season). But it's a rarity these days, especially with hype videos and twitter and other social media. In fact, the only "uni surprise" of recent vintage I can think of was when the Ravens broke out mustard-gold pants against Kansas City the weekend before Christmas in 2015.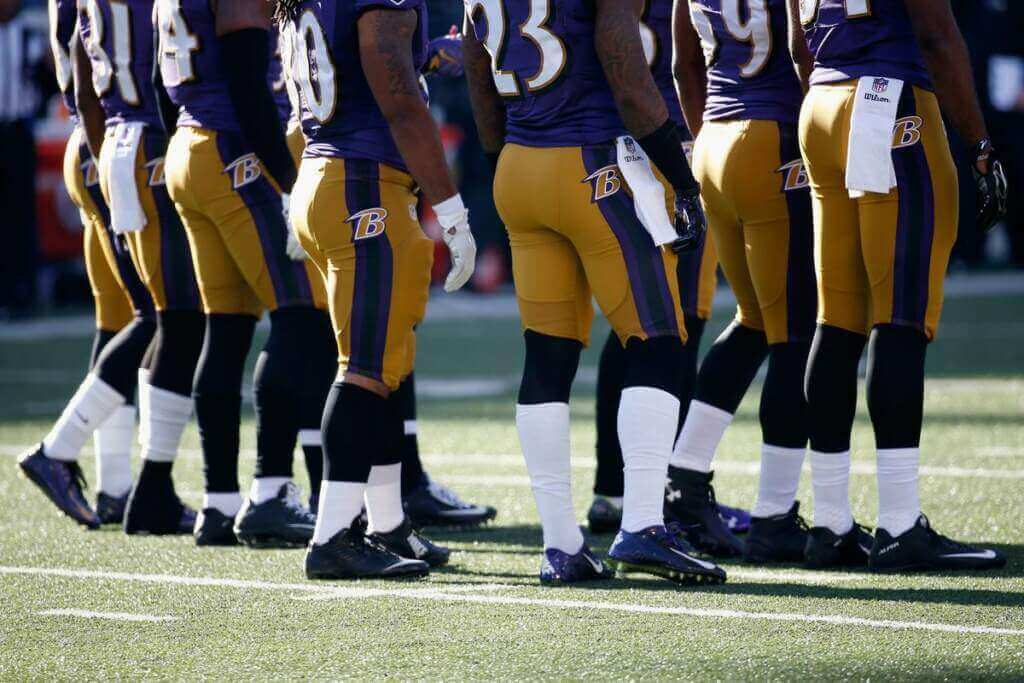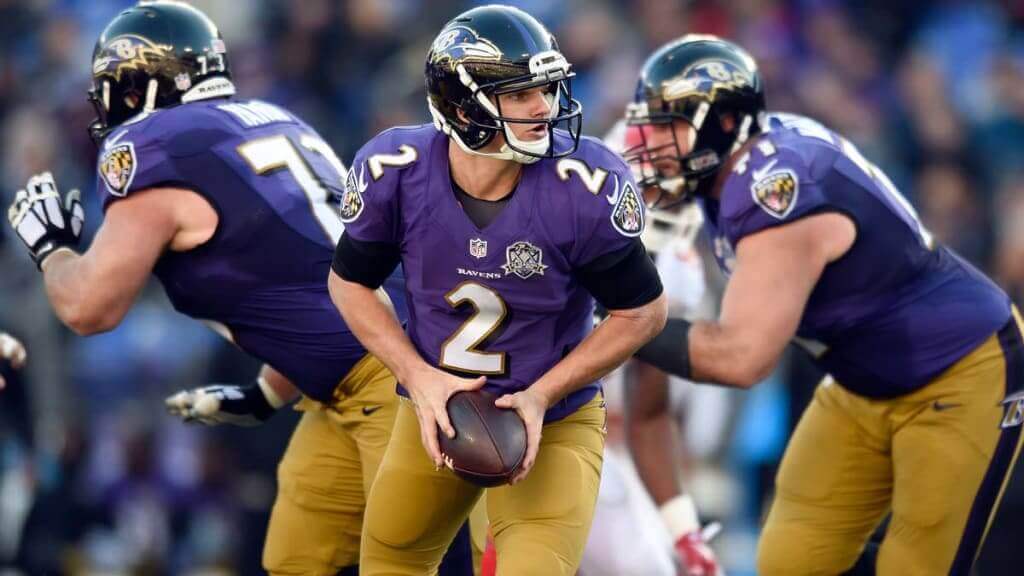 Those pants (also one-and-done) seemed to come out of the blue, but believe it or not, the team had been planning on wearing them earlier in the season. According to this article,
But this wasn't some willy-nilly decision; it was a nod to the team's 20th anniversary season, and the color choice is also same gold used in the team's logo. Either way, coach John Harbaugh has some advice for the naysayers: do it yourself then.

"I think it's fun," Harbaugh said Monday, via the Baltimore Sun. "Uniforms are fun. They should be fun, and we want to be traditional. We have a look, I think, that we're proud of here in Baltimore, that stands out, and we want to build on that. But if we can be creative in there somewhere, I'm all for it. I want to play well. It doesn't really matter what color the pants are to me. If the players like it, I like it.

"But we want the fans to like them too, so it's official, we're having a contest," Harbaugh joked. "… Maybe we should do a contest for our third pant-color combination with the fans, so we can have them weigh in and we'd wear them."
So — even though the team planned to wear their gold pants, it was not something that had been previously announced…hence the "uni surprise."
I'm sure there may have been a few other uni surprises (in other words, a uniform element NOT previously announced before the team wore them) in the past decade, but there can't be that many. I'm thinking there must have been a college football or basketball uni (if not in the pros) but if there was one, it escapes me.
Can you guys think of any uni surprises in the past decade? And have you ever been to a game where it happened? I'm not talking minor leagues — although I'm sure there have been some uni surprises there. Please list any examples below (and they needn't be from the past decade, although that's the sweet spot).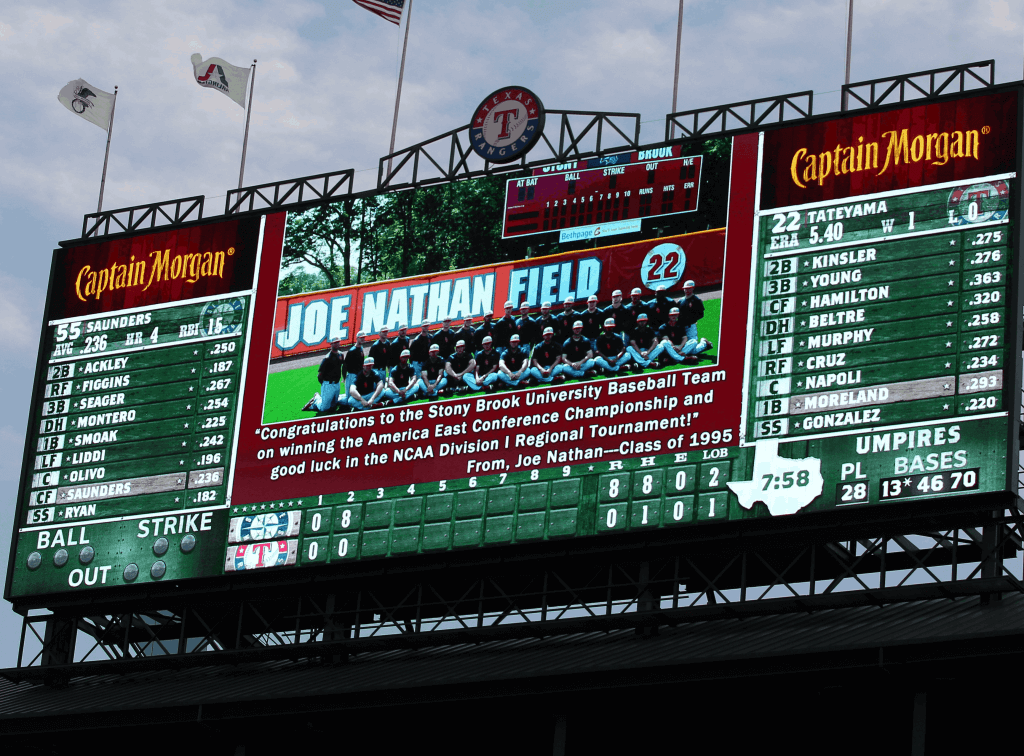 Guess The Game…
from the scoreboard
Today's scoreboard comes from Paddy McShanus.
The premise of the game (GTGFTS) is simple: I'll post a scoreboard and you guys simply identify the game depicted. In the past, I don't know if I've ever completely stumped you (some are easier than others).
Here's the Scoreboard. In the comments below, try to identify the game (date & location, as well as final score). If anything noteworthy occurred during the game, please add that in (and if you were AT the game, well bonus points for you!):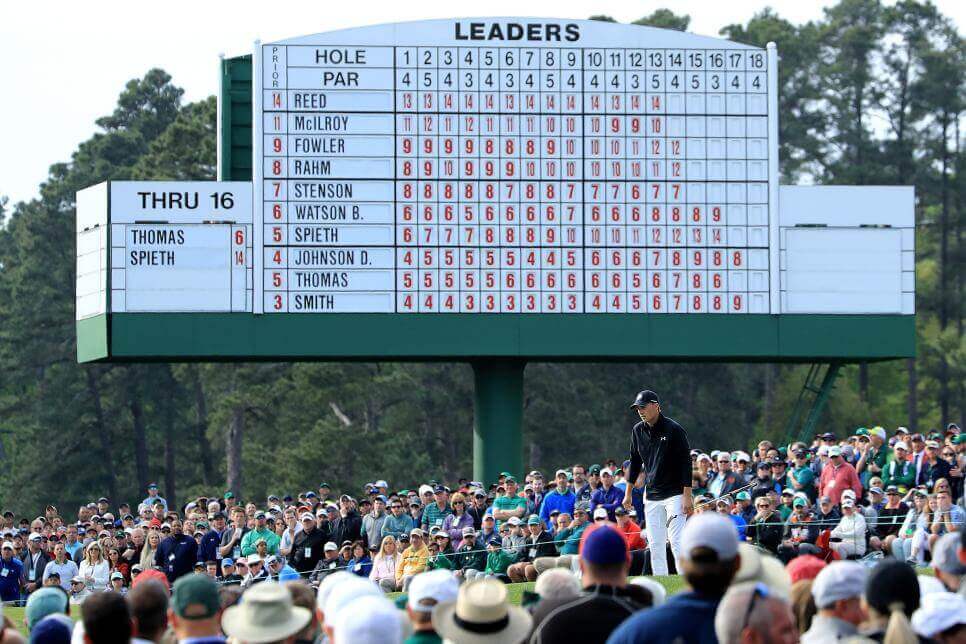 Please continue sending these in! You're welcome to send me any scoreboard photos (with answers please), and I'll keep running them.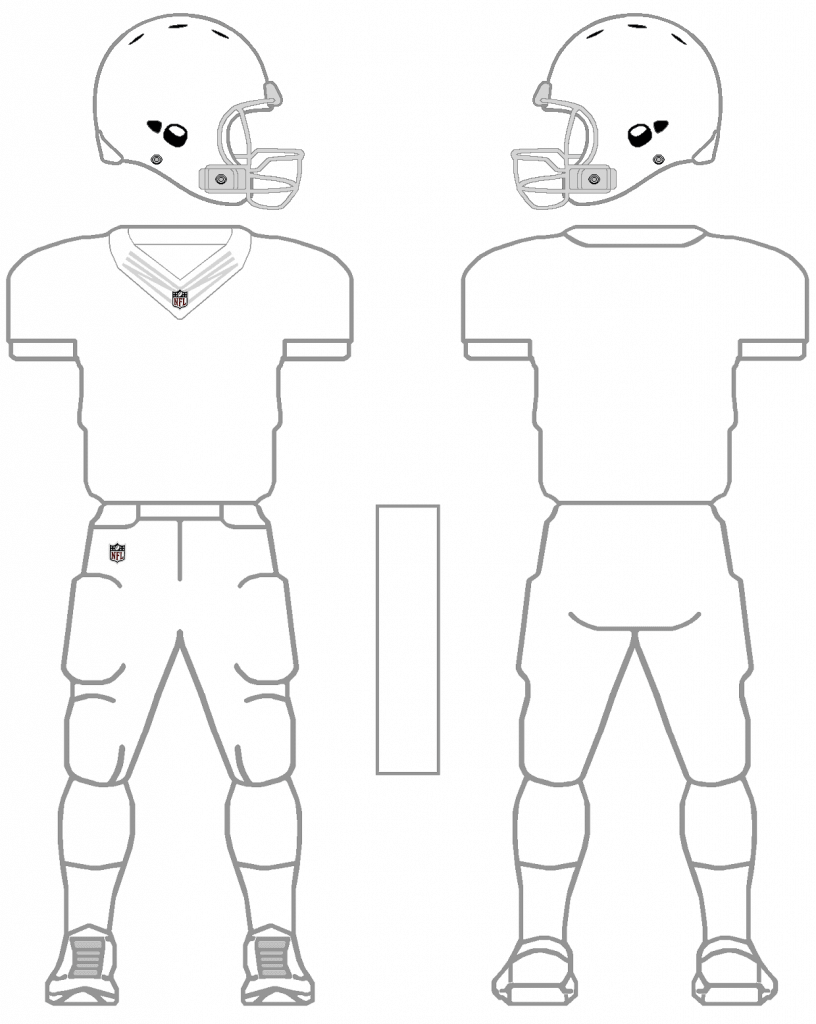 Uni Concepts & Tweaks
Time for more Uni Tweaks from the UW readership.
I hope you guys like this feature and will want to continue to submit your concepts and tweaks to me. If you do, Shoot me an E-mail (Phil (dot) Hecken (at) gmail (dot) com).
• • • • •
Today's concepts come from
Carl Rossini
:
Howdy Phil,

Long time, first time.

I have long thought that the USWNT and USMNT deserve a great kit and have been underserved by the constantly changing kits over the last few decades. A few of the kits have been good, but none have had staying power. The great national team kits (Brazil, Netherlands, Croatia and Italy come to mind) in their unique color and stay true to their core design with small variations every four years.

My answer is purple! No other country lays claim to this color and it allows a nice design element with red and blue. I've attached a very basic version of this concept.

-Carl

P.S. I would be interested in your readers sharing tips on what tools they use to create concept kits. I'd like to create a more sophisticated version.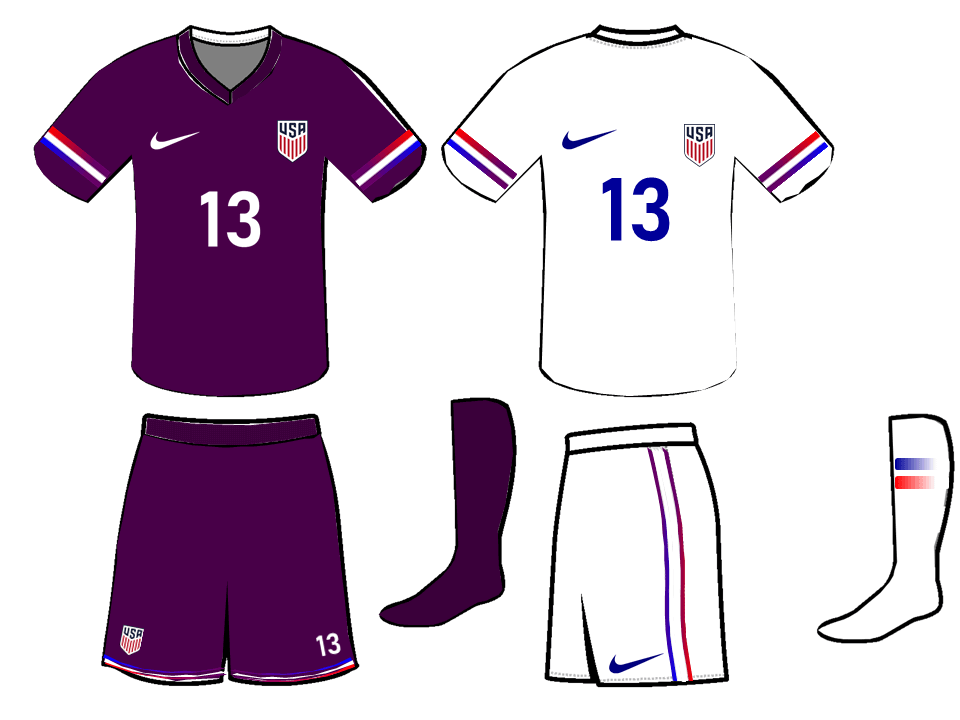 • • • • •
OK readers (and concepters). If you have some tweaks or concepts, shoot 'em my way with a
brief
description of your creation and I'll run 'em here.


Another Outdoor Hockey Game Today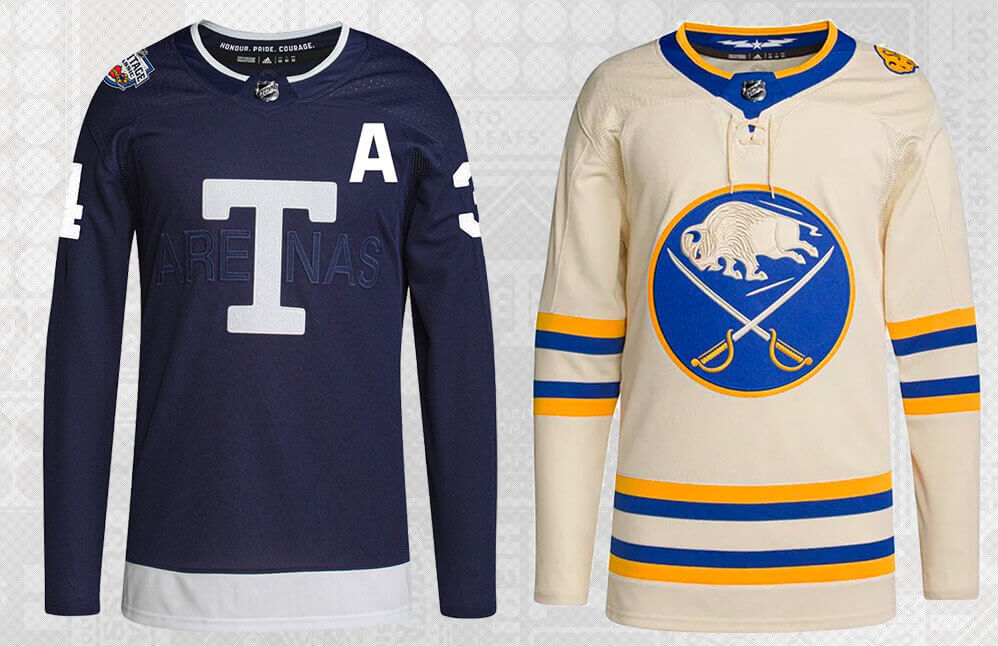 There is another outdoor hockey game (following the Winter Classic and Stadium Series earlier this year) taking place today at 4:00 pm — featuring the Toronto Maple Leafs vs. the Buffalo Sabres, and as you can see above, the teams will be wearing special jerseys (and unis) for the event. This one is the "Heritage Classic."
Canadian fans can watch it on Sportsnet and Americans can see it on TNT.
Our pal Chris Creamer has done an outstanding review of all the unis and logos and history over on his blog, so I just recommend you checking that out for the details. Should be a classic looking game for sure.


Uni Watch News Ticker
By Phil

Baseball News: The Washington Nationals have new 15 Seasons Flags at their ballpark. Art of Scorebug thinks they're "pretty underwhelming, (and) hope this stays on signage." … From Paul about new footwear for major leaguers: "Buried within the new MLB labor agreement is this, which likely means they're going to an NBA-style free-for-all in which in any player can wear any color." … First look at the ChiSox Spring Training gear, including a trucker cap with the real old school logo paired with the Winning Ugly Sox script on the black jersey (from Jim Howicz). … The Round Rock Express have new alternate jerseys, a second alternate uniform, and a special powder blue third uniform (all from IG Salazar).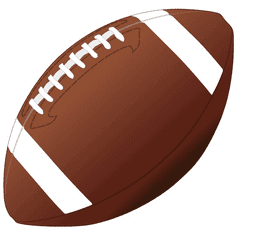 Football News: For the upcoming season the Balkan Football League (an American football league) is merging two teams à la the 1943 Phil-Pitt Steagles. Two Slovenian teams, the Velenje Black Miners and Murska Sobota Storks, will play as the Black Miners & Storks (from Matthew Algeo). … Check out this uni-related passage from 'Me and a Guy Named Elvis,' a 2006 memoir by Jerry Schilling about his friendship w/ Elvis. This bit is from 1954, when Presley was beginning to blow up as a singer (from Greg Franklin).

Hockey News: The OHL's Sudbury Wolves wore special green uniforms on Friday night. Proceeds from jersey auction going towards The Heart and Stroke Foundation (from Wade Heidt). … The QMJHL's Acadie-Bathurst Titan have unveiled their new alternate uniforms in mid-season. Adding black to the mix (also from Wade). … One more from Wade: The OHL's Ottawa 67's wore some special jerseys for Legacy Night on Friday. The angry puck logo making a comeback appearance on the shoulder. … Yesterday the Blues and Predators both wore jerseys meant for outdoor games, indoors. Submitter Brayden Tweeter says, "Don't know the last time I've seen that." … The Canucks' Pride Night warmup jerseys were incredible. Here's the story behind them. … The Edmonton Oilers wore camo jerseys in warmups yesterday evening for Canadian Armed Forces Appreciation Night. … Last night the Boston Bruins remembered West Warwick, Rhode Island High School student and hockey captain Matt Dennison, hanging a jersey with his NOB behind their bench (from Art of Scorebug). … Longtime Minnesota Wild member Mikko Koivu will have his jersey retired today. He's the first Wild to have his number retired by the club. … It was 80s night at the Saddledome, so the scoreboard appropriately had an 80's aesthetic (from Brandon Kent). … On yesterday's date in 1935, the St. Louis Eagles played their final home game. The NHL wouldn't return return to Missouri for another 32 years (from Jerry Wolper).

NBA/College/Basketball News: Bryant University in Rhode Island has announced plans to build a new basketball/multi-purpose arena (from Kary Klismet). … The Boston Celtics will be retiring Kevin Garnett's jersey this afternoon. … Holy crap that's a lot of three point stripes for the Coppin State/Norfolk State MEAC Championship Game yesterday (from Jon Star).

Soccer News: Brighton and Hove Albion wore their away kit at home yesterday against Liverpool to support Ukraine (from Mark Emge). Also posted under Ukraine News. … Belarusian champs Shakhtyor Soligorsk have apparently switched outfitters. Now wearing Puma, they previously had Jako (from Ed Żelaski). … Tweeter varun writes, "Sporting KC wearing away shirts with their home jersey" (I'm not entirely certain what that means, but I believe he means shorts, not shirts).

Ukraine News: Brighton and Hove Albion wore their away kit at home yesterday against Liverpool to support Ukraine (from Mark Emge). Also posted under Soccer News. … Netherlands speed skater Antoinette De Jong is auctioning off her recent World Cup suit to benefit Ukrainian charities (from TimmyTheCop). Also posted in Grab Bag.

Grab Bag: Netherlands speed skater Antoinette De Jong is auctioning off her recent World Cup suit to benefit Ukrainian charities (from TimmyTheCop). Also posted in Ukraine News. … There's a new costumed mascot for Northwood Technical College in Wisconsin (from Kary Klismet). … Tweeter Nicolas Telep notes Panther City, a National Lacrosse League first-year expansion team had many NNOBs, but more concerning (at least to me) are the horrible ghosted numbers. … Scott Rogers loved this curling mascot seen at the Tim Horton's Brier this week.


Uni Tweet of the Day
Yeah, pretty much…
These gotta be one of the worst uniforms in nba history 😭 pic.twitter.com/d8u7oSOQC2

— Old NBA Tweets (@oldnbatweetz) March 11, 2022


And finally… that's it for today and for me for this weekend. Enjoy the shortest day of the year (and the extra hour of daylight!) and I'll catch you all next weekend.
Peace,
PH