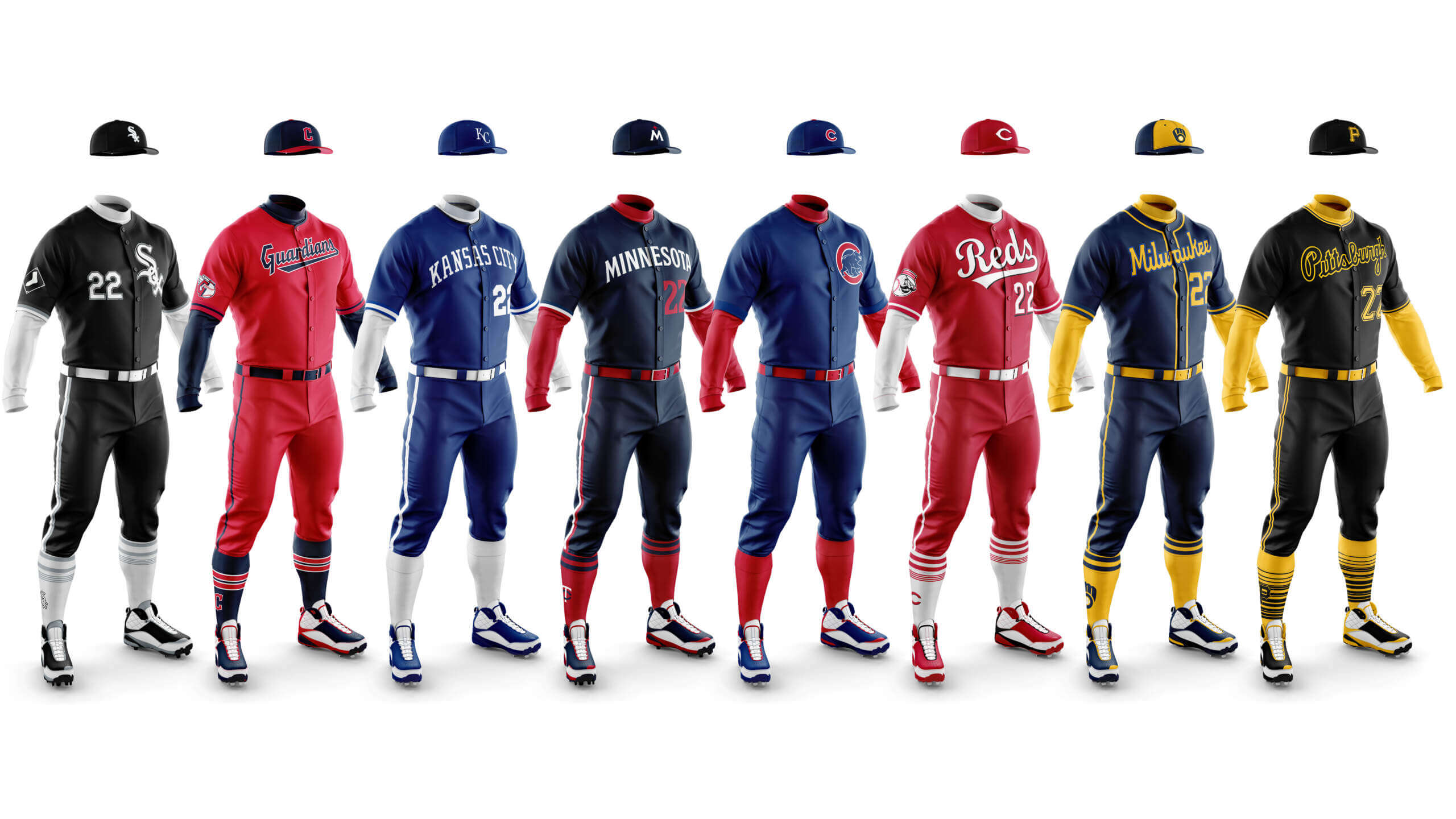 Greetings and a good Saturday everyone! I had an enjoyable (if ultimately unsuccessful) time curling down in Philly last weekend. My rink went 1-2 — and since none of us had thrown a stone in many months, it was as much due to rust as to poor play (and there were several realllllly good teams in the bonspiel, so even if we were playing our best, it would have been a difficult tourney).
To all our friends in the Great White North: Happy Canada Day!
Now then.
A few weeks ago, Chris Diamond and I began another series where we are exploring the potential for monochrome dark uniforms in MLB, in several phases. The first phase was simply to add matching dark colored pants to any team that currently wears a dark alternate top (nothing else about the uniform changes in Phase One — caps, undershirts, socks, etc. remain the same). If you click on the link above, it's all explained there. The goal isn't necessarily to advocate for or against any particular looks (although we do give our opinions), but rather to simply see how teams would look in monochrome dark if nothing else were to change. The "goal" — as it were — is to see how teams with dark alternate tops look when they're not paired with light colored bottoms (white, gray, tan, etc). Last time we looked at the NL and AL East, and today we tackle the NL and AL Central teams. If a team doesn't currently have a dark alternate (Yanks, Dodgers, Cardinals, Tigers, for example), then they will not be given the "mono treatment" as part of this Phase.
And away we go…
• • • • •
AMERICAN LEAGUE CENTRAL
Chicago White Sox Black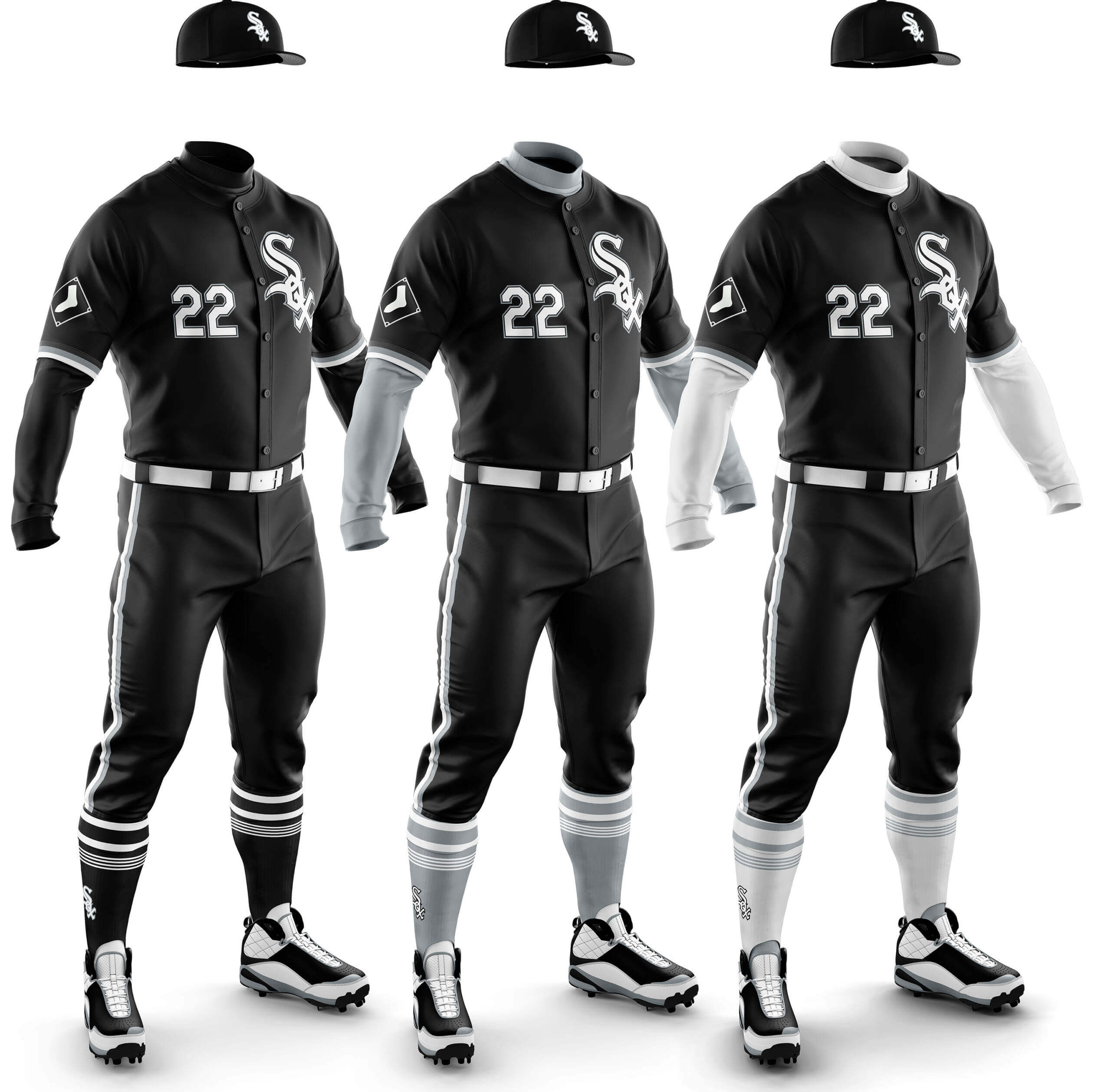 Chris Diamond: Black/silver/white always look good together to me and the popularity of the ChiSox City Connect, which isn't a million miles away from these concepts, resonates with that. Of the three I actually prefer the all-black look — and I can already hear Jimmer's howls about white socks for the White Sox!.
Phil Hecken: Yes, the ChiSox kinda-sorta already have a dark-mono uni in their City Connect (which isn't black, but is a very dark anthracite), so giving them black pants to pair with their black alternate is probably more than overkill. Still, I don't completely hate the ensemble featuring the white sleeves, belt and socks. Since the jersey has some gray accents, it would actually pair decently with their gray road pants, but we're looking for mono here! And yes, the White Sox need white socks!
__________
Cleveland Guardians Navy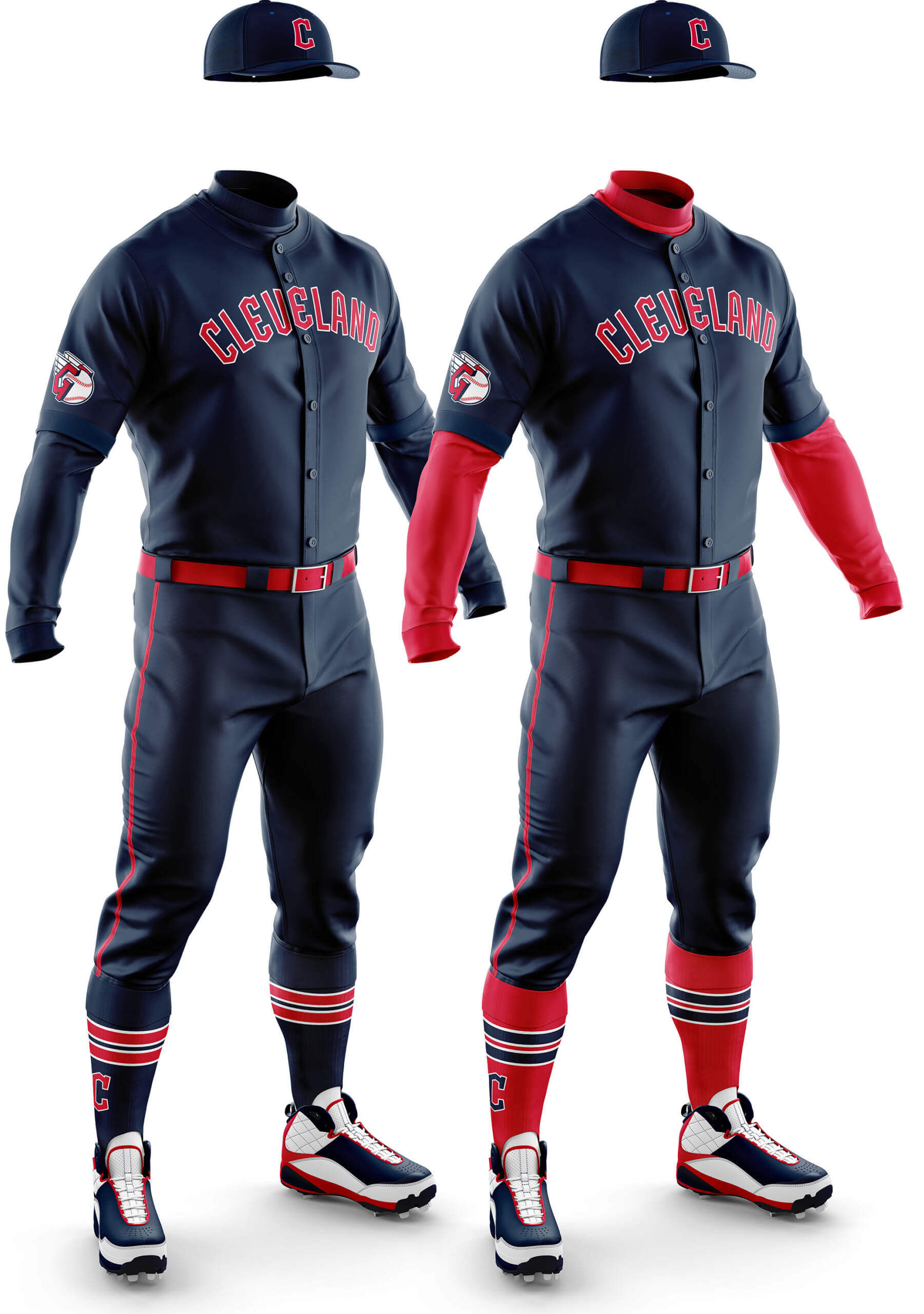 CD: Like the Red Sox Navy, the mono is hampered by the plainness of the jersey and the pants piping and sock stripes can't save it! The red undershirt/socks is marginally better, but I feel there is definitely a pattern emerging for the non-viability of very plain jerseys in a mono look.
PH: As we saw (several times) in Part I, mono-navy is usually a no-go, and this is no exception. While the red sleeves and socks "help" a bit, it's still too dark and dreary looking.
Cleveland Guardians Red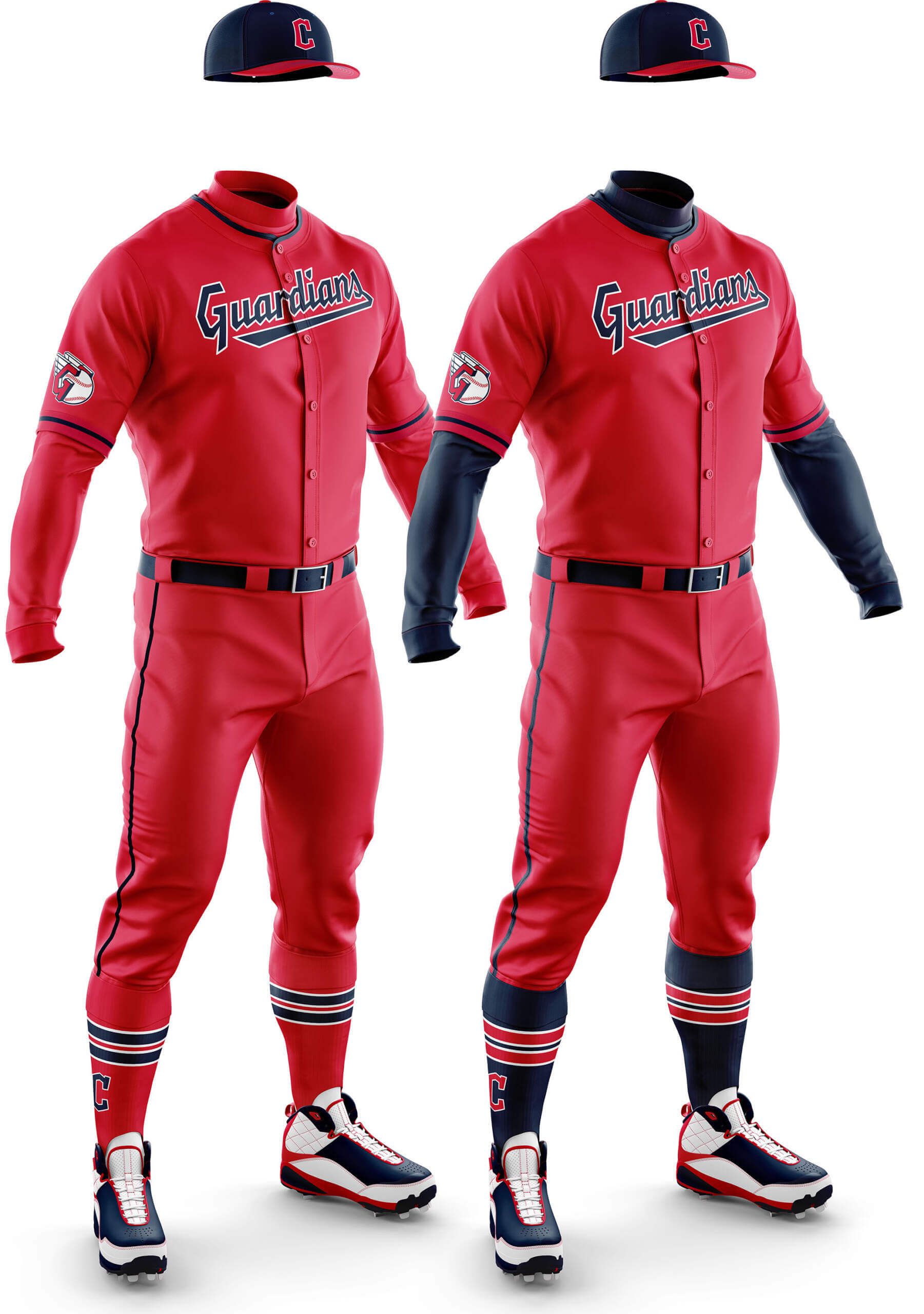 CD: The piping and coordination between the wordmark and sock stripes with the red cap bill make the full red mono one into a contender for me. I actually think the navy sleeves/socks one isn't as good.
PH: If that look gives you flashbacks to Cleveland's "Caveman" mono-reds, you're not alone. This one (with the blue sleeves/belt/socks) has potential! Not because it's a particularly attractive look (it really isn't), but because of the history behind it — there might be two MLB teams who could go mono-red. This is one of them.
__________
Kansas City Royals Blue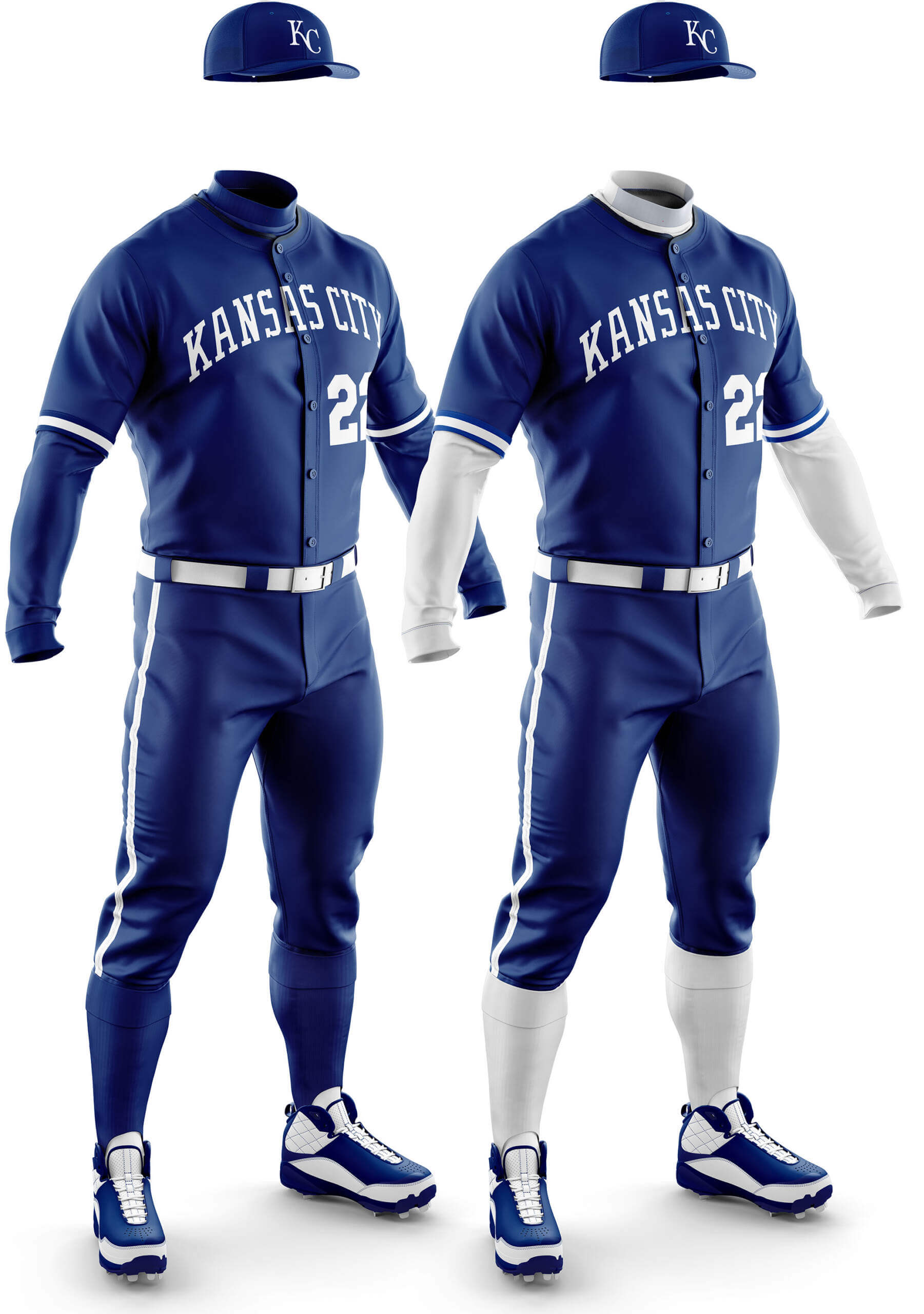 CD: The two-colour simplicity of the scheme makes this a good looking set to me. Normally plain socks would be a bad thing, but here I feel it works better than something fancy.
PH: Mono-royal (like most dark-monos) is tough to pull off. Even the Mets, whose mono-royal was complemented nicely by the orange, have a hard time doing so. I don't think KC (like Toronto) quite pulls it off either. And besides, they've now gone full powder blue a couple times this season — time to make that their permanent roadie (again).
__________
Minnesota Twins Navy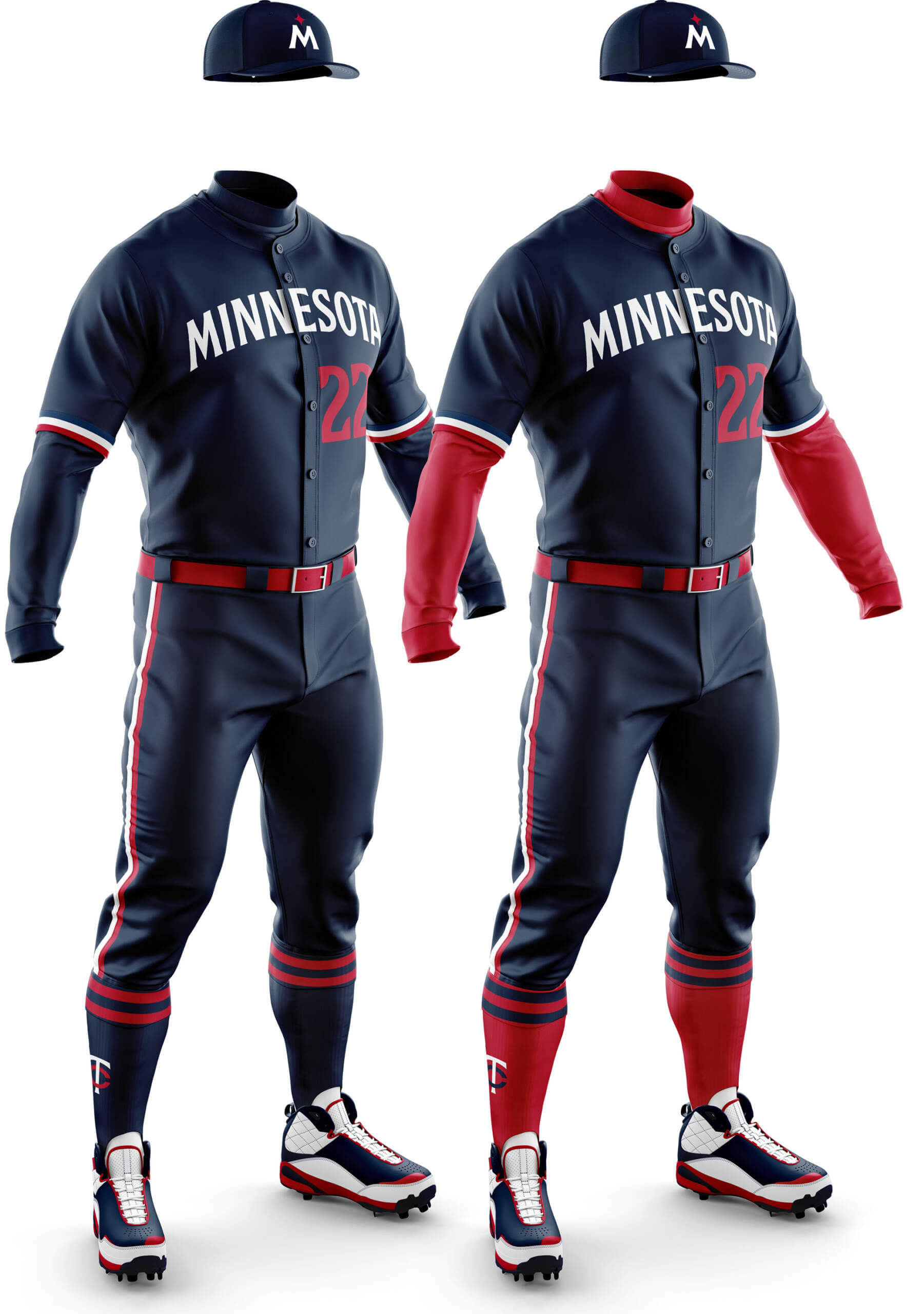 CD: I like the jersey with white/grey pants, but this one doesn't work for me at all. It just feels a bit too disjointed.
PH: Another mono-navy that looks like all the other mono-navys, and that's not a compliment. Sorry Minnesota — nothing against you…just against the look.
==========
NATIONAL LEAGUE CENTRAL
Chicago Cubs Blue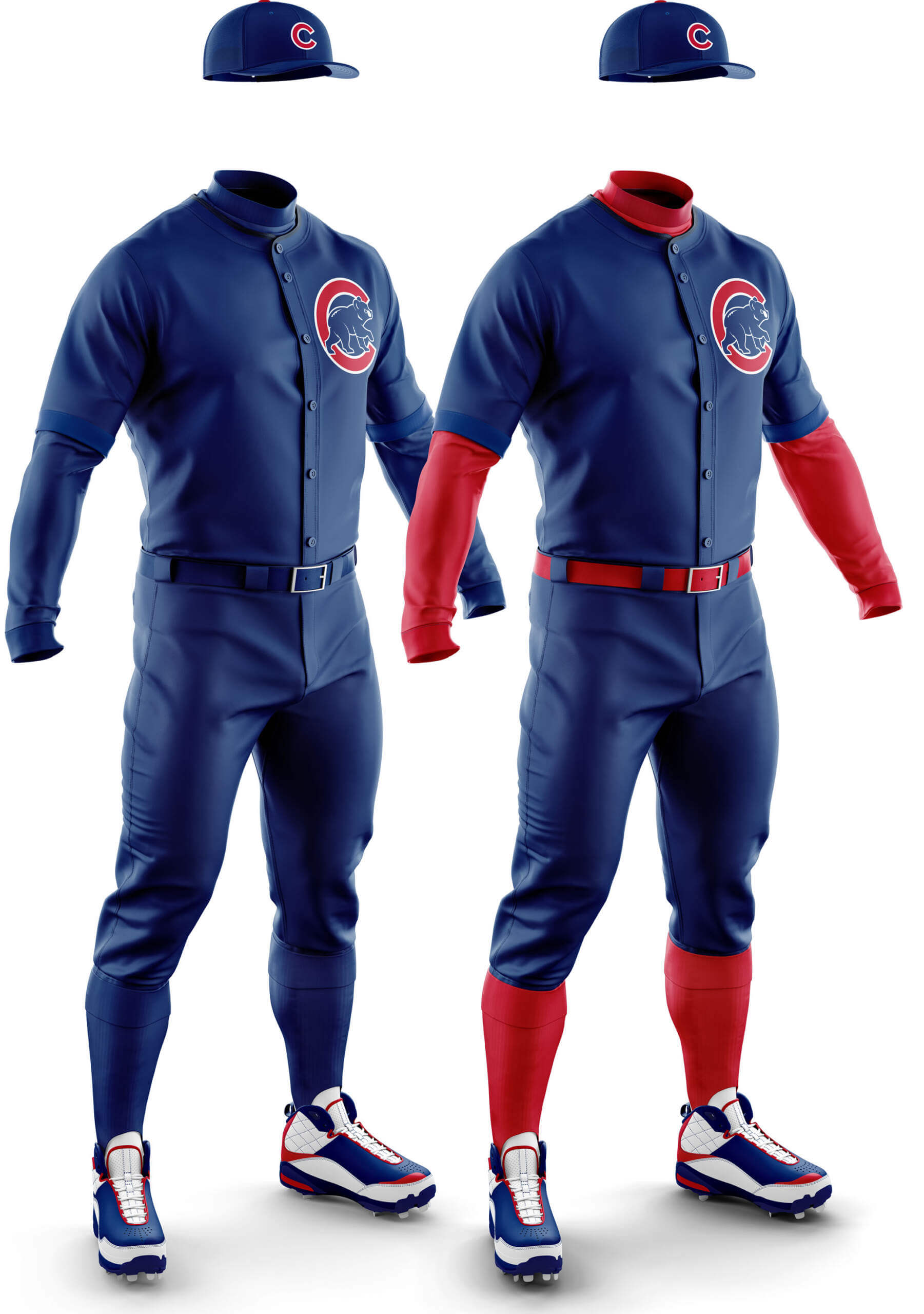 CD: You really can't get any more mono than this without removing logos entirely! The one with red undershirt/socks has a sort of pleasing simplicity to it though.
PH: See my comments on the Royals (and Toronto Blue Jays). Royal is tough. And since the Cubbies already have a mono-navy CC uni, this one's a no-go.
__________
Cincinnati Reds Red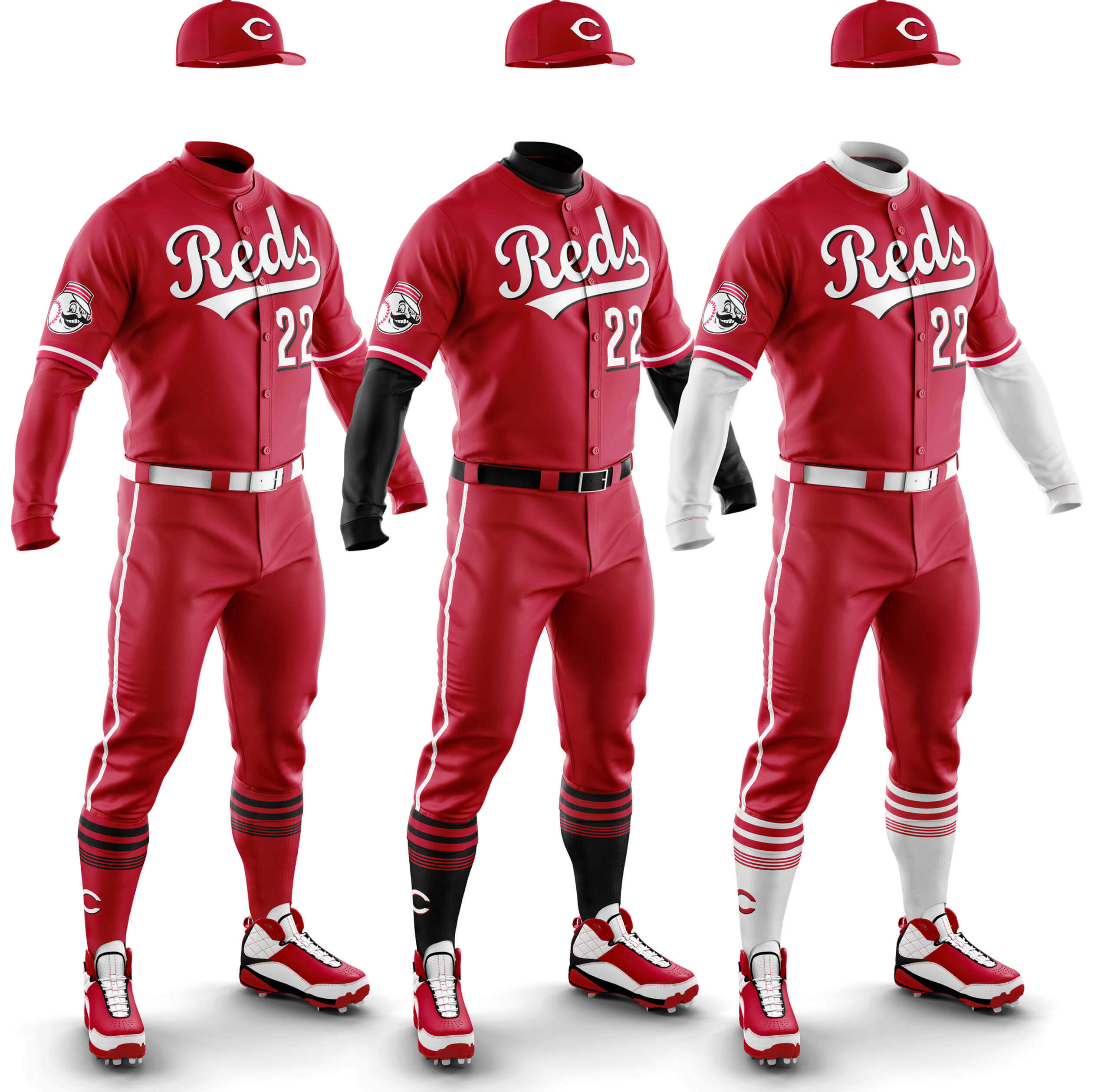 CD: I can't believe I'm saying this, but I really like the red mono! If the socks had white stripes instead of black it would be perfect. Maybe it's because they are the Reds? I never thought I'd like a red mono uni but I like this one. It also makes me feel the less black the Reds have on show the better.
PH: The all-red mono-red is too much … BUT … I actually like the look with either the black or white accoutrements. And they're the REDS! Remember how just a couple concepts ago I said one other team besides Cleveland might look good in mono red? Well, this is the other team. And as much as I am not a fan of the Reds' mono-black CC unis, I don't hate the mono-red with the black sleeves/socks. I like the white sleeve/sock concept too, but the mono-red with black kinda works!
__________
Milwaukee Brewers Blue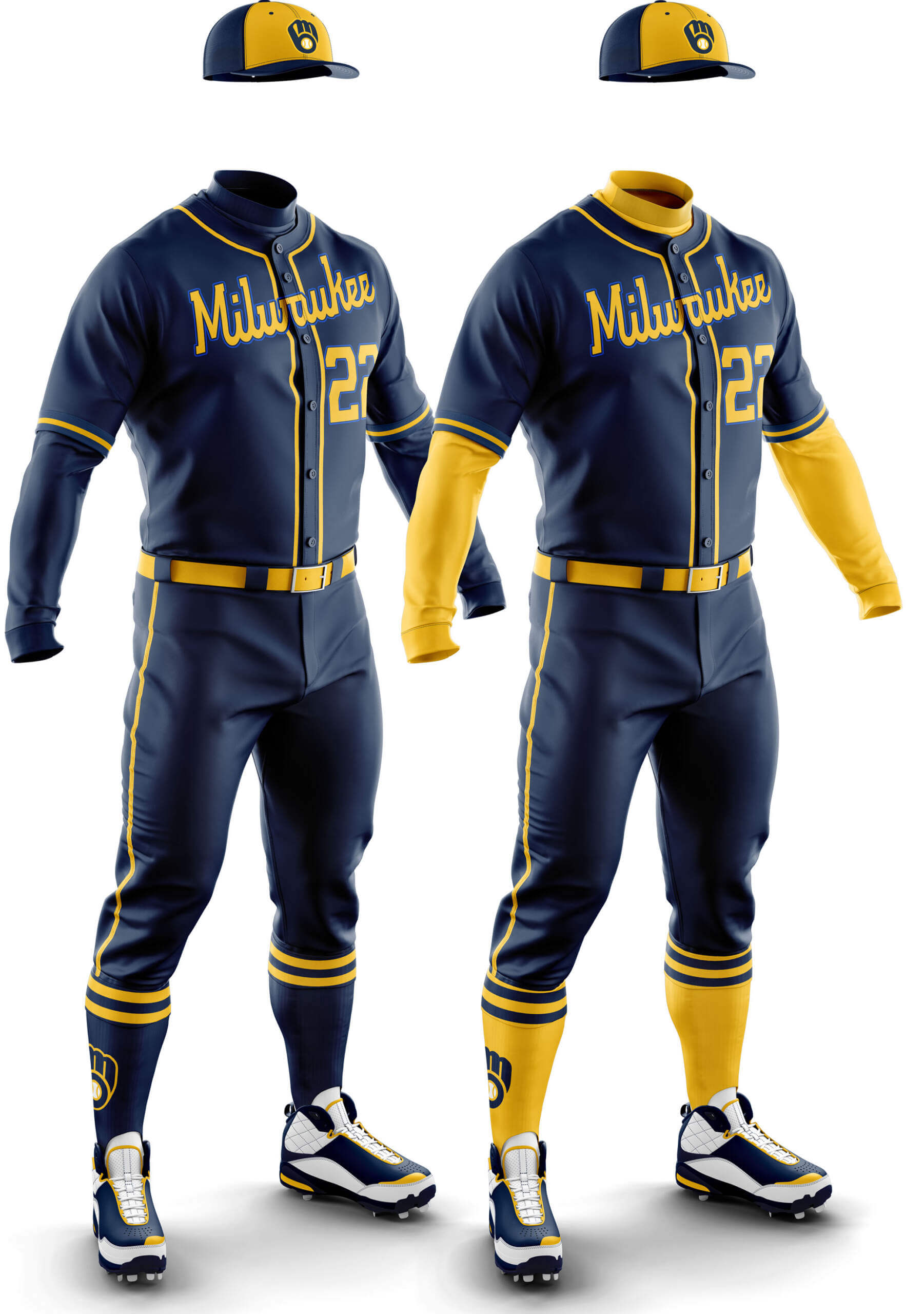 CD: I like both of these -– I think all the piping and stripes plus the cap front panels make for a good look.
PH: Sigh. Another mono-navy. This one meets the same problems as all the other mono-navy teams, but at least the athletic gold pairs very well with it, making it slightly more palatable than some of the other mono-navy concepts. Do you think MLB has a few too many navy alternates? Like, almost all of them are superfluous anyway. Do the alts really sell that well at retail???
__________
Pittsburgh Pirates Black Home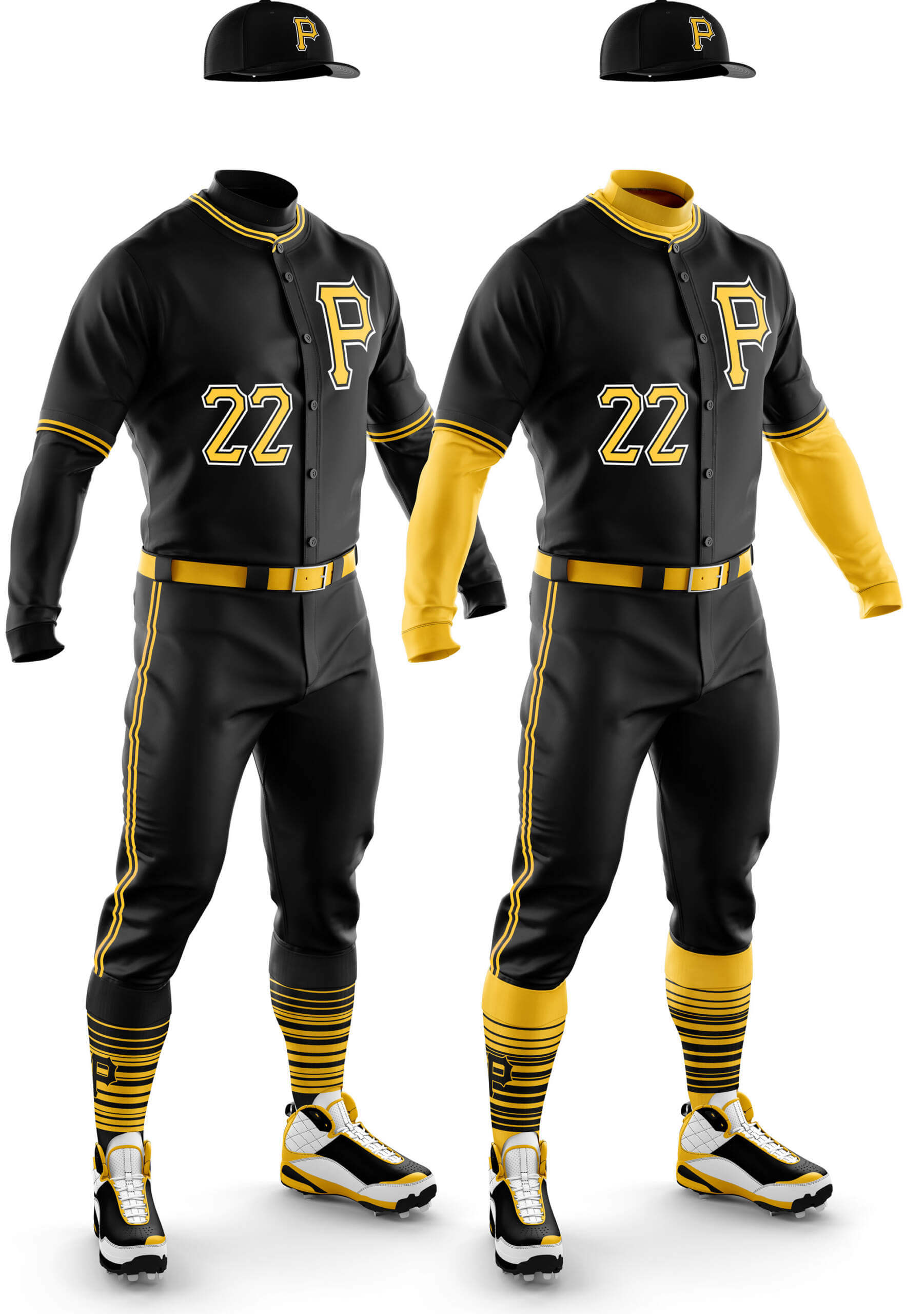 CD: As a Pirates fan I am probably a bit biased but my dislike of their home alt jersey is skewing my opinion here. I just can't get past the number/logo asymmetry!
PH: I'm not a fan of the "P" black alt (nor the "Pittsburgh" ghost script which follows), so these don't quite do it for me — but I do have some semi-fond memories of the Bucs in mono-black from their We Are Family days, so an all-black alt is definitely not off the table for me. Just not in Phase One.
Pittsburgh Pirates Black Road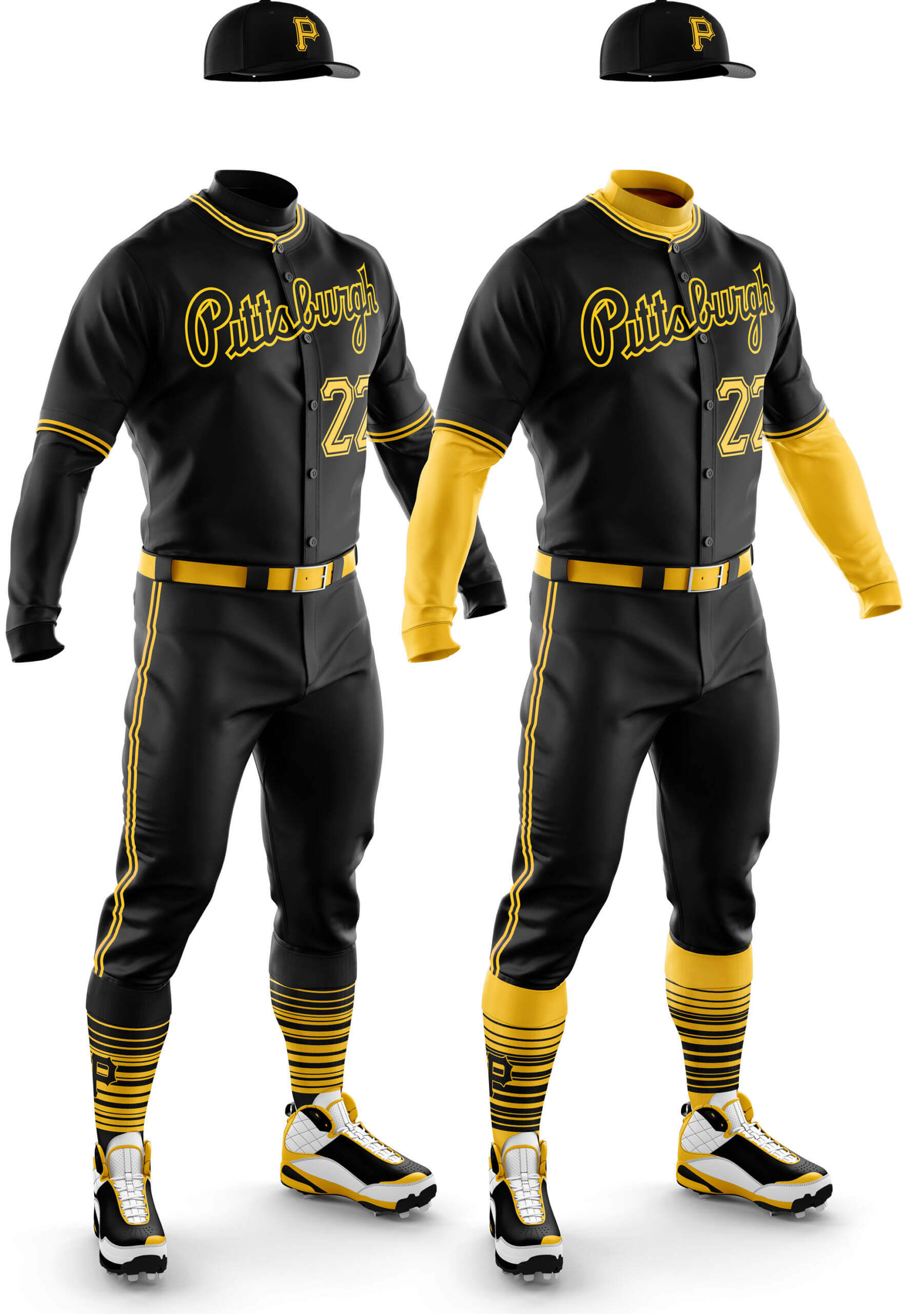 CD: Luckily for me, the Pirates black jersey base is identical for their home and road versions. Like with other two colour schemes I think this one lends itself to the mono look. I like both of these, but I think the mono edges it.
PH: My comments on the Black Home pretty much sum up the Black Road. If they were to return the jersey script to the old days (and with gold caps), I'd be sold. Just no pillboxes please.
• • • • •
And thus endeth Part II of Phase One. Like Part I, I think you fine readers will agree that there aren't too many of these dark-mono looks that would actually look good on the field, although there are a few for which cases can be made. Please let us know below what you think (and especially if you think any make the cut). Remember, this is just Phase One, where we ONLY change the pant color to match the jersey color, leaving everything else as it is currently.
I want to again thank Chris for all his assistance (and patience) in creating the mono looks. Being able to visualize the potential full uniforms definitely makes it easier to contemplate how they might look on the field.
Next weekend we'll tackle the AL & NL West, and complete Phase One.