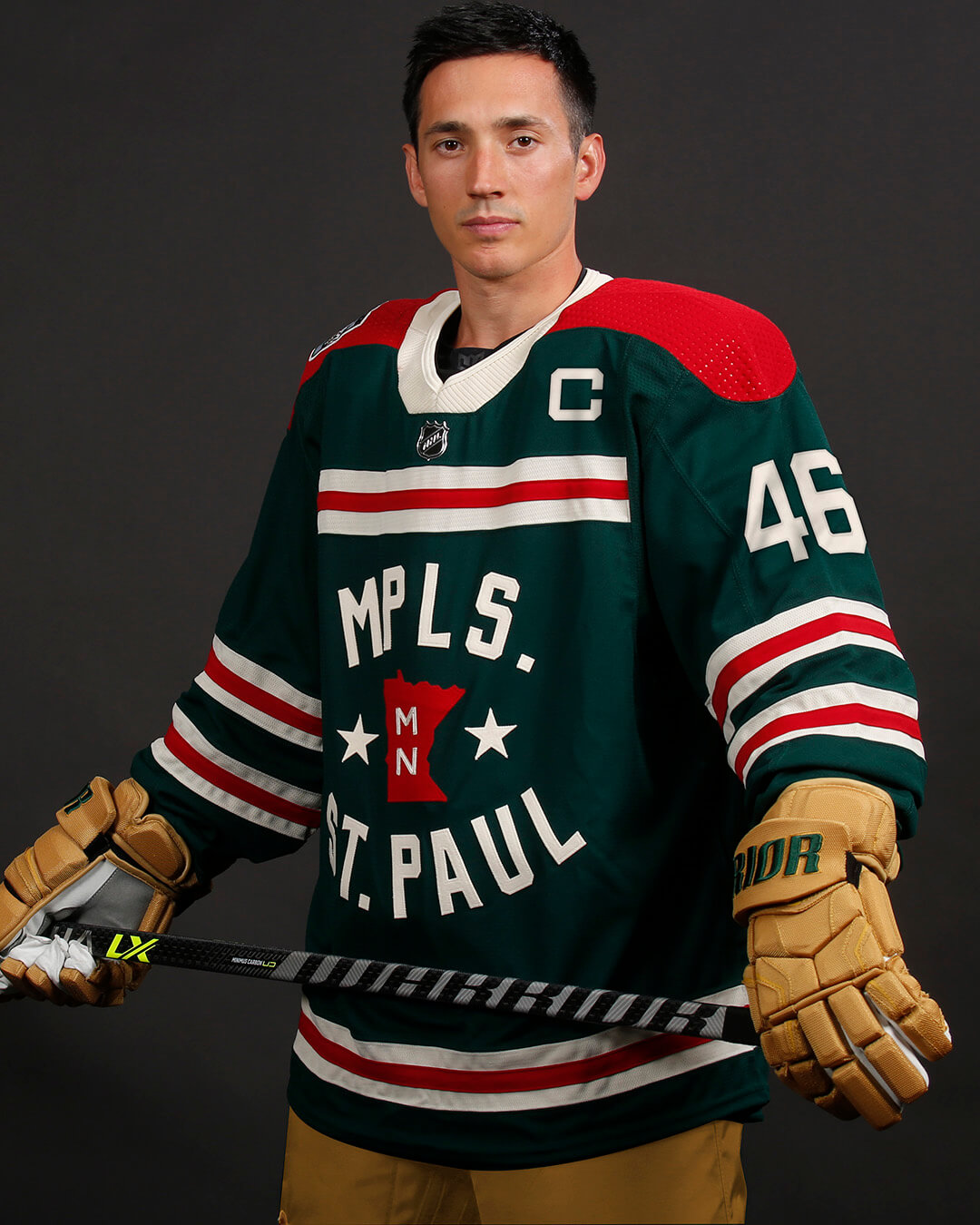 Click to enlarge
Good morning, and welcome to the unofficial start of autumn, or the start of the school year, or the final countdown to the start of the NFL season, or the MLB season's home stretch, or however you choose to define the post-Labor Day week. I had a really fun holiday weekend (more on that in a bit) and hope you did too.
There was a lot of uni news you may have missed over the last few days, especially since Uni Watch was closed for the long weekend, so today I want to go over some of the more notable items, beginning with the Wild unveiling their Winter Classic uniform, and holy moly is it a beauty. I mean, is that spectacular or what?
Here's another view, this time showing the socks: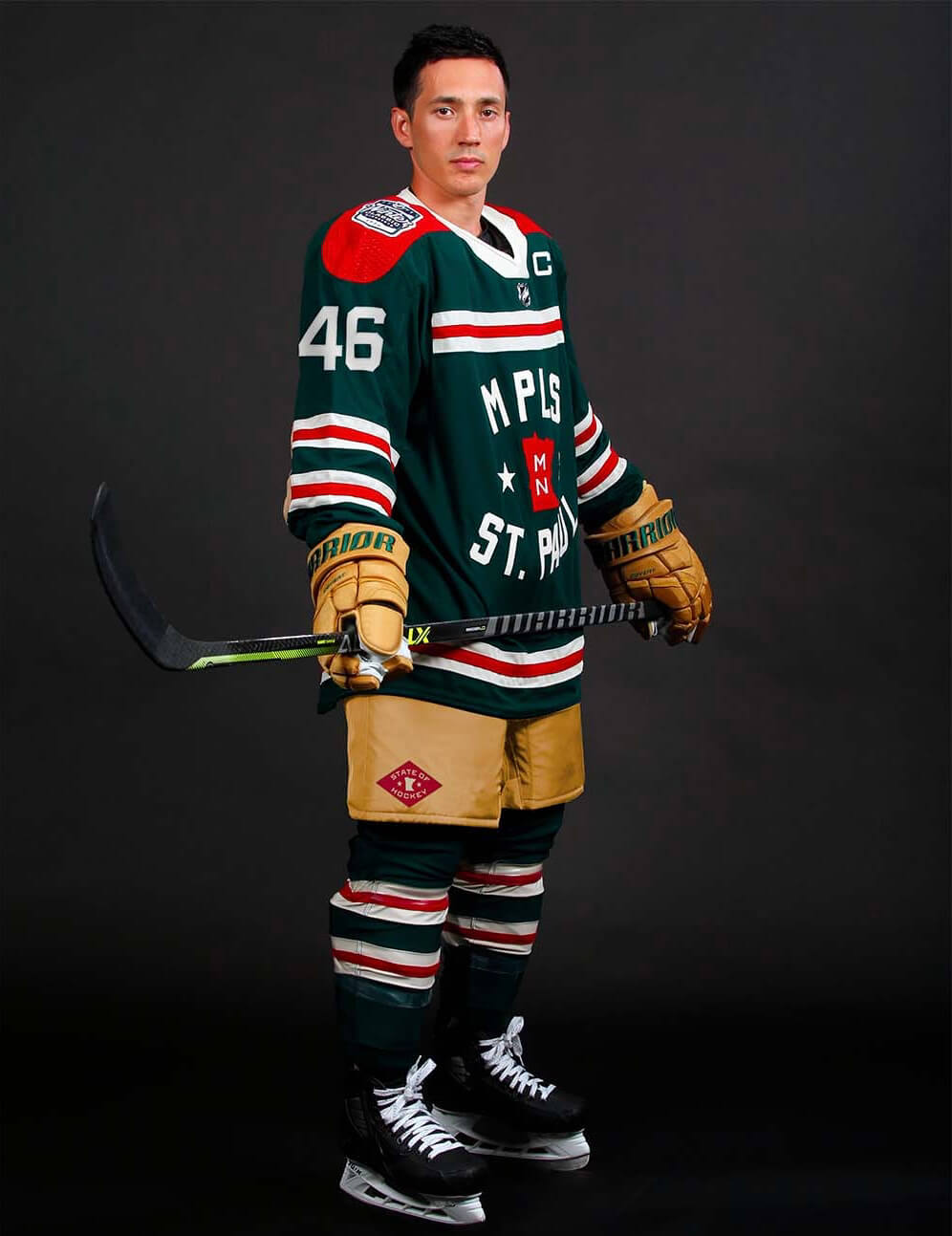 According to the team's press release, the uniform is "designed to celebrate the state's rich hockey pedigree, the rivalry of the Twin Cities, and [the state's] legacy as the State of Hockey." Speaking of which, the here's a closer look at the "State of Hockey" logo on the pants: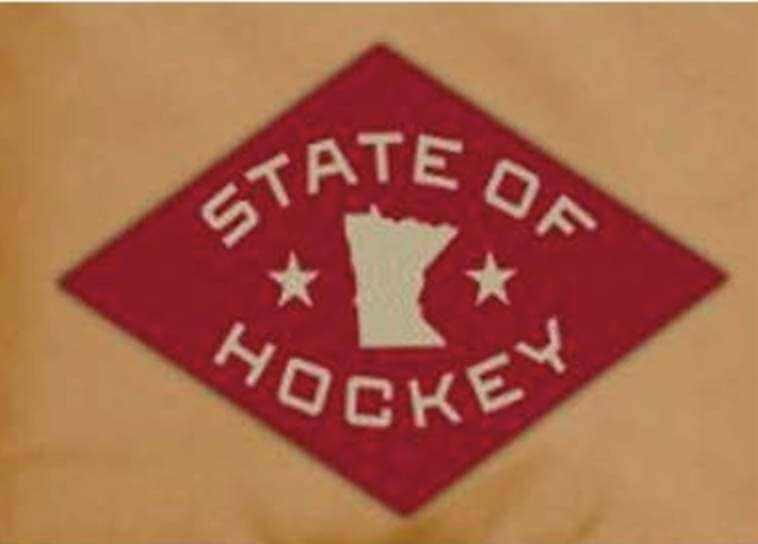 That's an A+++++ in my book. Additional info here and here.
Speaking of the Wild, a tweet from beat writer Michael Russo indicates that they'll have a new alternate jersey for the 2022-23 season.
(My thanks to Justin Ganz for the news about the 2022-23 alternate.)
• • • • •
• • • • •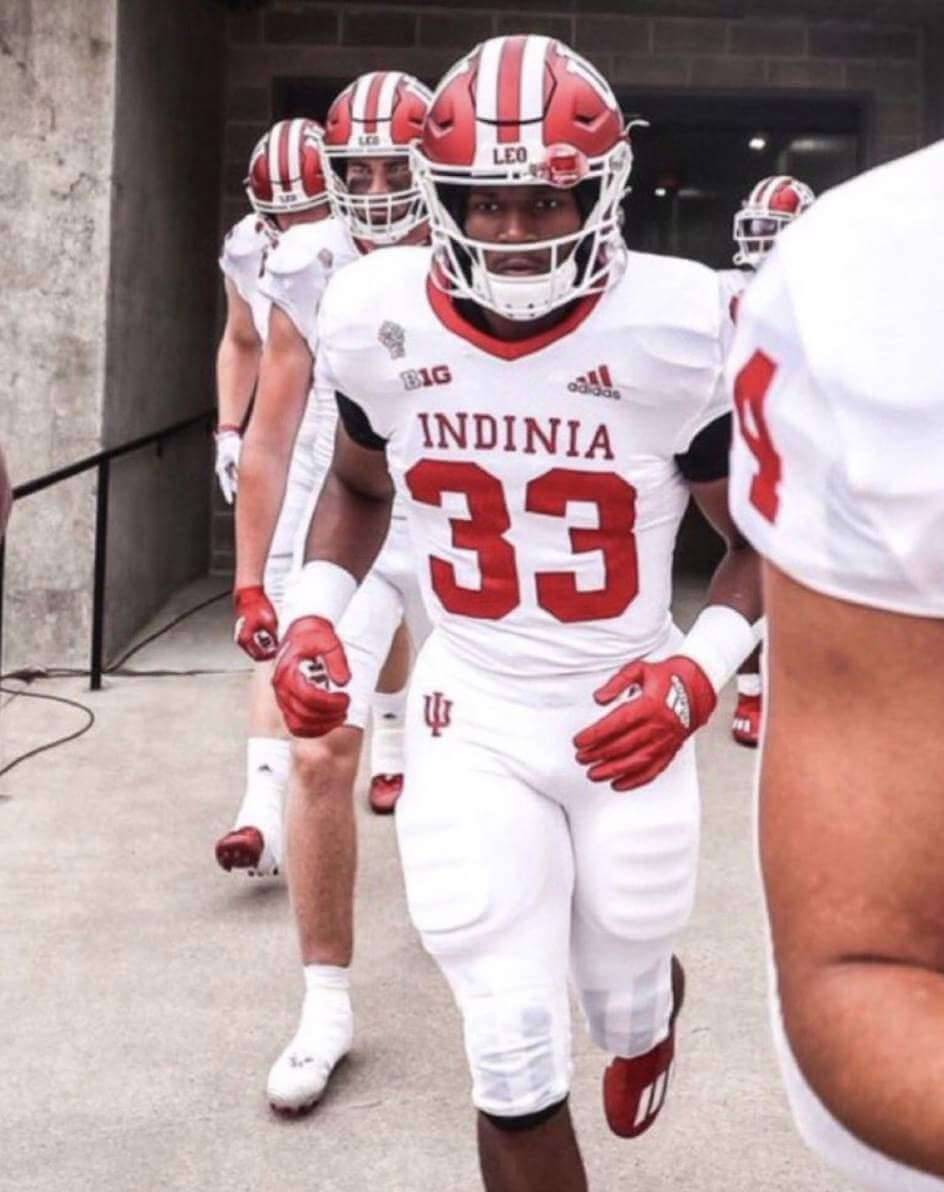 Click to enlarge
Oopsie: Another key uni-related moment from the weekend came prior to the start of Saturday's Indiana/Iowa game, when Indiana running back David Holloman trotted onto the field wearing "Indinia" across his chest.
Holloman didn't have any rushing attempts or pass receptions during the game, and it's not clear to me whether he was even on the field for any snaps. But his pregame jersey typo is already legendary.
Speaking of Indiana football, they announced that they'll be wearing 1980s throwbacks against Cincinnati on Sept. 18.
And as long as we're talking about college football, I was intrigued to see that BYU, in addition to using "C" designations for captains, is also using "A"s for alternate captains:
We got C's (Captains) & we got A's (Co-Captains/Alternative-Captains) on game jerseys this season!! #GoCougs pic.twitter.com/HbQkN6YIKt

— Billy Nixon (@byuequipment) September 4, 2021
Obviously, that's a standard thing in hockey, but I don't think I've ever seen it before in football. Weird!
(My thanks to Shiloh Lloyd for the BYU item.)
• • • • •
• • • • •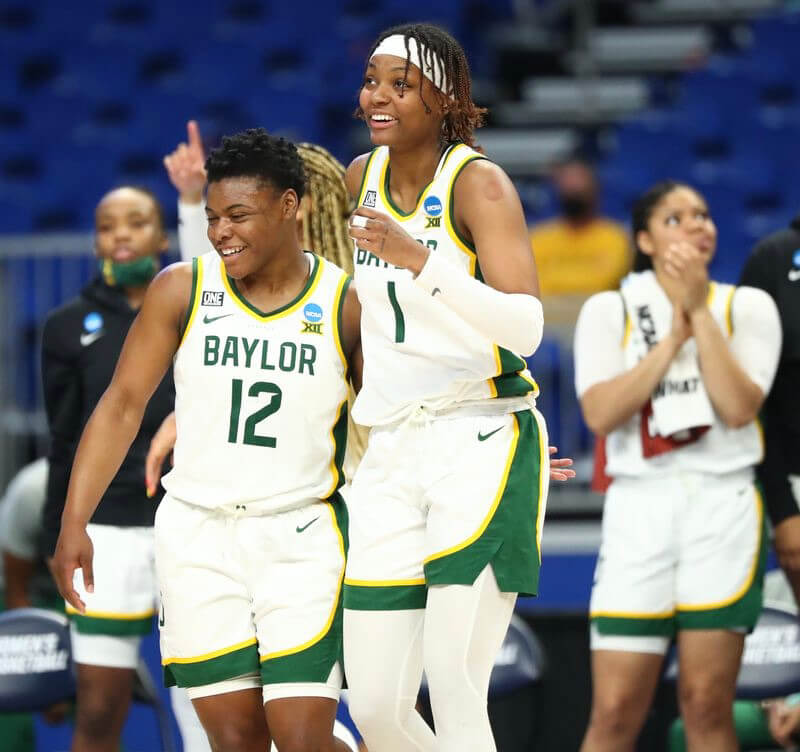 Click to enlarge
Long overdue: Another bit of important news from the weekend is that Baylor's women's hoops team (which, like all Baylor squads, has a very pleasing color scheme) will no longer be known as the Lady Bears and will now simply be the Bears.
While this is a welcome development, there are still lots of colleges and, especially, high schools out there whose women's and girls' teams are saddled with sexist team names. Sometimes these names aren't even gendered — they're just condescendingly "less than." At Bath High School in Lima, Ohio, for example, the boys' teams are called the Wildcats and the girls' teams are the Wildkittens — a patronizingly cutesy, diminutive name that's clearly sexist, even though it's not gendered. That's a terrible message to send to the girls at Bath High — they (and all other girls) deserve better.
Longtime reader Tom Konecny has been nudging me to run a weekly item about this phenomenon, similar to the "Native American Appropriation News" segment. The thing is, there's a lot of Native-related news taking place (schools changing their team names, teams retiring Native-themed logos, etc.), while news about sexist team names is much less frequent. One could argue that that's all the more reason to spotlight the schools that are still using these outdated names, just to draw attention to them and try to get the ball rolling on this issue. What do you folks think — is that something you'd be interested in seeing on Uni Watch?
Meanwhile, in a related item that was just announced early this morning, the NWHL (National Women's Hockey League) will no longer have a gendered name. It will henceforth be known as the Premier Hockey Federation.
(My thanks to Andreas Papadopoulos for the NWHL item.)
• • • • •
• • • • •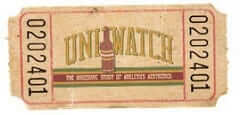 ITEM! Raffle for now-rare cap: As most of you know, the Uni Watch Classic Cap is sold out and no longer in production. But reader Troy Fordyce has an extra Size 8 cap and has generously offered to let me raffle it off.
This will be a one-day raffle. USA mailing addresses only. To enter, send an email with your mailing address to the raffle in-box by 8pm Eastern tonight. One entry per person. I'll announce the winner tomorrow. Big thanks to Troy for making this one possible!
• • • • •
• • • • •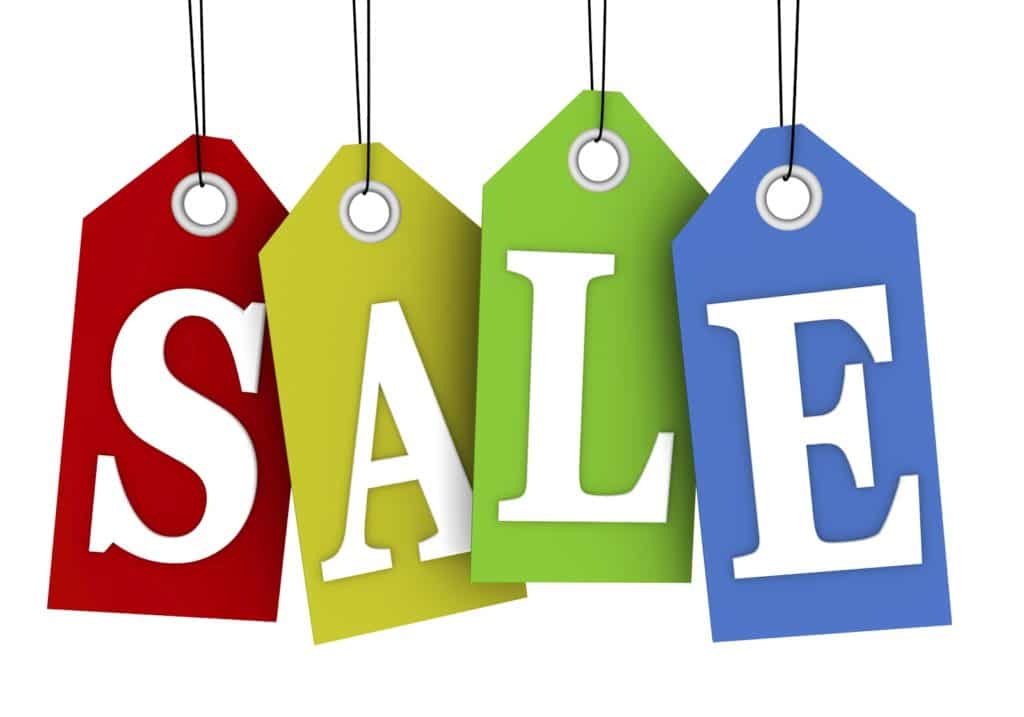 Teespring sale reminder: In case you missed it late last week, Teespring is running one of their site-wide sales. Up until midnight Eastern tonight, you can get 10% off of anything in the Uni Watch, Naming Wrongs, or Uni Rock shops by using the checkout code SUNSET. By using that code, you'll save a bit of coin and Uni Watch will still make its full profit — a win-win!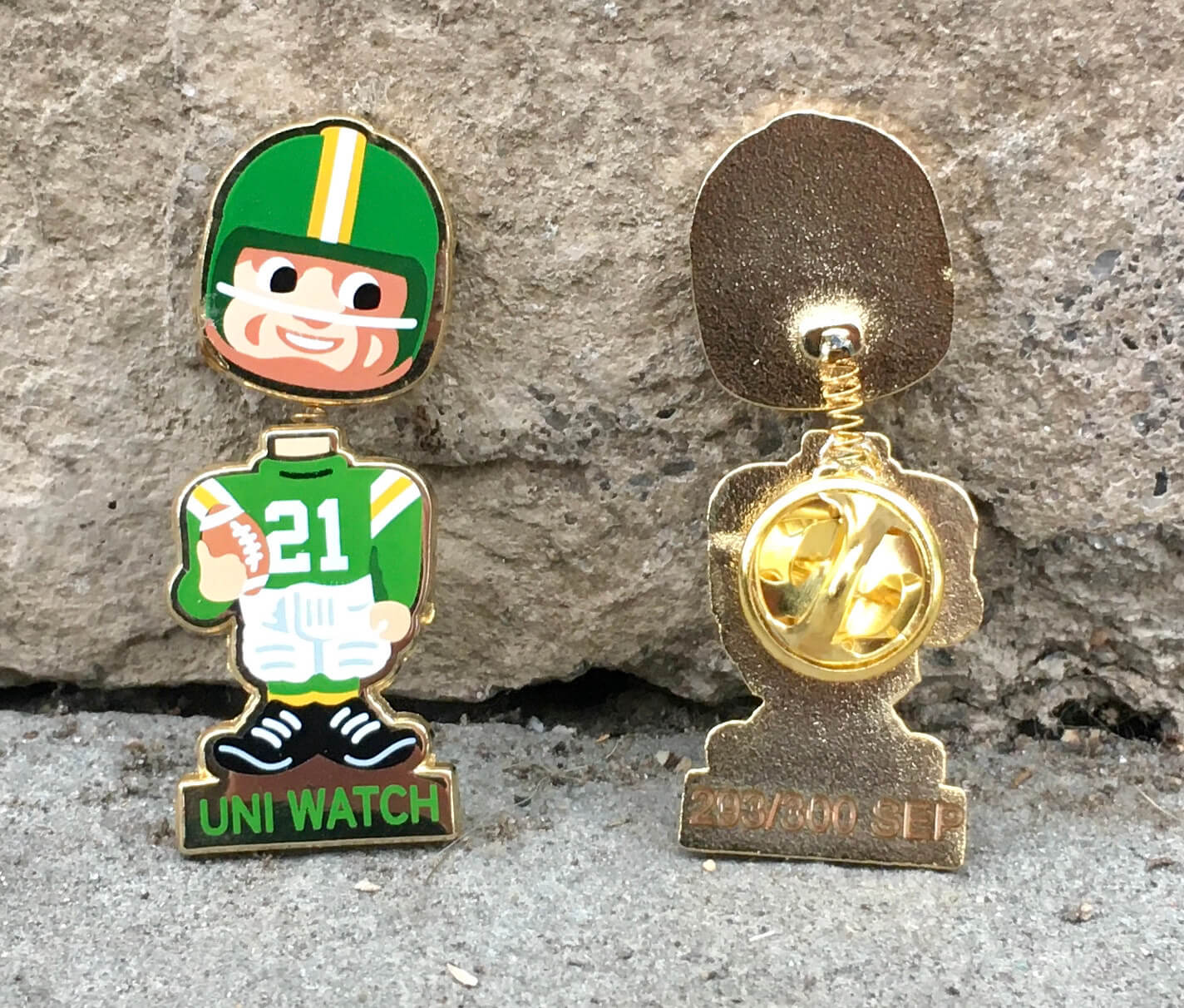 Speaking of which: The September pin — which, as I mentioned last week, is a football bobblehead — still has not arrived at the Teespring warehouse, although I expect it to be there this afternoon. I'm not allowed to start taking orders until they give me the green light, which I hope will take place sometime today. So if you want to be able to take advantage of the discount code today while purchasing the pin, check back here (I'll update this section as soon as the pins are available) and/or keep an eye on my Twitter feed (I'll tweet as soon as the pins are ready to be ordered).
Update: FedEx now says the pins, which were supposed to arrive at Teespring's warehouse last Friday, and were then delayed until today, are now further delayed until tomorrow. Very frustrating — really sorry about that.
My thanks, as always, for your consideration of our products.
• • • • •
• • • • •
Culinary Corner — scallop report:  As I mentioned last Friday, I recently ordered two dozen live scallops — something I'd never seen available for sale before. Here's how they turned out:
Our friends Nate and Heather came over to help/share/etc. Shucking the two dozen live scallops turned out to be pretty simple (we watched an instructional video beforehand) and fairly enjoyable (for all of these photos, you can click to enlarge):
As expected, the female scallops had shiny red roe inside. We put the shucked scallops in one bowl, the roe from the female scallops in another bowl, and all the other viscera in a third bowl:
I wish I'd thought to weigh the scallop yield, as it would have been interesting to know how much meat I got for my $100, but I didn't think of that until it was too late.
Nate and Heather brought along some scallops, purchased from their local fishmonger (and pre-shucked, of course), to serve as a control group. We quickly realized that the scallops we'd shucked were much smaller than the ones from the fishmonger. That was a bit disappointing — I hadn't realized that the live scallops would be so small. Looking back at photos from the vendor's website, they didn't misrepresent their product — it's just that there were no "normal" scallops for comparison. My bad for not noticing or realizing the smaller size.
Anyway: I took six of the just-shucked scallops, cut them into smaller pieces, and put them in a small container with some lime juice to turn into ceviche. (Sorry, no photos of that.)
I took another six scallops, plus two of the larger ones from the fishmonger, sliced them into thin rounds, and drizzled them with a simple dressing made of olive oil, lemon juice, and sea salt. Both scallop varieties tasted great — sweet, fresh, oceanic — but we all agreed they could use a bit more of something or other, so Mary provided a few thin slices of jalapeño, which added a nice bit of flavor and texture. In this photo (sorry about the lighting — our dining room is not an ideal photo setting), you can see the larger locally purchased scallops on the left and the ones we shucked in the center:
I took another six scallops, plus two more of the larger ones, and seared them in a mixture of olive oil and butter. We served these with a bit of corn/tomato/bacon salsa that Mary had made the day before.
It was all delicious, but here the difference in size really came into play, because the larger scallops had a much meatier mouthfeel — more satisfying than the smaller ones we had shucked. Dang.
I also sautéed the roe in the same skillet. This turned out to be the big revelation, at least for me — I'd never had scallop roe before, and it was so good! Seafood-y, earthy, and surprisingly firm (not mealy like I feared it might be). Loved it!
Finally, I took the last of our scallops, plus two more of the larger ones, tossed them in some melted butter, topped them with a mix of panko breadcrumbs and olive oil, and baked them in a 400º oven for about 20 minutes. The breadcrumbs didn't get as browned as I'd hoped, but it the results were still very tasty. Again, the larger ones were more satisfying.
Shortly after Nate and Heather went home, Mary and I looked at each other and suddenly realized we'd all forgotten about the ceviche! By this time it had fully "cooked," so I drained the lime juice, left the scallop meat in the fridge, and then took it with us to the beach the next day. It was really, really good — a perfect snack for sitting at the ocean.
Verdict: Shucking live scallops is a fun experience, and getting to eat the roe is a nice bonus. But I can't really say that the freshly shucked scallops tasted any better than the ones from the fishmonger, and the smaller size was a downer. Overall: I probably wouldn't do this again, but I'm glad I tried it — a fun and educational experiment!
• • • • •
• • • • •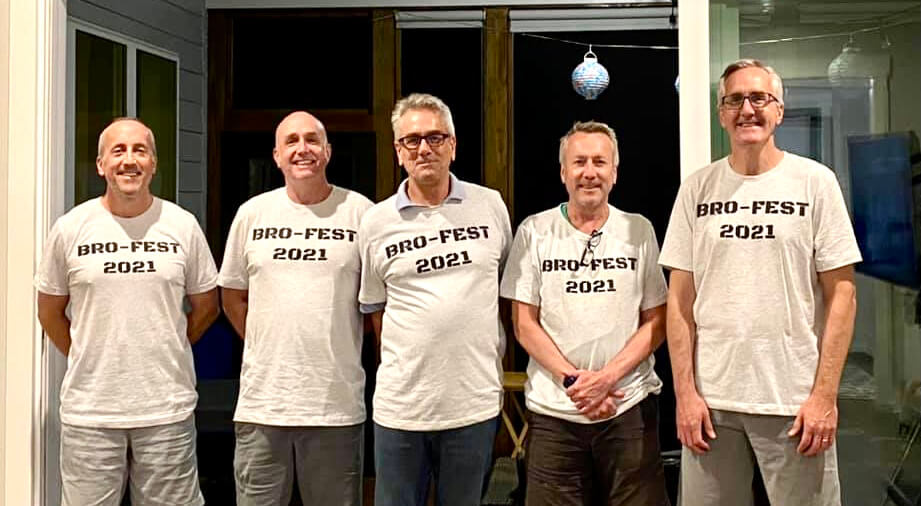 Click to enlarge
All in the family: My friend Tim, who lives in North Carolina, is one of five brothers. Over the weekend, he hosted all of his siblings at his home — the first time in over a decade that they'd all been together in one place. They wore a uniform of sorts for the occasion — complete with numbers on the back, corresponding to their sibling order: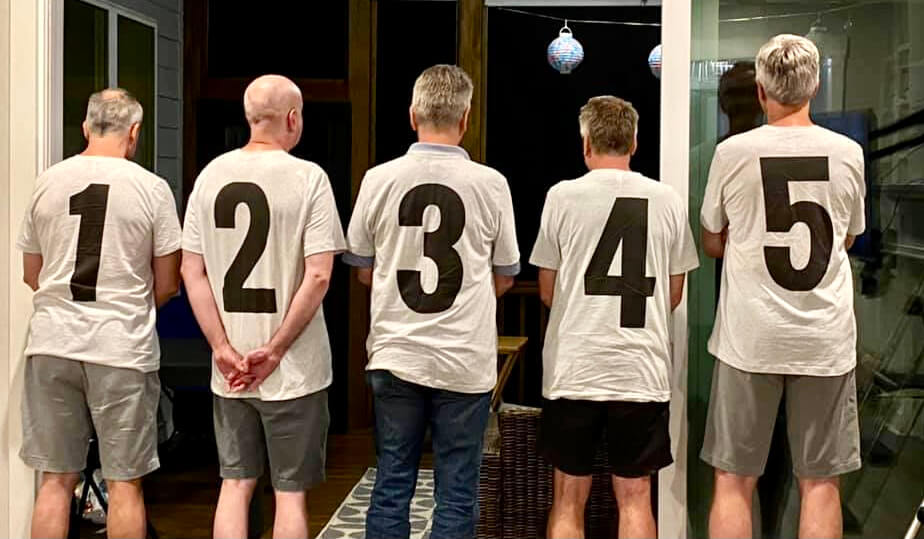 Love that — well done!
• • • • •
Sorry, no Ticker today, as the entire Uni Watch team had yesterday off. The Ticker will return tomorrow.
Last but not least: Happy Rosh Hashanah to all who are observing! — Paul