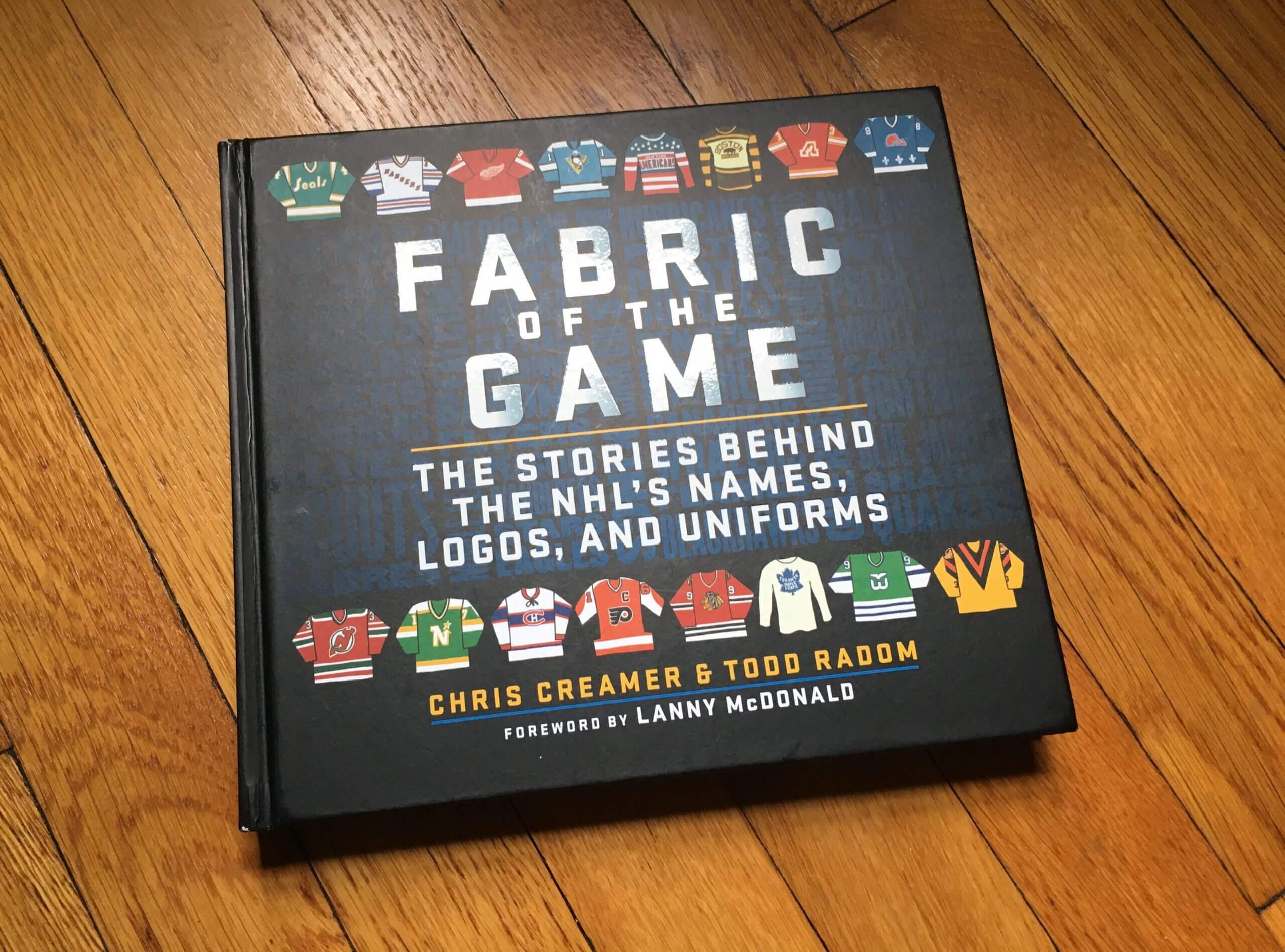 Click to enlarge
Today is Nov. 3 — a date that many of us have been awaiting with increasing anticipation and anxiousness. For those of us of a particular persuasion, it's a date we thought might never get here. Indeed, as the pandemic has dragged on and this crummy year has done its worst to make our lives as miserable as possible, the promise embodied in Nov. 3 has served as the light at the end of the 2020 tunnel that's kept us going. We've been counting down the months, weeks, and day for what seems like forever, but now that date has finally arrived.
I'm referring, of course, to today being the official publication date for Fabric of the Game: The Stories Behind the NHL's Names, Logos, and Uniforms, the much-anticipated new book by longtime Uni Watch pals/allies Chris Creamer and Todd Radom. It's a sensational book, as you'd expect from these two gents — you should own it.
The book examines the origin stories behind every past and current NHL franchise, including how the team came into existence, how it got its team name, and how its logo and uniforms were developed. The text is packed with quotes and passages from archival sources, and is supplemented by tons of color photos and illustrations (including some developmental logo sketches, which are fascinating!).
Each team gets its own chapter. I've decided to share the one for the Ducks, because it does a particularly good job of showing the book's range in terms of text, photos, logos, and so on (for each page, you can click to enlarge):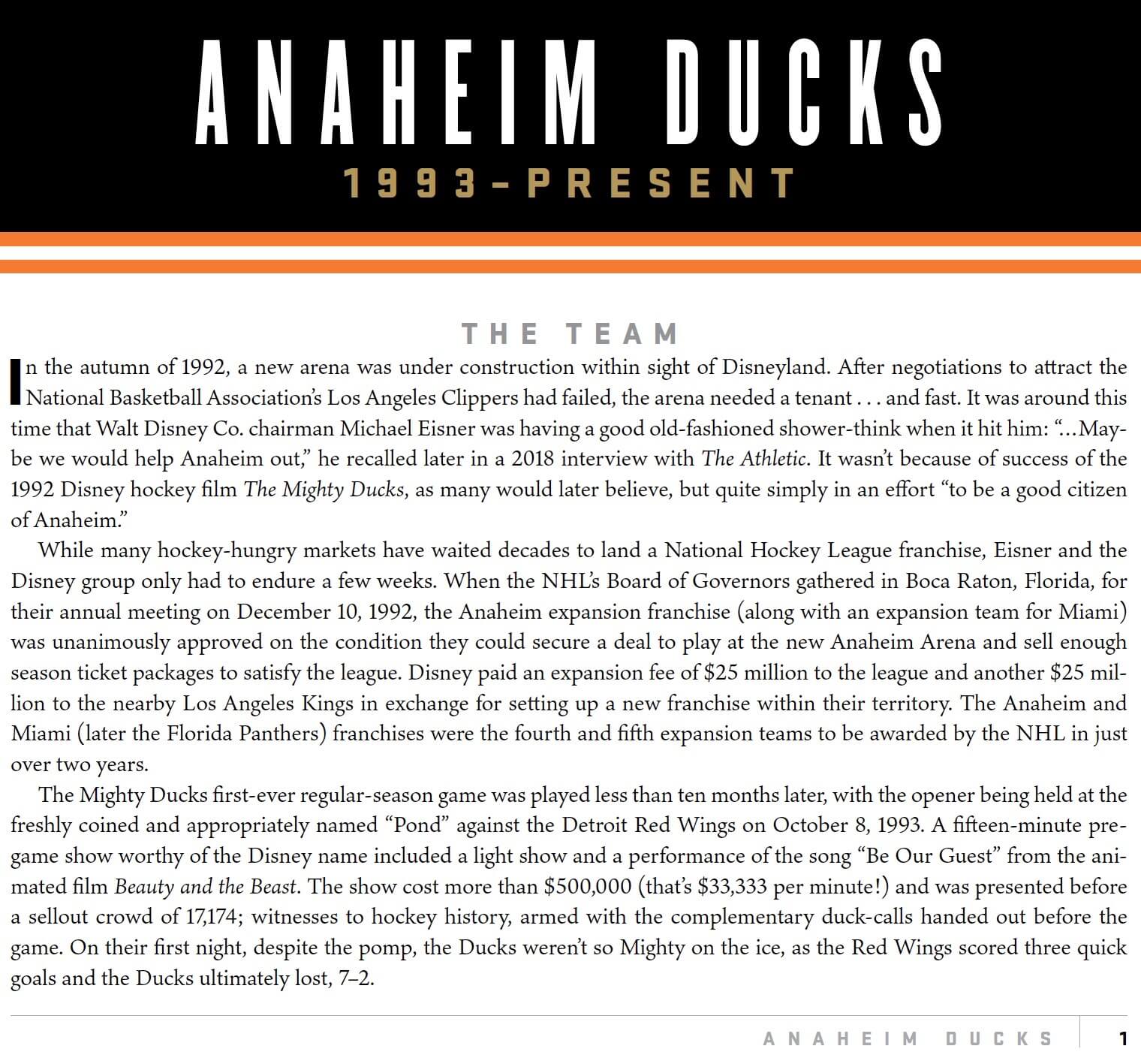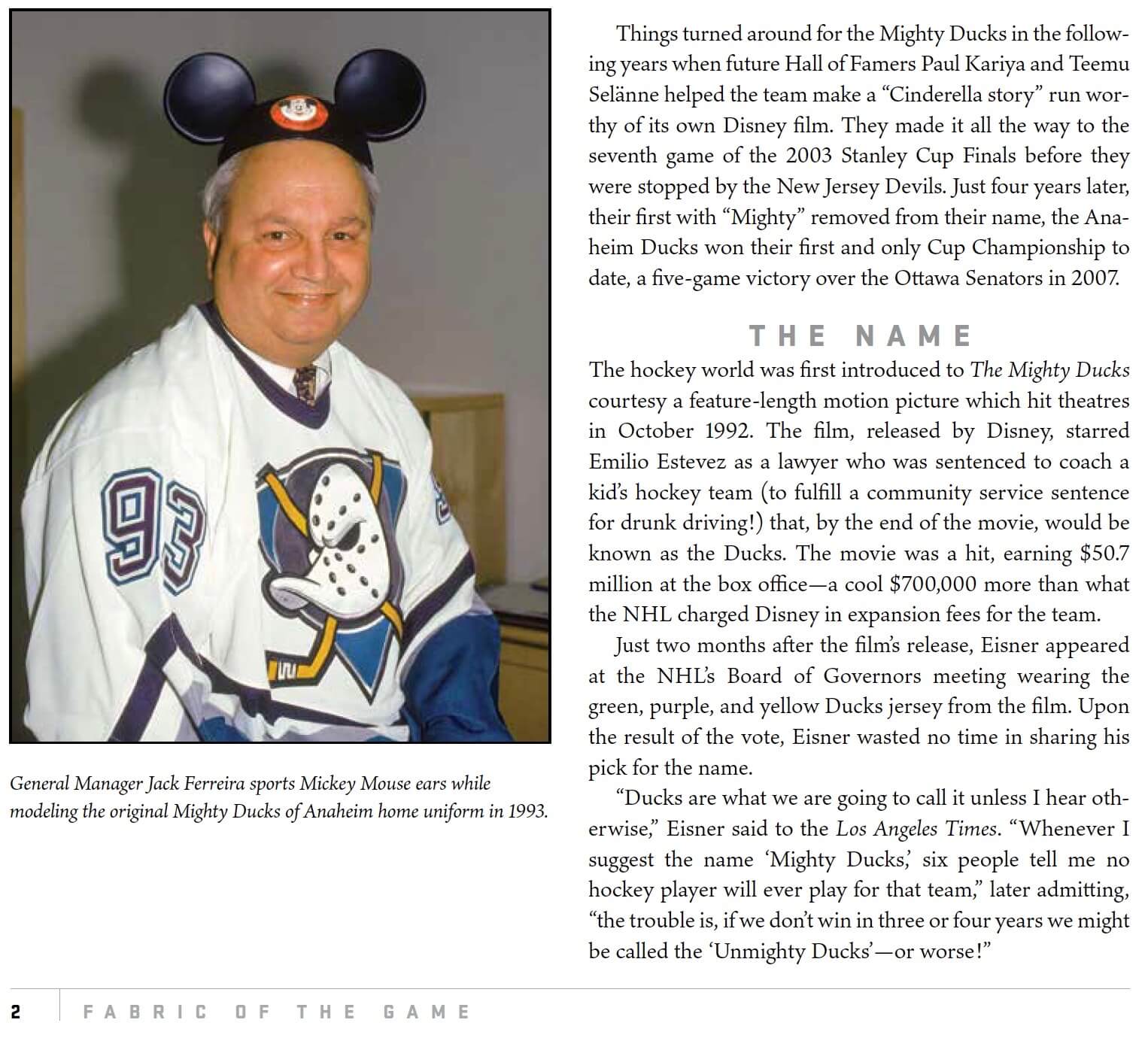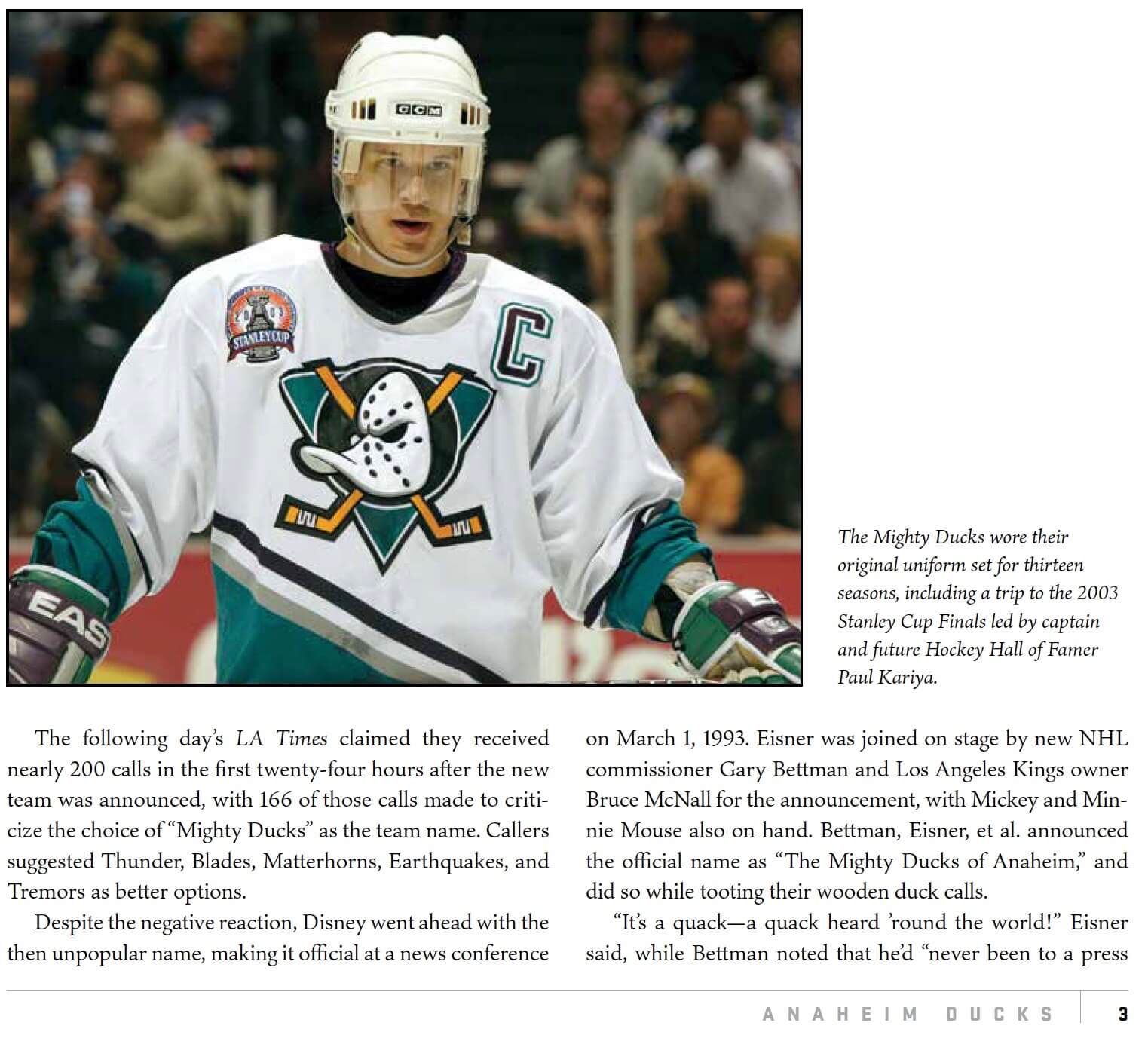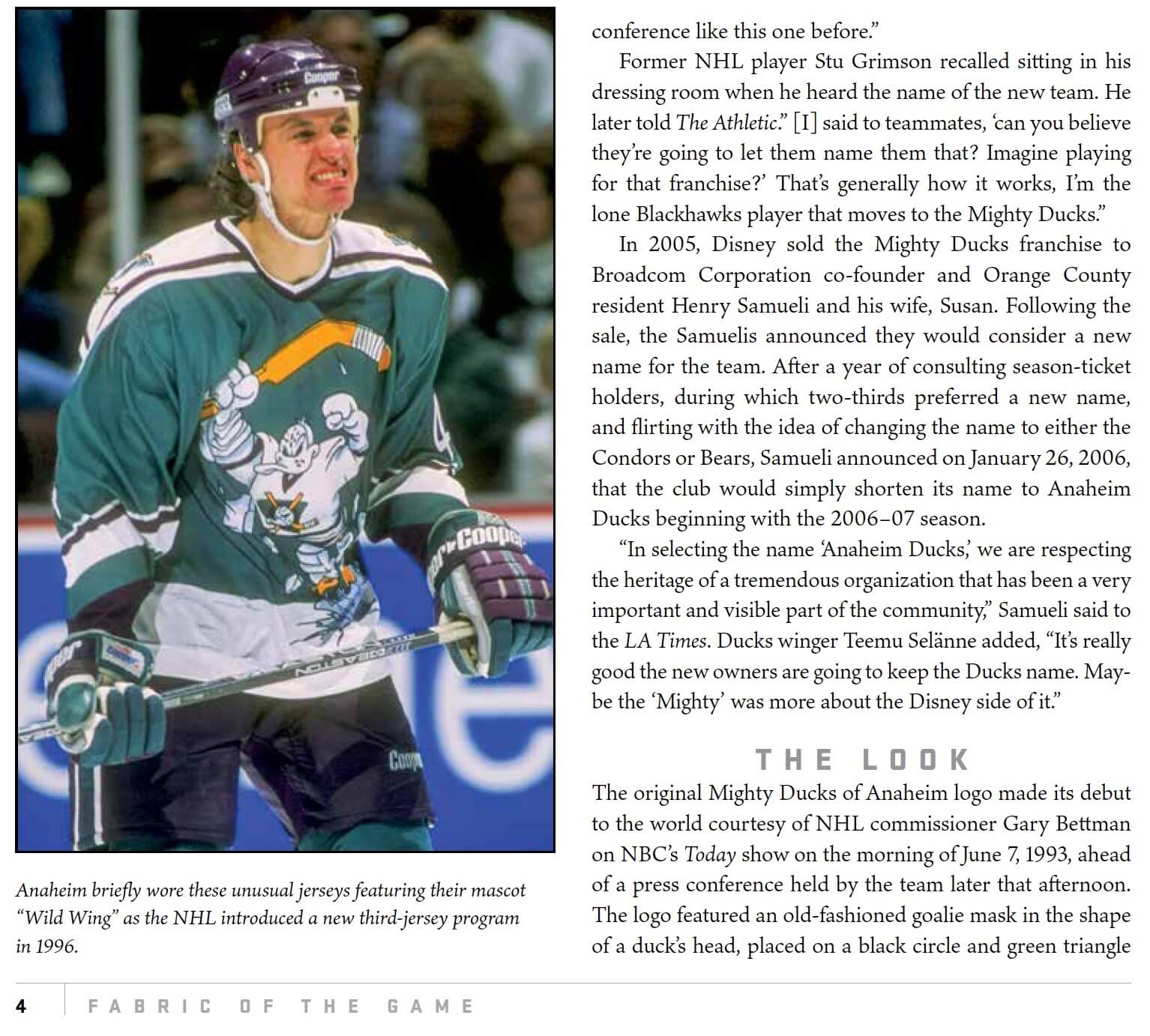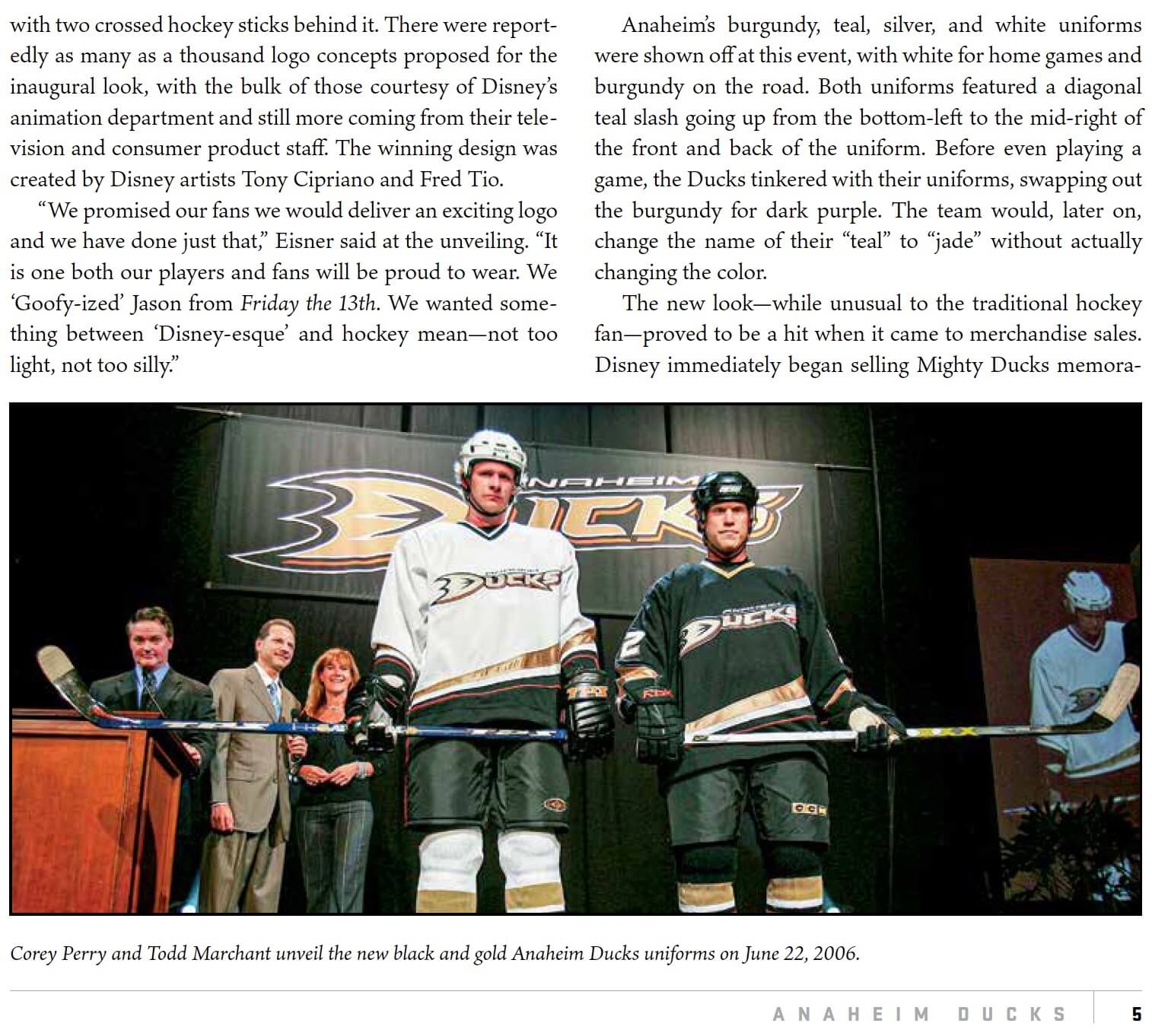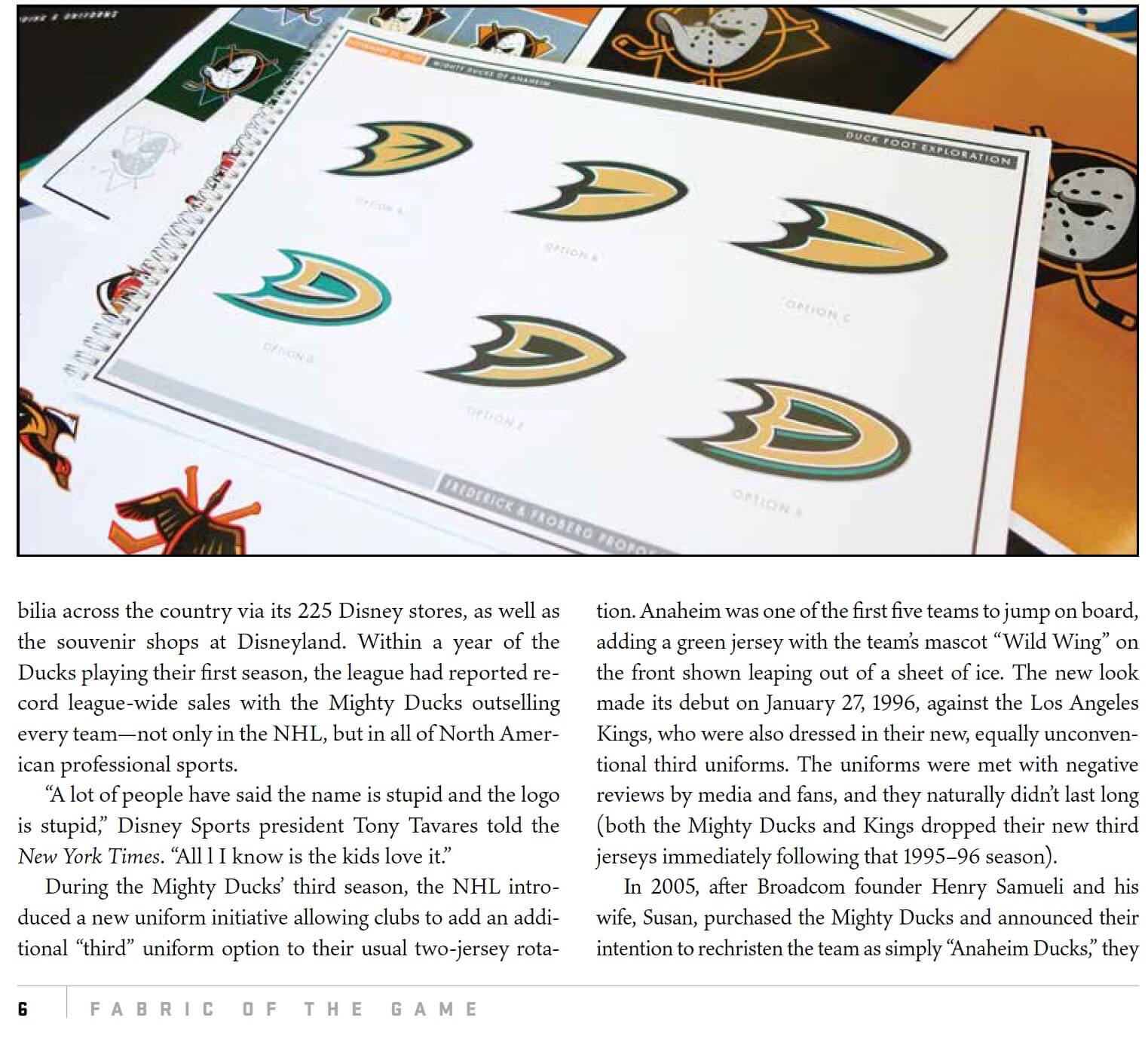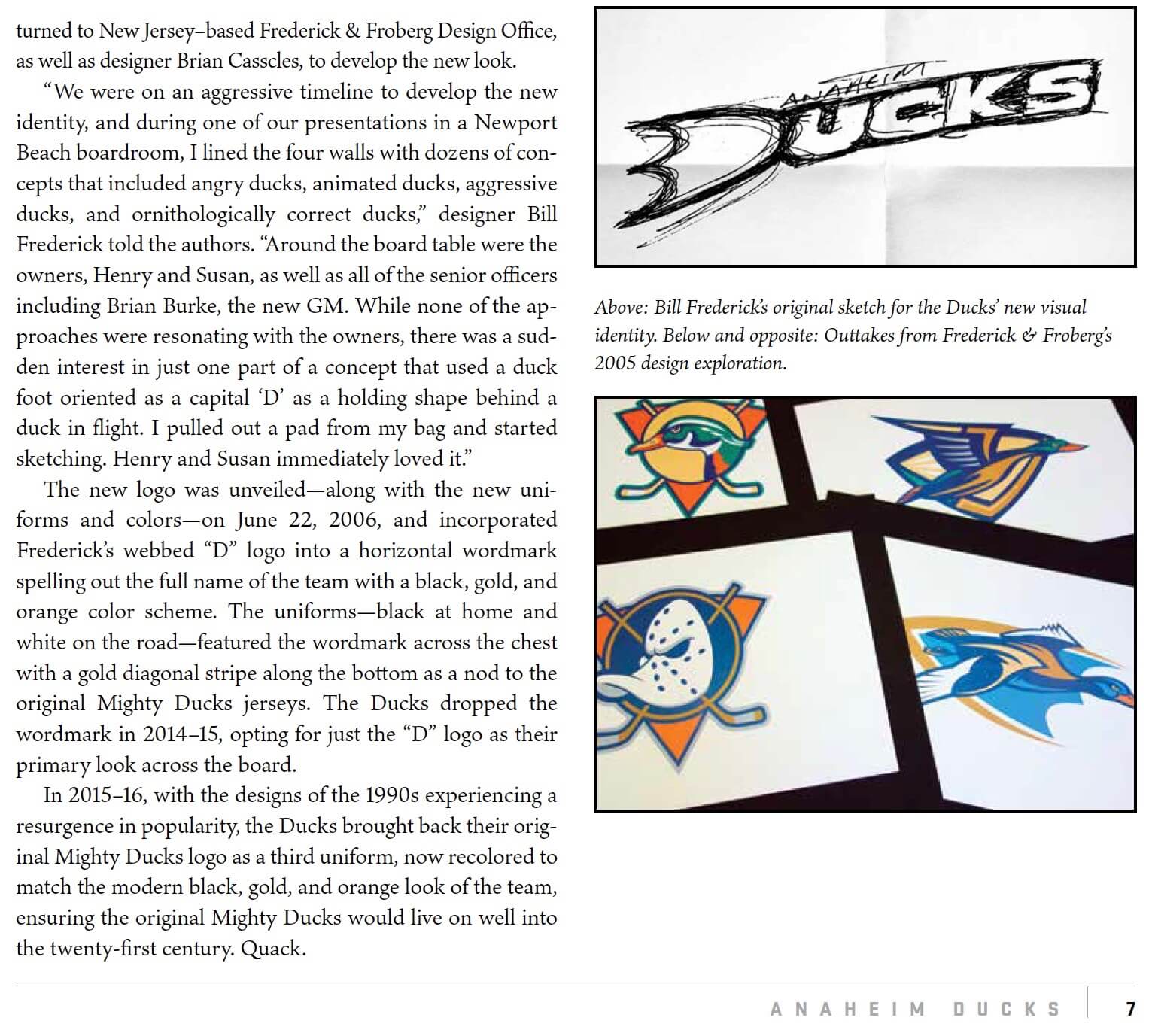 ———
Great stuff, right? The book is hardcover, color throughout, has a foreword from former NHLer Lanny McDonald, and runs 280 pages. As you'd expect, there are lots of great little details, like sweater-themed endpapers and the hilarious authors' photos: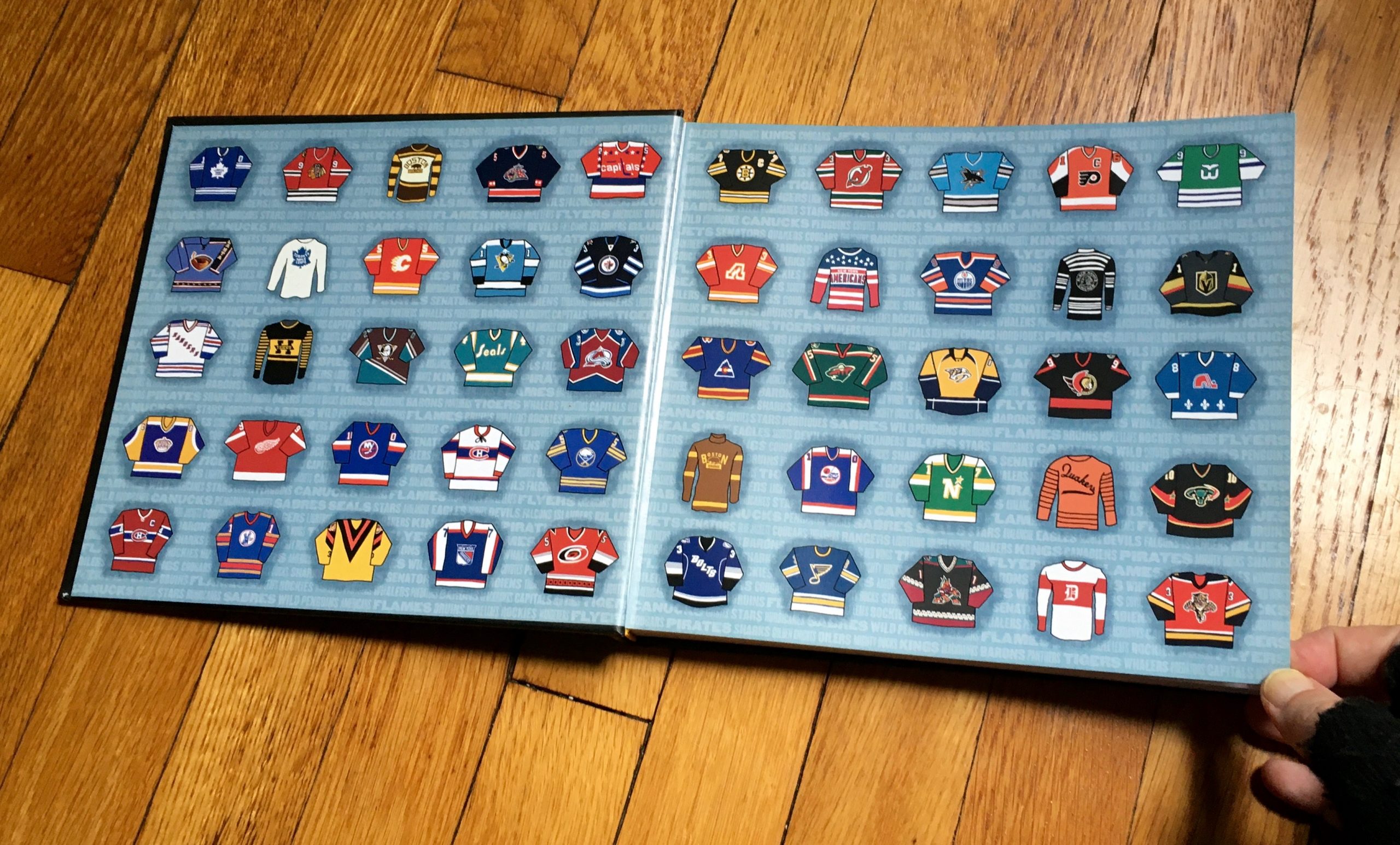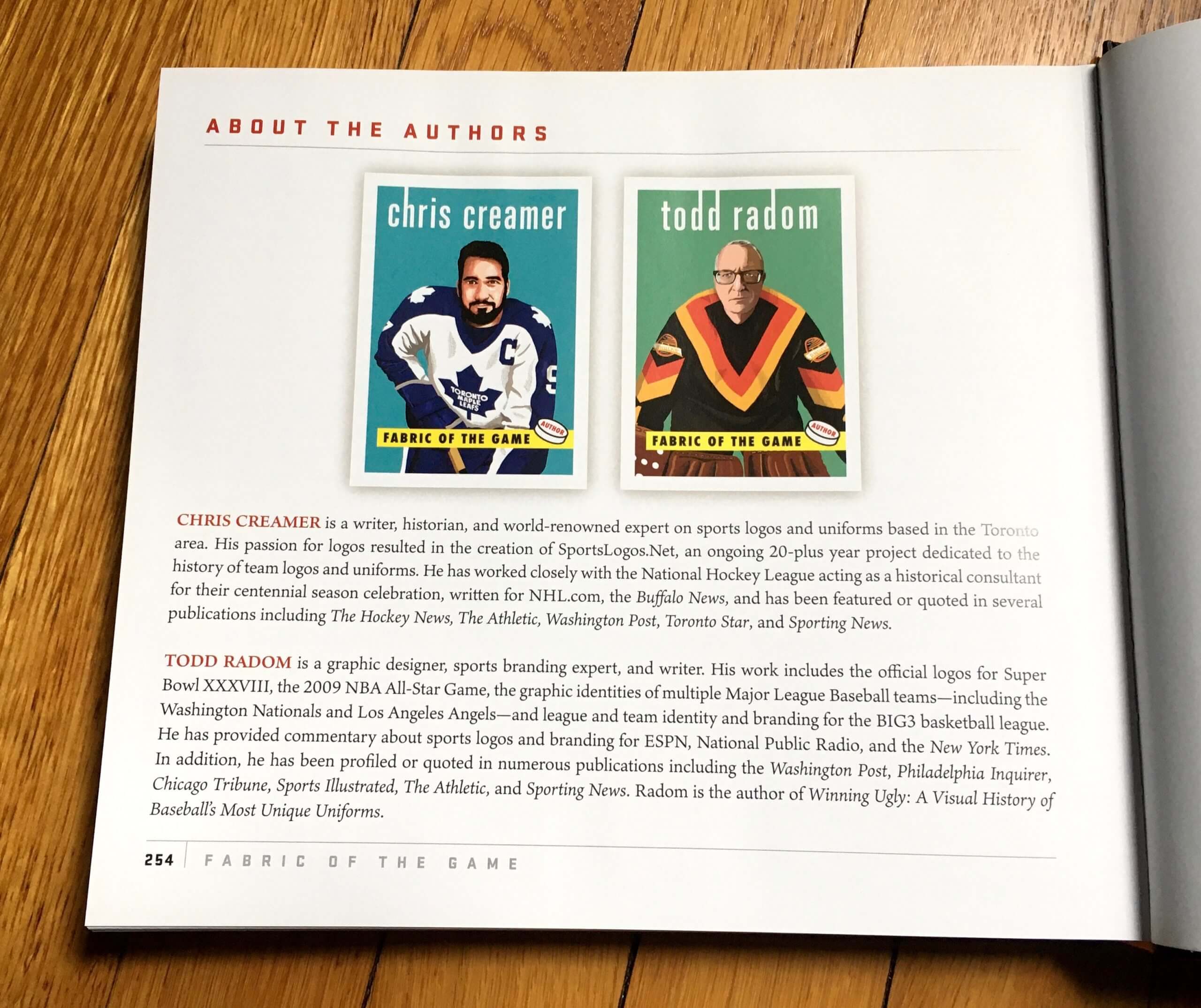 Obviously, I'm biased, because Chris and Todd are both longtime friends of mine. But seriously, it's an excellent book — an essential addition to any uni-centric library, and a great gift item to boot.
And at $24.99, it's a bargain. You can order it from the online behemoth, of course, but consider getting it from your local indie book shop — they need all the help they can get these days. No matter where you order the book from, though, you're going to enjoy it. Trust me.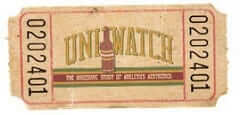 But wait — one lucky Uni Watch reader will get the book for free, because Chris and Todd have offered to let me raffle off a copy!
This will be a one-day raffle. To enter, send an email with your mailing address to the raffle in-box. One entry per person. I'll announce the winner tomorrow. Good luck!
• • • • •
• • • • •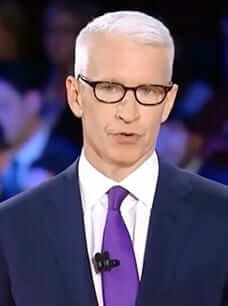 ITEM! Quadrennial Election Day purple project: As you may be aware, there's another reason Nov. 3 is a notable date on this year's calendar. That means it's time to revisit, as we do every four years, a phenomenon I'm mildly obsessed with: the trend of TV reporters and pundits wearing purple on Election Day.
For the uninitiated: The idea here is that the Democrats are blue and the Republicans are red, so mixing the two together yields the supposedly nonpartisan color of purple. Wearing purple thus becomes the reporter's way of signaling, "Just reporting the facts here. Not rooting for either side." (Yes, I realize many reporters are rooting for one side or another, but that's not the issue here. The issue is simply the phenomenon of TV reporters wearing purple on Election Day.)
Longtime reader Griffin Smith, knowing my interest in this trend, already tweeted some screen shots this morning! Dig:
@UniWatch only a little purple on various news programs this morning in Chicago. pic.twitter.com/8xUMtvzBoA

— Chicago Gump (@GriffinTSmith) November 3, 2020
In the past, I've invited people to email Election Day screen shots to me, but that eventually became overwhelming, so let's stick to Twitter this year. If you spot any TV news reporter, pundit, analyst, or talking head (local, national, broadcast, cable, public access, whatever) wearing a purple necktie, purple dress, purple suit, or any other purple clothing or accessories, take a screen shot and tweet it with the hashtag #PurpleReporters2020. (Please do not tag @uniwatch in your tweet — just use the hashtag.) Also, please include the name of the reporter and the TV station or network. Thank you in advance!
Speaking of Election Day: This political season has been stressful for many of us, but I'm really proud of how we've stayed on-topic and kept the Uni Watch comments section free of partisan electioneering. Let's please keep it that way today. Thanks.
• • • • •
• • • • •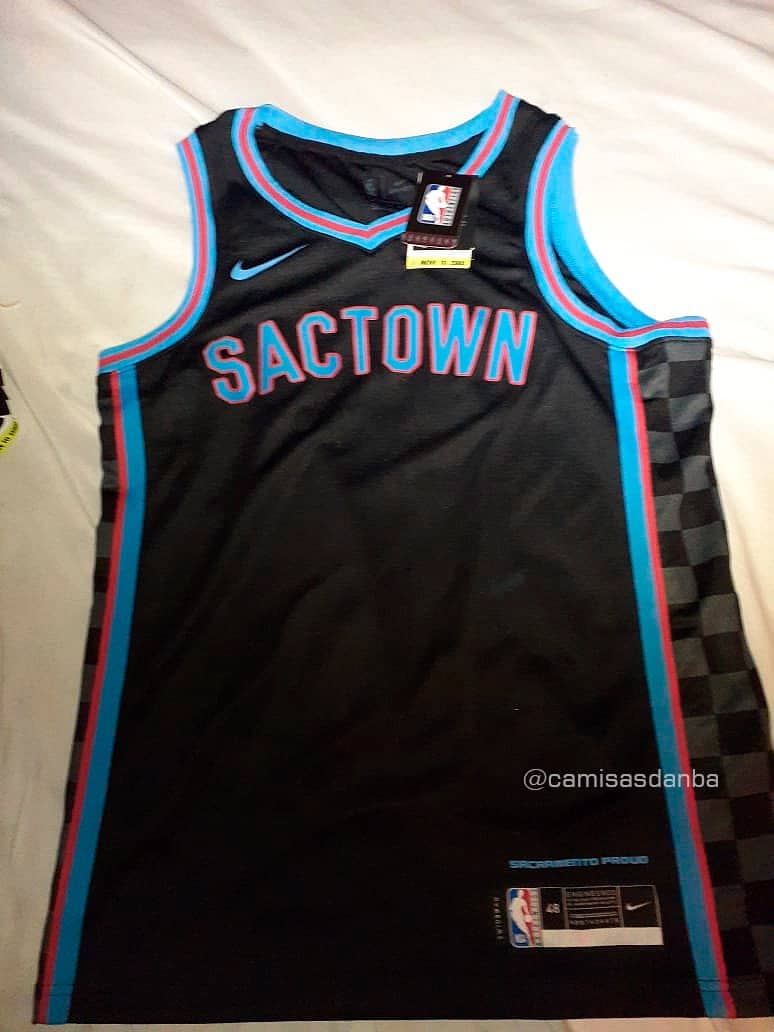 Click to enlarge
NBA leaks, continued: The latest purported City alternate leak from Brazilian spigot @camisasdanba is the laughably bad Kings design shown above. About eight hours after the leak began circulating, the team went ahead and officially announced the design: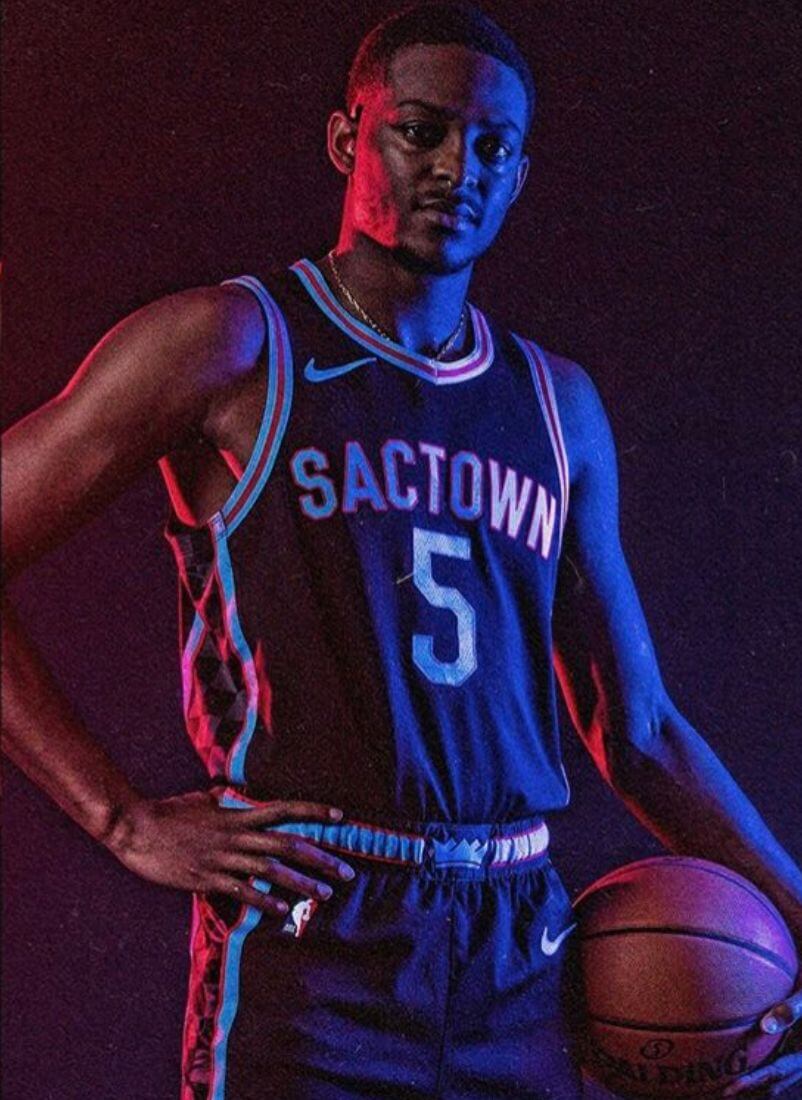 In other NBA developments:
• The purported Warriors leak is now confirmed, as the team officially unveiled the design. Note that they managed to include their jersey partner's advertiser's name in the headline and, in what may be a record, a whopping 12 times in the text.
• The Nets' previously unveiled tie-dye throwback now has a matching court design:
Couldn't bring back the unis if we didn't bring back the court.

📸 Rolling out the 2020-21 Classic Edition Court 📸 pic.twitter.com/U5UqjgvVxh

— Brooklyn Nets (@BrooklynNets) November 2, 2020
• • • • •
• • • • •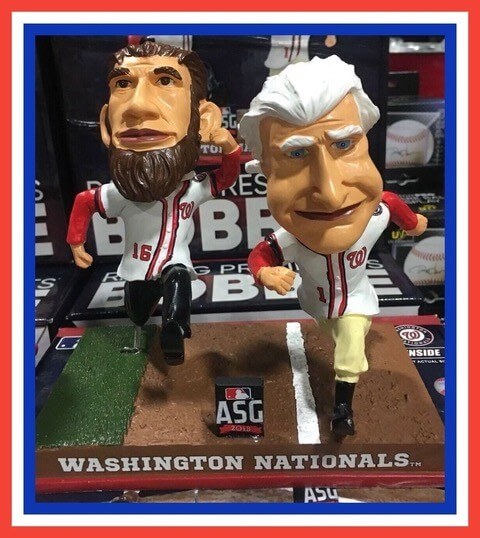 Collector's Corner
By Brinke Guthrie
Follow @brinkeguthrie
With today having special significance in the United States, Collector's Corner is happy to lead off with this dynamic presidential duo of Washington Nationals Abe Lincoln and George Washington racing bobbleheads. The seller notes these were from the 2018 All-Star Game FanFest. Perfect for Election Day!
But wait, there's more! How about a complete set of racing president bobbleheads (and one garden gnome)? This is quite the impressive collection, and includes Hoover, Coolidge, Washington, Lincoln, Teddy Roosevelt, Jefferson, and Taft bobbles, along with a Teddy gnome. If you're a Nationals fan, you'll likely vote for this set, right? 
Now for the rest of this week's picks:
• This 1970 NFL poster should be quite popular with People Who Get It™. It's called "The Evolution of the Uniform."
• The NFL Players Association endorsed this 1970s faux-Steelers Mean Joe Greene jersey shirt.
• Terrific NFL helmet logos on this 1970s spiral notebook.
• Check out this 1960 set of 13 vintage penny arcade baseball mini-telescopes, from the Plastic Processes Co. of Freeport, N.Y. Peer inside and you'll see stars like Mickey Mantle, Warren Spahn, Yogi Berra, Eddie Mathews, Gus Triandos, Joe Adcock, Luis Aparicio, Nelson Fox, Don Drysdale, Roy Sievers, Elston Howard, Chico Carrasquel, and Willie Mays.
• This 1939 42-page booklet is called Play Ball America!. "Baseball Centennial 1839-1939; How You Can Celebrate Baseball's Birthday In Your City!" The problem here, of course, is that the notion of baseball having been invented in 1839 is a myth.
• Another baseball milestone item here: This is a Jim Beam decanter celebrating the 1969 MLB 100th anniversary.
• Did Joe DiMaggio really play in these Starline baseball shoes? They're about as low-tech as you can imagine, but then these are from the 1950s. "It Pays To Play With EJ" — that's a reference to the Endicott Johnson shoe brand, which was a big deal back when we actually made shoes here in America.
• This Babe Ruth pocket knife has a great illustration of the Babe right on the handle. Uni Watch colors, too!
• Wilt Chamberlain endorsed this mint condition 1960s Spalding basketball. It's naturally official size and weight, with a "NY-Weave Built Permalite Cover." 
• Finally, in tribute to one of my heroes, we have this 1966 Corgi Aston Martin DB5. R.I.P. to SC, the original 007. 
• • • • •
• • • • •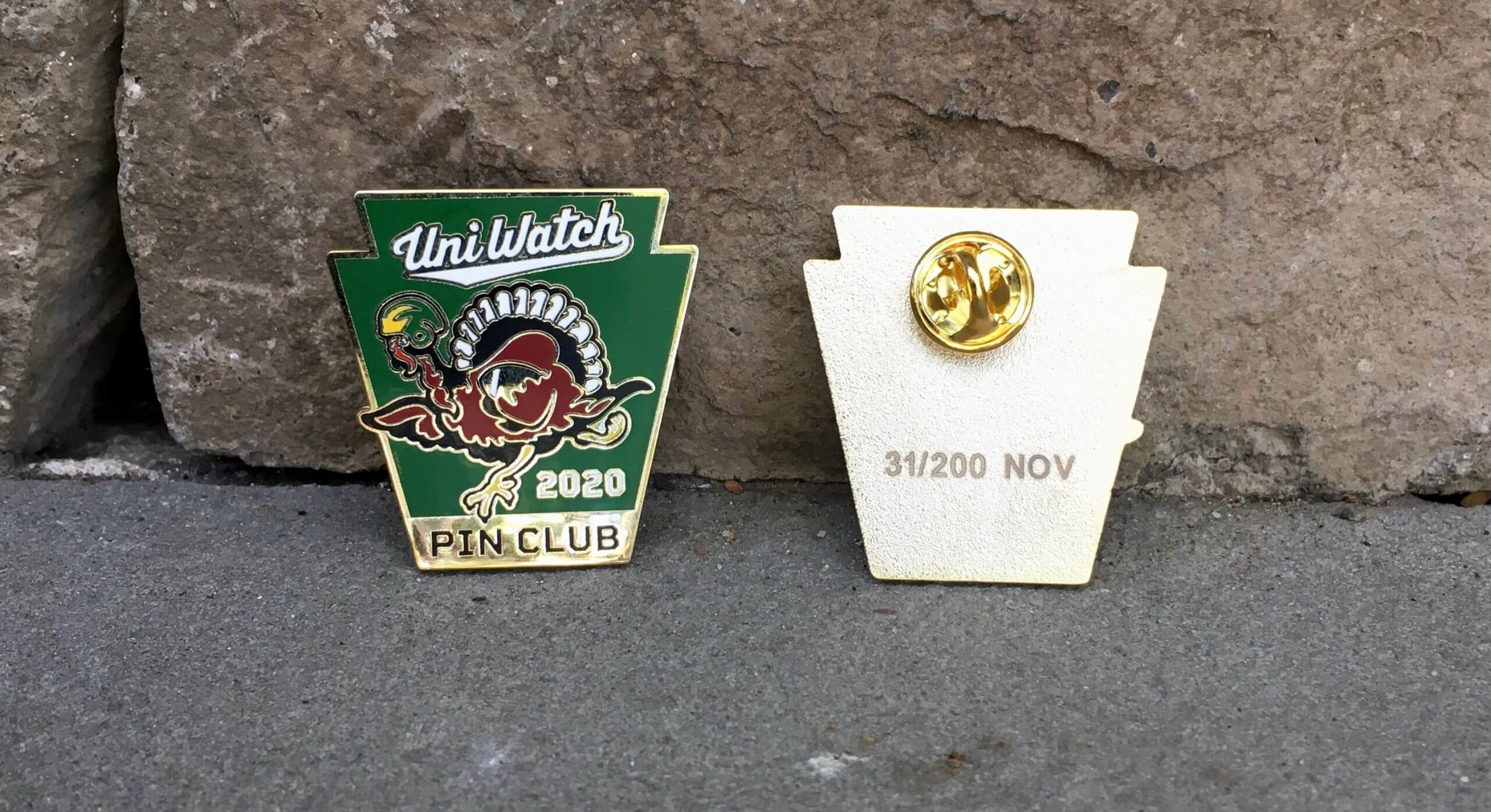 Click to enlarge
Pin Club reminder: In case you missed it on Monday, the Uni Watch Pin Club's design for November is now available. It's a limited/numbered edition of 200, and we already sold 105 of them in the first day. You know what to do!
Need to get caught up? Here are the January, February, March, May, June, July, August, September, and October pins (sorry, April sold out!), along with our 2020 Press Pin and our basic winged stirrup pin.
• • • • •
• • • • •
The Ticker
By Alex Hider

Baseball News: While going through his dad's stuff, @uselessdoug found an old 1988 World Series program that included a six-page spread on the history of baseball uniforms by none other than the great Marc Okkonen. … Denver Broncos coach Vic Fangio wore a Rockies pullover during a press conference on Monday (from @sportsdenpod).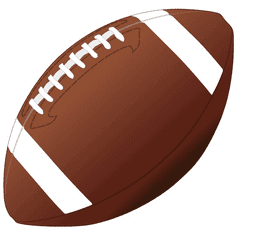 Football News: The turf tape that Saints RB Alvin Kamara wears on his arms goes all the way up to his shoulders (from Benjamin Thomas). … Cross-listed from the baseball section: Broncos coach Vic Fangio wore a Colorado Rockies pullover during a press conference on Monday (from @sportsdenpod). … Columbia has published a history of its football helmets on its website to celebrate the program's 150th anniversary (from Jace McKeighan). … The ACC Tracker has been updated through week eight.

Hockey News: We have our first look at the Sharks' 30th-anniversary patch, thanks to this video. The team all but confirmed its authenticity in a subsequent tweet (from Kurt Zamora and Chris Avila). … Golden Knights G Logan Thompson has a new mask design (from Wade Heidt). … LW Patrick Maroon has won back-to-back Stanley Cups with the Blues and Lightning, but his name isn't engraved consistently on the Cup — he's listed as "Patrick Maroon" with the Blues and listed as "Pat Maroon" with the Lightning (from Wade Heidt). … Quinnipiac's new alternate uniforms have reportedly leaked (from @nickyguerrero). …New 65th-season logo for the Rochester Americans of the AHL (from Joseph Pitirri). … This 1978 interview with then-NHL President John Ziegler discusses the Maple Leafs' decision to use NOBs only on the road. He also discusses the decision by Maple Leafs owner Harold Ballard — who also owned the CFL's Hamilton Tiger-Cats — to paint the Tiger-Cats logo on the boards against league rules (from an anonymous reader).

Basketball News: The Heat's jersey advertiser has been bought, so the team will have a new ad patch next season (from @livensleazy). … Not the best photo, but we have our first look at the new uniforms for the Temple women's team (from @UntillTheNight).

Soccer News: This blog counts down the seven best uniforms Diego Maradona wore during his time with Napoli (from Ed Żelaski). … Barcelona wore a new combination of their third uniform this weekend, wearing black shorts and socks instead of green. Reports indicate that players pushed for the changes because they thought it looked better (from @texastrevor). … In the UK, schoolchildren from low-income families are eligible for a free school lunch every day. That offer is typically extended during winter holidays, but Prime Minister Boris Johnson has been slow to move on legislation that would make that possible in 2020. According to Mark Gillingham, a group of soccer fans started the #KitsForMeals movement, where fans wear "notable, obscure or interesting football shirts," post photos of the shirts on social media, and donate to Fare Share, a charity supporting meal provision.

Grab Bag: Syracuse is adding championship banners and retired numbers to the rafters of the Carrier Dome (from @PhillyPartTwo). … Michael Jordan's new NASCAR team, 23XI Racing, unveiled the new paint scheme for Bubba Wallace's No. 23 car on Monday, and it features a very Bulls-esque color pallette (from Mike Chamernik). … We've got another NASCAR/football jersey crossover from Luis Fernando, this one for driver Chase Elliott. … English Rugby Super League club Wigan Warriors have a new badge (from Mark Cartman). … Splenda incorporates an American flag into their UPC code to indicate that it is made in America (from David Raglin). … The U.S. Navy has approved new uniform rank tabs that should stand out better on camouflage uniforms. The old tabs were harder to discern, which led to sailors having to stare at each others' chests to discern their shipmates' pay grades (from Joshua Tretakoff). … "I voted in Maryland by dropping my ballot in a drop box," says Andrew Hoenig. "They did not include any 'I Voted' stickers in the envelope. But today, when I received an email notification that my ballot was accepted, I was given the option to download a digital sticker."
• • • • •
• • • • •
• • • • •
I'm making an exception to my usual anti-electioneering rule, because our own Anthony Emerson, who compiles the Tickers that run on Fridays and Saturdays, is running for a seat on the school board in his hometown of Portland, Me. Keeping my fingers crossed for you, Anthony! — Paul