By Phil Hecken
Follow @PhilHecken

After a pretty wild uni-reveal week, especially for the NBA, things were very quiet on Friday (and that's not necessarily a bad thing). With only six more shopping days until "Black Friday," I'm not sure if we'll be seeing any more new uni/jersey drops, but there's already more than enough on sale — or about to go on sale — to satisfy all those who absolutely, positively, need to own, or buy for their friend/loved one/significant other this holiday shopping season. So let us turn out attention back to College Football, where the final few weeks of the 2019 season are shaping up for a wild finish for those teams with bowl-aspirations, and of course for the select four teams seeking a "playoff" birth.
Notre Dame, playing their homecoming game against BC today, won't be one of those four teams, but today they will be celebrating their last National Championship — 1988 — by throwing back (well, it's pretty close to a throwback) to the unis worn by that team. 1988 was of course, a simpler (and yet more complicated) time in College Football, where the lack of any kind of "final" game reigned (the system we have today, with a four team playoff was instituted in 2014; prior to that we had the BCS, and then a couple even more amorphous systems devised to determine a "national" champion: the Bowl Alliance and the Bowl Coalition). Back in those halcyon days, when claimed national championships and shared titles were common, Notre Dame was the "champion" of 1988. It was their last championship. Prior to 1988, they'd "won" 10 of them, beginning in 1924 and claiming their last one in 1977.
I remember that 1977 one. I remember it because growing up on Long Island (a stone's throw away from the Big Apple) this whole area (the New York City Metropolitan Area) has never been a hot bed of college football, and still isn't. We have major colleges to be sure, but none of them have ever been (nor will they likely ever be) powerhouse football schools like those which exist across the country. For all of my life, and for generations before me, we've always been about pro sports. There really aren't that many diehard college football fans 'round these parts. Sure, we have alumni who've attended big football schools, but it's not like the whole state (or at least the 20 million or so who live in the NY/Metro area) lives and dies by the fate of a team or two. It took me a long time to get into college football, not because it wasn't and isn't great (it is!) but because it's honestly not that big a deal in this part of the country.
But why do I remember Notre Dame and the 1977 season? It seemed to be the one year that all the kids in my school got really fired up about college football. And it was because Notre Dame was having a hell of a year. But why were all these kids, who like me didn't really have much of a college football rooting interest, fired up? Turns out the local parish had a lot to do with it. You see, I grew up in a suburb which was mostly white and Roman Catholic (I am the former but not the latter) and most of the kids in my class were practicing Roman Catholics (in a class of 25, I think four of us were not). But most of the kids were rooting for Notre Dame, even though most of their families did not have a Notre Dame almunus/alumna in the family. But because many view (or at least viewed) it as a Catholic Football school, they seemed to claim it as their own (or at least they did in my 11-year old mind).
I had no problem with any of this, and thought it was kind of cool — a way for kids to rally around a college team (similar to how we all rallied around the US Hockey team in 1980) when our area wasn't a big college football hotbed, and I definitely took more of an interest in college football that season than I probably normally would have. There was very little college football on TV back then (save for the Bowl games), but I'm pretty sure Notre Dame was on the TV a couple times that season. I didn't become a ND fan (I actually was a USC fan back then, simply because the Trojans shared their name with the same nickname my high school had — we were the Trojans too), but I think I was vicariously happy when my classmates' team "won" it all. But I digress.
Eleven years later, in 1988, Notre Dame would again be the National Champions, so today they'll be donning similar uniforms as those worn by that team. Let's take a look at those…
The first thing I notice is how much "tanner" the pants look in the top graphic as compared to the bottom one, where they are noticeably golder. We'll have to see how they look on the field today.
The bottom uni actually doesn't look all that different from the current unis. That is also not a bad thing. Notre Dame has been fairly consistent in their uniforms throughout the years, occasionally breaking out a green jersey (and of course, there have been a number of special outfits worn for the "Shamrock Series"). Their 1988 uniforms looked like this:
A couple things immediately stand out — the mesh jerseys…and those cutoff/midriff bearing jerseys. Let's hope players today don't decide to go with that look (especially since it's now against the rules). Under Armour, who now outfits Notre Dame, has attempted to replicate the "mesh" look on the numbers (something they've done with other teams):
How will this looks in the long shots remains to be seen, but they're at least giving it a shot:
UA has pretty much nailed the color and spirit of the jersey and pants too. Of course, back in 1988, the team didn't have the makers mark or "150" patch on the jersey. Likewise the pants were UA-free. The one thing that concerns me though, is the helmet. All of the promos I've seen show the team wearing what looks very much like the current shiny dome. Now don't get me wrong, I really like the current helmet, but that wasn't introduced until 2011. Until 2010, the gold was painted into the helmets by a group of student managers for every game. Since the NCAA isn't subject to the NFL's "one helmet rule," I was really hoping for this one game the team would revert to that old school practice. How great would it have been to see a truer "1988" throwback with hand painted helmets? I'm not 100% sure the helmets they'll wear today are the current ones, but they sure don't look like the old school ones. Hopefully I'm wrong on that.
You can read more about today's uniforms here and here. And what uni unveil wouldn't be complete without the obligatory hype video?
To all the readers out there, especially if you're a College Football fan: how did you get into it? Do you come from a state or area where college football is the thing? Do you root for a school you never went to because, well, you live in that state (or near to the school)? If you're from the NYC area, were you a college football fan growing up? I'm just curious what attracts you to the game. And if you really don't have a rooting interest, do you root for (or against) a school based on the uniform? I'd say in 80% of the games I watch, I pull for a team based on their uni. No, seriously…I do! But what got you into it? I'd love to hear…

Kreindler's Korner
I had the distinct pleasure of featuring the wonderful artwork of artist Graig Kriendler on two occasions over the summer and fall of 2017, and more recently, in August of 2018.
For those who don't wish to click the links, Graig paints baseball heroes (and regular guys) from the past, and is an immense talent.
Occasionally, I will be featuring his work on Uni Watch.
Here's today's offering (click to enlarge):
• • •
Title: "Dave Brown, 1920" (color study)
Subject: Dave Brown, 1920
Medium: Oil on linen mounted to board
Size: 5" x 7"

Dave Brown was widely considered one of the best pitchers of the early 1920s. The lefty helped guide the Chicago American Giants to the Negro National League's first title in 1920, going 13-3 with a 1.82 ERA (also winning the league's first ERA title with that figure). He continued his success over the next two seasons, with his club winning the title in both 1921 and 1922. Notably, during the 1922 postseason, he pitched in relief during the decisive game 5 against the Atlantic City Bacharach Giants, pitching 14 innings of shutout ball (giving up only 6 hits and a walk) and striking out 12.

Brown also pitched for the Leopardos de Santa Clara in the Cuban Winter League during the 1922-23 and 1923-24 seasons, the latter being a part of a team considered to be the best in the history of Cuban ball.

His career, however, came to an abrupt end in 1925. The reason? Murder. Read more about it here.

Also, to fill in some of the blanks is research from the great Gary Ashwill.

Here Dave is pictured with the Chicago American Giants in 1920. This is one of 200+ such paintings of mine that will be on display at the Negro Leagues Baseball Museum in the spring of 2020.
• • •
Thanks, Graig! You can (and should!) follow Graig on Twitter.

Uni Concepts & Tweaks
After being dormant for a while, the Uni Tweaks/Concepts have returned!
I hope you guys like this feature and will want to continue to submit your concepts and tweaks to me. If you do, Shoot me an E-mail (Phil (dot) Hecken (at) gmail (dot) com).
• • •
I received a follow-up e-mail from reader John Elbertson who has a couple concepts for an "outdoor" ("Heritage Classic"?) game uniform for the Vancouver Canucks.
What's up? Here's a concept for a fictitious outdoor exhibition game between the NHL's Vancouver Canucks and the WHA's Vancouver Blazers. Very little is changed on the Blazers uniform, while the Canucks introduce a green alternate with the original V-striping and a Millionaires-style crest. Talk to you soon!

– John E.
• • •
Thanks John. OK readers (and concepters). If you have some tweaks or concepts, shoot 'em my way with a brief description of your creation and I'll run 'em here.
Guess The Game…
from the scoreboard
The game has returned! At least for a trial basis, but I got a lot of positive response to its return, so we'll see how long we keep this one going.
Today's scoreboard comes from reader Howard Corday.
The premise of the game (GTGFTS) is simple: I'll post a scoreboard and you guys simply identify the game depicted. In the past, I don't know if I've ever completely stumped you (some are easier than others).
Here's the Scoreboard. In the comments below, try to identify the game (date & location, as well as final score). If anything noteworthy occurred during the game, please add that in (and if you were AT the game, well bonus points for you!):
If you guys like this, please continue sending these in! You're welcome to send me any scoreboard photos (with answers please), and I'll keep running them.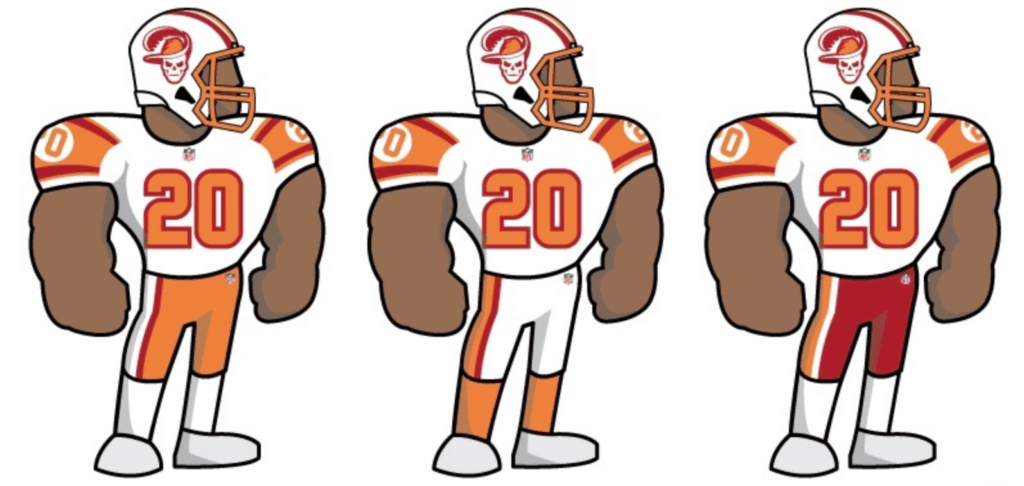 And now a few quick words from Paul: Hi there. In case you missed it on Thursday, the results of our "Redesign the Buccaneers" contest are now available on InsideHook. The response has been very, very positive, so check it out — I think you'll like what you see.
While we're at it: Uni Watch seam rippers are back in stock (well, at least some colors). And don't look now, but it's getting to be time for our ugly sweater shirt.
I think that's it. Handing the baton back to Phil now!
The Ticker
By Anthony Emerson

Baseball News: The Ogden Raptors, Advanced Rookie affiliates of the Dodgers, have a new Hispanic Heritage jersey and cap, to be worn on Sundays (from Brice Wallace). … The Danville Braves, Advanced Rookie affiliates of the, uh Braves, have a new primary logo and updated cap logos. Last season's logos are here.

NFL/CFL News: ESPN has a good piece on how Nike worked with Seahawks LB Shaquem Griffin to create the FlyEase cleats, designed with accessibility in mind (thanks, Brinke). … Corporate douchebaggery of the day: even Tweeted birthday messages have ads on them (from @darkchocolate). … If you haven't gotten sick of redesigns, here's all 32 teams with redesigned logos and helmets (from Kary Klismet). … The 2020 Grey Cup logo has been revealed (from Wade Heidt). … Speaking of the Grey Cup, it's this week! Hamilton is playing Winnipeg in Calgary's McMahon Stadium, and it appears the grounds crew just painted the Tiger-Cats' logo over the Stampeders' logo in the endzone (from Moe Khan).

College Football News: The Rutgers Special Collections Twitter account posted a photo of ticket stubs from various points in Rutgers Football history (from Kary Klismet). … For the third week in a row, Virginia Tech is going maroon-maroon-white (from Andrew Cosentino). … Liberty is going mono-white against Virginia (from @ACC_Tracker). … Miami is wearing grey facemasks against FIU as a nod to the 1980s teams — the game will be played at Marlins Park, which is on the site of the old Orange Bowl where Miami won the 1983 National Championship (from @djpremis). … Baylor is evidently going mono-yellow this weekend (from Caleb D. Marsh and @squatcheeontop). … White-black-white for UNLV against San Jose State.

Hockey News: Last night, the Hurricanes unveiled their Hockey Fights Cancer warm-up sweaters, featuring the names of cancer survivors in every number and captain's letter. Over 400 names have been included (from Scott M. Trembly and Ryan Cruz). … It appears the Kings' Stadium Series sweater has leaked (from Jakob Fox).

NBA News: The Suns unveiled their "Noche City Edition" uniform yesterday, and it's pretty good! I really love the design on the right leg of the shorts, which the press release calls "an ode to the Arizona state flag." The unveiling also featured a mural by Lalo Cota. The Suns will debut these unis on Dec. 9 against the Timberwolves, and will wear them in Mexico City against the Spurs on Dec. 14. … The Timberwolves City Edition uni includes a belt logo that's supposed to be a map of Minneapolis and St. Paul, but the logo cuts out a section of St. Paul. "Especially for a uni set celebrating the diversity of the Twin Cities, should probably include St. Paul's hub of Mexican-American life," says @EastOfMpls. … Former Maple Leaf Sports & Entertainment CEO Richard Peddie wore a jacket featuring the logo of the Toronto Thunder, the original name of the team when MLSE first presented to the NBA (from many readers). … Jazz F Juwan Morgan is wearing No. 16 (from Etienne Catalan).

College Hoops News: Duke debuted their new blue unis in last night's titanic matchup against Georgetown (from Josh Hinton).
.

Soccer News: Hunter Sewell thinks that the logo for the South African national team (nicknamed Bafana Bafana) is inspired by the kits the team wore in the 1996 African Cup of Nations, the first major soccer victory for South Africa after the fall of apartheid. … The Chris the Redeemer statue over Rio de Janeiro was lit up with a Flamengo jersey (from John Flory and Keelan McWilliams). … Dutch side Den Bosch will wear an anti-racism slogan — Samen tegen racisme, or Together Against Racism — on their kits for the remainder of the season (from Ed Żelaski). … Also from Ed: The Athletic profiled some of the smaller soccer kit manufacturers (paywalled).

Grab Bag: The Colorado Raptors of Major League Rugby have unveiled their new kits (from Eric Bangerman).