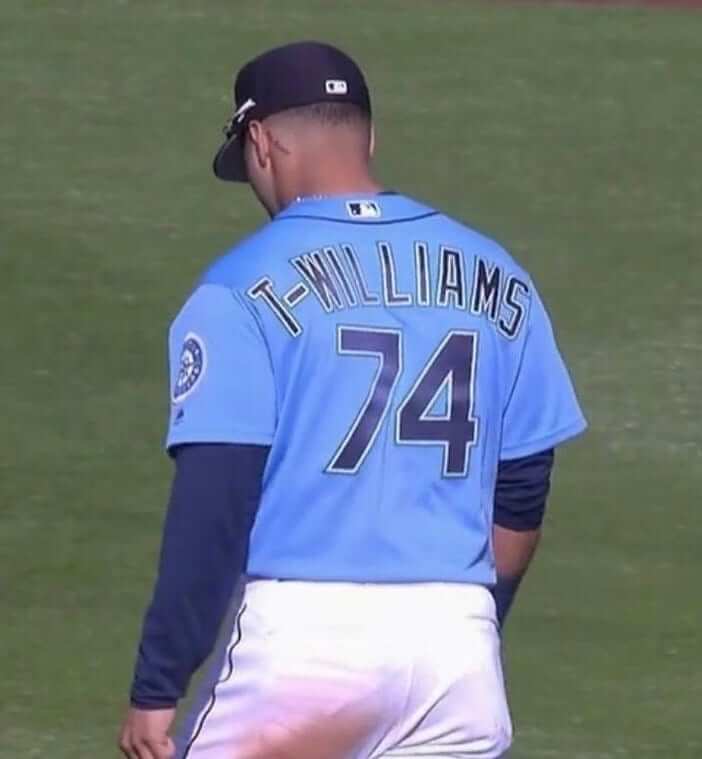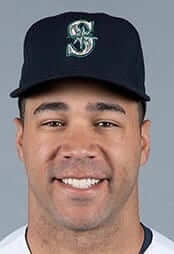 Lots of people have noticed Mariners prospect Dom Thompson-Williams, who's been wearing "T-Williams" on his back this spring. We've mentioned him in the Ticker, but today we're going to take a more in-depth look.
Let's start with some preliminary info:
• Thompson-Williams has never played above Single-A and is not on the M's 40-man roster, so it's highly unlikely that he'll make the final roster cut when the team heads north. In other words, he won't be wearing "T-Williams," or anything else, in the big leagues anytime soon.
• The minor league teams that he's played for so far have all been NNOB, so the issue of his name hasn't previously come up during his professional career.
• Thompson-Williams played played college ball for South Carolina, which put his entire surname on at least four different uniform designs (for all of these, you can click to enlarge):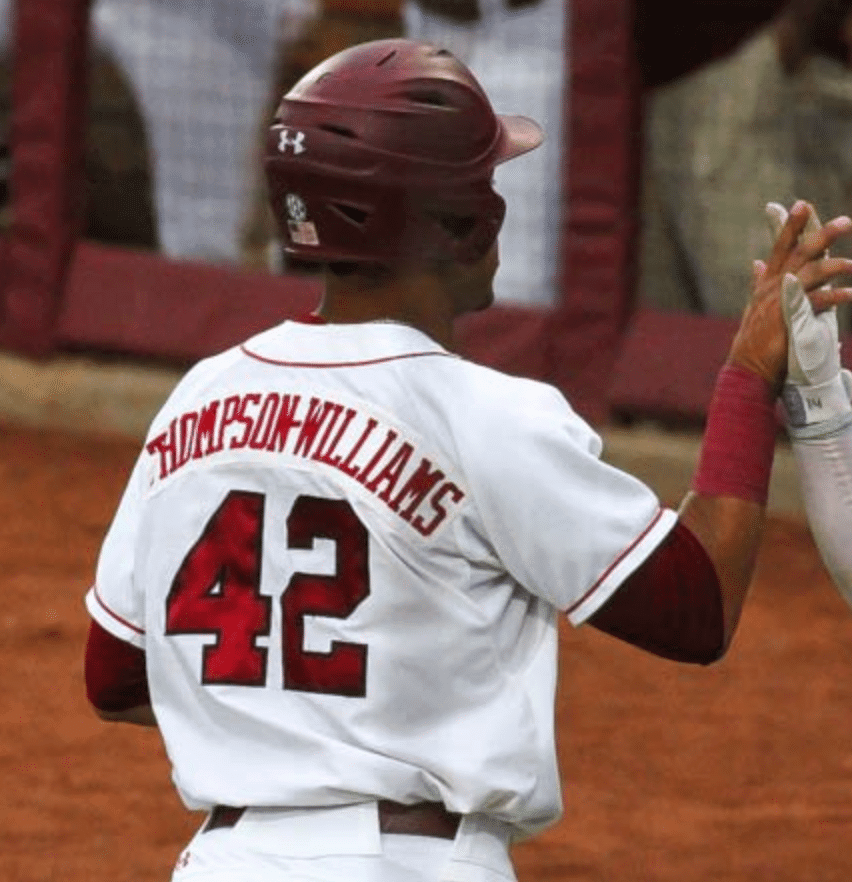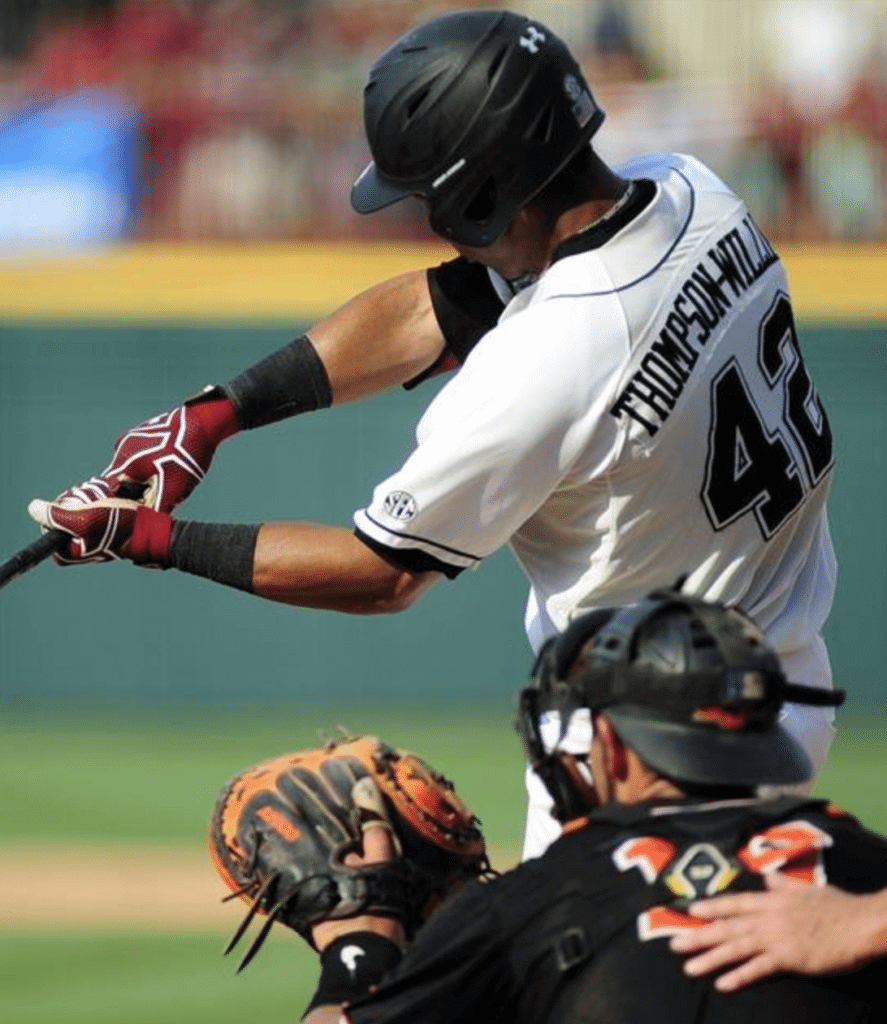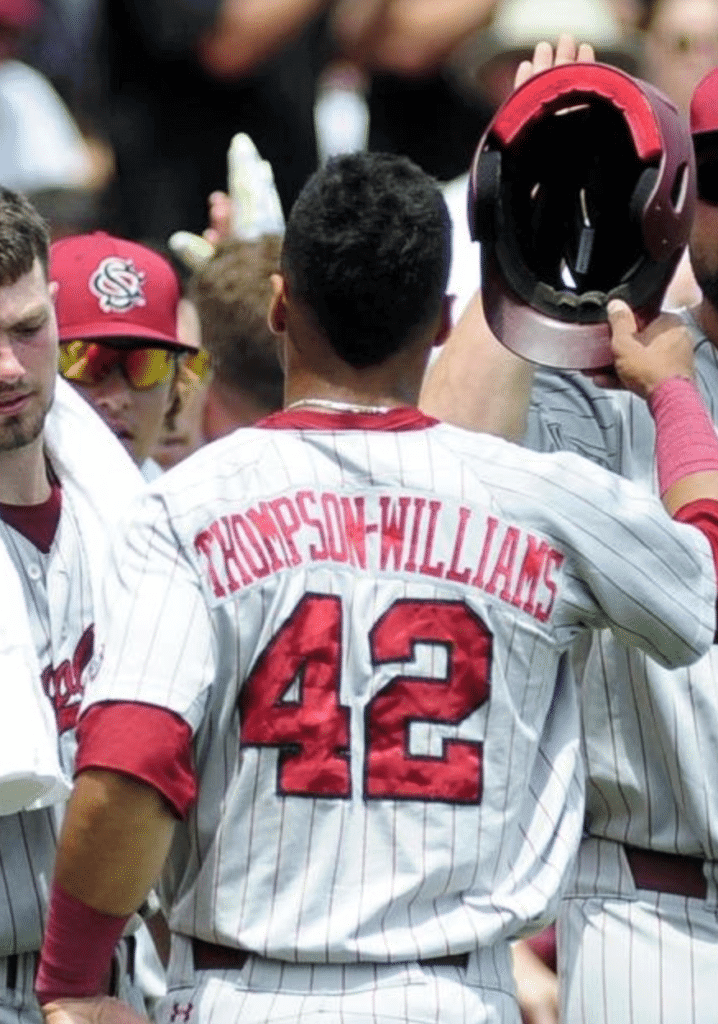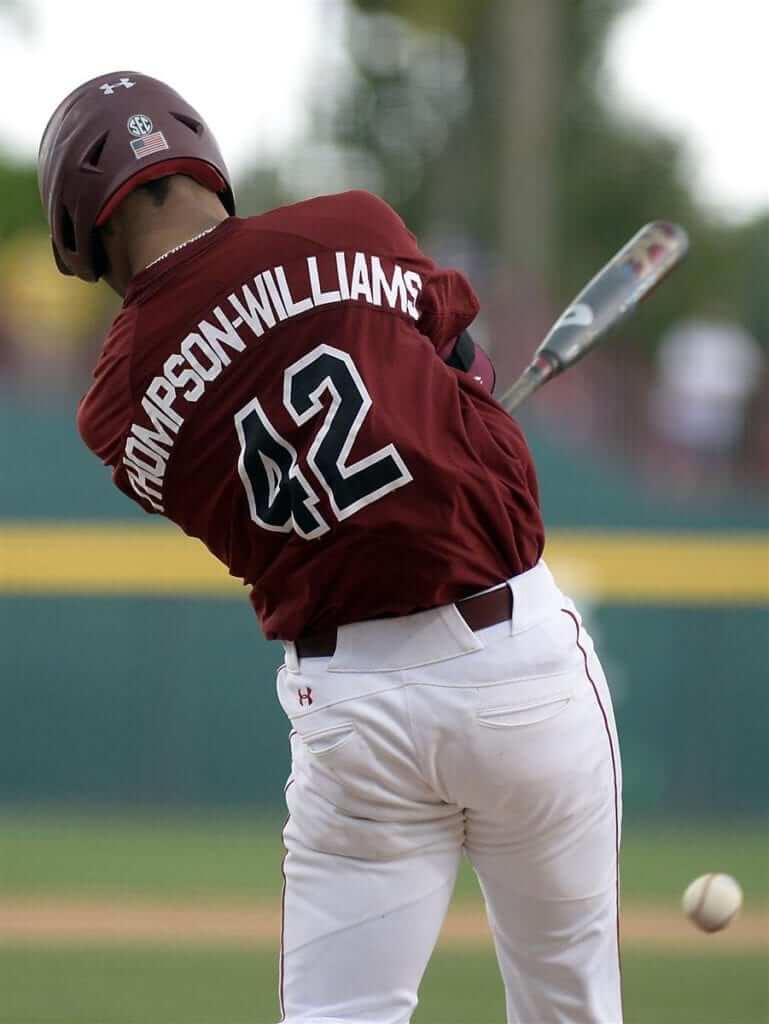 So his full name can clearly fit onto a jersey. It's just a matter of using compressed lettering.
I wanted to know more, so I contacted the Mariners and arranged to do a phone interview with Thompson-Williams. We spoke yesterday morning — here's an edited transcript:
Uni Watch: You've been wearing "T-Williams" on your jersey this spring. Was that your idea, or the equipment manager's idea, or what?
Dom Thompson-Williams: Initially they had a jersey with "Thompson-Williams" on it, but the font was too big and it curved all the way around the numbers. [The Mariners provided a photo of this jersey, which is shown below. — PL]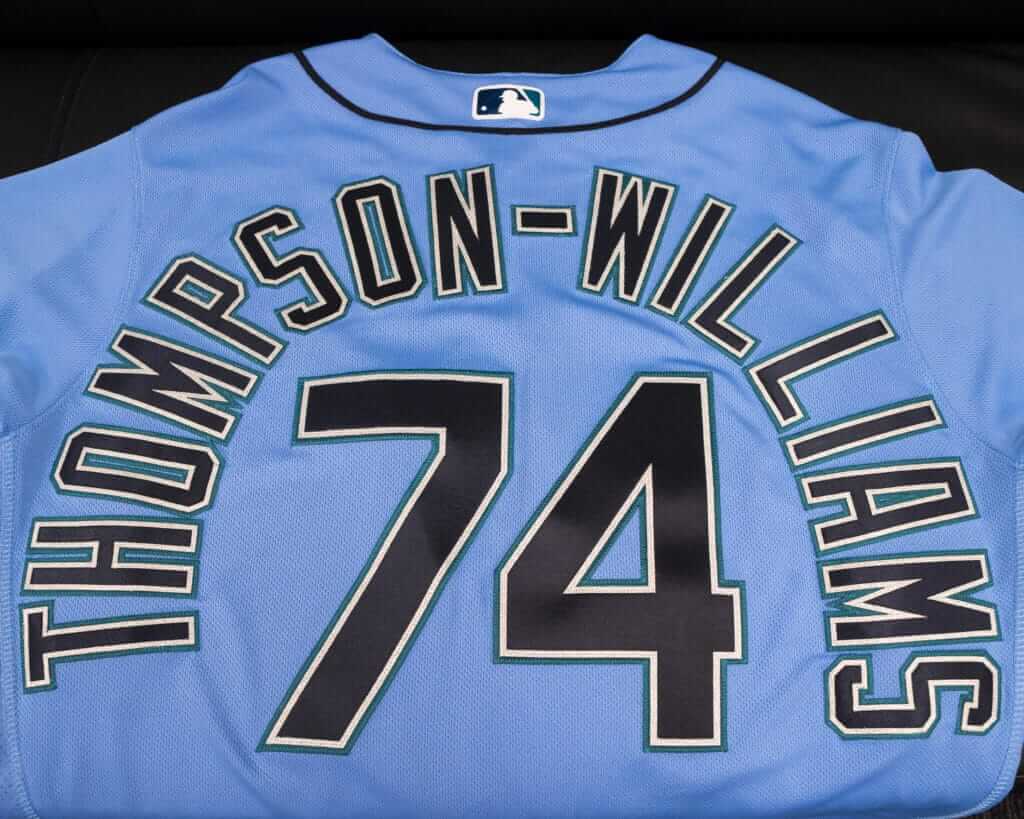 I didn't want to play with my name looking like that, so I asked them if there was anything we could do about it , and I said, "You can just put 'T-Williams' if that's easier." I figured that was just a story waiting to happen if I went out there with that first jersey.
UW: And now it turns out that "T-Williams" is the story, at least for me! Have a lot of people noticed it or said anything about it, whether it's fans, or other players, or whoever?
DTW: Another reporter asked me about it, but it hasn't been a big deal.
UW: Is "T-Williams" a nickname for you — like, do people typically call you that?
DTW: No. I did use it on my football jersey in high school, for the same reason, but most of the jerseys I've had, they've been able to put "Thompson-Williams" on there.
UW: Assuming the team could use a better font, would you prefer to have your full name on there?
DTW: Yes, yes, of course.
UW: Do you know if they plan to do that later this spring? Like, is "T-Williams" just a placeholder until they get a more compressed font?
DTW: I don't know. You know, I'm not really complaining — I'm just happy I'm out here. If it was going to be something long-lasting, I might say something, but it's only for a month.
UW: You were originally drafted by the Yankees. Did you think to yourself, "Oh, well now I won't have to worry about fitting my name on my jersey, because the Yankees don't put the players' names on their jerseys"?
DTW [laughing]: I wasn't really aware of that. I was just ready to go play, man.
UW: As someone with a long, hyphenated name, does that present some challenges or frustrations or even little indignities for you, whether it's fitting your name on your jersey, or having your name on the nameplate on your locker, or people getting your name wrong, or anything else, and have you ever discussed that with other players who have hyphenated names?
DTW: I haven't really discussed it with anyone else. It's funny you ask, though, because when I was younger I used to not like my first name, which is Dominique. I used to think it was a girl name. My mom named me after Dominique Wilkins, because she liked his name, but I used to not like it. But as my career started to develop and I'd see my name in the paper and stuff, I started to like my name.
UW: But you don't go by Dominique now, right? It's Dom?
DTW: Here's an interesting story for you: I'm from Sioux City, Iowa, and there was this guy who was robbing gas stations or something, and his name was Dominique Williams, or maybe Dominique Thompson — I can't remember. Anyway, people were asking my mom about it, thinking it was me. Ever since then, my mom asked if the newspaper would just call me Dom, instead of Dominique.
UW: Are you aware that if you make it to the big leagues, you'd set the record for having the longest last name in major league history?
DTW [laughing]: No, but I could've guessed it. Every roster I'm on, every list I'm on, I just look for the longest name.
———
All very interesting. For what it's worth, Thompson-Williams sounded like a really good kid. I'll be rooting for him.
As for the MLB-record surname that I alluded to in the interview, "Thompson-Williams" is 16 letters, 17 characters — longer than Jarrod Saltalamacchia's 14 letters. Personally, though I think hyphenated names should get their own category. We'll probably be seeing more of these types of names soon.
• • • • •
• • • • •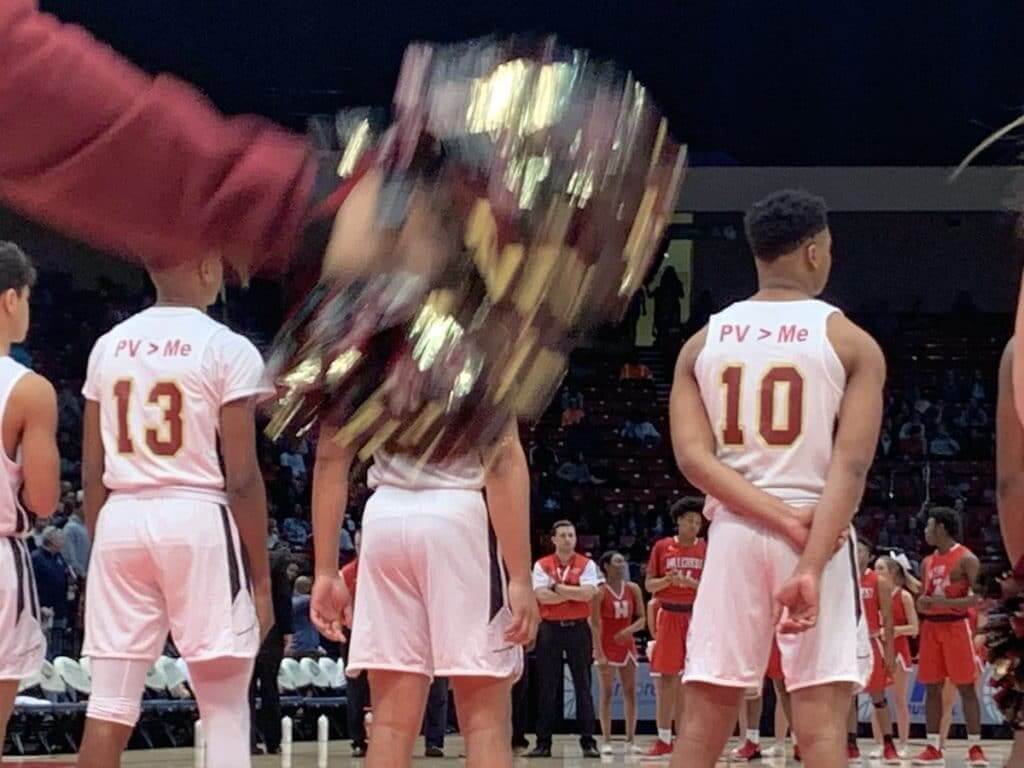 Photo by Christina Chambers, @ChristinaWBRC; click to enlarge
"Greater Than," continued: Last month I wrote about the basketball team at McEachern High School in Georgia, whose players wear "WE>ME" NOBs. Now another school using the greater-than symbol has surfaced: Pinson Valley High in Pinson, Ala., whose players wear "PV > Me."
They say three instances constitutes a trend, right? One more to go.
(My thanks to Ben Foster for bringing this one to my attention.)
• • • • •
• • • • •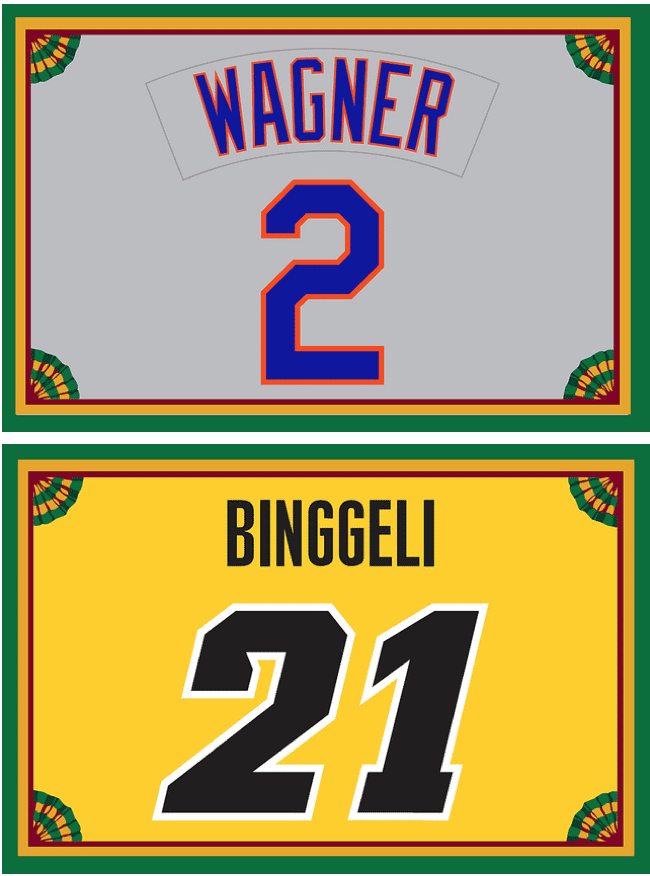 Membership coincidence! I was addressing the envelopes to mail out a new batch of Uni Watch membership cards two nights ago when something sort of jumped out at me: Two of our recent enrollees — Joseph Wagner and Jake Binggeli, both of whose cards are shown at right — had addresses in North Liberty, Iowa. Not only that, but they signed up five days apart.
I looked up North Liberty and found that it's a town of about 18,000 people. In a place that small, two Uni Watch readers who both ordered membership cards in a five-day span must surely know each other, right?
I emailed Joseph and Jake to find out. As it turns out, they've never met, but hopefully they'll do so soon. They definitely have a lot in common! Uni Watch: bringing people together.
That sense of community is precisely the sort of thing we're trying to encourage in the membership card gallery, where you can leave a comment about your own card, ask questions about other people's cards, and so on. Here's how you can do that.
Ordering a membership card is a good way to support Uni Watch (which, quite frankly, could use your support these days). And remember, a Uni Watch membership card entitles you to a 15% discount on any of the merchandise in our Teespring shop and our Naming Wrongs shop. (If you're an existing member and would like to have the discount code, email me.) As always, you can sign up for your own custom-designed card here, you can see all the cards we've designed so far here, and you can see how we produce the cards here.
• • • • •
• • • • •
Wafflebored auction results: The winner of the Uni Watch hockey jersey made by the one and only Wafflebored is reader Matt Brevet, who swooped in literally at the last minute with a bid of $333.
"I'm a huge Rangers fan and a big Uni Watch follower, so the sweater is perfect," says Matt. "I will wear it with pride and hopefully spark some Uni Watch conversations at the bar or at the game."
I should add that when Matt sent me his payment last nite via Venmo, he listed the reason for the payment as "Community." How great is that? Thanks, buddy.
My thanks also to everyone who submitted bids — Wafflebored and I both appreciate your support. We may have more of these auctions soon.
• • • • •
• • • • •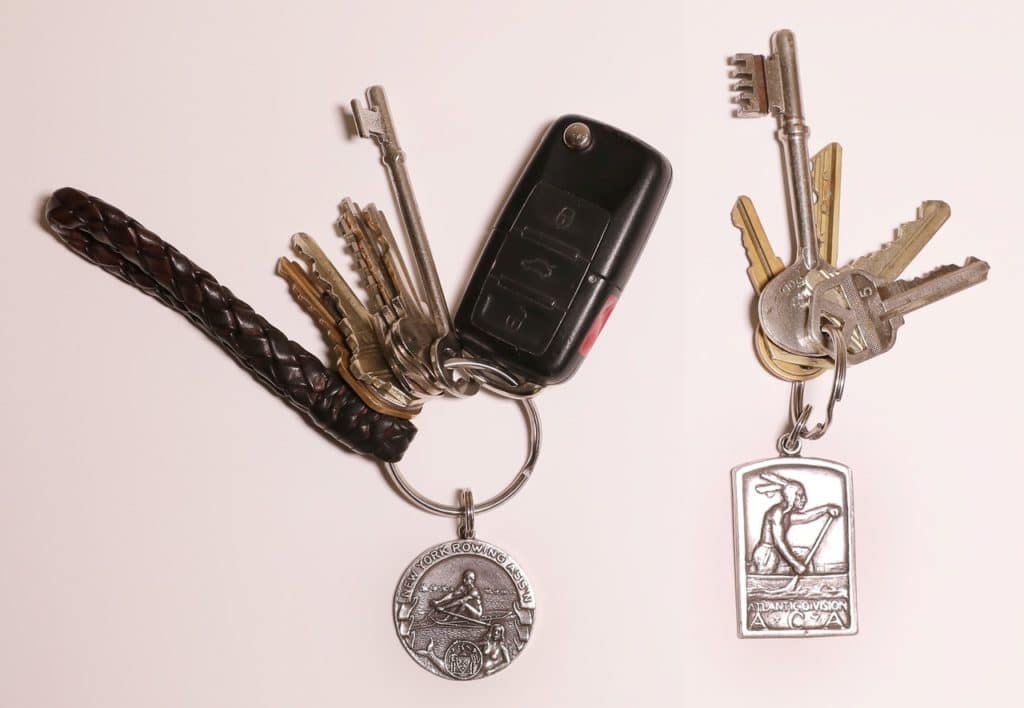 Click to enlarge
KRC update: The latest installment of Key Ring Chronicles is about a pair of beautiful canoeing medals. Check it out here.
I am very much in the market for new KRC entries. If you keep a special item on your key ring with a good story behind it, please get in touch. Thanks.
• • • • •
• • • • •
The Ticker
By Paul

Baseball News: Reprinted from yesterday's comments: The Nationals are using a mannequin to show each day's uni combo. … Great old shot of Tigers SS Ray Oyler wearing a Little League helmet during spring training (from BSmile). … The Orioles, having already announced a memorial patch for Frank Robinson, are also adding his No. 20 to the Camden Yards warehouse (from Andrew Cosentino). … From bad to worse: The Binghamton Rumble Ponies will become the Stud Muffins — one of the proposed team names that didn't make the final cut — for one game this June. … Here's the logo for the 2019 American Association All-Star Game. … Only in spring training: The Mets had two infielders wearing No. 88 yesterday (from @jlev1130). … New road greys for UCF (from Drake Wilkstrom). … The North Shore Navigators, who play in the collegiate wood-bat Futures League, will wear Lynn Sailors throwbacks for a series of games this August (from David Kerr). … Fun first-person story from a writer who attended the Nats' bullpen buggy tryouts (thanks, Brinke).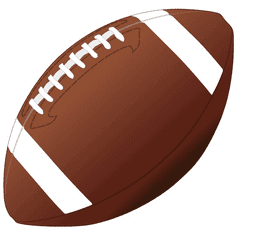 Football News: SI speculated on where Eagles QB Nick Foles might end up by Photoshopping him into a bizarro Franken-uni (from Patrick Smith). … Gotta like this Browns tablecloth (from @DDapsis). … New uniforms for the Tucson Sugar Skulls, a new arena team.. … Georgia seems to be using its black jerseys for recruiting, but not for games.

Hockey News: Yesterday's lede had a photo of an NHL penalty timekeeper wearing an NHL blazer and lapel pin. Turns out you can purchase those yourself, if you're so inclined, here (from Chris Kaiser). … Two Bruins players were wearing their teammates' gloves on Tuesday night. … The NHL's first black player, Willie O'Ree, and civil rights hero Rep. John Lewis wore Capitals jerseys for Tuesday night's ceremonial puck drop. Lewis wore No. 65 as a reference to the 1965 march on Selma (from our own Jamie Rathjen). … The NHL is considering an outdoor game at N.C. State's Carter-Finley Stadium (from Dan Tarrant). … The WHL's Calgary Hitmen wore pink laces and stick tape as part of an anti-bullying promotion (from Wade Heidt). … Dylan Nowak came up with some really, really good Canucks concepts that mix and match old and new uni elements from the team's history. … Yesterday was the 52nd anniversary of the Blues unveiling their logo (from Jerry Wolper). … Gross: Burger King has created a BK-themed goalie mask and will give the home crowd free Whoppers if a pro goalie wears it. Seems unlikely to happen since the mask includes — and basically is — an ad (from Kevin Cottrell).

Pro Basketball News: The sweater brand Coogi is suing the Nets for using the brand's signature sweater pattern for the team's City uniform without permission. … Check out this shot of Dr. J hitting the court for his first game with the Sixers in 1976. "Note the image of Independence Hall — not only on the jacket but on the pant leg as well," says Mitchell Nathanson. … State and federal authorities seized $100,000 in counterfeit merch during the NBA All-Star Game. … Cameron Reynolds will wear No. 13 for the Timberwolves. … The Global Women's Basketball Association is expanding to Oshkosh, Wis., where the new team will be called the Wisconsin Glo (from Brian Kerhin). … Reader Adam Weiner came up with a pretty nice teal Pistons concept. … The Celtics gave away Al Horford bobbles, complete with maker's mark and uni ad, last night (from Jamie Benson).

College and High School Hoops News: Here's one blogger's take on the best uniforms in the ACC. … With the Indiana high school state basketball tournament now underway, here'a gallery of pictures from past state tourneys. "It's a big gallery (172 pictures), but there are some real gems in there," says Derek Linn. … DII school IUP forgot to bring their uniforms to last night's game against Edinboro, so they had to wear old Edinboro road uniforms. Frustratingly, I couldn't find any photos that showed a good view of the resulting Edinboro-vs.-Edinboro matchup (from many readers).

Soccer News: Minnesota United has a new training jersey sponsor advertiser (from minnysam32). … New jersey advertiser for Hartford Athletic, too (from Josh Hinton). … Forward Madison FC will unveil its inaugural uniforms on March 9 (from R. Scott Rogers). … Japan's women's team went NNOB yesterday at the SheBelieves Cup, a tournament organized by the U.S. Soccer Federation. "NOBs are generally required by soccer competitions, so NNOB, which was once very common if not universal, isn't seen as often as in other sports and has been confined to preseason, youth teams, friendlies, or other non-competitive settings for the past 20-25 years," says our own Jamie Rathjen.

Grab Bag: ASICS in Japan has started a campaign to convert people's old shirts into Japanese athletes' gear for the Tokyo 2020 Olympics. … A German federal agency has ruled that certain regulations on advertising and marketing during the Olympics are too stringent and should be relaxed (from Ted Arnold). … New U.S. military recruits are now receiving American-made sneakers. … That college lacrosse goalie who couldn't play because his head was too big for any of the approved helmets is now back on the field, thanks to a new custom helmet provided by a gear manufacturer (thanks, Phil). … Also from Phil: Pitt is poised to go back to its retro royal/yellow colors for all of its sports teams. … The 10 worst uniforms in the history of Arizona sports? Sure, why not (blame Jason Hillyer). … NASCAR driver Brad Keselowski will wear "Mark" on his helmet this weekend, which is a shout-out to Mark Donohue after passing him as the winningest driver in Penske history (from Mike Chamernik).
• • • • •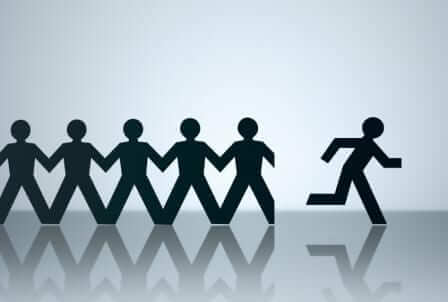 Emancipation Day: Twenty-three years ago today (well, it was actually Feb. 29, but that date doesn't exist this year), I walked out of my office at Billboard Books for the final time and began life as a full-time freelance writer. I'd been freelancing on the side for a little over two years and decided it was time to take the plunge. Giving up a stable job was a bit scary, but I had to at least give it a try, because I wasn't happy with my life or career up to that point and knew I needed to make changes or else I wouldn't be able to keep facing myself in the mirror each morning.
The flip side to the flexibility I've enjoyed since then, of course, is a lack of security — a point that will be driven home on March 14, exactly two weeks from today, when my ESPN contract expires. (If you missed the news that I'll be parting ways with them, look here.) Many of you have asked about what Uni Watch and I will be doing next, and the short answer is still that things are in flux. More info soon, promise.