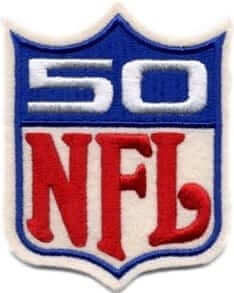 The patch shown at right was used to celebrate the NFL's 50th anniversary in 1969. Teams wore it on their shoulders.
It's a great logo — simple, effective, attractive, a great riff on the league logo. And now that it's nearly 50 years later, with the NFL's 100th season set to unfold next year, people have been wondering: Will the league come up with a similarly excellent logo to mark the centennial?
And now we have our answer: No — not by a long shot.
Last night the NFL posted a half-minute video promising a "historic and unprecedented year-long national celebration" for the league's 100th season. And here's the logo they're apparently going to be using to mark the occasion (click to enlarge):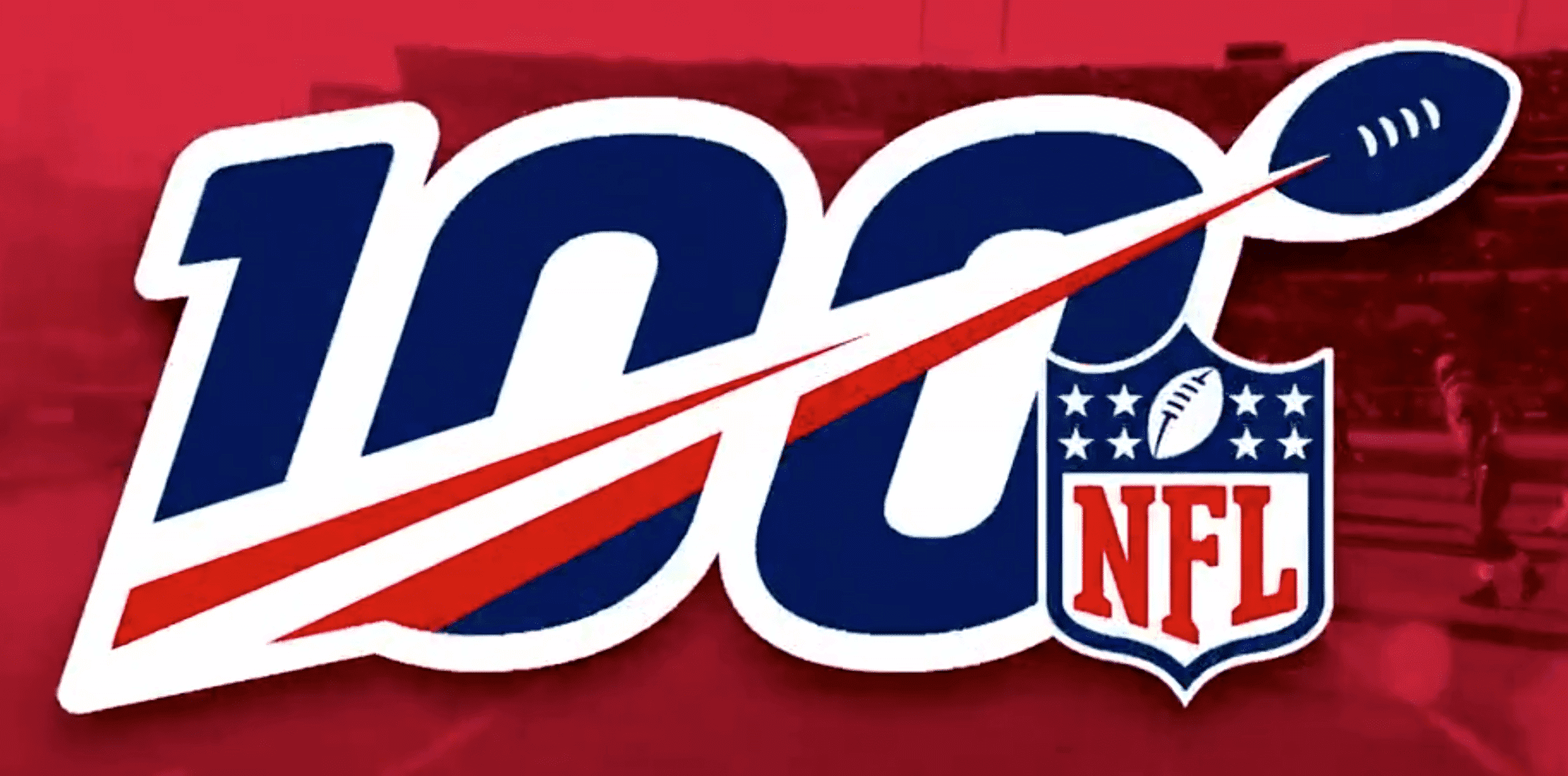 Oh, man — what a mess. It's too busy, it's unwieldy, it conveys zero sense of heritage or history. A lose-lose-lose.
The video also provides a hint of how the logo might be rendered as a patch (click to enlarge):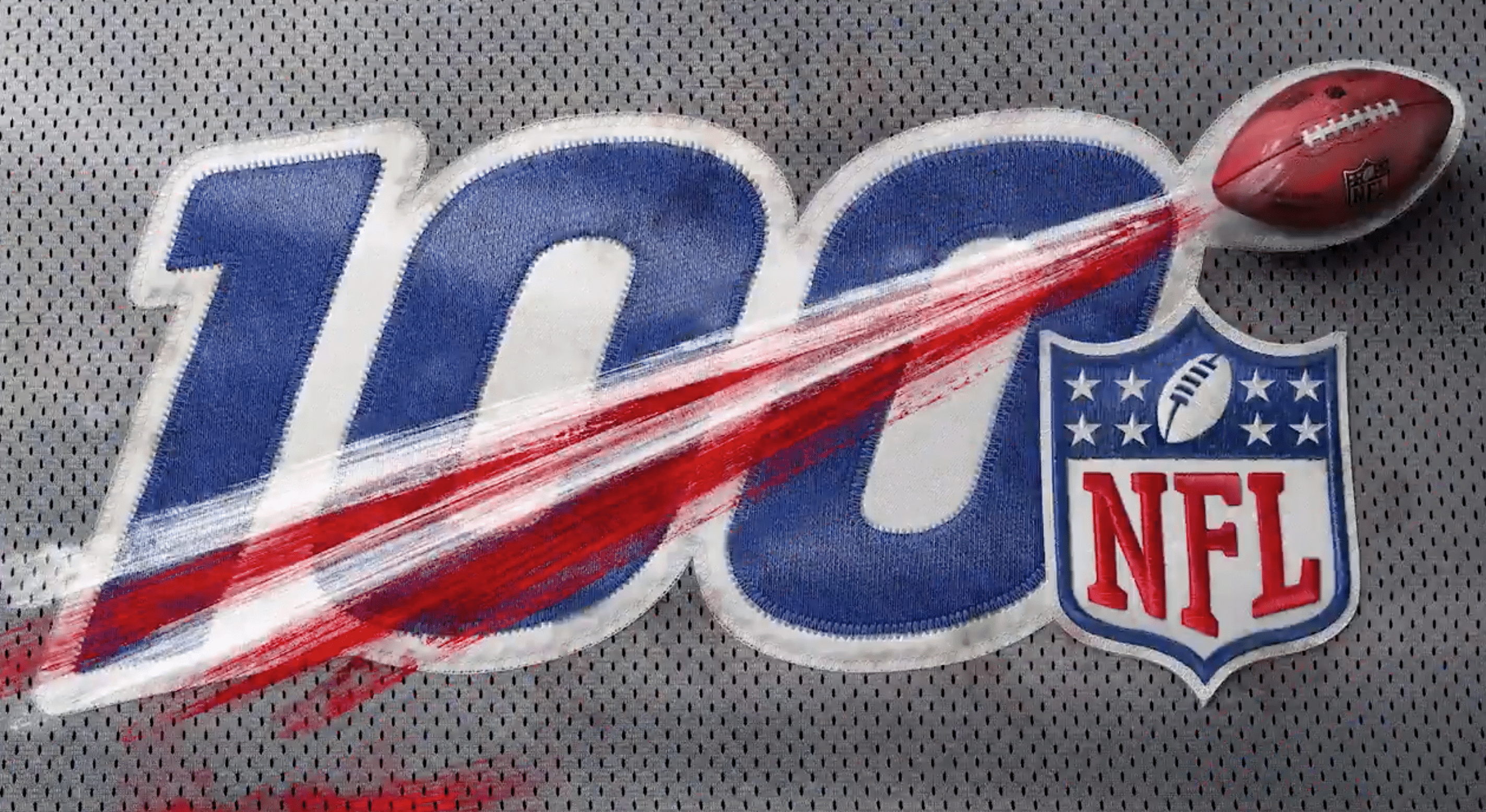 It's funny that they put it on a faux-mesh background, because today's jerseys aren't mesh (well, except for the Packers' and Panthers' jerseys). Also odd that they chose grey for the fabric — a color that almost nobody in the league wears.
Anyway: The ball with the bloody comet tail looks like it's superimposed over the patch, so maybe that won't be included as part of the patch design. But they kinda have to include the ball, right? So maybe they'll include the ball but not the bloody comet tail..?
Then again, they're showing this as an embroidered patch, and we know by now that the NFL likes plastic patches for special occasions, so this digital rendering is probably as close as we'll get to a real embroidered patch. The real thing will likely be plastic, and I bet it includes the bloody comet tail after all.
That brings us to the final version of the logo that's shown in the video — this 3-D rendering (click to enlarge):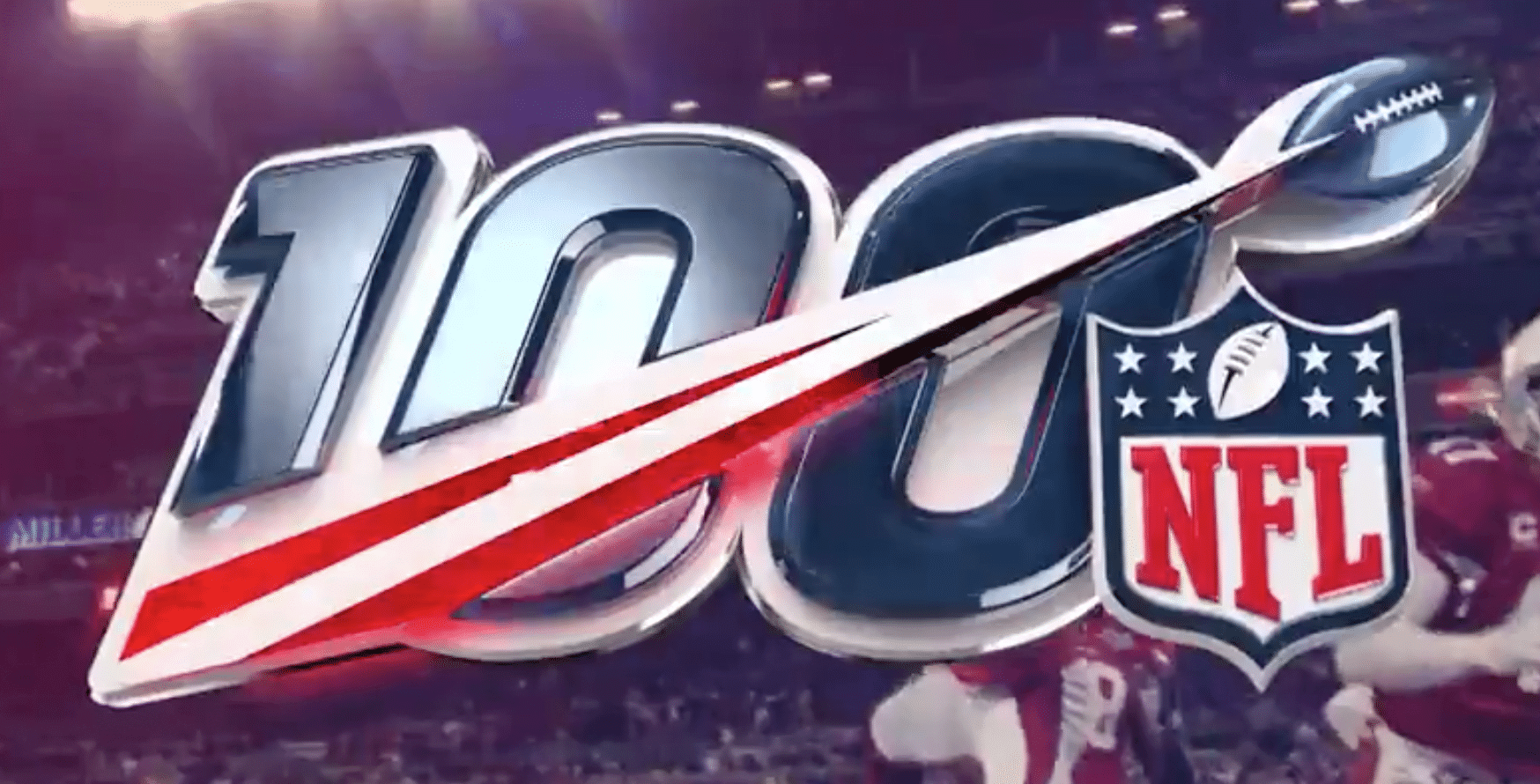 This is probably closer to what the real patch will look like — a plastic patch with a 3-D feel.
If the run-up to Super Bowl 50 a few years ago is any indication, the NFL will likely be carpet-bombing us with the centennial-season campaign, which means we're going to be seeing a lot of this logo over the next 14 months or so.
Let's avoid the rush and start hating it now, shall we?
• • • • •
[adrotate group="2″]
• • • • •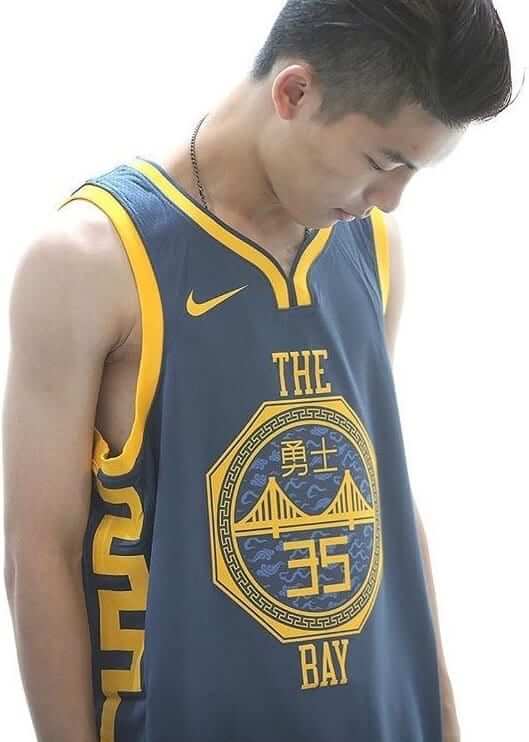 NBA leaks coming fast and furious: The photo shown above, which began circulating last night, might be the Warriors' new City alternate. Or maybe not. But probably yes. If so, it's the latest in a long run of excellent Golden State designs.
It's also the latest in new spurt of NBA leaks, including this one which may show the Rockets' new alternate:
#Rockets City Edition Jersey? @UniWatch pic.twitter.com/GOOlvsUTHW

— Captain Kangaroo Pimp (@mccauley318) October 17, 2018
And then there's this new Celtics design, which someone spotted at a Dick's Sporting Goods outlet:
.@sportslogosnet any chance this is the new #Celtics "Earned" jerseys? saw these tonight at Dick's and can't seem to find them online pic.twitter.com/emIhPUKl7e

— JD (@tweetsbyJD) October 18, 2018
According to SportsLogos.net, the Celtics design will actually be their City alternate, not their Earned alternate.
• • • • •
[adrotate group="2″]
• • • • •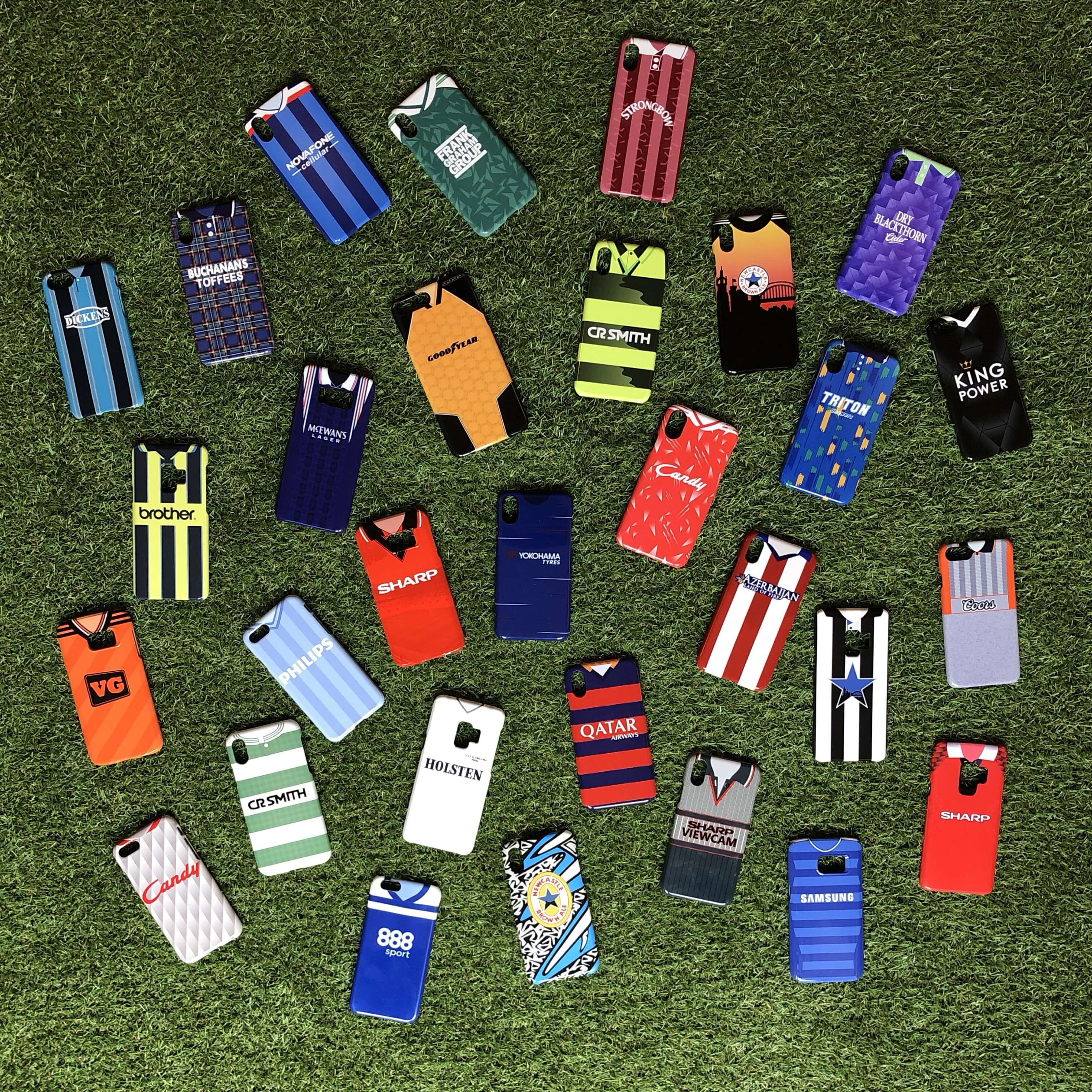 Click to enlarge
ITEM! Discount for Uni Watch readers: We recently had a Ticker item about Nostalgia Cases, a company that sells smartphone cases with designs based on old soccer jerseys. They have over 650 designs to choose from, each available for over 100 phone models, and worldwide shipping. If you want a kit design that they don't currently offer, you can request it and they'll produce it at no extra cost.
Now the good folks at Nostalgia Cases are offering a 10% discount to Uni Watch readers for the next week. To get the discount, just go to their site and use the checkout code UNIWATCH by the end of Friday, Oct. 26.
• • • • •
[adrotate group="2″]
• • • • •
The Ticker
By Yianni Varonis

Baseball News: For the second consecutive start, Red Sox P David Price, who usually goes squatchee-free, wore a sqatchee on his cap. But during the postgame celebration, he was squatchee-less (screen shot from @goldburgerla). … Also from last night's ALCS game: Astros 3B Alex Bregman, who usually goes low-cuffed, wore picture-perfect stirrups. Here's another shot. … A local reporter tweeted a leaked image of what might be the Marlins' new logo embroidered on a cap (from Dan Ducasse). … For the first time ever, Big League Chew will feature a female player on its packaging (from Mike Chamernik). … The Winston-Salem Dash, a White Sox minor league affiliate in North Carolina, appear to have a new alternate logo (from Will Lawson). … Reader Jay Braiman was recently in a theatre production of Pippin and designed baseball jerseys as mementos for the cast and crew.

NFL News: The Cardinals went mono-black last night. … The 49ers will unveil "The Catch" statues of Dwight Clark and Joe Montana before this week's game, during which the team will wear 1994 throwbacks in recognition of the franchise's last Super Bowl win (from our own Brinke Guthrie). … The Ravens have a page on their website that indicates which color jersey they will wear before each game. Reader Will Shoken wrote to the team to suggest that the page also indicate the pants color the team will wear but was told that that determination is made separately, "only a night before [the game] based on what the players wish to wear." … Here's an amusing article from 1975 in which former Vikings RB Chuck Foreman opines that he'd like his team to wear white shoes.

College and High School Football News: LSU officially unveiled its color-changing helmet and uniform commemorating fallen World War I solders. More information here. … In a great gesture, UAB players will wear the NOB of Alabama children fighting diseases (from Kyle Burger). … Here are the uniform combinations this week for Colorado and Colorado State (both from Kary Klismet), Utah, Utah State (from Ben Jamin), Houston (from Ignacio Salazar), Stony Brook, and D-II Lindenwood (from David Leezer). … Blaise D'Sylva has helmet updates for Oregon State, Arkansas State, and Arizona State. … Players from Lee High School in Jacksonville, Fla., have begun wearing shoulder pads with a cooling system meant to protect them from heat stroke. The pads were donated by the family of a former player who died last year after collapsing during conditioning drills. … Arizona State QB Manny Wilkins bashed his helmet in frustration against a sideline storage unit during last night's game, leaving a visible mark on the helmet.

Hockey News: A good piece about the equipment managers whose jobs it is to quickly replace players' broken sticks in the heat of play (from John Gagosian). … Cool black-and-white photograph of musician Carlos Santana in a North Stars sweater. … 3-D helmet logos, much like we've seen on baseball batting helmets and football nose bumpers, are now appearing on the Sharks' helmets (from Danny Pedroza and Spencer Cooper). … The Kings wore L.A. Galaxy jerseys for pregame warm-ups last night. Here's another view.

NBA News: LeBron James, making his Lakers debut last night, showed up at the arena wearing a T-shirt of himself. During the game, he wore a compression sleeve with an animal print pattern in the first half but later switched to a plain white sleeve (from Mike Chamernik and C. Duncan). … In that same game, the Trail Blazers debuted their Paul Allen memorial patch. Contrary to early reports, it's a band, not circular. … With this being Heat G Dwyane Wade's final season, the future Hall of Famer gave an autographed jersey of his to Magic C Nikola Vucevic (from Mike Chamernik). … The Wizards are the latest NBA team to provide their entire 2018-19 uniform schedule on their website.

College Hoops News: A reporter tweeted out a tongue-in-cheek look at Mountaineers HC Bob Huggins's career as a "fashion icon" (from @VerbDC). … New road attire for Butler (from Sean Dunham and Josh Billman). … And a new set of uniforms for D-II
Saint Edward's (from Jameson Adams).

Soccer News: According to a reporter, MLS teams will be permitted to have ad patches on their sleeves next season (from Josh Hinton). … Also from Josh, kit problems for the Peruvian national team after switching to manufacturer Marathon.

Grab Bag: Apple will unveil new products during an Oct. 30 event and has designed new logos for the occasion. … Caterpillar has modernized its logo for several of its products. … If you haven't already, it's worth checking out the online Sports Memorabilia Museum (from Kary Klismet). … Here is further evidence that Pitt might return full-time to a color scheme featuring royal blue and yellow (from Joel Coggins). … Major League Lacrosse announced that it will soon "undertake a comprehensive rebranding initiative." … The Gaelic Athletic Association, based in Ireland, unveiled the jerseys that will be worn next month in Boston during the 2018 Fenway Hurling Classic (from Phillip Santos). … A judge ruled that political operative Paul Manafort will have to wear an inmate's uniform instead of a suit for his next court hearing. … A special-needs teenager who is fighting a terminal illness has been given a flight-attendant's uniform by American Airlines to wear on her flights to a children's hospital for treatment. … Here's an interesting look at the process by which New Mexico State created a new uniform for its mascot, "Pistol Pete." … Multiple women's volleyball teams in Japan unveiled new uniforms that are clearly too large for these promotional photographs (from Jeremy Brahm). … New academic logo for South Florida.