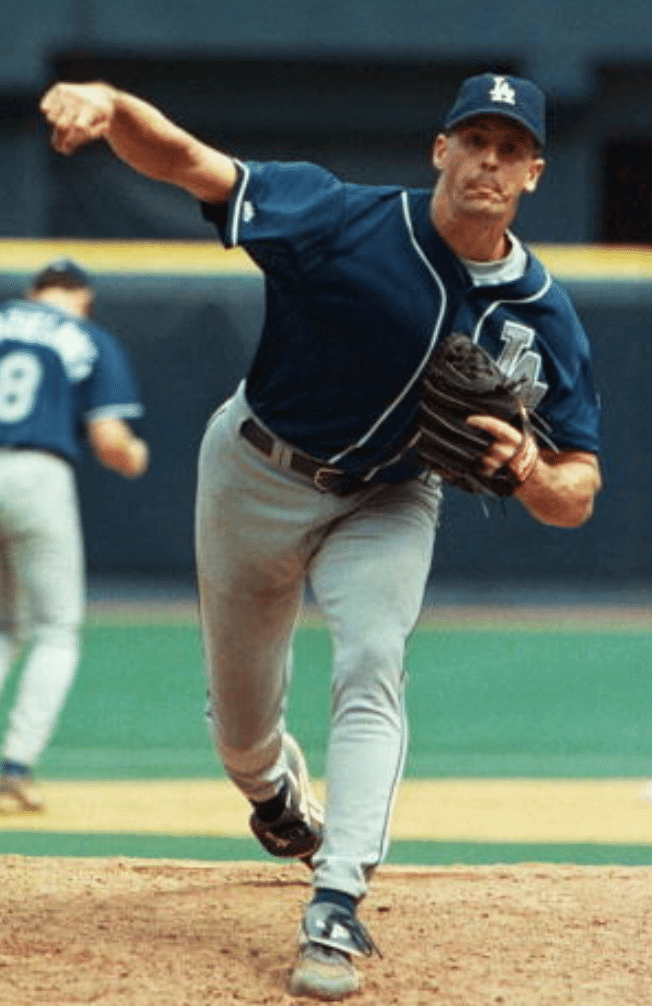 [Editor's Note: Today we have a guest entry by longtime reader/contributor Jerry Wolper, who's going to fill us in on a previously untold story about the Dodgers. Enjoy. — PL]
By Jerry Wolper with Ross Yoshida
On July 20, 1999, the Dodgers were at Three Rivers Stadium for a Tuesday afternoon game. Kevin Brown, who had signed baseball's first $100 million dollar contract, pitched for the Dodgers, and I was one of the 16,921 who came out to see him. The Dodgers won, 8-4, raising Brown's record to 10-6.
What always stuck with me about that game was that the Dodgers wore blue jerseys with a grey "LA" chest logo [as shown at right]. I may have been unusual in that regard — neither The Pittsburgh Post-Gazette nor The Los Angeles Times mentioned the blue jerseys in their game recaps the next day. Over the years, it's been mentioned occasionally on Uni Watch, but nobody's ever documented the full significance of the occasion.
I recently did an email interview with Ross Yoshida, the Dodgers' Director of Design Services (and an avid uni-watcher), to help shed some light on this event that has largely flown under everyone's radar. Ross's full answers are behind a paywall at this link, but here's a summary:
The Dodgers had previously worn blue jerseys with a white script for Think Blue Week in 1998 and 1999 [although Bill Henderson's guide says they were only worn in 1999 and were also produced but not worn for 2000 — PL]: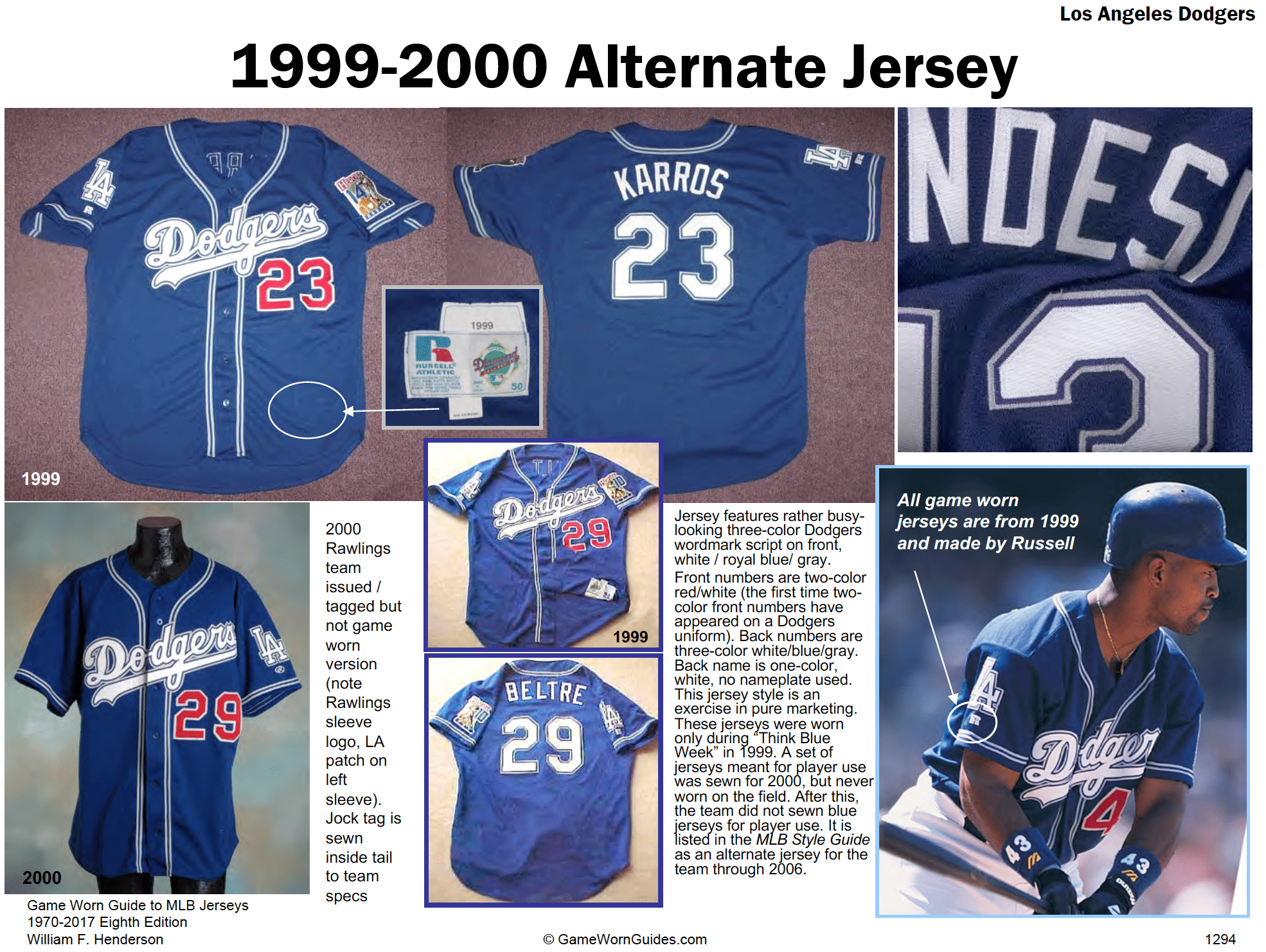 For the game in Pittsburgh, then-clubhouse manager Mitch Poole says the blue jerseys the Dodgers were wearing that day were actually their road batting practice jerseys, which they wore at Brown's request (although it's not clear why he made that request). They were mesh jerseys with a grey "LA" logo on the left chest.
This was historically significant on two levels. First, it was the only time the Dodgers wore blue tops on the road. More importantly, it's the only time the club has worn jerseys without a script across the chest since 1938, when the Brooklyn Dodgers adopted the script insignia.
Ross passed along a couple of additional notes regarding Brown's uniform quirks: "He used to throw his game cap in the dryer so it would have a slight tapered shape to it. He also had his jersey sleeves shortened by 2 inches and had blue stirrup loops sewn into the bottom hems of his pants."
———
That's some great stuff from Jerry. I'd argue that this game had an additional level of historical significance: It has to be one of the first instances of an MLB team wearing its BP jerseys for game. Is anyone aware of any earlier examples?
• • • • •
[adrotate group="2″]
• • • • •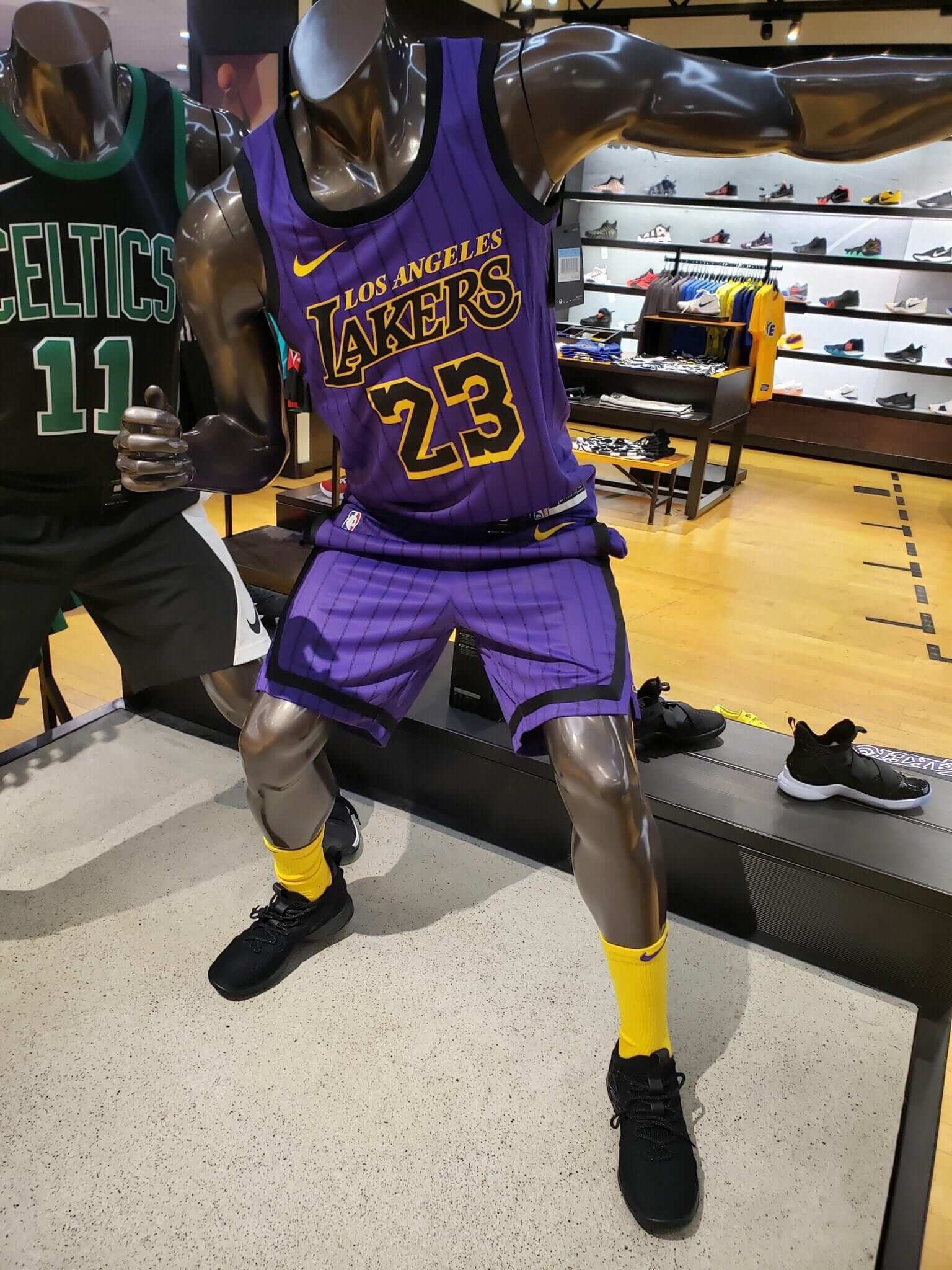 Click to enlarge
Lakers leak now complete: First we saw the shorts, then we saw the jersey, and now we're finally seeing them together — the Lakers' new Magic Johnson tribute jersey.
Not much of a tribute from a design standpoint, though, and I'm not saying that just because it's purple. Piece o'.
(My thanks to Brian Booth for bringing this leak to my attention.)
• • • • •
[adrotate group="2″]
• • • • •
Click to enlarge
Collector's Corner

By Brinke Guthrie
The AL and NL Championship Series are underway, so we're leading off this edition of Collector's Corner with some Houston Astros Tequila Sunrise sneakers. These are a current release from Vans — an exception to our usual rule of covering vintage stuff — but the design is a timeless 1970s classic, so there ya go. Astros fans will want to lace these up and cheer for their team to go back to back.
Now for the rest of this week's picks:
• One more Tequila Sunrise item here: this 1970s Astros insulated thermal cup, sponsored by your local Coca-Cola bottlers.
• Someone made up this bumper sticker that reads, "Wanted: Pitchers, Fenway Park, Boston."
• This 1970s Milwaukee Brewers glass was brought to you by the International House of Pancakes.
• This item is also listed under "Brewers," though it doesn't have anything to do with the team per se. They used to use "Sportservice" as their stadium vendor and beer vendors wore this pin. Riverfront Stadium in Cincinnati also used Sportservice, so I sure remember that logo!
• We don't usually cover minor league stuff here (you've gotta make it to the Show before you qualify for CC!), but tell me that isn't Rod Carew on this 1978 Albuquerque Dukes program cover, with the classic 1970s "Go Dukes" insignia splashed all over.
• Check out this 1960s Cubs bobblehead. This little Cubbie is in great shape!
• Speaking of bobbleheads, this bobble of San Francisco Giants mascot Lou Seal happens to be three feet tall!
• Franco Harris of the Steelers had his own fan club way back when, and this seat cushion proclaims the club's name: "Franco's Italian Army."
• Got a few media guides here: This 1961 NFL guide is compliments of your Ford Dealers. The Rams went for a ho-hum plain look in 1974, while their upstate rivals in San Francisco featured local landmarks like cable cars and the Golden Gate Bridge, along with linebacker Dave Wilcox.
• The seller calls this a "1970s" Bengals Christmas ornament, but the uniforms and helmets indicate that it's 1980s or later. Doesn't look like official league merch, judging from the design.
• Anyone ever heard of an NFL Reading Kit? This website says it "was originally issued to promote reading within school classrooms. The large cards would be used to reward school children who correctly answered the questions relating to the biography on the cards." Online research places this item in 1977.
Seen an item on eBay that would be good for Collector's Corner? Send any submissions here.
• • • • •
[adrotate group="2″]
• • • • •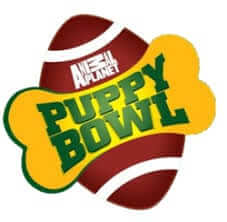 Yesterday was awesome: Made my annual visit to the taping of the Puppy Bowl yesterday — always one of the best days of the year. As it turned out, there were no puppies on hand, but I got up close and personal with five other animal species (none of which I'm at liberty to name, sorry) and lost a good chunk of my heart to each of them. The puppies will be showcased today, so I'll be going back to the studio for that.
Big ups to Animal Planet for inviting me back for another year. It's a privilege to be part of the Puppy Bowl!
• • • • •
[adrotate group="2″]
• • • • •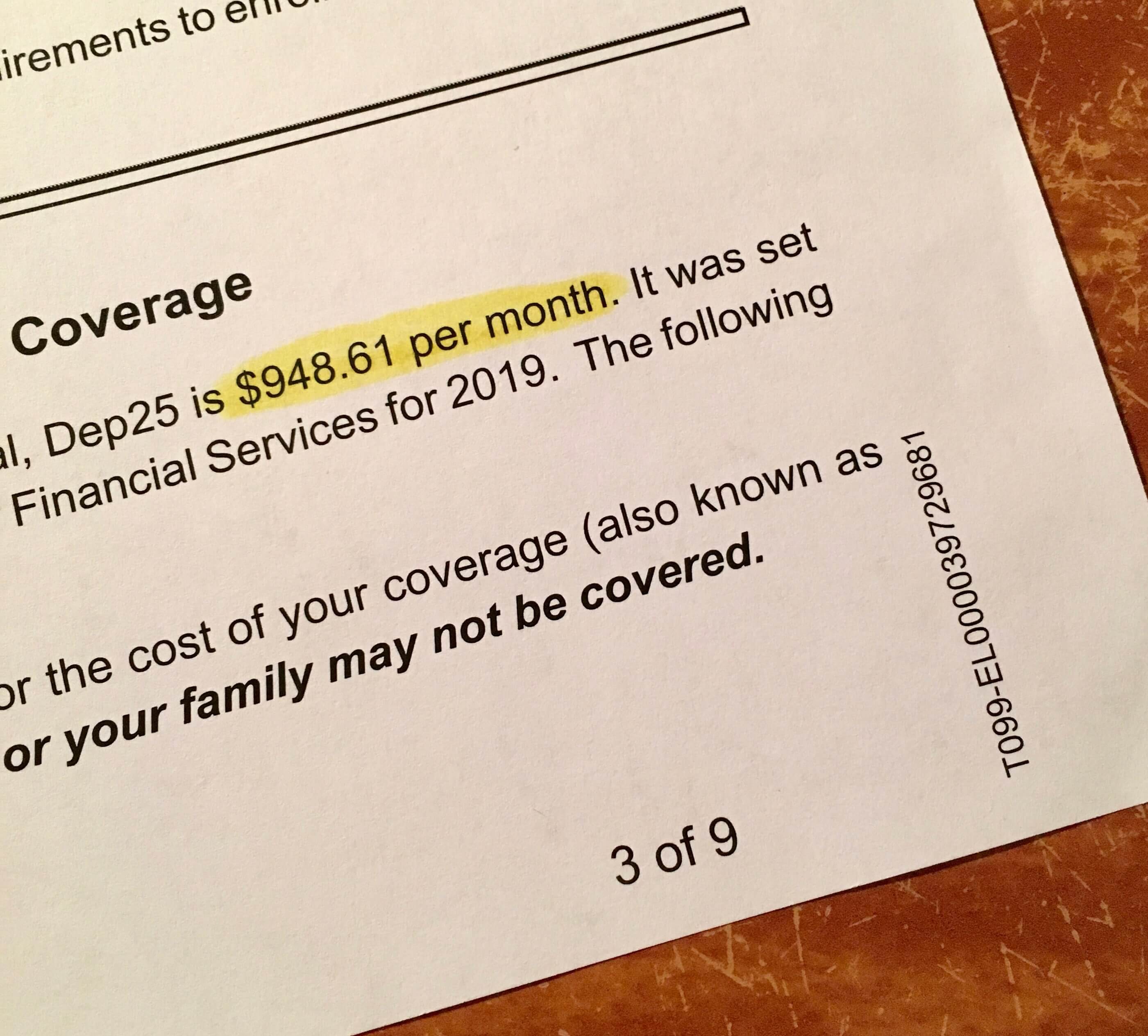 Yesterday sucked: When I got home from the Puppy Bowl, I found a letter in the mail informing me that my health insurance premiums will be increasing 19% next year. That will bring my monthly premium up to $949, which is fucking insane.
This means I will probably have to switch to a different plan for 2019 (just as I did for 2018, and 2017, and 2016, and…). That in turn means there's a good chance I'll have to find a new primary care doctor (just as I did in 2018, and 2017…), and will also have to go through the pre-approval process all over again for the specialty medication that I take (just as I did in 2018 and 2017…).
When I went freelance in 1996, I didn't mind paying for my own health insurance, because I figured it was a fair trade-off for the autonomy and freedom I'd have as a work-at-home freelancer. In practice, though, the costs have become prohibitive and the resulting switch to a different plan each year has made it impossible to maintain any continuity or consistency in my health care. And I've come to resent how our country's ridiculous system of providing health insurance primarily through employers effectively screws those of us who, like myself, have the gumption to be self-employed. It's like we're being penalized for showing some initiative.
I know some of you are young and/or healthy enough to think that you don't need health insurance, or that you only need catastrophic coverage. Unfortunately, some of us, myself included, are not so lucky. Although I think of myself as healthy (good blood pressure, daily exerciser, non-smoker, more or less the same weight for 30 years, blah-blah-blah), the reality is that I have several chronic conditions that require regular medication, or regular doctor visits, or both. I've also had some other maladies that are dormant for now but could resurface.
Some people think those of us who require more medical care should simply pay more, just like someone who buys more stuff at a store should pay more. That seems like an argument against the very notion of insurance, the entire point of which is to average out costs by spreading risk over a large group. If you don't require as much medical care as I do, it's true that your premiums are essentially subsidizing my care — just like my premiums are subsidizing the guy who needs a stent, and that guy's premiums are subsidizing the cancer patient, and so on up the ladder of care intensity. "Healthy" and "sick" are very relative concepts, and almost all of us give at least a little and take at least a little — usually plenty of both during the course of our lives. Personally, I think of that as a nice way of having each others' backs, especially since so many medical conditions are nobody's fault. They're just things we're born with (that's the case with all of my chronic conditions), or things that resulted from an accident (like when I broke my right arm in 2012 and my left arm in 2015).
It's embarrassing that most other countries have figured out how to deal with this, or at least made a better go of it than we have, while we're still stuck with a health care system that everyone agrees is inefficient and overpriced. And whatever you think the solution is (I favor a single-payer approach, but that's just one option among several), there's gotta be a better way than a system that gives a middle-class freelancer like myself a $950 monthly bill. That's just nuts.
• • • • •
[adrotate group="2″]
• • • • •
The Ticker
By Alex Hider

Baseball News: Dodgers C Yamani Grandal wore eye blue during last's NLCS game (from Kurt Rozek). … The Royals are among the teams that hold a "home run for free season ticket" promotion, and they're using a retro logo to promote the event (from Ryan Atkinson). … MLB is currently auctioning off autographed gold baseball bats and donating the proceeds to Stand Up to Cancer. The auctions are open until Oct. 17.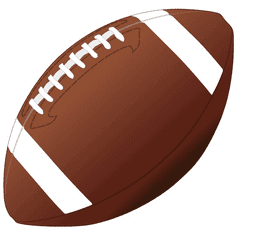 Pro Football News: It looks like the Montreal Alouettes will have new uniforms next season. It'll be their first complete redesign in about 20 years (from Noah Sidel and Wade Heidt). …  Washington CB Josh Norman wore a cap without a brim during a postgame interview Sunday after picking off Panthers QB Cam Newton. The cap was referencing one of Newton's more memorable press conference outfits (from @kleiny42). … Greg Kissler's The Onion desk calendar came through with a Pinktober entry a few days ago. … Pardon The Interruption is still using an old Browns logo in graphics (from Yianni Varonis).

College and High School Football News: Nebraska will wear retro-inspired uniforms on Nov. 10. The jerseys honor the 100th anniversary of the end of WWI, and the Nebraskans who died in the war for whom Nebraska's memorial stadium is named (thanks to all who shared). … Speaking of Nebraska, Ohio State will reportedly wear BFBS alts against the Huskers on Nov. 3. They'll be similar to the BFBS duds Ohio State wore in 2015 (from our own Yianni Varonis and Phil). … Also from Yianni, Fox used both old and current Ohio State logos during its broadcast on Saturday. …  Are new alternate uniforms on the way for LSU? (From Phil.) … Ottawa University of Arizona wore GFGS jerseys on Saturday (from James Poovey). … Adidas is selling merch from the 1998 Adam Sandler flick The Waterboy for the movie's 20th anniversary (thanks to all who shared). … Three of the eight Massachusetts high school football teams that will play at Fenway Park later this year use logos poached from other teams (from Peter Fahey).

Hockey News: Golden Knights G Marc-André Fleury was wearing metallic gold pads during practice yesterday. Let's hope he wears them in a game soon (from Bryan Harper). … The Jets debuted their new light blue alternate jerseys Sunday night against the Hurricanes (from Adam Sampson). … Kenya has a hockey team, and they have some pretty awesome sweaters (from Gary Abbott).

NBA News: In case you didn't want to go to LockerVision, the Timberwolves added a jersey icon to the official schedule on their website, so you can see what they'll be wearing for every game (from Phil). … ESPN was using an old Nuggets logo on its website yesterday (from Brendan Ragan). Some Nike-sponsored NBA players are taking advantage of the league's relaxed footwear rules and designed the colorways of their sneakers for opening weekend (from Phil).

College Hoops News: New court design for Ohio State. Here's a time-lapse video of the court being installed (from Yianni Varonis). … San Diego's new teal jerseys are sharp (from Zach Harris). … New GFGS uniforms for VCU (from Phil). … New kelly green uniforms for North Texas (from Garrett Gough). … New uniforms for Houston Baptist (from Phil).

Soccer News: Barcelona is set to unveil jerseys that incorporate designs from the last 20 seasons (from Phil). … Northern Ireland wore the white previous incarnation of their second kit (it's currently sky blue and dark blue) with blue numbers instead of green and white first-choice shorts during a recent UEFA Nations League game against Bosnia (from our own Jamie Rathjen and Richard). … Lots of stuff from soccer fanatic Josh Hinton: Australian club Western Sydney Wanderers have released their 2018/19 home and away uniforms, Man City's 2019 "pre-match shirt" has leaked, Serbian club Red Star Belgrade released its new home uniforms, South African club Bloemfontein Celtic released its new home uniforms, and a pair of new Adidas cleats has leaked.