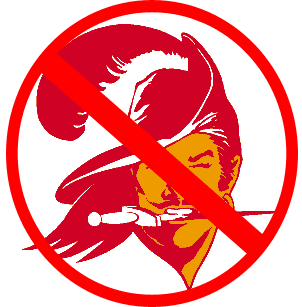 Surprising news yesterday afternoon out of Tampa, where the Bucs had been planning to wear their creamsicle throwbacks on Sept. 29. Turns out they won't be wearing them after all, because of a new rule regarding alternate helmets. Quoting from the post on the Bucs' site:
The league-wide guideline, which requires players to use the same helmet for all games during the season, was recently implemented based on the strong recommendation by the NFL's Head, Neck and Spine Committee as well as the Player Safety Advisory Panel. … Due to the new regulations, Buccaneer players will wear their standard pewter, red and white uniforms in place of the classic Florida orange, red and white throwback attire that had previously been scheduled.
A few hours later, this piece was posted on NFL.com. It says the new rule "forbid[s] teams from switching helmets during the season." It also includes some clarifying quotes from NFL spokesman Brian McCarthy:
"This offseason, we communicated a recommendation from the Head, Neck and Spine Committee and the Player Safety Advisory Panel to those teams planning to wear throwback uniforms for at least one game this season. They recommended that players no longer wear different helmets as part of a 'throwback' or 'third' uniform. … Teams may continue to wear throwback uniforms under league guidelines, but players must wear their regular helmets. The outside of the helmet can be modified by removing or replacing decals, as long as it does not affect the integrity of the helmet."
Wow. To my knowledge, this rule had not been reported or disclosed prior to yesterday. Lots of thoughts and implications here:
•  As you can see from the preceding quotes, there seems to be some confusion and conflicting language about whether this is a "recommendation" or a "rule." Semantics aside, I'm pretty sure it is indeed being treated as a rule, not as an optional advisory.
• The rule — assuming that's what it is — will affect some throwback designs but not others. The Bills and Bears, for example, both wore throwbacks this past Sunday, but they were both able to use their existing helmet shells. The Bears simply removed their decals and the Bills swapped out their charging buffalo for the standing buffalo. If the Lions wanted to wear their Thanksgiving throwbacks with the plain silver helmets, that would presumably be okay too. But this puts the kibosh on the throwback designs recently used by lots of other teams, including the Falcons, Patriots, Cowboys, 'Skins, and others. It may also explain why the Steelers are wearing their bumblebee throwbacks again this season, instead of this throwback design.
• One thing I don't understand: The Packers are slated to wear their bullseye throwbacks, which include brown helmets, on Oct. 20. Maybe they'll be issuing a statement similar to the Bucs' announcement shortly..? Or maybe they'll wear their regular helmets with the throwback uni? (By coincidence, a few years ago Phil had Photoshopped a photo to show how that might look — not bad!) Also, the Rams are planning to wear their royal/yellow throwbacks twice this season, on Nov. 3 and Dec. 22, although I suppose they could stick with their existing helmets for that, or at re-decal them with yellow horns. (Update: The Packers have announced that they'll still wear their throwback unis, but with plain gold helmets.)
• Related to the above: If the rule was enacted during the offseason, why are the Bucs just learning about it (or at least reacting to it) now? Were the Packers and Rams also unaware of it? Seems like something has gone wrong here, communication-wise.
• Aside from throwbacks, the NFL has never allowed alternate helmets. This has been for branding purposes, not for safety reasons. But with the explosion of alternate helmets on the college level, I've been saying for some time now that the NFL is bound to allow alternate headwear soon. (I predicted this during two different radio interviews just last week, in fact.) But with this new rule in place, it appears that teams will stick with — indeed, are stuck with — one helmet design apiece. Or at least one helmet color apiece.
I received a lot of email about this as the story unfolded yesterday, and almost all of it was negative — "Stupid NFL!" or "The No Fun League strikes again," that kind of thing. Hmmmmm. Now, you'd be hard-pressed to find a bigger throwback fan than me. But if this move actually increases player safety, it's hard to argue against it. I'm not a doctor (and neither are most of you), so I'm in no position to judge the risks of wearing multiple helmets in a season as opposed to wearing one. And I wouldn't mind hearing more specifics about why it's dangerous to change headgear. Like, I assume it has something to do with breaking in a new helmet, but I'd like to hear more, just to understand the issue better.
And yeah, maybe this is all just case of the league covering its butt from a liability standpoint. But still, if this move helps prevent a few concussions (or worse), then it's worth it.
Meanwhile, consider this: If it truly is riskier to switch lids during the season, it kinda makes you wonder about all those colleges that play musical chairs with their headgear each week, no?
+ + + + +
Membership update: Yesterday I mailed out a new batch of membership cards (including Andrew J. Garner's Wisconsin Rose Bowl-themed card, shown at right), so all recent enrollees should watch their mailboxes. Some of you may notice that I used a very purple stamp on the envelope — unfortunately, it was unavoidable, as it was all that was available the last time I bought stamps. Grrrrrr.
As always, you can sign up for your own custom-designed membership card here, you can see all the cards we've done so far here, and you can see the step-by-step process of how we make the cards here.
+ + + + +

'Skins Watch: Washington Post sports columnist Mike Wise, who's long been one of the most eloquent voices in the 'Skins controversy, recently spent a week at the Pine Ridge Indian Reservation in South Dakota, where he had lots of discussions with Native Americans about the team's name. You can hear how that went at the 50:15 mark of this podcast. Highly recommended (from Adam Brodsky). … "On Monday morning I was watching the Today show on NBC," says Nelson Warwick. "During the beginning of the show, the hosts were exploring their new 'Orange Room,' where they'll monitor trending stories. As an example, they cited the Redskins name controversy, and they posted this graphic. Note that they used the 'tucked feathers' logo, which was worn by some players during the 1982 season. Not sure how NBC didn't have a current logo. You can see the whole segment here. The logo comes up at about the 2:16 mark." … Breaking Bad actor Jonathan Banks, who's a DC native and a 'Skins fan, thinks the team should change its name. "¦ Here's a good post that shows how the use of Native American imagery in sports is part of a larger branding problem that creates stereotypes (from Matthew Busch). "¦ Meanwhile, a British version of the 'Skins situation, sort of, has emerged around the Tottenham Hotspur soccer team (from Cort McMurray).

Baseball News: The Nats responded to Monday's shootings at the Washington Navy Yard by wearing Navy caps prior to the game. They switched to their regular caps once the game started. In addition, many fans wore blue and gold (thanks, Phil). … The Orioles have announced the winner of a T-shirt design contest. Pretty good design, although the apostrophe catastrophe still rankles (from Stephen Murphy). … There's an app that will frame your iPhone photos with a baseball card-esque template (from Chris LaHaye). … The 1974 All-Star Game is now available on YouTube. Frank Mercogliano was checking it out and immediately noticed that Gaylord Perry's NOB was badly off-center, almost like they'd added the first initial as an afterthought. Perry's brother Jim was also on the Indians that year (but not on the All-Star team), and they were both on the Indians roster from the start of the season, so it's not clear why the initial would have been added after the fact. Anyway, feel free to look through the game for other uni anomalies. … Check out these 1963 photos of a travel agency that was using spring training to attract customers (nice find by Ronnie Poore). … No surprise that Blue Jays catcher Josh Thole uses a special glove to catch knuckleballer R.A. Dickey. But it's surprising to find that the glove is inscribed with Dickey's name and number (good spot by Justin Foley). "¦ No photo, but a good observation from Oliver Kodner, who writes: "We've seen players wear other players' batting helmets and such, but something I hadn't seen before happened this past Sunday, when Cardinals backup catcher Audry Perez replaced Yadier Molina but wore Yadi's chest protector. It had the gold Rawlings tag on the front [because Molina is a Gold Glove winner] and the '#4 Yadi' on the collar." "¦ Nearly three years ago I ran a photo of elephants "playing baseball." Now Hall of Fame curator Tom Shieber has written a great piece about the story behind that photo. "¦ Shane Victorino is the latest player to wear a mouthguard. "With all the wall crashing this year for him, it makes sense," says Andy Chalifour. "¦ The Pirates wore their 1971 throwbacks, which they usually wear only on Sundays, last night. "It was because it was Roberto Clemente Day, where Clemente's family presented Andrew McCutchen with a framed 1971 Clemente jersey and named him as the Pirates' nominee for the annual Roberto Clemente Award," explains Joseph Gerard. "¦ Remember these Dodgers BP jerseys? Here's a shot of pitcher Kevin Brown wearing that jersey, and Michael Gallarza swears that it's from a regular season game. "I remember seeing Brown pitch in that jersey, I think at Three Rivers Stadium against the Pirates." The fact that Brown is wearing batting gloves bolsters Michael's case that it's a game shot, although it could be from spring training. Anyone know more? "¦ The powder blue trend was big in the 1970s, but St. Bernard High School in Los Angeles was doing it in 1995 (from Bryan Phillips). "¦

NFL News: Here's a gallery of regrettable NFL logo tattoos (from William Yurasko). … Good article on the 49ers' equipment manager (from Roger Faso). … I recently attended a Raiders fan event in Oakland," says Willie Gabel. "One display station had one of the Raiders' original sideline coats, from the pre-Davis black-and-gold days." "¦ "I was watching a Bill Belichick documentary from 2009," says Chris Flinn. "In this shot, Bill is telling the refs, 'You guys are looking sharp,' and they respond saying that they only had to suffer through one more game. Then they looked at the Broncos' striped socks and the ref said he was feeling better about himself after seeing those. Belichick finished with
'Those look hideous. You should've seen the shit they tried to make me wear.'" Insert obvious wisecrack about Belichick's usual gameday attire here.

College Football News: Several readers — and, I gather, the larger uni-verse — have been freaking out over this Alabama blackout jersey. The page says, "Designed in the same styling as the gear your favorite players will wear on the field in the 2013 Blackout Game," but that's clearly just boilerplate text that's been copied and pasted. The Tide couldn't wear that jersey even if they wanted to (and I'm pretty sure they don't want to), because the numeral doesn't contrast sufficiently with the jersey fabric. So everyone relax already Never mind, link has been taken down, which just confirms what I thought all along. … Louisville switched to white facemasks this year, but the studio for ESPN's halftime report last Saturday used a helmet with a red facemask (from Eric Wright). … Speaking of facemasks, Utah switched theirs from white to black last weekend. "Not sure if this was a one-time thing or if it will be long-term, but with all the black the Utes are wearing now days it would seem to make sense," says Nate Hurst. … I think we've run this before, but once more can't hurt: Here's a good rundown of UVa uniform history (thanks, Phil). … Good article on this history of Michigan's winged helmet (from Jeremy Segall). … Yesterday I mentioned that Ohio State is usually credited with being the first college to use merit decals, in 1968. That prompted the following from Jim Parks: "I know that our high school, Steubenville High School in Ohio, and I'm assuming others, had helmet merit decals prior to 1968 — maybe as far back as 1963. We had stars and lightening bolts for merit awards. You can see the stars in this photo from 1966. I even spoke with the coach at the time, Abe Bryan, about the lightening bolts in 2008, and he told me they were only given for 'exceptional plays,' whatever that entailed." "¦ The Coast Guard is marking the 50th anniversary of its undefeated 1963 team — coached by Otto Graham! — by wearing no-nonsense throwbacks this week (big thanks to Joe Kelly).

Hockey News: Yesterday I linked to this mock-up of the Sabres' new alternate uni. What I hadn't noticed, until Charles Pritt pointed it out, is that it shows the captaincy designation on the shoulder. That would appear to violate NHL Rule 6.1, which states that the "C" must appear "on the front" of the captain's sweater. … Here's more about the NHL's new uni/equipment rules. Interestingly, if a goalie is caught with illegal equipment, his team's equipment manager will be fined $1,000 (in addition to the goalie himself being suspended and the team being fined $25,000). "Seems a bit harsh to punish an employee who is now in the almost impossible position of being the league's enforcer and the player's equipment guy," says Chris Bisbee.

Soccer News: The U.S. World Cup team may be using the centennial crest after all (thanks, Phil). … Napoli wore camouflage uniforms the other day. "Should that be 'G.I. Giuseppe'?" asks Yusuke Toyoda. … Also from Yusuke: Professional soccer players in England and Scotland are being invited to wear anti-homophobia shoelaces for matches this coming Saturday and Sunday.

College Hoops News: New uniforms for St. John's (thanks, Phil). … Remember those color-on-color jerseys that some schools (and some NBA teams) wore last season? Penn State was doing that way back in 1974! "They were known as 'ghost jerseys,'" says Jeff Flynn, Jr.

Grab Bag: St. John's has announced its partnership with Under Armour. … In a related item, Under Armour founder Kevin Plank is very, very wealthy (from Tommy Turner). … New logo and page design for Bing (thanks, Brinke). … Also from Brinke: Google is experimenting with some design tweaks. … The teams at Wheat Ridge High School in Colorado are called the Farmers. Here's a mural showing the evolution of their logo (from John Romero). … A pro sports team in Sunrise, Florida, is looking for a creative design intern (if you get the gig, send a muffin basket to Anthony Giaccone). "¦ "One of the great traditions of the Australian Football League is the large banners created by a team's cheer squad, which the team runs through as they make their way onto to the field prior to a game," says Graham Clayton. "That link shows the Richmond Tigers banner prior to their recent playoff game against the Carlton Blues."