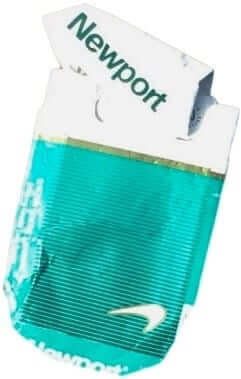 Did you ever start noticing something that you'd never noticed before — something seemingly innocuous — and then all of a sudden you can't stop noticing it?
That happened to me recently, and I want to go off-uni today to tell you about it, especially because it has raised some uncomfortable questions and issues.
Here's the deal: A few months ago I started noticing a lot of empty packs of Newport cigarettes that had been left as litter on curbs, streets, and sidewalks. I'm not sure why they caught my eye — maybe it's because Newport packs are green, which is my favorite color. Or maybe it's because the Newport logo looks a bit like the Nike logo (although I'd really like to believe that that's not the reason).
I should probably clarify here that when I refer to seeing "a lot" of littered Newport packs, I'm talking about an average of about one per day. Not so many people smoke cigarettes anymore (thankfully), and not so many people litter anymore either (ditto, although this project has made it depressingly clear that we still have a long way to go on that front). Still, while the littered cigarette packs that I saw were relatively few and far between, a disproportionate number of them appeared to be Newports.
And that seemed odd to me. If I'd mostly seen, say, Marlboro packs, that would have been unremarkable, because I know Marlboros are the top-selling cigarette brand, so I'd expect them to also be the most-littered brand. But instead I was mostly seeing Newports.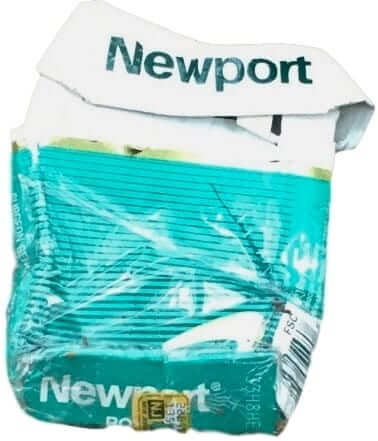 Or at least that was my general impression. But was it actually true? In an attempt to find out, I began documenting the situation by photographing every discarded pack of cigarettes that I came across. If I encountered a pack and didn't have my phone with me, which sometimes happened, I took the pack with me and photographed it later.
There were days when I saw several discarded packs, and then there were multi-day stretches when I didn't see any. When I started out, I'd sometimes see something that I thought was a cigarette pack but turned out to be a flattened coffee cup, or a box of cough drops, or a tire-smashed can of Red Bull. (Based on my observations, Red Bull drinkers seem to litter quite a bit, which reinforces all my worst stereotypes about them.) Over time, though, I got better at distinguishing the real thing from the false alarms, even from a pretty good distance. Not the most practical life skill to develop, but it was still kind of satisfying to know that I was improving at something, even if the something happened to be very esoteric.
I didn't give myself a deadline or a goal at the outset of the project, but somewhere along the way I decided that I'd tally up the numbers once I got to 100 photos. I passed that point last week. As of today, I'm up to 125 photos, which you can see here. And how do the numbers play out? Let's take a look: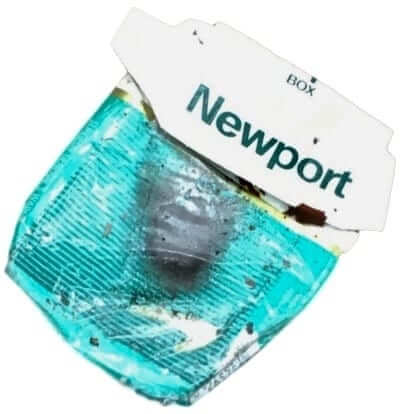 – Newport: 77
– Marlboro (all varieties): 23
– Parliament: 7
– Everything else: 18
As I suspected, Newports are easily the most-littered brand I've encountered, with far more packs than all other brands combined. Now here's the tricky part, the uncomfortable part, the part that makes me uneasy: For the past half-century or so, Newports have been marketed primarily to African-Americans. They are by far the most popular brand with black smokers. So does my little project say anything about black people and littering?
Let's shift into virtual-FAQ mode here:
Would you consider this to be a scientific study?
Not even close. A hundred-ish packs is a really small sample size, and so is the area I've covered over the past few months. Moreover, just because I photographed 125 cigarette packs, that doesn't necessarily mean that those packs came from 125 individual smokers. A couple of very litter-prone Newport smokers could conceivably have accounted for a disproportionate share of the Newport packs I encountered. It's even theoretically possible (although not likely) that all 125 packs I photographed came from one extremely nicotine-addicted, brand-disloyal, and slobbish person.
Still, it's worth noting that the high rate of Newport discards held true in my old neighborhood before I moved and in my new neighborhood after I moved. It was true in Manhattan and on Long Island. It was true in the late spring, the summer, and the early fall. So while this wasn't a scientific study, the results did seem to be consistent within the admittedly limited parameters of my daily travels.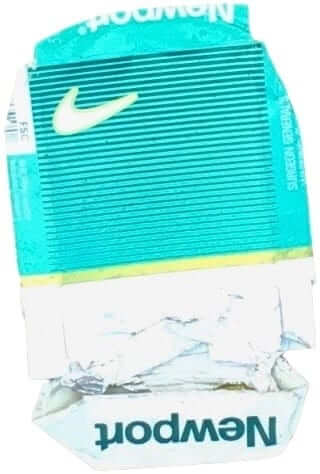 So are you accusing black people of being worse litterers than white people?
I'm not accusing anyone of anything. I simply observed something and am acknowledging one of the possible implications — which, like I said, is an uncomfortable thing to bring up. But there are lots of other possible implications: Maybe black smokers litter more than black non-smokers. Maybe white Newport smokers (they do exist, although I think they're a small part of the brand's market) litter more than black Newport smokers. Maybe white Newport smokers litter more than everyone else in New York, period.
My sense of things, although I can't find any studies to back this up, is that poor people, of any race, tend to litter more (although this is sometimes due to lower levels of sanitation services in low-income neighborhoods), and African-Americans are disproportionately poor, so it wouldn't necessarily surprise me to learn that they have a higher rate of littering. Then again, anyone who can afford to smoke in New York, where a pack of cigs now costs $13, probably isn't poverty-stricken.
Basically, I see two dots here — the disproportionate number of discarded Newport packs and Newport's disproportionately black consumer base — but I'm not saying those dots can necessarily be connected.
If you're not saying that, then what are you saying?
I'm saying I've noticed something weird, and I'm acknowledging a possible explanation for it. I'm also acknowledging that there are lots of variables in play that make it hard to reach any real conclusions.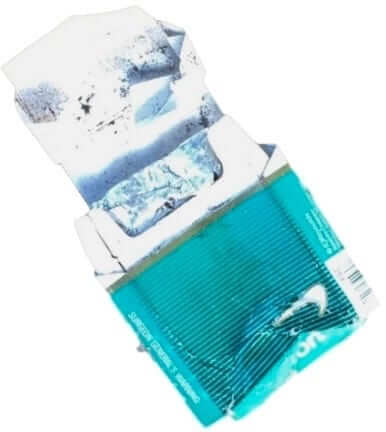 So if it's all just a fuzzy question mark, why are you even telling us about this?
Because it's interesting, and maybe we can learn something from it.
I'm sure many of you out there know much more than I do about statistics, data, demography, tobacco, and refuse. If any of you would care to weigh in, I'm all ears.
I'd also be interested in hearing whether Newports are the top-littered brand in other cities. So if you want to try to duplicate my photographic study in your burg, feel free.
Finally, I hope this would go without saying, but just in case: Anything involving race has the potential to be explosive. Let's please keep the discussion civil. Thanks.
• • • • •
[adrotate group="2″]
• • • • •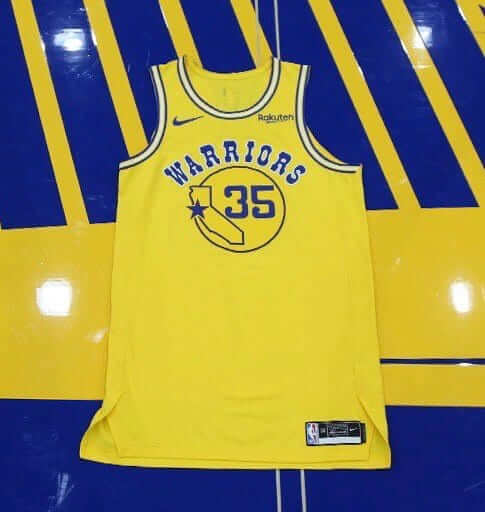 Another NBA throwback: The Warriors revealed their new 1970s throwback yesterday. We pretty much knew this one was coming, thanks to an earlier video game leak. As if to underscore the fact that the team doesn't really care about anything but the retail aspect, the entire "unveiling" yesterday consisted of a "Hey, this thing is now for sale" announcement. Classy.
If you can get past that nonsense, it's a good uniform. I've always liked it, going back to the Rick Barry days, but until yesterday I hadn't really noticed the number font. Look familiar? It's the old Circus font used by the mid-1970s Astros (or at least a close variant). That was a Sand-Knit font, and sure enough, the Warriors' jerseys with that font were also made by Sand-Knit. Interesting!
• • • • •
[adrotate group="2″]
• • • • •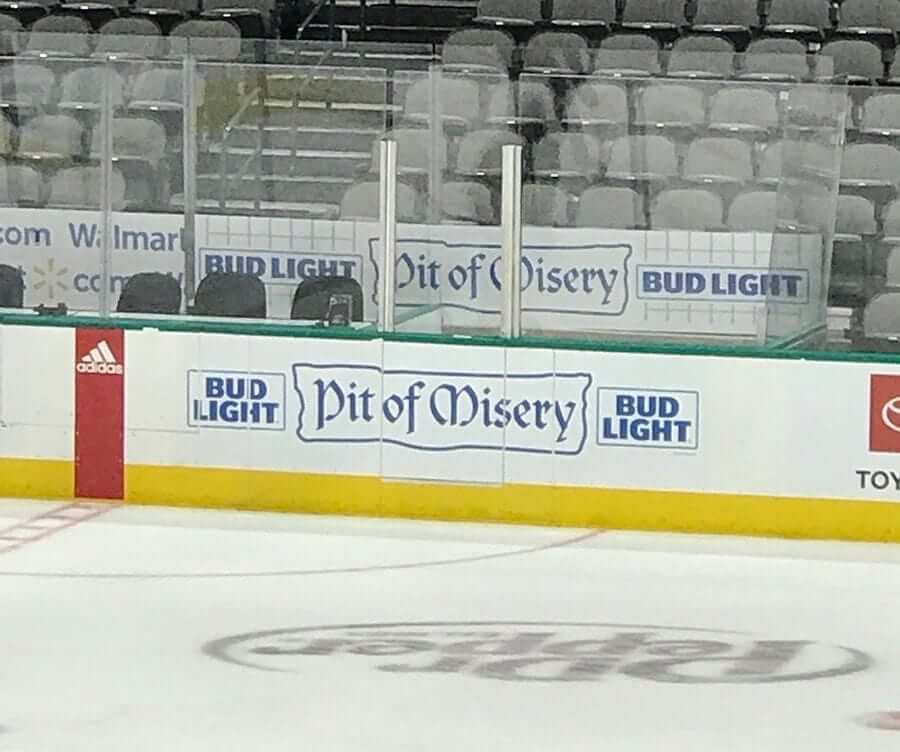 Oh, for fuck's sake: So here's something new to be depressed about: Penalty boxes around the NHL have been festooned with Bud Light "Pit of Misery" ads (a reference to this ad campaign). That's bad enough, but when an opposing player is called for a penalty in Boston, the Bruins actually say over the P.A., "To the pit of misery, dilly dilly."
People, this is Idiocracy writ large. When the history of this era is written, it will talk about how we let advertising become the tail that wags the dog of our culture. And that history will no doubt have a big ad slapped across its cover. Sigh.
• • • • •
[adrotate group="2″]
• • • • •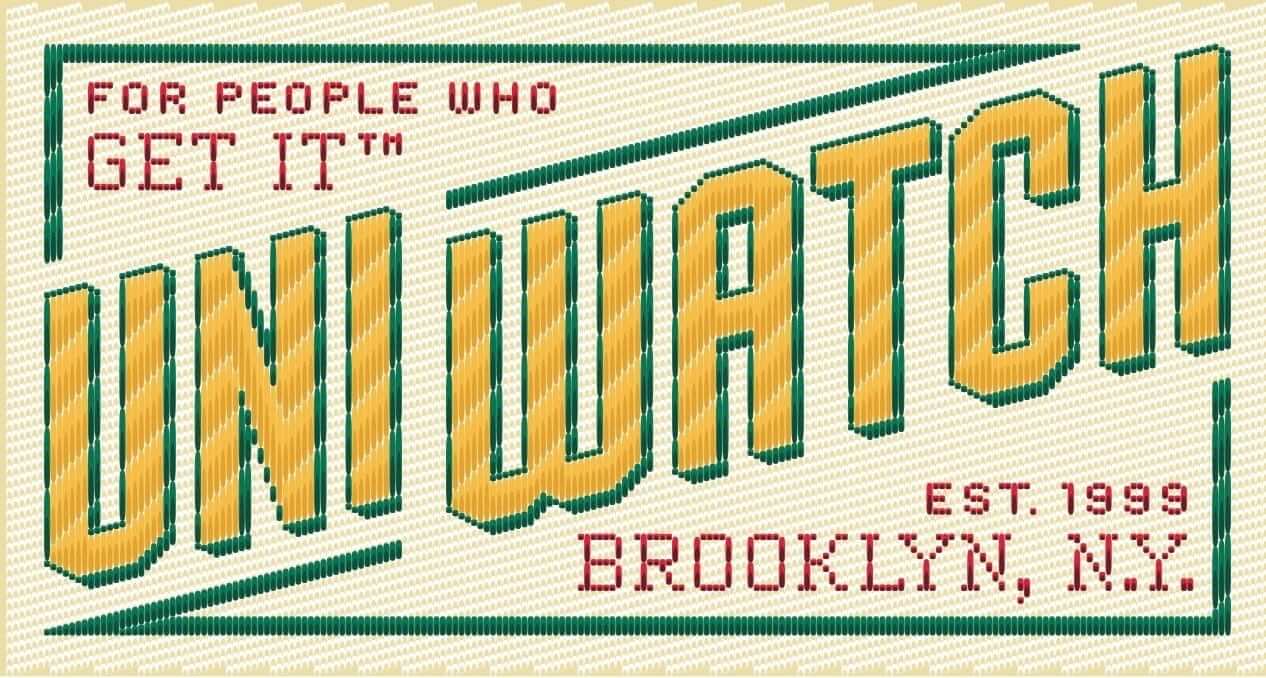 T-shirt/cap reminder: In case you missed it earlier this week, we have a new T-shirt design, based on a classic woven apparel label (shown at right; click to enlarge). Thanks to some changes at Teespring, we're offering this shirt in a much wider range of colors and styles than has been possible in the past. Full details here, or just go straight to the ordering page.
In addition, the price of our flex-fit alternate cap has been dropped from $29.99 to $24.99, and Ebbets Field Flannels is running a site-wide 20% sale on all their products, including our Uni Watch classic cap (use the checkout code PLAY18).
My thanks, as always, for your consideration of our merchandise.
• • • • •
[adrotate group="2″]
• • • • •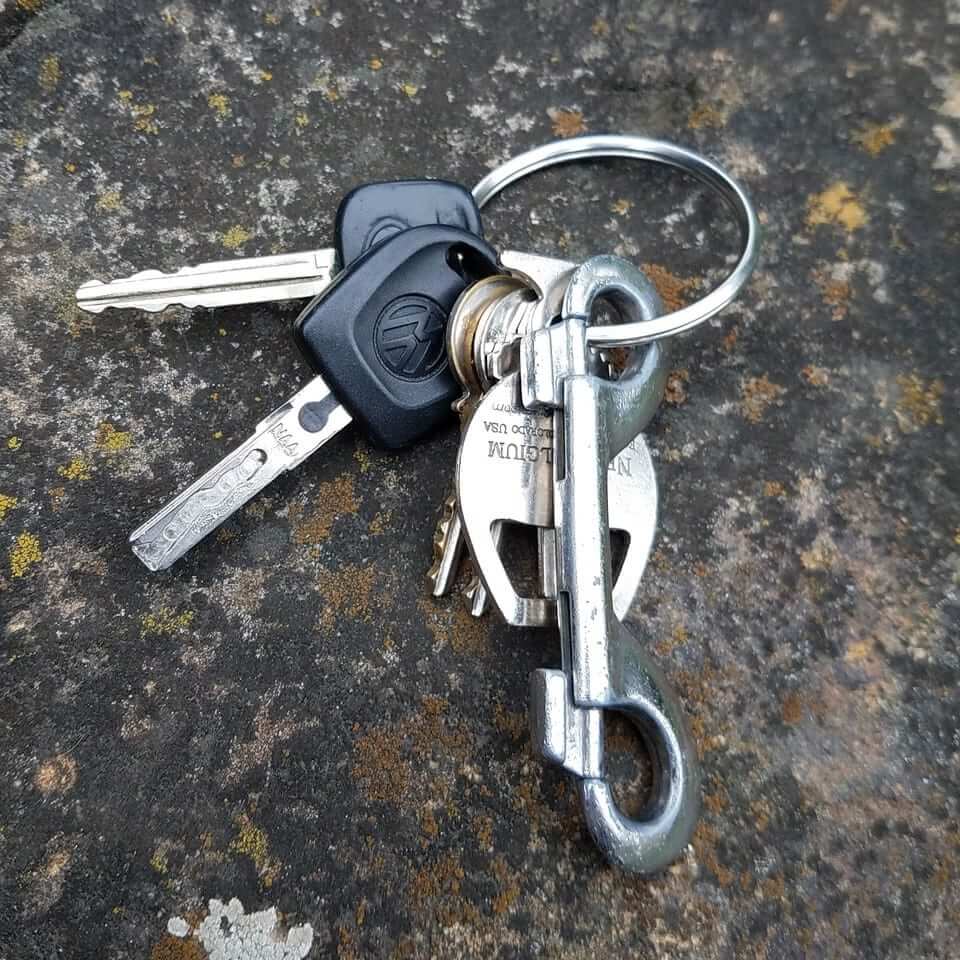 KRC update: The latest installment of Key Ring Chronicles is about what the writer refers to as his "janitor keys." It's a nice little story — check it out here.
• • • • •
[adrotate group="2″]
• • • • •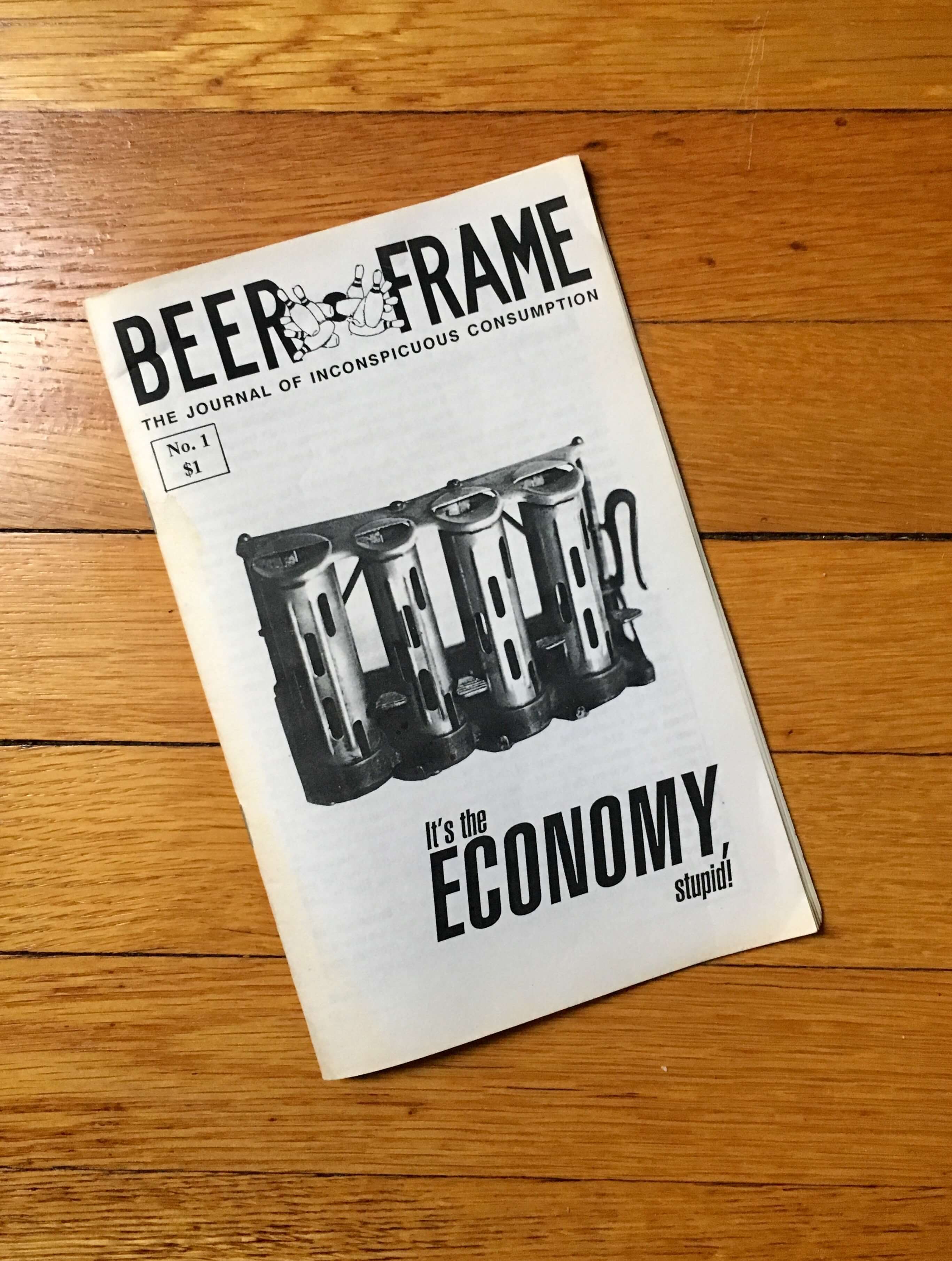 An important anniversary: It was 25 years ago today that I published the first issue of my zine Beer Frame: The Journal of Inconspicuous Consumption. It wasn't the first creative project I'd undertaken — I'd done a few things that were good but not particularly original, and some others that were original but not particularly good — but it was the first one I was truly proud of, the first one that made me feel like I'd accomplished something.
And I really needed to feel that way at the time. I had recently gone through a break-up, was unhappy with many aspects of my life, was going through some serious bouts of self-loathing, and was a few months away from turning 30. I knew I had to change something, so I basically gave myself a self-help assignment to create something I could feel good about — something that could make me feel like I was justifying my existence on this mudball instead of just taking up space. I had been tinkering with the idea of a zine about obsessive details of consumer culture, so I brainstormed a bit, came up with the term "inconspicuous consumption" (a play on Thorstein Veblen's term), and spent a few weeks writing the text.
When I was done, I had 36 pages' worth of content. That first issue began with an ode to the Brannock Device and included an appreciation of the Green Bay Packers' uniforms. Hey, from small beginnings, right? I wasn't sure anyone would care about my little musings on assorted esoterica, and that was fine, because I didn't create Beer Frame for other people; I created it for me, because it was something I needed to express, something I needed to create. That was enough.
Like most zines, Beer Frame was nothin' fancy. I "printed" it — 550 copies for that first issue — on the office Xerox machine when nobody was looking, got some friends to help me collate it in return for pizza and beer, and stapled and folded it myself. But it ended up changing my life. Within a few weeks, I had a column in a local alt-weekly paper. Within two and a half years, I was able to quit my job and become a full-time writer. Soon after that I got a book deal, appeared a bunch of times on TV, and was headed off on the career that eventually led to Uni Watch. And since I finally felt good about what I was doing, my social life changed a lot too.
After 10 issues, I eventually stopped publishing Beer Frame in 2001 (by which time the circulation had grown to 5,000 copies — not bad for a zine). It had served its purpose and run its course, but it remains the pivotal project of my life, the one that changed everything and led to everything else, including Uni Watch. I know some of you Uni Watch readers were also Beer Frame readers — thanks for following my work for such an extended period. That's pretty special.
So here's to Beer Frame on its 25th birthday, and thanks for listening. Cheers!
• • • • •
[adrotate group="2″]
• • • • •
The Ticker
By Paul

'Skins Watch: The Cleveland Indians have donated $10,000 toward a statue for Louis Sockalexis in his home state of Maine. Sockalexis, a Native American, is often cited as the inspiration for the Indians' name, although that myth has long been debunked (from our own Lloyd Alaban).

Baseball News: Good story on how the new minor league team in Amarillo, Texas, may be called the Sod Poodles (from Cort McMurray). … Not uni-related but still interesting: If the Brewers and Astros advance to the World Series, it would be a matchup of two teams that have switched leagues (from Mike Chamernik). … Weather Channel hurricane daredevil Jim Cantore wore a double-flapped Rawlings batting helmet while reporting from the Florida panhandle yesterday (thanks, Brinke). … The Syracuse Chiefs' Brannock Device Night promotion, where I had the privilege and pleasure of throwing out the first pitch, has been nominated for best MiLB promotion of the year. Vote early and often! (From Kyle Fussner.) … Buffalo's minor league ballpark is getting its sixth name — and its fifth sponsored advertised name — in 30 years.

NFL News: Bleacher Report's latest "Gridiron Heights" cartoon makes fun of the Titans' uniforms (from Tom Juettner). … Former NFL QB Colin Kaepernick wants to trademark his facial image. … "Pizza" Hut has updated the NFL team logo arrangement on its boxes. … Back in 1992, reader Joe Hernandez was looking for work and, on a whim, sent his résumé to NFL Films honcho Steve Sabol. To his surprise, Sabol responded with a handwritten postcard (here's how it looked on the front). "I love how he worked in some NFL-related jargon ('#1 draft choice — woo-hoo!') and was gracious enough to tell me that my résumé was impressive (it wasn't)," says Joe. "A classy guy." … Bears QB Mitchell Trubisky is wearing a compression sleeve superstitiously, although he may change to a different color because the Bears are wearing their orange throwbacks this Sunday (from Mike Chamernik). … Hipsters: In 1986, the 49ers wore their 40th-anniversary logo as a hip patch, and the Seahawks did likewise with their 10th-anniversary patch the year before that (from Samuel Lam and Michael Rose).

College Football News: Here are this week's uni combos for Colorado Virginia Tech, and North Texas (from Kary Klismet and Andrew Cosentino). … Rainbowtober will reach its apex this Saturday at Miami of Ohio, which will be wearing nine different helmet designs to support cancer awareness (from John Lee). … Small item buried on this page says Iowa State may go BFBS this weekend (from Kary Klismet). … Ohio State will reportedly wear black alternates on Nov. 3 (thanks, Phil).

Hockey News: The Predators didn't win the Stanley Cup last season but nonetheless raised three banners to the rafters the other night, which led to a bit of mockery. … Speaking of the Preds, their stanchions now have LED lighting. They were previously yellow (from Matt Henry). … Here's an interview with the guy who created the Flyers' new mascot sensation, Gritty. Somewhat amazingly, this same guy used to wear the Phillie Phanatic costume years ago, when he was a Phils intern. … Speaking of Gritty, he appears on Flyers G Cal Pickard's new mask (from John McMunn). … The WHL's Calgary Hitmen unveiled three throwback designs based on previous junior/senior teams from Calgary's past (from @HunterRidgeFarm). … New alternate uni for the Wheeling Nailers (from Matt Farrier).

NBA News: The Cavs have two blue alternate uniforms upcoming (thanks, Phil). … 76ers C Joel Embiid has signed an endorsement deal with Under Armour.

College Hoops News: This is interesting: GWU's women's team has left-aligned chest lettering. Not sure I've seen anything like that before (from Rob Montoya).

Soccer News: "Minnesota United has a promotional group ticket event this Saturday with St. Olaf College (Northfield, Minn.)," says Brent Kivell. "Anyone purchasing a ticket will also receive this co-branded scarf." … Pinktober has spread to the Brazilian Football Federation's soccer ball (from Josh Hinton). … Rangers Football Club has won a legal battle regarding the club's "RFC" logo.

Grab Bag: Washington and Lee University will replace portraits depicting George Washington and Robert E. Lee in military uniforms with portraits showing them in civilian attire. … The logo for the 2020 Tokyo Olympics has been unveiled. … A high school marching band in Kentucky was left without uniforms after its uni supplier went abruptly went bust. … A pair of high school girls' volleyball teams went pink vs. pink the other day. … Speaking of Pinktober, universty police at Cal State San Marcos are wearing pink patches. … Good story on the origins of the '47 Brand (from Tom Turner). … Ontario will allow Sikhs to ride motorcycles without helmets. … The apparel brand Diesel ripped off a punk band's logo for a pair of very overpriced pants. … New uniforms for the New Mexico State marching band. … Australian auto race driver Tony D'Alberto is asking for help to recover a stolen helmet. … An Ohio school superintendent who was trying to cast an early-voting ballot was turned away from his polling place because he was wearing a shirt with his school logo and colors. The school district had an issue on the ballot and the superintendent's shirt was apparently considered to be an impermissible form of electioneering. … Whoa, check out the uniforms and gear worn by the 1891 Bowdoin College tug of war team (from James Flippin). … Pinktober uniforms for U. of Michigan track and cross-country (from @run_100mi). … More ad creep: The iconic Sydney Opera House — one of the most famous works of architecture in the world — was turned into a billboard for a horse race (NYT link) earlier this week, igniting a huge controversy in Australia.
• • • • •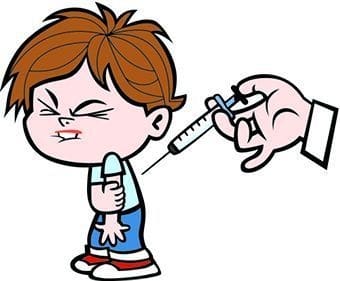 I got my flu shot yesterday. You should get yours too, if you haven't already done so. No excuses — it's important for everyone's health and safety, including your own! And it's free at most pharmacies if you have health insurance. Do it. — Paul