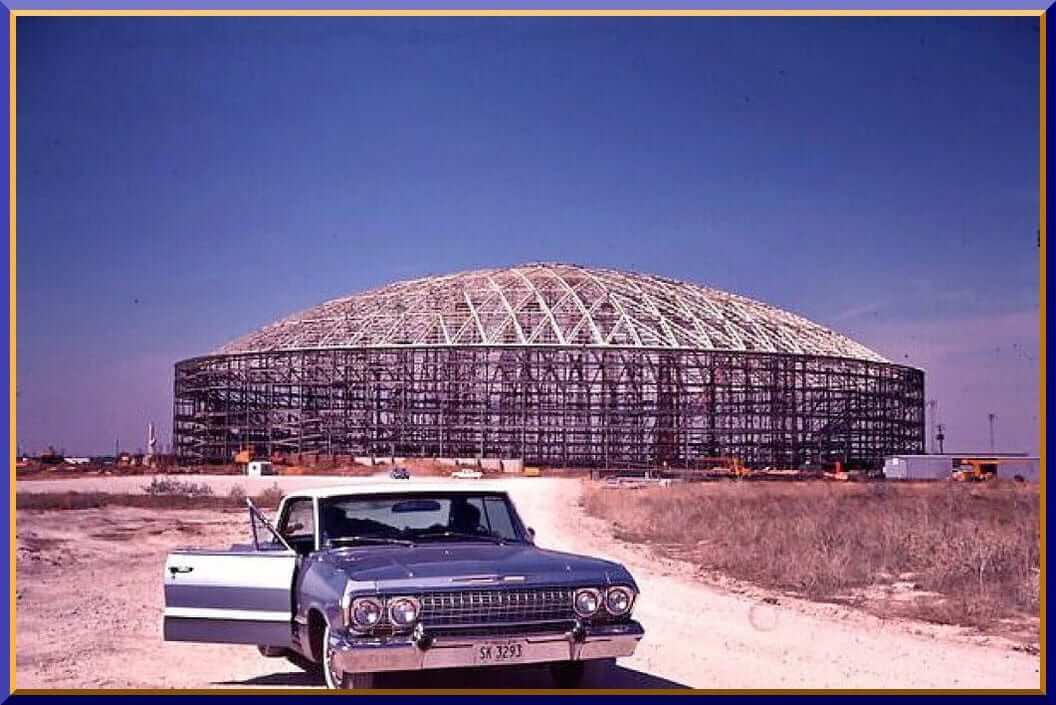 By Phil Hecken, with Ron Bolton
Follow @PhilHecken

Readers will recall I featured Ronnie Bolton (who posts on Twitter as @OTBaseballPhoto and who you should definitely follow) earlier this year with some great football played on baseball field photos and writeups, and more recently with some MLB Opening Day specials. As his twitter handle implies, Ronnie's specialty is old baseball photos. I frequently have Ronnie in for sub-ledes showcasing players or uniforms relating to the lede for the day. But that won't be happening today because Ron has another lede for us, and it's a great one: a look at some of baseball's landmark stadiums and ballparks, from their construction through early use.
We don't often feature baseball stadia on Uni Watch (though I seem to more than Paul), but I don't know if we've ever featured these beautiful buildings before they housed the great (and sometimes not so great) teams of yesteryear. That all changes today.
So without further ado, here's Ron with a look at …
The Building of Baseball Parks of Yesteryear
By Ron Bolton
• • • • • •
Cleveland Municipal Stadium
March 14, 1931
In the photo above, construction is well underway on one of the first multi-purpose stadiums designed for both baseball and football. It would be known as Cleveland Municipal Stadium, a mammoth-sized ballpark that would cost $2,500,000 to build along the lakefront and could hold up to 78,000 for baseball and 83,000 for football.
Nov 22, 1930. The building in the background is the 52-story Terminal Tower that opened about four months before this photo
It would open on July 1, 1931, and two days later the stadium hosted a Max Schmeling heavyweight fight that drew 37,000. The first Major League baseball game was not until the following year on July 31, 1932, when the Cleveland Indians lost to Lefty Grove and the Philadelphia Athletics 1-0.
One big misconception we keep running into is that this huge venue was built with the hopes of winning the bid for the 1932 Olympics. The problem with that thinking is Los Angeles was awarded the Olympics in 1923, five years before Cleveland Municipal Stadium was approved by voters.
• • •
Forbes Field
Forbes Field was one of the first of its kind (along with Philadelphia's Shibe Park), in that it was constructed with concrete and steel, unlike most of the ballparks of that era that were wooden structures and prone to fires.
Pirates owner Barney Dreyfuss also had it designed as a three-tier ballpark with a 74-foot tall grandstand. Even so ground was broken on January 1, 1909, construction didn't fully get underway until March 1st and from there it would only take an astonishing 122 days to complete.
The almost completed ballpark. Note the distance of home plate from the stands
The first game at the newly minted 25,000-seat ballpark was on June 30th when they lost to the Chicago Cubs 3-2 in front of more than 30,000. But despite the Pirates losing their first game at Forbes Field, they would christen it that year with the franchises first World Series title when they would beat Ty Cobb and his Detroit Tigers in seven games.
• • •
Houston Astrodome
The inspiration for the Astrodome goes back to the time of the Romans and their use of a type of awning called a velarium that covered the Colosseum, protecting it from both sun and rain. In Houston, this concept was essential to luring MLB to their fair city due to the brutal weather elements. The summer days could reach over 100 degrees with high humidity and also produce thunderstorms.
1964 – Construction workers taking a lunch break from building the "Eighth Wonder of the World"
During the time that the Astrodome was under construction, the Houston Colt .45's would play three brutally hot and unbearable seasons at Colt Stadium. Rusty Staub of the Colt .45s said of the conditions:
"I don't care what ballpark they ever talk about as being the hottest place on the face of the Earth, Colt Stadium was it."
Astrodome completed and open for business while Colt Stadium sits sadly on side abandoned, well, minus the rattlesnakes in the outfield
Construction on the Astrodome began on January 3, 1962, adjacent to Colt Stadium. It would open 40 months later on April 9, 1965 in an exhibition game against the New York Yankees. The first batter ever at the stadium was Mickey Mantle who led off for the Yankees, Mantle would also hit the stadium's first home run in the game.
April 9, 1965 – The first pitch ever inside a dome stadium is delivered by Astros pitcher Turk Farrell to Yankees legend Mickey Mantle
The Astrodome would close for baseball for good in 1999 and it still stands today.
• • •
Dodger Stadium
There was nothing easy building this Los Angeles ballpark that today stands as the third oldest in the majors in an area known as Chavez Ravine. For one, a mountain was cut down in size and over 300 acres of rocky terrain was leveled that required the moving of 8 million cubic yards of earth. The grading process took over 31 months to complete. Once this herculean undertaking was completed it was on the to the next one – constructing Dodger Stadium.
Over 40,000 cubic yards of concrete and 13 million pounds of reinforcing steel was used in building Dodger Stadium. Some of the precast pieces were too big to transport, so the engineers built a casting yard (three acres big) to make the pieces on site.
Dodger Stadium, Los Angeles, 6/1/62 – Fans stream into Dodgers 2-month old ballpark, only it's not Dodgers fans, its Angels fans arriving to see their team take on Yankees, and lose to them 6-2. The Angels spent four years at Dodger Stadium, but referring to it as "Chavez Ravine"
Despite at one point having a construction crew almost numbering 350, Dodger Stadium nearly missed its opening night due to heavy rains that caused major delays, but in the end they managed to get it built in a timely fashion and on April 10, 1962, baseball's newest cathedral opened as the Dodgers hosted the Cincinnati Reds on Opening Day (Reds won 6-3) in front of 52,564.
Opening Day, April 10, 1962 Reds 6, Dodgers 3
• • •
Weeghman Park/Cubs Park/Wrigley Field
Its hard to believe that Wrigley Field was first built for anyone other than the Cubs, but indeed it was. In 1912, a new upstart league hoping to challenge the American and National League was formed and called itself the Federal League. As expected it had a Chicago team and it was owned by businessman Charles Weeghman, who, knowing to have any chance to chip away at the Cubs and White Sox, would have to make a big splash, like a new steel-and-concrete ballpark at the cost of $250,000.
Ground was broken on the single-deck ballpark on March 4, 1914 and seven weeks, 160,000 bricks and $250,000 later, Weeghman Park was ready for opening day. It also took 45,200 cubic feet of concrete, 1,900 cubic feet of hollow tile and 1,700 yards of plastering and it was designed by architect Zachary Taylor Davis, who also designed Comiskey Park years earlier.
Fans watch a game at Weeghman Park
The Federal League would fold after just two seasons and the following year (1916) the Cubs would move in and Weeghman Park would be renamed Cubs Park. In 1927 they would add an second deck increasing the seating capacity from 18,000 to 32,000 and about the same time it would take the name we know it as by today, Wrigley Field.
In 1922 Zachary would be called back by William Wrigley Jr. for an upper deck expansion
• • •
Yankee Stadium
The New York Yankees and their young slugging superstar Babe Ruth are being chased to the street by their Polo Grounds landlord (Giants resentful owner Charles Stoneham), who mockingly suggested they build a ballpark in Queens. Well, instead of Queens, the Yankees owner Jacob Ruppert built it in the Bronx with only the Harlem River now separating these two hated rivals, furthermore the location was in view from the Polo Grounds as well as positioned so it's back was facing the Giants ballpark.
Who knows if that was purposely done since most ballparks are positioned with the sun in mind, but I always at least wondered if the enclosing of the Polo Grounds soon after was a result of Stoneham wanting to keep the glimpse of the Yankees newest ballpark away from Giants fans eyes.
Polo Grounds with Yankee Stadium in the distance
Ground was broken in May of 1922 and when Yankee Stadium opened for it's first game on April 18, 1923, it would easily become baseball's biggest venue capable of holding over 70,000. It would cost $24,000,000 to build and required 20,000 cubic yards of durable concrete, created personally by Thomas Edison.
An almost complete Yankee Stadium
• • • • • •
Thanks, Ronnie! Great job, as always. Nowadays, stadia don't get built in mere months (and with proposals, voter referrenda, revotes if those first votes fail, design and construction, etc.) some new parks don't get built for years, sometimes taking over a decade. But back then, when such pesky things as OSHA and displacement of peoples/condemnation of property not really a problem, these edifices went up with speed. They were all beautiful; some still are. They don't make them like they used to, that's for sure. Great look back at the beginnings of these behemoths.
[adrotate group="2″]

Kreindler's Korner
I had the distinct pleasure of featuring the wonderful artwork of artist Graig Kriendler on two occasions over the summer and fall of 2017.
For those who don't wish to click the links, Graig paints baseball heroes (and regular guys) from the past, and is an immense talent.
Occasionally, I will be featuring his work on Uni Watch.
Here's today's offering (click to enlarge):
• • •
Title: "King Carl's Court"
Subject: Carl Hubbell, 1934
Medium: Oil on linen
Size: 29″ x 35″

Carl Hubbell's claim to fame usually comes down to what he did during the 1934 All-Star Game at the Polo Grounds in New York. Though he gave up a single and a walk to the first two batters, he settled down in time to strike out Babe Ruth, Lou Gehrig and Jimmie Foxx to end the top of the inning, and then Al Simmons and Joe Cronin to start the second. Five Hall of Famers, three of whom are considered legends of the sport. No biggie. It seemed like a natural choice to paint him that day, which was a hot and steamy July 10th. I did my best to make it seem as such with the very bright sun beaming down on him, as well as keeping everything in the painting pretty warm in temperature. Even the cooler greens and blues still shade a bit towards that end of the spectrum. Also keeping those edges in the background pretty soft helps give the illusion of that summer haze. As a cool side-note, the painting also gave me the opportunity to show a little detail that Uni Watch had pointed out years before, the pinned numbers on the back of the player's jerseys – you'll notice it floating above the BVD sign in right field.
• • •
Thanks, Graig! You can (and should!) follow Graig on Twitter.
[adrotate group="2″]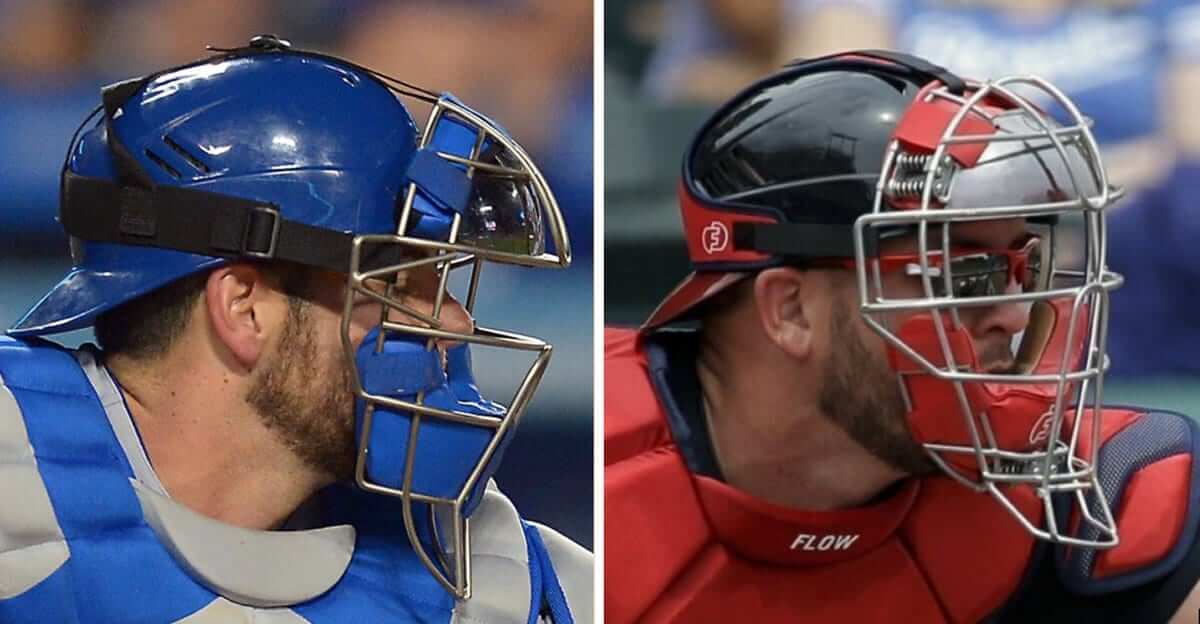 Click to enlarge
And now a few quick words from Paul: In case you missed it on Friday afternoon, my latest ESPN column is about the innovative Force3 Defender catcher's mask (being worn by the catcher on the right — you can tell by the telltale springs). It's an interesting design and has some interesting implications for the world of sports gear endorsements. You can get the full scoop here.
While we're at it, here are my assessments of the new uniforms released a few days ago by the Jaguars and Dolphins.
We now return you to your regularly scheduled Phil fiesta.
[adrotate group="2″]
"A Uni Watcher's Wet Dream"
On Thursday evening, the boys from the "Hall Of Very Good" (Shawn Anderson & Lou Olsen) hosted Uni Watch pal and logo/designer/writer/genius Todd Radom and me on their show. Todd has a new book entitled "Winning Ugly: A Visual History of the Most Bizarre Baseball Uniforms Ever Worn" coming out next month (I already have a copy and let me tell you, it's awesome). You can pre-order it now on Amazon. So the focus of the show was Todd's book and many of the glorious/horrendous/wonderful uniforms contained therein (mostly 70's and 80's, but really spanning the 130+ years of baseball history). Todd's not only a great friend, but an incredible designer and also a damn fine writer too! I recommend everyone get their hands on a copy of this book — I promise you: you will NOT be disappointed!
We had a lot of fun on the show, so if you have a few minutes, give it a listen below:
You can also click here for the show AND notes, which provides some links to the stuff we reference on the podcast.
Hope you guys can give it a listen, and I'd love to have your feedback! Thanks!!!
[adrotate group="2″]
Uni Watch News Ticker
By Phil

Baseball News: We don't normally comment on color vs. color jerseys in MLB anymore, but a couple readers (Andrew Cosentino, Justin Hicks) both pointed out the matchup between the A's & Red Sox Friday night. Andrew loved the contrast between kelly and navy and Justin loved the old school stirrups. … On Friday night, the visiting locker room at Chase field misspelled Joey Lucchesi's last name on his locker nameplate (from Adrian). … Also from Friday, the All Star Game patch on Michael Taylor's jersey was starting to come off (from Joe Nocella). … Some teens still "get it." Nice stirrup action in a local HS game-Bainbridge v. Ballard HS (from John Kimmerlein). … Some Minor League promos are better than others. Then there are the Potomac Nationals. … Yakult Swallows are wearing some different alts this weekend (from Graveyard Baseball). … Also from Graveyard Baseball, here's a look at the 2018 Orix Buffaloes alts in action. … The Carolina Mudcats wore special Chewbacca themed uniforms for Star Wars Night (from Carolina Mudcats). … For reasons unknown to me, the Phillies broke out their Sunday alternate uniforms on Saturday (from Blake Fox). … That threw off César Hernández, who was wearing a red helmet yesterday with the Phils' third unis. Everyone else wearing the typical blue helmet (from Cody Tucker). Here's another look (from Gary Bates). … "Mississippi State is wearing what might be the ugliest uniforms of all time. Maroon tops with black pants," writes Logan Ballew, which prompted this humorous reply from Miss State. … The Chicago Cubs have updated the team flag. There are now three blue stars in the center, representing their World Series titles, and 17 red stars for their N.L. pennants (from Kenneth Traisman). … I bet you never thought you'd see Joey Bats in a Black Panther jersey. If you watched the Florida Fire Frogs last night, you would have (from MiLB Promos). Here's a look at those jerseys in action (from Dustin Smith). … Also from MiLB Promos, "Since 2016 Friday nights in Scranton have been highlighted(almost literally) by @swbrailriders Glow in the Park Nights. Thanks to @adamgiardino we have a look at the new 2018 edition of the Glow in the Park jersey & hat (old version on the left)." … Still more from MiLB: the Rancho Cucamonga Quakes wore these California Earthquake Authority jerseys last night. … As you all (should) know, Paul had a great ESPN piece on the C-flap helmet extension earlier this month. Here's a nice piece from The Seattle Times examining the Mariners use of the device. … Bryce Starkey writes, "Have we discussed how the Rockies have a picture (sic) #0?" … New uniforms Trinity Baseball (from Taylor Stakes). … OK, just how awesome is this photo of Jose Cardenal riding a turn-of-the-twentieth-century bike? (from SABR Bio Project). … "Renato Nunez has two accent marks on his NOB," says Steve Dodell, who asks, "Is this a first? Is this getting out of hand?"

NFL News: Tweeter Paul Friedmann "Found this old lunch box in a vintage shop in Northampton, MA. Crappy shape, but @UniWatch worthy." … Reader Al N. Kreit was channel surfing and caught this glimpse of the jersey creators backstage at the 2015 NFL draft. … Taste is obviously in the eye of the beholder: Here are the "Best" Color Rash jerseys of 2017 (from Michael Sal Anthony Prosciutto).

College Football News: Has a new Oregon Football uni been leaked? Ian Gerig explains: "The recruit on the right side of the picture in the tweet is wearing a black uniform that the Ducks have never worn and a black helmet with a shiny duck head that the team has never worn." … During their spring game yesterday, Notre Dame was back to their "classic" helmets (from Bryan). … Although the Akron Zips official colors are blue and gold, that didn't stop them from playing a blue versus white spring game, which displeased Zip alum Jimmer Vilk. … ULM has new uniforms done a "brand refresh" (from Chris Mycoskie).

Hockey News: Merrimack College unveiled new uniforms for the men's and women's teams Friday night. For the first time ever, both teams will wear the same uniforms. … Did hockey players wear caps on ice? "While researching the 1926 Pittsburgh Pirates-Montreal Maroons playoff series, I found this in the March 24, 1926 Montreal Gazette," writes Jerry Wolper. "And, sure enough, if you look at the team photo I used, you'll see a couple of guys in the back row wearing caps." … Really nice one from Ray Hund: From the 1998 book Hockey's Golden Era: Stars of the Original Six by Mike Leonetti. This book features photographs from the Harold Barkley archives.

NBA News: Good article from The New York Times which points out that before a playoff game on Friday, the Cleveland Cavaliers took off-court fashion to a new level, wearing coordinated ensembles by the designer Thom Browne (from Tommy Turner). … A bit old but great: In honor of the NBA Playoffs Quadruple Overtime are doing a very cool bobblehead giveaway! These 4 big men were the definition of 90s basketball. More details in this tweet. … Hon. David Holt, the Mayor of Oklahoma City, was spotted wearing a Jordan Brand OKC jacket (from @RobertD1017). … Looks like the NBA told Joel Embiid to cover the Giro logo on his mask strap with NBA logos between Games 3 and 4 (from Beb Hanna).

Soccer News: Independiente's new PUMA kit is pure art, and it's inspired by their 1948 Championship winning side (from FourFourTweet). … Minnesota United FC will be wearing the special Parley jerseys today. Here's more on that (from Minnesota United FC).

Grab Bag: I don't watch wrestling, so (apologies) I don't know who Shane Helms is, but he was sporting the awesome "Caucasians" shirt which pokes fun at the Cleveland Indians Chief Wahoo logo, so I have to say I like him (from Zane Tuck).
[adrotate group="2″]