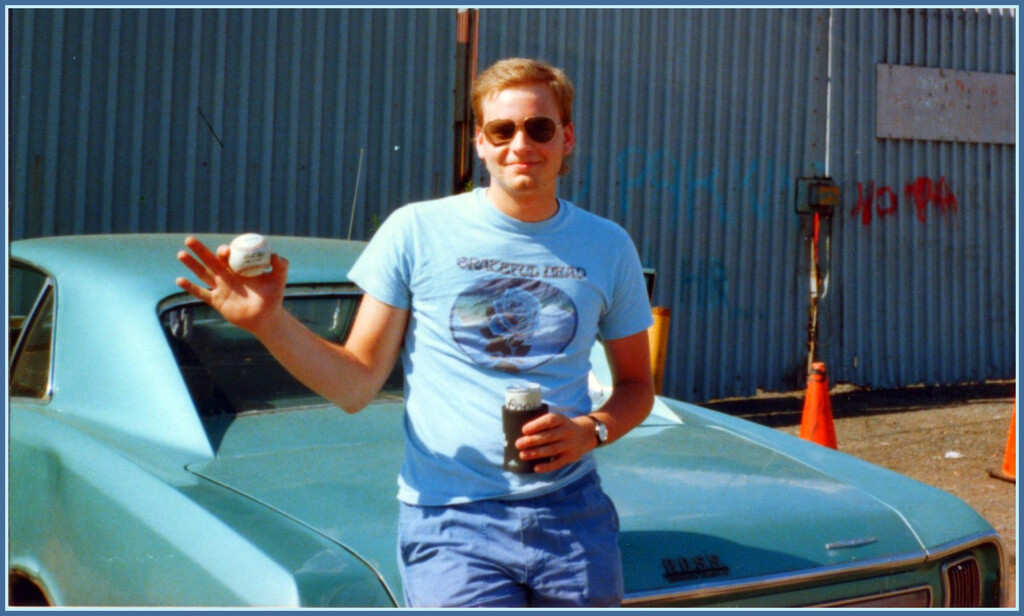 [Editor's Note: Paul is on his annual August break from site (although he's still writing his weekly Substack column). Deputy editor Phil Hecken is in charge from now through the end of the month.]
Good Thursday morning, Uni Watchers!
Today is August 31st, which means Paul's annual sabbatical is almost over, and I will return to weekends again next month. I'll have more to say at the end of today's post, but I want to say a big "THANKS" to all the readers who've been following along all month, and the commenters who've been insightful and generally great in the comments section. I hope you've enjoyed this month as much as I have bringing you the daily content.
Now then.
Over the years, I've been to hundreds of professional baseball games — mostly the Mets, both in Shea and in their new corporate home. I've been to playoff games (including the Mets first ever post-season win in their new digs, in 2015, on their way to a magical run to the World Series). I was lucky enough to catch that game with Shannon Shark, Jon Springer and Paul. In fact, since the new park opened in 2009, I've seen more games with Paul than anyone else, and we've sometimes been joined by readers and "Mets" guys (like Greg Prince and Matt Silverman), the immortal Todd Radom, and we also got to spend some time pre-game with (then) Mets Radio Color guy Wayne Randazzo. We've always caught at least one game a season (no matter how poorly the team has been faring), and we got together again this past July.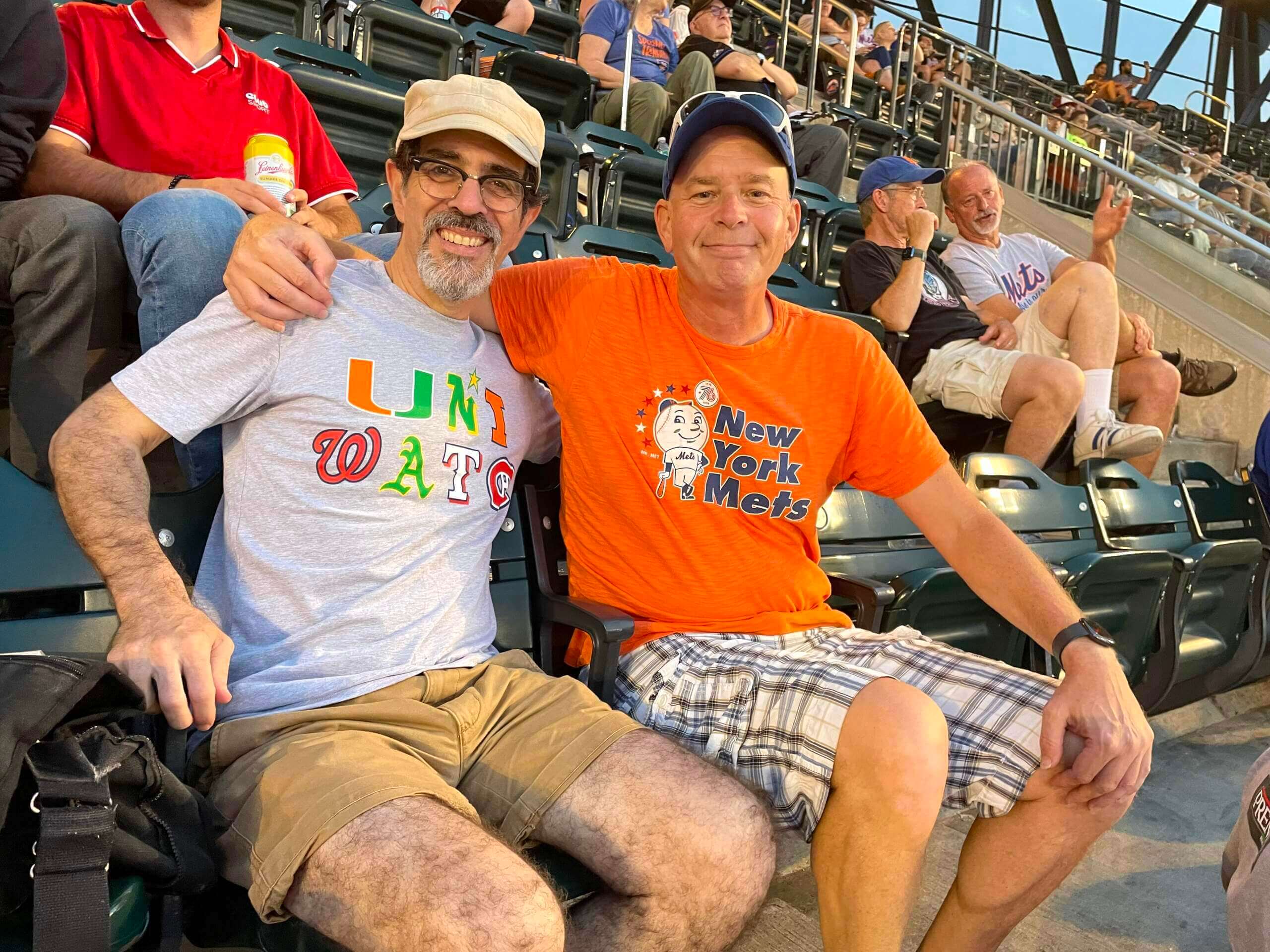 Paul actually wrote all about that, noting how our conversations frequently involve — for obvious reasons — uniforms. But it's not all we discuss.
At that game — and I'm not sure what prompted it, but probably a foul ball that came perilously close to reaching our section — I recalled Paul's absolutely fantastic think-piece from 2022 in which he expressed his thoughts about foul ball etiquette, and whether or not one should give a foul ball one gets at a game to a nearby kid.
I said to Paul, "I know you wrote that you never got a foul ball, but I did. One. At Shea. I'll never forget that game."
I proceeded to tell Paul the tale of how I came to acquire a foul ball and how I'd never come particularly close, either before or after, to ever getting another one. With a wink and a nod, I told Paul "if I get a foul ball tonight, I'm gonna give it to YOU." He chuckled and said "thanks," but also said, "you should share that story during your August run!"
It's a long-ish story, but I'll try to keep it short-ish.
First, a bit of a set-up. If you look at the picture of me (in 1989, dontcha know) at the top of the page, you'll notice a couple things — not the least of which is that I'm not in the ballpark, but an alleyway. I'm also holding a Coors (in a coozy), wearing a Grateful Dead t-shirt, and sitting on the back of my 1966 Pontiac Tempest. Also, I have a lot more hair. But the important thing here is where the car is parked.
Back in the the mid-80s to the early-90s I went to a LOT of games (sometimes as many as 25 a year), and both tickets and parking — while considerably less then than now — still weren't what one would consider cheap. As a high school, then college, student, finally just making my way in the world, money was a big consideration, especially if I was going to a couple dozen games a year. So, to "save" on expenses, I frequently scalped tickets and parked not in the Shea Stadium parking lot, but just across the street in the section of Flushing/Willets Point that was home to lots of chop-shops.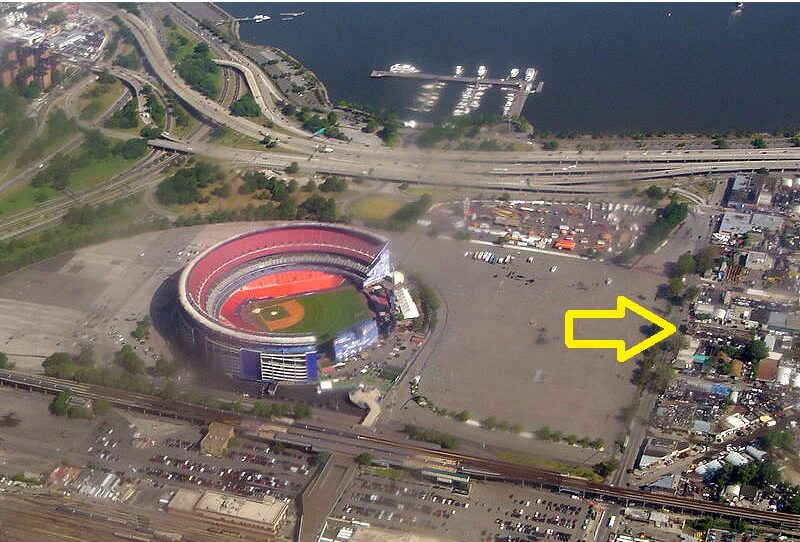 It was seedy to say the least. I didn't take the following pictures, but it was generally not the place one would think to park. My buddies and I never had any problems. But this is pretty much what that area looked like: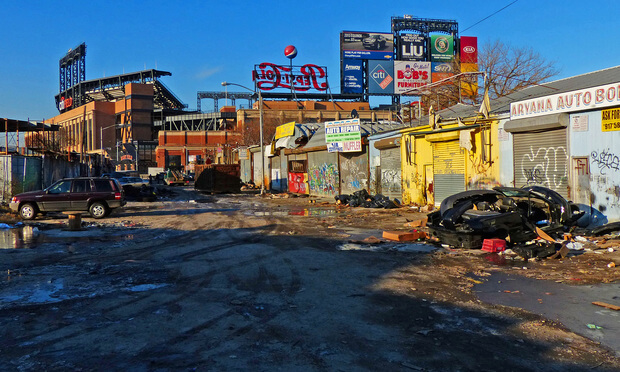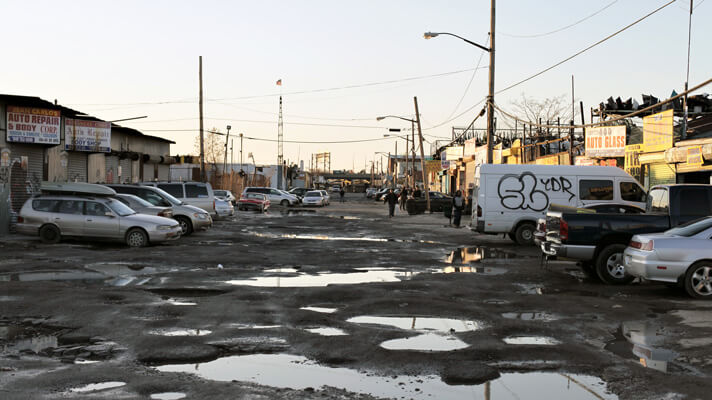 As you can see in the first shot, even after the Mets built their new home, the area was still as bad as ever (although that's changing now that plans are underway to construct a world-class MLS stadium on the site of the former chop-shops).
Anyhoo. Whether I or one of my buddies drove, we almost always parked down those alleys and walked across the Shea parking lot to the Stadium. On the day in question, I was with my best buddy, and we immediately scalped tickets (maybe $5 apiece?) in the Shea lot and proceeded to our seats, which were somewhere in the upper deck, behind home plate.
In 1989, the Mets were still the best team in town, having won the World Series in '86, and gone to Game 7 of the NLCS against the Dodgers (who'd end up winning the World Series a week later) in 1988. Shea was often packed, and this was a Saturday afternoon game. July 8 was the date, and the Mets were playing the Cincinnati Reds (who themselves would win the World Series the following year).
I don't recall all the details, but the Mets jumped out to an early lead and were pitching a shut-out, behind David Cone.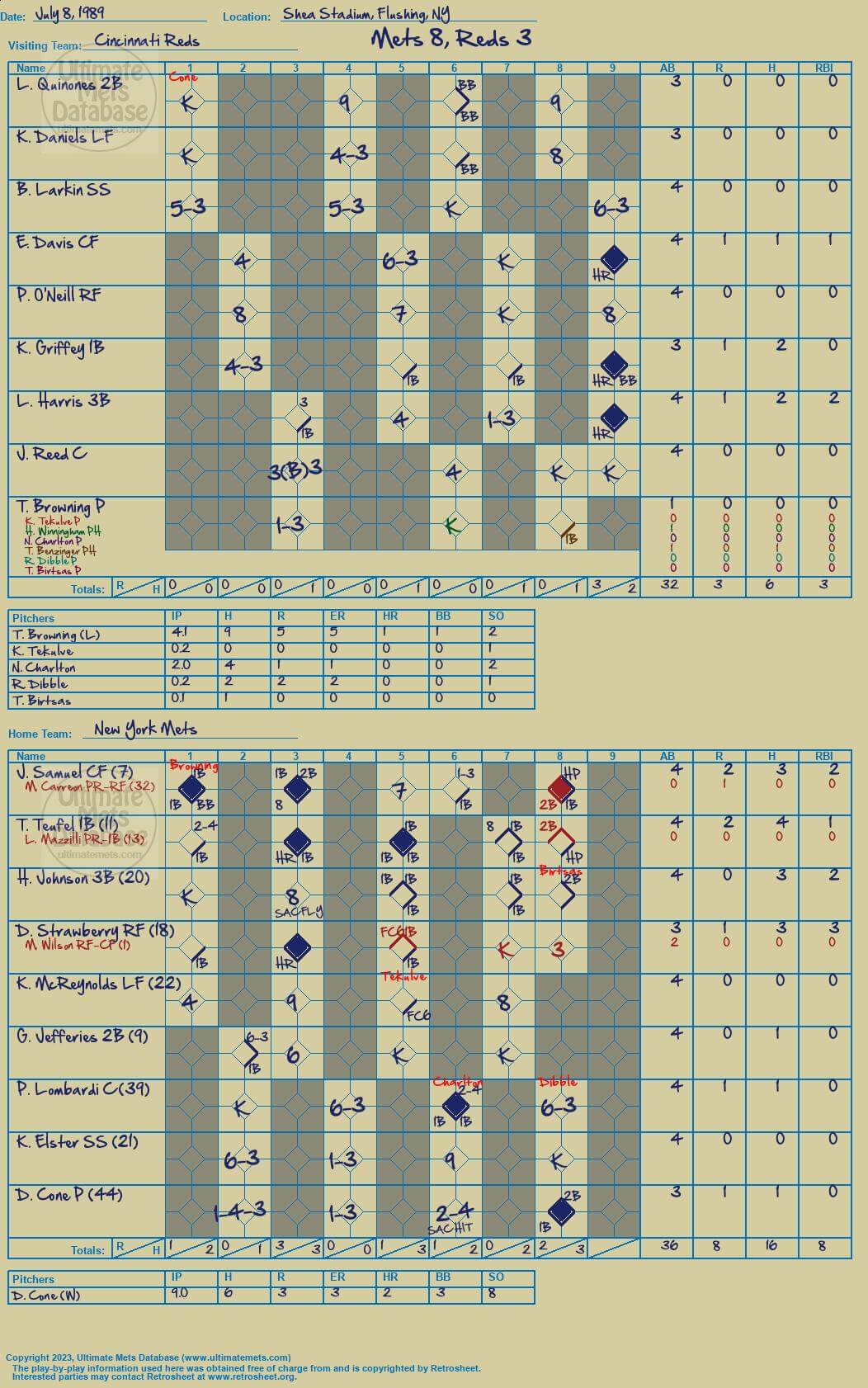 In the fifth inning, up 5-0, (then) phenom Gregg Jefferies fouled one off straight at me and my buddy. We were in the upper deck, but in a row with a walkway in front of us. I didn't actually catch the ball on the fly, but it bounced off the walk and I caught it on the first bounce. A hundred (or so) games I'd been to, and this was my first ever foul ball.
Seated next to me were two young kids (maybe 7 or 8), and as soon as I snagged that foul, one of the kids said to me "Hey mister, can I have the ball?" He wasn't rude or demanding, and clearly as excited as I was, but … and I'll never forget this … I said, "I've been to a ton of games in my life and I've never gotten a foul ball. If I ever get another one, I'll give it away, but I'm keeping this one."
He seemed disappointed, but too bad. As it turns out, later on during the game, the ball — which I'd put into my pocket — actually became dislodged while cheering on a fight between the Reds and Mets, and I had to scramble to retrieve it. The kid sitting next to me actually dove for the loose ball, but I was too quick. Tough luck, kid!
Oh yeah. Aside from the ass-kicking we were putting on the Reds, I also got to see a good old-fashioned brew-ha-hah.
By the eighth inning, the Mets were cruising, 7-0. Now, remember that back in the mid/late 80s, the Mets had a lot of "swagger" and ended up in several brawls over the years. One of the Reds' "Nasty Boys," Rob Dibble, decided he'd had enough losing, and absolutely CLOCKED Tim Teufel in the back with a purpose pitch, and predictably, chaos ensued…
So, finally the game ended, with the Mets winning but giving up a few garbage runs in the ninth. My buddy and I walked back to my car, where I had one of those disposable cameras (this is, obviously, loooooong before cell phones) and had him take a pic of me with the ball. I hadn't really looked at closely until then: it felt different, unlike the crappy balls I'd used during my little league days. It had a big smudge on some of the ink (from the contact and subsequent foul liner), and something I wasn't used to seeing: Bill White's signature — remember, this was back when the two leagues operated independently of one another. I was proud of my "souvenir."
So, what became of this prized possession, you may ask. About two or so weeks later, I decided to have a catch with a different friend in the street. My normally quite athletically-inclined friend somehow managed to make a very wild throw, which sailed over my head…
…and down the block…
…and into the sewer.
And that was the ignominious end to the only foul ball I ever got.
__________
If I am ever fortunate enough to get another foul ball, I
probably
won't keep it. Not if there's a deserving youngster nearby. But if I hung onto it, I'd definitely not ever play catch with it either.
Any of you folks ever catch a foul ball? Did you keep it? If you did, what did you do with it after you got it back home? Who has a fun ballpark story they'd like to share? Please let us know down in the comments below.