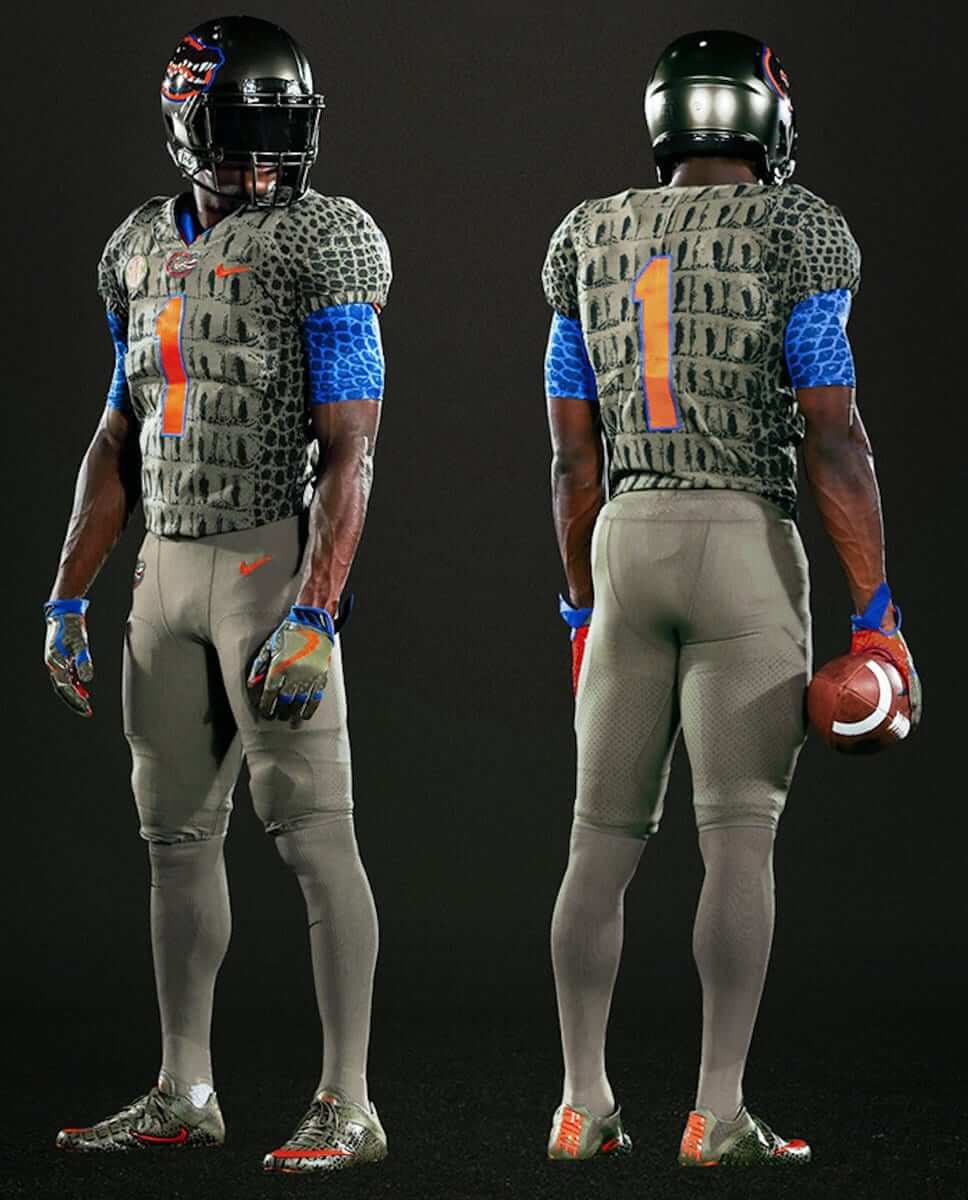 Click to enlarge
The Swamp will be a bit swampier than usual this weekend, or the Gators will be more Gators-y than usual, or something like that, as Florida will be wearing a "swamp green" gator-print uniform. The new design, which was unveiled last night with no buildup or warning (at least that I was aware of), will be worn for Saturday's game against Texas A&M. According to a press release, it'll mark the first time the Gators have deviated from their familiar orange/blue color scheme.
Here are some additional photos (the first of which you can click to enlarge):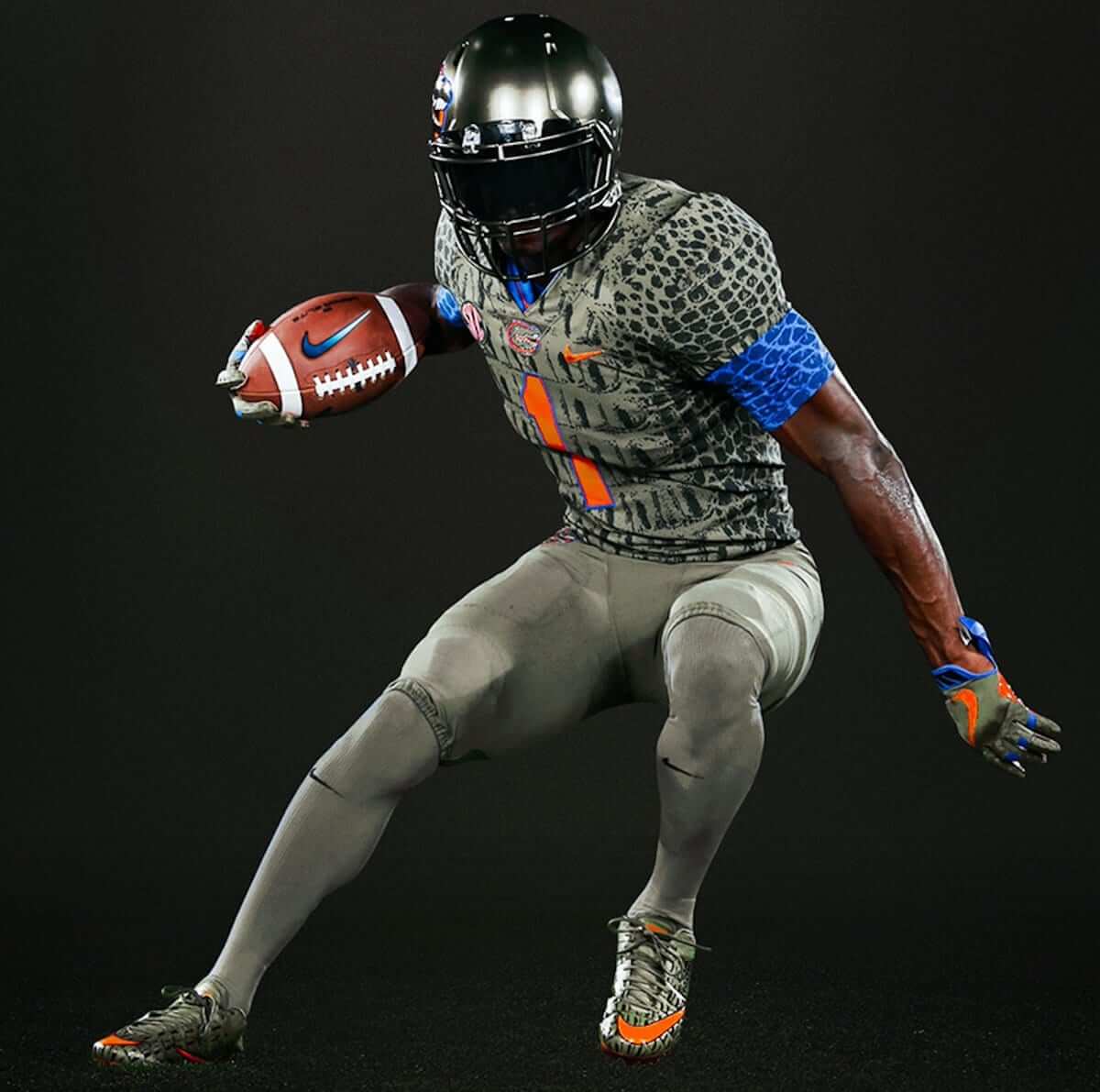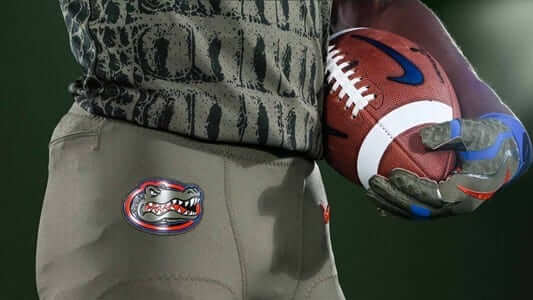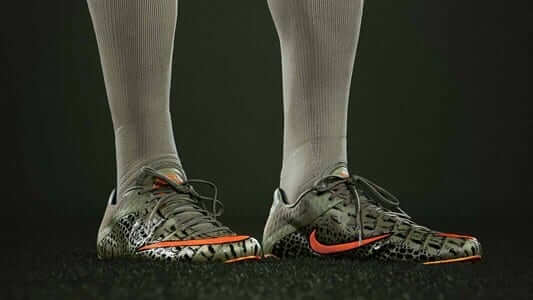 Okay, so this is the part where I'm supposed to say how this is a costume, not a uniform, and how it's just a bad joke, and how I hate the whole thing.
And yeah, it is a costume. But guess what: I don't hate it. I mean, I wouldn't call it attractive, and it'll probably look a lot worse on a green gridiron, but I think it's a fun idea. I agree with one of my Twitter followers, Juan González, who gave this assessment last night: "So ugly they're awesome. Helmet, pants, and socks should have included the gator skin, too." Exactly! If you're gonna do it, do it all the way.
Another one of my Twitter followers, Jeremy Posner, raised a more serious concern: "Those uniform numbers are invisible for those of us who are red-green colorblind."
As you might expect, Juan and Jeremy weren't the only people on Twitter to offer their thoughts on this uniform. Most of the responses were predictable (the same barfing GIFs again and again, yawn), but a few of the reactions were inspired. This one was my favorite:
See ya later, Florida Gators pic.twitter.com/CfItuikszh

— LosRealAli West (@LosRealAli) October 10, 2017
• • • • •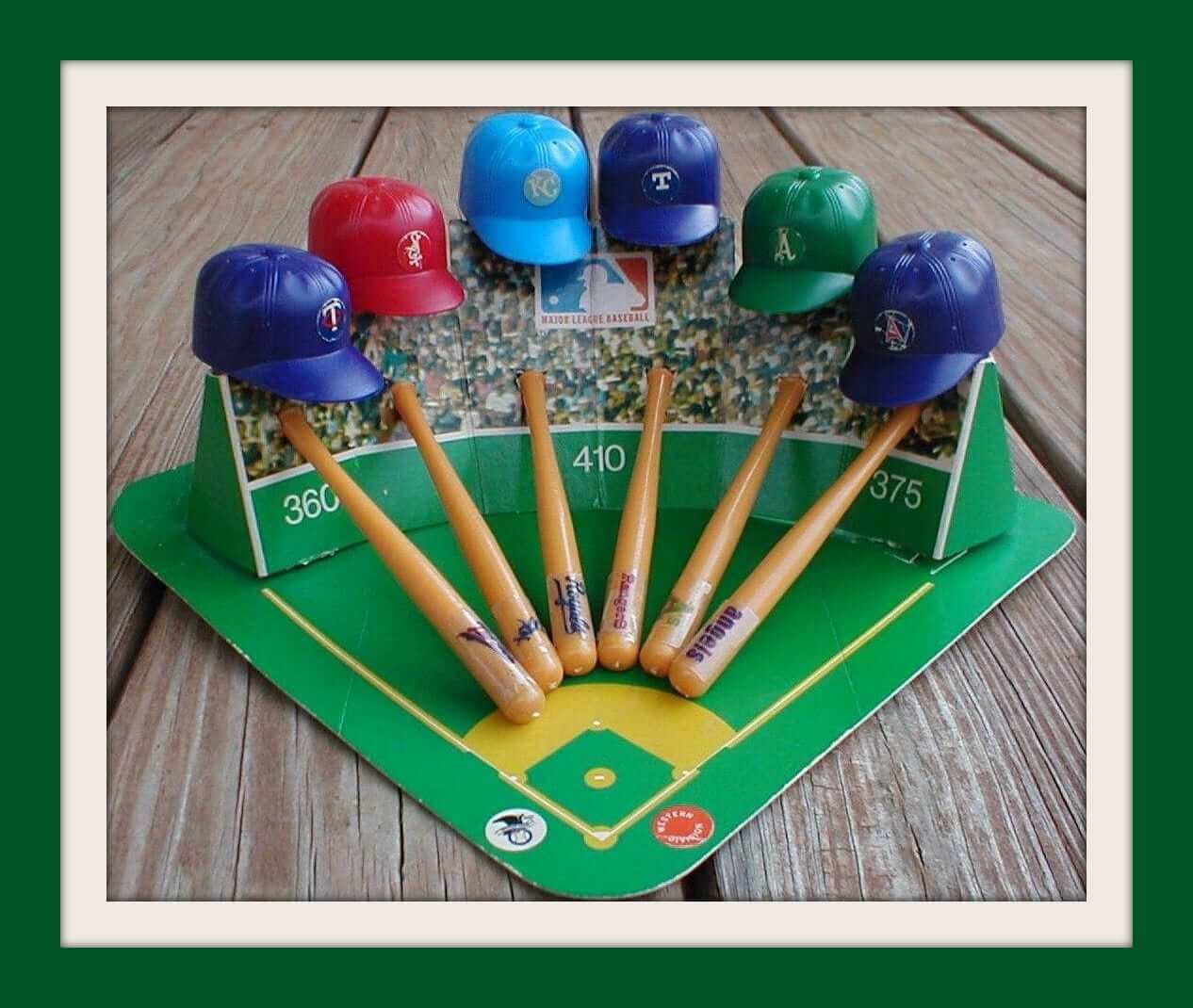 Click to enlarge
Collector's Corner
By Brinke Guthrie
This Mini Sport Caps N Bats Kit for the 1970 AL West is in perfect shape! And the seller has several other sets up for auction, too. There's a real charm to this kind thing that you don't see any more.
Now for the rest of this week's picks:
• Still in the bag, a 1970 souvenir Pirates batting helmet.
• Here's a 1970s NFL pennant that says "Ask us about…." About what? About the NFL?
• This L.A. Rams metal serving tray is 14″ wide, so you can get a lot of gameday snacks on it. A classic look for sure, which is not what you usually think of with the Rams these days.
• How about the art on this 1970s Philadelphia Eagles pennant? Showin' off that state of the art Veterans Stadium, so maybe fall of 1971 for this.
• Camel cigarettes sponsored this 1970s Vikings key chain, so naturally they had a little camel on there along with the Vikes helmet.
• Check out the great cover artwork on this 1970 Dodgers yearbook. The artist was Karl Eubenthal, a prominent sports cartoonist. You can see more of his work here.
• Great vintage graphics on this 1970s MLB card-holder album.
• Another baseball card-holder album for you. This 1980s one is smaller and was made for Les Expos.
• Definite Monsters of the Midway/Papa Bear vibe on this late-1960s NFL poster for Da Bears.
• • • • •
The Ticker
By Alex Hider

Baseball News: For the first time ever, Cleveland wore the block-C caps in a postseason game last night (from MD and John Sabol). … The home plate ump in that game had some issues with his postseason patch and memorial patch. … The Red Sox's Hanley Ramirez lost his helmet during a hard swing yesterday, and because he puts so much pine tar on his helmet, a clump of dirt stuck (thanks Paul). … Cleveland 2B Jason Kipnis was wearing a shirt with a personal logo inspired by the MLB's batterman silhouette during a pregame presser yesterday. The logo is inspired by Kipnis's distincitve batting stance (from Mike Menner).

NFL News: The Broncos will be going mono-blue on Sunday (from Phil). … For anyone looking for a close up of the "Crucial Catch" captaincy patches, here you go (from Zach Zaidman). … Here's a great photo gallery of Giants' great Y.A. Tittle, who died yesterday at age 90. RIP (from Phil). … Vote here for your favorite uni matchup of this week's NFL games (from the Uni Watch Fan Page). … This may have been covered before, but it appears that the Steelers are keeping Ben Roethlisberger's helmet stripe intact this year, even though he wears a Speedflex helmet. However, RB Le'Veon Bell also has a Speedflex helmet, and his numbers and stripe are both cut (from Omar Jalife). … KPTV, a Fox affiliate in Portland, used an old NFL logo during a recent broadcast (from Neal Hanson).

College Football News: Ohio State will wear grey alternates on Oct. 28 against Penn State (from Luke Schaffner). … Michigan State is 3-0 in white lids this year, bringing them to .500 all time in program history (from Spartan Jerseys). … Some Penn State players have been wearing watch-like performance trackers made by Whoop during games (from Jack R. Hirsh). … At least one Kentucky player had facemask paint problems during their game last Saturday (from Drew O'Neal). … Fox Sports has been running a college football commercial based on Ohio State's logo-less helmet (thanks Phil).

Hockey News: I don't think we've seen this in hockey yet: The Blue Jackets are using 3D helmet logos this year (from Patrick Thomas). … Sabres RW Kyle Okposo had a misspelled NOB last night. … The Blackhawks have added a small "3" helmet decal for former player Pierre Pilote, who died in September. It wasn't there for their home opener, but they added it for their second game and have kept wearing it (from Bill Schaefer). … No photos yet, but the Green Bay Gamblers of the USHL will unveil military appreciation jerseys today at 11 (from Terry Charles). … Adam Lilyquist got a T-shirt heat press for his birthday, and the first shirt he made was inspired by the Hawks from the movie Mighty Ducks — aka, the "bad guys." … The Oilers updated G Cameron Talbot's bobblehead to reflect his new gear and the team's new Adidas uni.

Basketball News: The Knicks teased the unveiling of a new jersey patch. It is expected to be an advertising patch. The formal announcement will come today at 11am Eastern. … Speaking of the Knicks, Jarrett Jack had no maker's mark on his jersey for last night's preseason game (from @taquito420_). … The Mavericks' costumed mascot is still wearing his old Adidas uniform … New uniforms for the Cal women's team (from Phil).

Grab Bag: I don't think we've ever seen this before: Morgan Hurd, a member of the US women's national gymnastics team, wears glasses during competition (from Chris Weber). …Could these be the Colombian men's national soccer team kits for 2018? (From Michael Romero.) … Not sports-related, but fans of architecture will enjoy this listicle of America's wildest buildings (from David Firestone).