On the Fourth of July, as I was walking to the corner gas station to get some ice for the party I was hosting that afternoon, I saw that someone on my block had put some discarded LPs out on the sidewalk for anyone to take. There's nothing particularly unusual about that — people on my block leave all sorts of things on the curb, including records. The difference this time around was that the records actually looked pretty good. I grabbed these six (click to enlarge):
The one we'll be discussing today, of course, is the immortal Denny McLain at the Organ LP, which was issued in 1968 (the same year McLain won 31 games) and has become something of a kitsch/irony classic. I've seen lots of copies of it over the years, but I've never had my own copy until now.
And now that I have it, I see that it has some uni-notable details. Let's take a closer look (click to enlarge):
For starters, both of McLain's knees are dirty, which seems really odd. Like, wouldn't you want him to have a crisp, clean uniform for the photo session? And while some pitchers routinely dirty the knee of their push-off leg as a natural part of their drop-and-drive delivery (Tom Seaver always said he knew his mechanics were in sync if his right knee was dirty), it's uncommon to see a pitcher with two dirty knees. Not only that, but the blemishes on McLain's knees don't even look like infield or mound dirt. They seem more like watercolor paint or something like that.
In addition, McLain is positioned so as to obscure his jersey logo, presumably because the record company didn't have permission to show the Tigers' insignia.
But what about McLain's cap logo? Let's take a closer look:
Now, the Tigers' old English "D" has undergone lots of changes over the years. But is this version the one they were wearing in 1968? Nope. If you look at photos of McLain (or any other Tigers) from the '68 season, you'll see that their cap logo was essentially the same one they still use today. Here's a side-by-side of a 1968 shot of McLain and the cap from the LP cover (click to enlarge):
So if the cap that McLain was wearing on the LP cover wasn't era-appropriate, which era was it from? In an attempt to find out, I began by consulting SportLogos.net's Tigers page, where I was surprised to find that the LP-cover cap logo isn't shown at all.
Next, I looked up this infographic showing the evolution of the Tigers' logo (click to enlarge):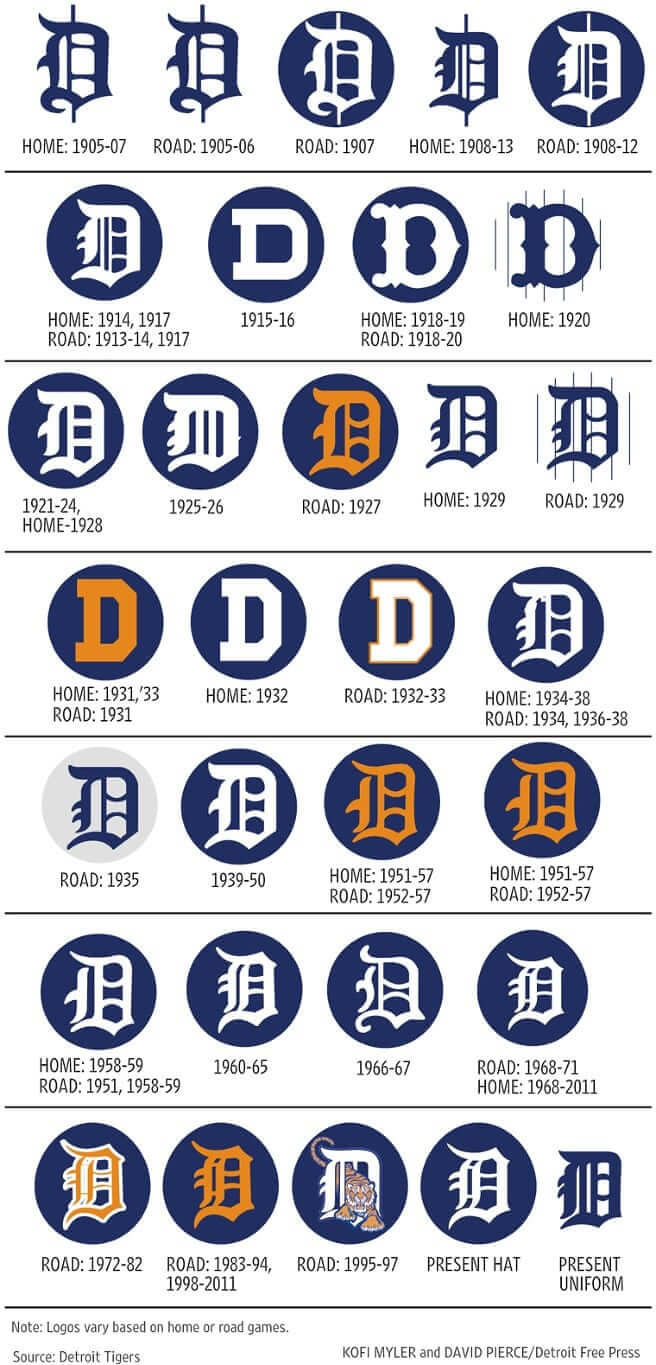 The closest thing to the logo shown on McLain's cap is the one labeled "1966-67." But even that isn't quite a match. So I looked up another infographic (click to enlarge):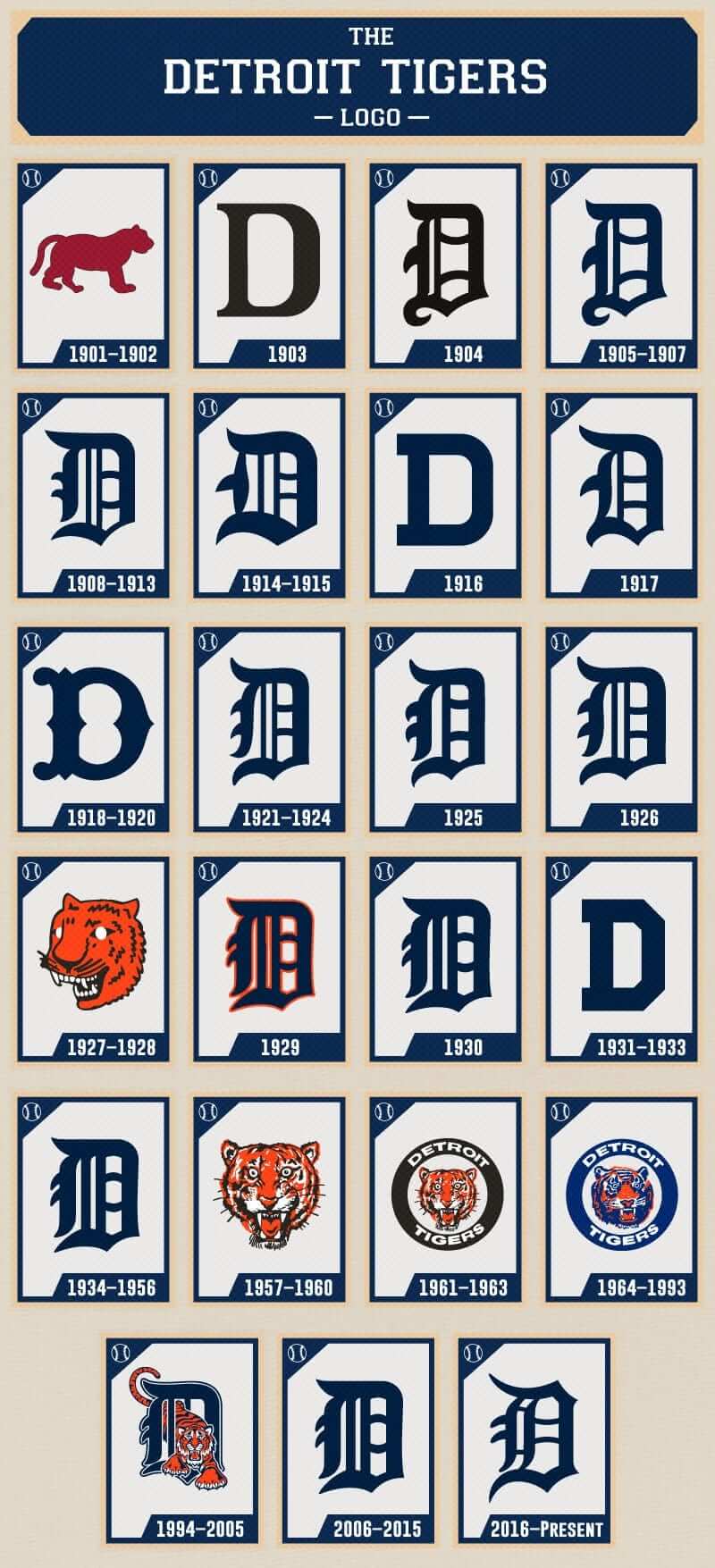 The logo on McLain's cap does not appear on that infographic (which, incidentally, appears to be just a repeat of the logos shown on the SportsLogos.net page). At this point I was wondering if the LP-cover cap had ever been worn on the field, or if it was something the record company had come up with just for the photo shoot.
Then I came across this tweet that uniform designer/historian Todd Radom posted earlier this year:
The Detroit Tigers' headwear Old English "D" logo-a meandering evolution for a time-honored symbol. pic.twitter.com/CIwYmckA7s

— Todd Radom (@ToddRadom) May 22, 2017
Hmmmm, let's take a closer look at that 1964 photo and compare it to the LP cover: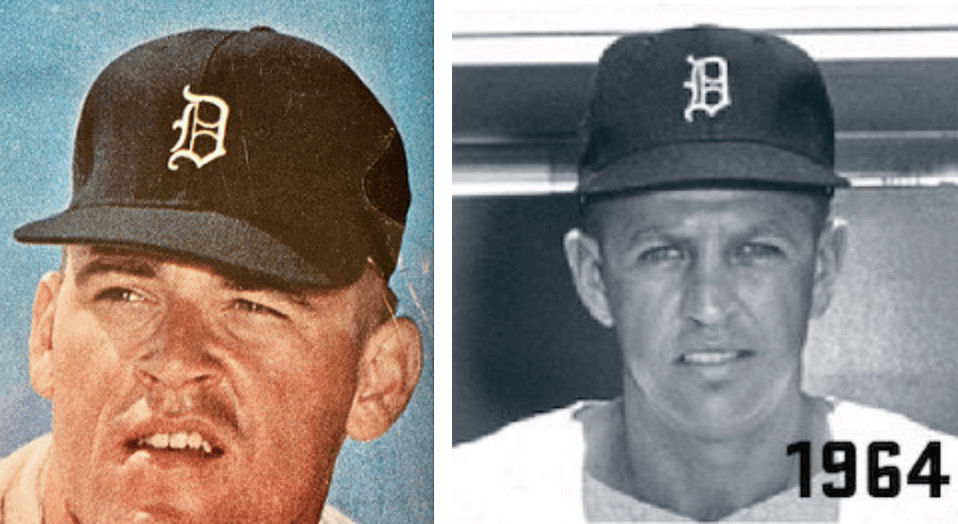 That appears to be a match. So for his 1968 LP cover shoot, McLain was wearing a cap from 1964.
Or was he? While poking around in the Getty archives, I found a shot of Al Kaline, dated 1963 (although Getty dates are always suspect), that clearly shows him wearing the same cap as the one from the LP cover (click to enlarge):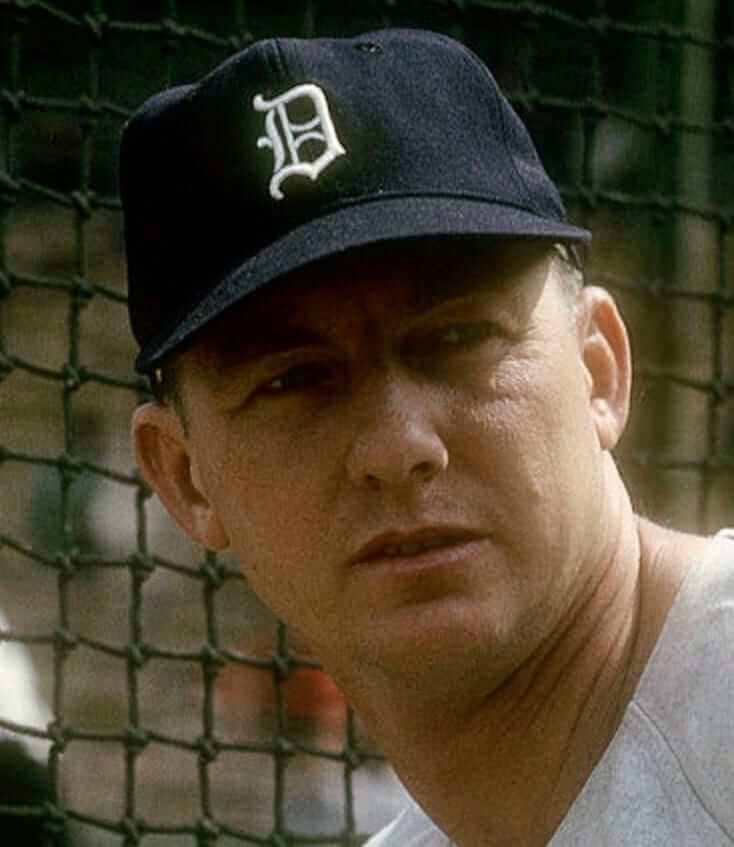 Speaking of Kaline, I featured some old photos of him in a Uni Watch entry about a month ago. That entry also included this photo of McLain: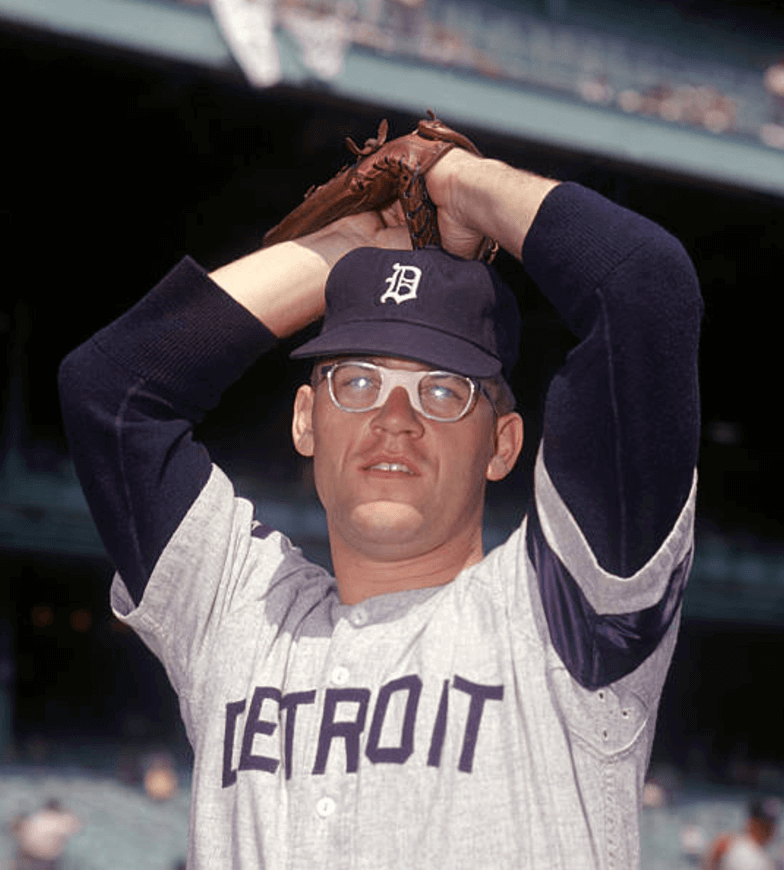 There it is again — the cap logo from the LP cover. And that photo is definitely from 1966, because of the memorial armband for former manager Charlie Dressen.
Getty also has this photo of Eddie Mathews wearing the cap logo from the LP cover in 1967 (and we can assume the date is accurate on this one because Mathews only played for the Tigers in 1967 and '68):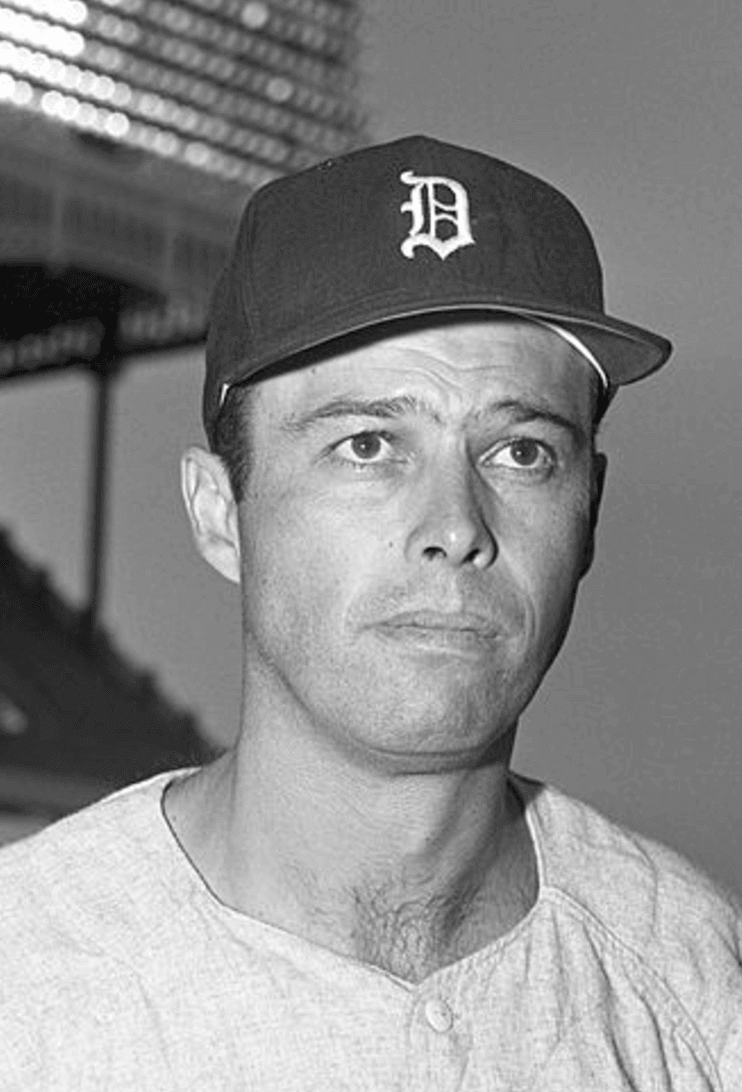 So it appears that the Tigers may have worn this cap logo from 1963 through 1967. We already know that they didn't wear it in 1968, but what about 1962? Nope, they didn't wear it that year, at least not judging by this Sports Illustrated cover photo (click to enlarge):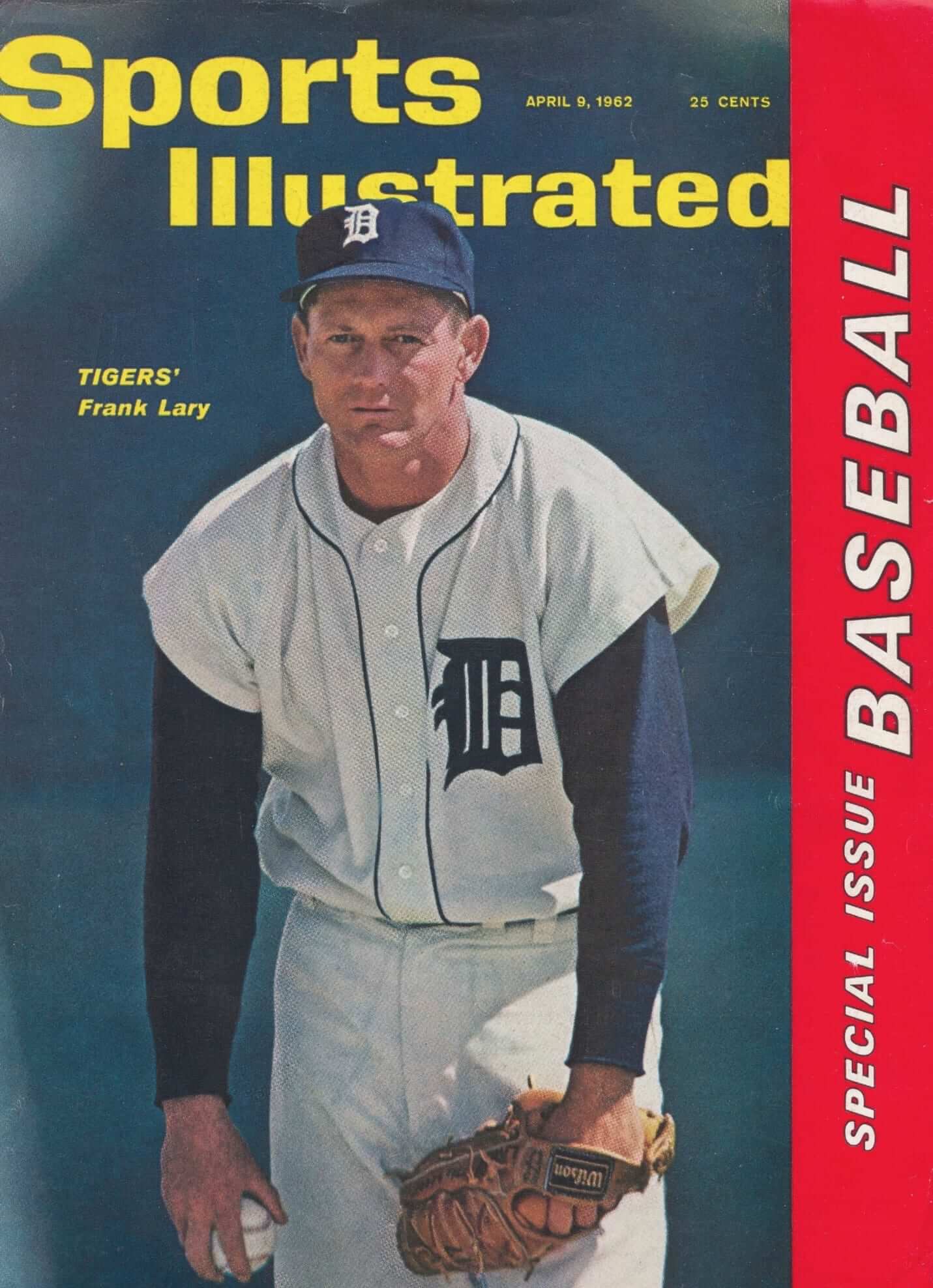 As for the record itself, it's pretty weak. In fact, it's almost unlistenable. But hey, the price was right. And it led to some fun uni-watching.
• •  •  •  •
Naming Wrongs update: I'm happy to announce that the latest Naming Wrongs shirts are now available. Here's the lowdown:
Meadowlands: A lot of people asked for a Giants Stadium shirt, but we're not doing anything that includes a team name, so we're doing a Meadowlands shirt instead. It's available in green, grey with green lettering, white with green lettering, blue, grey with blue lettering, white with blue lettering, and white with red lettering (for all of these mock-up images, you can click to enlarge):


Commonwealth: With Kentucky's Commonwealth Stadium recently named after a supermarket chain, lots of fans asked us for this one. It's available in blue, grey, white, and BFBS:

Joe Robbie: With college football season fast approaching, we added some new orange/green designs to our Joe Robbie line. They're available in green, orange, grey, and white:

We're also trying something new: We've gotten a lot of requests for shirts honoring old stadiums that have been gone for a long time. These don't fit into the "I Still Call It" or "I'm Calling It" category — they're more of an "I Miss" kind of thing. I didn't want to do that type of shirt at first, because it seemed like more of a straight nostalgia exercise and I wanted to get our anti-corporate mission established first. Now that we've done that, I've decided to try a few "I Miss" designs, at least for old stadiums that have been replaced by new buildings with corporate names. Here are our first efforts:
The Vet: We're doing two different versions of this — a standard-lettered version in maroon, powder blue, and grey, and a more mod/'70s version in maroon and powder blue:


Three Rivers: This one is our first triple-decker design. It's available in black, gold, and white:

Candlestick: We couldn't decide whether to call it "Candlestick" or "The Stick." We ultimately went with the full name, which is available in black, orange, and grey, but we could create a nickname version if we get requests for it:

Riverfront: We did two versions of this — a standard-lettered design, available in red and grey, and an arched treatment, also in red and grey:

All of these designs are now available in the Naming Wrongs shop. They're also cross-listed in the Uni Watch shop, where card-carrying members can get 15% off. (If you're a member and need the discount code, send me a note and I'll hook you up.)
Also, in case you missed it on Friday: We've also made a shirt for the Tappan Zee Bridge, which is being renamed for a governor. This one isn't an anti-corporate thing, so it isn't in the Naming Wrongs shop, but you can check it out here.
My thanks, as always, for your consideration. And big kudos to my collaborator, Scott M.X. Turner, for all his hard work on these.
• •  •  •  •
Click to enlarge
Jacket raffle update: Earlier this year I raffled off a free custom-designed jacket from our friends at Stewart & Strauss. The winner was longtime reader Ben Traxel. That's his jacket shown above, and here's his explanation of the design:
I decided I'd do a themed jacket based on my 1986 El Camino. I have a hula girl bobble on the dash named Flora, which is also the name of the car.

I wanted the jacket to have lots of patches, but Stewart & Strauss couldn't do the patches the way I had them shown. No biggie — I found the patches on eBay was able to get everything attached with the help of my seamstress mother. The non-vehicle-related patches represent my wife and kids and their interests.

While the end result probably isn't for everyone, I like it and will enjoy it come the fall cruising season. I decided not to personalize the jacket with my name. That way, in case I ever sell the car, the jacket will go with it.

Thanks again for the jacket from the raffle and special thanks to the fine people of Stewart & Strauss.
•  •  •  •  •
The Ticker
By Alex Hider

Baseball News:  After two games in throwbacks, Milwaukee's Ryan Braun apparently got tired of wearing sansabelt pants yesterday and wore the traditional, belted, pinstriped pants the team usually wears for Friday home games. The rest of the team was still wearing the sansabelt throwbacks  (from  Michael J. Miller). … Speaking of the Brew Crew,  Scott Rogers  found some Brewers-themed frozen waffles at the grocery store. He says the Brewers logos only appeared on the packaging, and the waffles themselves had a traditional grid. "Tastes like blueberry Eggos, but a bit breadier and less sweet," he said. … The outfield at Comerica Park has been looking rough since the stadium hosted a Metallica concert last week (from Chris Howell). … Reds P Homer Bailey was wearing a cap  without the New Era logo yesterday (from  Michael). …  Players in the  Frontier League All-Star game went beyond home whites and road grays (from  Steve Johnston). … Funny car driver John Force threw out the first pitch at a Cubs game recently and received a  personalized jersey  (from  David Firestone). … The Salem Red Sox and the Carolina Mudcats went red-on-red yesterday (from Cream City Prospects). …  Former Hartford Whaler Ed Hospodar  threw out shot the first pitch recently at a Hartford Yard Goats game in a classic Whalers sweater "" and Cooperalls! (From Steve). … The Hiroshima Carp will wear uniforms based on Japanese tea warlord Soko Ueda in August (from Jeremy Brahm). …  Check out this old vintage Dairy Queen pullover baseball jersey (from  BSmile). … After fielding a sharply hit comebacker that got stuck in the webbing, White Sox pitcher Derek Holland tossed his entire glove over to first to get the out (from Mike).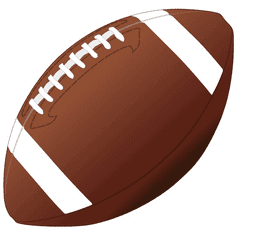 Football News:  Former NFL player and wrestler Kevin Greene apparently repurposed an old pair of Pro Bowl pants for a wrestling costume in the '90s (from  Kub). …  New uniforms for NCAA Division II Ohio Dominican University Panthers. … Here are one observer's picks for the best-looking new college football uniforms of the year so far (from Phil). … Here's some more info on Auburn's logo change.

Hockey News:  Devils rookie  Nico Hischier signed his first NHL contract Saturday, and the team presented him with an old Reebok sweater that he'll likely never wear (from  Matt Torino). … ICYMI from the baseball section:  Former Hartford Whaler threw out shot the first pitch recently at a Hartford Yard Goats game in a classic Whalers sweater "" and Cooperalls! (From Steve).

Grab Bag: Roger Federer wore shoes with the London skyline and a "7" (to commemorate his past Wimbledon championships) in the finals yesterday (from Dan Medina). … Shortly after Federer won his eighth title, Nike announced the release of a commemorative shirt and pair of shoes. … A champion wood carver at the Ocean County (New Jersey) Fair used the  Hard Rock Cafe template  for his personal logo (from  David Smolowitz). … Jim Vilk's piece from the weekend about cricket prompted  David Firestone  to send in this photo comparing the sizes of coins used for tosses in the NFL and T20. … A new LPGA dress code has prompted accusations of slut-shaming (from Brinke).