Reader Charles Noerenberg got in touch with me yesterday to point out a very small uni-related detail regarding an NHL player — a detail I had never noticed or even thought about before. Charles broke everything down in such a brilliantly obsessive manner that I've decided to make it the focus of today's entry.
The player in question is Blackhawks captain Jonathan Toews, and the uni-related detail is how he handles his skate heel flaps. In this 2015 shot, for example, he has them untucked:
"Most players, myself included, prefer that style, because it gives you more mobility when leaning forward (which hockey players are doing 95% of the time)," Charles told me. "Last spring, however, Toews began tucking his skate heels into his socks, a style teammate Patrick Kane has preferred the majority of his career." You can see Toews sporting the tucked-in style here:
That last photo is from Feb. 28, 2016. Charles says that's right around the time that Toews made the switch — and it's also when he changed to a new Bauer skate model. So were the new skates the reason for the tuck?
Maybe — but maybe not. First, look at this shot of Toews going tucked in this year's NHL All-Star Game:
In the first game after the All-Star Break, on Jan. 31 against the Sharks, Toews was wearing the same skate model, but had suddenly decided to go untucked! Look:
"Superstitious types like myself could also point out that this change back to untucked skate heels on coincided with an uptick in Toews's scoring," notes Charles. "He had been struggling through the worst statistical season of his career until the past two months. In the 42 games pre-All-Star break, he had just nine goals and 28 points. In the 26 games post-All-Star break, he has 11 goals and 28 points. So, he has increased his point per game average from 0.6667 tucked to 1.078 untucked."
Now that, people, is some impressive uni-geekitude.
While we're at it, Charles also notes that Sidney Crosby has had his jersey tailored with a straight hem, instead of the standard scoop hem:
He had this change made to his Stadium Series jersey, but not to his All-Star jersey, presumably because the Stadium Series jersey was team-tailored while the All-Star jersey wasn't.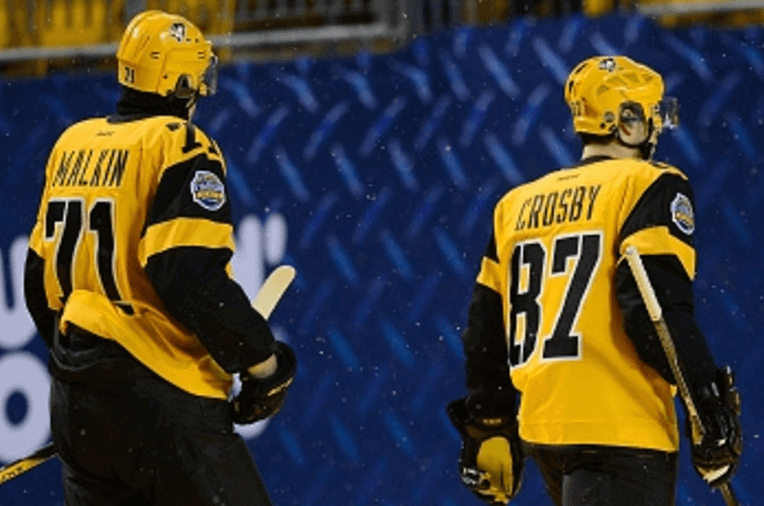 (Major thanks to Charles Noerenberg for sharing all of these observations with us.)
•  •  •  •  •
T-Shirt reminder: In case you missed it earlier this week, our latest limited-edition T-shirt in the Uni Watch Artist's Series is by the great Larry Torrez (aka Eltee of DC). In the spirit of his Meatscots caricature series, he's imagined a fictitious Japanese baseball team called the Kyoto Yakitori, whose mascot is a baseball-playing samurai with a sword that serves as a baseball bat and as a yakitori chicken kebab skewer (click to enlarge):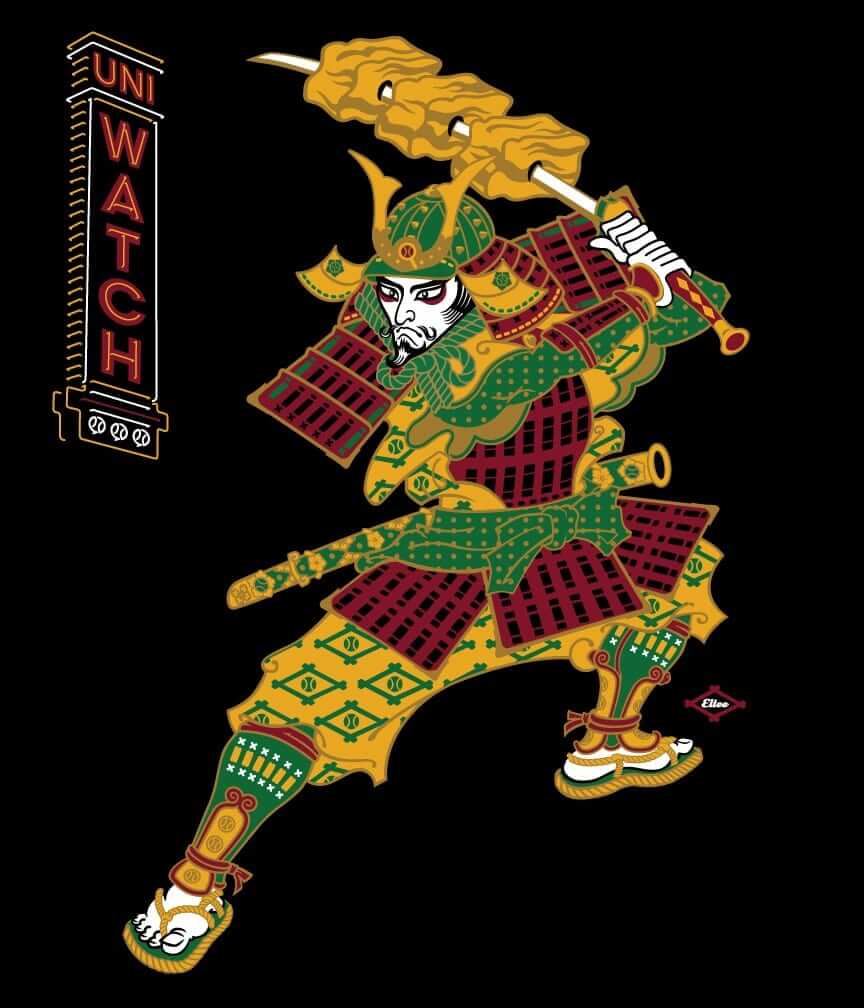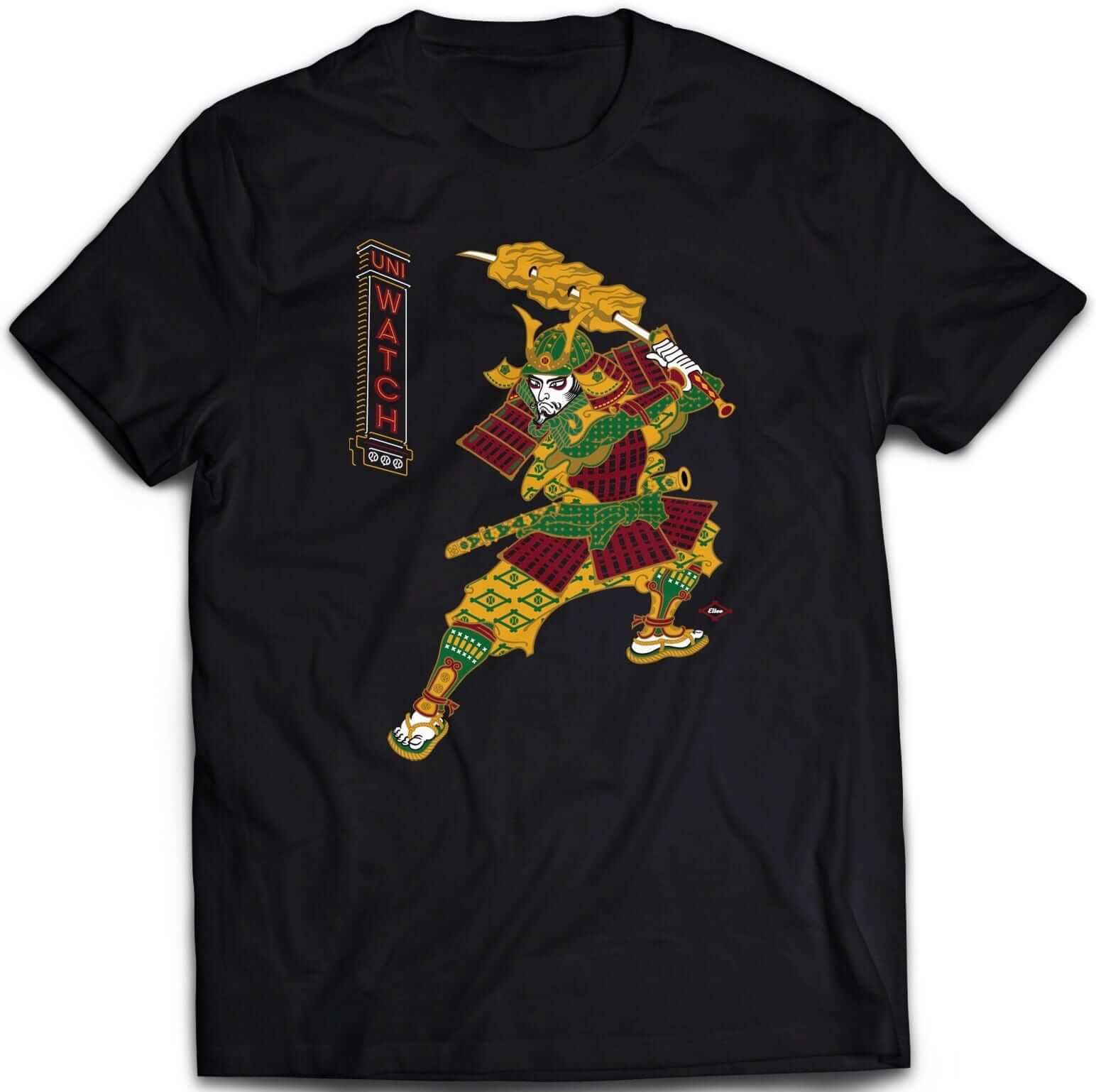 It's available in three different black short-sleeve options (two of which come in sizes up to 5XL) and one long-sleeve option (up to 5XL). Plus I've also made the design available as a sticker. Haven't done that before with any of our T-shirt designs — let's see how that goes.
Some of you have also asked why I'm okay with this design if I have issues with Native American-based sports designs. That's a perfectly valid question, and I've created a separate page to address it. Look here.
The shirt is available here through next Thursday, April 6. My thanks, as always, for your consideration.
•  •  •  •  •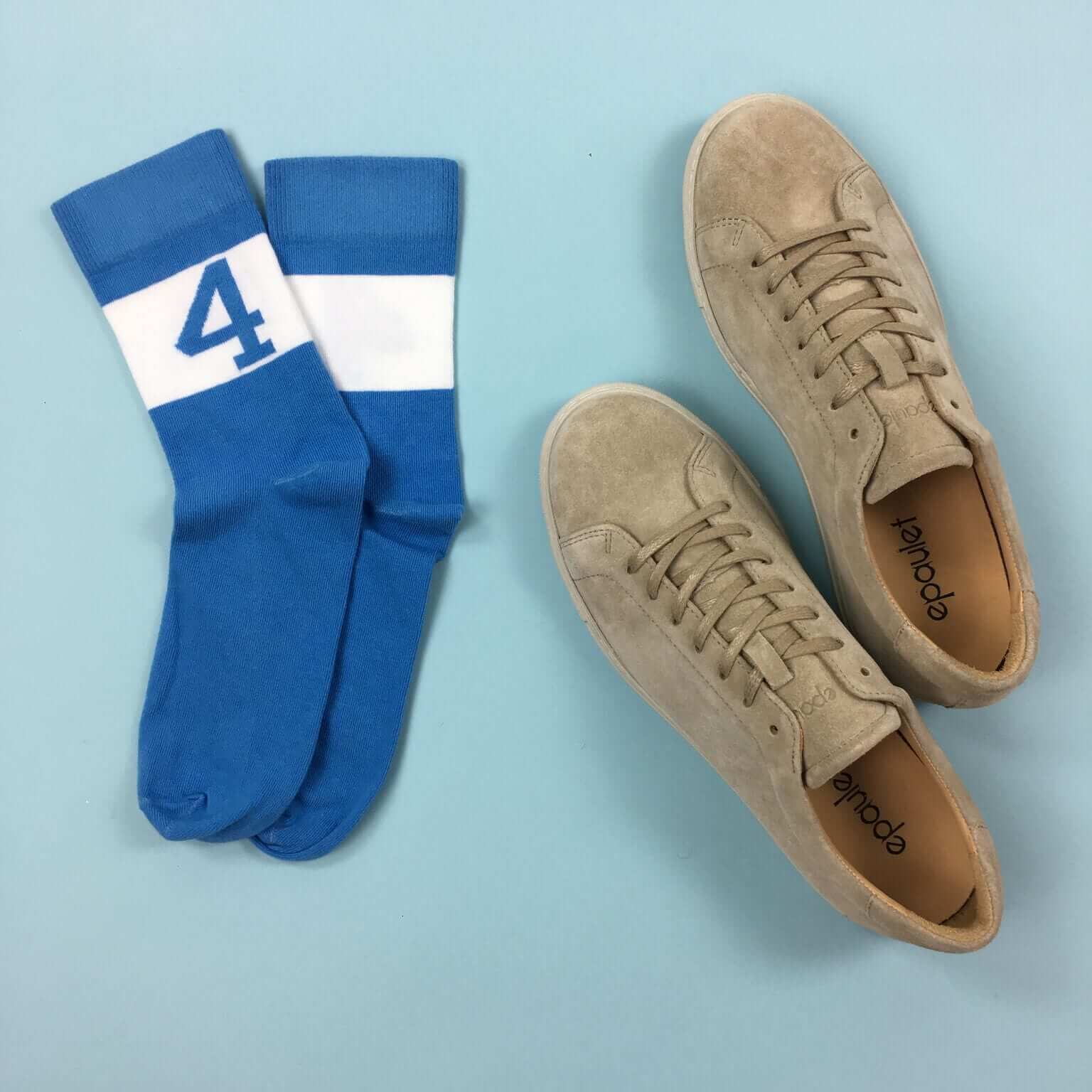 StripeRite sale: In honor of North Carolina making it to the Final Four, nicely symbolized by our Carolina blue sock with the "4" on it, we're running a sale on our StripeRite socks. From now through April 7, use the discount code FINALFOUR to get 10% off. This applies to any order from our first or second batch of StripeRites. Thanks for your consideration.
Contest reminder: We're running a new ESPN design challenge to redesign the Raiders for their move to Las Vegas. Full details here.
Signal Flare: If you're a sneakerhead and a Size 9, drop me a line. Thanks.
•  •  •  •  •
The Ticker
By Paul

'Skins Watch: The current issue of SI Kids shows Cleveland SS Francisco Lindor wearing the team's home white uniform with the block-C road cap, instead of the Wahoo home cap. Maybe the editors thought Wahoo wasn't a very kid-appropriate thing to put on the cover (from Kevin Chmura and Danny Cunningham). … Reprinted from yesterday's comments: A consultant who worked for prominent anti-Wahoo activist Robert Roche has been charged with embezzling funds that were targeted to help Native Americans in Ohio. Roche — the Native who very dramatically confronted an Indians fan in redface three years ago — has not been charged, but the charges against the consultant appear to implicate him (from Gavin).

Baseball News: The flip flop brand Hari Mari has introduced a new line of limited-edition flip flops made from Nokona baseball glove leather. … Check out the Dodgers' minor league managers wearing pinstriped Dodgers unis in 1961 spring training (from BSmile). … The rapper Drake has famously branded his hometown of Toronto as "the Six." That led to problems when a Toronto pee-wee baseball team tried to come up with a new logo that included the numeral 6 and was told that they couldn't do so due to trademark restrictions. It's a fascinating story, well told in this article. Highly recommended. … Pittsburgh Brewing, which makes Iron City beer, has introduced a line of retro-style Pirates-themed cans and bottles. Pretty cool 30-pack design, too (from Aaron Cohn). … A Sporting News writer wants the Braves to come out with some 1980s throwbacks. … Reprinted from yesterday's comments: Angels P Matt Shoemaker, who needed emergency brain surgery last year after being struck in the head by a line drive, will wear a protective cap insert this season. That article has lots of really good info — recommended (from Hugh McBride). … Mets INF Wilmer Flores asked sidelined teammate David Wright if he could wear his jersey today, and Wright said sure. … All teams in the Class-A Midwest League will wear memorial patches for former league president George H. Spelius this season (from Zach Loesl). … Here's an hour's worth of color footage from a 1965 Reds/Cubs broadcast, which is uni-notable for showing lots of good views of Cincy's drop-down NOBs (from Ricko). … The Nashville Sounds and Round Rock Express will be renamed as the Nashville Honky Tonks and Round Rock Dance Halls for a two games this season (from Chris Howell). … New black uniforms for Virginia Tech (from @DrinkinABeer).

NFL News: Check out this Falcons tissue dispenser, which Jorge Cruz saw at the Georgia Aquarium's receptionist desk. … Remember when the Oilers used this old logo? Here's a weird version of it with the Saints' Sir Saint mascot (from Michael Clary, who also found a batch of old NFC Central patches with endearingly primitive logos). … With Raiders fans upset about the team's impending move to Las Vegas, former Oakland QB Ken Stabler's daughter convinced a fan not to burn her father's jersey.

Hockey News: Here's a Caps fan who's sculpted his beard into the word "CAPS" (thanks, Mike). … Here's the Frozen Four patch being applied to a Minnesota-Duluth jersey (from Jerry Nitzh). … David Teigland was at last night's Wild/Sens game in Minnesota. "In the rafters they have banners with the 30 NHL club logos, arranged alphabetically by city/state name for each division, except that the Wild's banner is closest to the center (not unusual to have the home team stand out)," he says. "However, I noticed that the Coyotes' banner is between LA and San Jose, as if they were still known as the Phoenix Coyotes. They were renamed Arizona in 2014. I'm surprised the hockey-loving folks up here missed that."

NBA News: This is interesting: The Trail Blazers' original banner design for their 1977 championship mainly featured the NBA logo (from Manzell B). … There are long shorts, and then there are really long shorts (from Justin Mitchell). … The Bulls' Jerry Krause memorial patch looks really weird on a sleeved jersey (from @HitTheGlass).

Grab Bag: New uniforms for USA Field Hockey. … Yesterday was the 50th anniversary of the photo shoot for the Beatles' landmark Sgt. Pepper's album cover. Lots of good info here. … Police officers in Quebec have been protesting cuts to their pension plan by wearing a variety of non-uniform pants — camouflage, tights, even clown pants. New legislation is being proposed to put an end to that. … This article about Hardee's new marketing direction says the burger chain "is also getting a new, streamlined logo, removing a smiley face from its yellow star and replacing the red and white lettering with black." … Here's a great project: An artist has taken the maker's marks on various pieces of sportswear and embroidered them with lots of plants, flowers, and birds. Great stuff (from Jon Solomonson and Jason Torban). … A regional airline in Vietnam has its flight attendants wearing bikini uniforms. … The West Virginia Senate has rejected a bill that would have allowed motorcyclists to ride without helmets.