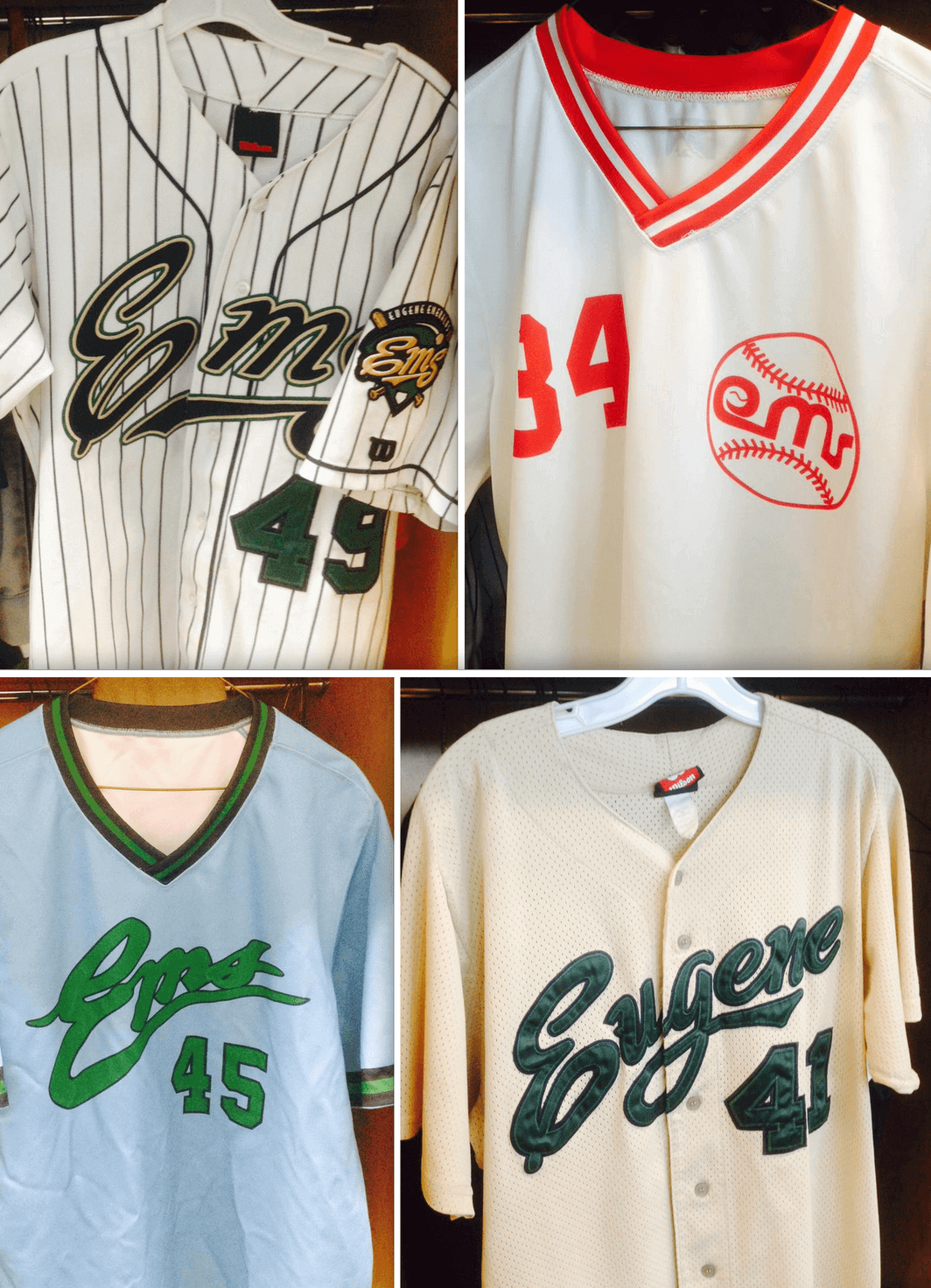 Click to enlarge
As noted in yesterday's Ticker, Civic Stadium in Eugene, Oregon, former home of the Eugene Emeralds, burned to the ground on Monday. The Emeralds — a short-season Class A team, currently affiliated with the Cubs — had called Civic Stadium home from 1969 through 2009, and they chose an interesting way to salute their old ballpark: They mixed and matched six different throwback jerseys from the Civic Stadium era for last night's home game against the Tri-City Dust Devils. Four of those jerseys are shown above.
It made for an odd scene, as you can see from this video clip shot during the playing of the national anthem (if the video doesn't embed properly for you, click here):
Tonight the @EugeneEmeralds honor Civic Stadium by wearing throwback uniforms from past Ems teams. @UniWatch @MiLB pic.twitter.com/Nij9StvRYE

— Jeff (@mindforsports) July 1, 2015
We've all seen players wearing non-matching attire in various all-star games and promotional exhibitions, but I'm not sure I've ever seen a team decked out in non-uniform uniforms for a regular season game. Can anyone come up with other examples?
And there were other oddities. The Emeralds wore their regular white pinstriped pants, for example, which looked okay (if not great) with most of the throwback jerseys but looks pretty weird with this white one: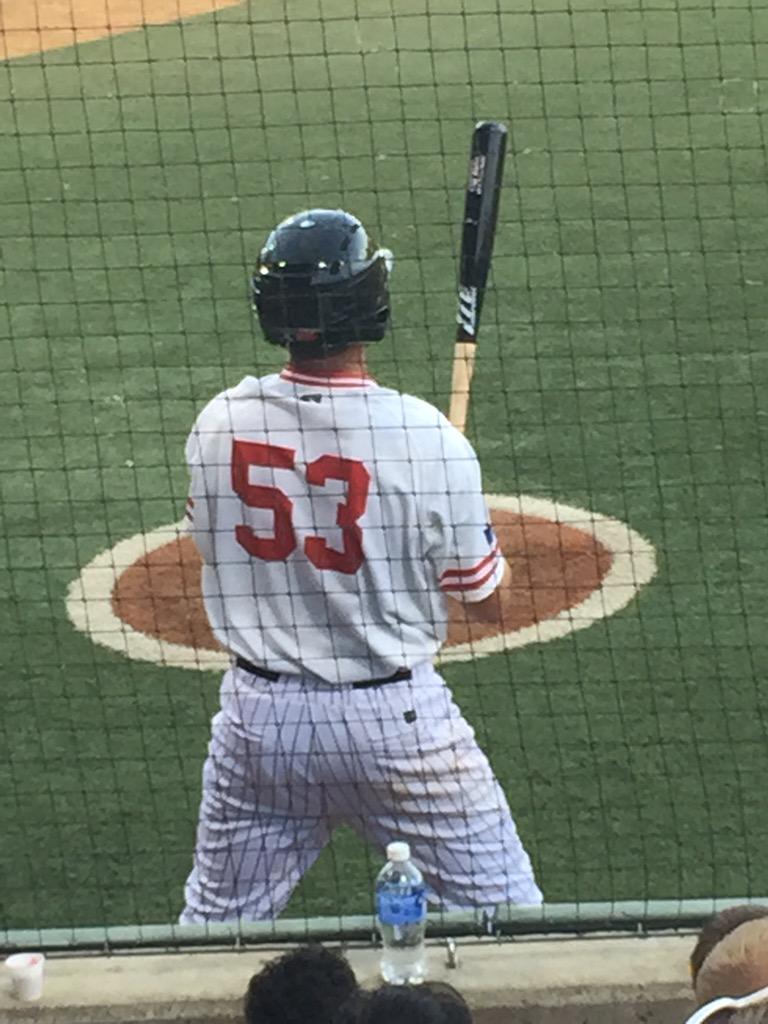 Even weirder, outfielder Ian Happ ended up wearing a jersey with a poorly executed "Jackson" NOB: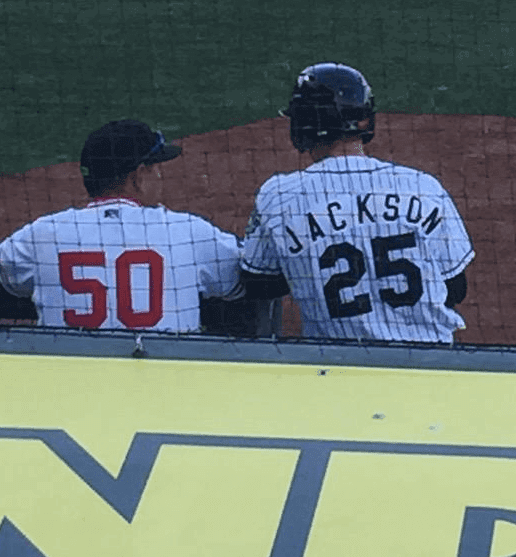 It's not clear how the Emeralds managed to get so many throwback jerseys together for their players on such short notice. My hunch is that most of these were available for retail sale and that the team just scooped them up from their on-site pro shop. I'll try to confirm that today.
I imagine some of you think that non-matching outfits make a mockery of the term "uniform," but I love how the Emeralds handled this. A very nice nod to their history, and visually interesting to boot. Kudos to all involved.
(Big thanks to Angelo Di Liberto, who was at last night's game and provided several of the photos used in this entry.)
•  •  •  •  •
Attention Boston readers: I'm looking for good butcher shops run by cool people in the Boston region. If you know of any, please get in touch. Thanks.
•  •  •  •  •

Baseball News: The Blue Jays will be wearing their annual Canada Day uniforms for this afternoon's game against the Red Sox. "¦ Some folks on Twitter, including the people running the Astros' social media feed, have been tracking high-cuffed players with the hashtag #HighSocksNews. That's a misnomer, of course, since it's really the pants that are high, but whatever — good to have this phenomenon being tracked. "¦ This might be the best rip-off of Jerry Dior's MLB logo ever. "¦ The Brewers and Pirates will both wear Negro League throwbacks on July 18 (thanks, Phil). "¦ Angels P Hector Santiago has a massive jersey collection (from Jon Silber). "¦ "Hump Day" uniforms today, with a camel on the jersey, for the Lehigh Valley IronPigs (from David Thomas). "¦ My bad for not noting this earlier, but Mets OF Darrell Ceciliani, who was called up about a month ago, bats bare-handed. "¦ @floatypunk was watching Game Five of the 1976 ALCS and noticed Yankees 3B Graig Nettles wearing an improvised shin guard. "¦ Michigan football coach Jim Harbaugh threw out the first pitch at last night's Tigers game. He wore a Mark Fidrych jersey and tucked it into his signature khakis (from Kyle Kruger and Jordan Mayblum, respectively). "¦ The excellent photographer Brad Mangin has put together an excellent post on the Athletics' excellent throwback game from last weekend. "¦ Pirates 2B Sean Rodriguez wore a team-logo headband last night. "¦ The Nationals are adding Calvin Coolidge as their latest racing president (from Tommy Turner).

NFL News: Looks like a retailer has leaked the Dolphins' new throwbacks, which were scheduled to be unveiled later this month. Looks pretty good, right? (From Preston Feiler.) "¦ Here's a guide to which Eagles jerseys you should buy, but I'll give you a much simpler guide: Just don't waste your money on overpriced polyester shirts. "¦ Here's something I don't recall seeing before: a Dick Butkus candy bar (from Jon Solomonson). "¦ From a 1972 issue of Pro! magazine, here's a good shot of kids wearing NFL uniforms. "They even nailed the mismatched purples of the Vikings' helmet and jersey," says Ronnie Poore. "Aside from the lame execution of the Eagles helmet wings and every outfit having white pants, it's pretty cool." Agreed. "¦ The cover photo of the new issue of SI has Brett Favre in a Reebok-made Packers jersey. "¦ "My wife and I found this great edition of Packers checkers at a thrift store," says Luke McCarnan. "Got it home and found the Bears helmets as the opponents. Excellent find!"

College Football News: Here's a look at the artwork that's being installed at Virginia Tech's new indoor practice facility (from Andrew Cosentino). "¦ I think we may have already seen this, but here's what appears to be a sneak peek at Miami's new uniforms. "¦ New uniforms for Dayton. Kind of amazing to see unveiling photos that don't show the player howling at the moon like some sort of rabid beast, no? (From Tom Hirt.) "¦ New gloves for Notre Dame.

NBA News: A lot of Warriors championship merch was counterfeit (thanks, Brinke). "¦ Speaking of the Warriors, Stephen Curry now has the best-selling NBA jersey (thanks, Phil). "¦ Stance Socks category director Tzvi Twersky (now there's a name!) mentions me in this interview with my ESPN.com colleague Scoop Jackson. He was apparently referring to this piece that I wrote two months ago (thanks to Leon Frager for letting me know).

Soccer News: Good article on how MLS teams choose their names. "¦ Here are the 2015 MLS All-Star jerseys (from Conrad Burry). "¦ Beautiful new away kit for AS Roma (from Rick Olivieri). "¦ If you buy a season ticket for Kentucky's soccer team, you'll get a scarf that will serve as your ticket (from Michael Owens). "¦ When Stoke City goes on tour in Asia next month, they'll advertise a charity rather than their usual online bookie sponsor, because gambling is banned in Singapore (from Yusuke Toyoda). "¦ Also from Yusuke: Ajax's new shirts have the Amsterdam city flag on the left sleeve. "¦ Vice President Joe Biden saluted the USWNT by posing with a jersey featuring his Twitter handle (from Brian McL). "¦ Bit of a typo at last night's Orlando City game. "¦ New home kit for Norwich City. Gee, ya think that ad panel is big enough? (From Richard Nethercott.)

Grab Bag: Someone out there just bought my favorite-named piece of merch, the Uni Watch Watch. That makes three whole people who've ordered it, wheeee! "¦ Kudos to Nike chairman Phil Knight, who's stepping down before he can do even more damage than he's already done. "¦ Absurd situation yesterday at Wimbledon, as Eugenie Bouchard was scrutinized by tournament officials for wearing a barely-visible black bra (from Bernie Langer). "¦ Scotland has new uniforms for the Rugby World Cup (thanks, Phil). "¦ And so does for New Zealand (from Shaun Sullivan). "¦ NASCAR driver Jeff Gordon, who's retiring at the end of this season, is bringing back his old rainbow paint scheme for his last race at the Bristol Motor Speedway on Aug. 22. "Gordon captured three of his four Winston Cup titles and 52 of his 92 career victories running in that paint scheme," notes Kary Klismet. "¦ I love cycling and I love toast, so of course I'm intrigued by this story about a pedal-powered toaster. "¦ The next Star Trek movie will have a new Starfleet logo. "¦ Here are some comments from players who played against high school teams that used Confederate imagery. "¦ UFC's long-promised (or long-threatened) Reebok outfits made their debut yesterday, and were roundly ridiculed.
•  •  •  •  •
Happy Canada Day to all of our Canadian readers. My friend Liz, who lives in Brooklyn but used to live in Toronto and has dual American/Canadian citizenship, will be throwing a party this evening, and I'll be attending. If I have time, I might even make and bring a batch of butter tarts — huzzah!