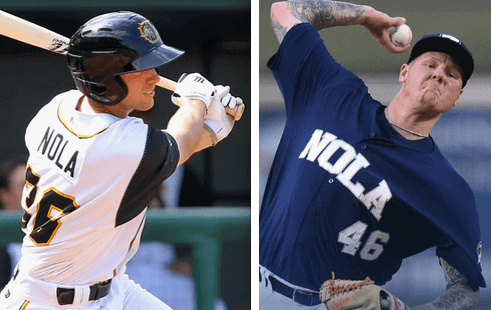 Potentially entertaining development yesterday in the world of minor league baseball, as Marlins farmhand Austin Nola (above left) was promoted from the Double-A Jacksonville Suns to the Triple-A New Orleans Zephyrs, whose wardrobe includes a navy jersey with a "NOLA" chest mark (above right).
That got a lot of folks very excited, including the people who issued this tweet:
Marlins promote Austin Nola to AAA New Orleans, where his name will appear on the front and back of his jersey pic.twitter.com/8dr9kYJMG9

— Minor League Stories (@MinorsTeamNames) June 29, 2015
That tweet got picked up by lots of other outlets, including SportsCenter, and soon everyone was talking about how Nola would be wearing his surname on both sides of his jersey.
Fun, fun, fun! Just one problem: Nobody bothered to see if the Zephyrs' navy jerseys actually have NOBs. Well, nobody except me. Unfortunately, as you can see in the following photos, they don't: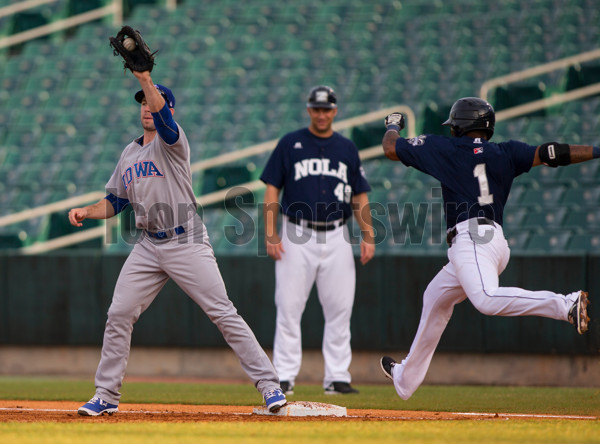 Bummer. Interestingly, though, the Zephyrs' white jerseys do have NOBs, so Nola will get to wear his name on the front and back of his jersey while with the Zephyrs — just not at the same time.
Or at least that's the case for now. Given the way minor league teams tend to engage in wacky promotional stunts, it wouldn't surprise me if the Zephyrs added NOBs to the navy jerseys, maybe just as a one-game thing, to capitalize on the Nola/NOLA factor.
So are there any athletes who have worn their surnames on the front and back of their jerseys simultaneously? I'm aware of two examples:
1. Journeyman outfielder Curtis Pride played 14 games for the Nashua Pride in 1999 and 16 more games for them in 2003. I can't find any photos at the moment, but I specifically remember that he was wearing his surname fore and aft during these stints. (As an aside: Pride, who is deaf, is the only MLB player I'm aware of to have worn a hearing aid on the field.)
2. Basketball great Jerry West represented the Western Conference in several NBA All-Star Games, and on those occasions he got to wear his surname fore and aft. Here he is in the 1972 ASG: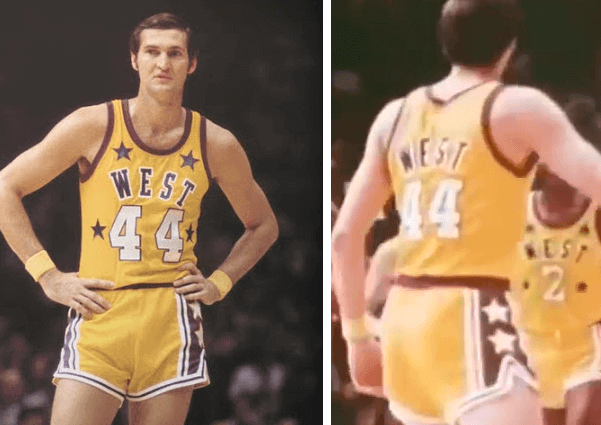 I'm not aware of any additional examples. Anyone else..?
Finally, two obligatory box-checks:
•  Whenever this topic comes up, someone always mentions Johnny Podres, who pitched for the Padres in 1969 and coached for them in 1973. Unfortunately, "Podres" and "Padres" are not the same word/name/etc. and, more importantly, the Padres didn't start wearing NOBs until 1974. So Podres never even wore his name and its homophone on the same jersey.
•  This is the part where I have to mention that Carlos May of the White Sox wore his birthday on the back of his jersey. That has nothing to do with the topic at hand, but some chucklehead always feels compelled to mention it during discussions like this one, so I'd rather just get it out of the way here.
• • • • •
Click to enlarge
Collector's Corner: Just Keep Truckin'
By Brinke Guthrie
The Grateful Dead were in the Bay Area this past weekend, playing the West Coast part of their farewell tour down the road in Santa Clara at Levi's Stadium, which is located just a few miles from the Dead's first-ever gig in 1965. This version of the Jerry bobblehead — a Giants giveaway from 2010 — is very well made. The Giants released another Jerry bobble in 2012 for his 70th birthday, and it was a knock-off of the earlier one — same pose and everything. Not as good quality there. The Giants also released this Dancing Bears figurine in 2011, and this Uncle Sam in 2013. I passed on that one.
Okay, getting back to more traditional sports-oriented Collector's Corner fare, here are the rest of this week's picks:
• These caught my eye: a vintage pair of 1970s Adidas baseball spikes. I always loved the tongue flap thing that folded over the laces- whatever happened to those?
• Dave Boss this week! Can't say I've seen that Colts design before. Given the time frame for this 1960s poster, this is probably supposed to be Raymond Berry.
• Also from the same period and in the same blue/white scheme, this Los Angeles Rams bobblehead.
• Got some items from the 1969 50th NFL season. First, this Vikings button that says "Think Super Bowl." That part worked, but maybe the button should've read, "Win Super Bowl."
• Take a look at this Pocket Pro 1969 Saints preseason black helmet. Wouldn't they look great wearing these now? Staying with the Saints, here's a poster from the same year — no black helmet, though.
• Here's a 1969 Chiffon Margarine NY Giants rub-off decal.
• Do those wings on this 1980s Eagles helmet decal look a little different to you? Maybe it's the shade of silver.
• When I saw the "Bank The Bombers" part of this auction's headline, I first thought this bank had to do with the Yanks, but it was apparently a minor league promo item. And your money is Saaaaaffffee!
• As we know, the Philadelphia 76ers rolled out their new look this week—and these 1970s game worn short-shorts were definitely not part of the redesign. Think of the social media reaction if they'd re-introduced these.
• Wake up to the 'Boys with this 1971 Cowboys alarm clock!
Follow Brinke on Twitter: @brinkeguthrie
• • • • •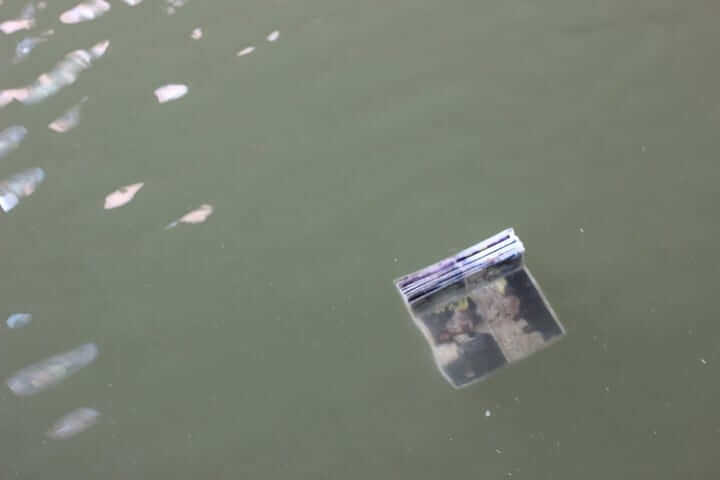 PermaRec update: A guy in DC recently saw something floating in the water (see above). He fished it out and discovered that it was a photo album documenting the first week of a baby's life. Now he's trying to find the family and return the album to them. Get the full scoop over on Permanent Record.
• • • • •
The Ticker
By Mike Chamernik

Baseball News: Dodgers C Yasmani Grandal, who's a switch-hitter, wore a lefty batting helmet while batting right-handed during the fifth inning of last night's game against the Diamondbacks. It didn't impede his hitting, though — he singled (Chad Moriyama was the first of many readers to send this one in). "¦ Here's a cool piece on Brewers bench coach Jerry Narron and his use of calligraphy to fill out lineup cards. … Hartfordites (Hartfordians? People from Hartford) don't much care for their recently relocated minor league team's new name, the Yard Goats. … A 1916 Ty Cobb pennant is for sale on eBay (from Jonathan Daniel). … Iowa City High and Cedar Falls played a black-vs.-black game the other day (from Jake Binggeli). … "@callmew1lly spotted a 2007 Padres World Series ticket at a coffee shop in Newark, of all places. He thinks it may be bootleg, but it could be real: The Padres nearly clinched a Wild Card spot that year and lost in a one-game playoff to the Rockies. … On Sunday the Orioles gave out Buck Showalter gnomes to fans, and the manager had a few thoughts about it. … Civic Stadium, former home of the Eugene Emeralds and one of the last 12 wooden ballparks in America, burned to the ground yesterday. The Emeralds responded by saying they'd wear throwbacks for today's game.


Pro, College, and High School Football News: Hyundai will pay the NFL $50 million annually for its sponsorship deal with the league (from Brinke). … Kansas football coach David Beaty worked with some kids in the Kansas Mentors program recently. He tweeted some photos of the event, and that may have revealed some new helmets for Kansas. … A high school uses a modified version of the rap group Wu Tang Clan's logo on its helmets (from David Petroff).

Hockey News: We already got a peek at the Sharks' 25th-anniversary patch during last weekend's draft, but yesterday they officially released the patch design and other anniversary logos (from Phil). … The Blackhawks played a bit of an exhibition game against Muppets on Ice skaters in the 1970s. … The Mississippi RiverKings of the SPHL will unveil a new logo and uniforms on July 7. Here's what the team's current logo looks like. … "With the drafting of Connor McDavid, for the first time in my life I was compelled to take a closer look at the Edmonton Oilers' logo," says Matt Knapp. "The trails beneath the letters in 'Oilers' look like (and I assume are meant to represent) dripping oil. If so, shouldn't they all drip to the middle rather than to the player's right side? Wouldn't it look better if the drips from the 'I', the 'L', and the left side of the 'E' were reoriented toward the middle?"

Soccer News: All of these soccer items come from Yusuke Toyoda: USWNT goalkeeper Hope Solo has at least two pairs of gloves. She wore a pair that had "Solo" on them against Australia, Sweden and China, and a pair that said "Stevens," her married name, against Nigeria and Colombia. … New unis for Coventry City, along with a photo gallery of the club's past jerseys. … The Portland Timbers really orchestrated a fan display against the rival Seattle Sounders.

NBA News: NBA commissioner Adam Silver has once again hinted at the inevitability of ads on NBA uniforms. In this piece he is quoted as saying (emphasis mine): "We, of course, allow beer advertising in our league right now. It's on the courtside signage. We haven't gotten to the point yet where we've looked at what the guidelines will be for when we do have logos on jerseys. So the answer is I don't know. That's something that requires further discussions with the teams and with our sponsors" (thanks, Andrew Edwards). … Nets rookies received their uniform numbers (from Brian Erni). … Dirk Nowitzki took a goofy picture while wearing a literal baseball helmet. … After the draft last Thursday, a tall Brooklyn-based writer wore a suit and a Jazz hat and wandered around Manhattan prentending to be an NBA Draft pick. More insight on his shenanigans here. [In case anyone is wondering: I am not tall. "" PL]

College Hoops News: Former Indiana player Jordan Hulls got married this past weekend, so he and his groomsmen all wore the Hoosiers' trademark red-and-white striped pants during the reception. … Boeheim's Army, a team in the TBT, an upcoming national 5-on-5 hoops tournament with a $1 million prize, unsurprisingly has Syracuse-inspired unis (from Sam Haymon).

Grab Bag: As a follow-up to yesterday's entry about schools that use Confederate imagery, a Little Rock graphic designer has offered to redesign schools' Confederate flag logos and mascots for free (from Stephen Boyd). … Tennessee athletics' new uniforms will be revealed tomorrow afternoon. … One writer's opinion: Adidas has become a joke. … New Tour de France kit for the American team Cannondale-Garmin (from Sean Clancy). … Bernie Langer also sent in the Cannondale-Garmin item, and had this to add: "I'm still waiting to see their treatment of the US national time trial championship jersey, to be worn by Andrew Talansky," he says. "Stars, stripes, and argyle? It's happened before." … Baltimore's new police SUV sure isn't subtle (from Andrew Cosentino). … New logo for Fort Bragg (from James Gilbert). … New uniforms and an awkwardly posed photo for the Japanese track team (from Jeremy Brahm). … Ghostbusters director Paul Feig is very excited about the movie's new uniforms (from Emily Gordon).