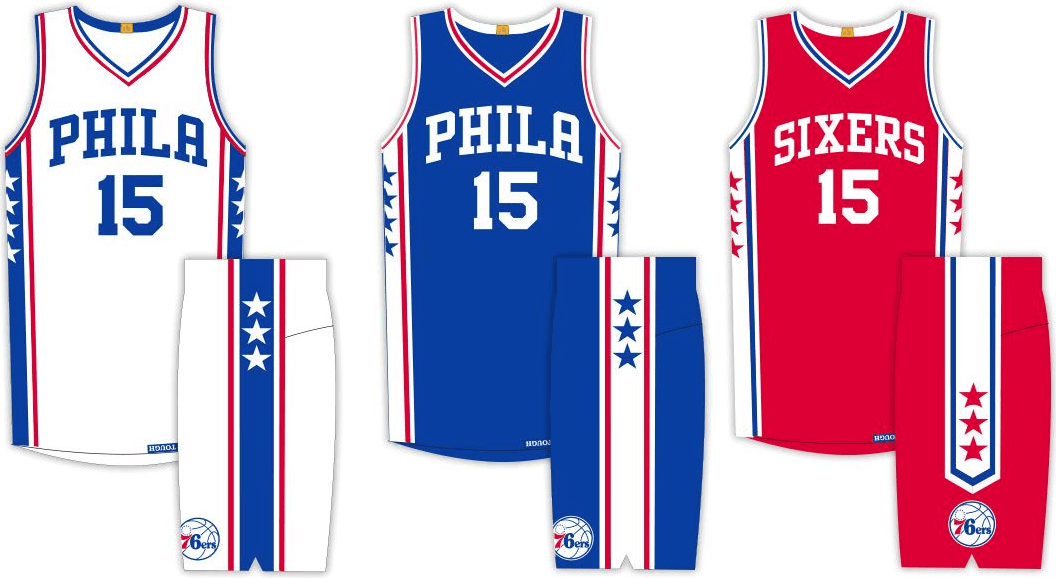 Click to enlarge
The 76ers unveiled their new uniforms last night. As you can see above, they're fairly conservative and pretty similar to what the team was already wearing. You can find my take in this ESPN piece, which was posted last night.
I wrote that piece in the afternoon, based on photos that the team had provided to me on embargo, and then the piece was posted after the unveiling while I was dealing with a social obligation in the evening. One detail I didn't mention, because it wasn't evident in the photos and the team didn't give me an advance press release, is that the stars running up the side panels are uneven — there are seven on one side and six on the other. Seventy-six, get it?
I like that. It's not one of these bullshit "stories" that so many uniforms try to tell; it's a direct and simple reference to the team's name that even a little kid can understand. It also has nothing to do with jersey sales, which is nice (you don't get the seven/six alignment unless you add the shorts). Best of all, the stars are partially chain-stitched: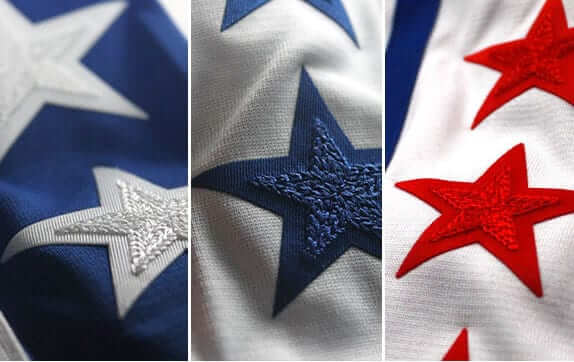 With all of that in mind, I'd revise my ESPN grades for the home and road jerseys from B+ to A-.
Meanwhile, in case you missed it yesterday, my take on the Clippers' new look can be found in this ESPN piece. I also discussed the Clippers and other uni-related matters yesterday morning on The Dan Patrick Show — here's the segment:
Several people emailed me yesterday to ask, "How'd you get on Dan Patrick? What'd you do to get on Dan Patrick??" It was no different than any other radio interview I've ever done: A producer from the show emailed me and asked if I was available to come on, I said, "Sure, as long as you get permission from ESPN" (that's the standard policy for any outside media outlet that wants to talk to me), he came back to me in a few minutes and said, "Okay, they gave the green light," and we chose a time slot that was agreeable to both of us. That's how it works.
And we still have two more NBA teams slated to unveil new unis in the next few weeks: the Hawks and Raptors. Stay tuned.
• • • • •

'Skins Watch: Yesterday's Blackhawks victory rally in Chicago attracted some fans who wore Native headdresses and red body paint. Classy (from Scott McDonald). "¦ Some students at Eastern Michigan want the school's marching band to stop wearing the school's old Hurons logo (thanks, Phil). "¦ In a related item, the Michigan ACLU chapter has filed a Freedom of Information Act request to find out how and why EMU resurrected the Hurons logo. … The list of names that the U. of North Dakota can use to replace "Fighting Sioux" has been narrowed down to seven options (from Jerry Nitzh).

Baseball News: Here are MLB All-Star Game BP jerseys (which seem okay, or at least okay-ish) and BP caps (almost all of which look awful). "¦ Meanwhile, the single-A Wilmington BlueRocks are giving away a cap next weekend that looks a lot like the MLB All-Star game caps. "¦ Here's something you don't see very often: orange vs. orange! That's the Bakersfield Blaze and the Inland Empire 66ers from two nights ago (from Brandon Sparks). "¦ You also don't see purple vs. orange very often. That's from yesterday's Rockies/Astros game (from @jookyhc ). "¦ Tigers OF Rajai Davis is another player wearing his own face on his wristband (from Mark Kunz). "¦ The Mets award a WWE-style belt to top player of each game. "¦ The Mets designated P Dillon Gee for assignment earlier this week. They haven't yet traded, released, or outrighted him, but they have already given away his uniform number. This reminds me of a situation in 2008, when Trot Nixon briefly played for the Mets and then ended up on the disabled list. The Mets let someone else wear Nixon's number even though he was technically still on the roster, making it pretty clear that they had no intention of bringing him back from the DL (and indeed, they didn't). "¦ Braves OF Jonny Gomes reached the 10-year service mark yesterday, so the team gave him this jersey. Never seen anything like that before. Also, recalling a discussion we had earlier this month, it's worth noting that that's Chipper Jones's retired number (from Michael Rich). "¦ Cleveland SS Mike Aviles's daughter, Adrianna, has leukemia, so the team posed for photos yeseterday wearing "Team Adrianna" T-shirts, and P Danny Salazar wore ribbon graphic on his cap in last night's game. "¦ Rays P Chris Archer suffered the old Little League problem of his stirrup loop coming out of his shoe last night (from Jenn Rubenstein). "¦ In that same game, Nats P Doug Fister had his wedding band fall off during a pitch, but then he found it on the mound (from @YellowHatDan). "¦ Mariners INF Brad Miller was berated on the air for wearing "gym socks" instead of sannies last night. "¦ In 1977, long before jerseys were available for sale, Peter Frampton's bassist, Stanley Sheldon, was wearing a Giants jersey onstage (from @roryjayz). "¦ Looks like the 1969 A's wore team blazers on the road (from Tristan Ridgeway).

Pro Football News: The chairman of the NFL's health and safety committee thinks the NFL could eventually stop using helmets. "¦ If NFL teams put comic book superhero logos on their helmets, it would look really fucking stupid like this (blame Phil). "¦ The Cleveland Gladiators — that's an arena team — will salute the Cavaliers by wearing Cavs-themed uniforms for tonight's game against the Tampa Bay Storm. "¦ "So I'm watching the video for 'Freedom of Choice' by Devo (don't ask)," says Jeff Ash, "and at 1:42 there's this guy wearing Los Angeles Rams headphones."

College Football News: New yard line numeral typeface for UNC. "¦ Here's Army's new logo being applied to the field. "¦ New field installation for South Carolina, too (from Ben Hartzell). "¦ Looks like Vanderbilt has added NOBs.

Hockey News: New 20th-anniversary patch for the Avalanche. Interesting — and a great relief — that the numerals on the patch bear no resemblance to the team's miserable jersey number font. Also: Mildly surprised that the marketing department didn't successfully lobby for the term "Avs-iversary."

Soccer News: Here's another Arsenal road kit leak (from Laurence Holland). "¦ Barcelona's third kit has leaked as well. "¦ Diego Maradona of Argentina wore Italian club socks during a World Cup quarterfinal (from @UltimateGT). "¦ With Seattle's LGBT pride march slated for this weekend, the Seattle Sounders have LGBT scarves (from Will Lemke).

Grab Bag: Looks like Tennessee athletics will unveil lots of new stuff on July 1. "¦ New basketball court for Army. … New Rugby World Cup unis for the USA. "¦ Here's another interesting use of an apostrophe in a vertically lettered sign (from Noah Sidel). "¦ Never seen this before: a supermarket selling items "by the each" (from Tyler K). "¦ The U.S. Treasury Dept. has announced that the $10 bill will be redesigned with a woman on the front. Who should it be? "¦ You've probably seen this purple/teal paper cup design before. Here's a really good article about the search to find its designer. Highly recommended (from Scott Davis and JohnMark Fisher). "¦ Also highly recommended: My friend Rob Walker has written a dynamite piece about standpipes with armored attachments to keep people from sitting on them. "¦ "Deontay Wilder successfully defended his WBC heavyweight title Saturday night over Éric Molina," says Dustin Semore. "The fight was at Bartow Arena in Birmgingham, home of the UAB Blazers. An assistant was walking through the men's locker room and I noticed that there was a locker set up for Wilder just like the other Blazers, with the appropriate number 1." "¦ The U.S. Patent and Trademark Office has rejected the trademark application for the state of Tennessee's crummy new logo. "¦ Here are all the 2015 uniforms for Drum Corps International. "¦ Here's a ranking of Aussie football home uniforms. … Happy Juneteenth to all who are observing. 150th anniversary, too!