When Mets reliever Alex Torres debuted his new protective cap two weekends ago, lots of people on Twitter said, "Why doesn't he just wear a helmet like the base coaches?" I responded to such people by saying, "A pitcher's motion is too herky-jerk. A helmet wouldn't stay on his head without a chinstrap."
That seemed like a reasonable analysis on my part. After all, there have been several pitchers over the years who haven't even been able to keep their caps on their heads, including Mike MacDougal, John Pacella, and Jim Bouton. And a cap fits more snugly than a helmet would, right?
But then reader Tanner Friesen told me about American Legion Post 22 in Rapid City, South Dakota. Their pitchers wear helmets:
Interesting, right? But wait, it gets better: All of Post 22's players wear helmets in the field. Infielders, outfielders, the works:
Not only that, but the team is called the Hardhats! You can see a bunch of additional photos of them here.
I was completely geeked out about this (and still am, actually). I wanted to learn more, so I contacted Post 22's head coach, Mitch Messer, and asked if I could do a phone interview with him. Here's how our conversation went:
Uni Watch: First tell me a bit about yourself. How long have you been the head coach of Post 22?
Mitch Messer: I'm entering my fourth season as head coach.
UW: Did you play for Post 22 when you were younger?
MM: Yes, I did.
UW: Had the team already started wearing the helmets when you played for them?
MM: Oh, yeah. The team started wearing hardhats back in 1964 or '65.
UW: Oh, wow. Fifty years!
MM: Yeah.
UW: How did that start? What's the story behind it?
MM: The coach prior to me was there for 47 years. His name was Dave Ploof. He's the winningest coach in American Legion history. He started the hardhat tradition. My understanding is that it was originally for player safety. The pitchers started wearing it, and then everyone else on the field started doing it too.
UW: Was there a specific incident that prompted this? Like, was a player hit in the head by a line drive or something?
MM: No, I'm not aware of any one incident. I think it was just a safety concern. And I know over the years it's saved a lot of our players, just in the short time I've been involved with the program.
UW: When you played, which position did you play?
MM: Centerfield.
UW: And was it weird wearing a helmet in the outfield?
MM: Maybe the first couple of times you put it on, but then you get used to it and it becomes like any other piece of equipment that's part of you. It's not that big of a deal.
UW: The team is called the Hardhats. Was there another team name before everyone started wearing the helmets?
MM: Just like every other American Legion team, we were just known by our post number. The "Hardhat" name came about because the local paper and news would always call us that, and it just kinda stuck.
UW: Are these essentially the same helmets worn by Major League first and third base coaches? In other words, are they the same protective quality as batting helmets, only without the earflaps?
MM: Yeah. We call 'em "skullies" [short for "skullcaps" "" PL]. Same thing catchers wore before the new hockey-style masks.
UW: What brand are they — Rawlings, or Easton, or something else?
MM: That's tricky. We have a contract with Under Armour, so everything we wear from the shoulders down is Under Armour. But for our skullies, we wear Easton, because Under Armour doesn't offer a skully.
UW: Do any of the players ever have trouble with the helmets falling off? I'm thinking specifically of pitchers, because the pitching motion can sometimes involve a sort of violent jerking motion of the head.
MM: No, that's never been a problem. It's more of a problem for the guys in the outfield, because they're running, diving, movin' around. So yeah — outfielders, and also guys with longer hair. For whatever reason, the guys with longer hair have a harder time keepin' it on. You know, when I read all this stuff about pitcher safety in the big leagues, and what should they wear, and they're so opposed to wearing helmets. But everybody here is kinda laughin' about it. Like, "Give me a break — it's no big deal."
UW: Has anyone ever had to wear a chinstrap or come up with some other method of keeping the helmet on?
MM [laughing]: No. But here's something: We used to wear Rawlings helmets. And those were okay. They had, like, a leather interior. I'd say those fell off more often than the Easton product we have now. It's a big difference — they're really comfortable, and they stay on.
UW: Is it the interior padding? Like, does it mold to your head better, for a snugger fit?
MM: Yeah, I think so. It's the same thing they use for their bike helmets.
UW: Do you have any issues with the helmets being too heavy, or too hot?
MM: The old ones, yes. But these new Easton ones have vents in the top and they're really nice.
UW: When you get new players, do they already know all about the helmets? In other words, do they know what they're getting into when they join the team?
MM: Yeah. Here's a quick snapshot of the program: We've won 39 state championships, we've had a national championship, we've been to the American Legion World Series eight times. We have 1,600 season ticketholders here. So as a little kid — myself included — you come to these games and you dream of wearing the hardhat. Growing up, that was cool. That was like, man, the day you get the hardhat, that means you made it. We have three younger-level teams, and they don't wear the helmets. Only the varsity team.
UW: So you have to earn your helmet, so to speak?
MM: Absolutely.
UW: I can see the psychological or motivational value in that. But if this is about safety, why wouldn't you want the younger teams wearing the helmets too?
MM: Right, right. I'm just tellin' ya, in the 1960s it was probably more about safety. Today it's more about tradition.
UW: Do opposing players or fans ever razz your players about the helmets?
MM: Only when we're playing someone who we've never played before. But most of the teams we play know about us and know about the hardhats, so it's not that big of a deal.
UW: Has any team ever tried to copy you and worn their own helmets in the field?
MM: Yes. There's a Legion in Missoula, Montana, and I know they've messed around with the hardhat concept.
UW: And how did you feel about that?
MM: I don't know. [Thinks for a few seconds.] Yeah, I guess I've got some weird thing about protecting it, keeping it as our thing. Like, "Okay, so you're trying to copy it. Nice try."
UW: But it's sort of a tribute, or an implicit compliment.
MM: It is, it is. And I saw that part of it too. I get it. I don't know. But if you wear it and it means something to you growing up, it's a little bit different.
UW: Is it a hassle to travel with so many helmets?
MM: No. Each kid gets his own and they just throw it in their bag.
UW: What about budgetary issues? Helmets must be a lot more expensive than caps, right?
MM: Not really. I think an Under Armour hat is $18, and we get the hardhats for $23.
UW: Oh, wow — that's a lot less than I would've guessed. Do you even bother to issue caps to the players? Like, they're never going to have any reason to wear them, right?
MM: They wear caps for pregame. They don't put on their hardhats until after pregame.
UW: Judging from the photos I've seen, you and your fellow coaches wear regular caps. Have you considered wearing helmets as a form of solidarity with your players?
MM: Well, we have to wear the hardhats when we're coaching on the bases.
UW: Yeah, but when you're in the dugout, or when your team is in the field.
MM: Yeah, then you can wear a regular hat.
UW: How often do the helmets actually come into play? Like, have you had any players get hit on the head by a line drive?
MM: Not too often, but it does happen. I remember when I was playing we had a centerfielder who dove for a ball and it went off his glove and then ricocheted off his hardhat and went all the way to the fence. So in that case it ended up working against us.
UW: I notice you don't really say the word "helmet." You always say "hardhat."
MM: Yeah, I guess. To me, a helmet is something with earflaps.
UW: Fair enough! I think that's all the questions I have. Anything to add?
MM: No, I think that pretty much covered it. We get asked about the hardhats all the time.
UW: Yeah, I figured. I actually feel kind of foolish for not having known about you guys until now. This is my beat, covering uniforms and equipment, and I'd never heard of you until today. Especially when you've been doing this for 50 years!
MM [laughing]: Well, we're in South Dakota! I mean, come on.
———
Fascinating, right? After nearly 16 years of writing about uniforms, it's exciting to see that there are still really interesting uni-related things I've never seen before. (I should also mention here that Messer sounded like a really swell guy. I suspect his players are really lucky to have him as a coach.)
Meanwhile: If Post 22's pitchers can wear helmets, why can't MLB pitchers? There's been so much research and development regarding padded caps, but I'm now in the camp that thinks a helmet would make more sense.
• • • • •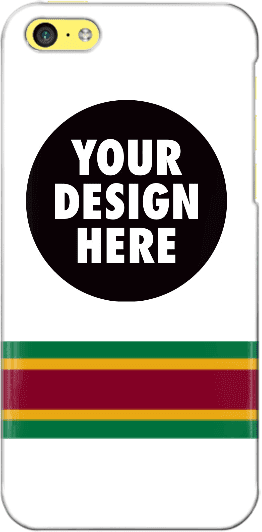 Design contest reminder: In case you missed it, I'm currently running a contest, with a cash prize, to design a Uni Watch smart phone case. Full details here.
As an aside, many of the designs that have been submitted so far feature a white background. As you can see, I used a white background for the mock-up shown at right, so maybe people were following my lead, but I want to stress that the base color does not have to be white. If you go to this page and click on "Layout," you'll find a link that will show all of the available background colors.
• • • • •

Baseball News: The A's and Astros went yellow vs. orange yesterday. "¦ Here's your chance to vote on the best high school baseball cap in northeast Ohio (from David Feigenbaum). "¦ Nice striped stirrups for North Dakota pitcher Zach Muckenhirn. "¦ The Richmond Flying Squirrels — that's the Giants' double-A affiliate — will be giving away replica Giants championship rings on Tuesday (from Tommy Turner). "¦ With the Mariners wearing their gold/royal alts yesterday, the team logo behind home plate was rendered in those colors. But Mike Zunino's catching gear showed the team's primary colors (from Jim Shemaria and Ethan Allen, respectively). "¦ More and more Orioles are wearing those 1960s-style stirrups (from Andrew Cosentino). "¦ College of Charleston wore some seriously old-timey throwbacks the other day (from Colin Monahan). "¦ The Rockies were rained out yesterday. But if they had played, they would have worn this sleeve patch celebrating the 20th anniversary of the first game at Coors Field (from Tyler Maun). "¦ New uniforms for the Pensacola Blue Wahoos, who may be the only pro team that wears pink as a regular thing, not for special causes.

Grab Bag: Looks like Mike Ditka's chinstrap offered more protection than his facemask (nice photo find by Douglas Ford). … Here's a compilation of Australian surf lifesaving club cap colors. "When a surf carnival is held on an Australian beach, competitors in the various events wear these cloth skullcaps so spectators can identify which club they represent," explains Graham Clayton. "¦ With marijuana now legal in Colorado, there's now something called the Colorado Cannabis Chamber of Commerce, whose logo has ruffled some feathers.