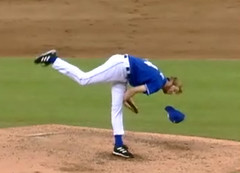 Royals closer Mike MacDougal had an interesting problem on Saturday night: His cap kept falling off, again and again — on six of the nine pitches he threw in his one inning of work. On one occasion he actually caught the cap in midair, but the other times he had to pick it up (including once when the ball was in play and he really should've been paying attention to that, not to his cap).
I looked at the video of MacDougal's three other appearances this season (he'd been on the DL until the All-Star break). In those games, he threw a total of 26 pitches, and his cap came off only once. So what happened on Saturday — wrong-sized cap? Too much Brylcreem? In any case, the Royals were apparently so disgusted by MacDougal's antics that they traded him to the White Sox yesterday, so now he'll have a new cap to keep on his head.
MacDougal's case of cap dropsy, whatever its cause, is hardly unique. Before Jim Bouton was famous for writing Ball Four, he was famous for losing his cap with every pitch. He even joked about it in the book — check out the caption. And during the late 1970s or early '80s, the Mets had a pitcher whose cap always fell off, although I can't recall who it was — Ed Glynn, maybe? Neil Allen..? Someone help me out here. Whoever it was, I remember reading an article that discussed how fans were always sending the player suggestions for keeping his cap on — hair gel, various glues and stickums, bobby pins — but none of them ever worked.
Speaking of wayward caps: I'm a little late getting to this, but Dodgers coach Mariano Duncan's cap had quite an odyssey on July 17th. It started when Duncan got tossed from the game for chirping from the dugout and then came out to argue and had to be restrained from reaching umpire Angel Hernandez, who had ejected him. During the course of the argument, Duncan removed his cap and threw it at Hernandez, who caught it and immediately trotted over to the edge of the grandstand, where he tossed the cap into the crowd. A lucky fan stowed the cap under his seat, while Hernandez went back to his post, looking rather smug. The cap, meanwhile, probably set some sort of single-game record for being handled by the most people in the least amount of time.
And caps aren't the only things that have been flying. In Sunday's Giants/Padres game, gloves were taking flight. It began in the bottom of the 8th, when Ray Durham slid hard into catcher Rob Bowen. Bowen's glove was knocked off by the collision (you can barely see it next to the on-deck hitter's foot here — sorry for the crummy image quality), and the ball skipped to the backstop. As the pitcher retrieved the ball, baserunner Steve Finley got caught in a rundown between third base and home — with Bowen still without his glove. Bowen took the rundown's final throw barehanded and then put a gloveless tag on Finley.
In the very next half-inning, Armando Benitez gave up a game-tying home run. Nothing new there, except that this time Benitez flipped his glove in the air and then swatted at it as it came down (which "several teammates privately called unprofessional," according to this article).
Uni Watch News Ticker: As if Brett Myers didn't already have enough problems, check out this note from Jean Lefebvre: "After the first pitch of Sunday's Braves/Phillies game, home plate umpire Jerry Meals called time, took a few steps towards the mound, and called out to Myers. Meals and Myers exhanged a few words, and Myers then rubbed his right hand over his left to demonstrate something to the ump. Myers has a tattoo there, and I assume Meals thought it was a watch or bracelet and wanted him to remove it." … Doug Donahoo took this photo at a Kansas City T-Bones minor league game — note the MLB logo on the base. The weird thing is, the T-Bones play in the Northern League, which isn't MLB-affiliated. "Are the T-Bones stealing the bases out of the dumpsters of Kauffman stadium?" asks Donahoo. … Angel Pagan is still having problems with his batting helmet logo. … Brilliant catch by Eric Ritschdorff, who notes that Jaret Wright wore a lefty batting helmet when he pinch-ran on Saturday, even though he bats right-handed. … Yesterday's comments section had a mention of Mike Pelfrey's blue mouthguard. Good photos here, here, here, and here. … Update on Dontrelle Willis's underbrim: The inscription on Sunday read, "KEEP ME SAFE" (maybe he saw what's been happening to Mike MacDougal's and Mariano Duncan's caps). … Soccer news, courtesy of Brandon Vogel: "Tottenham Hotspur released their alternate kits and, in a REAL throwback (to the 19th century), they'll be wearing chocolate and gold." … Jay Sandora notes that the CoolFlo helmet appears to have been patterned after Shane Battier's head.