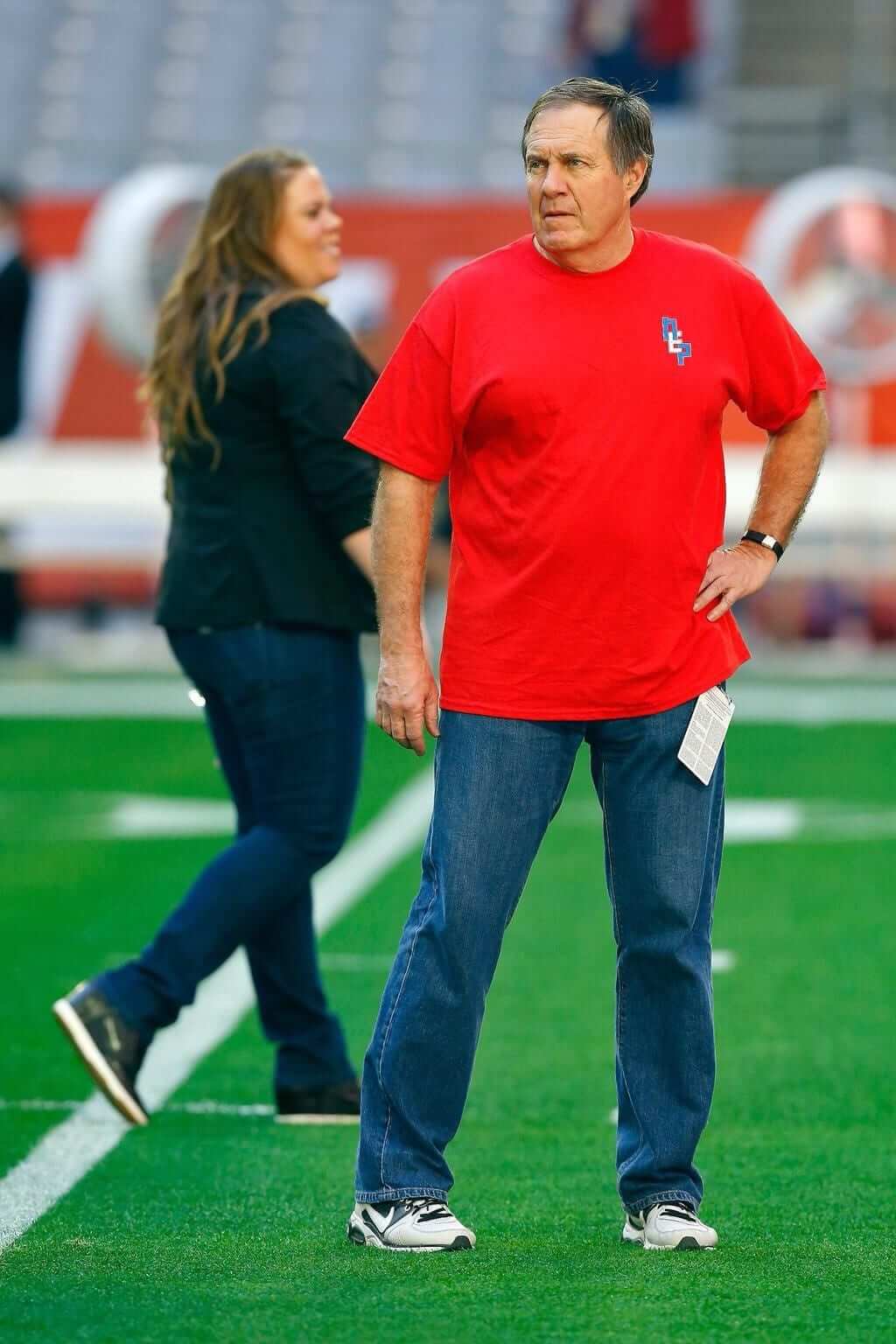 Click to enlarge
The most uni-notable moment in yesterday's Super Bowl took place several hours before the game, when Patriots coach Bill Belichick showed up wearing a T-shirt with an "NEP" Pats logo I'd never seen before on the front (see above), and "Don't Tread on Me" on the back. A California operation called Pro Athletics claims to have designed the shirt and logo. (Actually, they're claiming a lot more than that, but whatever.)
Other notes from the big game:
• Surprisingly (at least to me), alterations and patches for the Patriots' jerseys weren't handled by the team's regular stitcher. They were done by Patsy Elmer of Big Time Jerseys in Phoenix (who also provided the uniform on that downtown Phoenix statue). Here are remnants from Tom Brady's sleeves that Patsy cut off of two of his jerseys a few days ago. "I also altered his side seams for a snug fit and shortened the length," she says. "They gave me a Super Bowl patch, which I will frame." (I think Patsy also handled the Seahawks' jerseys, but I'm not positive about that. Will find out and advise.)
• Many players arrived wearing wearing those jackets from Media Day. (For some reason, Tom Brady also wore that jacket under his jersey for an NBC promo shot.)
• We talk a lot about the Seahawks' use of neon green, but Pats tight end Rob Gronkowski had a neon green waistband on his base-layer tights.
• Speaking of green, the Patriots' white jerseys showed a lot of green during the game. Pretty sure that was due to an excessive paint job on the stadium grass.
• Several people noted — in some cases disapprovingly — that Tom Brady's son Benjamin was wearing a Reebok-made jersey after the game. I see nothing wrong with this — if the jersey fits him, who cares who made it, and why get rid of a perfectly good garment? Aside from the logo creep, it's the same exact design the Pats have been wearing since way before the kid was born.
• In a less forgivable move, Massachusetts Sen. Ed Markey tweeted a photo of himself posing with a cheapo Reebok knock-off that looks like it came from the clearance rack at Walmart.
•  They once again did the thing with the confetti shaped like the Lombardi Trophy.
•  I never saw Ace Ventura: Pet Detective. But people who did see it seem to think this is hilarious.
• If the Seahawks had won, they planned to start using this logo.
• Eleven-year-old Natalie Staples made Seahawks and Patriots cakes for the occasion. Nice job, but I think she needs to go bigger with those logos!
• Illustrator Bob Eckstein live-blogged the game with a series of illos. To see them, go here and click on the "Illustrations" tab under the headline.
And that's a wrap for another NFL season, and for another year of Monday Morning Uni Watch. Only two more weeks until pitchers and catchers!
(My thanks to all contributors, including Tom Adjemian, @FormerDirtDart, Brinke Guthrie, Stephen Learman, Blake Morris, David Staples, Brian Stout, Leah Voit, and Jim Walaitis.)
• • • • •
Patch update: Uni Watch 15th-anniversary patches are once again re-stocked and available for ordering. (And for those of you who I recently got in touch with regarding your recent patch orders, those patches mailed out on Saturday.)
• • • • •
Signal flare: If you have a background in psychology and/or psychiatry (yes, I realize they're not interchangeable), I'd like to talk with you for a story I'm working on. Can do? If so, please get in touch. Thanks.
• • • • •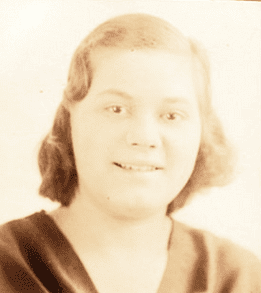 PermaRec update: The Manhattan Trade Schol student shown at right was initially described by her teachers as "completely honest, courteous, helpful, conscientious," and other glowing terms, but in short order she was labeled as "unreliable, fussy, uncooperative" and removed from the school's employment-referral program. Get the full story over on Permanent Record.
• • • • •

Baseball News: Holy moly, check out this 1910 Cubs sweater (thanks, Phil). … Speaking of the Cubbies, gotta like this Ernie Banks snowman.

Pro and College Football News: An Arizona artist has created an impressive metal sculpture of the Cardinals' logo (from Patrick O'Neill). … Check out the Rams and Chiefs going color vs. color in a throwback game back in 1994 (from Robert Cabral). … This video clip of Dan Marino not wanting to do another take of a commercial would be hilarious even if the script didn't include the term "complete uniform" (from Douglas Fod. "¦ After almost winning the Phoenix Open yesterday, Bubba Watson held his young son Caleb, who was wearing a Seahawks jersey (screen shot by Douglas Ford). … On the college level, Kentucky is looking at new helmet options for next season (from Chris Edwards).

Hockey News: I'm not sure what the record is for the longest NOB in college hockey, but Union College goalie Alex Sakellaropoulos, with 15 letters, is probably at least in the discussion (from Tris Wykes). … The Hershey Bears wore Groundhog Day jerseys yesterday (thanks, Phil).

NBA News: "Gotta love this Chicago Bulls/SpaceJam mash-up," says Paul Lee, and I'm inclined to agree. … Yesterday was the first day of Black History Month, so NBA teams wore these shooting shirts, which I assume we'll be seeing for the rest of February. … The Celtics once again wore those godawful sleeved grey unis.

College Hoops News: Remember that weird background pattern that Adidas was recently using for Mississippi State football promo photos? That pattern showed up yesterday on the Miss. State women's hoops shooting shirts. Yeesh. "¦ Pink unis yesterday for the Southern Illinois women's team.

Soccer News: This might be the first sighting of the new Portland Timbers shirt. "¦ FC Barcelona celebrated the birth of Gerard Pique's new child with mini-kits (from Yusuke Toyoda). "¦ Also from Yusuke: Australia celebrated its Asian Cup title with "Champions" jerseys.