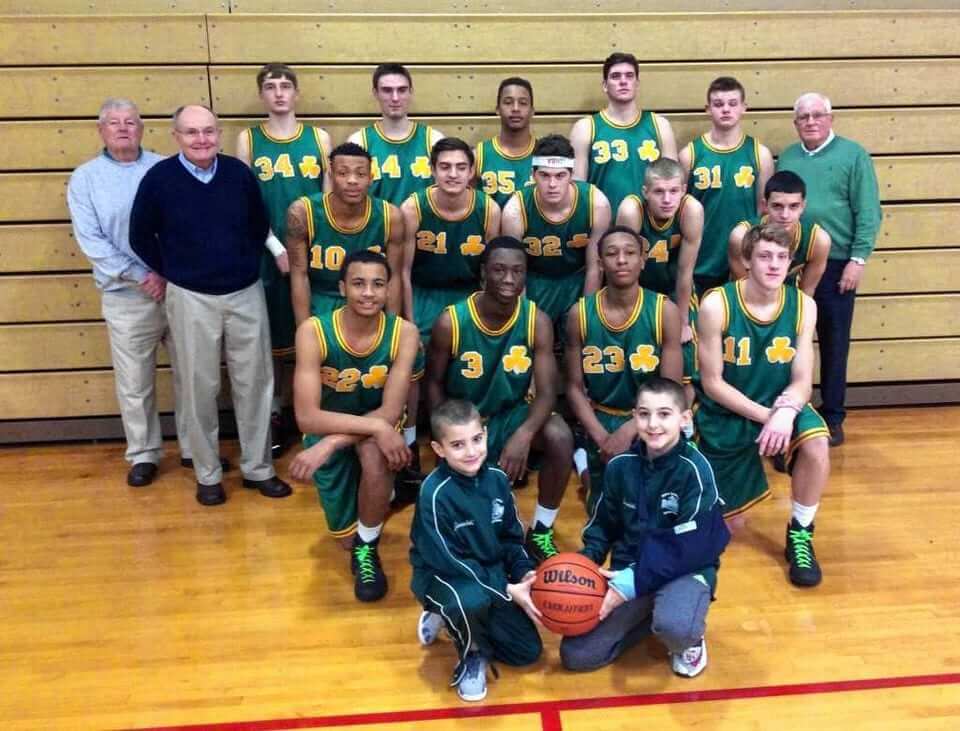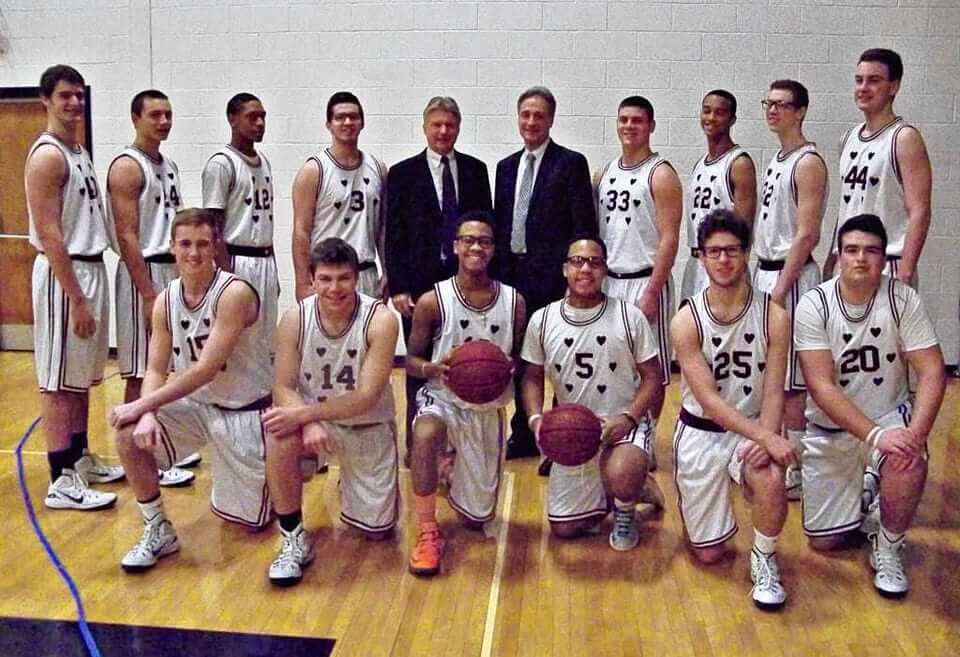 For all photos, click to enlarge
Nice uniforms, right? They're throwbacks, and they're being worn by two Syracuse-area parochial school teams — Bishop Ludden (top) and Christian Brothers Academy, who'll be facing off in their annual "Holy War" game on Jan. 18.
The interesting thing is that those designs weren't originally worn by those schools. They were worn back in the 1960s by two now-defunct schools that played in Syracuse's Parochial League (which is also defunct): St. Patrick's and Sacred Heart. Here's how the original uniforms looked back in the day: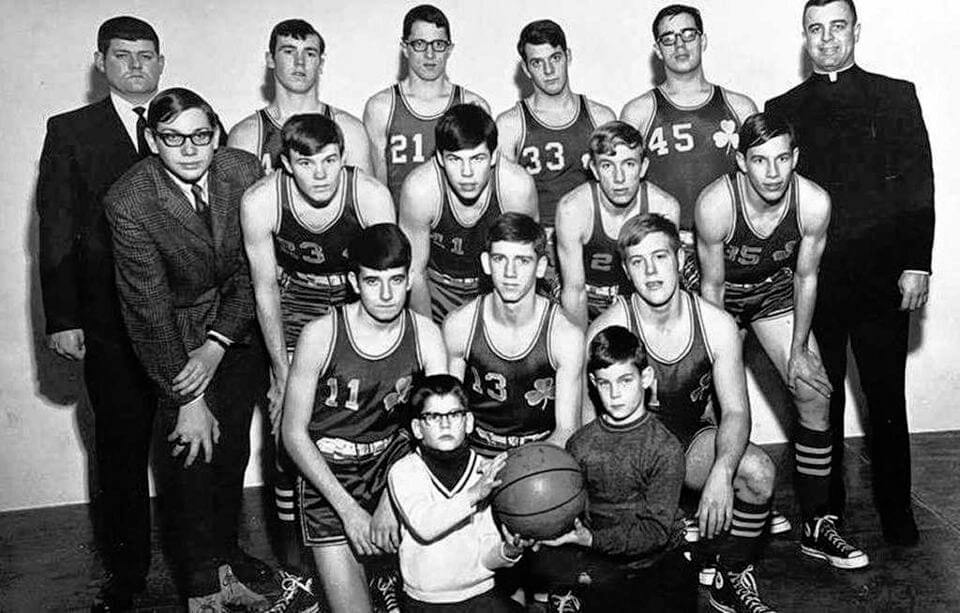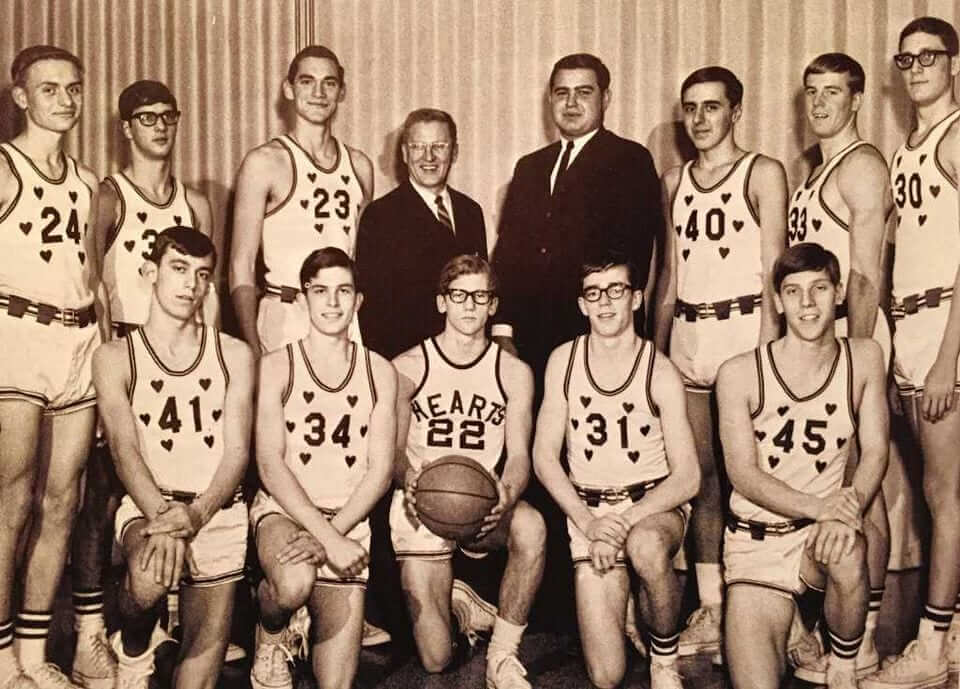 Bishop Ludden and Christian Brothers decided to wear the defunct schools' uniforms as a way of honoring Syracuse's parochial school basketball heritage. They even got the old St. Patrick's coach involved in the project. (The whole thing reminds me of that 2013 story about a Nashville school that wore the polka dot throwbacks originally worn by another area school decades earlier.)
As you can see, some small concessions to modernity were made. The throwback shorts aren't very short, for example, and they're not belted either. Still, they did a nice job. You can get a better feel for the uniforms in this fun little video report, which even shows one of the current players wearing an original (not throwback) pair of shorts that the old coach provided (if you can't see the video embedded blow, click here):
Given that this is all taking place in Syracuse, you'd think they would've chosen a uniform manufacturer from the northeast. But according to this story, the unis were made by a Washington State operation called Intrepid Sportswear, which I'd never heard of before. Good for them for not plastering their logo all over the throwbacks. (Update: Turns out Intrepid Sportswear was once mentioned in the Ticker in 2012. They appear to be a very interesting company.)
Anyway: I like this idea of wearing throwbacks from schools that no longer exist. It's a good way to get the community involved, because folks who attended the shuttered schools will likely be energized by the sight of the old uniforms.
•  •  •  •  •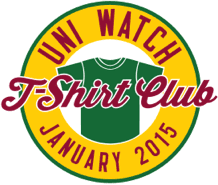 T-Shirt Club reminder: In case you missed it yesterday, the Uni Watch T-Shirt Club is now up and running. Full details here.
• • • • •

Baseball News: The West Michigan Whitecaps are inviting fans to design the team's jersey for Social Media Day (thanks, Phil). … 100th-anniversary logo for the Asheville Tourists (thanks, Phil). "¦ Someone on Antiques Roadshow brought in a complete set of 1871 Boston Red Stockings baseball cards. "A pretty amazing collection to say the least," says Craig Brown. "¦ A six-year-old Blue Jays fan was inconsolable after the Jays traded her favorite player, Brett Lawrie, to the A's. So the A's basically bought her affections by sending her a bunch of free merch (thanks, Brinke). "¦ Someone who created an "Oakland pride" brand is claiming that the A's have ripped him off (from Mina Mikhael). "¦ Check this out: a baseball cap that's bulletproof. Might be good to protect pitchers from line-drive comebackers (thanks, Phil).

NFL News: In the latest commercial for Papa John's "pizza," Peyton Manning's wearing an authentic Broncos jersey but Joe Montana is wearing a generic red shirt with a white "16" instead of an authentic 49ers jersey. Seems odd to have that kind of mismatch in the same ad, no? (From Jeffrey Sak.) "¦ Tim Donovan was watching a bunch of 1996 NFL footage and spotted several uni-notable items: (1) Bears defensive lineman John Thierry wore multi-colored face paint. (2) During a 49ers/Panthers game, Niners OL Steve Wallace's ProCap attachement (aka the "Gazoo" shell) came loose, so QB Steve Young picked it up off the field. (3) Tim spotted six different makers' marks on NFL unis from that season. Clockwise from top left, that's Nike, Starter, Champion, Russell, Reebok, and Wilson. "¦ This isn't exactly a surprise, but the Panthers will wear white over white this Saturday. "¦ Banners shaped like Broncos jerseys are now hanging in downtown Denver (from Stephen Scheffel).

College Football News: Some students at Michigan have created a line of Jim Harbaugh-inspired apparel (from Tommy Turner). "¦ Here's an early look at the field being prepared for the championship game.

Hockey News: Former Swiss league goalie Marco Streit had a truly bizarre mask. When I posted that photo to Twitter two nights ago, several people said that's actually a mask for ringette, a sport I hadn't heard of before. Looks like they often wear Cooperalls (thanks to Marc Hammill for the mask photo). "¦ Love this: a Cooperalls ad from 1981. Look at this bit at the end: "Cooper also offers the Coupé, a short version of Cooperall which retains the conventional appearance of hockey pants." That's new to me — anyone know more? (Thanks, Phil.) "¦ G.I. Joe jerseys for the College of Charleston. "¦ Looks like the Ducks' number-retirement patch for Teemu Salanne won't be the same as the team's "FOR8VER" logo that was used last month (from Charles Eldridge). "¦ The NHL plans to place player-tracking chips in the jerseys for the All-Star Game (thanks, Phil). "¦ Hmmm, does this jersey look familiar? That's a player from the 1930s Toronto Maple Leafs lacrosse team, who obviously borrowed their jersey design from their NHL namesakes (from Will Scheibler). "¦ Tomas Hertl of the Sharks took a puck in the face while sitting on the bench on Monday, so last night he played with a facemask (from Jared Buccola). "¦ The Stockton Thunder recently let local kids paint whatever they wanted on the ice (from Geoff Poole).

Basketball News: Kevin Durant of the Thunder saluted Stuart Scott on his sneakers two nights ago. … Color-vs.-color game last night in Minnesota, as the Gophers unveiled a new set of BFBS unis while hosting Ohio State.

Grab Bag: Putting the "pro" in prophylactic: vintage condoms with Ted Williams and Jack Dempsey on the package design (from Jason Fetty). "¦ Wearing a jersey while traveling is a great way to start conversations. "¦ American skiers competing at the World Cup slalom race in Croatia are adding memorials for the two skiers who died in that avalanche the other day. Key passage: "The seven starters for the United States, including Olympic giant slalom champion Ted Ligety, will wear black armbands during the race. AJ Ginnis, who grew up skiing with the pair, has duct tape on his helmet as a tribute." "¦ New logo for the National Credit Union Foundation. "¦ Netflix is putting its logos on certain TVs. "¦ Airline flight attendants' uniforms are getting blander (from Tommy Turner). "¦ An old-school duckpin bowling alley — with manual pinsetters! — has opened in Pawtucket, Rhode Island (big thanks to Matt Bessette). … Great story about an ultimate Frisbee team that wears tights (big thanks to Didi Kalmanofsky).