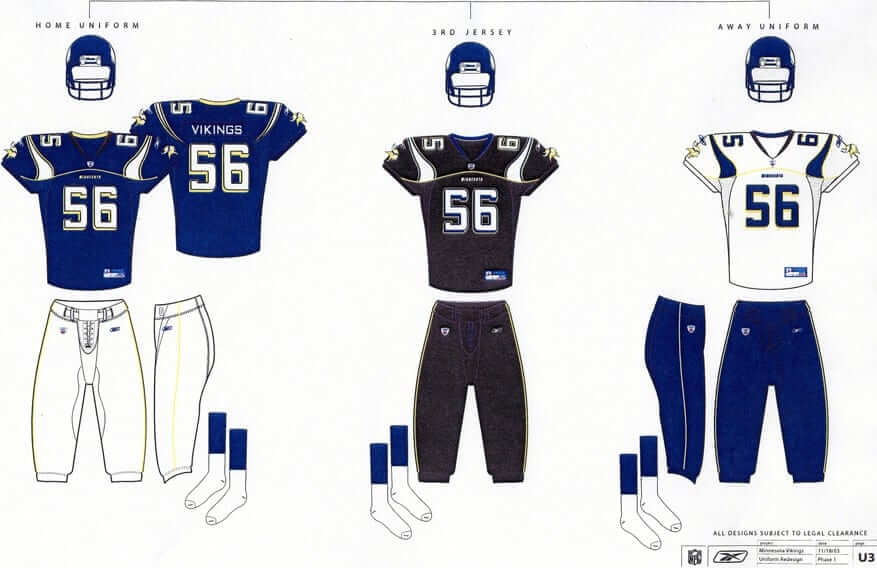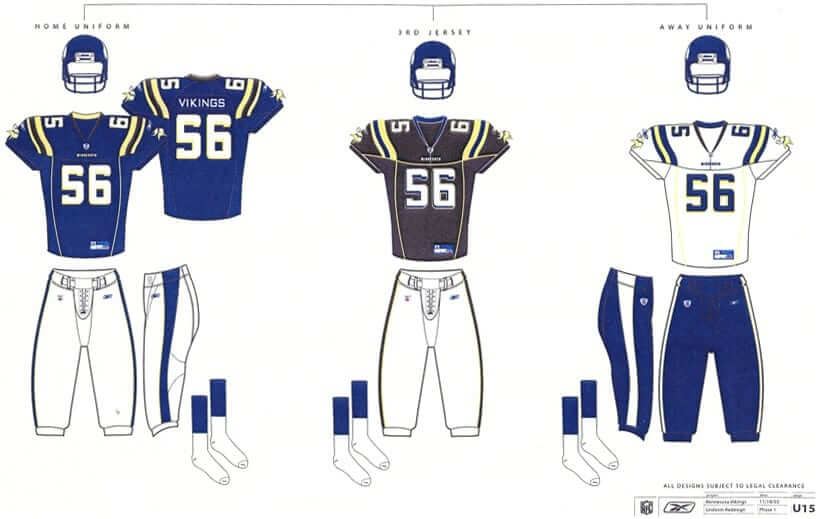 Click to enlarge
Hmmm, what have we here? It's two sets of Vikings prototype designs that were prepared by Reebok in 2003. I got them from a source and confirmed their legitimacy with another source who used to work for the Vikings. And there's a lot more where these came from — the second source says he has a big packet of uni designs that Reebok proposed along with these two. He's going to send them to me shortly and will also provide info on the internal deliberations about them.
It's interesting to see that the Vikings (or at least Reebok) were considering going BFBS more than a decade ago. Glad they didn't go that route. Also, note that all of these jerseys had seam stripes going across the yoke and/or down the torso — ewwwww.
Of course, it's not surprising to learn that a pro team was considering uniform changes, or that a uni manufacturer was coming up with design proposals for a team — that kind of stuff is happening all the time without our knowing about it. For every design we see on the field, there are dozens more that were rejected. But we usually aren't privy to those details. In the case of the early-2000s Vikings, however, we're about to get a peek behind the curtain. I hope to be able to share more images from my source's cache within the next week or two — stay tuned.
+ + + + +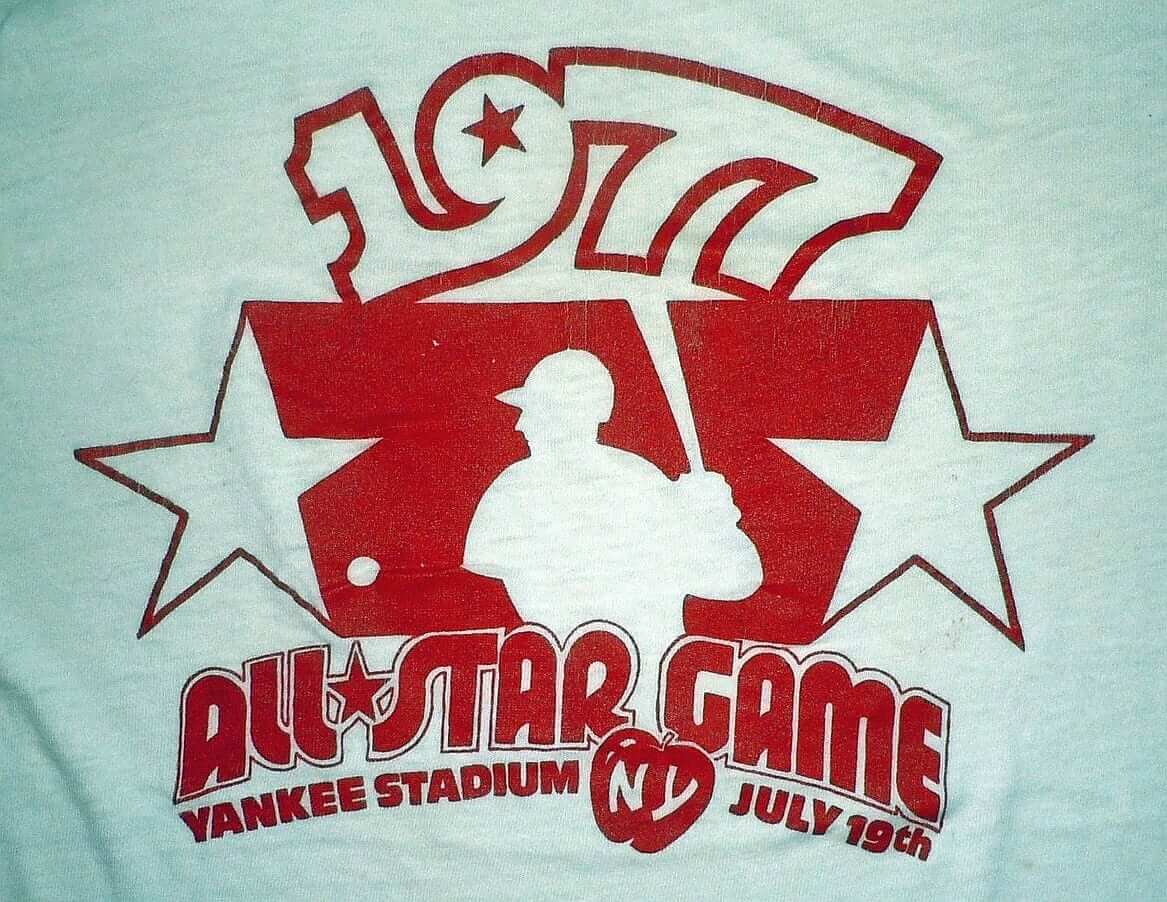 Collector's Corner
By Brinke Guthrie
Tonight's the MLB All-Star Game, so our leadoff offering is this 1977 T-shirt from the 1977 ASG at Yankee Stadium. Always liked watching the game growing up as a Reds fan, 'cause you could count on the Big Red Machine wearing white or red shoes, as opposed to the silly team-mandated all black.
Here are the rest of this week's vintage finds:
• This 1960s/1970s Cowboys helmet bank looks familiar. This one says "South Oak Cliff Bank." Mine says Commonwealth National, and I remember going over to open the account there!
• Looks like the Niners are facemasking Earl Morrall on this 1969 Charlton Comics NFL issue.
• Get your 1970s WHA Cincinnati Stingers glasses right here! This set of two also includes the WHA logo player in team colors.
• Paul, you need this 1970s Mets mini-poster cardboard sign for Uni Watch HQ!
• Dave Boss alert! Lotta great NFL posters from The Master available from this eBay seller.
• This 1970s Hallmark NY Jets bumper sticker coulda been designed a bit better, eh?
• Check out the graphics on these 1980s NFL bedsheets. And these NFL curtains have all the team wordmarks, yet generic-looking players.
• Great look on this 1970s NFL sleeping bag. [Wow, that's a beauty! "" PL]
• This vintage Browns helmet radio needs a tiny bit of TLC for the helmet stripe but otherwise looks pretty good.
+ + + + +
Tick-Tock: Today's Ticker was compiled and written by Garrett McGrath.

Baseball News: Notes from last night's Home Run Derby: Jeff Samardzija wore a league-neutral All-Star cap, and ESPN's graphics department had several goofs. "¦ The All-Star players aren't the only ones assembling in Minnesota — there's also this gathering of MLB mascots (thanks, Phil). … "On Sunday, the Minneapolis Star Tribune ran a special section with a cool rendering of All-Stars past and present in a dugout at Target Field," says Michael McGivern. "Of course Harmon Killebrew, Derek Jeter, Willie Mays, and Sandy Koufax had the historically inaccurate NOBs. No big deal but still interesting." … Yesterday's Ticker a photo of a Giants fan wearing a No. 138 jersey. Two readers have sent in possible explanations: Justin Criado says, "It's most likely a reference to the Misfits song 'We Are 138.' During the Giants 2008 World Series run they called themselves 'misfits.' T-shirts with the punk band's iconic crimson ghost skull were sold in black and orange, and one crimson ghost logo even had a beard like reliever Brian Wilson's." But Jeff Dahl is convinced that it signifies section 138 of the bleachers. What does everyone think? … The Brooklyn Cyclones are wearing hockey-themed jerseys this Thursday (thanks, Paul). … The Richmond Flying Squirrels are wearing powder blue throwbacks this weekend (from Raymond Parrish). "¦ The Triple-A Home Run Derby was also held yesterday. "A few players had these things on their headwear," says D.P. McIntire. "It appears to be either a camera (although they didn't show images from it on the scoreboards) or a device that tracks bat speed (which was mentioned several times during the event)." "¦ ESPN Radio guys Mike and Mike were wearing both versions of the ASG logo — Twins-branded and MLB-branded (from Paul Gaylord).

NFL News: A bull mastiff dog named Swagger will lead the Cleveland Browns onto the field next season. It is an attempt to reconnect with Cleveland's Dawg Pound of the past. Wait a second, I thought the Manzielf was the one with swagger (from Leo Strawn, Jr.). "¦ A video preview of the new Madden game has given us our first look at how the Bucs' new uniforms might look on the field. "I actually like that chrome facemask in the light," says James Comfort. But those orange horns — not so much."

College Football News: New uniforms for Duke. The helmets have chrome decals on the black shell. Here's a video of the reveal (thanks, Phil). … Here's college football's new championship trophy. … Hmmm, will Penn State have numbers on its helmets in 2014? (Thanks, Phil). … Tulane has shared new unis as well.

Hockey News: In 1995, graphic designer Ken Loh — the designer behind the Kings' infamous "Burger King" design and the New England Patriots' "Flying Elvis" logo — presented the Flyers with these concepts as a possibility for a third jersey. Time does not heal all wounds (thanks, Phil). … The Hockey News has begun ranking the NHL logos from worst to first, beginning at the bottom with the Carolina Hurricanes (from Barry Brite).

Soccer News: New home kit for Wigan. "Too similar to Sheffield Wednesday for my liking," says George Chilvers. "¦ New kits for UNAM as well. "I'm biased because they're my team, but I like them," says Pedro Naranjo.

Grab Bag: The University of Utah football and men's basketball teams will be getting new uniforms. … Yikes, check out these pit crew uniforms for the STP-sponsored No. 40 car that Parnelli Jones drove in the 1967 Indianapolis 500 (from Graham Clayton). … Australia's National Rugby League will wear Marvel superhero-inspired uniforms (from Leo Strawn Jr.). … Cooper Union, the NYC university with programs in architecture, engineering, and the arts, built a new structure at 41 Cooper Square in hopes of landing a naming-rights gift that never arrived (from Tom V.). "¦ The Australian Football League is selling hijabs in team colors.
+ + + + +

What Paul did last night: On Friday I was reading this weekly list of interesting NYC events and happenings for the upcoming week, and I was struck by the following listing for an event taking place on Monday (i.e., yesterday):
My name is Brian Beattie, and I'm a record producer and musician from Austin, Texas. My wife — the artist Valerie Fowler — and I have created something called "Ivy and the Wicker Suitcase," which we call an Illustrated Earmovie Musical. … Set in 1938, it's a new Depression-era folkmyth about a 10-year-old girl who falls into the underworld.

Valerie and I are bringing "Ivy" on the road. … I recite an epic poem called "The Backstory Ballad of Ivy Wire," and then I sing the songs from the musical, and interspersed throughout the performance are four "Crankie Shows," which are 30-foot-long illustrations that Valerie cranks along in our homemade Crankie Box while I sing the accompanying song. It functions as a sort of hand-drawn video, a low-tech immersive multimedia marvel.

"Ivy and the Wicker Suitcase" is also available as a fully illustrated 62-page book plus a CD featuring Daniel Johnston, Bill Callahan, Will Sheff, K. McCarty, James Hand, and starring Grace London as Ivy Wire.
That sure sounded better than sitting on the sofa and pretending to give a shit about the Home Run Derby, so last night I drove out to this little theater/performance space called Standard ToyKraft to see "Ivy and the Wicker Suitcase," which turned out to be a completely wonderful piece of homespun musical theater.
I shot a video of one of the songs, and unfortunately it turned out to be the weakest song of the bunch, but it still gives you a sense of how cool the Crankie Shows were (the female singer is Brian and Valerie's teen-aged daughter, Ramona):
Most of the tunes were much snappier and more dynamic than that one (and were sung by Brian, who's a much better vocalist than his daughter).
Want to know more about the whole "Ivy" thing? Look here. Want to see if "Ivy" is coming to your town? Look here.