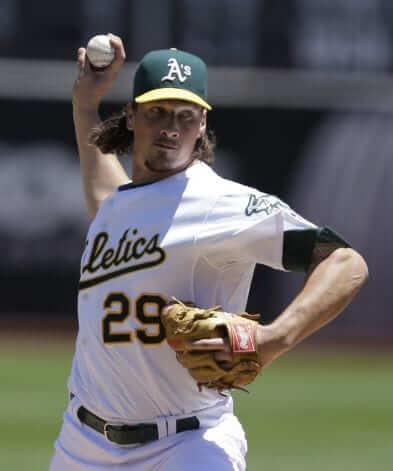 As you've probably heard by now, pitcher Jeff Samardzija was traded from the Cubs to the A's over the weekend and made his Oakland debut yesterday.
That trade has created a bizarre situation regarding the upcoming MLB All-Star Game. Samardzija was voted onto the National League pitching staff by the players and is technically part of the N.L. roster. But MLB decreed last night that he will not be eligible to pitch for the N.L. squad because he now plays for the A's, who are in the American League. He can't pitch for the A.L. team either, because he wasn't selected to be on that roster. It's like the baseball equivalent of statelessness: Instead of being a man without a country, Samardzija is a man without a league.
None of which would necessarily concern us from a Uni Watch perspective, except for this: According to this AP article, Samardzija "will be introduced with the N.L. players before the All-Star game; still to be decided is whether he wears a Cubs or A's uniform "" or a generic N.L. jersey." Faaaaaascinating.
My hunch is that Samardzija will wear a National League BP jersey, but whatever — the way this issue eventually gets resolved is less interesting than the issue coming up in the first place.
I'm aware of only one other situation similar to this one: On June 24, 2004, Carlos Beltran was traded from the Royals to the Astros. He was having a great year and ended up winning the fan vote as one of the American League's three starting outfielders, even though he had already been traded to the National League. MLB initially treated him the same way they're now treating Samardzija, ruling Beltran ineligible for the game. But then Junior Griffey, who'd been voted onto the N.L. squad, went down with an injury and Beltran was named as his replacement on the N.L. roster. He appeared in the game wearing an Astros uni. (I suppose the same thing could end up happening to Samardzija if one of the American League pitchers comes down with an injury this week.)
There have also been some interesting uni-related situations regarding All-Stars who've changed teams but not leagues. In 1998, Reds reliever Jeff Shaw was named to the N.L. roster but was then traded to the Dodgers on the Saturday before the All-Star break. He wasn't able to join the Dodgers in time for their game the next day (the final game before the All-Star break), so he went straight to Colorado for the ASG, where his Dodgers uniform was waiting for him. His first appearance in a Dodgers uni was at the ASG. (I feel like there was recently another case similar to Shaw's — i.e., involving a player who was named as an All-Star but then was traded within his league prior to the game — but I can't recall who it was. Anyone..?)
Also: In 1973, the A's won the American League pennant (and, ultimately, the World Series), so their manager, Dick Williams, got to skipper the A.L. All-Star team in '74. The thing is, Williams had switched teams over the winter, leaving the A's and signing on to manage the Angels. So he managed the All-Star team in an Angels uni, even though he had earned the right to do so while wearing an A's uni.
The same thing happened nearly three decades later, when Dusty Baker managed the Giants to 2002 N.L. title and then left over the winter to manage the Cubs. So he managed the 2003 N.L. All-Star team while wearing a Cubs uni, even though he had earned the right to do so while wearing a Giants uni.
+ + + + +
What flag is this?: Yesterday the New Girl and I went on a walking tour of architectural oddities caused by property owners who refused to sell to developers. The tour concluded near Rockefeller Plaza, so we went there to rest for a few minutes while we decided what to do with the rest of our day.
Rockefeller Plaza is ringed with flags — sometimes the flags of U.N. countries, sometimes U.S. state flags, sometimes American flags. Yesterday it was U.S. state flags, arranged alphabetically by state. I love state flags, so I was enjoying the display, but then I noticed a rogue flag design in between Alaska and Arizona:
That's not a state flag — I had no idea what it was. So I posted the photo on Facebook, where I learned that it's the flag of American Samoa. Interesting! I really like the design, although I'm surprised that they included it in gallery of state flags. Anyway, one of those "Ya learn something new every day" moments.
Incidentally, during that walking tour we passed by Wollensky's Grill — the adjunct eatery to the better-known Smith & Wollensky steakhouse — and our tour guide pointed out that the first "S" in the sign is upside-down. I then pointed that the "N" is upside-down as well! Take a look (click to enlarge):
+ + + + +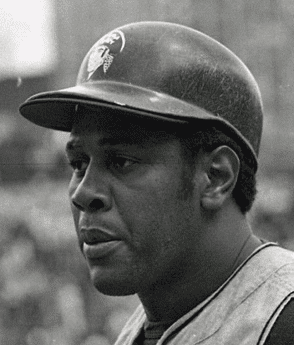 Catching up: In case you missed it yesterday, we have a stumper of a photo on our hands, showing Willie Stargell wearing a batting helmet with the Pirates' "smiling pirate" logo. Details here.
And in case you missed it last Thursday afternoon, right before the holiday weekend started, my latest ESPN column is about the assorted uni news items I missed out on while I was away on vacation.
+ + + + +

Baseball News: More G.I. Joe nonsense, this time from the Rockies, who revived their Memorial Day costume yesterday. Good thing that design was just for one very special day, right? … In a related item, the Reds played dress-up soldier on Saturday, and the Mets will be doing likewise tonight. You can see the Mets' costume was already hanging in Zack Wheeler's locker after yesterday's Rangers/Mets game. … Very unusual double-Northwestern-striped stirrups being worn by the Toros de Tejuana of the Mexican league (from Michael Ortman). … Japanese teams SoftBank and Rakuten both wore red jerseys and white pants while playing each other on Friday (from Jayson Young). … The Columbus Clippers did the stars/stripes thing on Friday (from Sam Hill). … James Poisso was at a Trader Joe's in St. Louis and was surprised to see a hand-drawn sign featuring Mr. Redlegs. … Dayan Viciedo of the White Sox had some trouble with his batting helmet decal yesterday (screen shot by Aaron McHargue). … The Thunder Bay Border Cats wore Canada hockey-themed jerseys on June 30. They had worn Canada Cup-inspired jerseys for Canada Day last year (from Will Scheibler). "¦ Great screen shots showing how Edwin Encarnacion of the Blue Jays lost his Lou Gehrig patch on Friday. … The Brooklyn Cyclones held their "Seinfeld Night" promotion on Saturday. Here's a slideshow (from Joanna Zwiep). "¦ The A's have had three different players wearing No. 29 this season. "¦ Good article on boutique bat manufacturers. "¦ For those who were wondering about the sleeve patch on the Mets' recent Negro League throwbacks, it was apparently a fan concept (from Brendan Burke).

NFL News: Most bizarre uni sighting in recent memory: If you check out the video embedded in this story about Palestinian protestors clashing with police in East Jerusalem, at about the one-minute mark you'll see that one of the rock-throwing protestors is wearing a Marshawn Lynch Bills jersey (great spot by Mark Kluczynski).

Soccer News: Southampton is bringing back the stripes (from Kevin Kelsey). … New third kit for Celtic (thanks, Phil). … Man U is teasing its new kit with this video (from Yusuke Toyoda).

Grab Bag: This isn't exactly news, but here's a good article on paper tickets being supplanted by e-tickets (from Jerry Wolper). "¦ Good article about the dress that Billie Jean King wore during her Wimbledon run in 1972. … Mike Delia recently visited the Basketball Hall of Fame and took a bunch of great photos.
+ + + + +

What Paul did last night a few nights ago: By any measure, journalist Nat Hentoff, who's now 89 years old and still working, has had a very interesting life. Among other things, he's one of history's best and most important writers on the subject of jazz and one of history's best and most important writers on the subject of civil liberties and Constitutional law. A white atheist Jew who has counted lots of controversial black artists and activists among his best friends, Hentoff is a complicated cat. Seriously, how many journalists got to interview Bob Dylan and Malcolm X in the early 1960s?
Most people familiar with Hentoff's work (myself included) have some serious issues with him on one front or another. But I think almost everyone respects his steadfast devotion to his two primary loves — jazz and the Constitution — and you can see that respect playing out in The Pleasures of Being Out of Step, a new documentary about Hentoff, which I saw on Thursday night. In addition to lots of chatter by and about Hentoff, the movie includes some seminal 1950s and '60s jazz footage, some hilarious snippets of Lenny Bruce and William F. Buckley hosting talk shows, and other archival treats. It's really, really good.
Granted, this movie is pretty much tailor-made for me, because so much of it touches upon my family's interests and values. There's the jazz thing (that's my brothers), the counter-culture thing (ditto), the black radicalism thing (that's my oldest brother), the ACLU/Constitution thing (that's my parents and me), the atheist Jew thing (that's all of us), and of course the journalism/media thing (that's me). As I watched the movie, I kept thinking over and over again, "This is where I come from!"
Then again, the New Girl's family and upbringing were completely unlike mine and she liked the movie almost as much as I did, so there you go. The movie has now finished its New York run, but it's currently screening in L.A., with Seattle and Portland to follow later this month. Further info here.