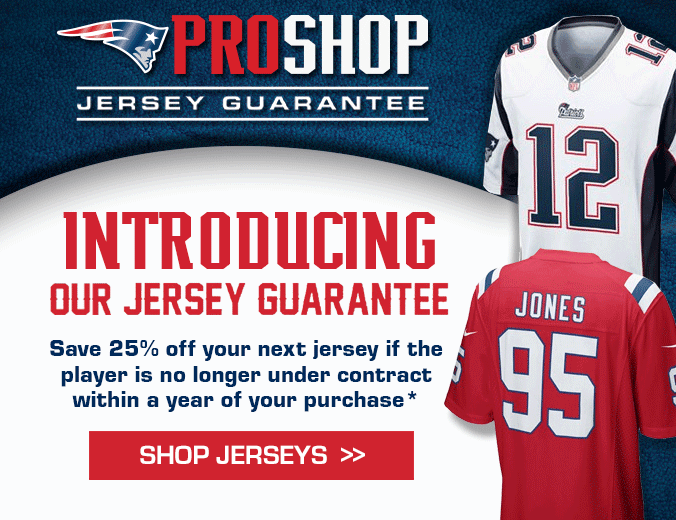 Do you get bummed out when the player whose name is on the back of your $200 $250 $295 polyester shirt is traded, or retires, or ends up in prison? If so, then the Patriots have a deal for you, as you can see above (further details here).
Now, granted, I've never had the slightest interest in buying or wearing $295 polyester shirts, so this is admittedly an area in which I totally Don't Get Itâ"¢. Still, here are a few thoughts:
After Aaron Hernandez ended up in the clink, the Patriots offered a jersey exchange to fans who'd bought his jersey. That makes sense — Hernandez was an accused murderer.
But if a player is traded, or he's released, or he retires, why does that suddenly make his jersey worthless? When I attend Mets games, I still see some fans wearing Jose Reyes jerseys, and why not? He was an exciting player and we rooted for him for years. The fact that he now plays for another team doesn't change that. If his jersey was good enough to wear then, why isn't it good enough to wear now? Hell, when I see someone wearing Reyes's jersey (or the jersey of any now-departed player), one of the messages it sends, at least to me, is, "I didn't become a fan just five minutes ago." It's almost like a throwback thing — acknowledging and celebrating the team's history.
But many (most?) fans apparently feel differently. I had a little email back-and-forth yesterday with longtime Uni Watch reader Nik Streng, who said he likes what the Pats are doing because "getting the jersey of a player who then departs is one of my greatest fears." Here's some more of what he had to say:
As a Chiefs fan, I am hesitant to get many jerseys because of how fluid the roster is. If I had bought a Jon Baldwin jersey (KC's first-round pick in 2011), that would have been a bad choice because he did squat for us and is gone now. If I had gotten a Brady Quinn jersey, I would be upset because he did squat for us and is gone now. …

Maybe this stems from 2007, when I almost bought a Jared Allen jersey but then we traded him seconds after he led the NFL in sacks. I think it matters if you have a jersey and the name on the back of that jersey is a player who is important/represented the team on the field. …

But many fans buy jerseys for players who've barely played for their team. When Peyton Manning was signed to the Broncos, you know lots of Broncos fans bought Manning jerseys. If he stunk up the place — which could have happened, what with his surgery and all — there would be a lot of Peyton Manning jerseys at Goodwill right now.
But here's the kicker: Nik says his favorite current Chief is Tamba Hali, and he has a Hali jersey. So would he keep wearing it if Hali were traded? "I would be deeply saddened because he is a fabulous talent, but I would hope he finds success on any team and I would absolutely still wear that jersey," he replied. So on the one hand, Nik wants to wear the jersey of a player who's in good standing on the team, but he's willing to make an exception in at least one instance.
This isn't so surprising. The psychology of rooting for a team or player has never been particularly rational, so it's probably pointless to expect rational consistency from fans regarding their jersey choices.
About the only thing we can state with absolute certainty here is that the teams just want to sell more merch. It'll be interesting to see if the Pats achieve that with their discount offer, and if other teams follow. Meanwhile, I'll stick to vintage jerseys.
+ + + + +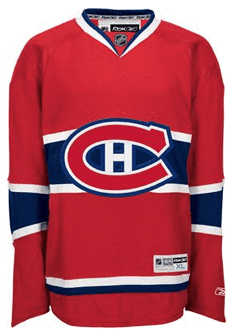 And speaking of jersey sales…: When it comes to jersey retailing, it's not just that I Don't Get Itâ"¢ — I'm opposed to it. For one thing, it helps drive bad design. For another, I don't like the way being a fan is now conflated with being a consumer. And last but not least, jersey retailing makes people behave like morons.
The latest example of that last phenomenon comes out of Quebec, where an elementary school was going to hold a "Wear Your Canadiens Jersey to School Day" but then canceled it because an 11-year-old girl had worn a Bruins jersey the last time they did it.
The school had told the girl to remove the Bruins jersey when she wore it the previous time. This time around, rather than (a) risk having another confrontation with the same girl or (b) just letting the kid wear her favorite team's jersey already, even if it isn't for the home team, they decided to (c) scrap the whole thing. What a wonderful lesson to teach kids about diversity of opinion!
Have I mentioned that jersey retailing makes people behave like morons? Get rid of it and leave the uniforms for the athletes.
(My thanks to Phil for bringing this one to my attention.)
+ + + + +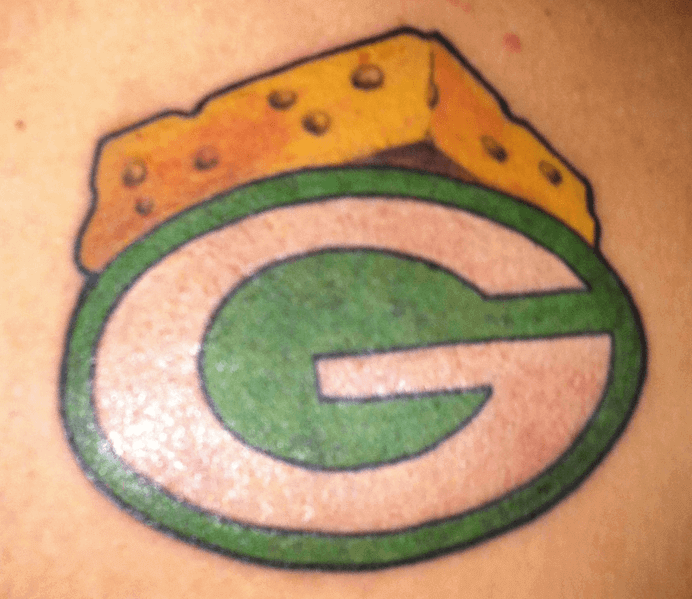 The blog/ESPN dynamic: Obviously, my ESPN columns reach a larger audience than this blog does. Most of the email I receive, however, is from blog readers, not ESPN readers. I've always chalked that up to the blog readership being more engaged, more devoted, more uni-obsessed.
But my recent ESPN column on Uni Watch readers with team logo tattoos has turned the tables. When I first put out the call for logo tattoo photos here on the blog, about three dozen of you responded. But when the ESPN piece ran, well over 100 ESPN readers sent in photos of their tattoos within the first 24 hours after the piece ran. I haven't received that much email from an ESPN column since I wrote this piece about Native American imagery.
A few other patterns emerged:
• For the most part, the ESPN readers' logo tattoos were more elaborate than the blog readers'. Small example: the Packers tat shown above, which adds a cheesehead to the "G" logo, although many of the ESPN readers' tats were far more elaborate than that. In general, the blog readers just had the logo, while the ESPN readers added lots of extra details and adornments.
• A surprising number of the ESPN readers didn't bother to include their names when sending in their tat photos. (When I wrote back and asked for their names, they all responded quickly, no problem.) None of the blog readers did this.
• The ESPN readers' photos were, for the most part, poorer than the blog readers' photos — blurry images, glare from the flash, shadows, etc. (Most of them quickly sent better photos when I asked them to.)
• All of the blog readers who sent in photos were men. The ESPN contributors included one woman.
Make of this what you will.
+ + + + +

'Skins Watch: Here's a good NPR report on that high school newspaper that wanted to boycott the term "Redskins" and was then overruled by the local school board (from Daniel Ferrarello). … Would even the most ardent defender of Chief Wahoo stick up for this late 1940s bobblehead? That's Bob Feller, clutching what I suspect was a newly signed contract (from Bruce Menard).

Baseball News: The Yankees will retire Joe Torre's No. 6 on Aug. 23. … The Richmond Flying Squirrels have surprisingly strong merch sales (from Tommy Turner). … UCF will be wearing Citronaut fauxbacks on Saturday. "The Citronaut was an unofficial mascot that appeared on the 1968-69 student handbook at Florida Technological University (which became UCF in 1978)," explains Eric DeSalvo. Here's a close-up of the cap, which is pretty nifty. Additional info here. … Why are the batter, catcher, umpire, and fans wearing surgical masks? Because that photo was taken during the 1918 Spanish flu pandemic. For further details, scroll down to No. 8 on this list (from Jay Palmer). … Here's a major discovery: In 2004, the Mets memorialized deceased broadcaster Bob Murphy with some very simple lettering. But it turns out they had considered using a patch with Murphy's surname and a microphone. Further details here. … Negro Leagues throwbacks on tap tomorrow night for the Chattanooga Lookouts and Huntsville Stars (thanks, Phil). "¦ Rays coach Don Zimmer is still hooked up to a hospital ventilator after undergoing heart surgery three weeks ago, so the Rays have his jersey hanging in the dugout (Phil again). "¦ Manchester Orchestra, an indie band from Atlanta, sells Braves-themed T-shirts (from Tim Tribou).

NFL News: The Bills have added a memorial patch for Ralph Wilson. … Since last night was the NFL draft, one of the supreme laws of the universe states that someone had to do a story on how the draft picks' jerseys get lettered up in time for their appearances onstage (thanks, Phil). "¦ Also from Phil: After the Browns chose Johnny Football last night, they sent out a tweet congratulating him for being "the 22th" pick. "¦ Speaking of Johnny Football, nothing livens up a draft party like Manziel cookies. "¦ What do you get when you combine the NFL draft with puppies? This.
Soccer News: New home jersey for Bayer Leverkusen (thanks, Phil). … Also from Phil: The leak of Bayern Munich's new kit is now confirmed. … The rest of these items are from Yusuke Toyoda: Here's a slideshow of how the Panini World Cup stickers are made. … Meanwhile, a schoolteacher in Colombia confiscated Panini stickers from his students to help complete his sticker albums. … Azerbaijan's sponsorship of Atletico Madrid jerseys has worked out well for the country, with the club on the cusp of winning a league title. But maybe being sponsored by a country with a sketchy human rights record isn't so good for the club. That's one of several embarrassing jersey sponsorships chronicled here.

Grab Bag: A reader recently pointed me toward a company called Oxford Pennant, which sells old-style pennants devoted to specific cities. I got in touch with the owner and had him send me a sample, and I'm happy to report that the product is really nice — soft felt, crisp graphics. Recommended. … We've seen lots of those "How to Wear Your Uniform" posters from various team locker rooms over the years, but here's one from the WNBA. Haven't seen one of those before (big thanks to Scott Cummings). … Here's a slideshow on what NPR radio hosts and staffers wear to work. … One of the NYC subway lines is getting a Seinfeldian makeover (thanks, Garrett). "¦ "A small-time roller hockey goalie in Florida has his own take on 'Pink in the Rink' by putting Pinkie Pie on his mask," says Rob Siergiej. "¦ Intern Mike Chamernik spotted this NASCAR-branded car wash in suburban Chicago last night. "It's a chain, but it's only located in the Chicago area, which is odd — it's not exactly like it's a NASCAR hotbed over here."