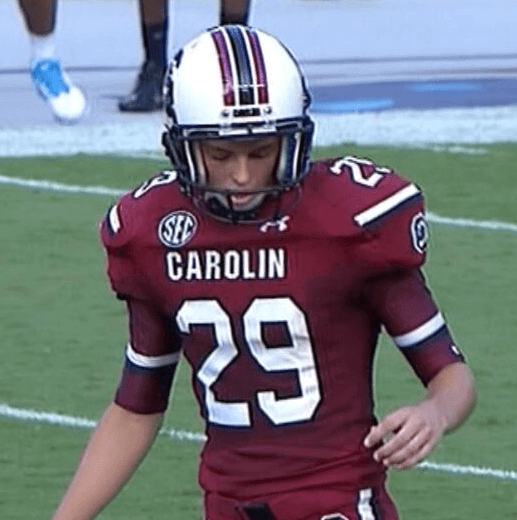 South Carolina kicker Elliott Fry probably takes a lot of abuse from his teammates. He's a freshman walk-on, he looks really young, and he's 6'0″, 150 pounds, which means he's basically a twig. Given his name, you just know they call him Small Fry.
So you have to wonder if the jersey typo he was sporting last night was an innocent mistake or some sort of prank. Either way, let's thank the college football gods for starting the season with such a notable uni snafu — a fine way to kick things off! (Granted, leaving a letter off the end of a word is the most benign form of jersey misspelling, but we'll still take it.)
Want to see more jersey typos? Sure you do.
+ + + + +

Baseball News: Check out the ump behind the mound — wearing a bowler hat! — in this amazing shot of a 1911 Georgetown baseball game (from Robert Ruszczyk). … "While leaving a Marlins game a week ago, I found this 'garden' tucked away behind the stadium," says Kevin Kleinhans. "It appears this is where they grow turf to replace divots in the field, as there were different-sized squares/rectangles cut out of it. They're also growing potted plants to replace the ones in the batter's eye." "¦ Also from Kevin: "I've noticed a lot of the Rays' ushers have started wearing striped stirrups whenever Chris Archer pitches." "¦ "A group of Canadian aboriginal artists, called A Tribe Called Red, has created an excellent Native Peoples reimagining of the Blue Jays logo," says Laurence Holland. "It's interesting that they've done an Eastern team in the Hyda aesthetic of the Pacific Northwest, but still super-cool." … Fantagraphics has just published a retrospective focusing on the great baseball cartoonist Willard Mullin. They were nice enough to send me a review copy, and it's superb. I'll be devoting a full entry to it soon.

NFL News: "WBZ-FM/Boston, 98.5, had a raucous discussion Thursday morning about football uniforms and losing cultures," says Tom Mulgrew. "Most of the discussion was devoted to Pat Patriot and Bucco Bruce. It also featured a discussion of the five NFL teams who have had human faces on helmets. 'Somebody from ESPN' was mentioned as having recently posted a ranking of the uniforms in the four major sports. When the audio for hours one and two for Aug. 29 posts on this page, you'll enjoy listening to the last four minutes or so of hour one and to the first segment of hour two." … The upcoming season of The Amazing Race features former Texans teammates Chester Pitts and Ephraim Salaam, and CBS has released a photo of them wearing Reebok-branded Texans-esque jerseys, but without any NFL or Texans logos (from Josh Claywell). … Niners coach Jim Harbaugh was wearing a sleeve patch from last season's Super Bowl during last night's preseason game. Odd that he'd wear a logo from a game that he lost (from Ron Amadeo). "¦ NBC had some trouble ID-ing several 'Skins players last night (from Tommy Turner). "¦ The Chargers plan to open the season wearing white over white (thanks, Phil).

College Football News: New white helmet for Cincinnati. … LSU coaches will wear this patch for Saturday's game against TCU. "¦ Gizmodo, of all places, has put together a ranking of the worst college football uniforms (from Kevin Dorsey). "¦ Judging by a tweet from Notre Dame running backs coach Tony Alford, the Irish may be wearing green jerseys tomorrow. "¦ Virginia Tech has added a "22" decal for injured RB Tony Gregory, which frankly seems like a bit much. That photo also shows the school's War Memorial decal, which I had mentioned but not shown — because no photos were yet available — in this week's ESPN column (from Andrew Cosentino). … Also from Andrew: Lots of discussion of VaTech uniforms in this live chat transcript. "¦ Cal has added a Chuck Muncie memorial decal and a raised nose bumper logo. "¦ Aram Sarkisian was reading the new book Fourth and Long and passed along this passage about Michigan's surprise alternate uniforms for the 2011 Michigan State game: "[Michigan players] were all wise enough to leave out one reason they did not come out ready [for the game]: when they returned to the locker room after [pregame] warm-ups, they were surprised to find the athletic department had put gaudy uniforms in their stalls, which required them to change in the ten minutes they usually spent going over their assignments and getting mentally ready. Changing uniforms is a more cumbersome process than you might think, since simply getting a jersey on or off requires the help of the guy next to you to get your shoulder pads off, too. The linemen usually have their knee braces taped, and those have to come off, too — which resulted in equipment managers frantically slicing the original pants just to get them off fast enough." Aram adds, "There's also a lot of great material in the book from Penn State's longtime equipment manager, Spider Caldwell, as well as a fascinating section on how the conference came up with the new B1G logo after it added Nebraska." "¦ Montana will have new helmets and uniforms for Saturday's maroon-out opener against Appalachian State (from Brett Clark). "¦ Nebraska is going with captaincy patches (from Matt Hilgenkamp). … This is weird: Rutgers is wearing the American Athletic Conference logo patch on the sleeve instead of on the chest. Is there any other FBS team that does this? (From Steve Wojtowicz.) "¦ A Utah State player suffered a serious jersey tear last night (from Jared Buccola). "¦ Also from Jared: Fresno State QBs Miles Carr and Derek Carr have the same last name but don't have FIOB. "¦ Tulane wore black uniforms last night. More pics here. … USC has gone back to wearing white socks and black shoes with white laces, which is as it should be. … Here's how the green dots looked on Vanderbilt's helmets last night.

Soccer News: Pretty awesome throwback kit for Parma FC (from Yusuke Toyoda). … Also from Yusuke: "Celtic of Scotland just beat Shakhtar Karangady of Kazakhstan in a home-and-away playoff. At home, Celtic wore Magners Irish Cider, their usual jersey sponsor, but in the first leg in Kazakhstan, where alcohol advertising is banned, they were sponsored by Tipperary Natural Mineral Water, owned by the same company as Magners. Normally, spirits-sponsored teams go logo-free in countries where alcohol ads are banned."

Everything Else: Has anyone else noticed that the MPAA film ratings have a new design? I first spotted this a month or two ago but kept forgetting to mention it on the site until now. … An L.A. clothing boutique dressed some models in football jerseys with the following NOBs: "Xanax," "Adderall," and "Vicodin." That has prompted a lawsuit threat from the pharmaceutical companies (thanks, Phil). … New logo for Loyola New Orleans. They also posted a logo timeline with six apostrophe catastrophes. Idiots (from Paolo Profumo). … Good article about the package deisgn of KIND bars (from Matthew Busch). … Reprinted from yesterday's comments: New logo for the state of Colorado. … Oregon's branding has now extended into the realm of prostheses (thanks, Phil). "¦ Check out this photo of NASCAR driver Bobby Labonte. "At first I thought that the white patch was a Photoshop job, but further research turned up this shot," says David Firestone. "It looks like the sponsor patch was removed from his suit." … Here's a great shot of longtime Uni Watch contributor Ryan Connelly wearing one of his DIY jerseys on the ice. Lookin' good, RyCo!