When Russia invaded Ukraine in February of last year, it sent shock waves throughout the uni-verse for months, with teams across the world wearing Ukrainian colors, Ukrainian flags, and so on. It remains to be seen whether last weekend's attack by Hamas on Israel will lead to a similarly broad uni-driven display of solidarity, but there was at least an initial ripple yesterday, as Astros third baseman Alex Bregman, who is Jewish, inscribed a Star of David on his cap for Game 3 of the ALDS. (The screen shot above shows him being interviewed in the dugout after he hit a home run to lead off the top of the 5th.)
As far as I can tell, the cap inscription was new for last night. Bregman doesn't appear to have worn it for Game 2, which was on Sunday.
Orioles pitcher Dean Kremer is not only Jewish but has dual Israeli/American citizenship and has pitched for Israel in the World Baseball Classic. He wore a Star of David necklace for last night's start in the other ALDS, but that's nothing new — he always wears it: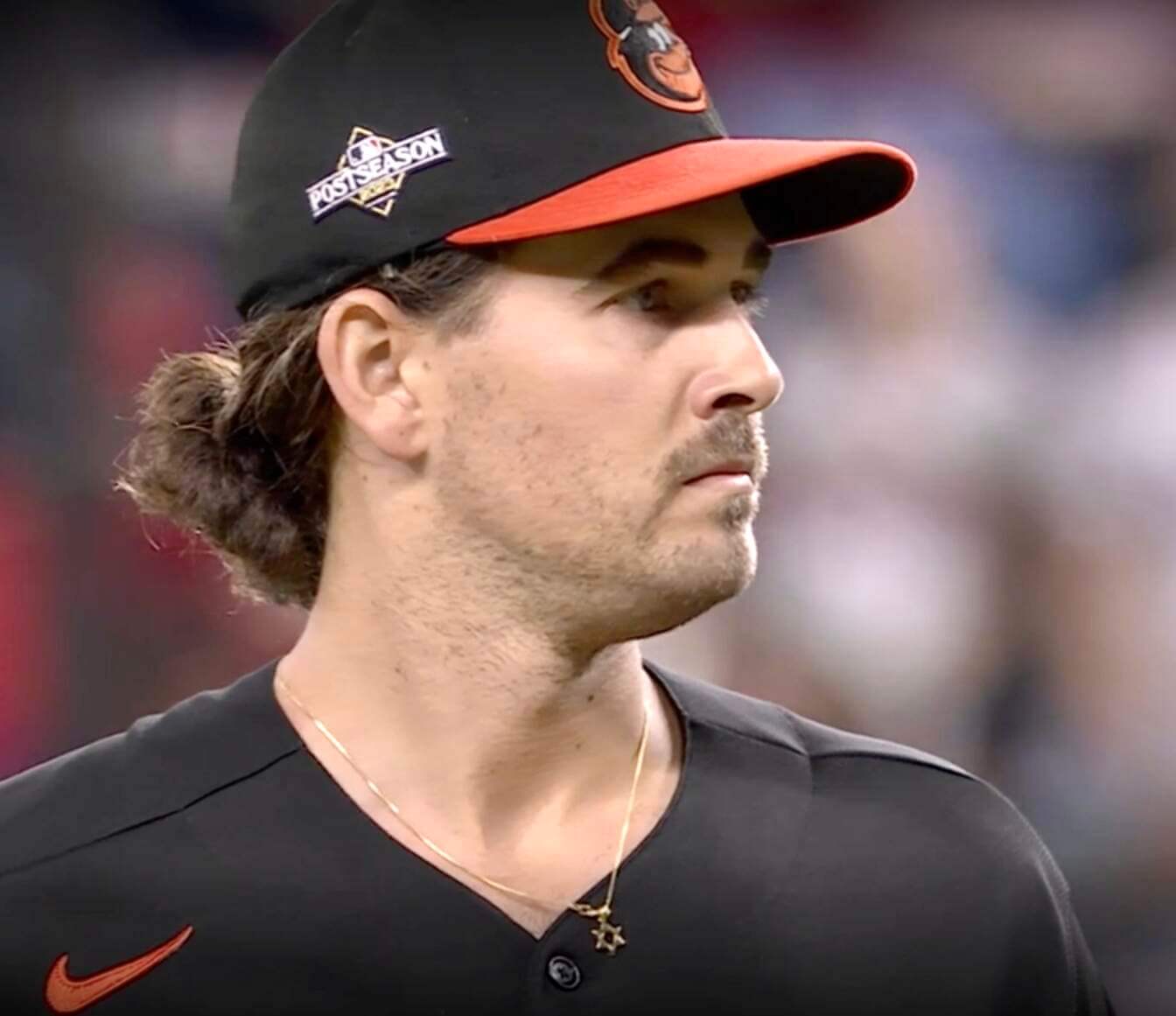 As far as I can tell, Kremer did not add a symbol to his cap, or to any other part of his uniform or equipment.
According to JewishBaseballNews.com ("News and Stats on Jews With Bats"), there are three other Jewish players on the active rosters of MLB teams that are still participating in the playoffs, all in the Atlanta/Philly series:
Atlanta pitcher Max Fried: He started Monday night's game. As far as I can tell, he did not have any Israel-supportive symbol on his uniform.
Atlanta outfielder Kevin Pillar: He entered Monday's game as a pinch-hitter in the 7th inning and remained in the game. As far as I can tell, he did not have any Israel-supportive symbol on his uniform.
Phillies backup catcher Garrett Stubbs: He has not yet appeared in the postseason.
Obviously, non-Jewish MLB players might also choose to express solidarity with Israel on their uniforms, but it seems like the Jewish players I just mentioned would likely be the ones taking the lead, so I'll be keeping an eye on them.
If you're wondering about other sports:
In the NBA, Washington Wizards small forward Deni Avdija is Israeli. The team opened its preseason schedule last night with a game against the Cairns Taipans of Australia's National Basketball League, but Avdija did not appear in the game.
Here's a list of Jewish players in the NFL. I'm wondering if they might add Israeli flag decals to their helmets this weekend.
I couldn't find a current list of Jewish NHL players, but here's one from a year ago. In light of the league's new policies that restrict cause-based expression, however, it seems likely that any uni-based commentary on the war would have to be sotto voce.
Soccer, because of its international nature, tends to take the lead in these types of uniform displays, so that's something to keep an eye on.
It sucks that I have to say this, but here goes: If you want to post a comment, please keep in mind that it's absolutely okay to voice an opinion on the topic of players modifying their uniforms to show support for a particular country in a war (that's what we're here for!), but it is not okay to start a debate about the war itself, or about the larger political climate surrounding it (that's not what we're here for), nor is it okay to insult other commenters. Thanks in advance for observing these guidelines!