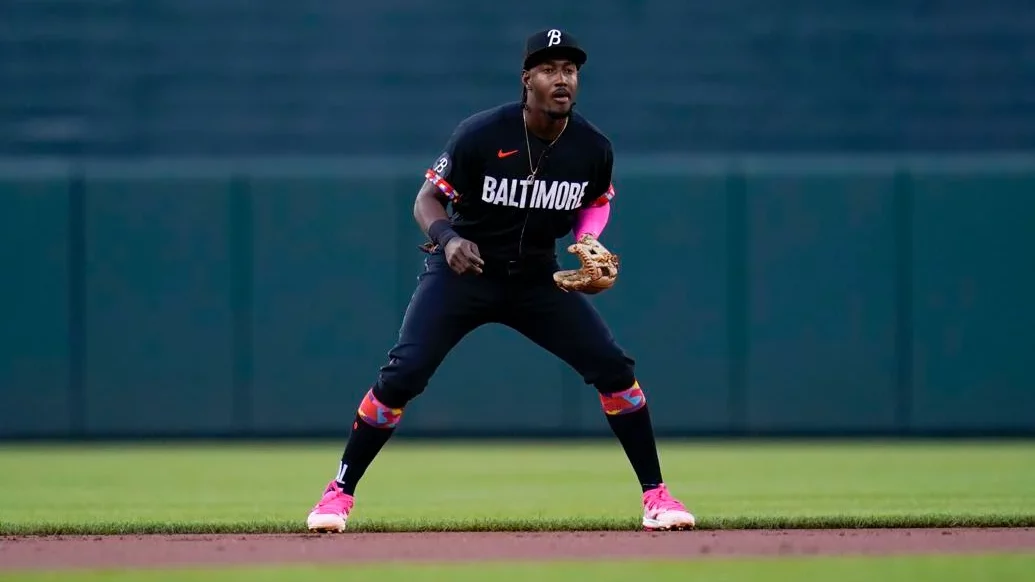 A good Saturday morning, Uni Watchers — I hope everyone has had a good week.
Last evening, the Baltimore Orioles' City Connect (CC) uniforms made their on-field debut. They unveiled these on Monday, and Paul had the coverage — all the uni deets are here. As an added bonus, longtime Uni Watch reader Andrew Cosentino traveled to the Orioles Team Store, to check out the scene and gauge the fan reaction (you can read that report here). As it turns out, Andrew and his cousin Mario attended last evening's game, and we'll hear from him with some in-stadium reporting a bit further down in this article. (In the photo below, Mario is on the left and Andrew is on the right.)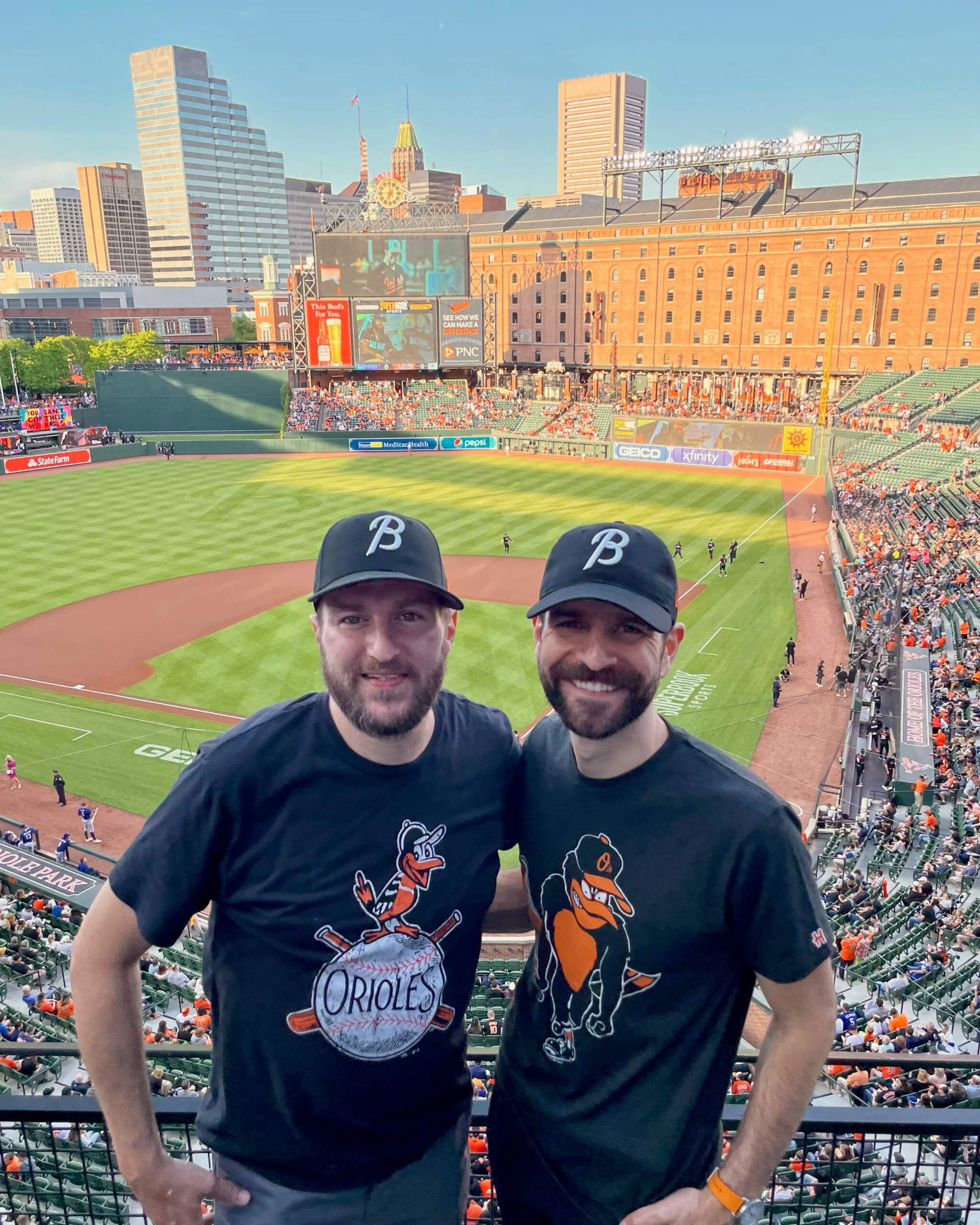 Now then.
As with all uniforms, and particularly CC uniforms, one must withhold final judgment on how a uniform looks until it's seen on the field. And of course, with many of the CC uniforms, Nike/MLB's tortured storytelling is necessary to make sense out of some uniform elements. But as was the case with CInCY, the storytelling wasn't really necessary to judge the unis on-field. And, like CInCy, the Orioles' CC unis looked almost exactly on the field as we would expect based on the unveiling.
As we saw at the unveiling, there wasn't much color in the unis: pretty much black and white with a dash of orange. Most of the color in the jersey was on the inside, and also at the top of the CC socks. In that photoshoot, some players opted to keep their sleeves down and top buttons buttoned, while others were unbuttoned and showed off rolled up sleeves, giving off hints of color. My biggest concern at the unveiling was how many players were going to lean into that rolled sleeve/unbuttoned shirt "blue collar" look, which it almost seemed these jerseys were designed for. Indeed, the team's pre-game tweet leaned into that trope.
Roll up your sleeves. Let's get to work. pic.twitter.com/SkmosM9m1J

— Baltimore Orioles (@Orioles) May 26, 2023
So — how did the players "get to work" last night? It was an interesting mix. Not everyone did the rolled sleeves thing, although many did, and there was an almost-equal mix of high-cuffers and pajama-style.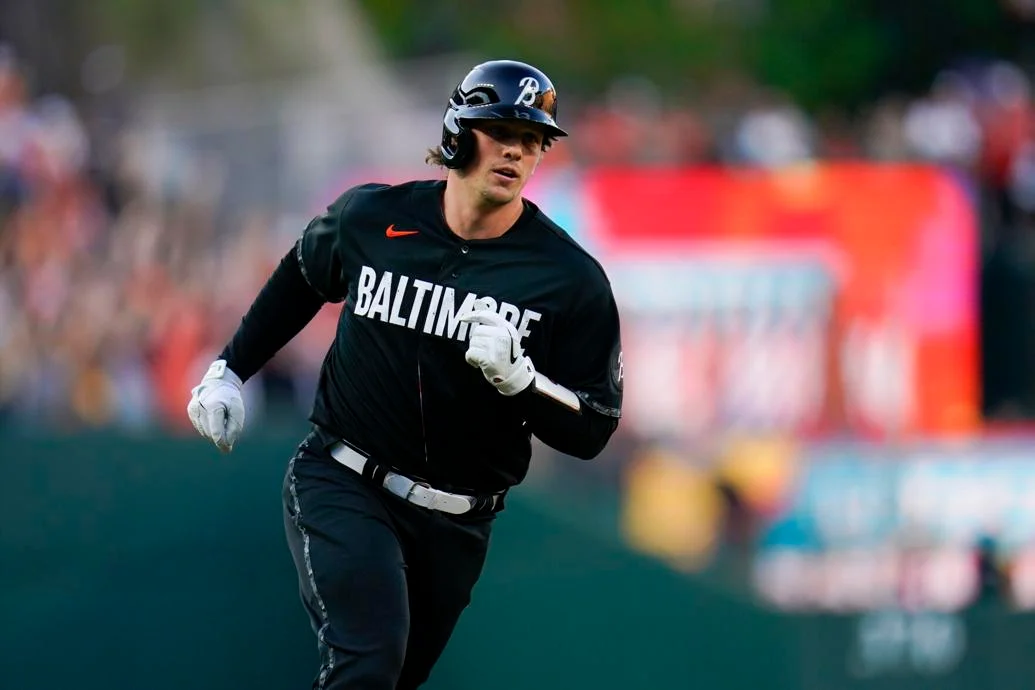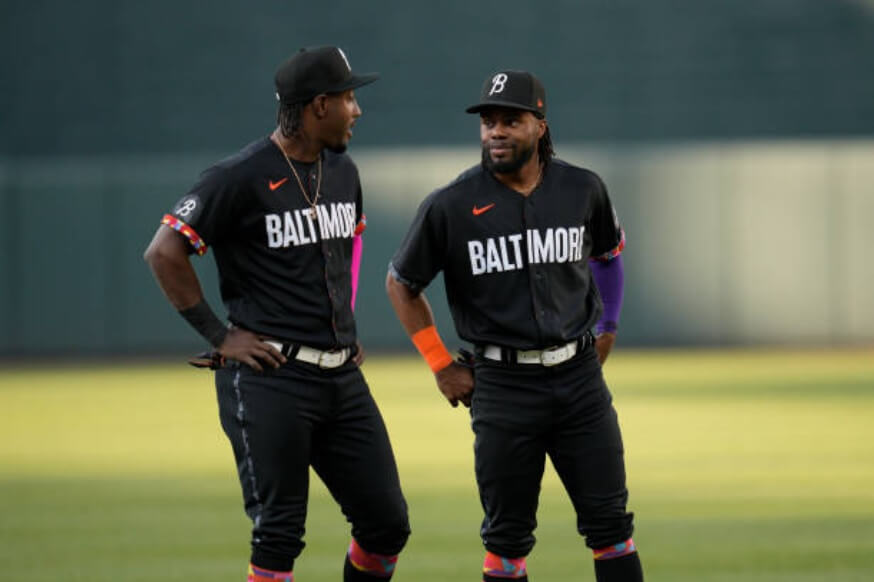 As you can see in that last photo, players who showed about as much "color" as possible also wore some pretty bright compression sleeves (I guess matching the many colors on the inside of the jersey). You'll also note that while Baltimore (so far) doesn't have an ad patch, the bespoke "B" logo appeared on different sides of the jersey — depending upon a player's handedness — indicating an ad probably isn't far off. Interestingly enough (and thankfully), I didn't see any players with top jersey buttons unbuttoned, even though that might have added an extra splash of color on an otherwise very black uniform.
As we saw at the unveiling, the word "BALTIMORE" (in a distressed font that was almost impossible to detect at any distance) was in large white letters on the front, with NOB in orange and white numbers. Predictably, those who chose to wear their pants uncuffed looked very plain.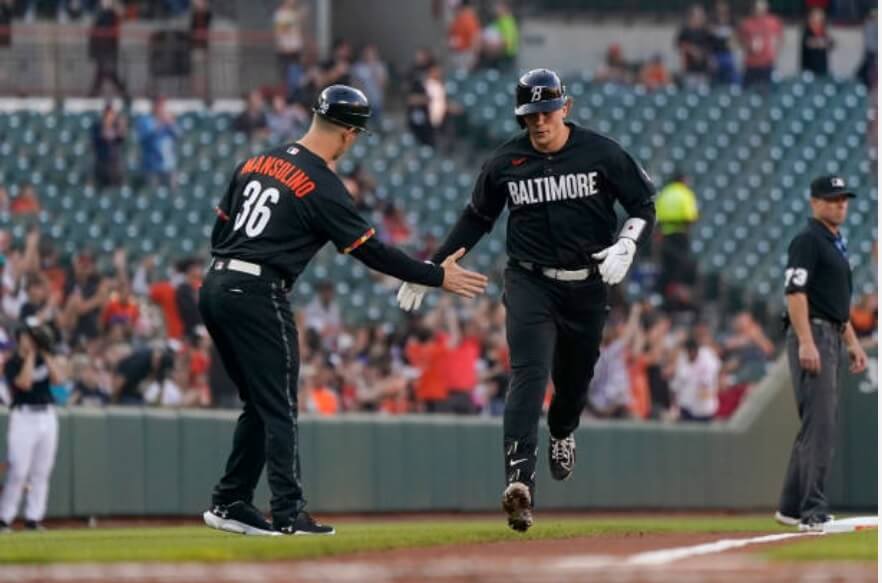 Although the uniforms didn't seem to get an overwhelmingly positive reaction from UW readers, one of the things most people liked (myself included), was the stylized "B" logo the team wore on the cap (although most of us probably wish it were rendered in orange). True to form, it did look really good.
That same "B" logo was also worn on the sleeve (which side depended on a player's handedness). CInCY did this with their CC unis as well, and while some don't like repeating the logos on the cap and sleeve, I don't mind it at all.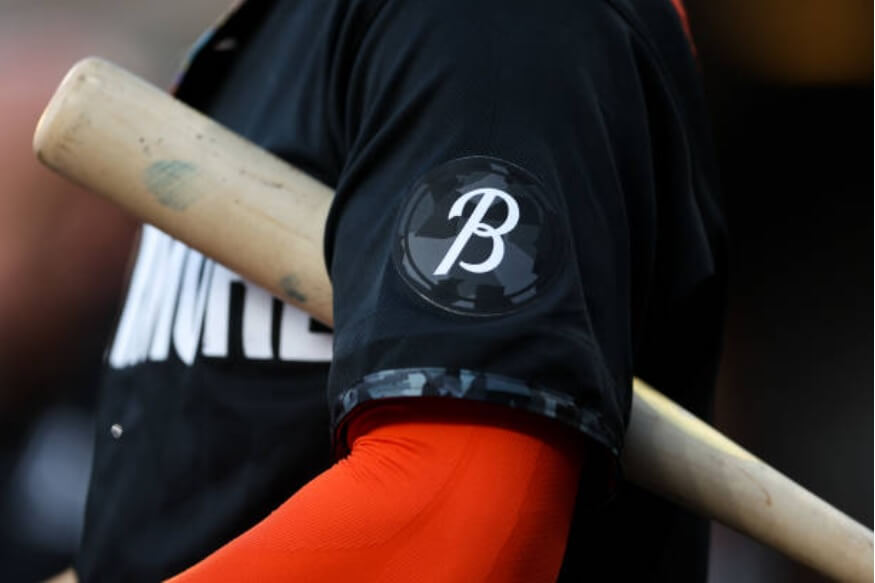 If you look at the above photo, you'll get a good look at the black/gray "camo-esque" striping on the (non-rolled) sleeve, which is also repeated on the patch. That same black/gray trim was also used as striping on the black pants.
Here's a closeup of the CC socks — normally I'd like the socks to be a contrasting color from the pants, but with that colorful design, I think they look better as a fat stripe around the shin/calf. It adds a nice, natural break between pants and socks. I was NOT a fan of the "BAL" in huge white letters down towards the ankle.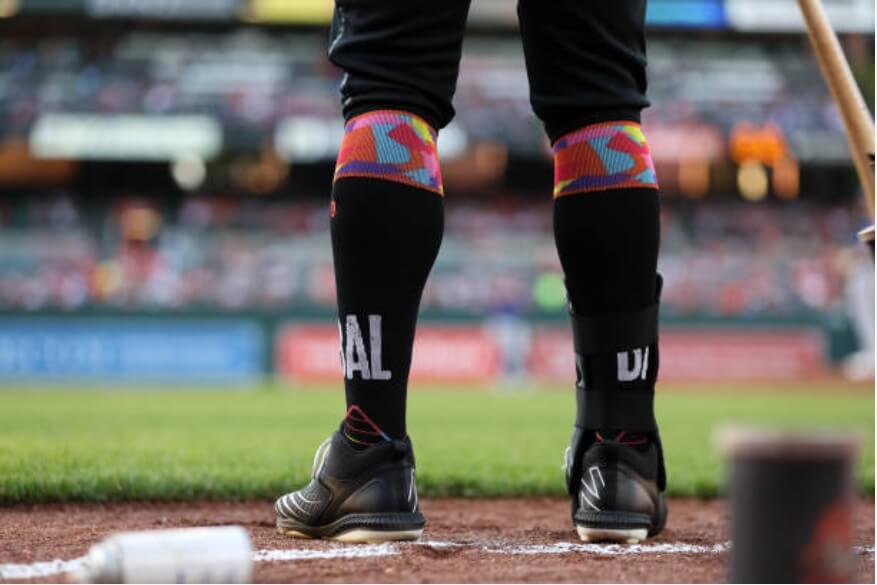 As always, OPACY looked gorgeous, and Andrew captured this beautiful shot of the field from his seats.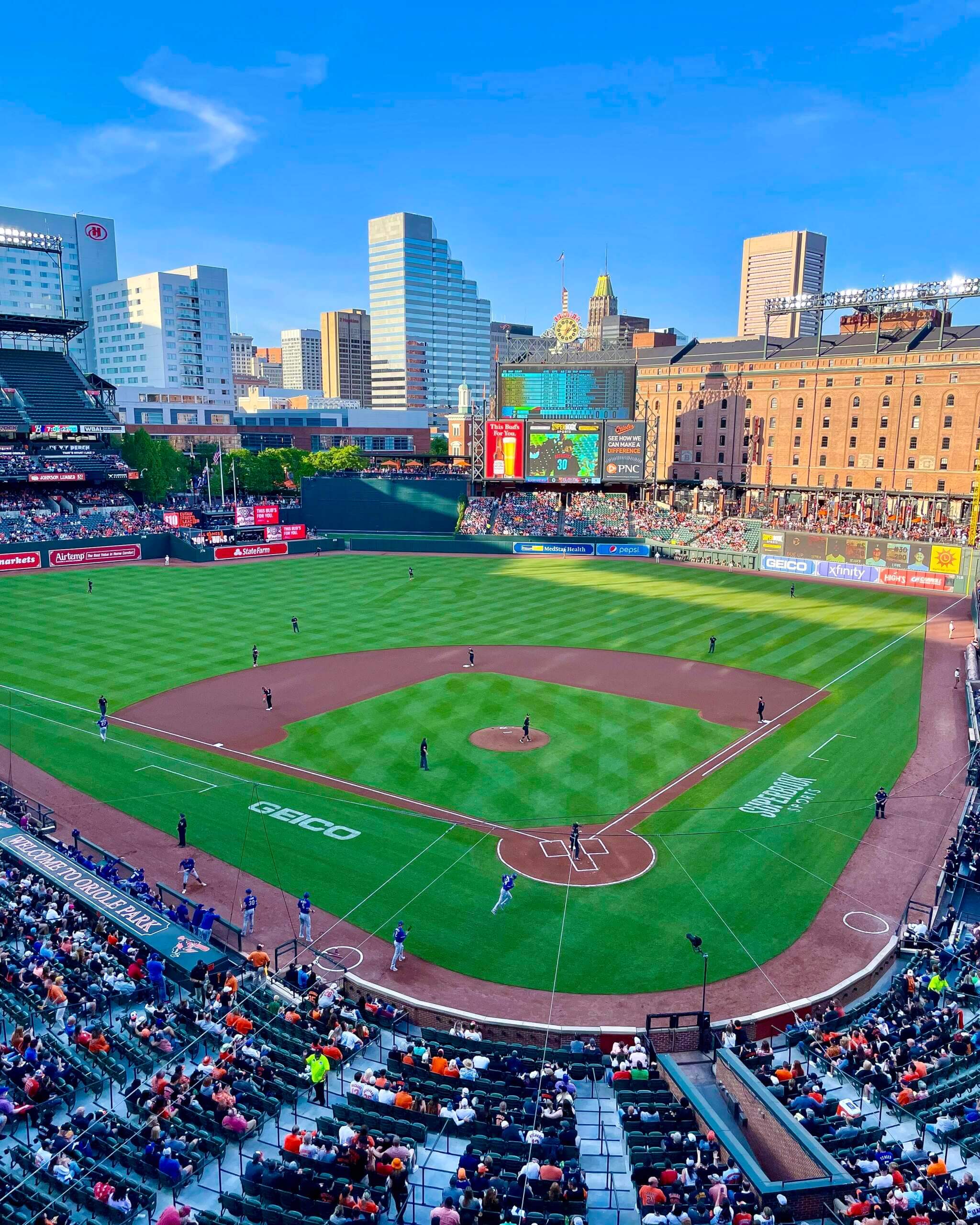 And as with all CC unis, the team created a special helmet mimicking the cap.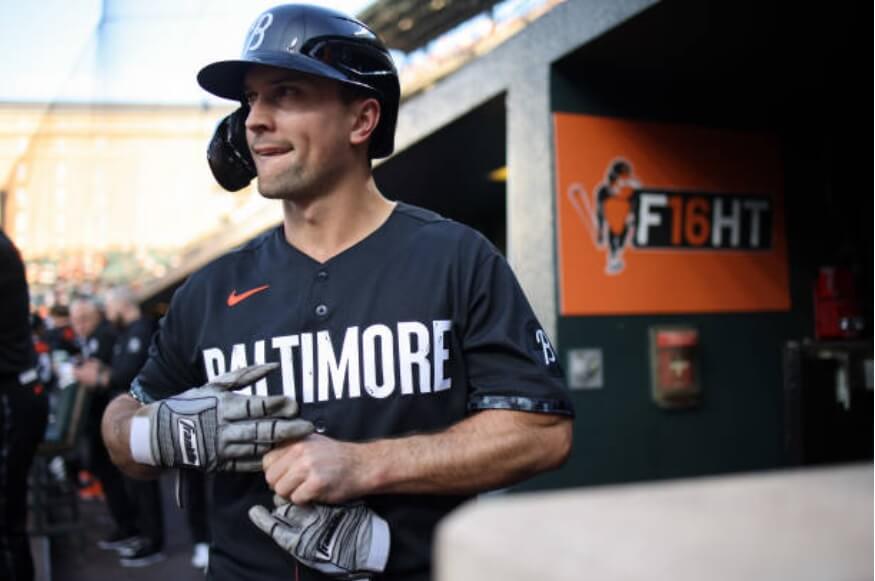 The groundskeepers did a nice job of mowing the new, customized "B" logo onto the field.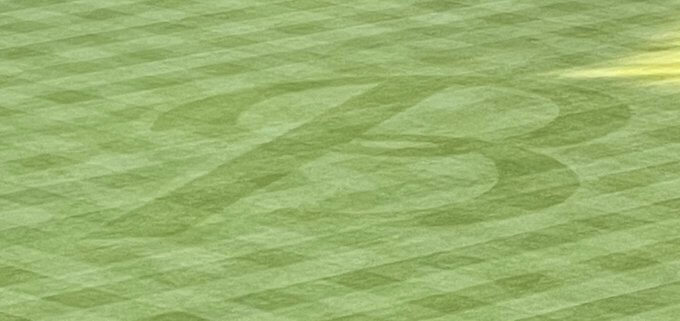 One of the issues with the CInCY CC's was the confusion they somewhat caused — due to their being mono-black — in differentiating between the players and umpires from any distance. That was certainly true here, in a shot captured by Andrew.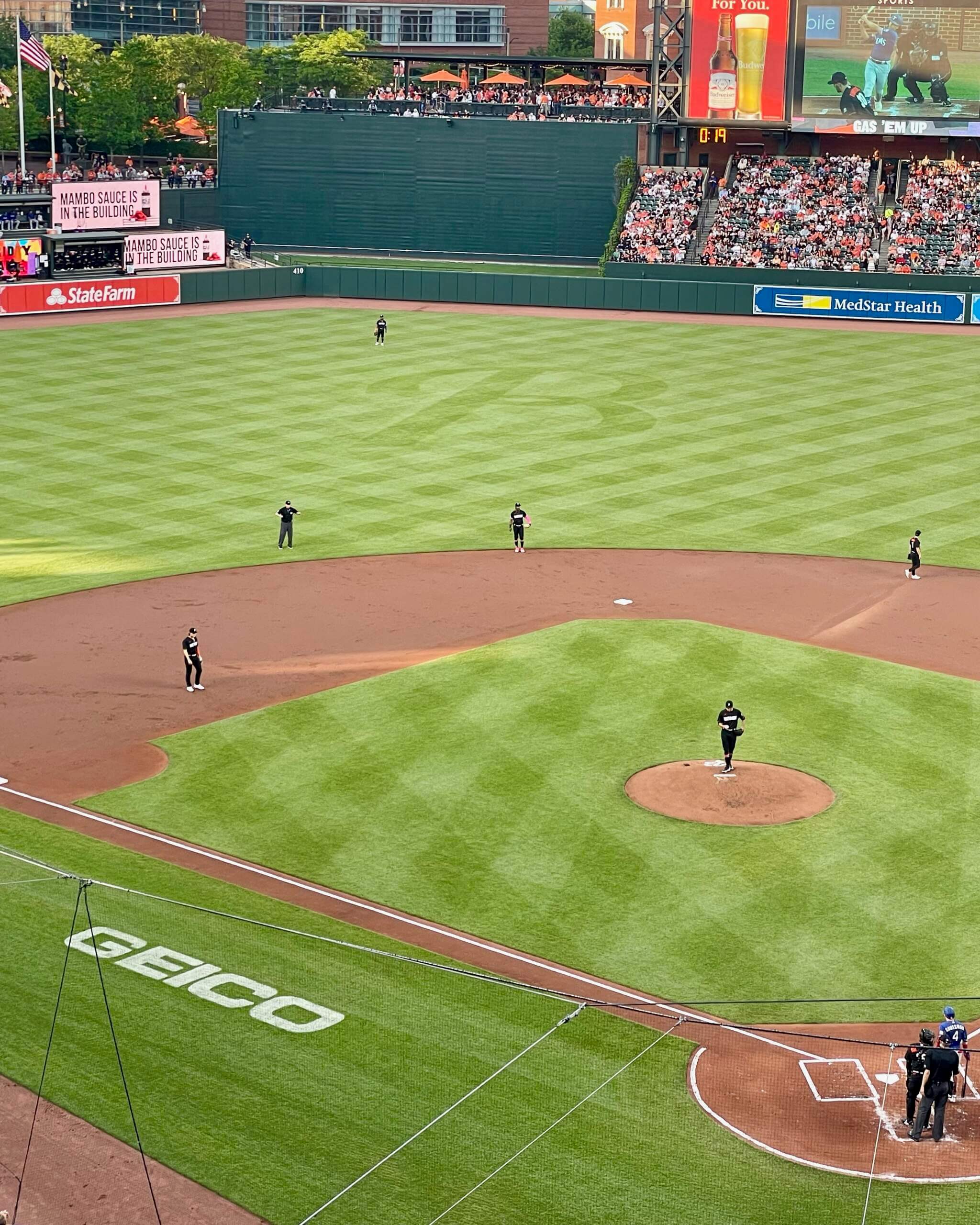 Overall, the unis were about as expected, and — while I would not normally advocate for players to roll up their sleeves and "get to work" — in this instance, the players who did so added some sorely needed color to an otherwise very black uniform. In fact, those who wore non-black compression sleeves with rolled cuffs and CC socks, didn't look as bad as I had otherwise thought they might.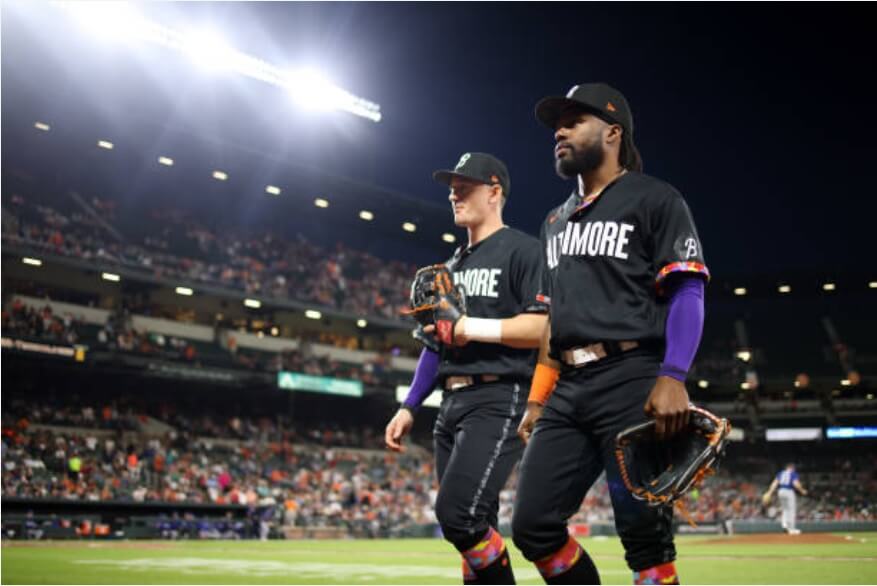 They still ain't great…but at least some of the players were able to add a bit of sorely-needed color.
You can see more photos here
And here are a couple videos: in one a full black uni and in the second a mix, with those showing color looking much better (at least IMO):
FIRE US UP, ADLEY RUTSCHMAN 🥵 pic.twitter.com/ZFSguXNOQQ

— Baltimore Orioles (@Orioles) May 26, 2023
Ceddy makes it look too easy 😮‍💨 pic.twitter.com/ungt08aQZ1

— Baltimore Orioles (@Orioles) May 26, 2023
__________
And now, here with some first-person commentary is Andrew Cosentino, who was at the ballpark last night.
• They used the neighborhood theme color blocks throughout the scoreboard. Not only on the main scoreboard, but also on the out of town scoreboard.
• The Orioles players also were wearing the CC uniforms in their scoreboard photos. On a related note, all of the Orioles graphics had the CC "B" logo.
• My cousin, Mario, pointed out that the CC uniforms matched the umpire uniforms.
• As expected, different shoes make it look very different.
• The uniforms look much better with high socks. It breaks up the monochrome.
• Some players (Cedric Mullins and Anthony Santander) wore purple and yellow arm sleeves.
• Other players wore all black and long pants (Adley Rutchman) and it looked bad.
• The all-black CC uniforms gave me some serious Ravens all-black vibes.
• They played a lot of Baltimore club music, which was amazing.
• A lot of people definitely showed up already wearing CC gear, but a lot of people were buying stuff. I saw quite a few people (myself included) walking into the stadium with jerseys and hats.
• The main store was absolutely packed. I don't mind crowds, but it was too much for me. Even in the satellite stores, a lot of people were buying CC gear.
• I would say that people were definitely excited about the uniforms. I know it's biased because people going to the game would inherently be interested in the CC gear, but there were more people wearing CC stuff than I expected.
• The attendance was much lighter than I would have expected tonight, but I credit that to the long holiday weekend. People in Baltimore tend to get away for long weekends rather than have people come to them.
• I ran into my friends Kyle (left) and Jon (right) at the game. They loved the City Connect uniforms so much that they both bought jerseys and hats!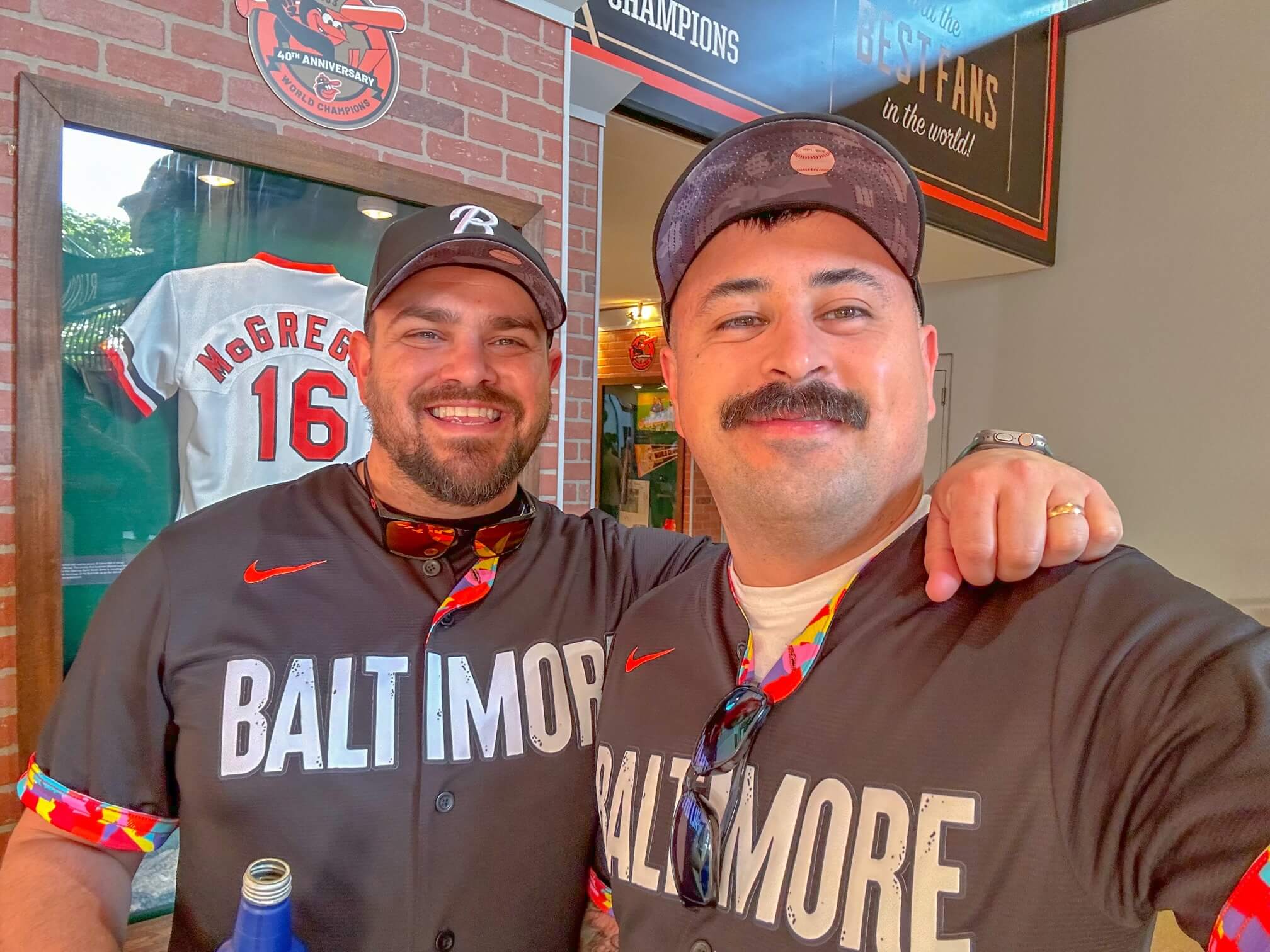 [The Orioles also had some amazing artwork inside the stadium. Andrew has a description of that as well — PH]
The murals were oddly one of my favorite parts of the CC experience. Several years ago, the Orioles started partnering with local artists to create murals throughout Camden Yards. My favorite one is a tribute to the many Negro league teams that once played in Baltimore.
The two murals for the CC uniforms prominently reside near home plate. Yes, they're near bathrooms, but it's a completely blank canvas that would otherwise be plastered with generic Orioles logos. The two pieces, A Summer Day on the Stoop and Baltimore Blues and Hues, were both by SHAN Wallace. I actually didn't know that she did the murals until I saw them in person and instantly recognized her style. It has a collage aesthetic to it that I really enjoy.
A Summer Day on the Stoop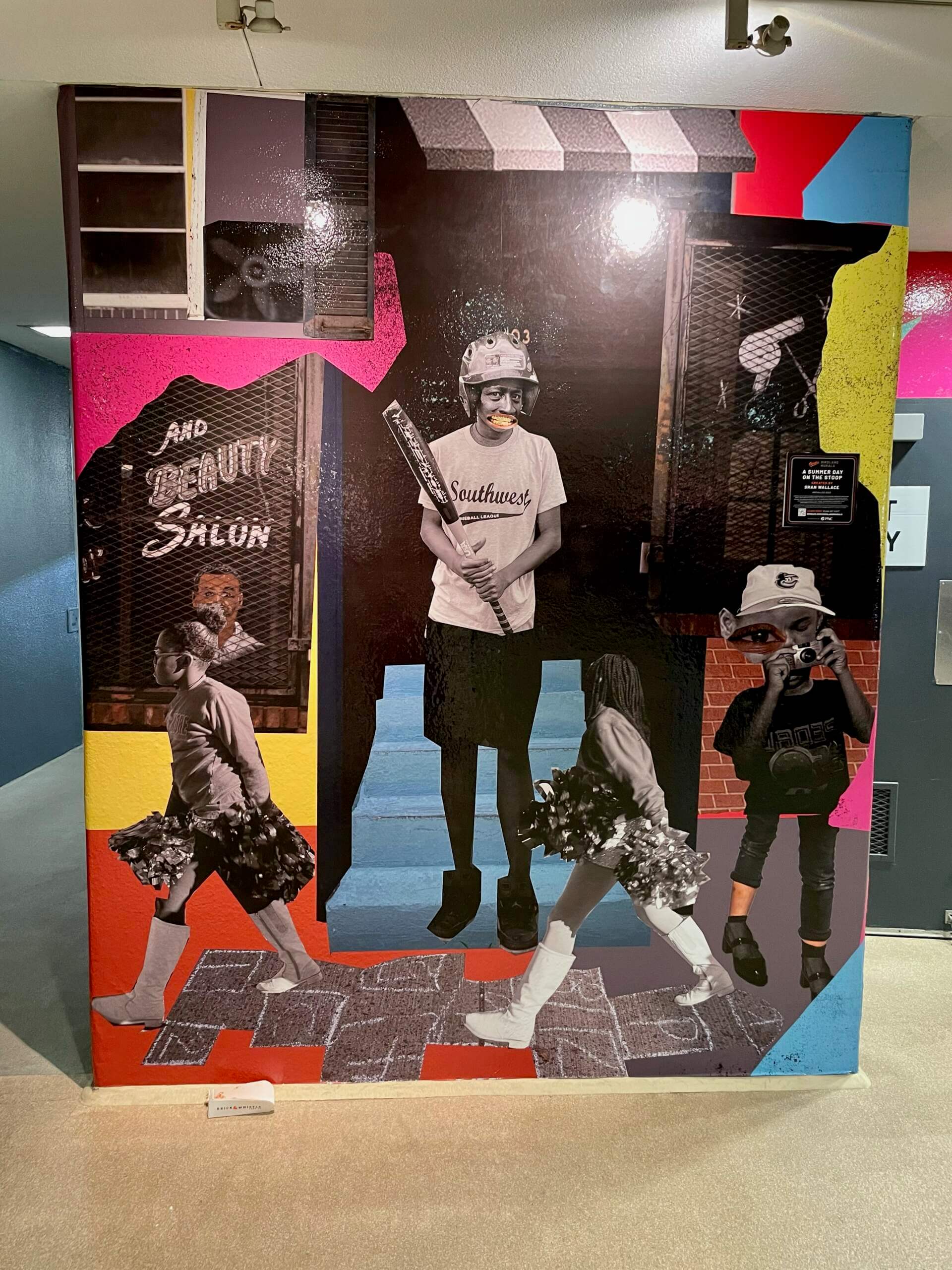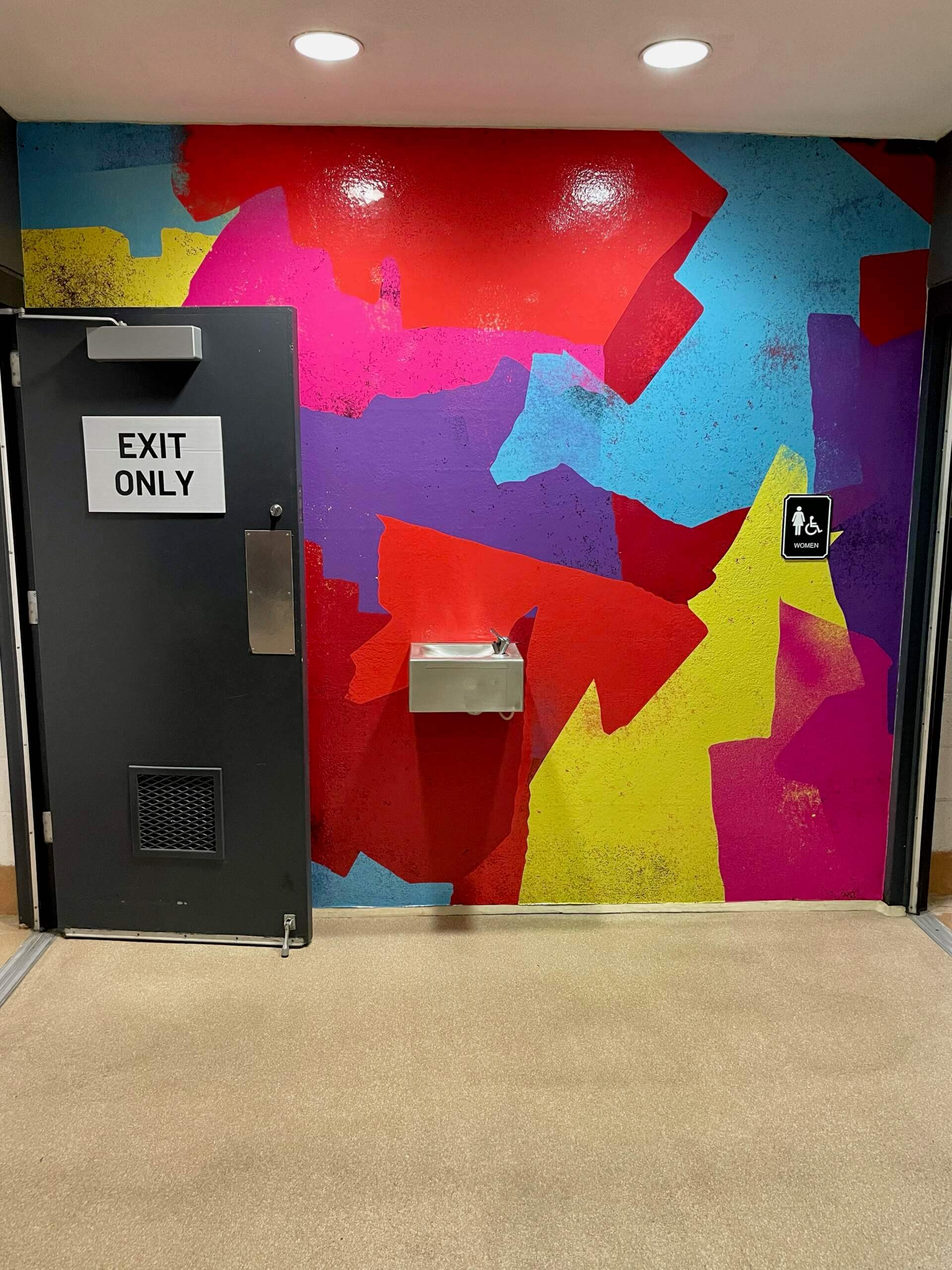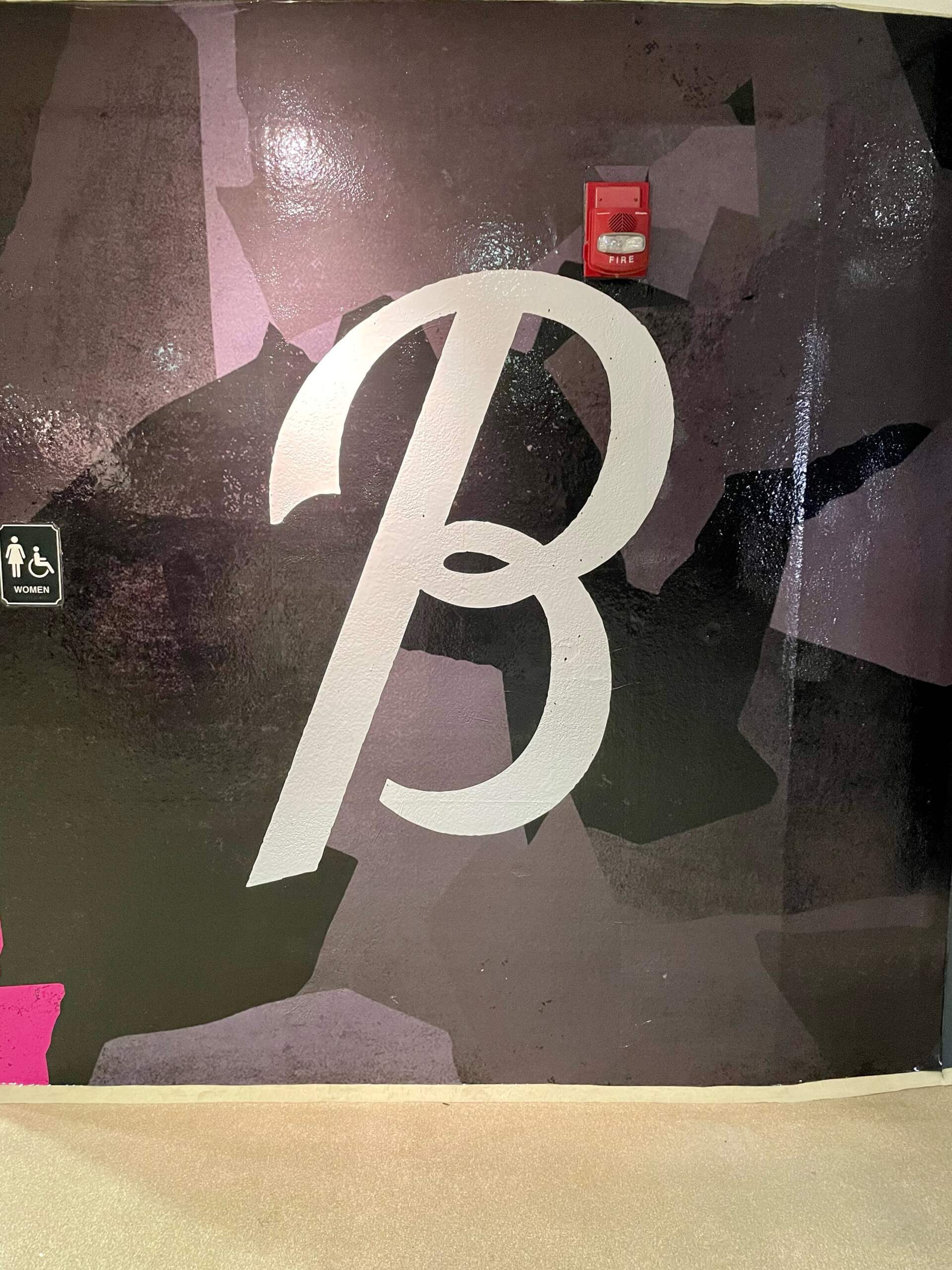 Baltimore Blues and Hues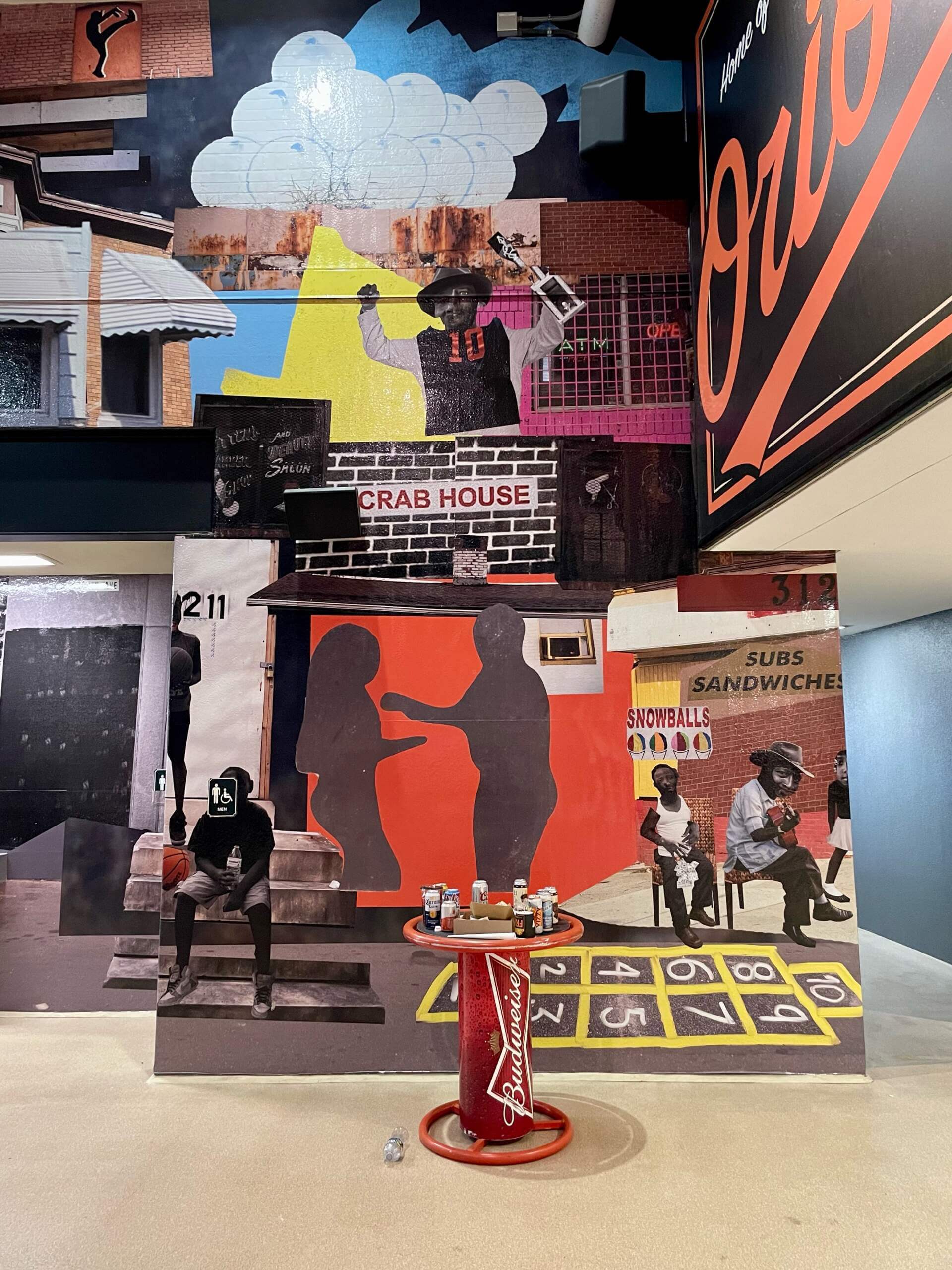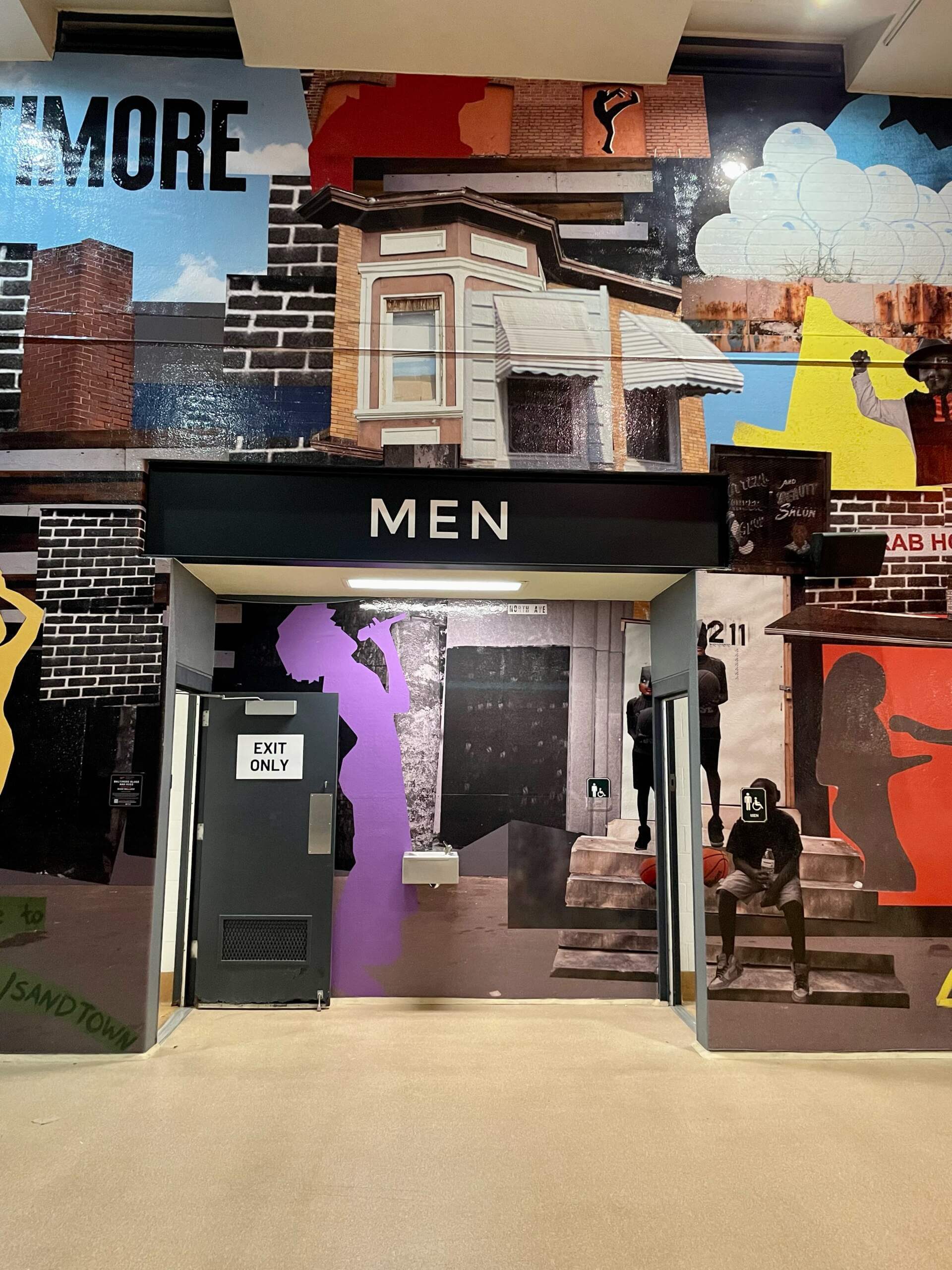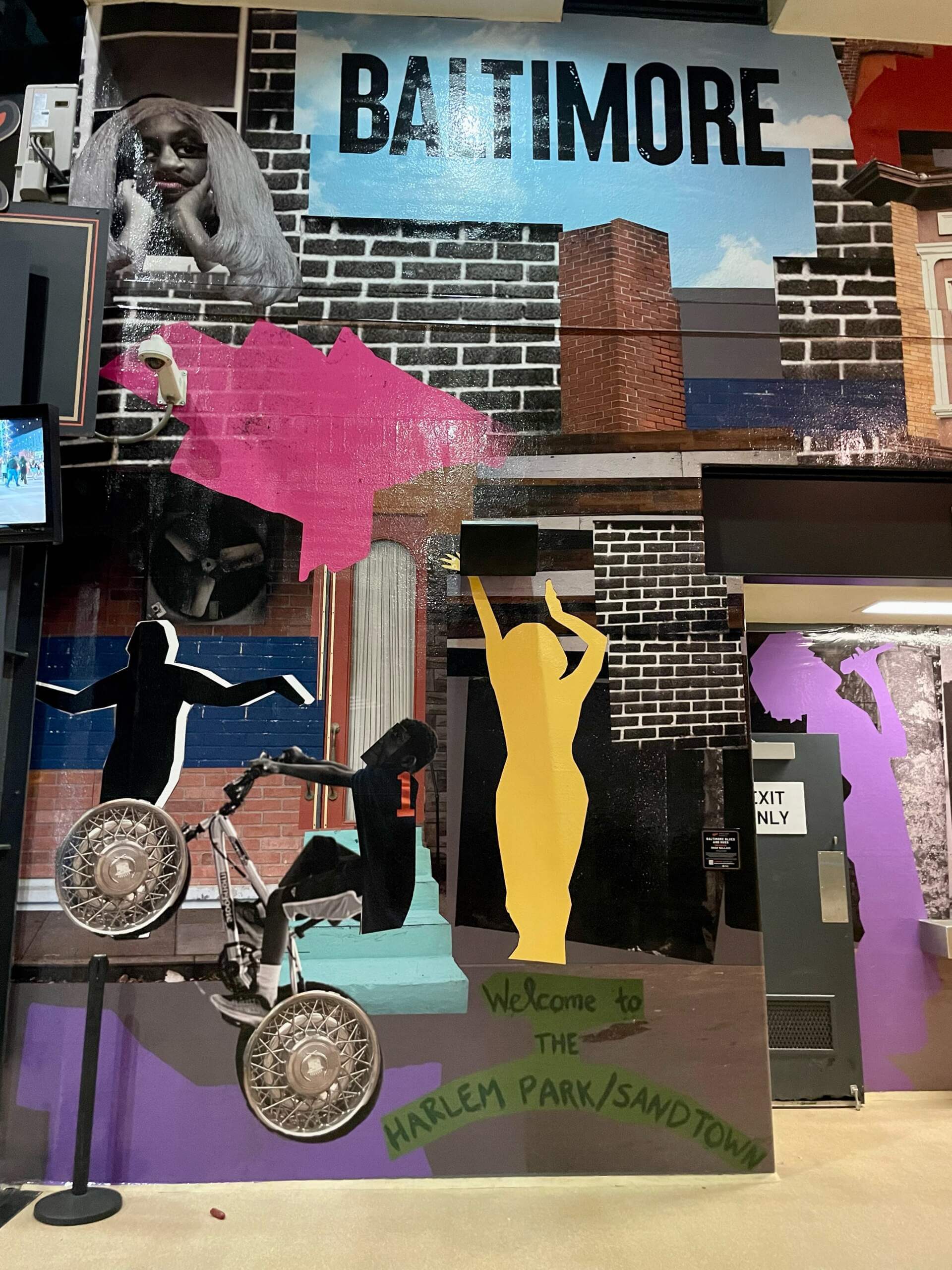 As easy as it is to be cynical and jaded about the Nike money grab, the murals are a rare instance where a local sports team actually reaches out to a local artist to contribute to the experience.
Here are some of the Orioles murals throughout the years.
There is also a Baltimore Sun article about the murals, but there is a paywall. This is probably the best excerpt. As a note, Gaia is my favorite muralist in Baltimore, so the fact that the Orioles have him as their consultant tells me all that I need to know.
"Wallace said she was first approached by Gaia, an artist and muralist who is a consultant for the Orioles, to set the collaboration in motion. After being shown the City Connect jerseys, Wallace designed two digital collages in just a little over a week. The collages were printed and displayed on vinyl, which she said is well suited for the elements at the ballpark.
"Wallace's photographs, murals and other works of art center themes of queerness, Blackness and history, she said. Baltimore also acts as the setting and inspiration for her work — her Orioles mural being the latest example."
Finally: here is my personal take on the CC uniforms. The uniforms aren't great. They're underwhelming. I get that. But it's still a program that generated a lot of buzz around the city. Moreover, I think the Orioles really did go out of their way to reach out to local artists. Sure, I wish the artists created the uniforms instead of just contributing to the CC experience, but it felt more genuine than I expected. For example, the murals were great. Also, "You Can't Clip These Wings" was created by Baltimore poet Kondwani Fidel. Plus, it's more fun to just dive into the experience rather than be jaded! Here is the video I'm referring to.
__________
Thanks Andrew — for the photos and observations and the great backstory on those murals! Here's a link to
Andrew's IG post
on the game.
Readers? What did you think of the Baltimore CC uniforms?