For all the bad calls that MLB ump Angel Hernández has made, at least one of them has had a very positive effect on a young boy's life. That was the case last night in Philly, as Hernández, umping at third base, ruled that Phillies DH Bryce Harper had gone around on a checked swing, prompting Harper to blow a gasket. Harper got tossed and then did some tossing of his own, heaving his batting helmet over the protective screen behind the Phils' dugout and into the crowd, where a scrum of fans scrambled for it:
Bryce Harper, Batting Helmet Toss Mechanics pic.twitter.com/gZPQC3XgRB

— Codify (@CodifyBaseball) September 28, 2023
The helmet eventually ended up with 10-year-old Hayden Dorfman of Voorhees, N.J. He explained how that happened in this interview shortly after the incident:
Do yourself a favor and watch this interview with Hayden Dorfman, who got Bryce Harper's helmet pic.twitter.com/m4tigGA2Zf

— Talkin' Baseball (@TalkinBaseball_) September 29, 2023
The key passage there is this:
First I saw him throw it, and I knew I wouldn't get it, so I kind of stood still. There were like three or four dads just diving in. It was pure chaos — I did not wanna go in there.

But then I kinda like stood on the outside, in case it fumbled out. But the dads thought I was going for it, so they started yelling, "Give it to the kid," and that worked.
The whole "Give it to the kid" thing recalls the discussion we had in 2022 about giving foul balls to kids.
Harper apparently signed the helmet for Hayden at some point, as you can see in this photo of him with his father, Aaron: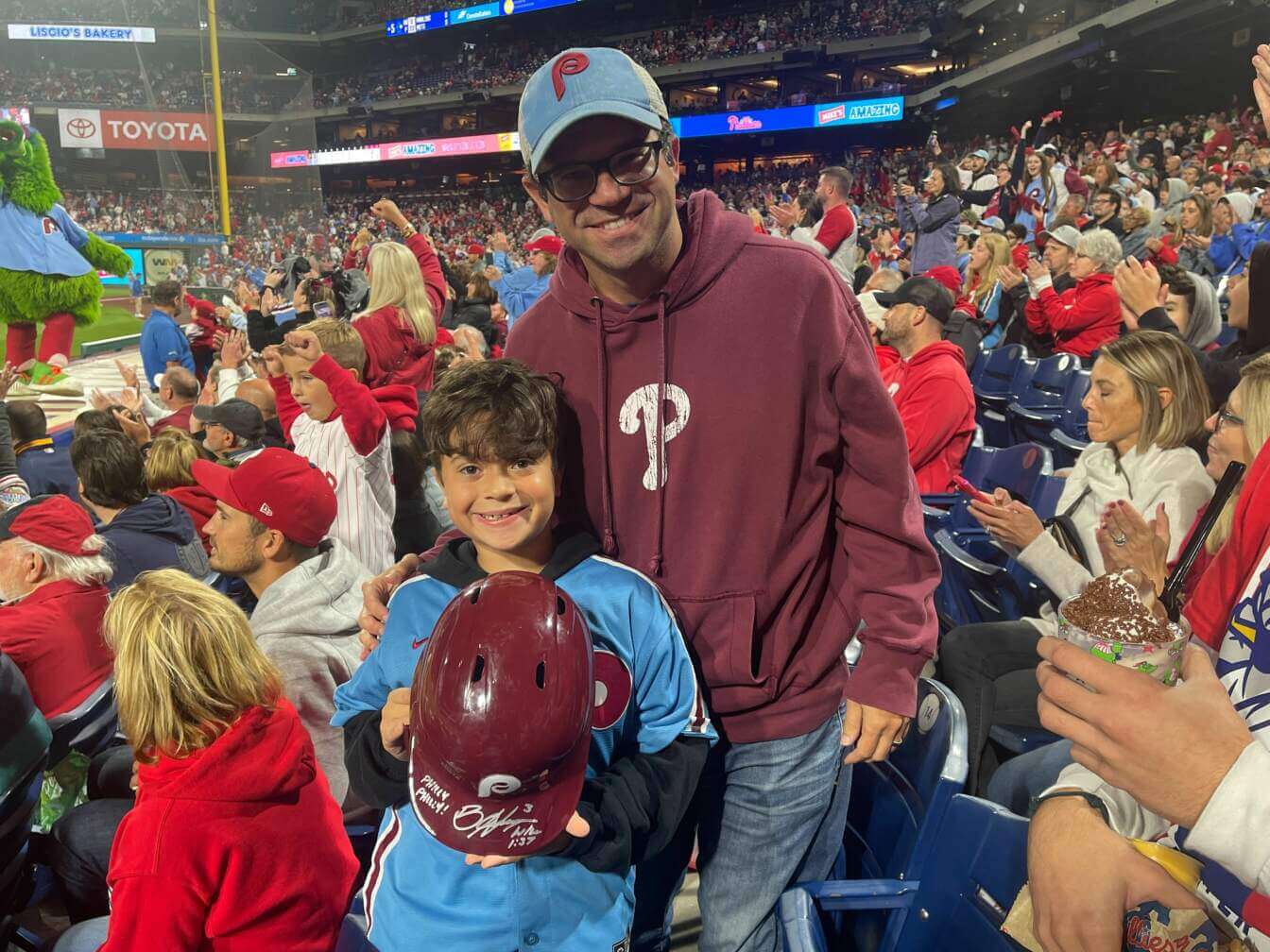 A few quick thoughts:
That was a really bad call.
Bonus points to Hayden for matching his jersey to what the team was wearing last night.
I'm a little surprised that they let him keep the helmet. When a bat goes into the stands, they make the fans return it. A helmet seems like the kind of thing a player might want back, but I guess not.
Incidentally, throwing helmets is nothing new for Harper. He was tossed from a game just two weeks ago after throwing his helmet and bat in disgust over a called strike:
And in 2017, he threw his helmet while charging the mound and inciting a brawl:
So I think we can say that Harper leads the league in helmet tosses. At least this one had a happy ending.