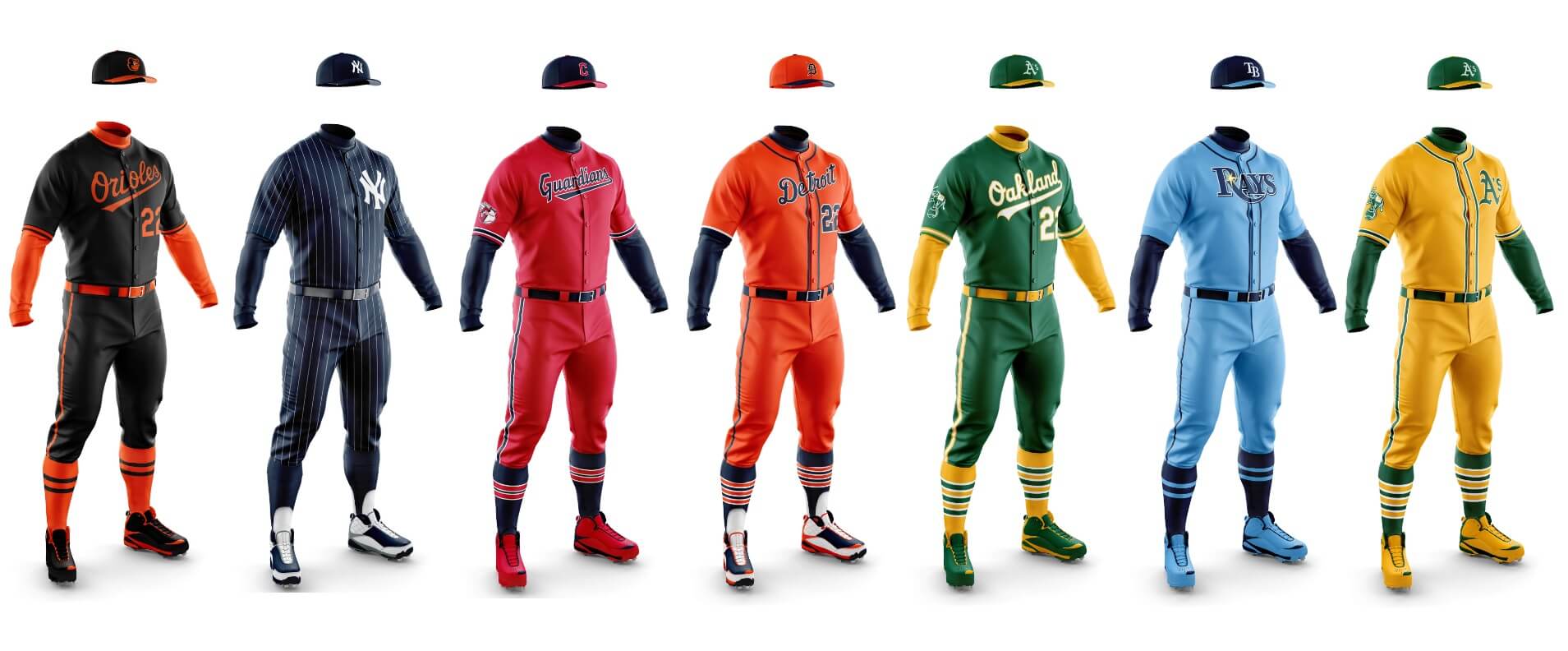 [Editor's Note: Paul is on his annual August break from site (although he's still writing his weekly Substack column). Deputy editor Phil Hecken is in charge from now through the end of the month.]
Good morning, Uni Watch! It's Friday — we made it.
I'm back again today with Chris Diamond to bring you Part II of our series exploring mono-dark uniforms. In Phase I we looked at how every team with a dark alternate jersey would look if it were paired with same-color dark pants, making no changes to the caps, jerseys or socks. In Phase II, we're going back and seeing which teams "made the cut" for possible mono uniforms, and also creating dark mono uniforms for teams who currently don't sport a dark alternate jersey. In the NL, that was LA and St. Louis, and today you'll see what Chris has created for the Detroit Tigers and New York Yankees (gasp!).
If you missed Part I of Phase II (which also includes links to all of our Phase I articles), click here. Everything you need to know is explained in those posts.
Let's move on to the American League. As with Part I, I'll identify which of us selected the uniforms we've chosen to be considered for possible dark-mono usage, plus look at the Yankees and Tigers' proposed dark mono alternates.
_________
BALTIMORE ORIOLES Black
(PH)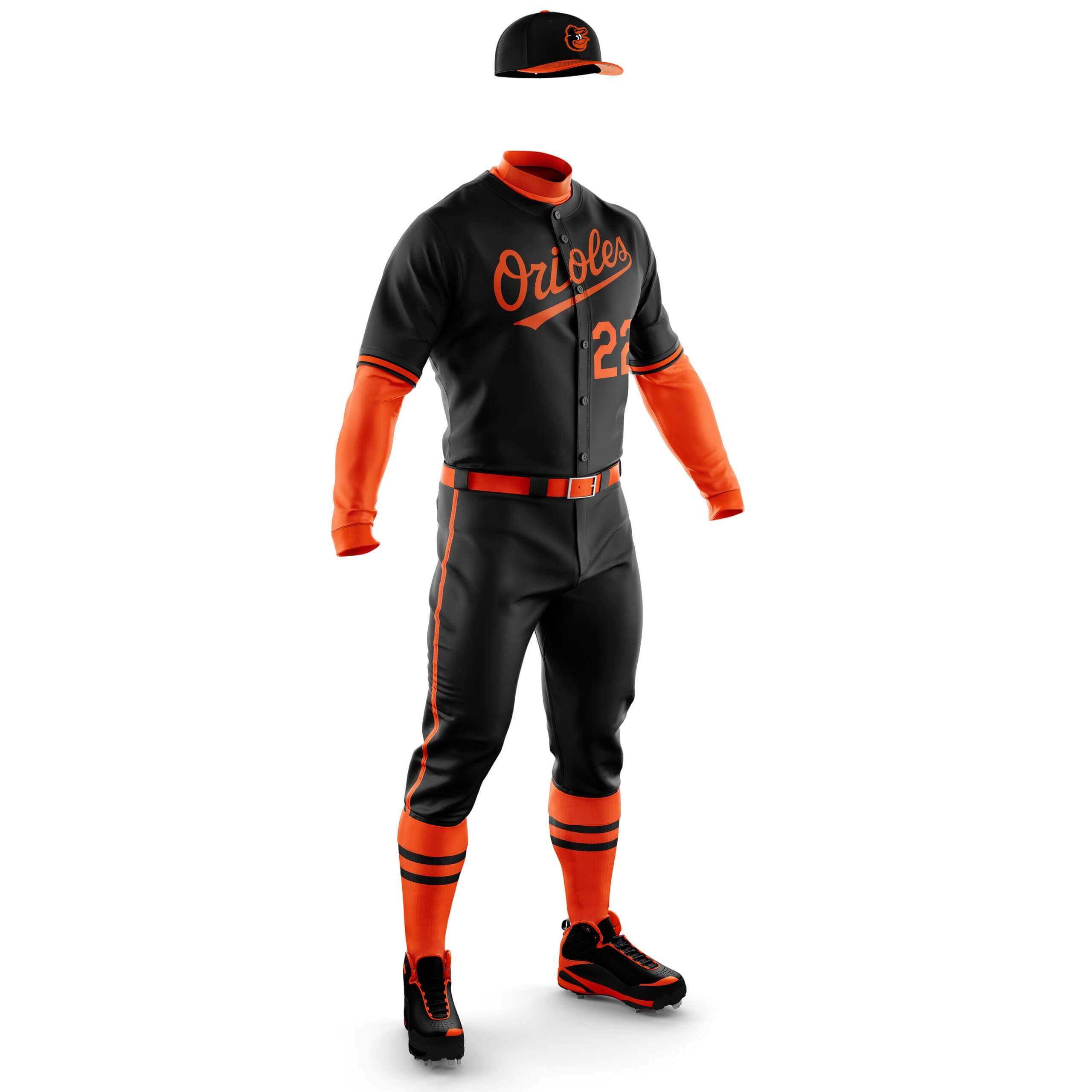 Phil Hecken: I loved these when we first saw them in Part I, and while the Orioles introduced their mono-black City Connect unis earlier this year, I think this look is much more befitting than the CC uni.
Chris Diamond: I liked these before so the same plus a bit of sock tweakery still gets the thumbs up.
__________
BALTIMORE ORIOLES Orange
(PH)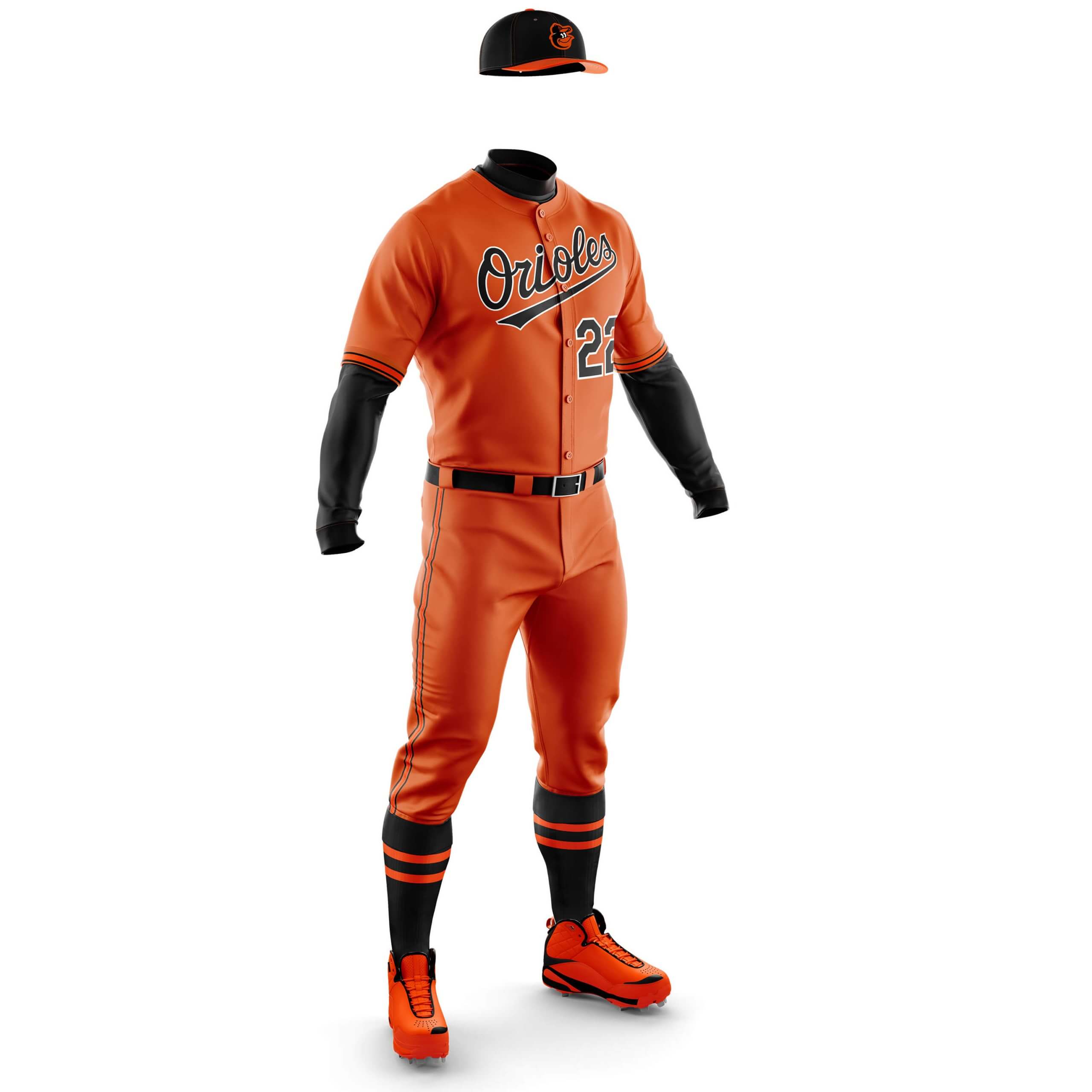 PH: And I think I love these even more than the all-black version above. Plus, these are a harkback to the early 1970s all-orange unis which were worn, I believe, a total of four times. Those were sold to the Orioles by Brooks Robinson Sporting Goods, dontcha know! The team even brought that look back as a throwback a decade or so ago.
CD: Replacing the home cap (I dislike all contrasting front panel hats) has helped, but it's still a bit too orange as the trim doesn't provide enough contrast for me.
__________
CHICAGO WHITE SOX
(PH)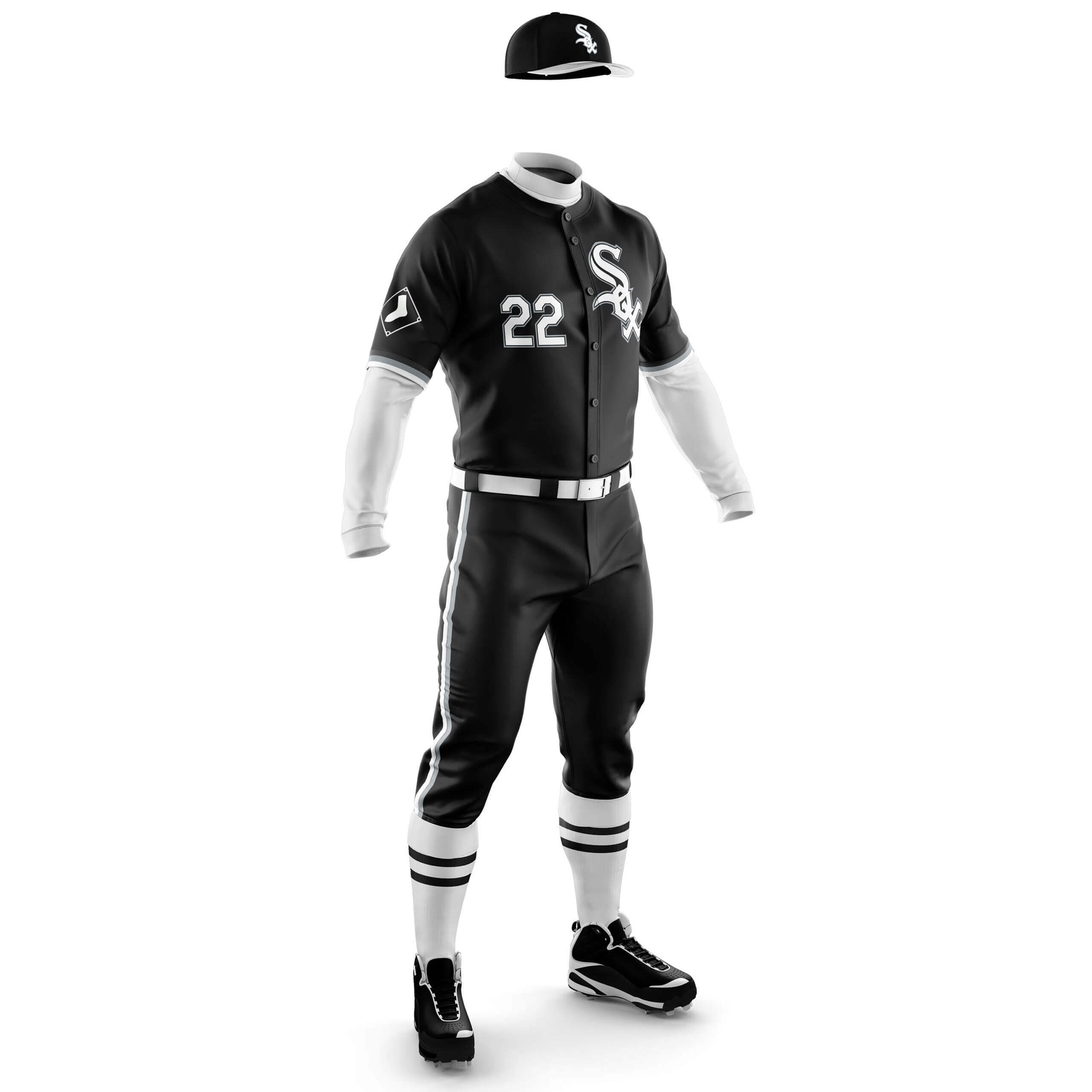 PH: We've already put forth a couple mono-black uniforms for consideration, but this White Sox getup, featuring, ya know, white socks, really needs to happen. It's also a modern take on a previous mono-dark uni from their past (a look they also tried to revive in the mid-1970s. Like the Orioles, the Sox already have a mono-dark CC, but there's room for both here.
CD: I preferred the all-black look in Phase I, but this one is good, too, and the addition of a white brim to the cap improves things.
__________
CLEVELAND GUARDIANS
(PH)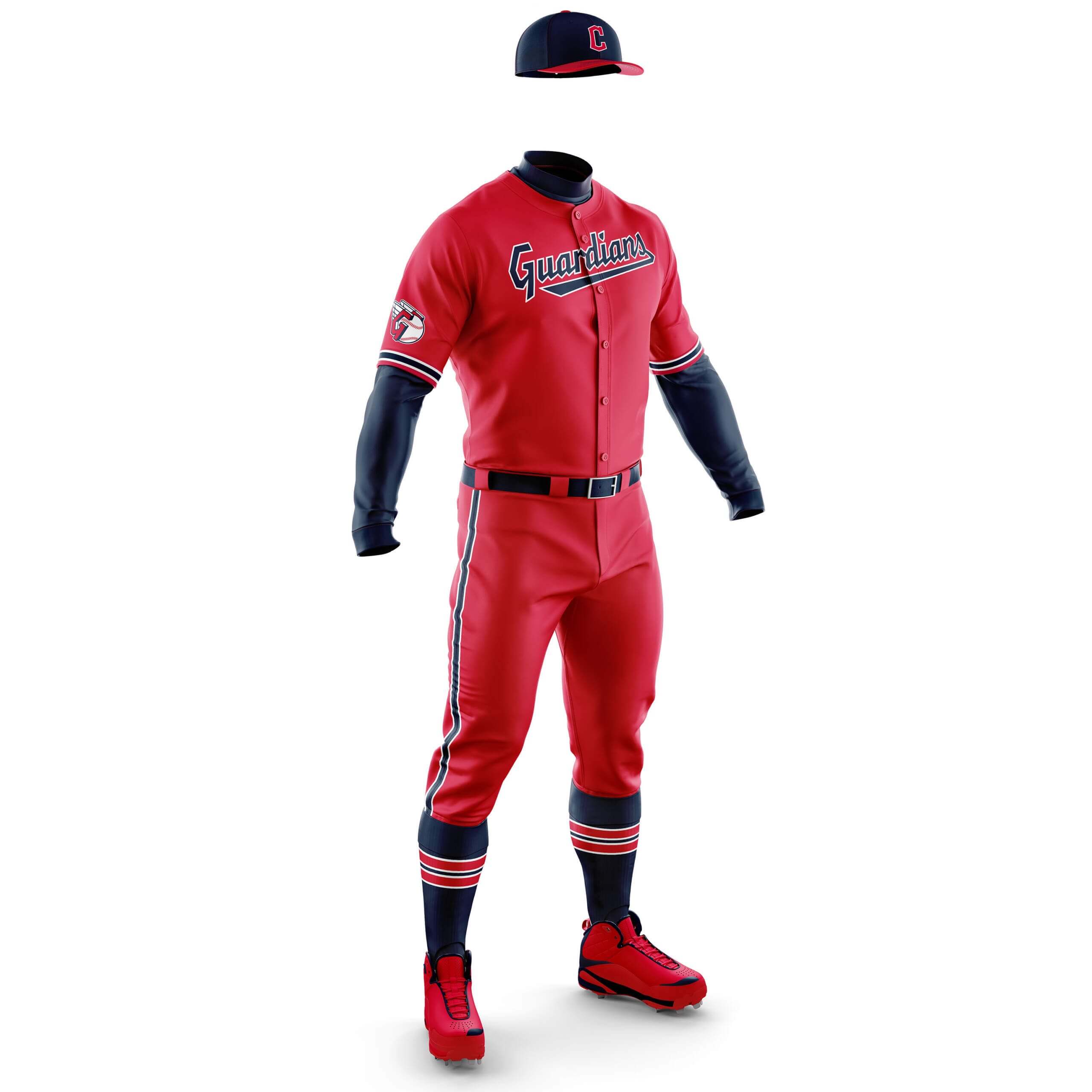 PH: Yet another mono-dark that has historical precedence. Granted, those Caveman uniforms weren't for everyone (and were clearly of their time), but I grew up when they wore these, so they always have a soft spot in my heart.
CD: I didn't like this in Phase I but the tweaks inspired by the 1970s Caveman uniforms have changed my mind!
__________
DETROIT TIGERS Navy
(CD)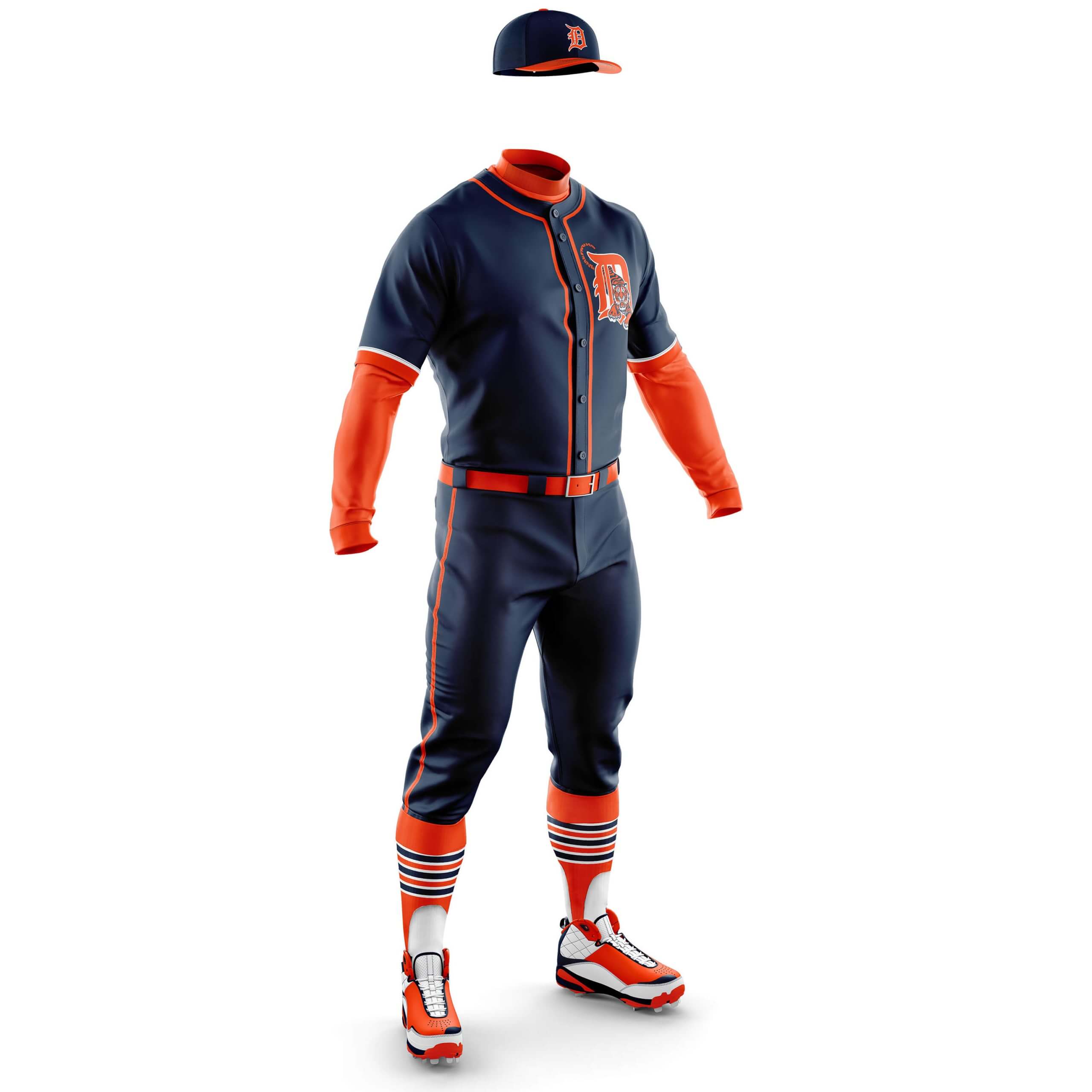 CD: The Tigers currently have no softball top so they weren't in Phase I. This is my attempt to mix the heavy sleeve stripes from the 80s era jerseys with something based on the 1995 jersey. I've also created a new cap to go with the look.
PH: I think teams should have fewer alternate jerseys, not more, but this one is kinda cool. Add in the midnight navy pants and it's a looker. I don't think I'd actually want to see this one on the field very often, but if the Tiggers wanted to break them out some Friday night or something, I'd be down.
_________
DETROIT TIGERS Orange
(CD)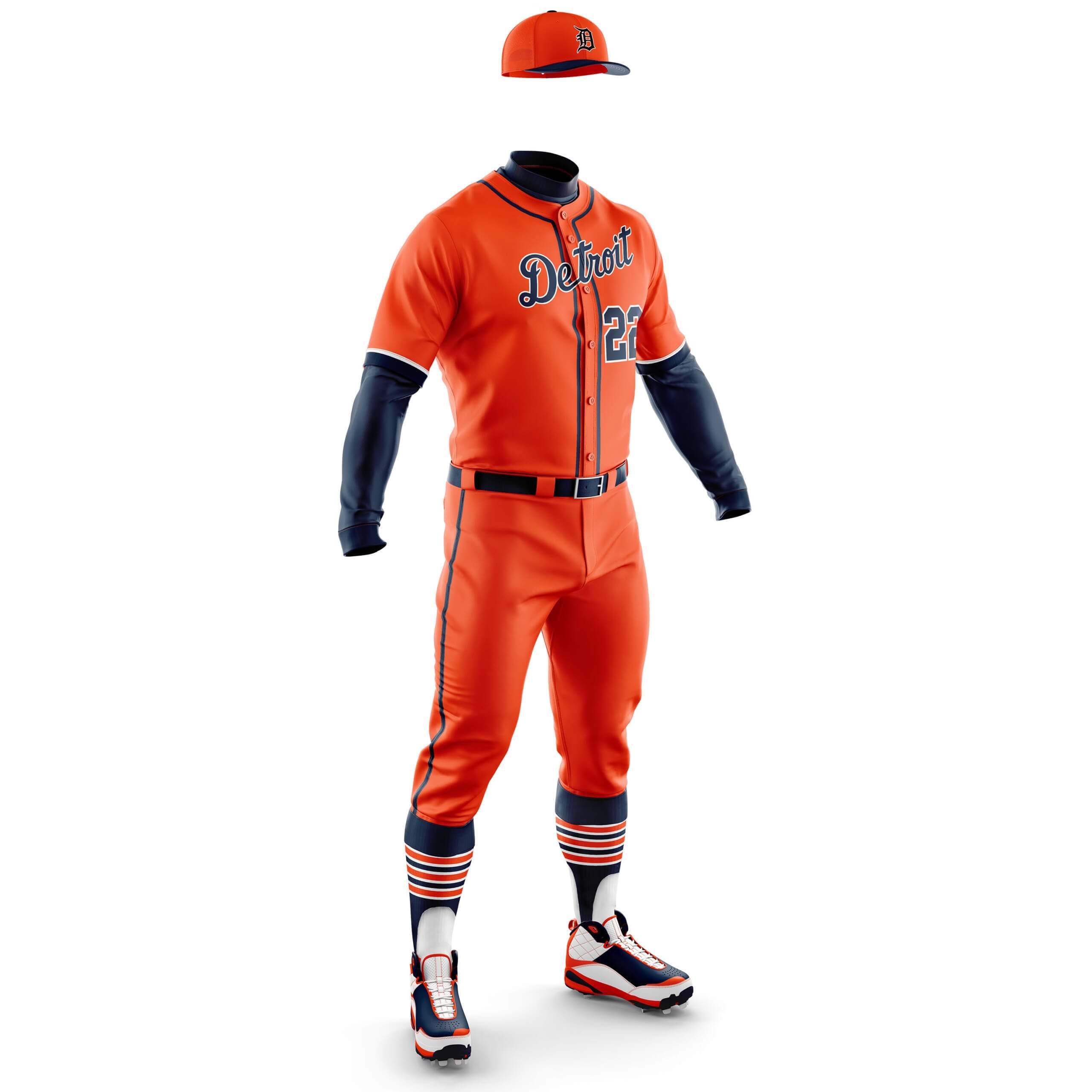 CD: The same concept as the navy one, but with the road wordmark instead of the Tiger and another new cap.
PH: While I can maybe get behind the midnight mono, I can't with the orange. Orange works for Baltimore and San Fran, but not Detroit.
_________
LOS ANGELES ANGELS
(CD)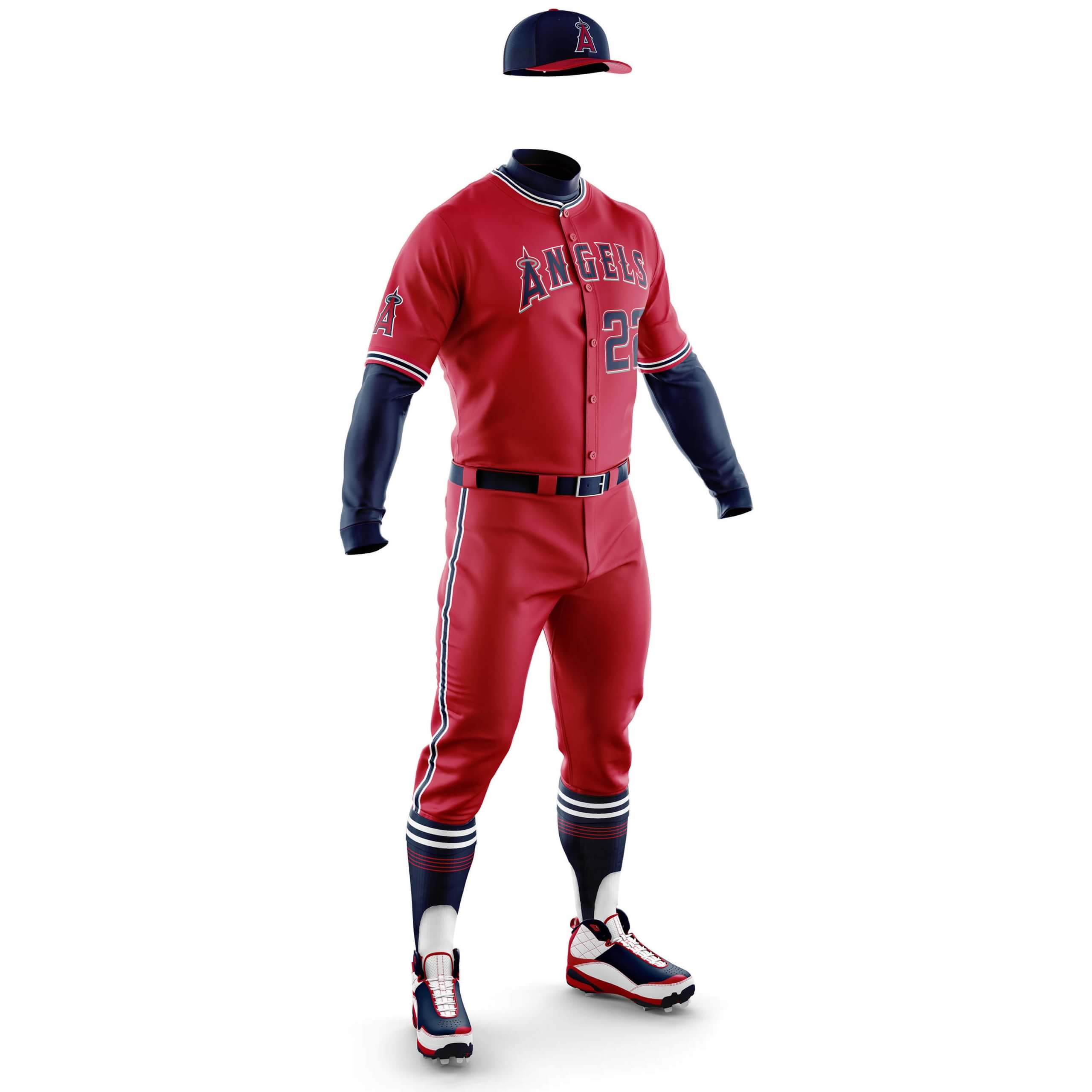 CD: There isn't much love for the Angels current unis on UW in general. The main complaint is too much red, so I've tried to rectify things by bringing in more navy to better match the California Angels era which seems to be most favoured.
PH: I think Chris has done about the best anyone can to try to fix the Angels red jersey, but as Butthead once said to Beavis, "You can't polish a turd." The navy blue really helps (I love the cap, sleeve and sock treatment), but it still just doesn't work for me. That's not Chris' fault — it's just a really rough jersey and it needs major changes IMO.
__________
NEW YORK YANKEES
(CD & PH)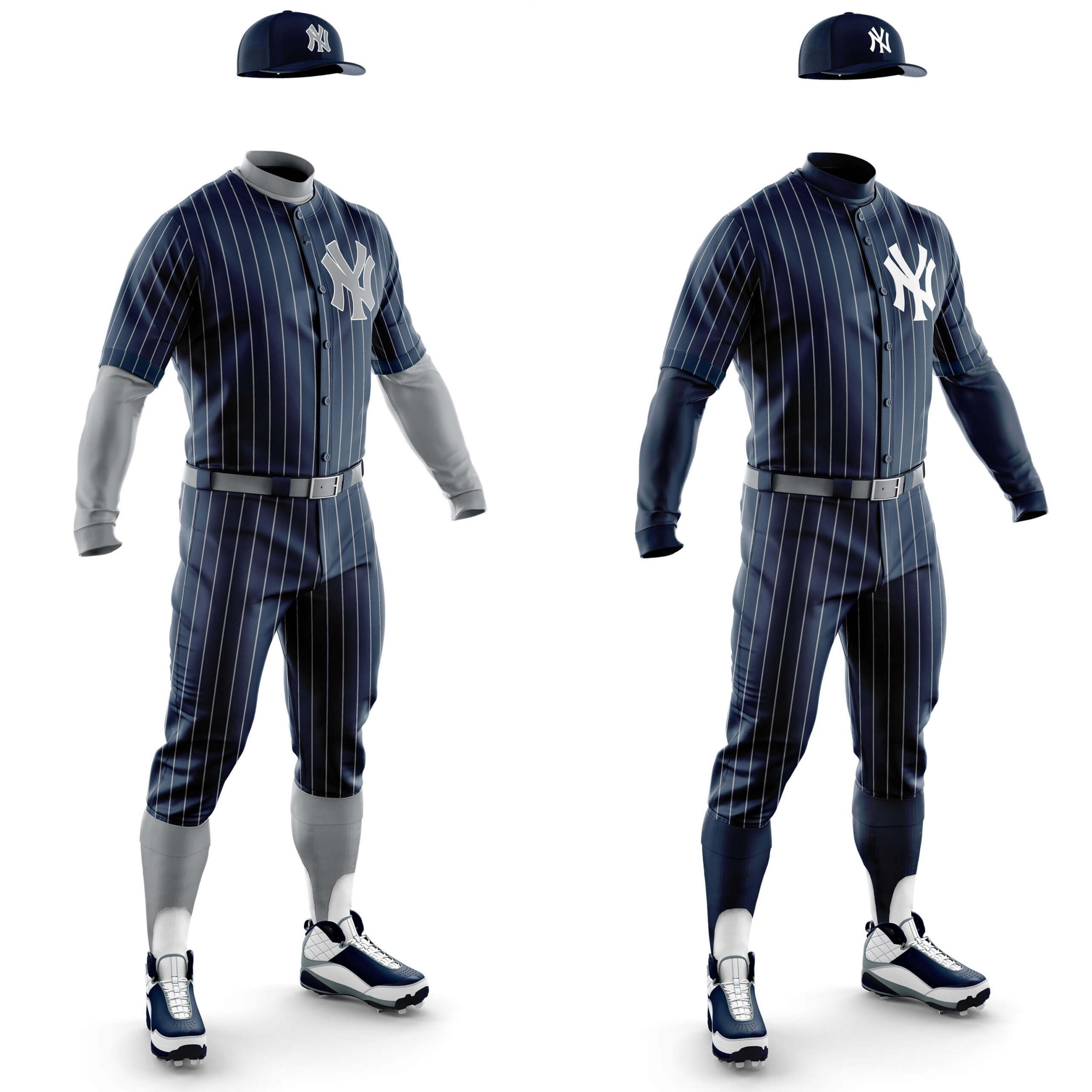 CD: Another team missing from Phase I, a lot of Yankee softball top concepts involve using reverse colour white pinstripes. I feel these look a bit stark and can end up looking too much like something Edward G Robinson might have worn in a gangster film! So here I have softened the harshness by making the pinstripes grey rather than white, then just adding the reversed colour logo. Everything else is the same as the home whites, but the pinstripes stop it looking mono even with all the navy! I also concepted an extension of the previous idea by adding in more grey to make a bigger difference. I like both of the concepts, but I think I prefer this one as it feels like it's more of an alternate jersey than just a colour flip.
PH: Although I'm opposed to more alternates, I encouraged Chris to create the midnight navy uniform, and after a couple tweaks, he came up with one I absolutely love! To me, this is the vision Gabe Paul had back in 1974 come to life. This should be the Yankees CC uni. Done and done!
__________
OAKLAND A's Green
(PH)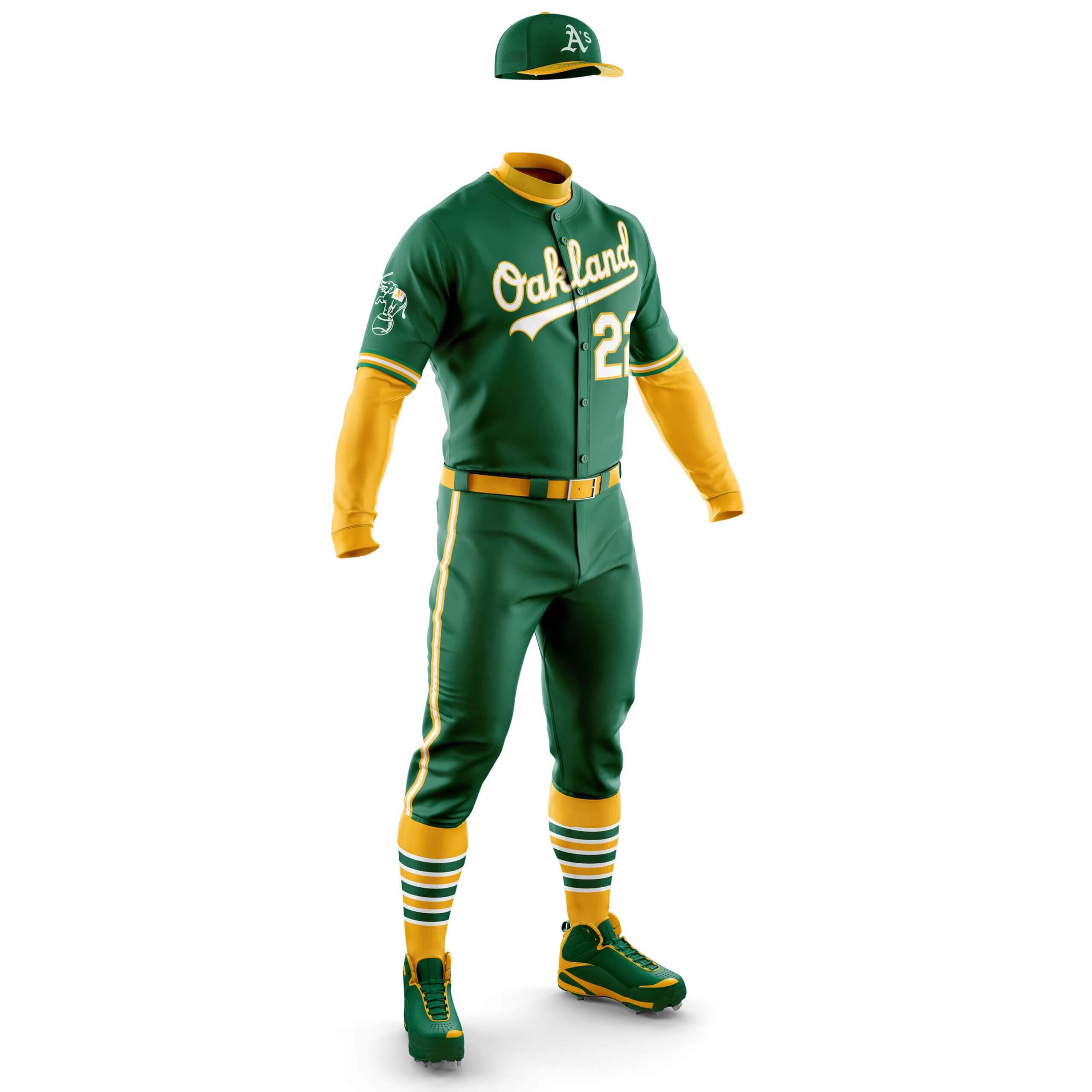 PH: Is anyone sensing a pattern here? The mono-dark uniforms I most like all seem to have a similar uniform worn previously. This is no exception. When the A's move to Las Vegas, they need to consider making the mono-kelly uniform a reality.
CD: Another gem from Phase I where flipping the cap bill colour has just made it perfect.
__________
OAKLAND A's Gold
(PH)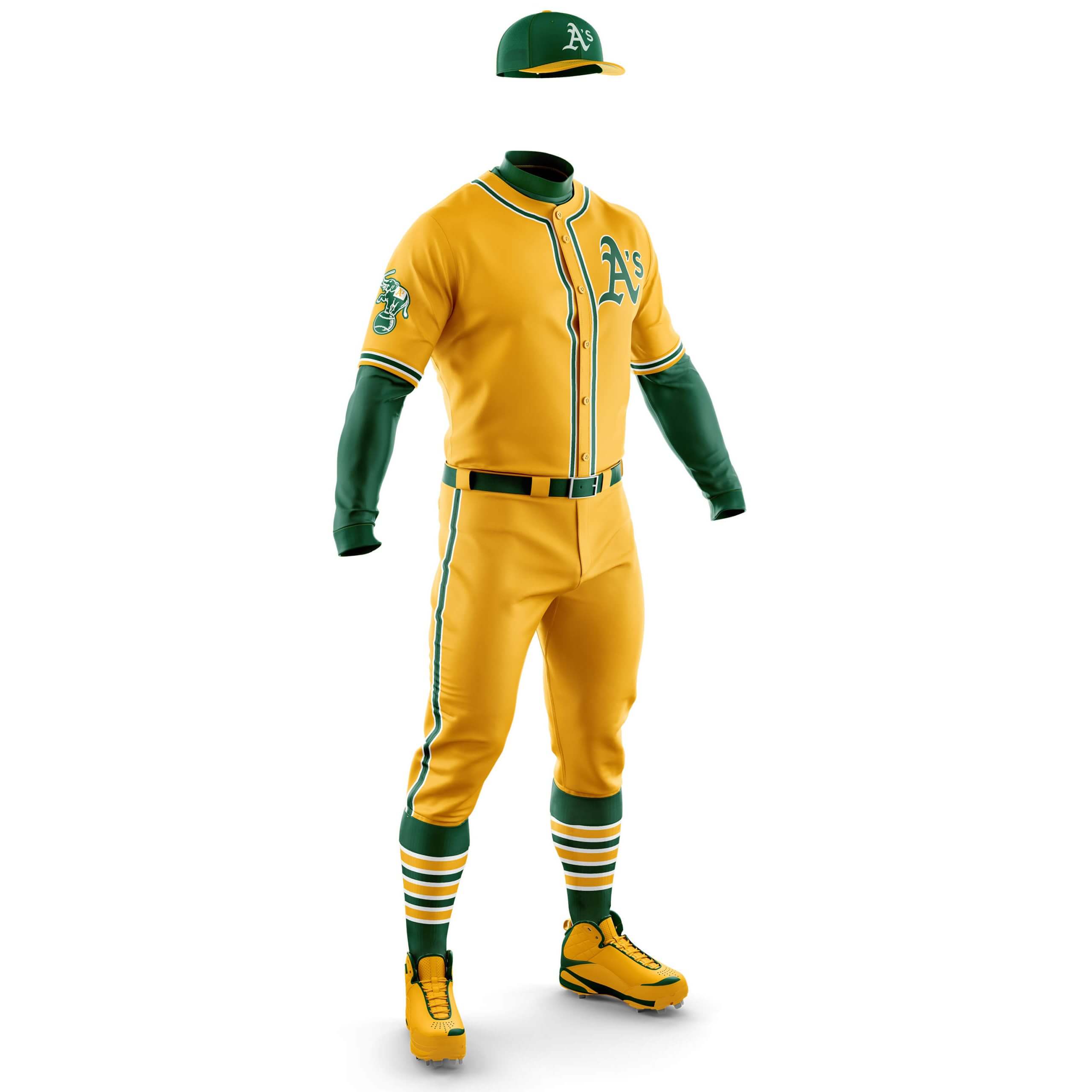 CD: Based on their 2014 jersey, just extended to be mono.
PH: It's hard to believe the A's don't currently have a gold jersey. But they have such a rich history in "Fort Knox Gold" that I basically begged Chris to create a mono-gold uni for Phase II. And he has succeeded. And I love it!
_________
TAMPA BAY RAYS
(PH)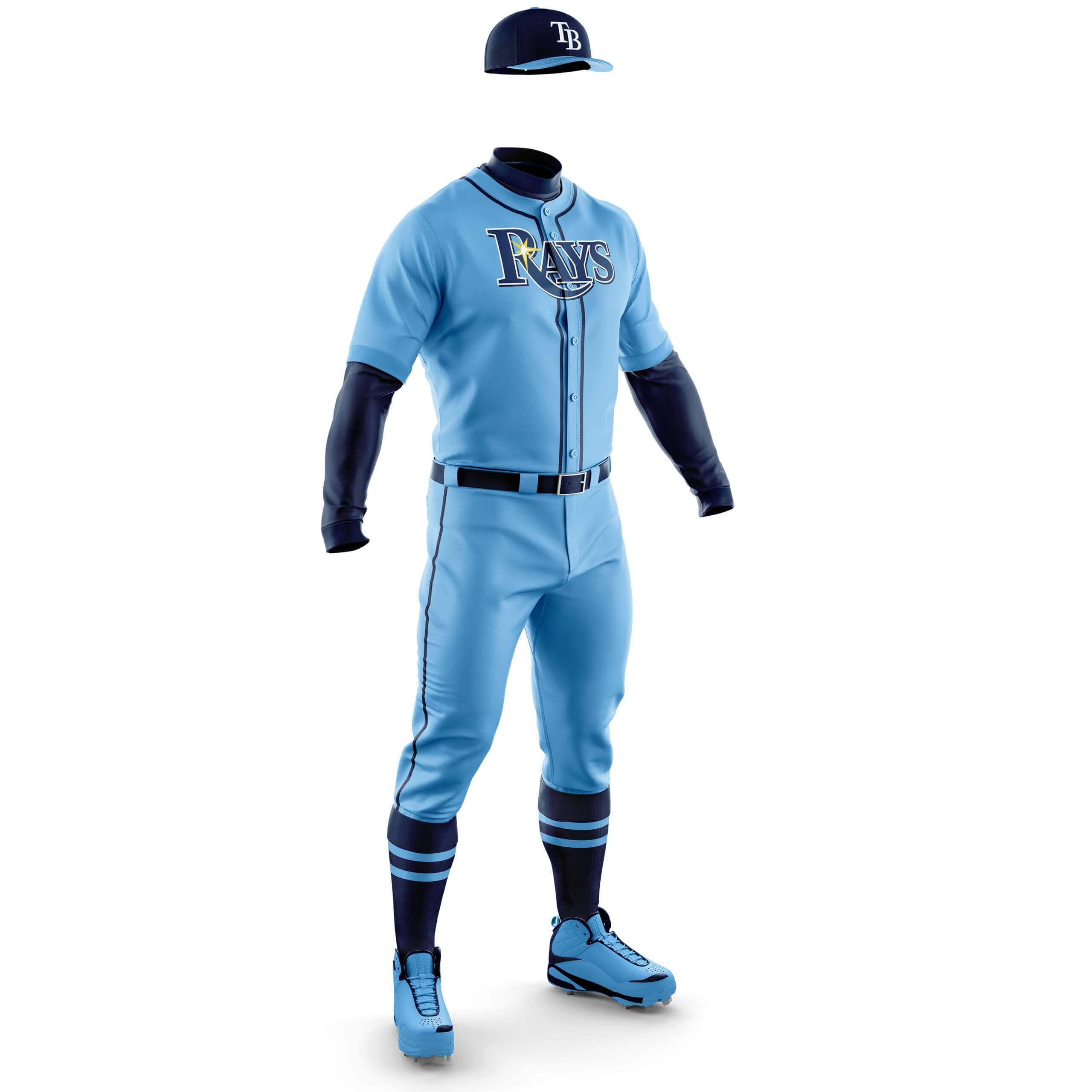 CD: As I mentioned in Phase I, I'm generally not a fan of powder blues, but swapping of the splotch. .. sorry "ray" from the jersey for the wordmark and the other tweaks have actually made me like this now!
PH: I loved this when I saw it in Phase I, but I knew they needed to ditch the sunburst and place the "Rays" wordmark on the chest. Done and done. I grew up in the powder blue era, so of course I'm more partial to it than most. But this one really works well and should be the team's permanent road uniform.
• • • • •
And there you have it, for Phase II, Part II — the American League. And we're not done yet. I'll be back again with Chris as we turn this project up a notch when next we return. Stay tuned!
Let us know what you think: should teams explore any of these mono-dark uniforms as alternates (eliminating the 'softball' effect of dark jersey over light pants)? Which of today's concepts would you like to see on the field?