The PGA of America (not to be confused with the PGA Tour) unveiled a new logo yesterday, ahead of the upcoming Ryder Cup. As you can see above, the new design is basically a simplified version of the old logo.
They also launched a new slogan, which has been giving me fits. See if you can tell why: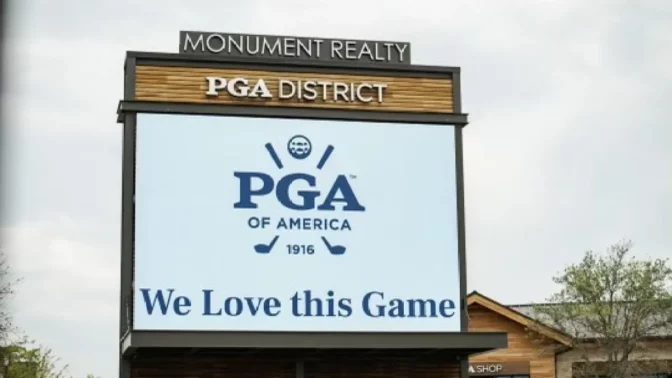 If you're a professional copy editor or an amateur policer of prose, then you know that "this" should have been capitalized, making the slogan "We Love This Game." (I'll explain why in a minute.) But hey, that's just a sign — maybe the slogan is styled properly on the official logo graphic, right? Nope: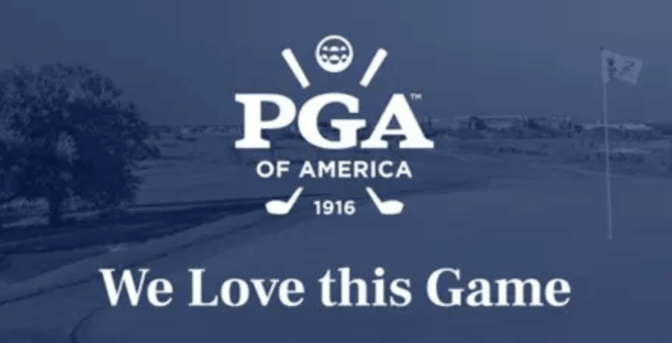 The uncapped "this" also shows up in the title and the end graphic of this 30-second promotional video:
Not only that, but the launch announcement for the new logo and slogan features multiple iterations of "We Love this Game" — all styled with the uncapped "this."
Why is this so irksome? Because "Love" and Game" are capitalized, which means the slogan is rendered in what's known as title case — the style used for book titles, song titles, many headlines (including those on this website), and so on. While various style guides can differ slightly, it's generally agreed that after the first word, which is always capped, all subsequent words in title case are capitalized except conjunctions (and, or, but), articles up to three letters long (the, a, an), and prepositions up to three letters long (in, off, on). Anything over three letters is capped, including a definite article like "this."
But hey, don't take my word for it. Just dump the words "we love this game" into a title case generator (there are several of them on the internet). It comes out as "We Love This Game."
Title case errors usually involve "is" (which should always be capped because it's a verb but is often mistakenly left uncapped because it's only two letters) and "it" (which should always be capped because it's a pronoun, again despite being just two letters). So you'll see titles or headlines like "The Thrill is Gone" or "Let it Be," both of which are wrong (and incredibly distressing to those of us attuned to such things, like fingernails on a blackboard). But I don't think I've ever seen something in title case with "this" left uncapped. It's such a strange error — I'm surprised it made it all the way through the approval process.
And who is responsible for this calamity? The slogan and its accompanying marketing campaign were developed by Omaha Productions, the company founded by Peyton Manning. I looked through their website to see if there were any other title case errors, but almost all of the display type is rendered in all-caps (which is certainly one way to avoid title case errors).