Pretty good-looking game last night in Pittsburgh, as the Browns' new white fauxback helmet made its on-field debut. I still think it's really weird to debut a new helmet on the road, but I guess they wanted to showcase it for the national TV audience. I thought it worked quite nicely with the team's minimalist aesthetic. Lots of additional photos here and here.
Here's how the uni matchup looked in action:
Chief weaving his way for 29 yds 💪

📺: #CLEvsPIT on ABC
📱: Stream on NFL+ pic.twitter.com/vaVXMG2P3Q

— Cleveland Browns (@Browns) September 19, 2023
And we even got a bit of uni commentary from play-by-play broadcaster Joe Buck, who gave a brief primer on the uniform's provenance:
@Uniwatch Joe Buck making the uniform explanation#CLEvsPIT #Browns #HereWeGo #MNF #MNFxESPN pic.twitter.com/et5nQ6zbgr

— ᑭᖇO ᖴOOTᗷᗩᒪᒪ ᒍOᑌᖇᑎᗩᒪ 🏈 (@NFL_Journal) September 19, 2023
In case you've forgotten: The Browns first wore this throwback uniform, which is based on their 1946 design, as part of their 75th-anniversary celebration in 2021. But the one-shell rule was still in effect at the time, so they had to pair the white jersey and pants with their standard orange shell: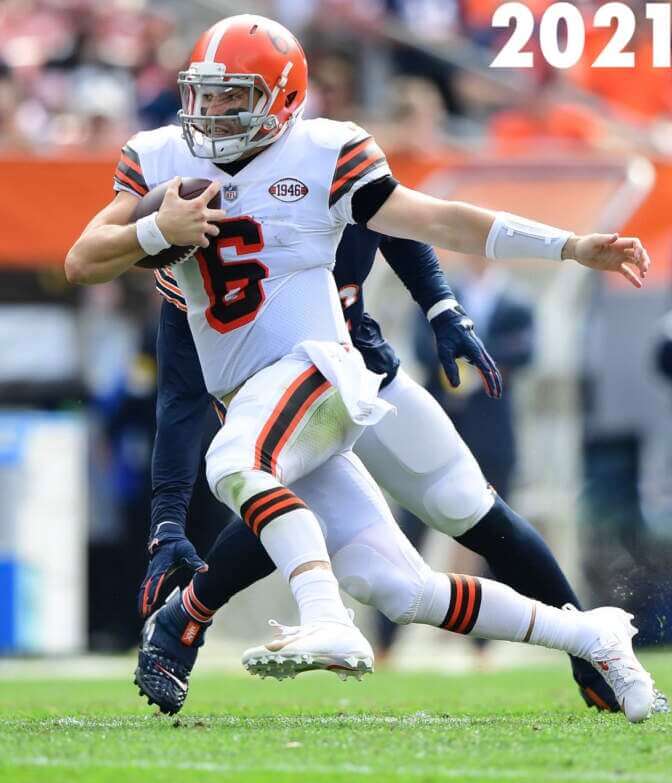 The uniform sat on the shelf in 2022 and then reappeared this year with the new white lid. As I said when it was unveiled, I think it would benefit from thinner helmet striping (a single brown or orange stripe would work nicely, much like the single white stripe they used in 2021), but that's a nitpick. Overall, I think it looks really sharp.
Another nitpick: I really dislike that "1946" patch. You could sorta/kinda make a case for it in 2021, as part of the anniversary celebration, but it makes no sense to keep it now. I assume they're stuck with it because of the five-year rule or something silly like that.
Speaking of which: Because of the "1946" patch, the Browns haven't added their Jim Brown memorial patch to this jersey. Instead, they're wearing a "32" decal on the back of the white helmet: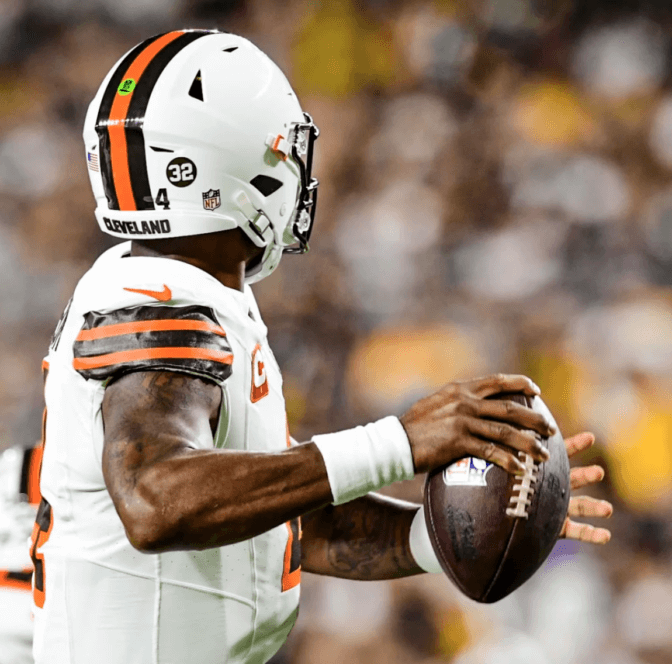 They wore that same decal on their primary helmet during the preseason (when they didn't wear the memorial chest patch) but removed it when they added the patch for the start of the regular season. Really weird to have separate memorial platforms for the different uniforms, all because of the stupid "1946" patch.
The Browns will wear this uniform two more times this season:
Oct. 15, at home against the 49ers.
Dec. 28 (a Thursday night), at home against the Jets.