[This post is part of Uni Watch Positivity Week. You can learn more about that here, and you can see all the UWPW posts here. — PL]
Good morning! I have some amazing stuff to share with you today. But before I can do that, I need to establish some context by recapping a few things we already know.
Let's start with this: On Oct. 10, 1968, prior to Game Seven of the World Series between the Cardinals and Tigers, Cards coach Joe Schultz tried on a Seattle Pilots prototype cap and road jersey in the St. Louis clubhouse (as shown above). A few hours later, after the final game of the Series, it was announced that Schultz would be the Pilots' manager for their inaugural season in 1969.
That wire photo has been floating around the uni-verse for many years. So have these next two shots, which show Schultz wearing the same jersey and cap (perhaps they were taken on the same day as the wire photo; at the very least, I'm fairly sure they were taken in the fall of 1968):
As you probably know, this is not the cap or road jersey that the Pilots eventually wore for their one season of existence. The "S" logo on their cap was simpler and less stylized, and their road jersey insignia was arched, not straight:
Again, none of this is new information. We've known for years that Schultz was wearing prototype gear in those 1968 photos, and that the Pilots made some slight design adjustments over the winter.
One thing I've always wondered about, though, is whether Schultz's prototype jersey was light blue or just grey. It's hard to be sure from the old black-and-white photos of Schultz, and we'd never seen a color photo of the prototype design.
Until now:
The guy in that photo is Jim Kittilsby, who was the assistant to Pilots GM Marvin Milkes. The photo was taken in August or September of 1968 in Kittilsby's office, which was in a double-wide trailer outside of the team's ballpark, Sicks' Stadium. (The stadium itself was too old and small to have adequate office space.) Kittilsby, who's now 85, explained in a recent podcast interview for the Shanaman Sports Museum in Tacoma, Wash., how he ended up as the uniform model:
I used to order the equipment, including uniforms. I always bought stuff from Wilson Sporting Goods — the Sorianos [the Pilots' owners] always used Wilson Sporting Goods at the time. They sent uniform samples and I was the model and they would take pictures of me, because the samples were always size 38. Most of the people on the staff were bigger — the men, most of the men were bigger than a 38. But at the time, I was five foot seven, I was about 160 pounds, so I was stocky enough to to wear those. And I wasn't selected because of my rank or my importance — it was because they fit me.
So Kittilsby was probably the first person ever to wear a Seattle Pilots uniform — even before Joe Schultz!
And that's not all — there's also this rear view:
Nice blousing there, Jim!
Kittilsby also modeled the home uniform (which, unlike the road jersey, did not undergo any further design changes) with the prototype cap! To my knowledge, this jersey/cap combo has never been seen before:
I love how Kittilsby just pulled the stirrups over his regular dress socks instead of getting a pair of white sanitaries, which really underscores how makeshift the whole setup was.
These photos came my way from a guy named Ethan Allen (yes, like the furniture brand and the Revolutionary War hero). He got them from his father, Rick Allen, who wrote a book about the Pilots that came out in 2020. Rick Allen interviewed and befriended Kittilsby while writing that book, which is how he got access to the photos. Until now, they've only been seen by the Kittilsby family, the Allen family, and the Pilots' top brass at the time.
It's worth noting that the Pilots' brief history included at least two other jersey designs. There's this one, which was worn in spring training of 1969:
And then there's this AP photo, which uni designer/historian Todd Radom discovered about 10 years ago. It was taken at MLB's 1968 winter meetings and ran in The New York Times (and, presumably, in lots of other newspapers) on Dec. 4, 1968. It shows jerseys and caps for the four 1969 expansion teams — the Royals, Pilots, Padres, and Expos — including a Pilots road jersey with a completely different "Seattle" insignia:
(Note that Expos scout Peanuts Lowrey is wearing a Wilson glove in the photo, which means this was probably a Wilson merchandise display. And that in turn matches up with Jim Kittilsby saying that the Pilots' owners always got their gear from Wilson.)
I wondered if Kittilsby — the guy who modeled the Pilots uniforms — knew anything about the '69 spring training design or the jersey from the '68 winter meetings. So I recently arranged to speak with him and gave him a call at his condo in Scottsdale, Ariz.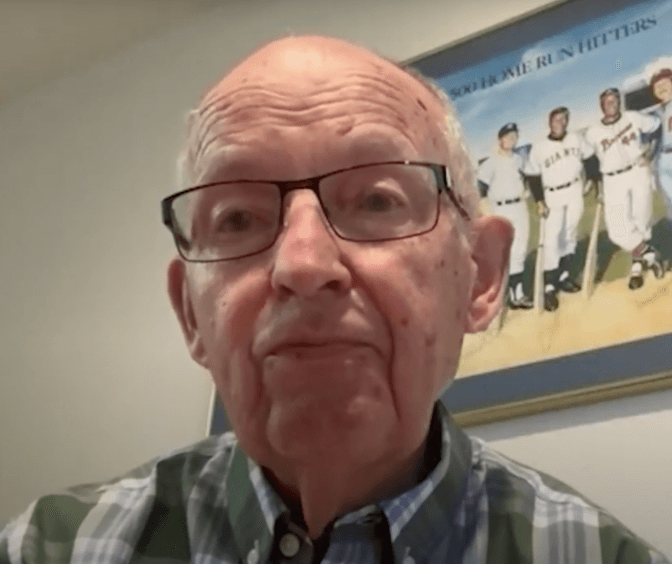 The good news is that he's extremely loquacious, appears to have a pretty good memory, and is absolutely obsessed with baseball (he says he has about 1,400 baseball books!). The bad news is that he didn't have much information in response to my queries, which included the following:
Does he know who designed the Pilots' uniforms? (He doesn't.)
Did he see any drawings or design mock-ups of the uniforms before the prototypes were made? (He didn't.)
What happened to the prototypes after he modeled them? (He thinks they were sent back to Wilson.)
Did he model any other designs aside from the two shown in this post? (He didn't.)
Why did the Pilots choose to go with light-blue road uniforms instead of grey? (He doesn't know.)
Why were the cap and road uniform changed over the winter? (He doesn't know.)
Why did the team wear a different uniform for spring training? (He doesn't know or remember.)
So we weren't able to learn much more about the Pilots' uni history, but the photos still add to this short-lived team's surprisingly deep uni-related storyline.
Update: Shortly after this post was published, Todd Radom informed me that the Pilots' uniforms were designed by Stuart Moldrem (who, unfortunately, died in 2015). Lots of good info in this old article, which I hadn't seen before (thanks, Todd!):
(My deepest thanks to Ethan and Rick Allen, without whom this post would not have been possible.)