This has been a hectic week, so I haven't gotten around to noting that former NFL quarterback Joe Kapp died on Monday. He was 85.
Kapp led the Vikings to Super Bowl IV. They lost that game to KC, but Kapp almost certainly set the all-time Super Bowl record for the widest space between the numerals on his jersey — not just on the front (as seen above), but also on the back and the sleeves: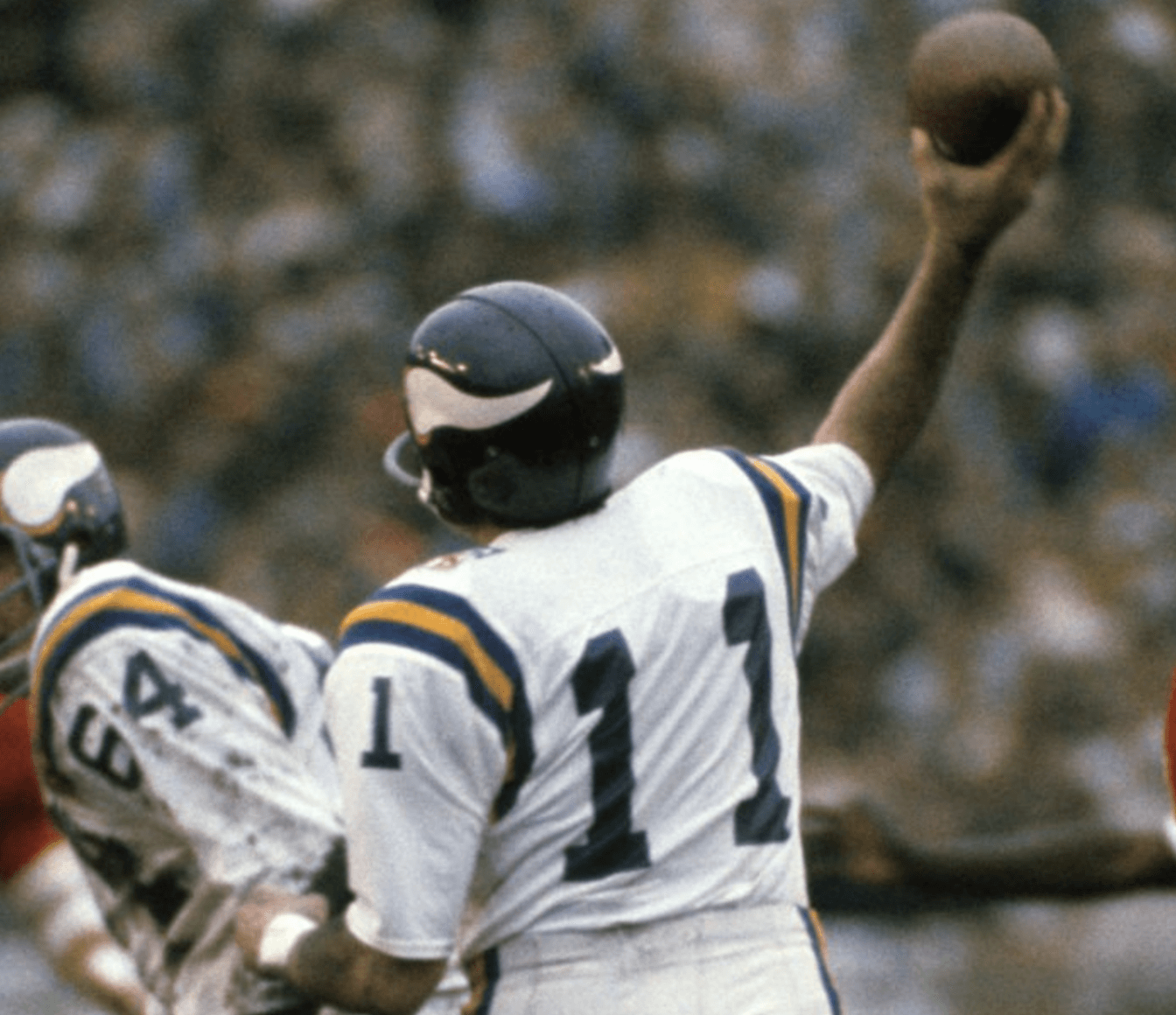 As you can see in that rear-view shot, Kapp was also the last NFL quarterback to go NNOB, as the league added NOBs the following season. (Update: Reader/commenter Jeremy Snyder points out that while Kapp was the last starting NFL quarterback to go NNOB, he was injured during Super Bowl IV and replaced on the game's final drive by Gary Cuozzo. So Cuozzo was actually the NFL's last NNOB QB, not Kapp.)
In the wake of Kapp's death, Uni Watch reader David Murphy sent me this note:
After the Super Bowl, Kapp was featured in a Wheaties commercial. The ad showed Kapp struggling in a game, with song lyrics that went, "Hey, Joe – you didn't eat your Wheaties. Hey, Joe – you're going to lose the game." Kapp kept getting sacked by Chiefs defenders. As I recall, Kapp's team wore the Vikings' purple helmets and jerseys and the defense wore KC's red jerseys and helmets — color on color!

But what really got me was the lack of official helmet logos. Both teams wore helmets with small, plain white triangles, positioned to point like the Vikings' horns and the Chiefs' arrowheads. As a 10-year-old, I was amazed by these differences. Every time the commercial played, I would hop up to get a closer look. Unfortunately, I can find no trace of this commercial on the internet.
I couldn't find that Wheaties commercial either, but I did find this commercial featuring Kapp and KC quarterback Len Dawson hawking Gillette razor blades while wearing endearingly generic windbreakers:
Kapp must have liked being in front of the camera, because he later became an actor, appearing in several TV series and movies. He was also coaching at Cal for the famous "The Play" game. R.I.P.