I recently received a note from a reader named Ed Hartig, as follows:
I am the historian for the Chicago Cubs. Some time ago I worked with a former Cubs employee named E. R. "Salty" Saltwell, who worked in concessions. We were cleaning out his old files and came across some merch catalogs from the '60s and '70s — mainly NFL (because Salty's tenure dated back to when the Bears played at Wrigley Field) but also a couple from MLB.

Not wanting to toss anything out, I've had them in a box for a couple years now. Would you be interesting in seeing them?
Obviously, I said yes, so Ed very generously sent me a package filled with amazing old sports merch catalogs and one-sheet promotional fliers. Much like the catalogs I've shared from the collection of Kevin "Gashouse" Cearfoss, these were wholesale catalogs intended for the trade, not retail catalogs for the general public. But the ones from the Cubs exec were mostly older, from a more ragtag era of sports merchandising. Collectively, they paint a very entertaining portrait of what those days must have been like in the sports merch biz.
I'm going to share these items with you over a series of posts, beginning today with a bunch of one-sheets and brochures for a variety of different products. Let's start with…
NFL Chocolates
In 1964, a confectionary firm was selling officially NFL-licensed foil-wrapped chocolate footballs. Here's their pitch letter, plus a one-sheet and price list:
NFL Stadium Seats
NFL Director's Chairs
NFL Tailgating Kits
Gotta like the company name "West Bend Thermo-Serv, Inc."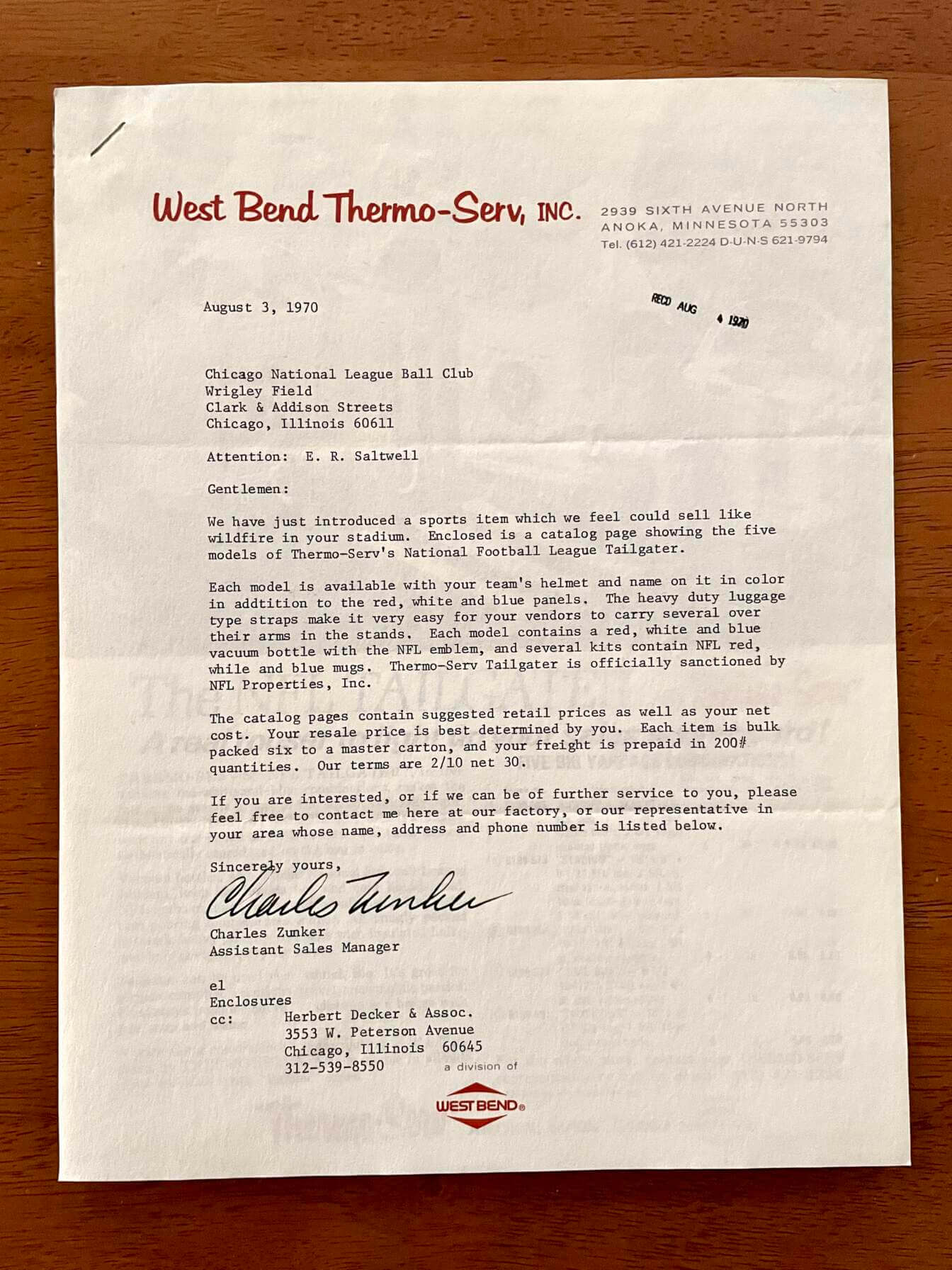 NFL Plush Dolls
Never seen this one before. Looks almost scary! "Will sit erect" — ahem.
NFL Sideline Capes
I love the NFL shield used at the top of this one. Inauthentic, obviously, but communicates the brand and gets the job done.
NFL Team Posters
Paintings by Dave Boss. Interesting that the front of the one-sheet is black-and-white, but then they have a color photo of the retail display on the back.
NFL Player Posters
Some of my friends definitely had some of these when I was growing up in the early 1970s.
NFL Tees and Sweatshirts
So interesting that they were still using illustrations instead of photos for these items in 1972. Fashion illustration would soon disappear altogether a few years later.
Also: Note the Browns logo on the final sheet.
Belt Buckles (all sports)
I love this company's logo (look at the lower-right corner of the first page). Also: The facemasks on the NFL buckles look so truncated!
MLB Golf Balls
MLB Clocks and Pocket Watches
MLB Patches
The manufacturer refers to them as "embroidered emblems," but that's just a fancy way of saying "patches."
MLB Caps
Has anyone ever heard of a baseball cap manufacturer called KM Pro? They're new to me, but they were apparently making MLB caps in the 1970s, and a quick eBay search suggests that their vintage caps are now pretty valuable.
———
Faaaascinating stuff, no? Please joining me in thanking Ed Hartig for sharing these incredible artifacts with us!
And this is just the beginning — there's a lot more to the Saltwell files, and I'll be sharing more of that content with you in the weeks to come. Stay tuned.