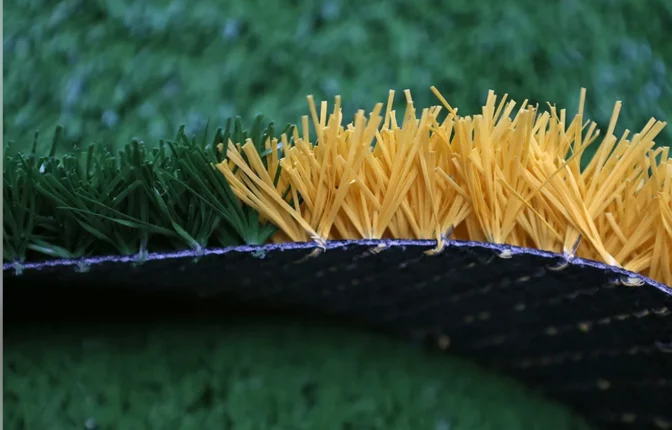 [Editor's Note: Today we have an absolutely fantastic guest piece from Jared Pike, who, in peak Uni Watch style, takes a deep deep dive into artificial turf in NFL stadiums. Enjoy! — PH]
Dyed in the Wool: Turf Permanence in the NFL
By Jared Pike (jakepride@hotmail.com)
After the Indianapolis Colts' first home game of 2022, Uni Watch commented in surprise that the Lucas Oil Stadium end zones still display the Colts' old wordmark (despite the team updating its wordmark in 2020.) The most likely reason for this is simple: Indy's graphics are literally sewn into the turf. The fibers that make up Indy's artificial turf field are permanently-colored blue plastic, sewn together and arranged at the factory. Here's a time lapse video of how this happens.
The benefits are obvious. Unlike a grass field (where grass grows and is mowed, and new paint has to be applied every week), the Colts don't have to spend extra time and money applying paint every week – their field graphics are permanently fixed.
More than half the league now play on artificial turf, and every stadium handles this situation differently. Some fields use permanently dyed plastic fibers for boundary lines, yard markers, and end zones. Other stadiums, especially those that host soccer games, paint the graphics anew every week.
Before we cover who does what and why, let's focus again on the Colts. When Lucas Oil Stadium opened in 2008, their FieldTurf end zones consisted of permanently dyed blue and white plastic fibers. Integrated alongside the "COLTS" wordmark was the NFL logo (then newly redesigned), and the not-yet-redesigned original AFC logo with six cascading stars. That became a problem two years later, when the NFC and AFC logos were both streamlined to contain four interior stars. Indy were forced to paint over the "old" AFC logo and hand-paint the "new" logo. While most people probably didn't notice at the time, Uni-Watchers like me certainly saw the difference, as the white paint didn't entirely cover the original embedded red plastic fibers.
This turf permanence works most of the time. During events like the NFL Combine or Drum Corps International Finals, the Colts graphics just stay on the field. However, this becomes an issue when Lucas Oil hosts non-Colts football games, like the Big Ten National Championship. In order to paint the respective team graphics, crews have to first paint green over the embedded Colts graphics, and then paint the end zones dark colors to hide the ghosted "INDIANAPOLIS" fibers.
This came to a head in 2018, when the Indy Eleven soccer team began to play at Lucas Oil. For their first few games, they attempted to hide the football lines with green paint, which was not very effective. Eventually they gave up, leaving the embedded white football lines visible, and painting yellow soccer lines on top of them. It was a visual disaster, much like the "multi-purpose" fields you see at local high schools. (Despite this aesthetic nightmare, they did have one unique innovation: they placed the soccer goal on the football goal line, with the word "INDIANAPOLIS" in the end zone behind it. It's the only instance I've ever seen where the shared objectives of soccer and American football visually converge: get the ball over the goal line!)
After ten years of use (and one egregious tear from an Ohio State linebacker), Lucas Oil Stadium replaced its artificial turf in 2018. For the permanence of their field graphics, they chose a compromise solution. The football field lines are permanently dyed into the fibers, but the end zones are removable panels. Most of the time, they leave the blue "COLTS" end zones installed. But for non-Colts events, they can swap out for blank green end zones, which are far easier to paint.
That little bit of flexibility has paid off. Lucas Oil has since hosted the Big Ten Championship and the College Football Playoff National Championship in the same year (though they still had to paint over the Colts' midfield helmet logo). The Indy Eleven have moved back to their outdoor stadium. Even the NFL Combine has utilized the new swap-out end zones, painting ridiculous artwork on one side of the field.
Eventually, Indy will replace its end zone graphics with the new wordmark. But for now – whether to save money, or to appeal to the nostalgia of fans – the current graphics are staying put.
Here's how the other NFL teams with artificial turf handle the decision of paint vs. permanent field graphics:
Atlanta Falcons: From movable stands to separate locker rooms, Mercedes Benz Stadium was built from the start to host both NFL football and MLS soccer. This includes the blank-canvas green turf, which is painted with special water-soluble paint to appear pristine for both soccer and football.
Buffalo Bills: Highmark Stadium rarely hosts non-NFL events (apart from the first NHL Winter Classic, where the field was covered in snow anyway). So it made sense when they replaced their turf in 2019 to permanently embed Bills logos and blue end zones.
Carolina Panthers: Bank of America Stadium had natural grass until 2021, when they replaced it with artificial turf in anticipation of hosting the MLS club Charlotte FC. As such, their turf is pure green, with lines freshly painted for each individual game. However, that transition doesn't always go to plan. A recent rainy weekend forced the Panthers' grounds crew to paint their logo in black-and-white, because the Panthers' specific shade of blue doesn't come in water-resistant aerosol form.
Cincinnati Bengals: "I'm still calling it Paul Brown" Stadium is not wide enough to host soccer matches, so it makes sense that the Bengals' most recent turf installation in 2018 featured permanently dyed orange plastic fibers. However, for their recent "White Bengal" uniform debut, they did paint over the orange with gray (required by NFL rule, so that it adequately contrasted with the white sidelines).
Dallas Cowboys: Hard to imagine JerryWorld without that star in the middle, which is why AT&T Stadium's primary field graphics are permanently embedded. For non-Cowboys games like the annual Cotton Bowl Classic, they actually swap out the whole field with an entirely separate turf (you can tell because the yard markers on the "alternate" field are a different font). They even sprang for a third field this summer, completely free of markings for use in international soccer matches. Nobody but the 'Boys.
Detroit Lions: Ford Field decided to embed blue end zones during their last turf replacement in 2019. But that may have been unwise. Twice before, Ford Field has served as the impromptu "home" stadium for teams that had to relocate games due to winter weather: the Vikings in 2010, and the Bills in 2014. In both cases, they worked to erase the Lions graphics and replace them with respective "home" team logos – tough to do now if the blue fibers are permanent.
Houston Texans: Remember when NRG Stadium featured natural grass? Much like the Houston Astros of old, their valiant attempt to bring natural grass indoors (despite never opening the roof!) eventually failed. They converted to a full-time artificial surface in the middle of the 2015 season, and have stayed that way ever since. While the lines and yard markers are embedded, the logos and end zones appear to be painted.
Las Vegas Raiders: You may be saying: wait, doesn't Allegiant Stadium have one of those fancy roll-in roll-out natural grass fields? You'd be right. But for non-Raiders games, they have a separate artificial turf that lives underneath, with UNLV graphics embedded. For neutral games like the Las Vegas Bowl or Pac-12 Championship, they paint over the UNLV graphics.
Los Angeles Chargers / Los Angeles Rams: As the newest NFL stadium (and one that hosts multiple teams), SoFi Stadium obviously had flexibility in mind with their turf. They embedded the football lines and yard markers, but left everything else blank green – painting the midfield and end zones for each individual game. This has afforded the Rams in particular the opportunity to show off their visual creativity in the end zones: "LA Rams" on green, "LA Rams" on blue, "Los Angeles" on yellow, "Los Angeles" on blue, and a particularly fetching Northwestern stripe pattern that was designed by their social media guy.
Minnesota Vikings: US Bank Stadium chose to embed all their Vikings field graphics, including purple end zones (only painting over them for Super Bowl LII). However, this presents a problem that no other stadium on this list has to deal with: they host baseball games! The University of Minnesota (among others) play baseball indoors while waiting for the snow to melt outside. This requires the not-quite-adequate green overpainting of all the football lines, and also adding an extra section of turf to cover right field.
New England Patriots: Gillette Stadium started out in 2002 with natural grass, mainly because owner Bob Kraft also owned the MLS' New England Revolution, who preferred playing on grass. But growing grass in Northeast autumns has always been a challenge. What, you don't remember those famous muddy November games between the Patriots and Jets? After one such slopfest in 2006, Kraft took the extraordinary step of switching midseason to artificial turf. A similar swap happened in 2017, when the players complained that the brand new turf installation was "too soft," and Kraft again paid to rip it all out and start over in the middle of the season. Whether grass or artificial turf, Gillette Stadium has always painted the lines and logos on the field every week, for both soccer and football.
New Orleans Saints: In its earliest days, the Superdome hosted everything from basketball to baseball to boxing. Nowadays, as primarily an American football stadium, the current turf has its basic football markings embedded, with the "Saints" wordmark and midfield logo painted anew every week. For non-Saints games like the Sugar Bowl, other artwork can be easily painted.
New York Giants / New York Jets: As the other shared stadium in the NFL, MetLife Stadium's turf has permanent football markings, including the only NFL logo embedded at midfield. The Jets/Giants end zones are then swapped out for each game, depending on who's playing. There are two exceptions to this: when the Giants and Jets play each other, each team gets one end zone. And if there's not enough time to logistically make the swap, they replace both end zones with neutral green turf with diagonal lines.
Seattle Seahawks: Lumen Field has hosted the Seahawks since 2002, and the MLS Sounders since 2009. They do a great job of painting their artificial turf anew for every soccer and football game.
BONUS STADIUMS
Tom Benson Hall of Fame Stadium: Canton, Ohio's local high school stadium, which traditionally hosts the first preseason NFL game, underwent massive renovations in 2016. Unfortunately, in their haste to finish the stadium before that year's Hall of Fame Game, they borrowed turf from the Superdome, painting graphics on it the night before. They used the wrong kind of paint, which congealed into a hard, sticky mess. Grounds crews tried to re-melt the paint using hot air, but instead melted the rubber pellets of the underlying Fieldturf. The game had to be cancelled. Before 2017's game, Hall of Fame Stadium received its own proper turf installation, with football lines and the midfield Hall of Fame logo permanently (and safely) embedded.
London: In 2007, the NFL began hosting one annual game in London's Wembley Stadium, for which its grass field featured traditionally-painted end zones and other artwork. However, when multiple NFL games began coming to London in 2013, logistics forced their grounds crews to simplify – often painting end zone logos as simple white outlines (which makes sense, because European grounds crews rarely have to paint anything on a soccer field other than a few white lines). TV broadcasts even tried to compensate by adding virtually-colored end zone graphics… which didn't quite work.
The arrival of Tottenham Hotspur Stadium in 2019 should have solved this problem, as its grass pitch rolls away to reveal a permanent artificial turf NFL field. However, its only embedded markings are the outer boundary lines and the midfield NFL logo; everything else must be painted by hand. Curious why they didn't embed the football markings to save themselves some time every year!
• • • • •
Phil here. How great was that? Absolutely fantastic research and a fun topic to boot. Please be sure to give Jared some love down in the comments, ok? OK!
_____________________________________________________