Lots of uni news emanating from the NHL draft yesterday. Let's start with this: Back in March, word began circulating that the Oilers would be going back to their classic shade of royal blue for their primary home and road uniforms in the 2022-23 season. That was confirmed yesterday, as the team announced that it is bringing back its original jersey designs, complete with the shade of blue changing back from navy to royal. (That noise you hear in the background is everyone — myself included — saying, "Never should have changed it in the first place!")
In other NHL news:
• It appears that the Devils' 40th-anniversary logo, which I wrote about yesterday, will be worn as a shoulder patch on the team's jerseys: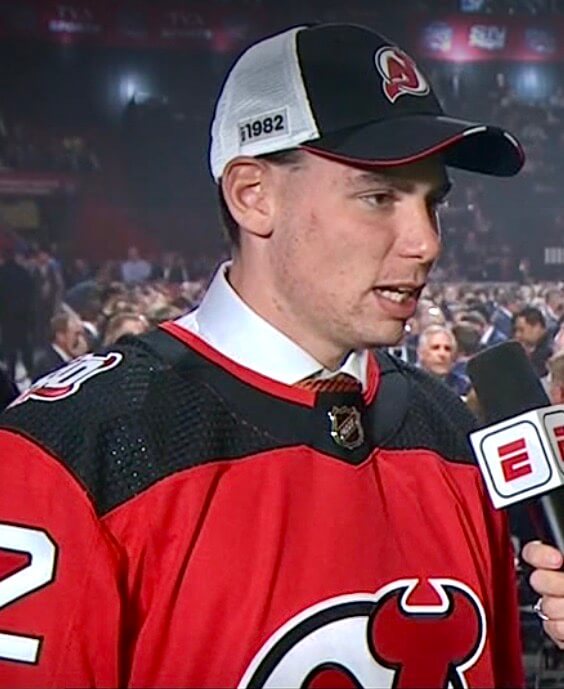 I'm wondering if all commemorative patches will now be worn on the shoulder in order to make room for the ad patches that are coming this fall. I had hoped to test that hypothesis by seeing where the Islanders and Hurricanes put their respective anniversary patches, but those two teams didn't have a pick in last night's first round, so we'll have to wait at least one more day to find out.
• The first overall pick in the draft — Slovakian left winger Juraj Slafkovský, who was chosen by the Canadiens — had the accent included on the NOB of the jersey he was presented with. Maybe it's just me, but I feel you don't often see an accent over a Y: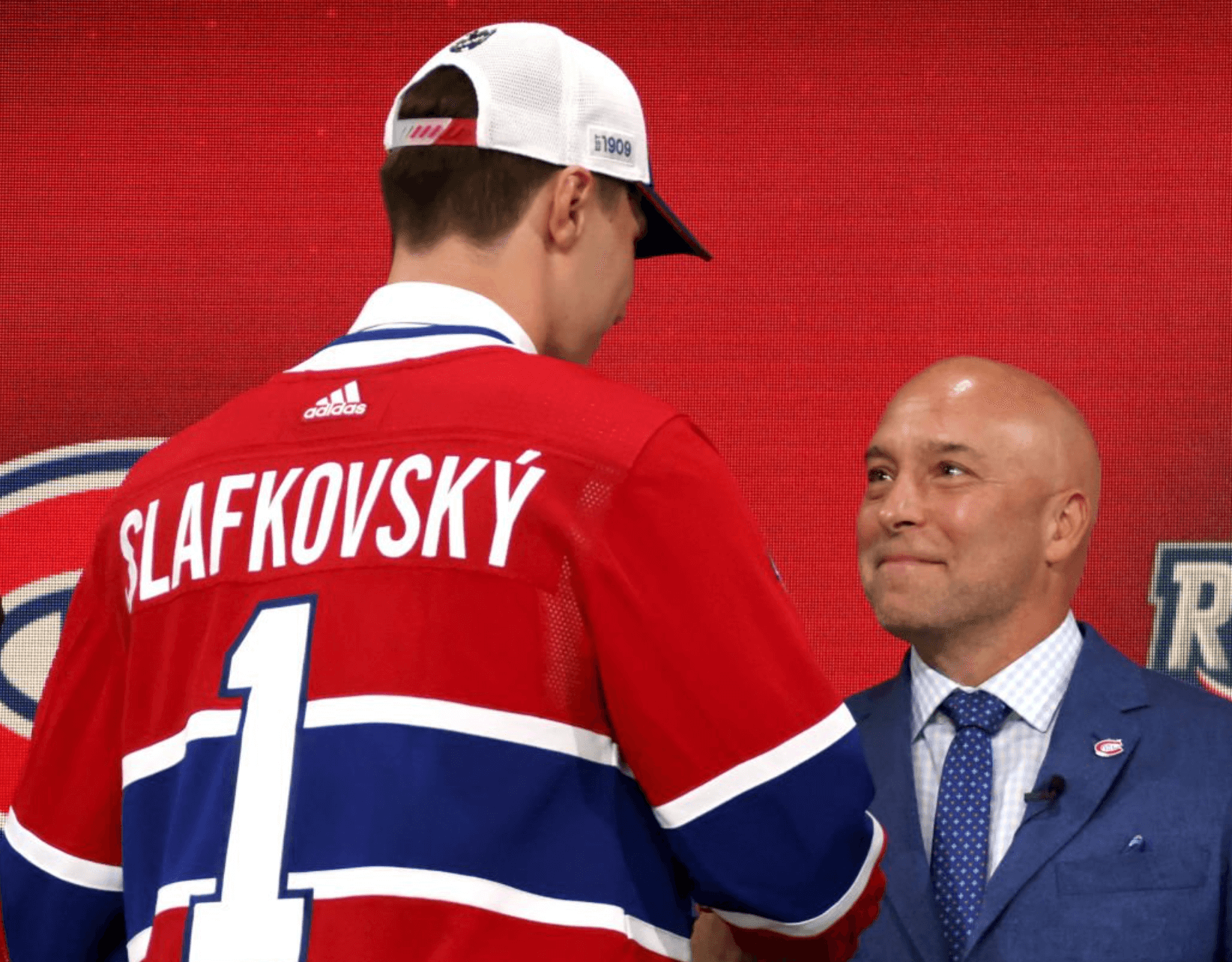 (As an aside, I just can't look at a No. 1 hockey jersey without thinking that the player has to be a goalie.)
• Another Habs pick, Filip Mesar, had the tag sticking out of his jersey collar when he walked up onstage:
Can't have the tag in the photo! 😅 #NHLDraft #RepêchageLNH pic.twitter.com/IXFVSSvGFB

— NHL GIFs (@NHLGIFs) July 8, 2022
• At least two teams — Chicago and the Predators — used NNOB jerseys: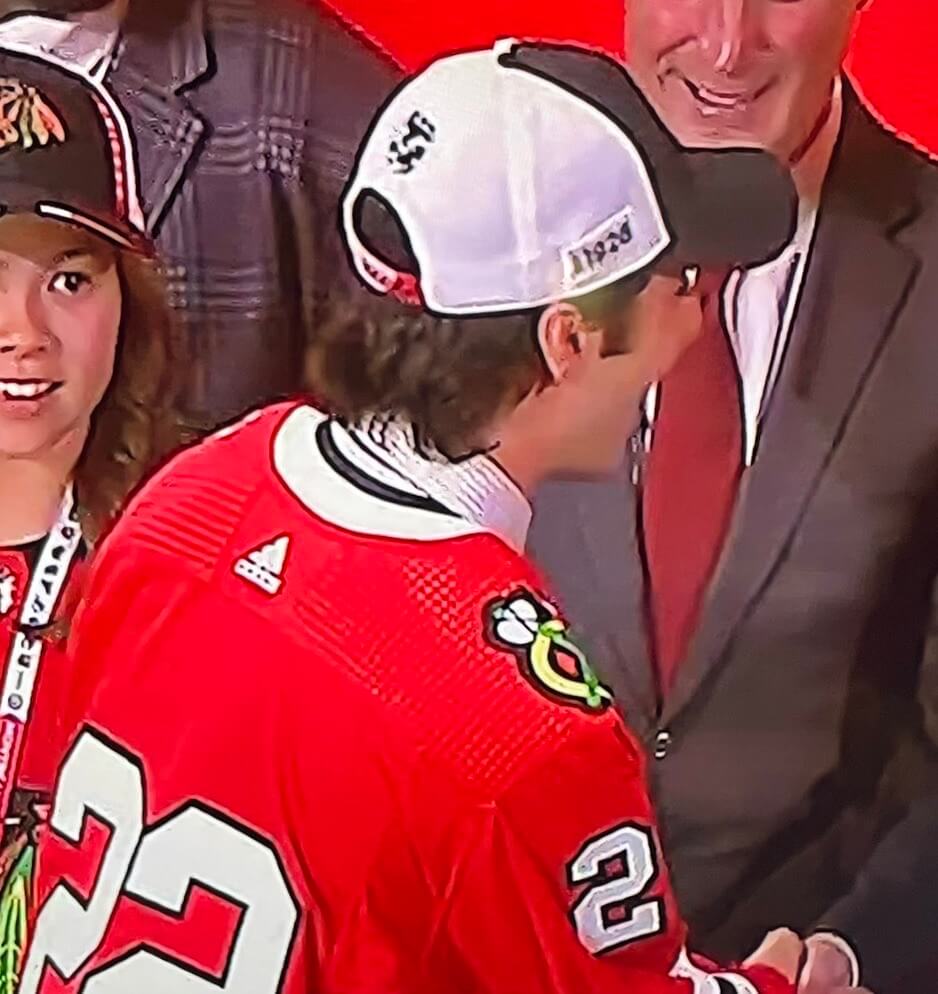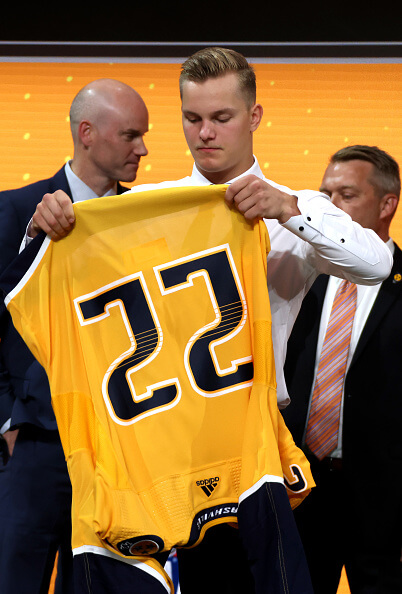 • At least one team — the Sharks — used TNOB instead of the standard NOB: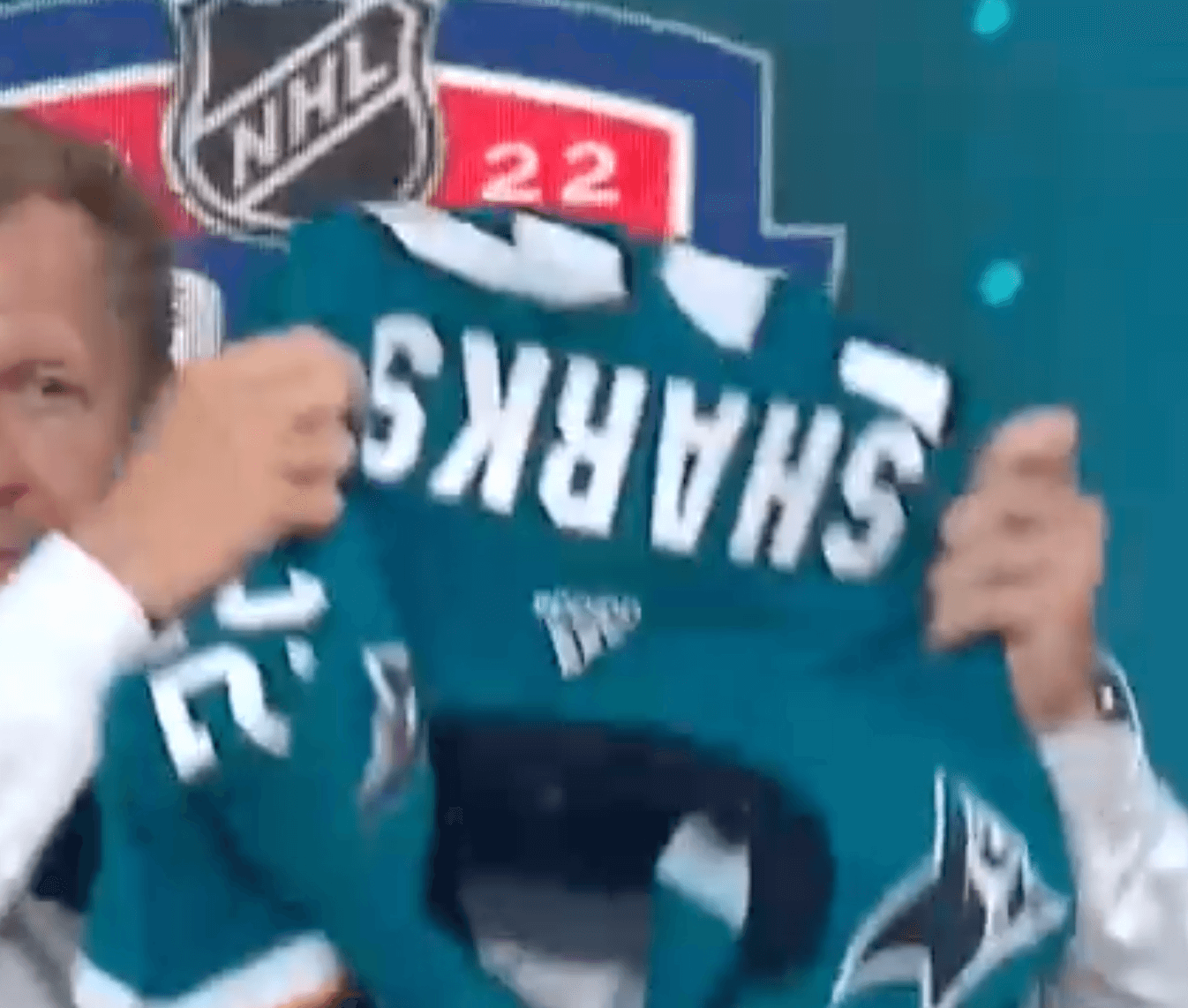 • Looks like the nameplate on Flyers first-rounder Cutter Gauthier's jersey was applied pretty sloppily: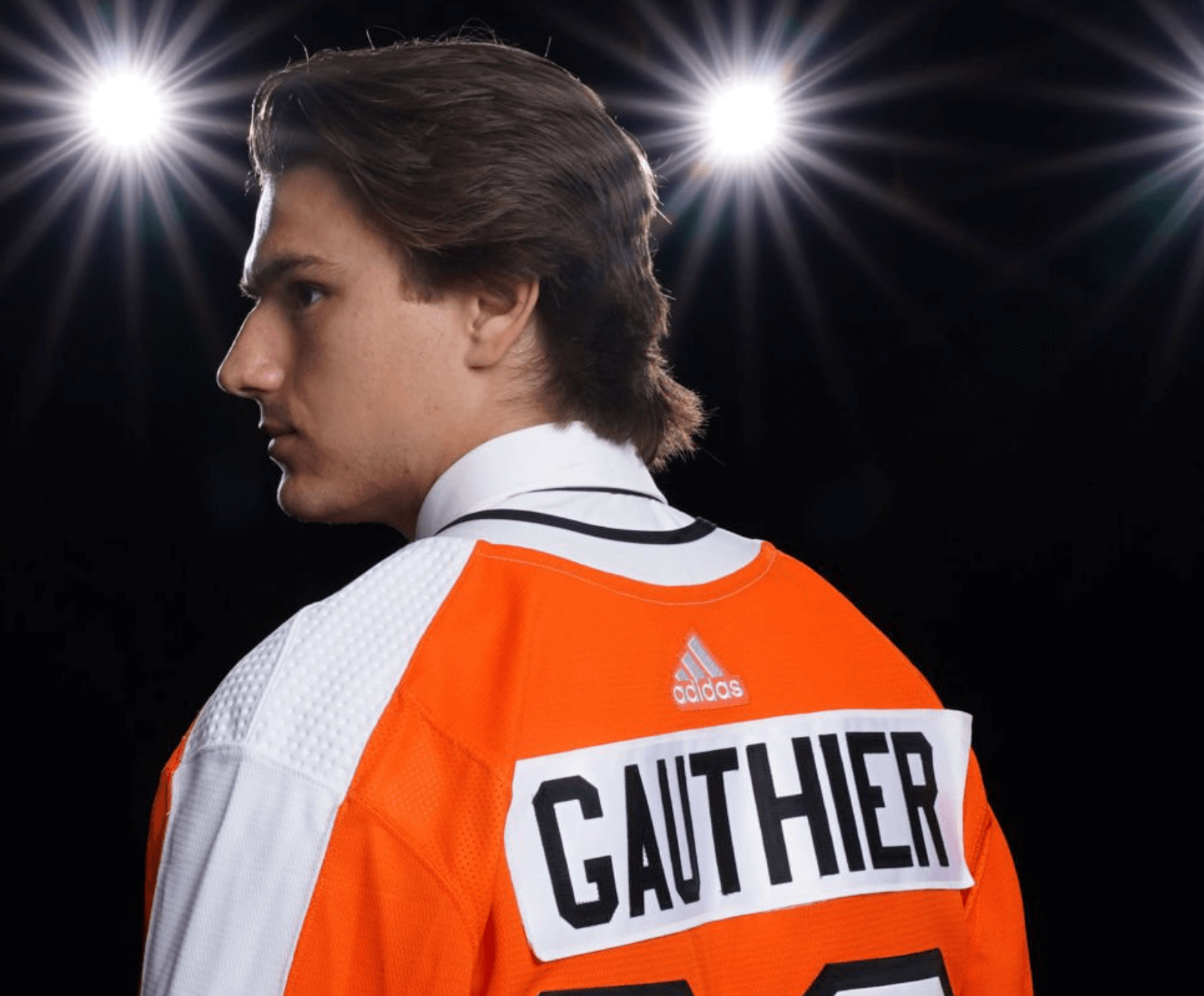 • It looks like the Blue Jackets might be eliminating the pinholes in their numerals, both on the back of the jersey and on the sleeves (or maybe they just didn't bother with the pinholes for the draft jersey — we'll have to wait and see). For the first pair of pics, you'll definitely want to click to enlarge: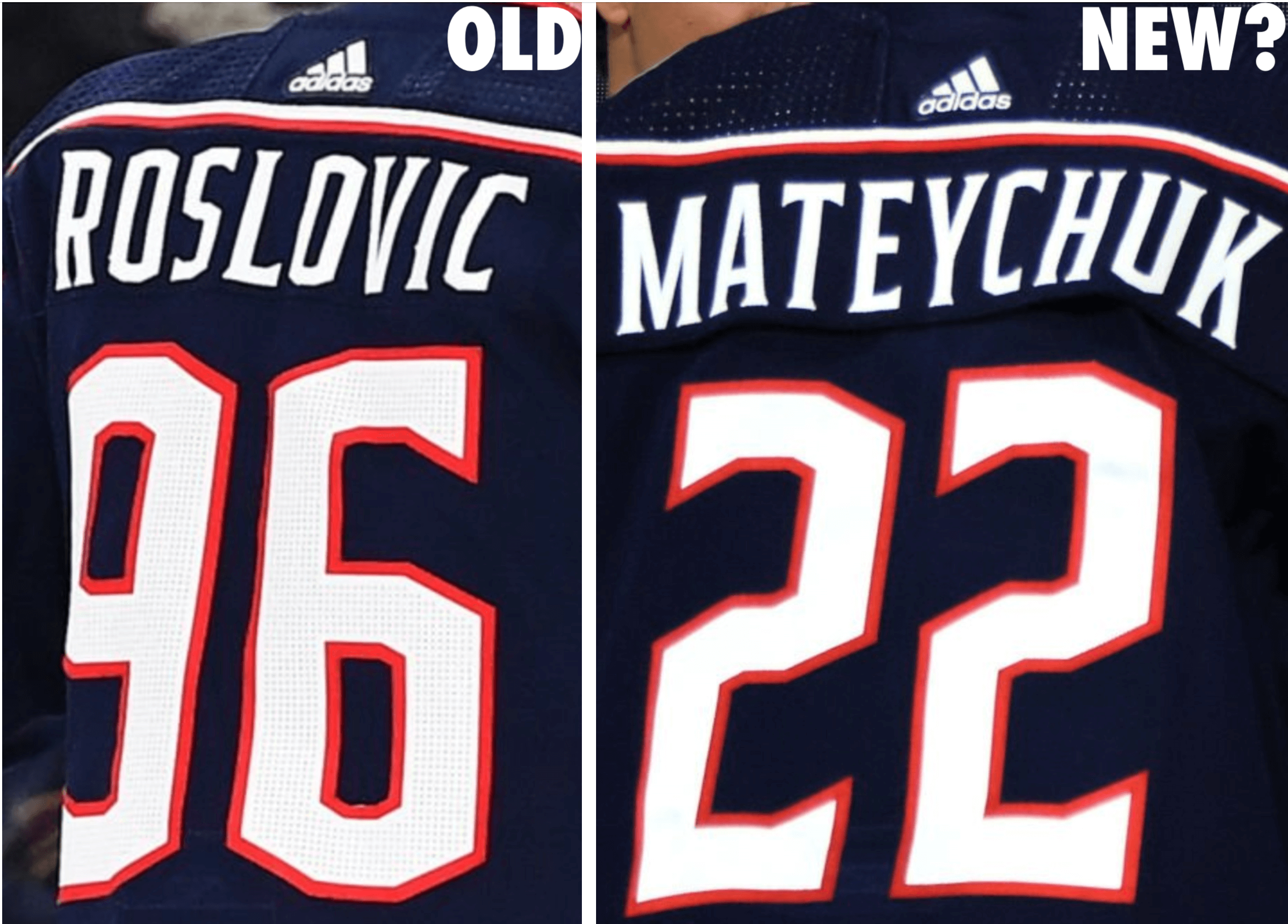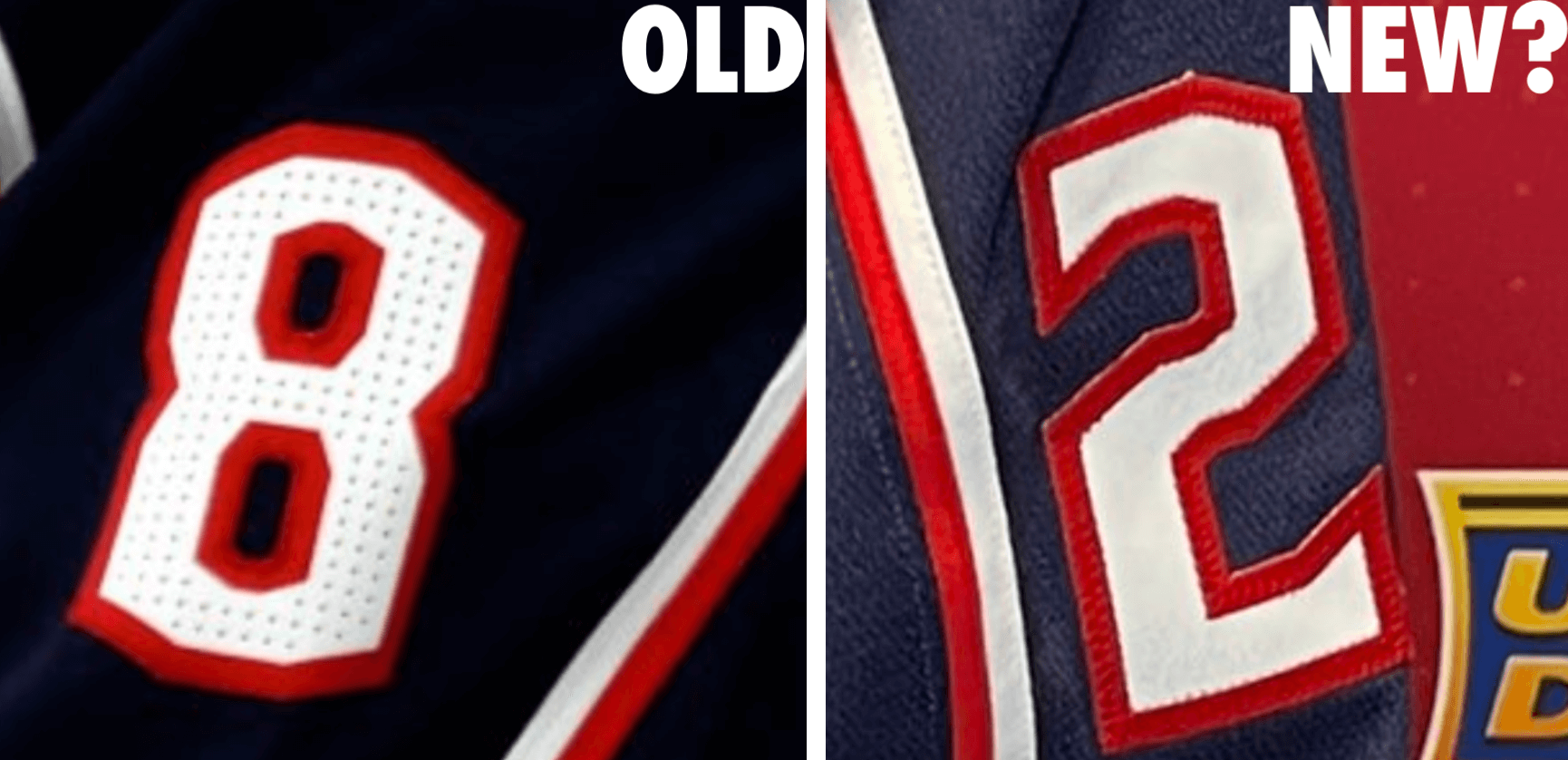 • Ducks draftee Nathan Gaucher had a draft-themed lining in his suit jacket: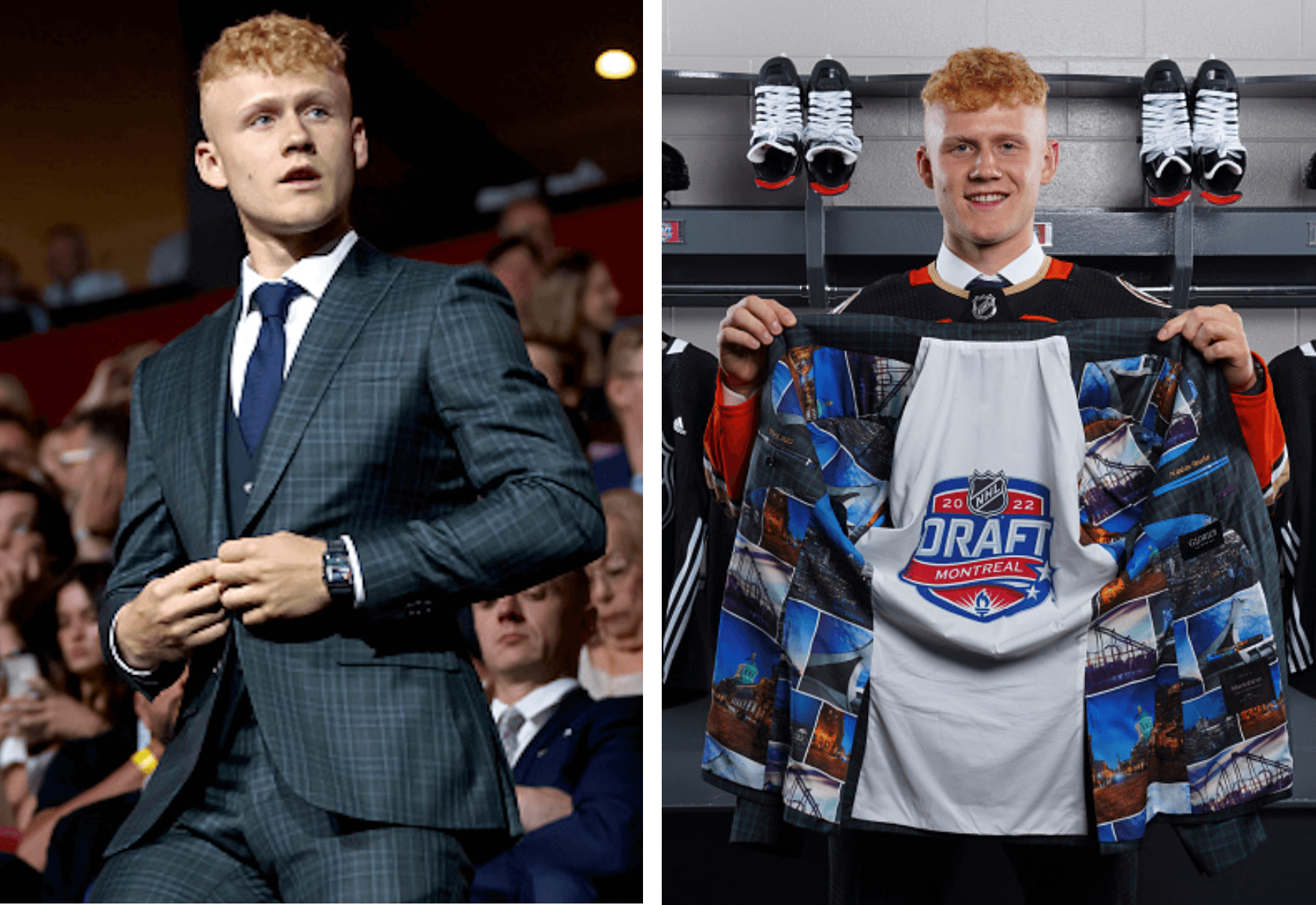 • The Coyotes' front office staff wore matching blue suits with red neckties (additional info here):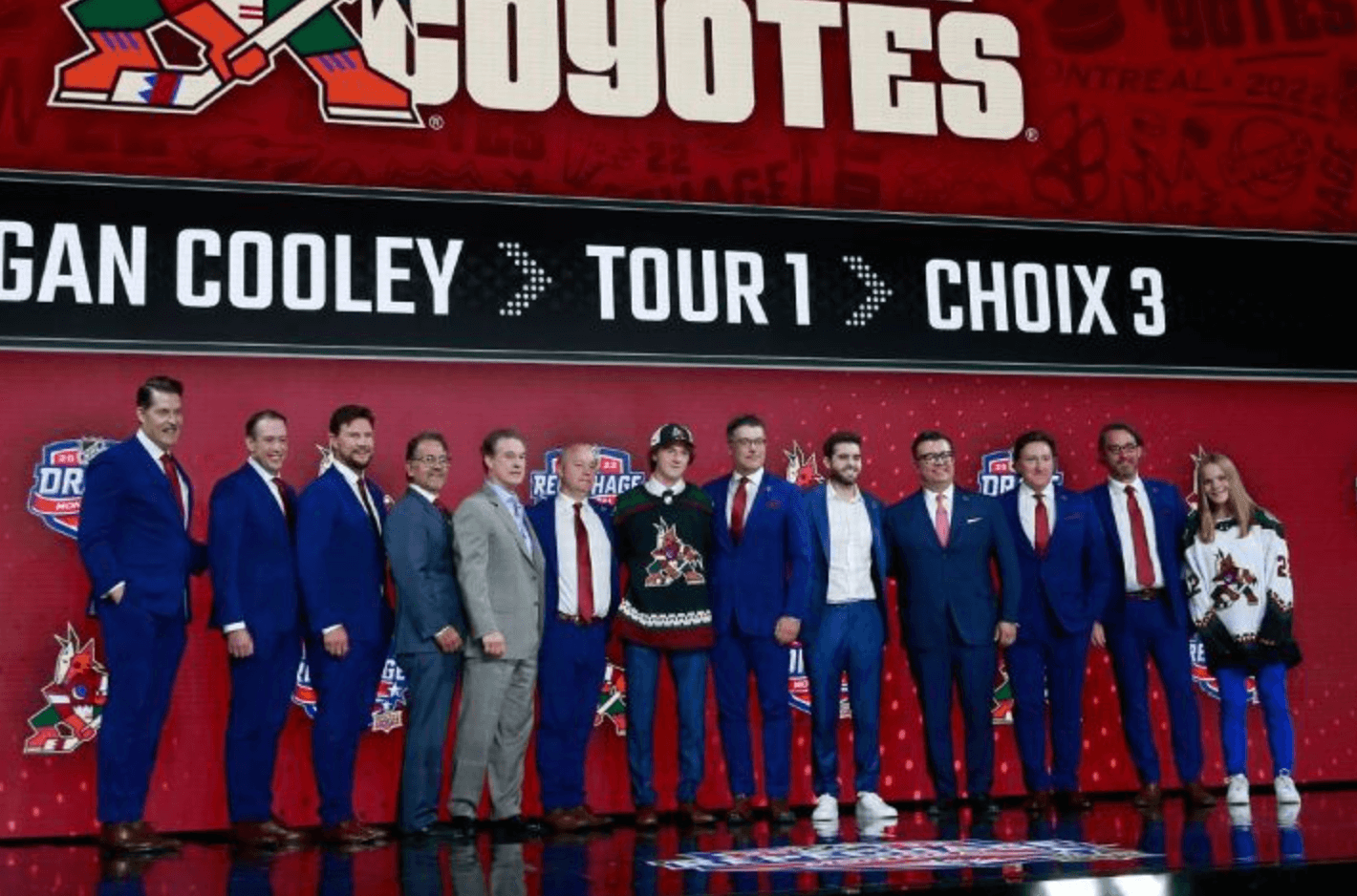 (My thanks to Michael Brighton, Colin Davis, Jase Greenberg, Craig Pritchard, Adam Minnick, and @_ynnhoJ for their contributions to this section.)
• • • • •
• • • • •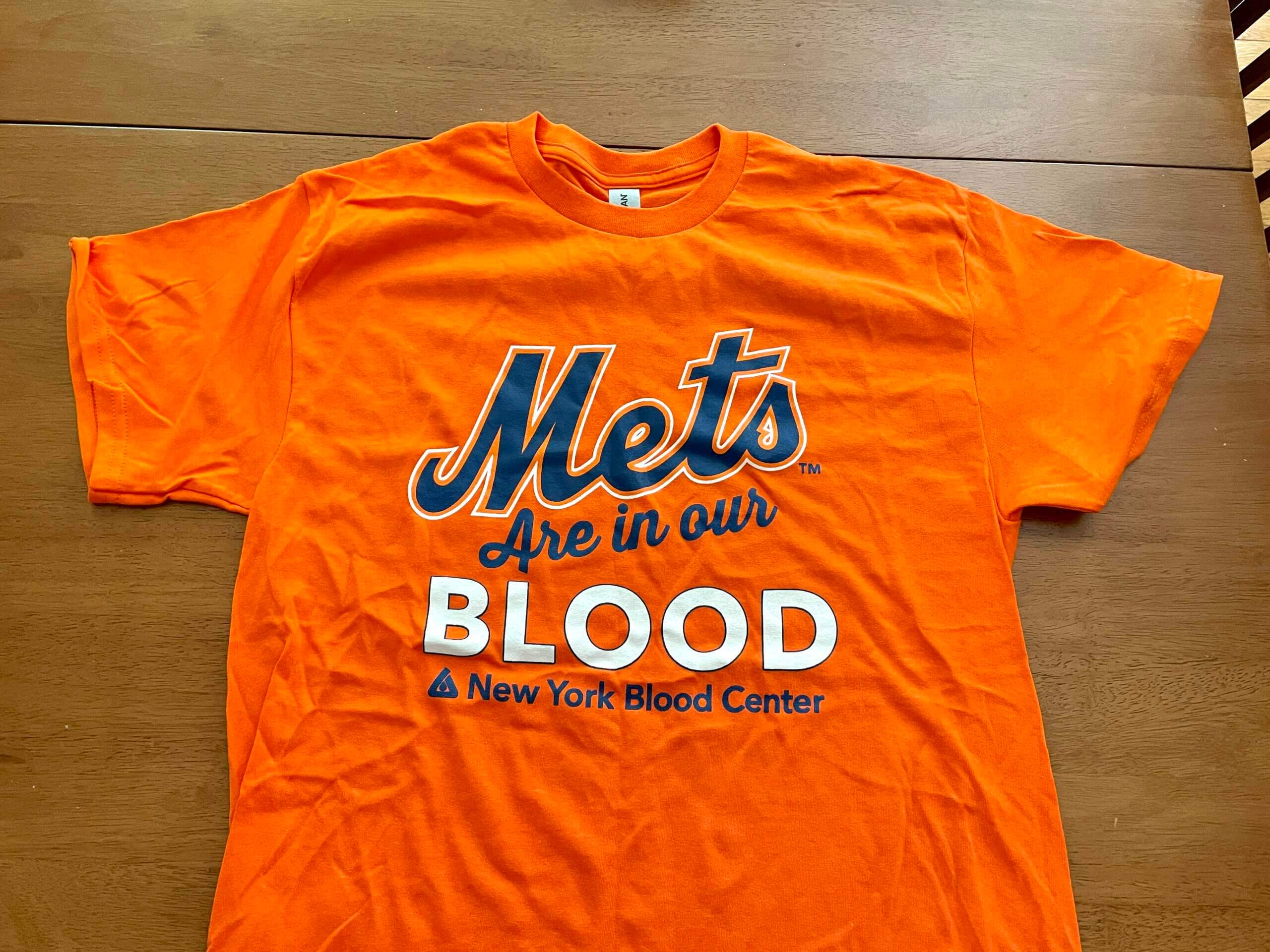 Freebie from an unlikely source: As many of you know, I regularly donate blood. I've been doing that for over 20 years now, but yesterday was different: They sent donors home with a free T-shirt. First time that's ever happened!
There was only one design available (shown above). Not sure how that went over with the woman who was donating right after me — she was wearing a Yankees cap.
• • • • •
• • • • •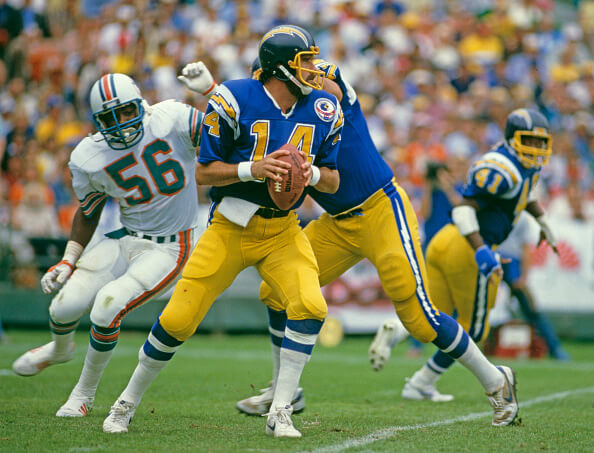 Bulletin reminder: For last week's Bulletin column, I looked at the best throwback uni option with a non-primary helmet color for each NFC team. This week I've turned my attention to the AFC. My premium subscribers can read the AFC article here. If you haven't yet subscribed, you can do that here (you'll need a Facebook account in order to pay). Don't have or want a Facebook account? Email me for workaround info.
Speaking of reminders: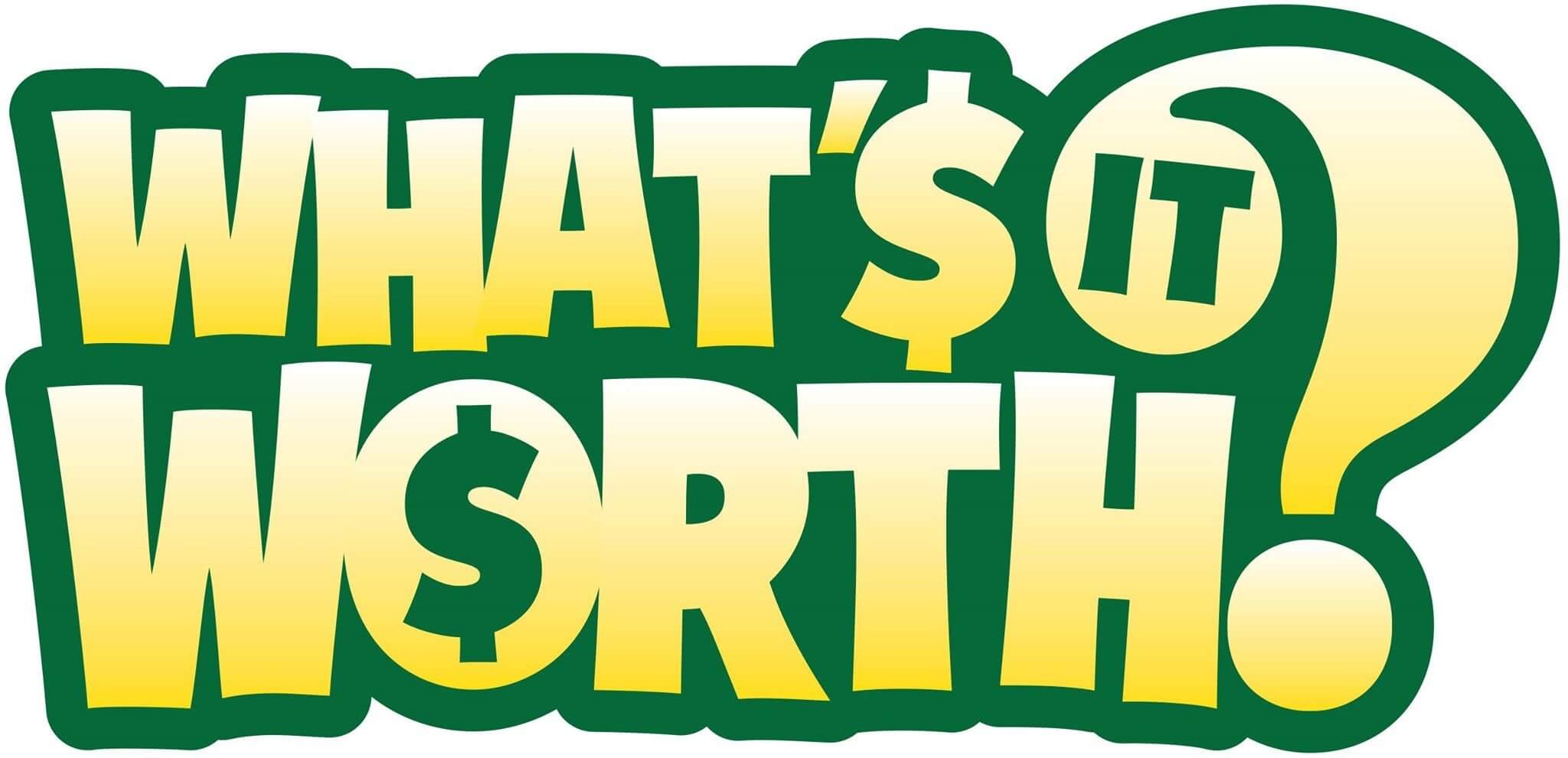 • In case you missed it last week, Uni Watch is once again partnering with Grey Flannel Auctions to offer free, no-obligation appraisals of your sports memorabilia. Have a cool item and want to know what it's worth, or maybe even want to put it up for auction? Get the full scoop here.
• I'm now accepting entries for a new design contest. The challenge is to create a set of MLB All-Star uniforms that don't suck. Yes, of course it would be better for players to just wear their regular team uniforms, but Nike and MLB have abandoned that approach, so let's see if we can do better than what they've come up with. Full details here.
• • • • •
• • • • •
The Ticker
By Anthony Emerson

Baseball News: Mets SS Francisco Lindor had some trouble putting on his oven mitt after reaching base during last night's game (from Edward Lee Lauchlan). … Always fun to get a look at the prototype Marlins unis their draft picks wore to camp in 1992. … The Cardinals have unveiled a logo for Yadier Molina's final season. It will appear on assorted merch. … Reds P Robert Dugger, making his 2022 big league debut last night after being called up from the minors, wore stirrups (from Kevin Cearfoss). … Although the Albuquerque Dukes no longer exist, their cartoon logo is still popular. Now the logo's designer has been inducted into the Albuquerque Baseball Hall of Fame.

College Football News: It appears Texas is scrapping its TV numbers this season, if this promotional image is to be believed (thanks, Phil). … Ohio State groundskeepers have laid down new turf at Ohio Stadium (from Jason Hillyer).

Hockey News: The QMJHL's Acadie-Bathurst Titan — yes, it's a singular team name — have unveiled a 25th-anniversary logo (from Wade Heidt).


Pro Hoops News: Pro tennis star Nick Kyrgios was practicing in a Jayson Tatum Celtics jersey yesterday at Wimbledon. … The WNBA's Indiana Fever split their home games between the Indiana Farmers Coliseum and the Gainsbridge Fieldhouse. Earlier this week while playing at the Coliseum, the Fever's floor had the logo of the Fieldhouse.

Soccer News: Goal.com has a rundown of the some of the more prominent European clubs' new kits (thanks, Phil). … Also from Phil, the Bundesliga's official website has all Bundesliga teams' new kits in this article. … The English women's national team has asked Nike to switch their short color from white, due to concerns about visible menstrual blood for players on their period (from Trevor Williams and our own Jamie Rathjen). … New kit for English fourth-tier side Hartlepool United (from Ed Zelaski). … Manchester United vice-captain Bruno Fernandes will assume the No. 8 shirt this season, after having worn 18 for his first two and a half seasons at the club. Fernandes was unable to wear the No. 8, his preferred number, due to the presence of Juan Mata, who has recently departed the club (from Johnny Jatt).

Grab Bag: Here's one writer's picks for uni numbers from Philadelphia teams that should be retired. … Here's an analysis of why the various Star Trek shows rotate their uniforms so much. … Cross-listed from the basketball section: Pro tennis star Nick Kyrgios was practicing in a Jayson Tatum Boston Celtics jersey yesterday at Wimbledon.
• • • • •
And that'll do it for this week. Stay well, enjoy Phil's weekend content, and I'll see you back here on Monday. Peace. — Paul