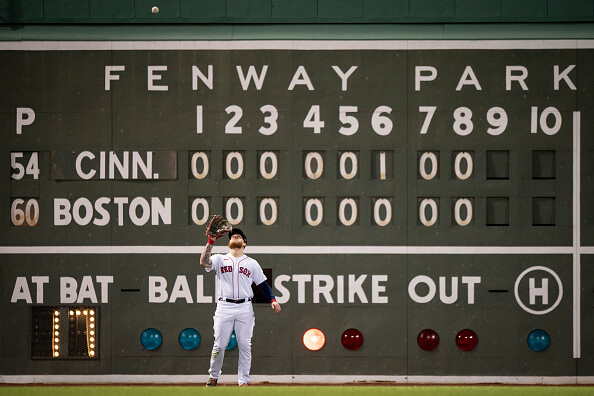 Reader Kyle Sutton noticed something interesting about last week's Reds/Bosox series at Fenway Park: The Fenway scoreboard listed the Reds as "Cinn." That's wrong, of course — it should be "Cin." (with one "n").
When Kyle recently posted that observation on Twitter, Keith Olbermann pointed out that the "Cinn." thing is nothing new. To prove his point, he posted this photo from the 1975 World Series: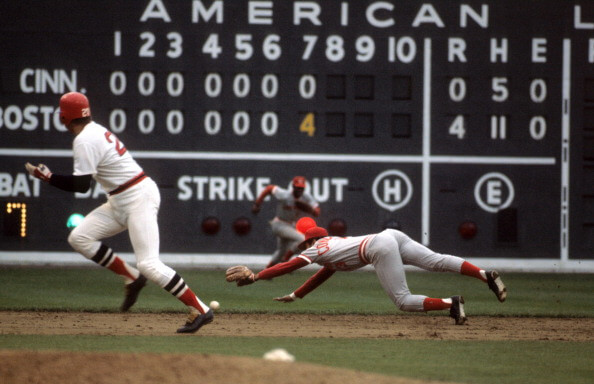 So has Fenway always been using that same scoreboard abbreviation (and maybe even that very same "Cinn." placard!) for nearly 50 years?
In an attempt to answer that question, I looked up the all-time Red/Bosox history. It turns out that Cincy has visited Fenway only four times: in 1975 (for the World Series), 2005 (for a three-game series), 2014 (a two-game series) and last week. We already know that the Fenway scoreboard used "Cinn." for the 1975 and 2022 series, so what about 2005 and 2014?
I couldn't find any game photos of the scoreboard from the 2005 series, but the NESN broadcast for one of those games is available here and here, and it clearly shows that the scoreboard had "Cin" — just one "n"! Dig (click to enlarge):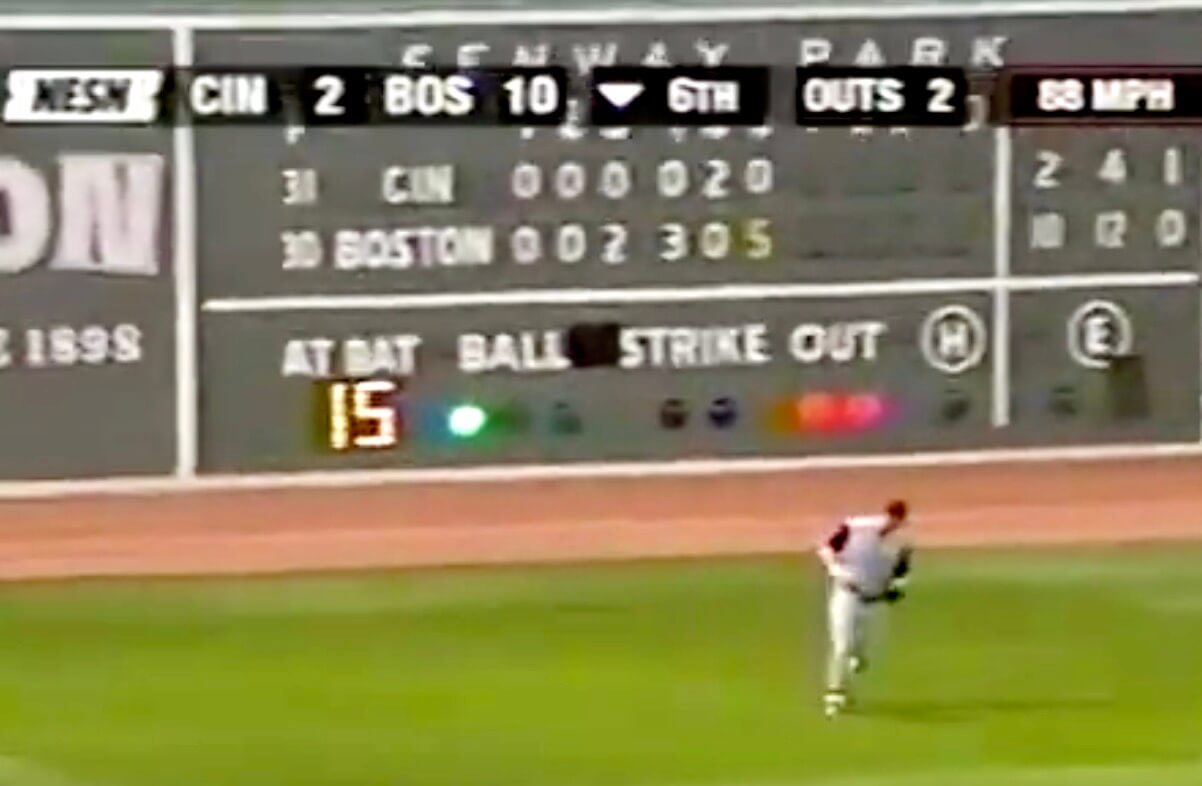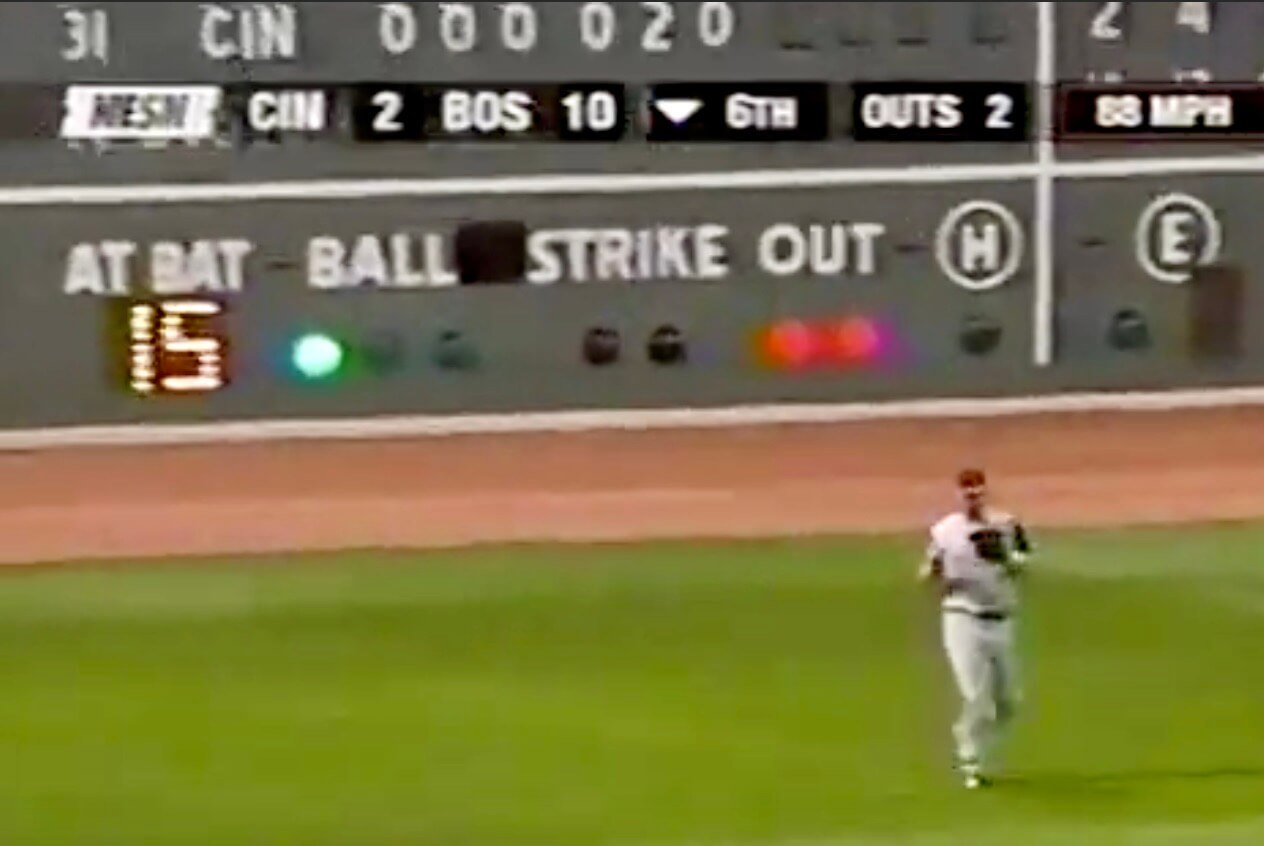 And what about 2014? I found two fan videos here and here, and they also show the scoreboard showing "Cin," with one "n" (click to enlarge):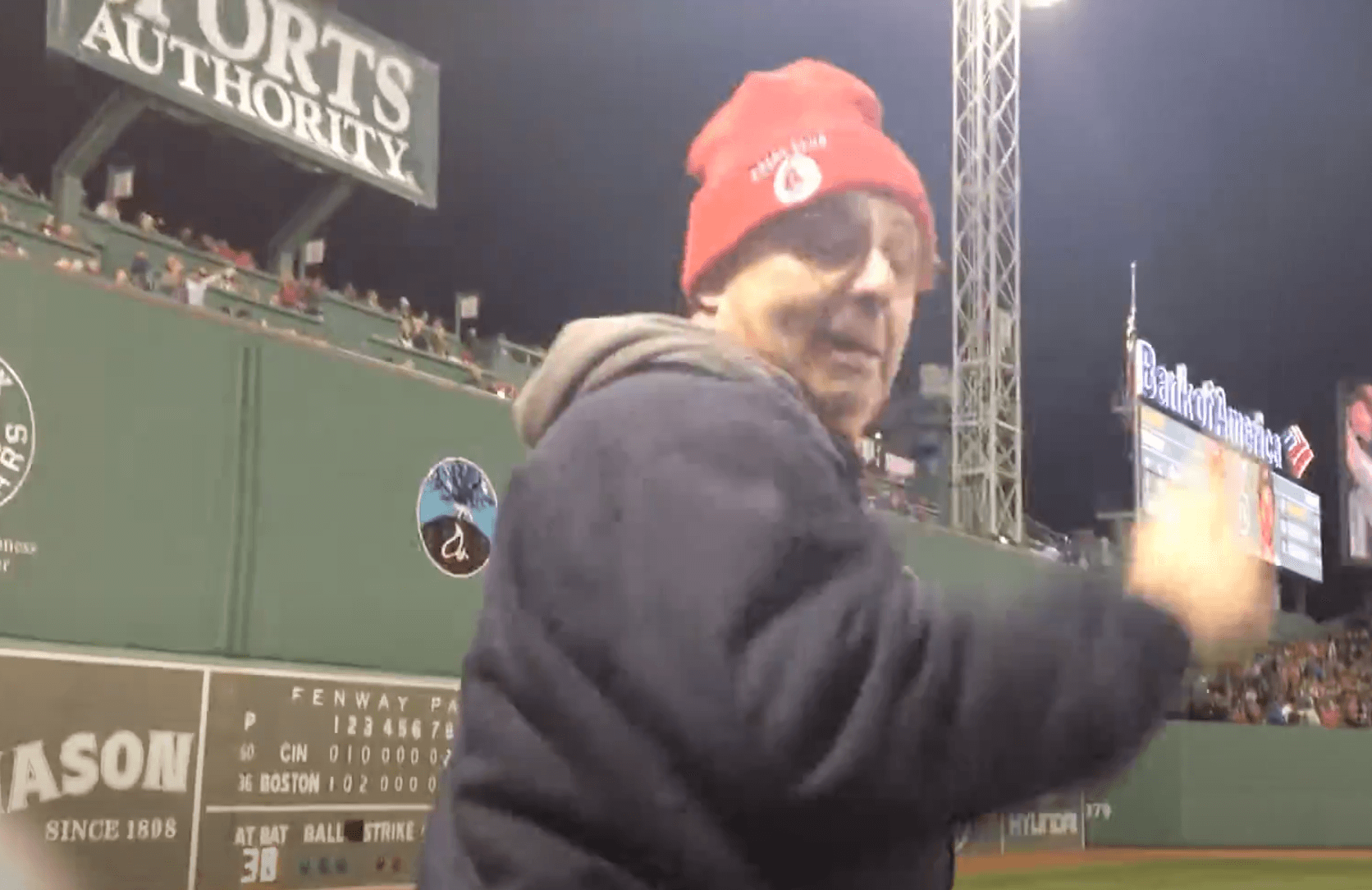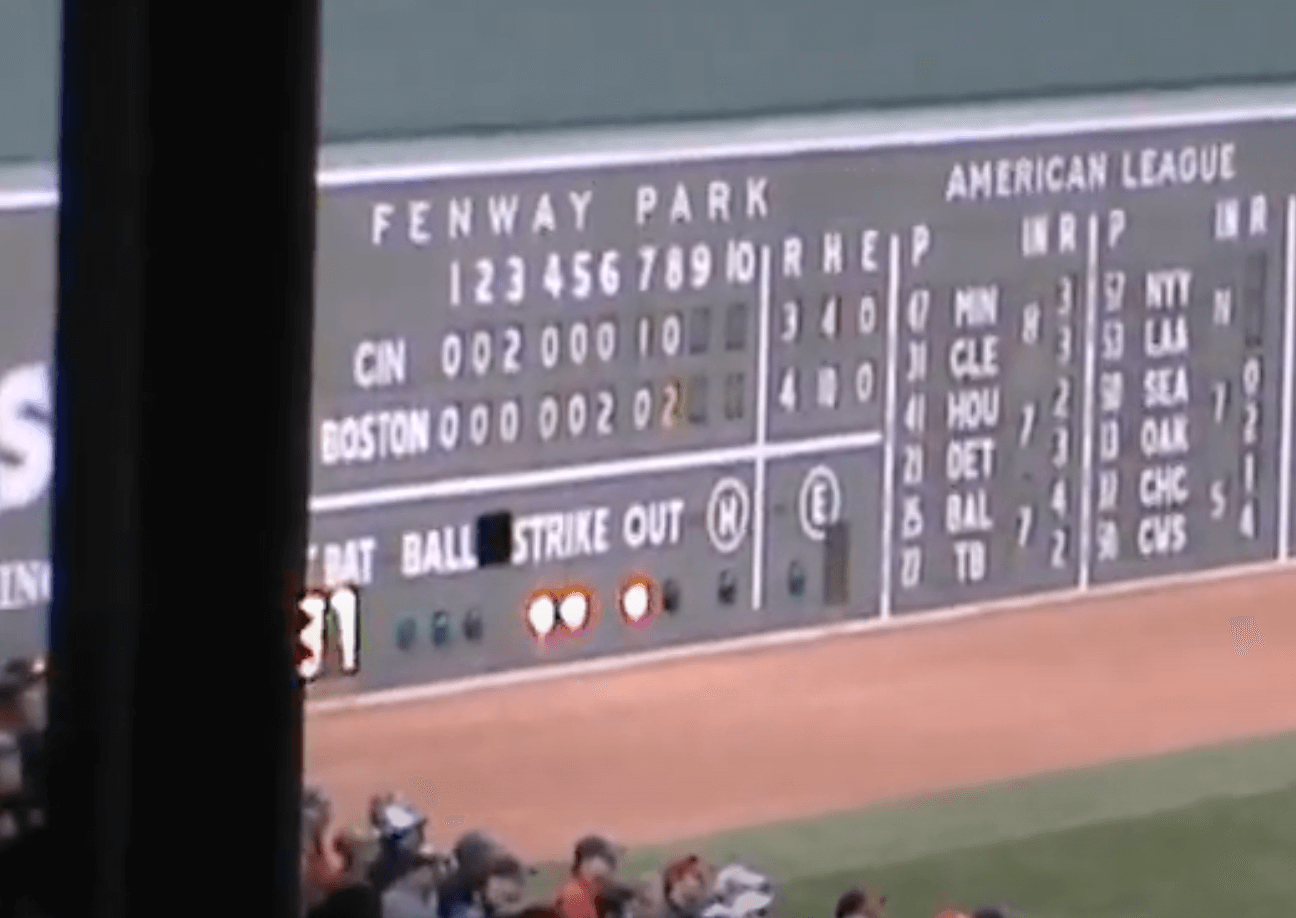 So between 1975 and 2005, the Fenway scoreboard changed from "Cinn." to "Cin" — and then it changed back this year!
And there's more: The "Cinn." version includes a period, while the "Cin" version does not. That period is Fenway-unusual, because the visiting team's abbreviation on the scoreboard is usually period-free: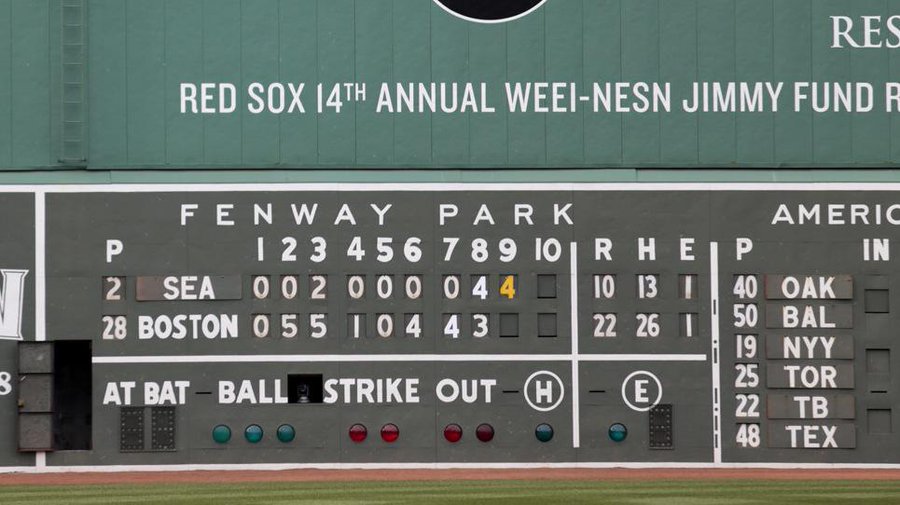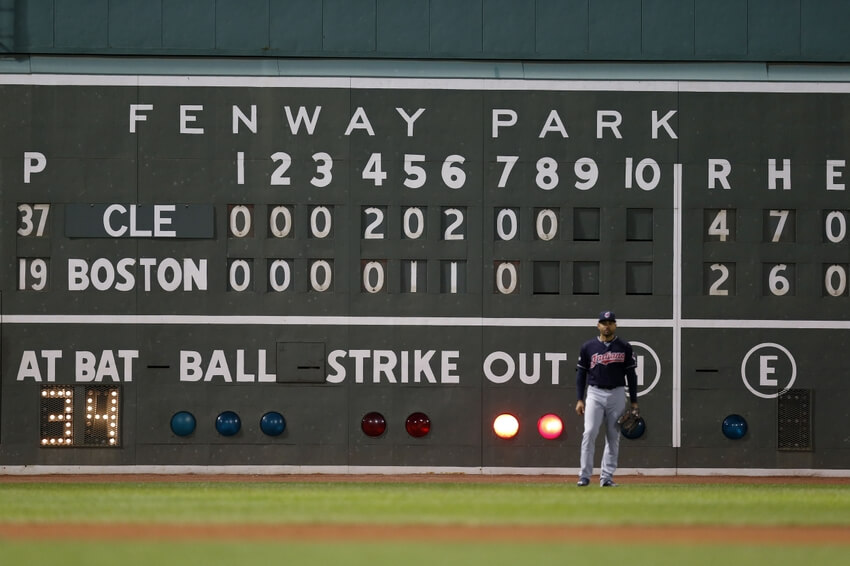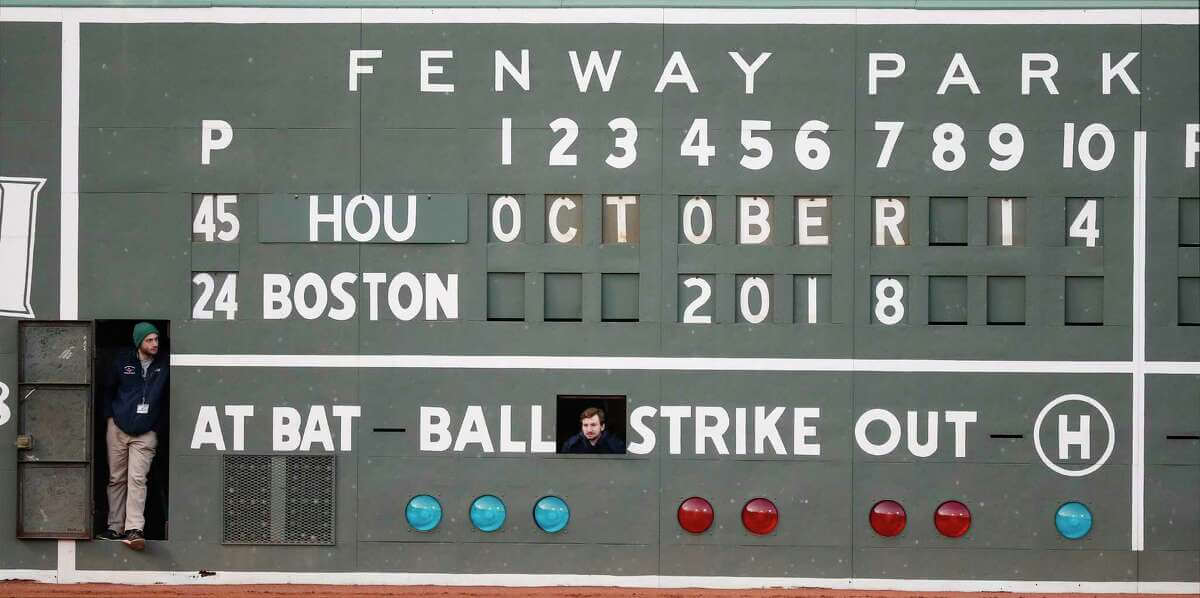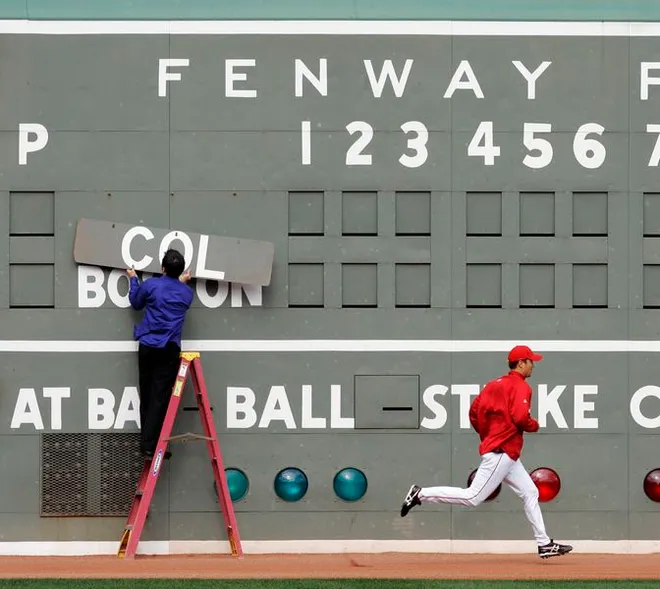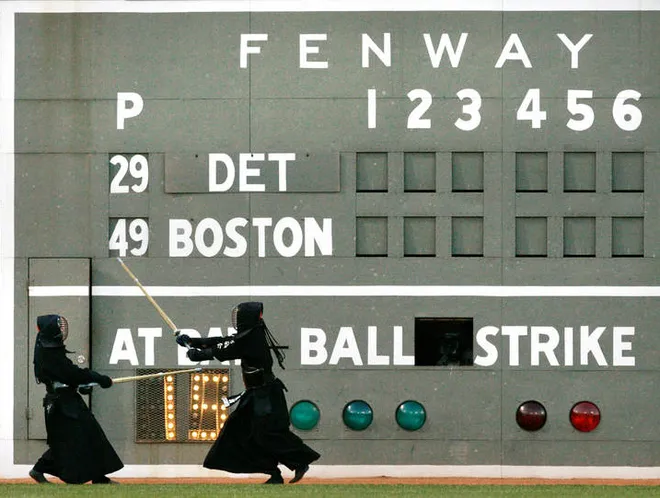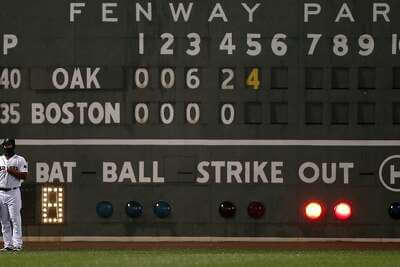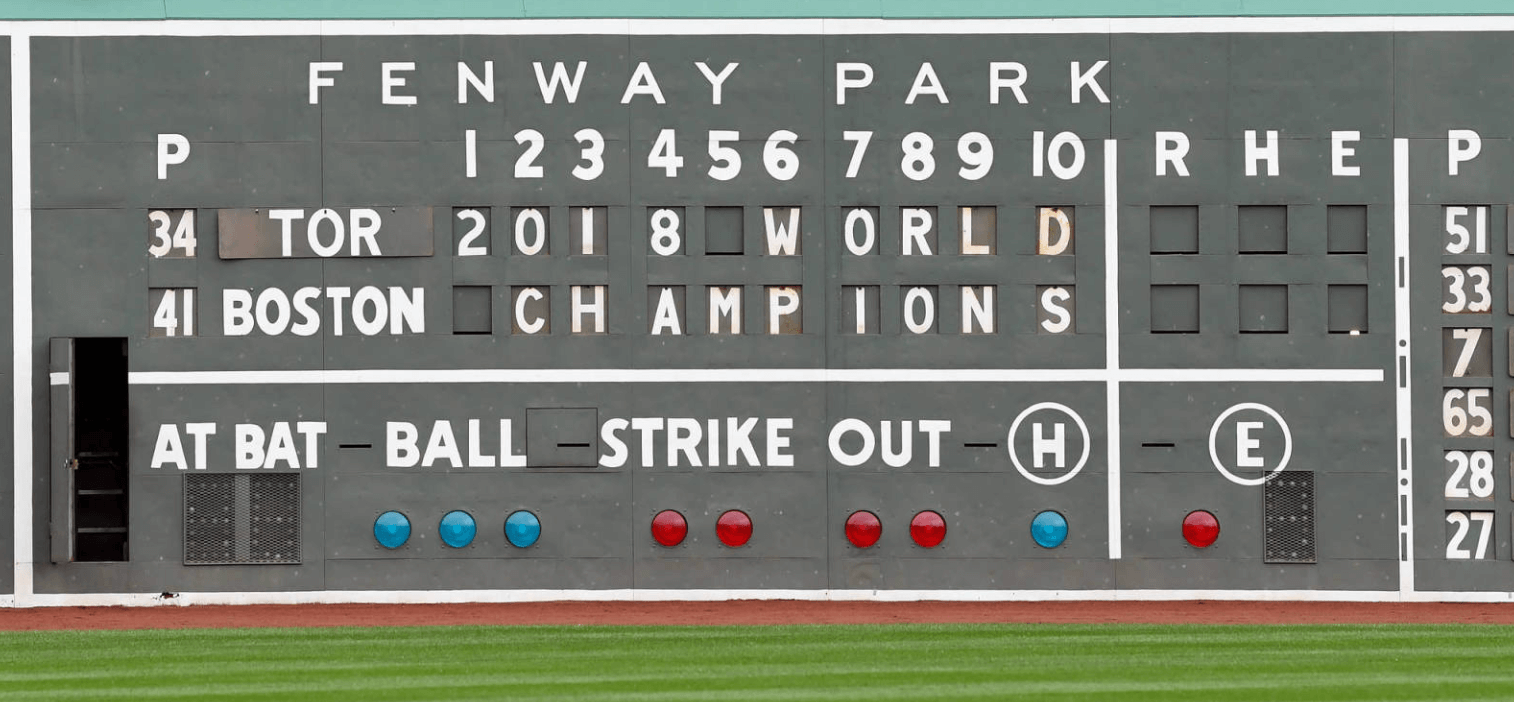 But! Occasionally periods do appear: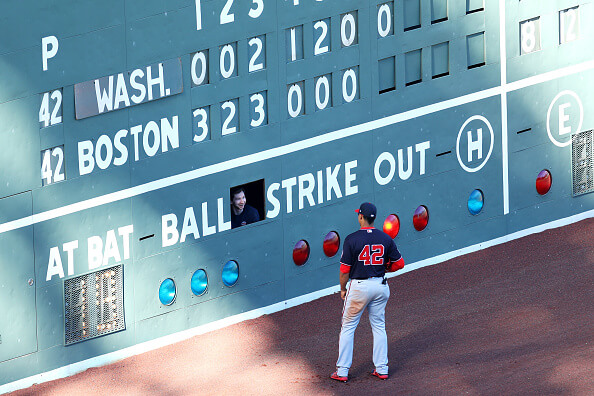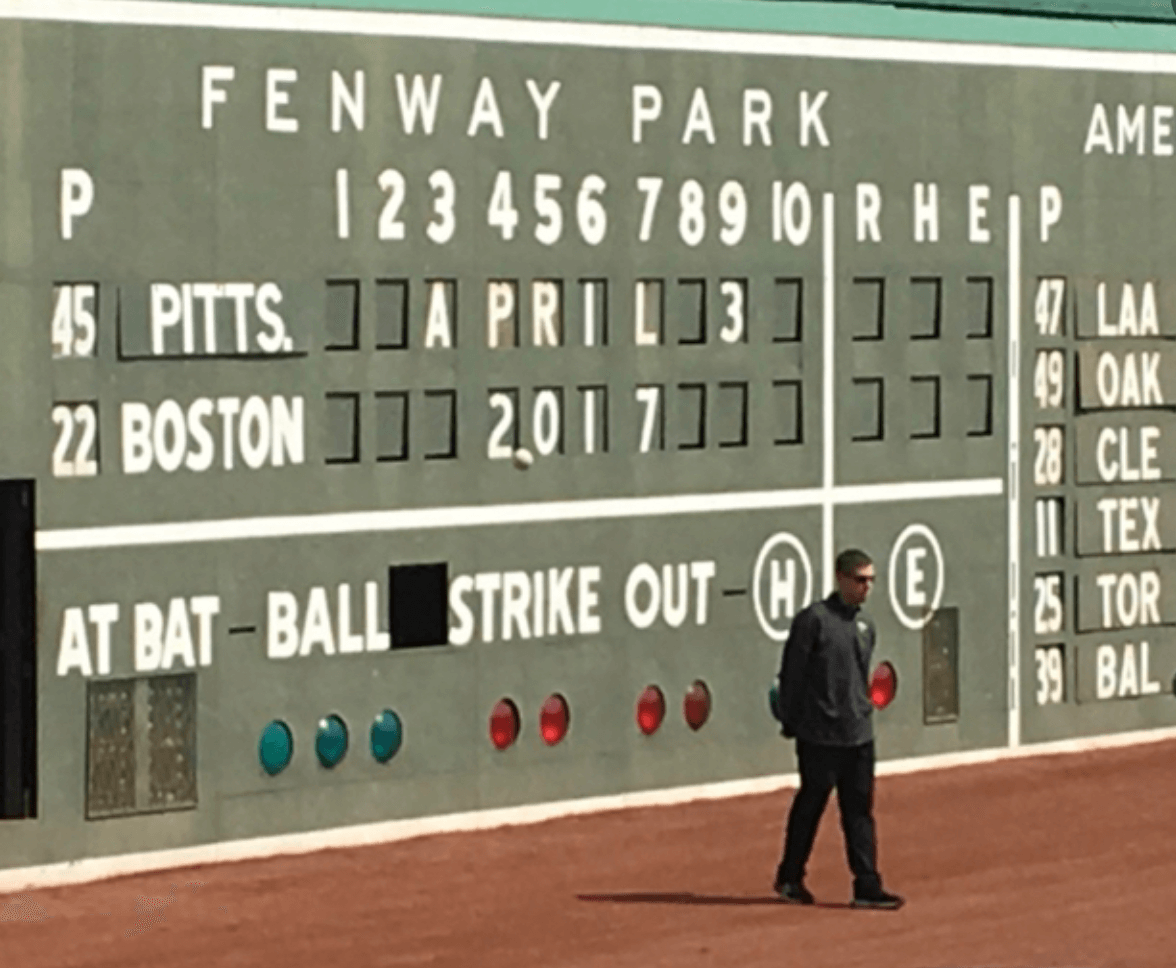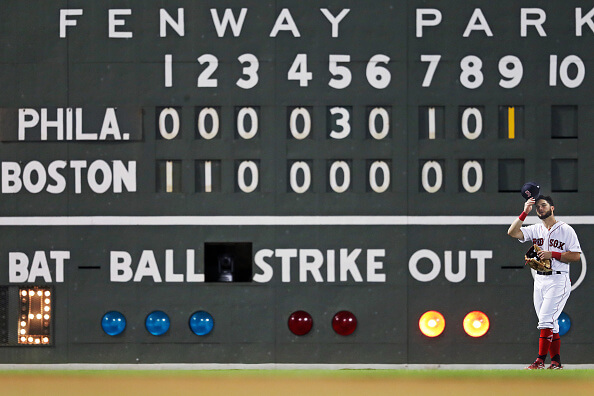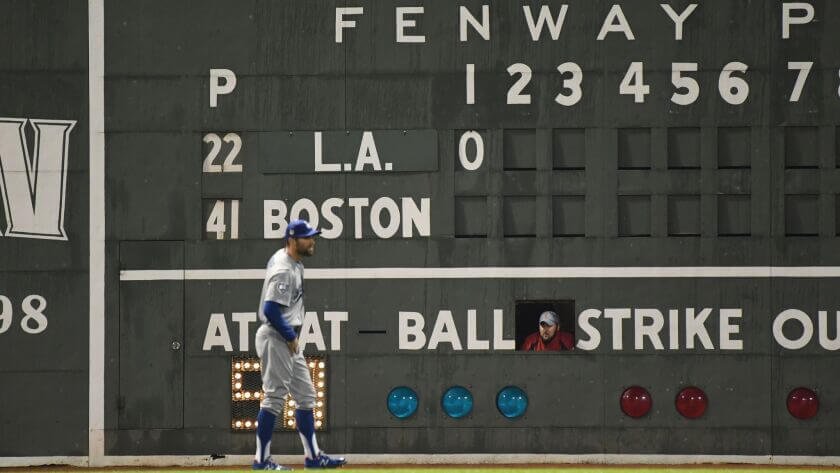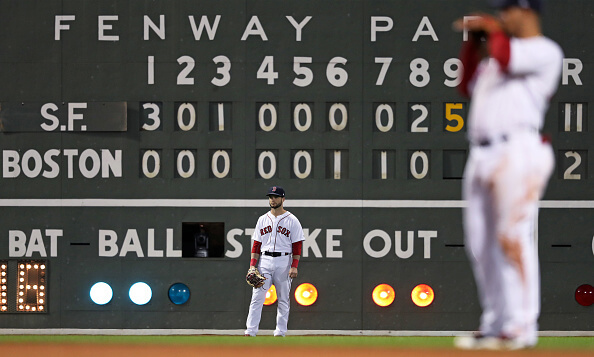 For those last two — "L.A." and "S.F." — you may be thinking, "Aha — they use periods when abbreviating cities with two-word names!" But no, they're inconsistent about that as well: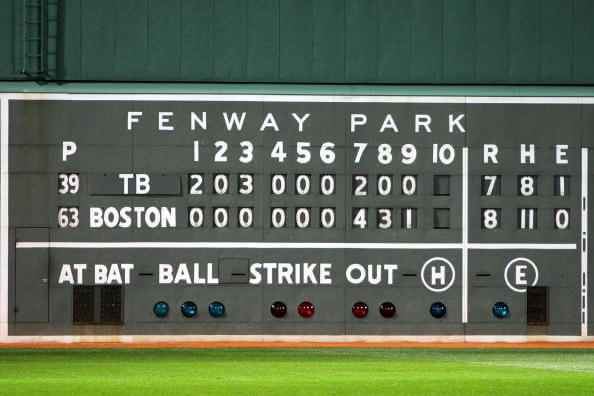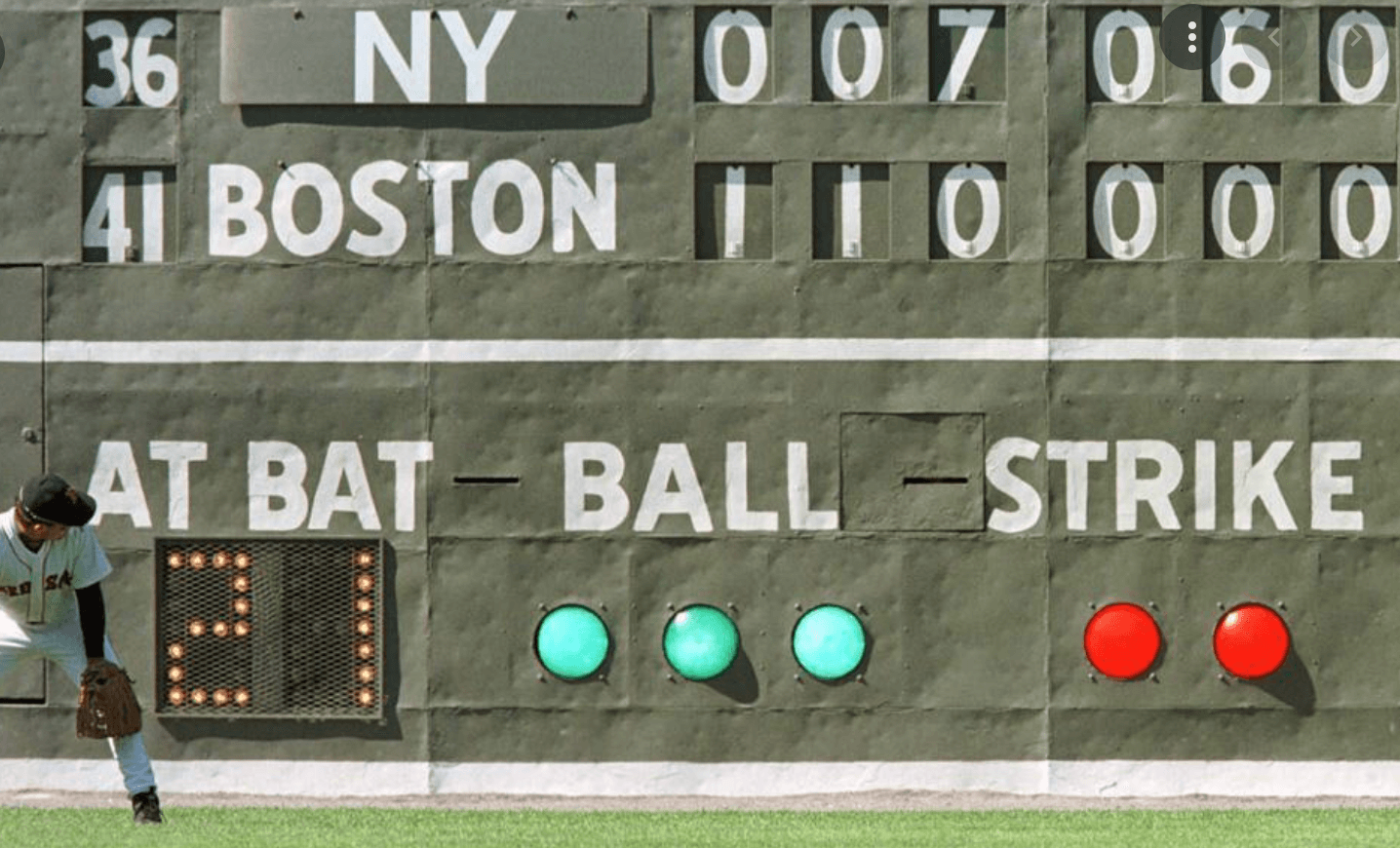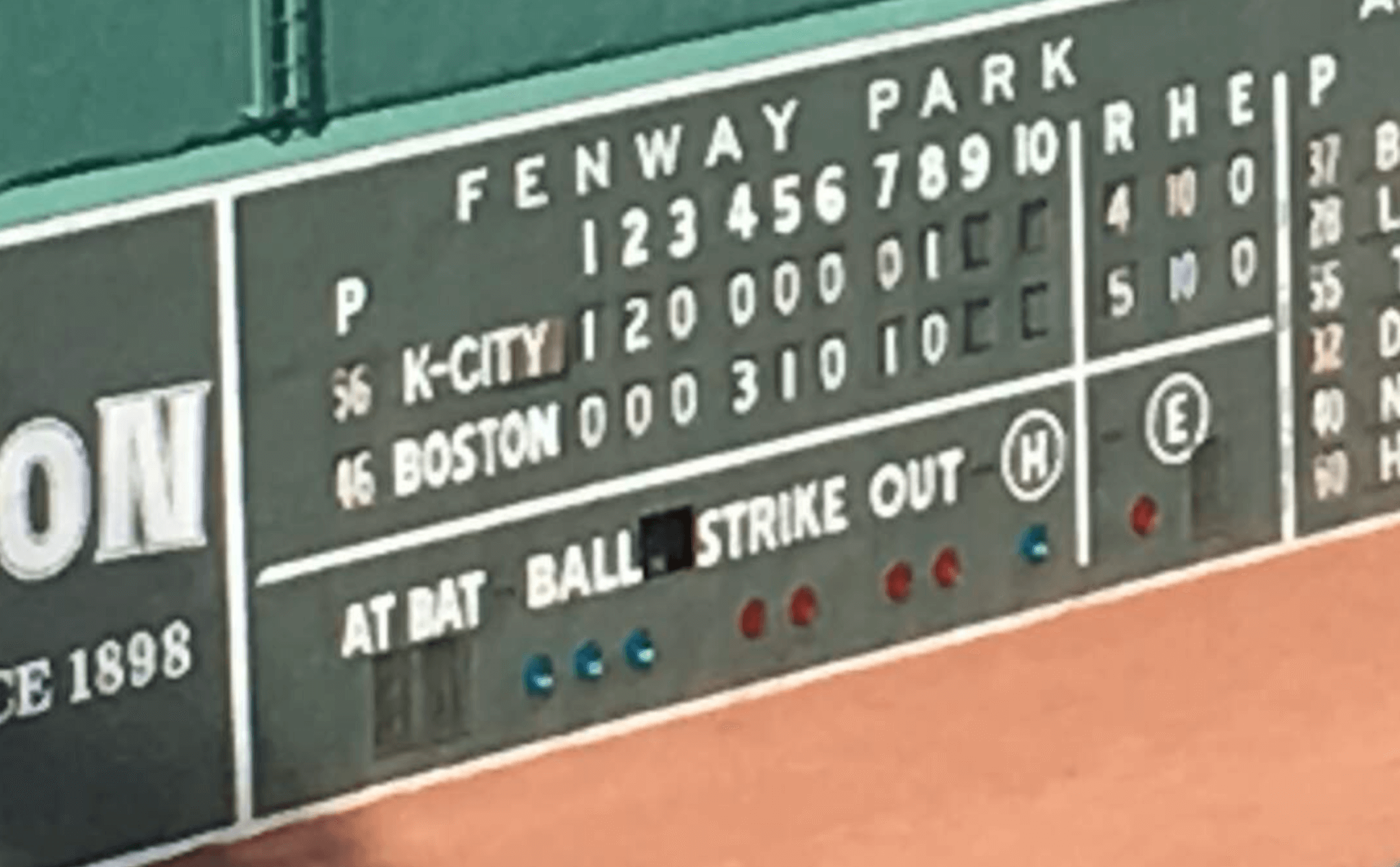 Looking back at the abbreviations that include periods (including the "Cinn." that got us started on this whole discussion), you might be thinking, "Aha — they use periods for National League teams!" But no, they don't always do that either: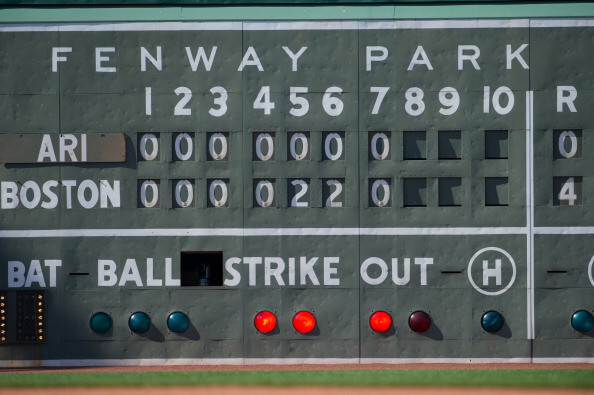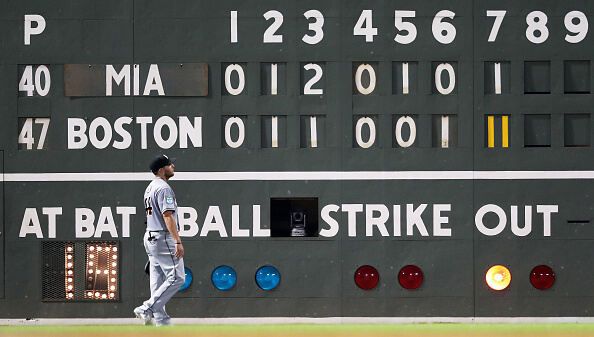 ———
In short: The Fenway scoreboard is wildly inconsistent with its abbreviations. (I'm sure there are Bosox scholars out there who can tell us much more about this.) And I think that's fine — it's part of the ballpark's charm. The only questionable thing is why they've sometimes abbreviated Cincinnati as "Cinn.," which really makes no sense. Then again, they're not the only ones to have done it (click to enlarge):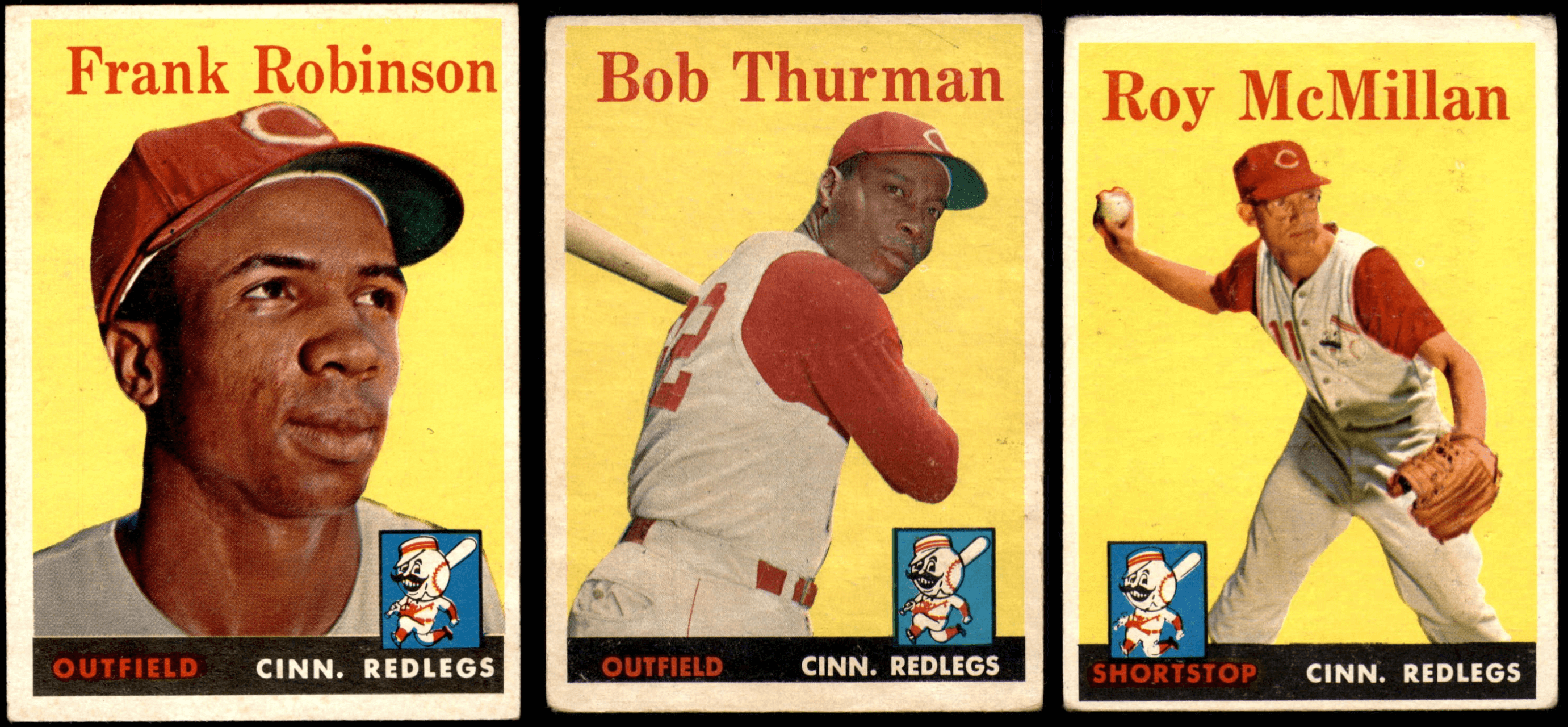 The weirdest thing is that those three cards are, as far as I can tell, the only Red(leg)s cards from the 1958 Topps set to use that abbreviation. The rest of the cards spelled out the entire city name. Another vexing inconsistency!
(Big thanks to Kyle Sutton for starting me down this rabbit hole, and to Keith Olbermann, Zac Snyder, and Trevor Williams for their research assistance.)
• • • • •
• • • • •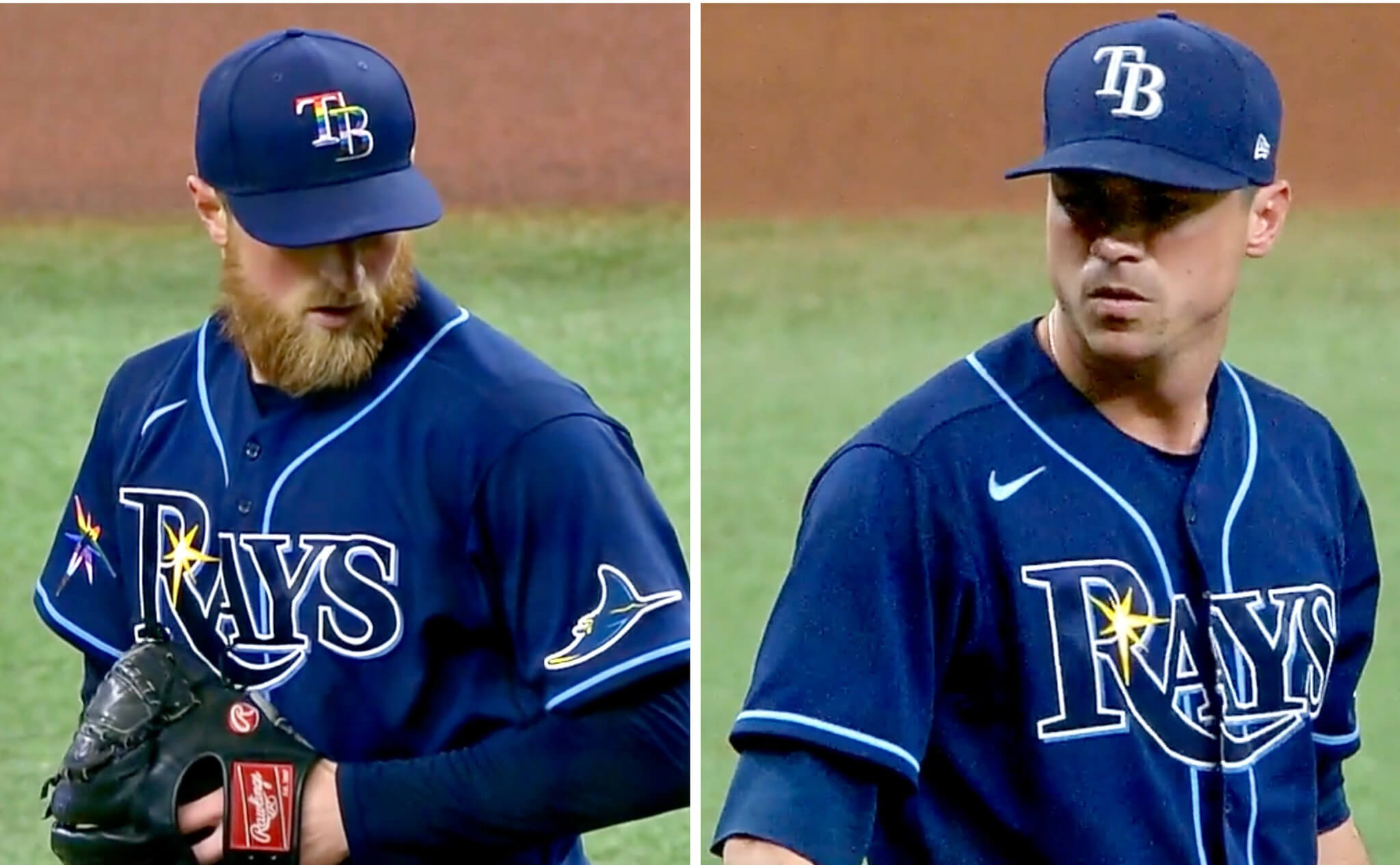 Bulletin reminder: In case you missed it on Wednesday, my latest Bulletin article is a think piece about the recent controversy surrounding the Rays' Pride uniforms, which raises some interesting questions about whether cultural-advocacy uniforms should be optional, and what that might mean if it became a standard protocol.
My premium subscribers can read the article here. If you haven't yet subscribed, you can do that here (you'll need a Facebook account in order to pay). Don't have or want a Facebook account? Email me for workaround info. Thanks!
• • • • •
• • • • •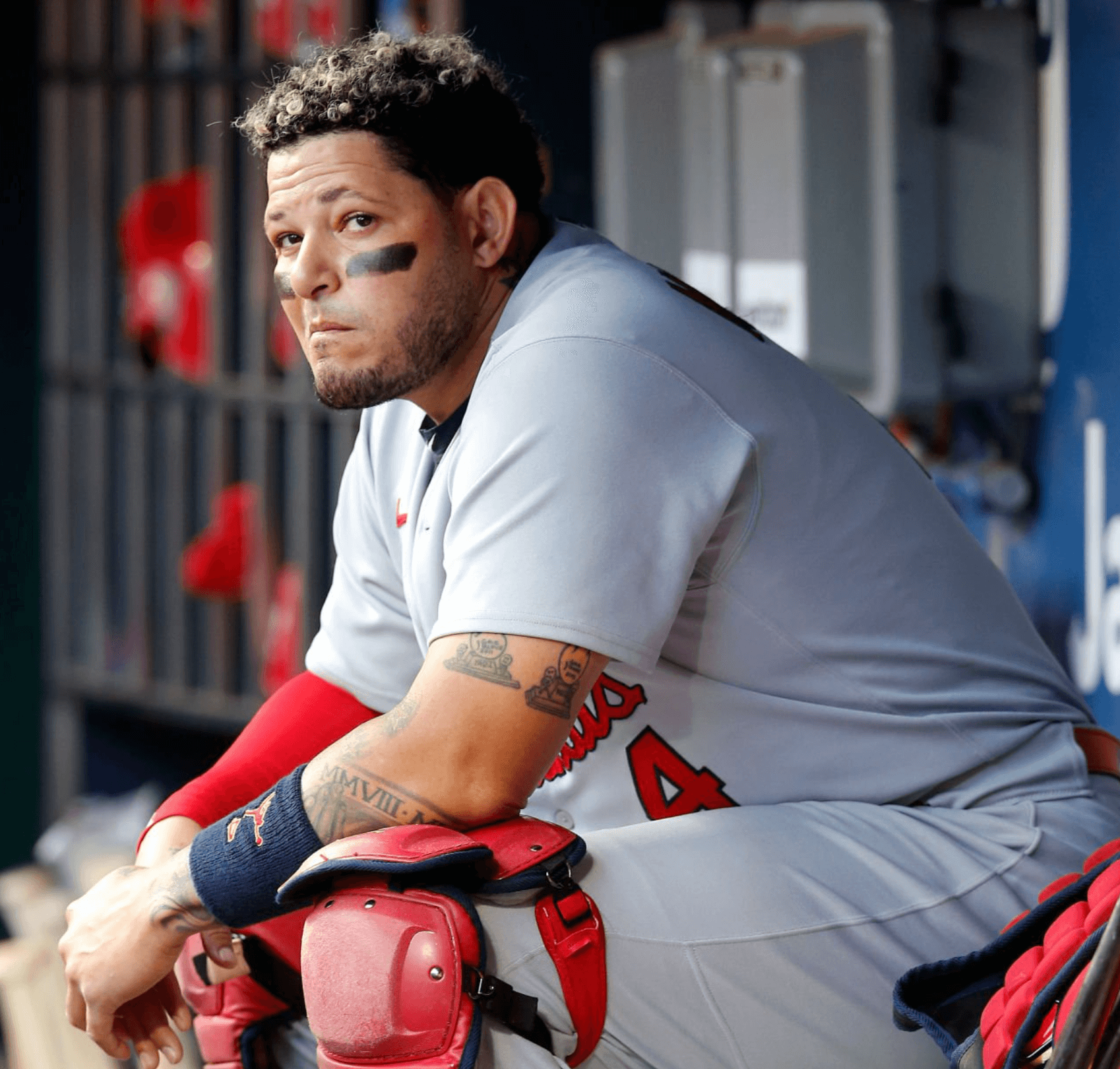 Click to enlarge
Another double-knit holdout: Earlier this week I mentioned that former Mariners pitcher Felix Hernandez stuck with the old-fashioned double-knit uniforms even after MLB had switched to Cool Base and Flex Base unis. That prompted reader Alex Burbidge to point out that Cardinals catcher Yadier Molina is still wearing double-knits today! As you can see in the photo shown above, which is from last month, his jersey has a traditional side seam instead of the Flex Base side panels. Interesting!
• • • • •
• • • • •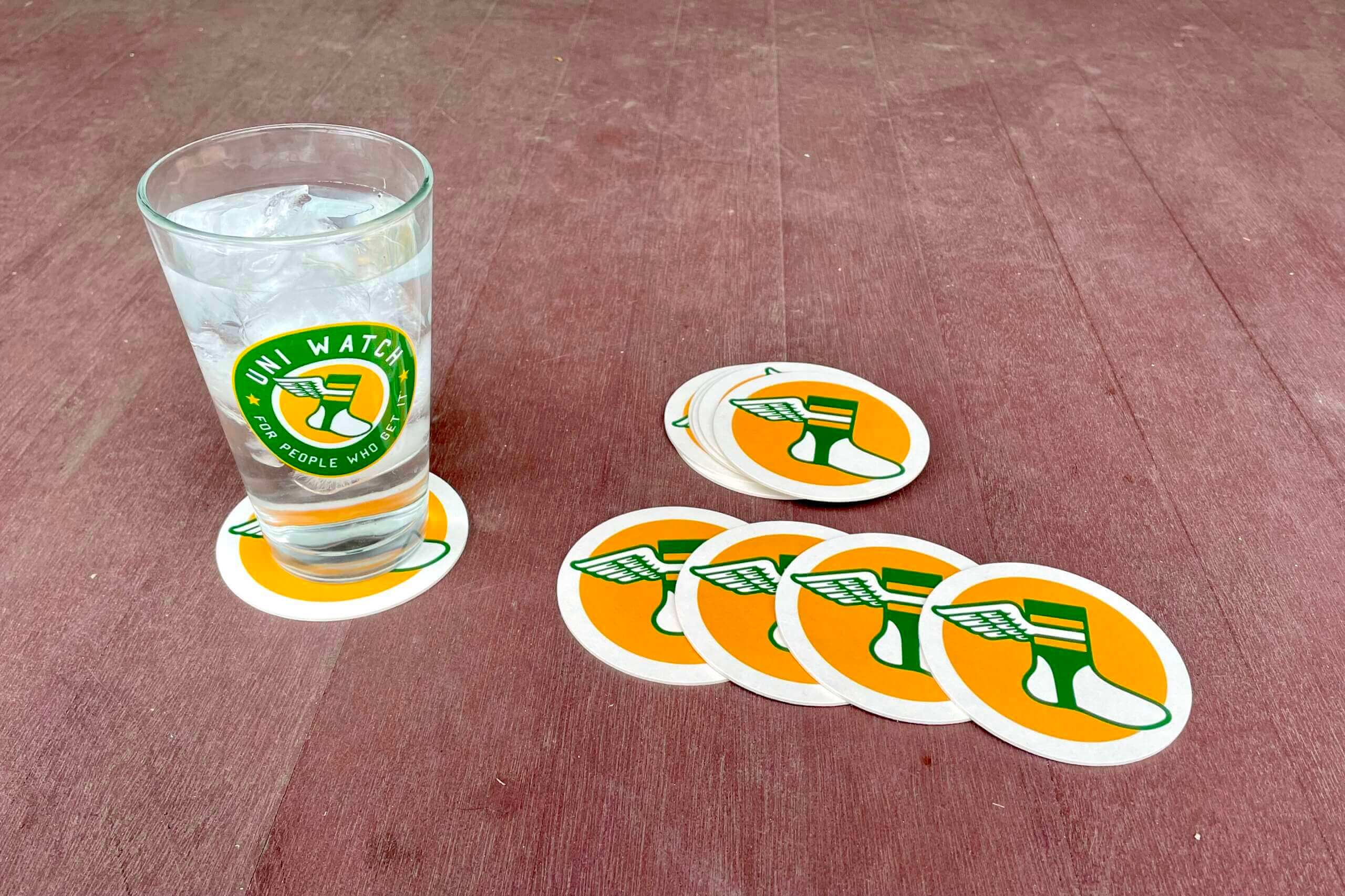 Click to enlarge
ITEM! Coasters back in stock: Uni Watch coasters are once again available. A set of three for $9. Full ordering details here.
• • • • •
• • • • •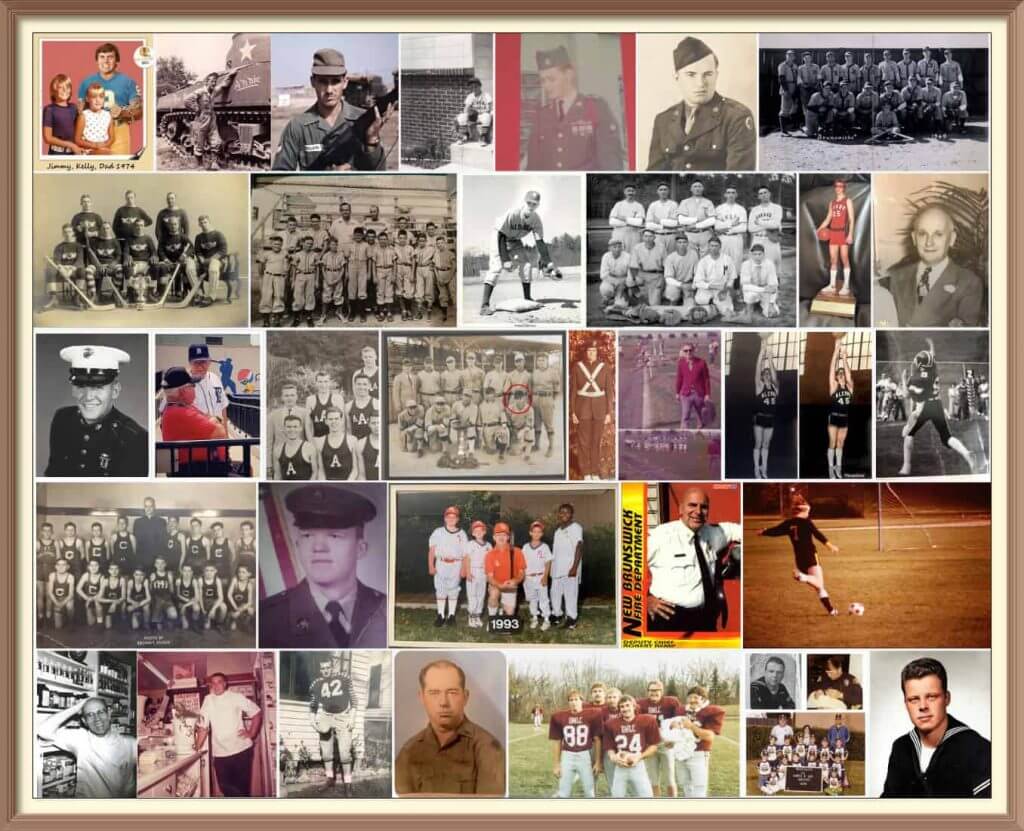 Father's Day reminder from Phil: Father's Day is coming soon (June 19), and I'll once again be posting photos of Uni Watch readers' "Dads in Uniform," an annual tradition that began in 2013. This is always a very special day, and I'd love for as many readers as possible to participate — especially those of you who haven't done so before. A few of you have reached out to me, saying, "I've run out of photos of my Dad," so if you want to resubmit a photo that we've used before, please feel free to do so
To take part in this annual tradition, select one photo of your father (or grandfather or uncle) in uniform (it can be sports, military, work — as long as it's a uniform), along with a short description of 100 words or fewer. Then email the photo — again, only one, please — and text to phil.hecken@gmail.com with the subject line "Uni Watch Father's Day 2022" by next Tuesday, June 14, midnight Eastern. I'll run all of the submissions on Father's Day. Thanks!
• • • • •
• • • • •
The Ticker
By Paul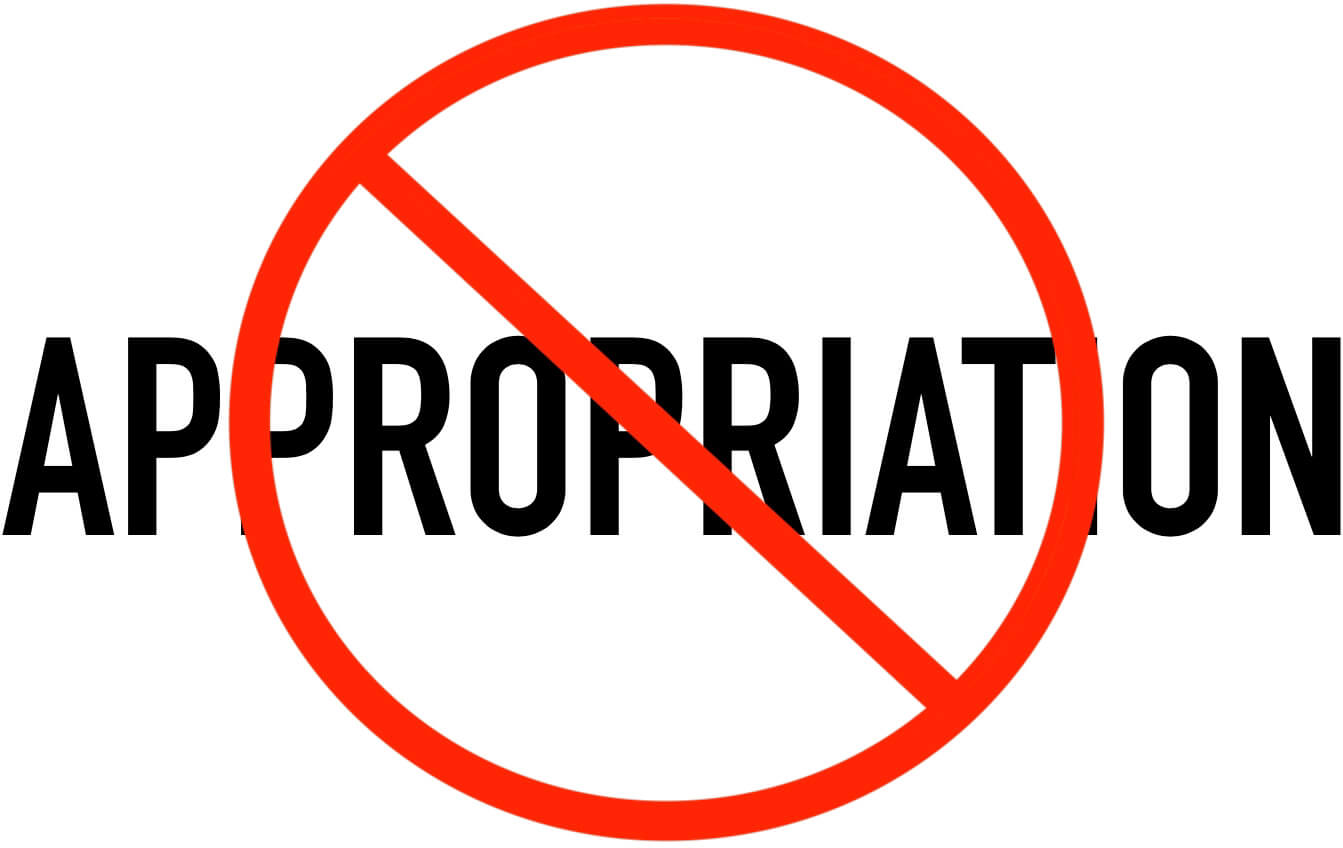 Indigenous Appropriation News: An Indigenous group in Tampa plans to demonstrate at an upcoming school board meeting as a protest against schools that continue to use Native American team names and iconography. … The San Francisco Unified School District has removed the word "chief" from its job titles. … Kiowa (Colo.) High School will keep its "Indians" team name after receiving the necessary approval under Colorado state law from the Kiowa Tribe of Oklahoma (from Kary Klismet).

Baseball News: Reader Jim Borwick notes that Blue Jays SS Bo Bichette wears a headband featuring what is apparently his personal logo. … Yankees P Nestor Cortes superstitiously attributes his success to growing a mustache. … It was 99 vs. 99 two nights ago in Minnesota, as Twins P Yennier Cano pitched to Yanks RF Aaron Judge. I'm sorry to report that Cano did not throw a 99-mph pitch during that sequence (from Jeff Barak). … Red Sox C Kevin Plawecki was missing his batting helmet logo last night (thanks to all who shared). … Here are the official socks for this year's MLB Home Run Derby and All-Star Game (from Aaron Yusch). … Atlanta did another replica championship ring giveaway last night, and as a result once again wore their gold-trimmed uniform (from Chris Edwards). … Cubs prospect Pete Crow-Armstrong is currently going with a stacked NOB (from Gregg Ross).

NFL News: 49ers coach Kyle Shanahan wore a cap with an unusual "SF" logo on Tuesday. A team spokesman says it's from this company and is not official Niners gear (from Cory Harrington). … Rams WR Cooper Kupp signed his new contract while wearing teammate Matthew Stafford's jersey. "Paying respect to his QB," says Mike Chamernik.

College Football News: Penn's new helmet stripe is based on a decorative brick pattern on the Penn campus (from Ryan Kelly). … The all-white UGA uniforms that have been circulating lately are just for recruits, not for on-field use.

Basketball News: At the start of last night's NBA Finals game in Boston, the Warriors complained that their hoop was too high — and they were right! (From Timmy Donahue and Mike Chamernik.) … The Jazz will reportedly unveil their very uninspiring new uni set, which has already leaked, next Thursday. … Some new uni number assignments in the works for Purdue.

Soccer News: Updated crest for second-tier English side Swansea City (from John Flory). … The rest of these are from the indefatigable Kary Klismet: New kits for Getafe of Spain's La Liga. … New home kits for Brazilian club Náutico. … New home kits for Stade de Reims of France's Ligue 1. … New goalkeeper kit for Tottenham Hotspur. … New kits for Curaçao's men's national team. … South Africa has announced a contest to design the home uniform for the national team.

Grab Bag: A fashion brand is selling brown onesies for troops who hate untucked shirts in their Army Combat Uniform (from Timmy Donahue). … Schools in Grand Rapids, Mich., will no longer require students to wear uniforms. … The state of Iowa, in an apparent attempt to get me to visit, is replacing a bunch of purple streetlights (from Aaron Telecky). … In the 2006 Martin Scorsese movie The Departed, there's a scene in which a character is wearing audio headphones backwards. … The Mercedes F1 car is getting a rainbow-themed makeover for Pride Month (thanks, Anthony). … Here's a ranking of the best ultimate jerseys at the D1 college championships. … A new Pentagon policy will allow HIV-positive service members to deploy and remain in uniform. … The Taliban-controlled government of Afghanistan has unveiled new uniforms for its state police force (from Timmy Donahue and Kary Klismet). … Also from Kary: Indian River State College in Florida, whose teams are known as the Pioneers, has chosen the peregrine falcon as its mascot and unveiled an accompanying new logo.
• • • • •
• • • • •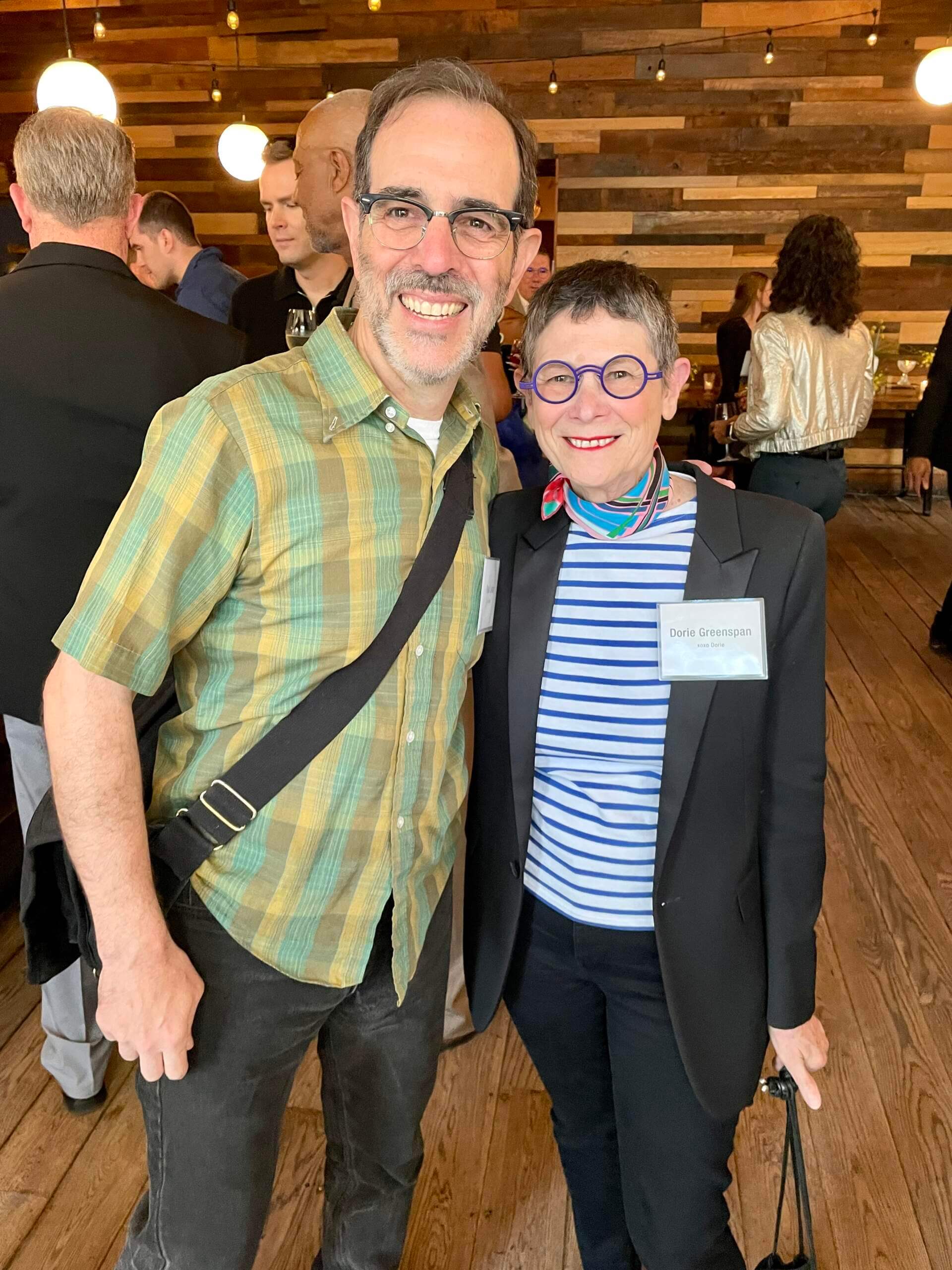 Click to enlarge

What Paul did last night: I've been writing for Bulletin for almost a year now, but I hadn't met any of the staff or my fellow Bulletin writers in person until last night, when there was a big meet-and-greet party here in NYC.
I was particularly keen to meet the great cookbook author Dorie Greenspan (here's her Bulletin page), whose work I've long admired. She was such a peach that I didn't even mind her purple glasses. I figured she'd have no idea who I was, but she said her son is a big Uni Watch fan and would be excited to hear that she had met me at the party. So cool!
• • • • •
Our latest raffle winner is Alex Rivera, who's won himself a free item from the Playbook Products website. Congrats to him, and thanks again to Playbook Products for sponsoring this one!