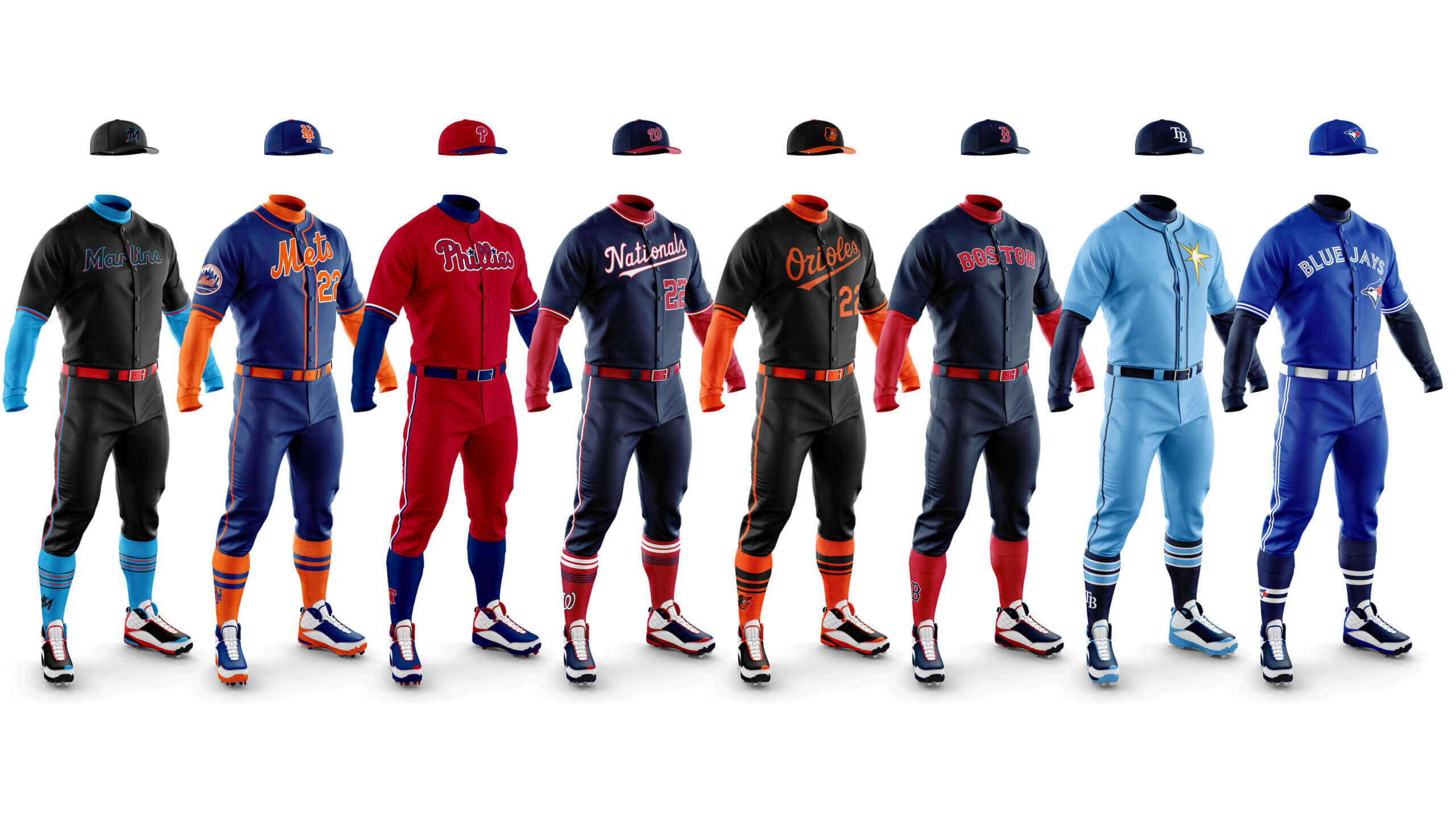 Good Sunday morning everyone. I hope everyone had a good Saturday. Don't forget Father's Day is next Sunday — scroll to next section for info on how to submit for the "Fathers in Uniform" special article!
Monochrome (meaning pants and jerseys of the same color) uniforms have been a staple of MLB since its inception. In modern baseball's early years (1900-1910s), teams wore more than just white over white or gray over gray — sometimes teams sported dark monochrome road uniforms. While not an examination of mono unis, this article about black possibly being considered a neutral color shows several examples of early teams wearing dark colored, mono unis. In the early 1940s, the Cubs introduced the first mono powder uniform, a look that several teams adopted for their road uniforms in the late 1960s, 1970s and 1980s. Also during that time, we had several teams experiment with mono-dark colored unis, such as the White Sox, Padres, Athletics, Pirates, Cleveland, and Orioles, just to name a few. The introduction of City Connect (CC) merch dumps unis has also led to several teams wearing monochrome uniforms.
I could go on for 10,000 more words on monochrome's place in baseball, but I'm trying to keep this intro as short as possible.
While only a few teams feature monochrome uniforms today that aren't all white, all gray/sand, or all cream, almost all teams have an alternate ("softball") colored jersey, which is always paired with light pants. Today's post is not to argue the merits of the dark-top-over-light pants (and I'll admit, while I don't like "softball" jerseys, some of the combos with color over white look good). Today's post seeks to determine whether any team who has an alternate/softball top would look good if that top were paired with same-color pants, making for a traditional "monochrome" uniform.
I'm joined today by graphics guru Chris Diamond, who created every mock-up mono-uni you're about to see. The idea in this post (which I'm referring to as "Phase One"), is to look at every team's existing alternate jersey/cap/socks, and to create pants that match the style and color of the alt/softball jersey. If you looked at some of the 1970s mono looks (above), you'll note that in almost all cases, the uniforms "worked" because one color wasn't completely dominant: most teams had color contrasting caps, sleeves and stirrups (socks). However, today's softball-toppers — due to the dint of pairing colored tops with light pants — will oftentimes have caps, sleeves and socks that are the same color as the jersey. Creating same-color pants is most likely NOT going to look ideal. However, wearing contrasting belts, sleeves and socks can sometimes greatly enhance a monochrome uniform.
The goal for Phase One is NOT to necessarily advocate for any team to take their existing colored top and pair it with same-color pants. In this exercise, we're going to simply take a look at how a dark-monochrome uniform — using all existing alternate accoutrements — would look. Every team that has an alternate softball top (even those who have two alternate tops) will be given the "mono treatment." Only teams (Yanks, Cards, Dodgers, etc.) who don't have an alternate top at present will be excluded. Phase One will look at the NL and AL East divisions today, and we'll take on the Central and West in subsequent weeks. Phases Two and Three will be more conceptual, allowing us to adjust all elements of the uniform to see if a monochrome dark uniform could work.
We're tacitly acknowledging Nike/MLB's "4 + 1" rule with this, merely adding same-color pants to teams who currently go softball top over light pants. Again, the point isn't to force any team into adding new same-color pants to their dark tops; it's simply to see how those softball top-wearing teams would look going mono.
Before we delve into the uniforms, Chris has a few words about this project. We'll then go over the East Divisions with our comments. I think most of you will agree that very few of the uniforms pictured below would "work" (and that's OK — we're just showing how they'd look); the point is to see if any teams can take their existing softball tops (and existing caps/sleeves/socks) to create mono-dark unis. Chris has created two different graphics for each club: one is the "full on mono" look, the second uses contrasting sleeves and socks (and belts). Even tweaking these few elements makes a big difference visually.
• • • • •
Chris Diamond: Coming from the UK where mono uniforms are ubiquitous in soccer, I don't have quite the same distaste for them as a lot of UWers. I sort of understand as I definitely don't like them in football having followed that since my teens. But I got into baseball much later in life so I think am more tolerant of things that drive others mad like long cut pants, no blousing, socks instead of stirrups, makers marks and of course mono unis! But rest assured, I am just the graphic artist here — this article is Phil's idea and it's his exploration of the possibilities of mono unis that we are investigating!
AMERICAN LEAGUE EAST
Baltimore Black
CD: I like both versions of this. The pure black/orange look looks really smart to me and the stripes break it up enough to stop it looking boring.
PH: "Wait," you're saying. "Didn't Baltimore just get an all-black City Connect uni?" Unfortunately, yes, so that pretty much moots this mono-black concept. However, this one — with the orange accoutrements — could actually work as is (one of the very few for "Phase One" that does). Obviously you'd need players to go high-cuffed, but this one is doable.
Baltimore Orange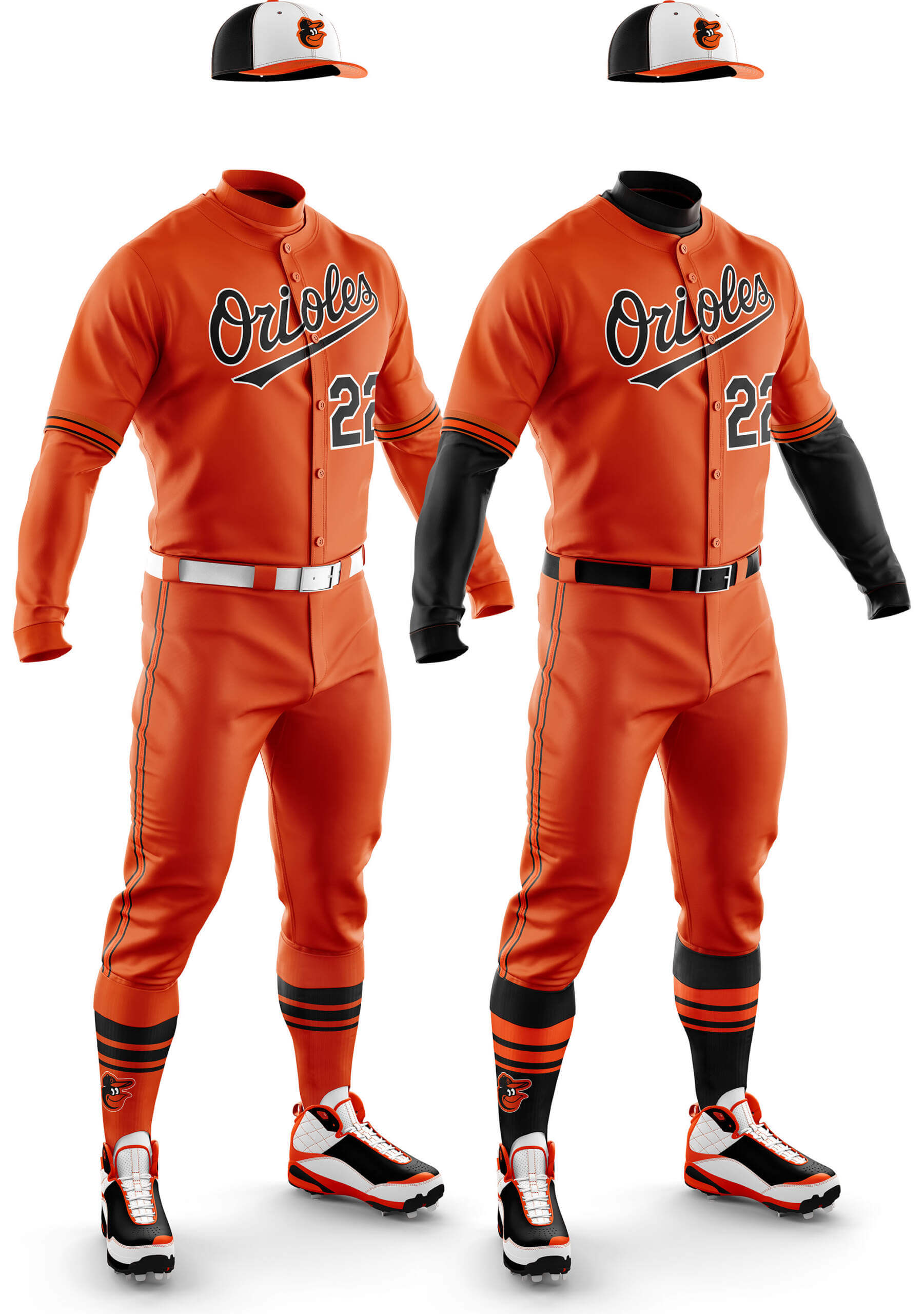 CD: Unlike the black I dislike both of these. All orange feels just too much and even adding black undershirt and socks doesn't seem to help!
PH: Yep. The O's already tried mono-orange (designed by Brooks Robinson, no less!). They even brought that look back as a fauxback. It's another of the Phase One monos that could work as is. Honestly, I'd love to see the O's try either of these on a limited (perhaps a Friday night thing) basis. Either of these are still better than the CC.
__________
Boston Navy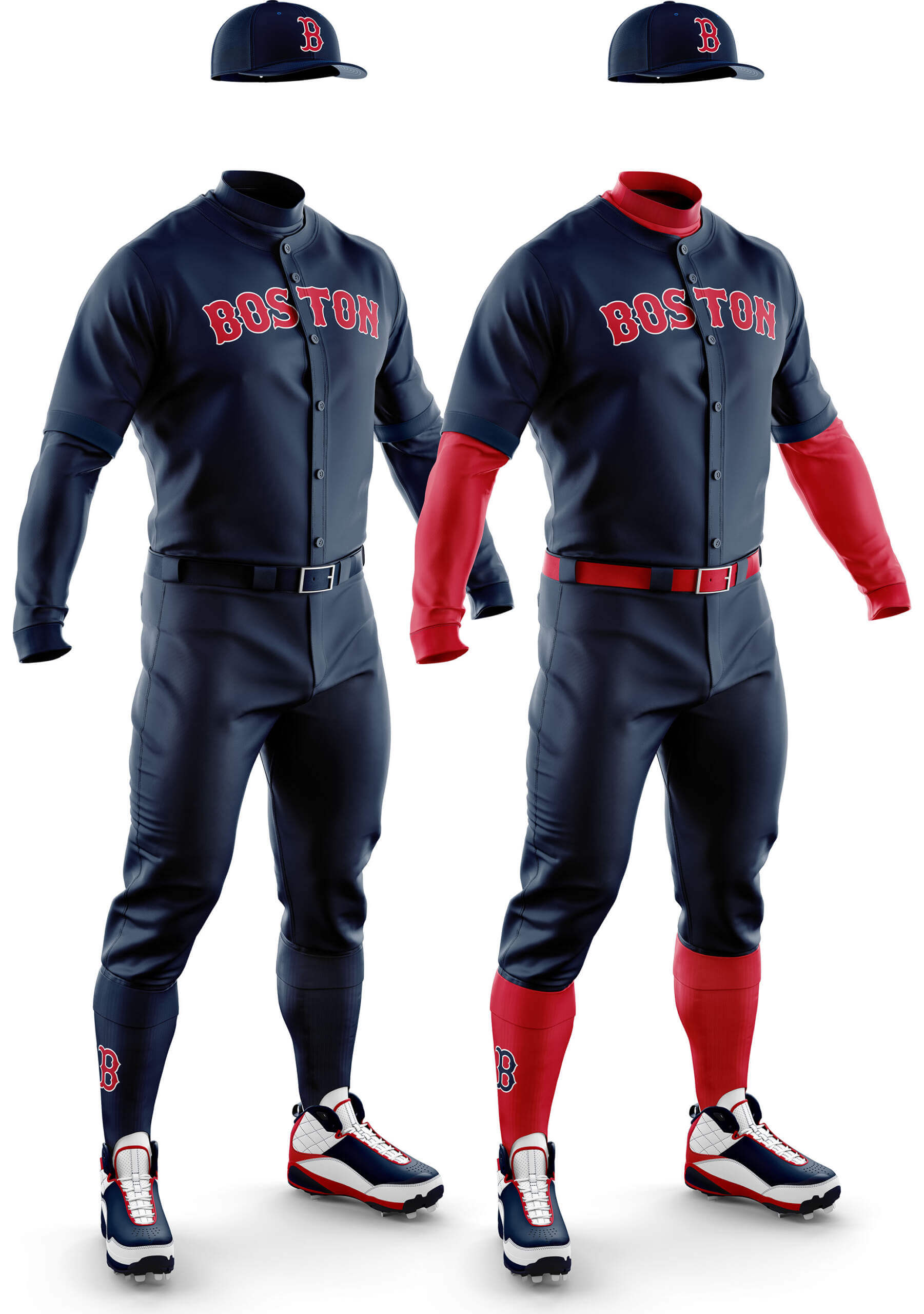 CD: The plainness of the jersey means the pure mono looks too much like a boiler suit to me. But the red undershirt and socks add enough pop to make that just about wearable.
PH: As you'll quickly see, teams who wear red or navy softball tops are many, and it's going to be hard to argue for any of these looks in Phase One. The mono-navy, even with the red sleeves and socks (RED SOX!), it's hard to make a case for this one.
Boston Red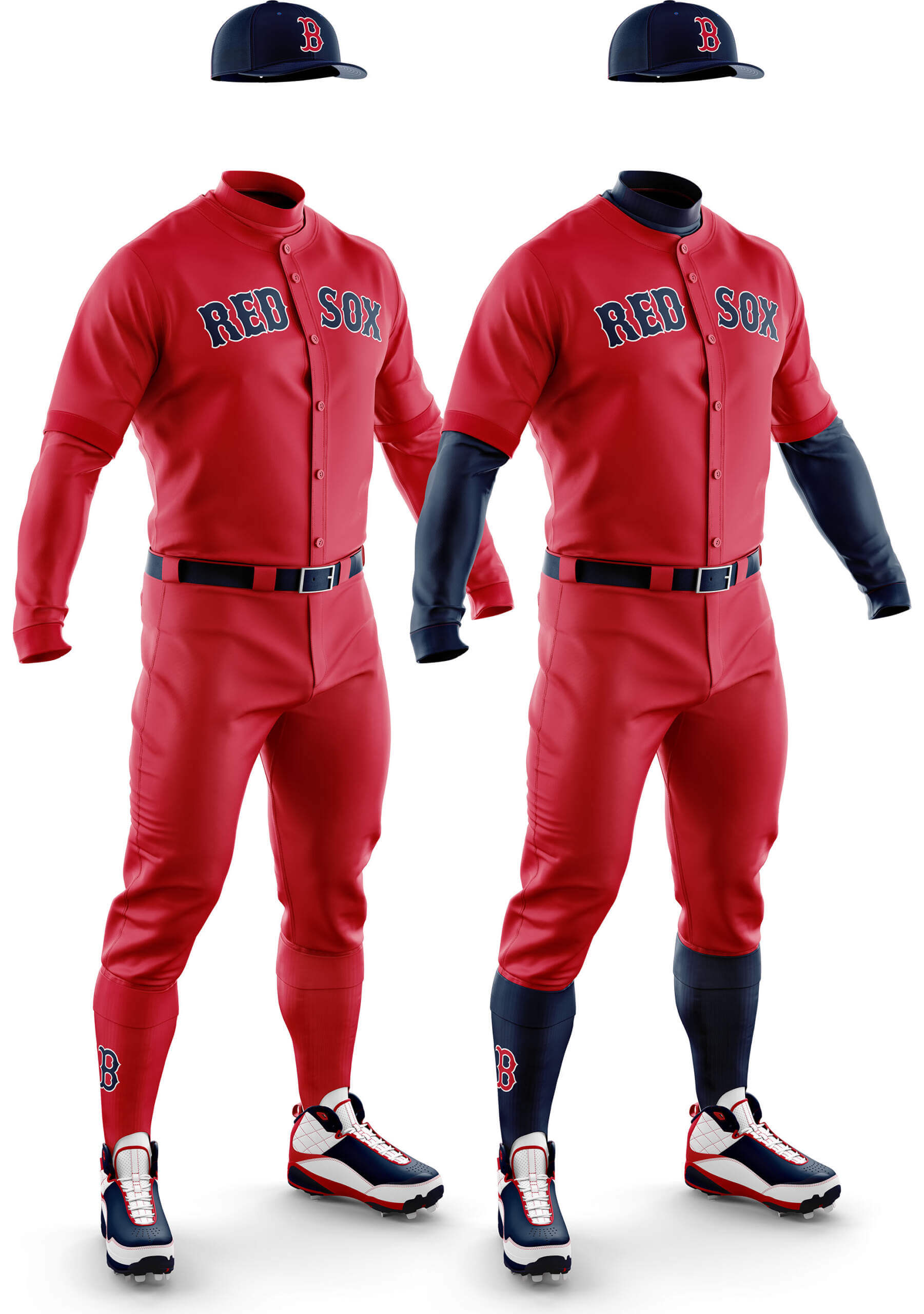 CD: The same applies to the red mono, but it looks more like someone fighting an oil fire! Navy undershirt and socks definitely improves things, but it still feels a bit too much to me.
PH: Nope. The all red is way too red, and even with navy sleeves and socks (plus they're, ya know, the RED SOX), it doesn't work here.
__________
Tampa Bay Navy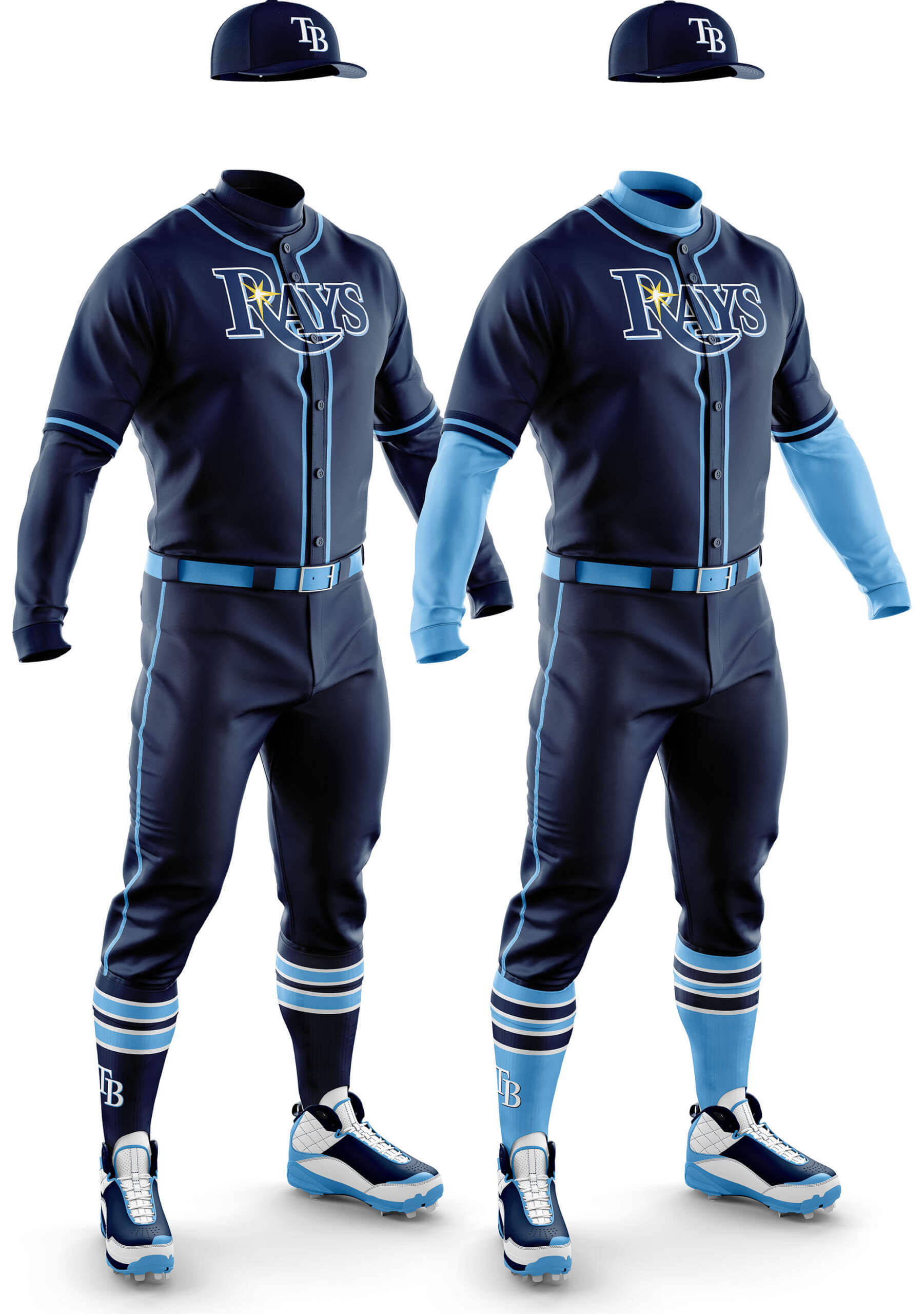 CD: It's amazing what a bit of high contrast striping can do to make a mono look OK. I like both of these but think I actually prefer the all-Navy version.
PH: The Colombia (powder) blue does contrast well here, but it's almost too close to the Cubs CC. I don't hate the Cubs CC unis, but with the many navy softball tops out there, this one is best left as a concept. However…
Tampa Bay Columbia Blue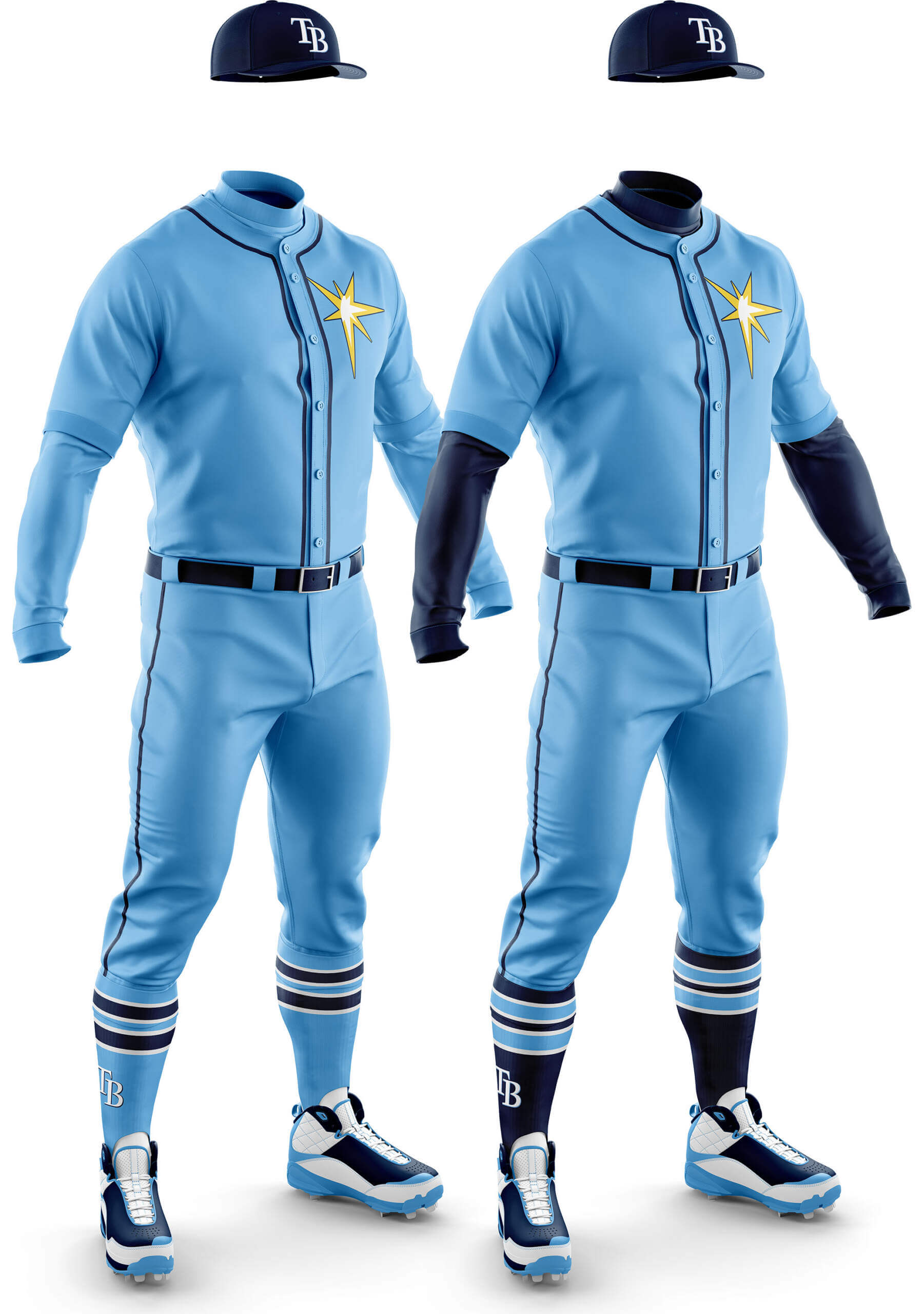 CD: For some reason (and I can hear the cries of heresy already) I don't like "powder blues" in general. Either here where it is a team colour, or proper powder blues. So no sir, I don't like it!
PH: Having grown up in the "powder blue" era, I have always been partial to the look to a point. To me, the best powder blue uniforms combined navy and powder, and this one fits the bill nicely. I'm not a huge proponent of the "sunburst" logo (I'd prefer the jersey say "RAYS"), but for Phase One we won't be changing anything. The navy cap, sleeves and socks add just the right amount of contrast. This is one that I would love to see them wear as their road uni.
__________
Toronto Royal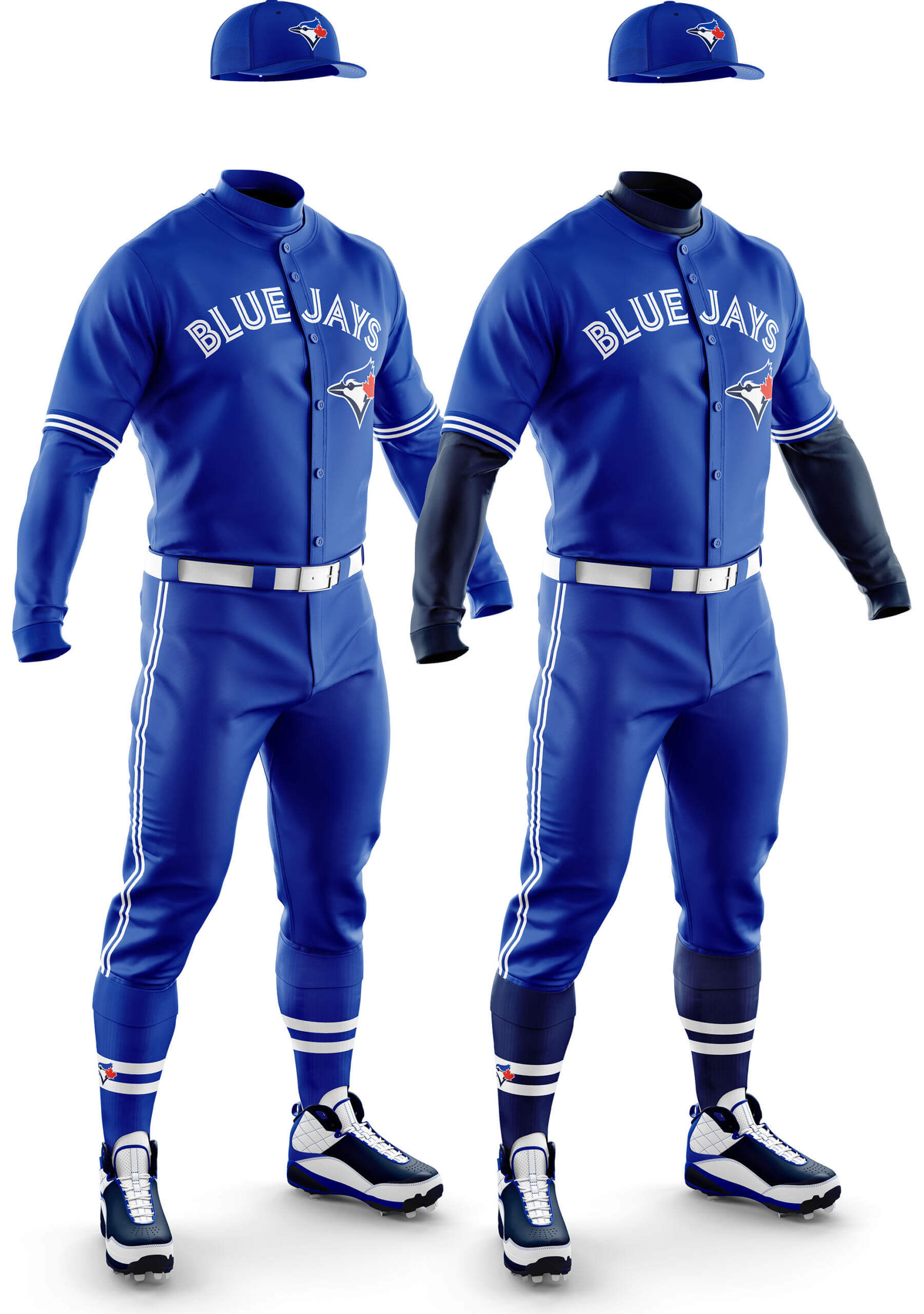 CD: Because the Jays use the Royal in a fairly monochromatic way generally, I think the pure royal/white look is best here. The addition of the navy undershirt and socks adds too much navy for me. The same would be true for red undershirt/socks.
PH: The Jays already have the perfect non-white/gray mono uniform, so there's no need for a second one. There might be room in the game for one (non-CC) all royal uniform in MLB. This ain't it.
==========
NATIONAL LEAGUE EAST
Atlanta Navy
[Due to use of Native American iconography, it's UW policy not to show these concepts inline. However, since we're using every team's current colored jerseys, you can check those graphics out by clicking on the links provided.]
CD: Here I feel the choice of pure white striping (unlike the home which has navy/red/navy) makes the pure mono look too plain. The addition of the red undershirt/socks makes it interesting enough to work.
PH: If anything, the team needs to ditch the navy blue jersey, not add navy pants to it. Nope.
Atlanta Red
CD: I'm starting to realise I don't like mono-red uniforms! Although these are the best of the bunch so far for me.
PH: If anything, the team needs to ditch the red jersey, not add red pants to it. Nope.
__________
Miami Black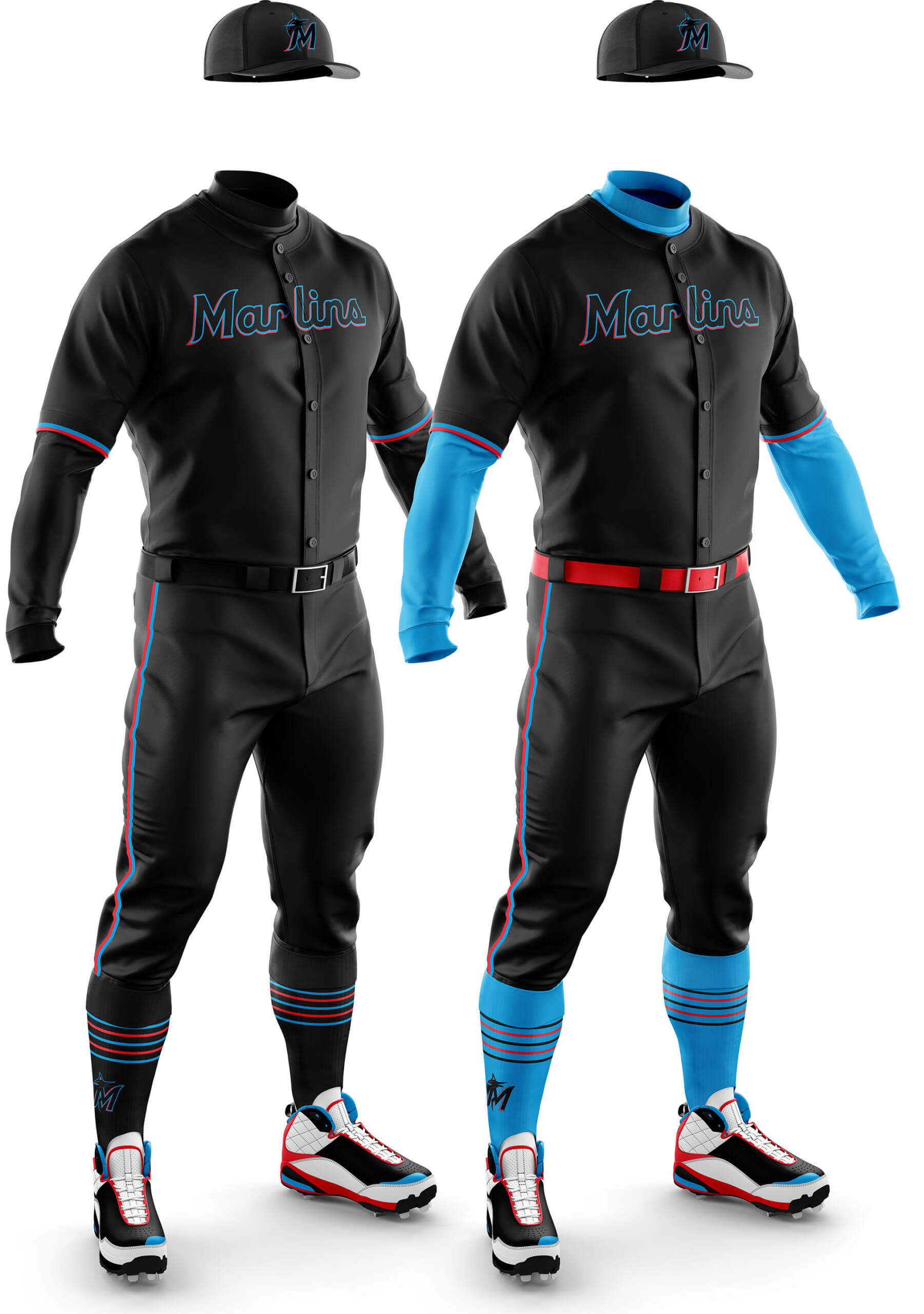 CD: I think if any team were to do a pure mono black uni this works the best for me. The contrast between the black and neon bright blue and orange looks good. But adding blue undershirt/socks (or orange) doesn't work because that favours one colour over the other and both are equal in the Marlins scheme.
PH: The Marlins have such a tortured relationship with their uniforms, and the black jersey in all it's ghost-lettering glory needs to disappear immediately. Still…Miami has such a tortured relationship with their uniforms, maybe an all-black, with light blue sleeves and socks (and I do love the red belt!) is fitting. Nah. What the hell am I saying.
__________
New York Black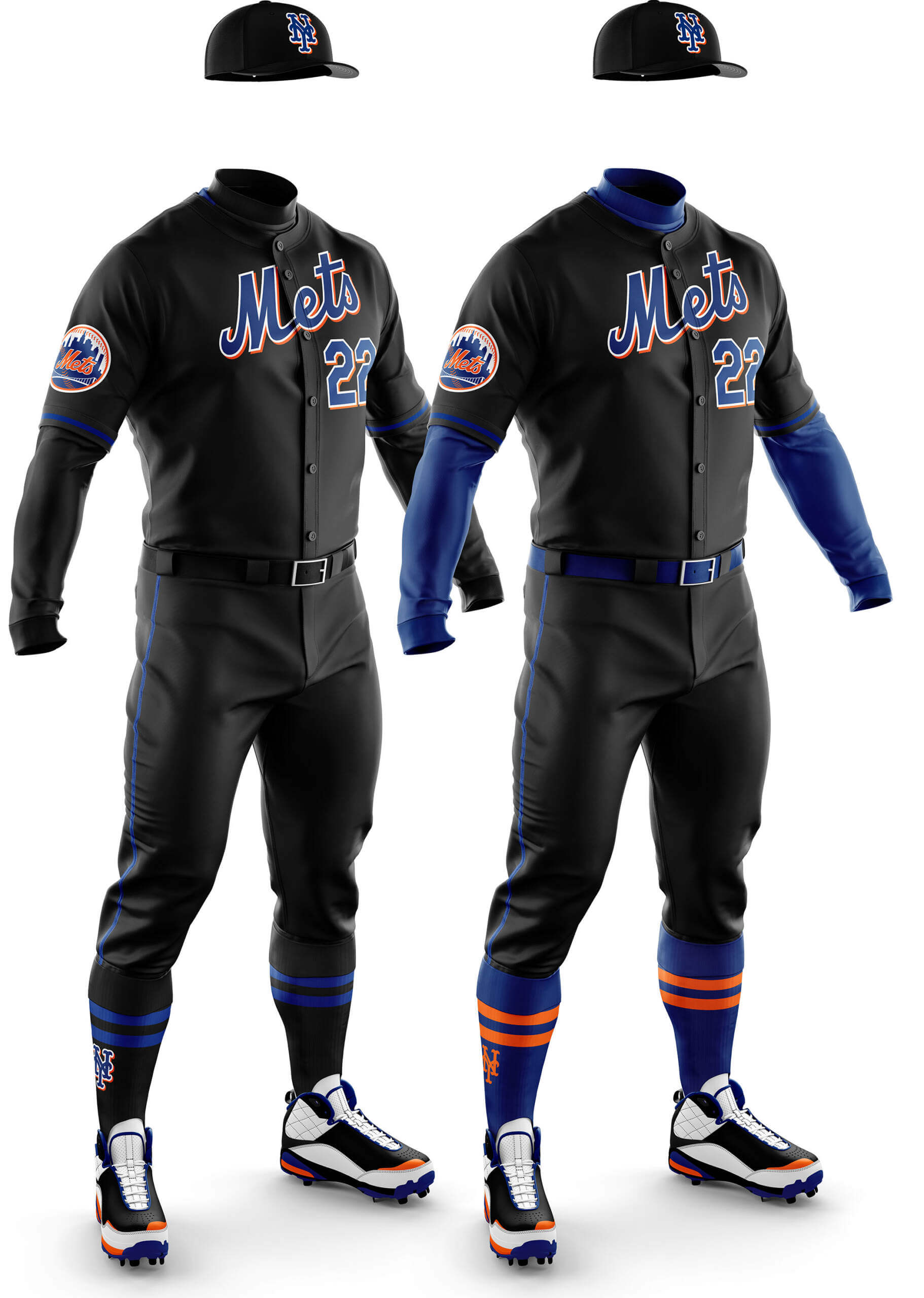 CD: I don't think anything can save this for me. The all black is an abomination and adding blue undershirt and socks doesn't help because of the low contrast. Best buried in an unmarked grave at midnight somewhere.
PH: In the spirit of Spinal Tap, I have a two-word summation. Bet you thought I was gonna use this one. Pete Alonso and some other children of the 2000s may like the black jersey, but it is the very definition of BFBS. No need to make it worse by adding more black.
New York Royal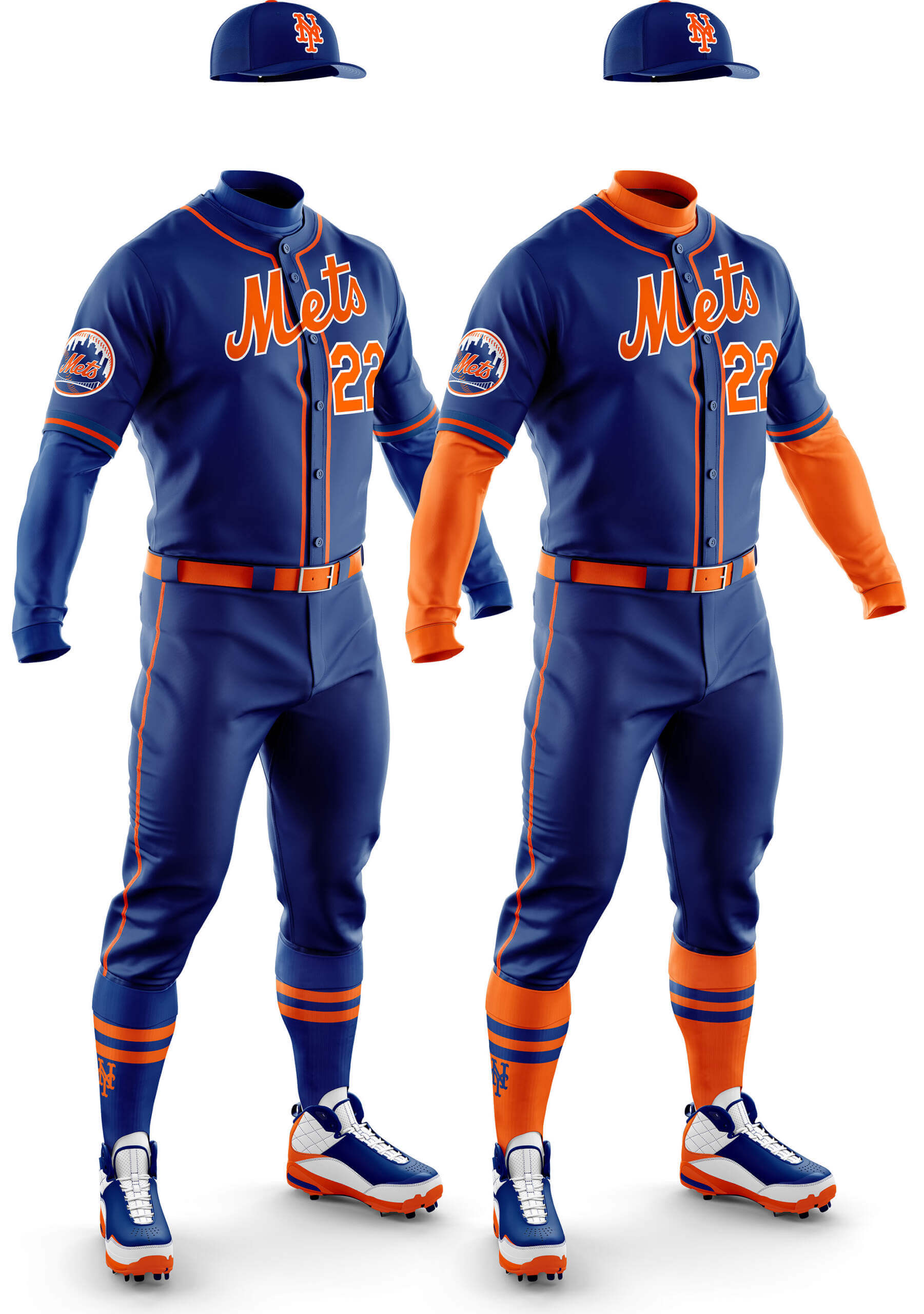 CD: Where the black doesn't work, I feel both these looks are great. Nothing but blue and orange as far as the eye can see!
PH: The Mets actually wore mono-royal almost a decade ago, when they honored the Royal Giants of the Negro Leagues. I'd really rather the Mets not wear the royal softball tops, but if they were to pair them with royal pants, and wear orange sleeves and socks, it's not the worst look in the world. One could make an argument that the Mets can actually pull-off mono-royal (certainly better than the BJs and Dodgers, and a couple other teams you'll see at a later date). This one has possibilities.
__________
Philadelphia Red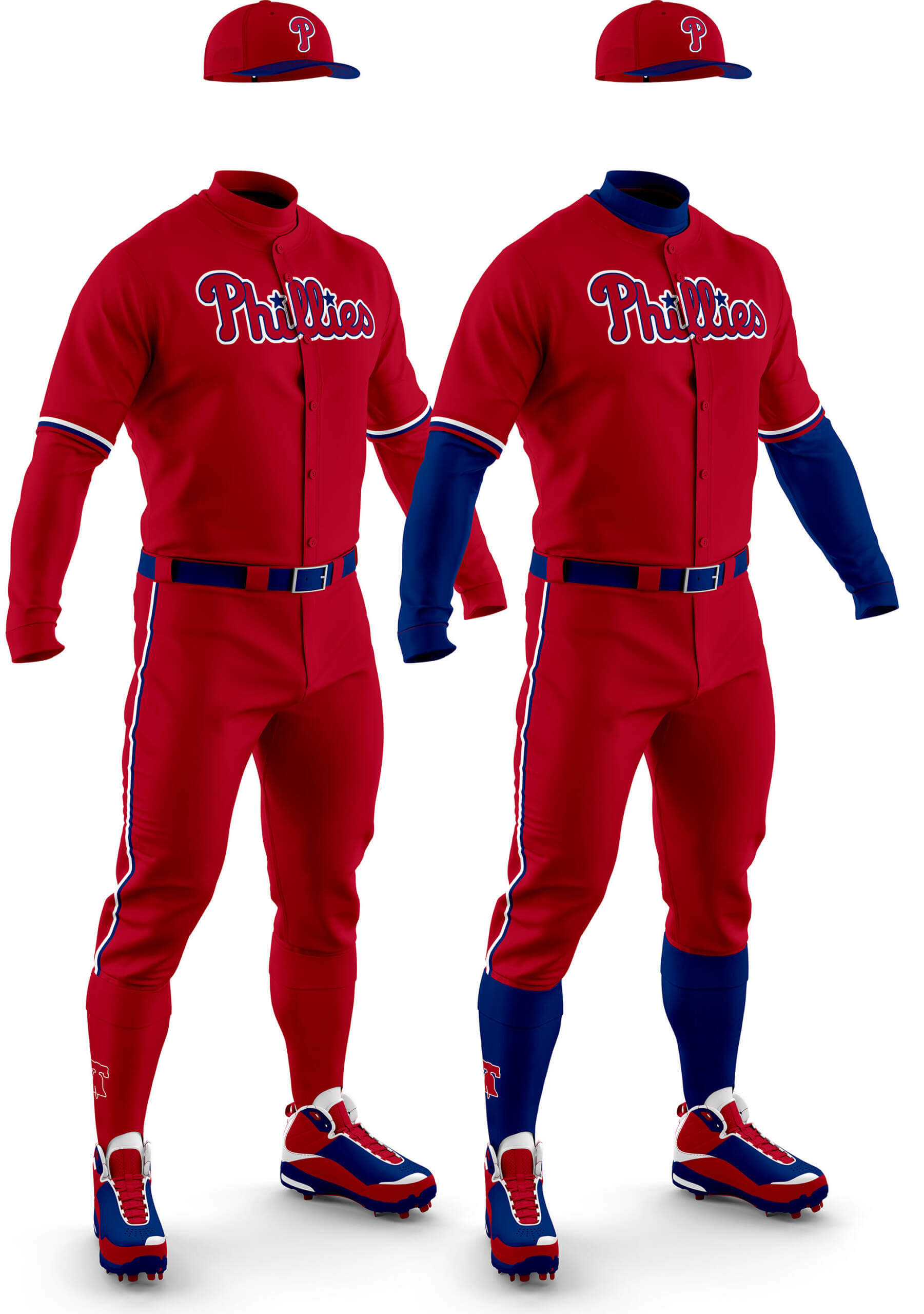 CD: Yes…really don't like red mono. The deeper shade of red is right into blood-clot territory. We'll have to wait and see if a maroon version could work.
PH: With a white, gray, cream AND powder blue set of mono-unis, the Phils certainly don't need another. And after their experiment with the Saturday Night Special (and it's evil fauxback), I think it's best the Phils just jettison the red tops altogether.
__________
Washington Navy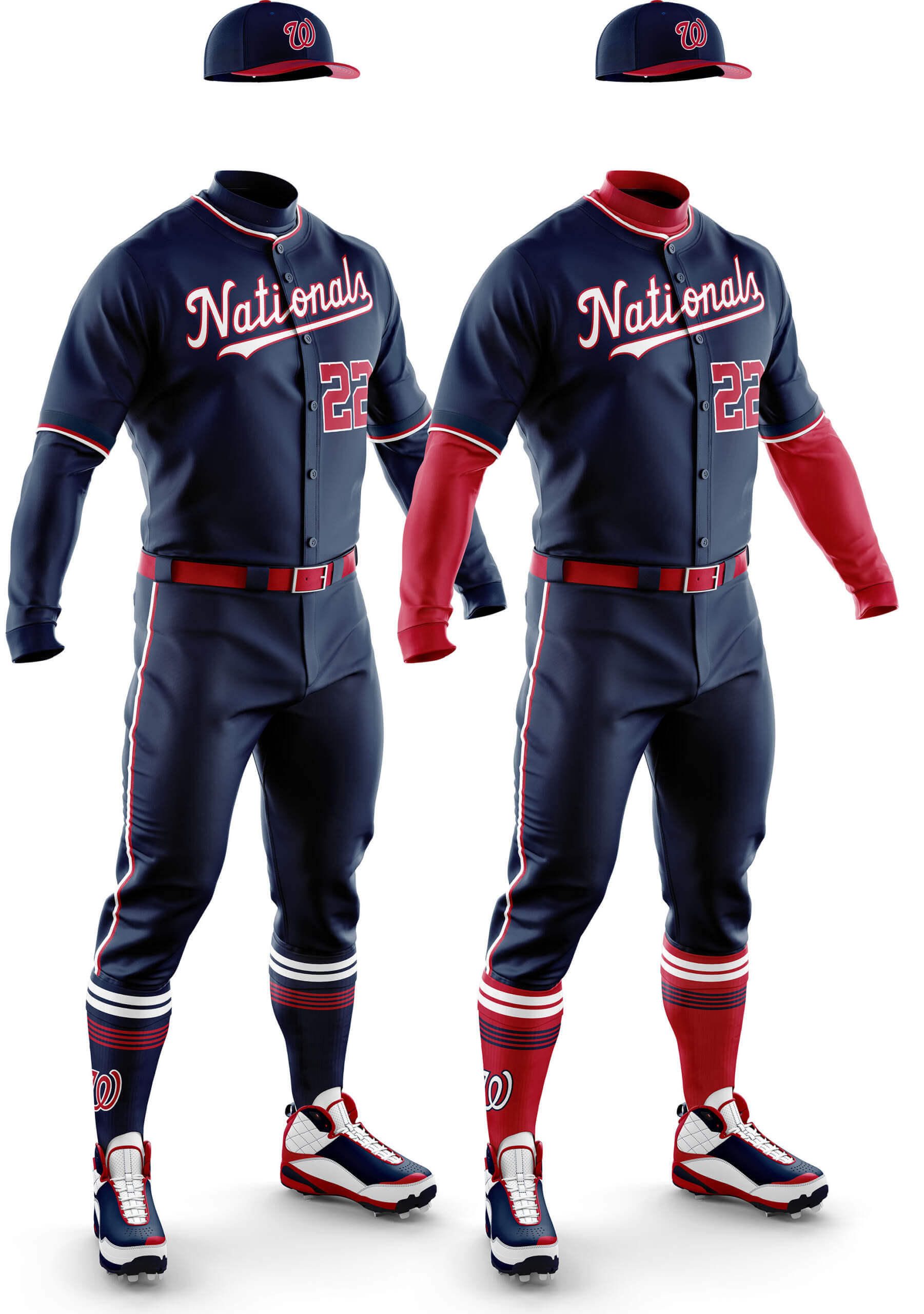 CD: For some reason I don't like the all-Navy version. I think it's because the red numbers are stuck out on their own, but with the red undershirt/socks they have something to hang on to.
PH: We're only just finishing up the East Divisions, and already, with this experiment, we've concepted four all-navy (and three all-red) unis. You can see how this is not going to end well. And with a couple teams already sporting mono-navy CC unis (Astros, Cubs), there's no call for any more.
• • • • •
Phew! If you made it this far, thanks for your enthusiasm/patience. And huge thanks to Chris for creating all these graphics!!!
Let us know in the comments below if you think some (any?) of the proposed mono-dark uniforms might work on the diamond. Even if you're opposed to alternate (softball) tops, would you be less opposed if teams stopped pairing them with different colored pants? Do you think creating mono-dark unis (to replace dark jersey/light pants) — at least for a few teams — is a direction in which baseball unis should be heading. And if you like the alternate tops with light pants, but not as mono, that's fine. We're simply looking to see if mono-dark unis might be a way for teams to keep their softball/alt tops, but wear them as uniforms, rather than the current mix/match.