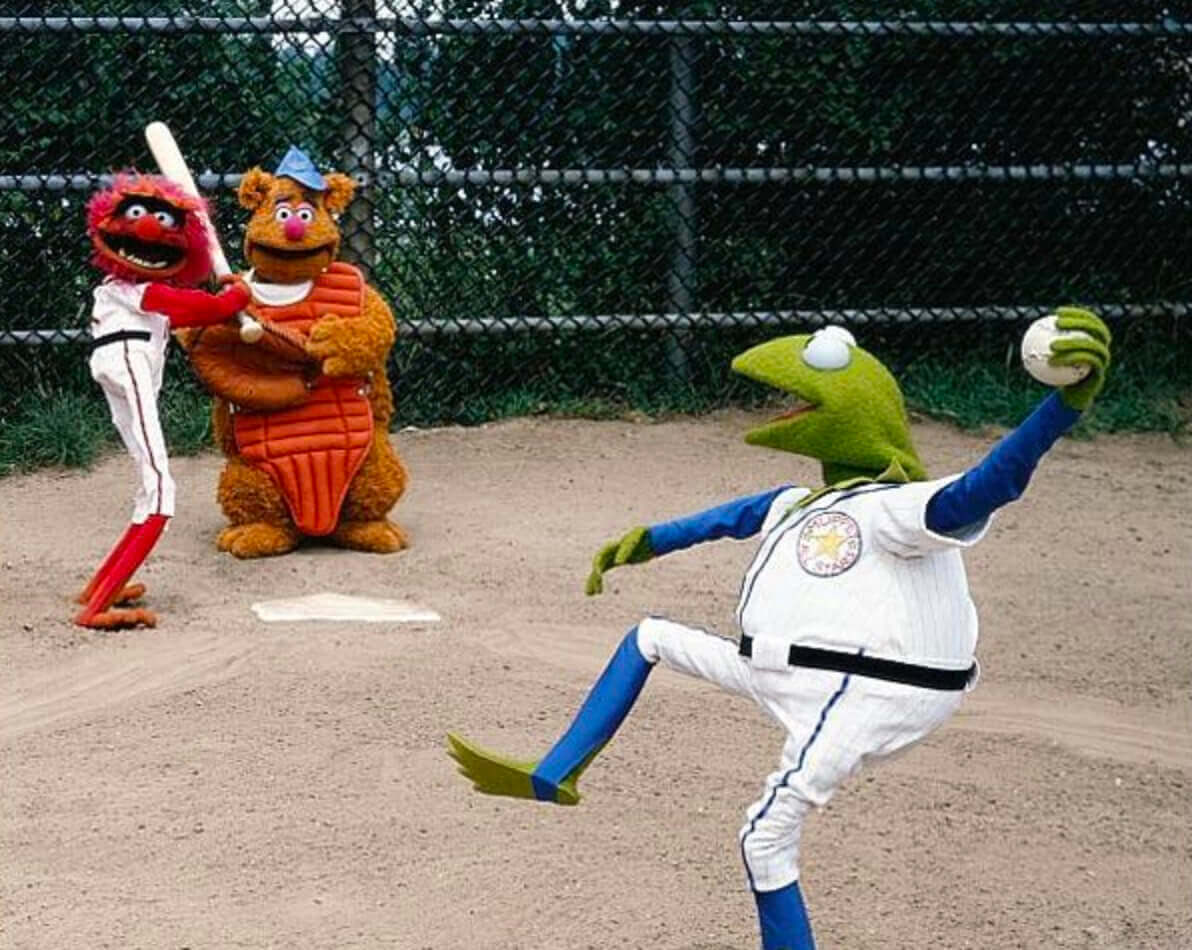 Click to enlarge
Good morning! There's a lot of uni-related stuff to parse in this shot of the Muppets playing baseball. For example:
• Kermit does not have a fielder's glove.
• Fozzie Bear appears to be the rare left-handed catcher.
• Kemit is wearing stirrups that loop right under his feet (no sannies, no shoes!), and it looks like Animal is as well.
• No headwear for Kermit or Animal, while Fozzie has a cap but no jersey or pants. So much for uniformity!
There are also photos floating around showing Kermit on the mound with a cap and a glove (or, if you prefer, a Ker-mitt) and a better look at Animal's stirrups.
You want other sports? Can do: Here are the Muppets playing basketball, hockey, and football.
(Big thanks to Marc Brubaker for this one.)
• • • • •
• • • • •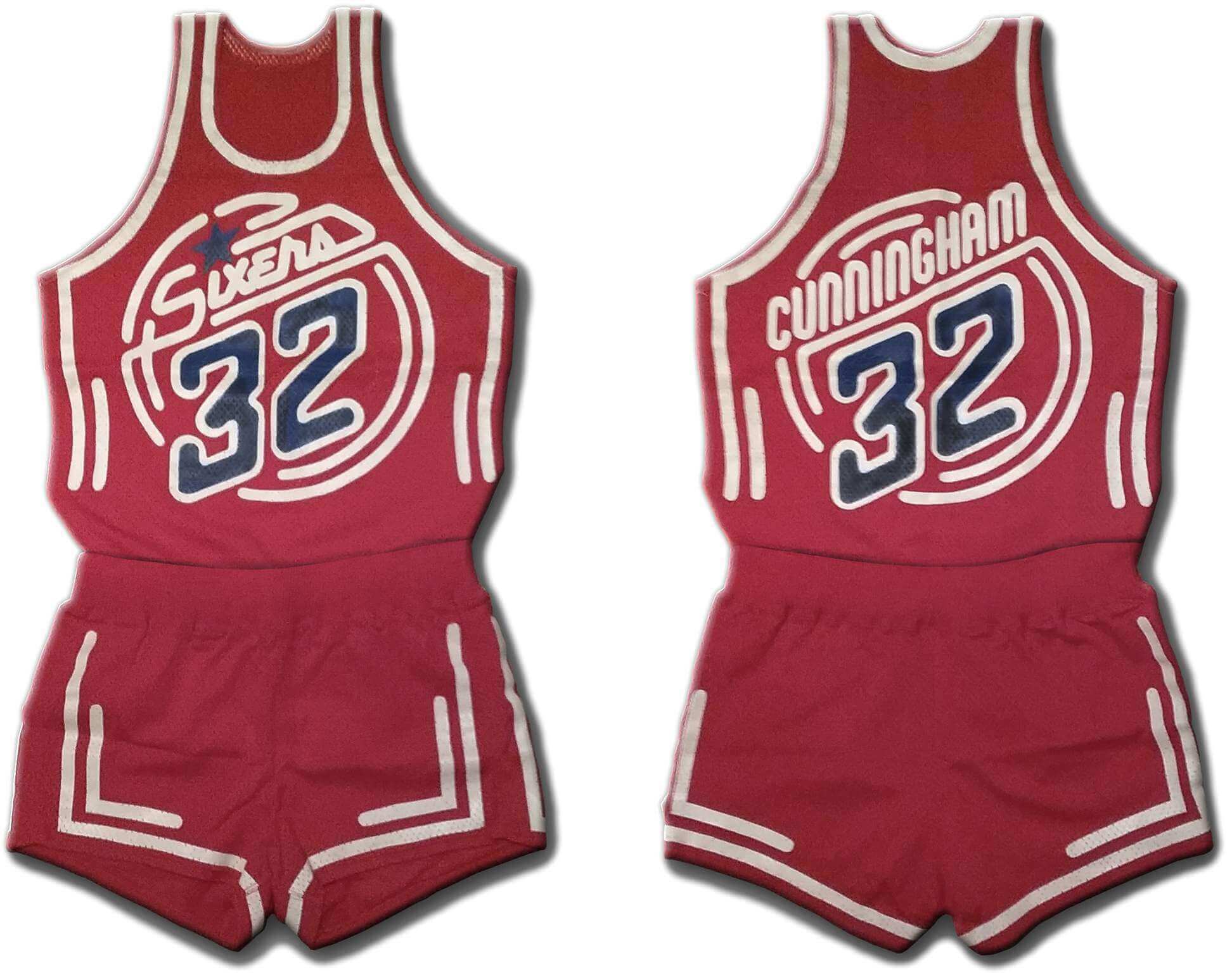 Today's real lede is a doozy: For my latest piece on Bulletin, I have an exclusive interview with the designer who created a prototype uniform for the 76ers in the early 1980s. As you can see above, the design had a neon sign motif, but it was more involved than that — it was meant to shimmer under black light.
It's a fascinating story, loaded with photos and original mock-up drawings. I hope you'll check it out here.
• • • • •
• • • • •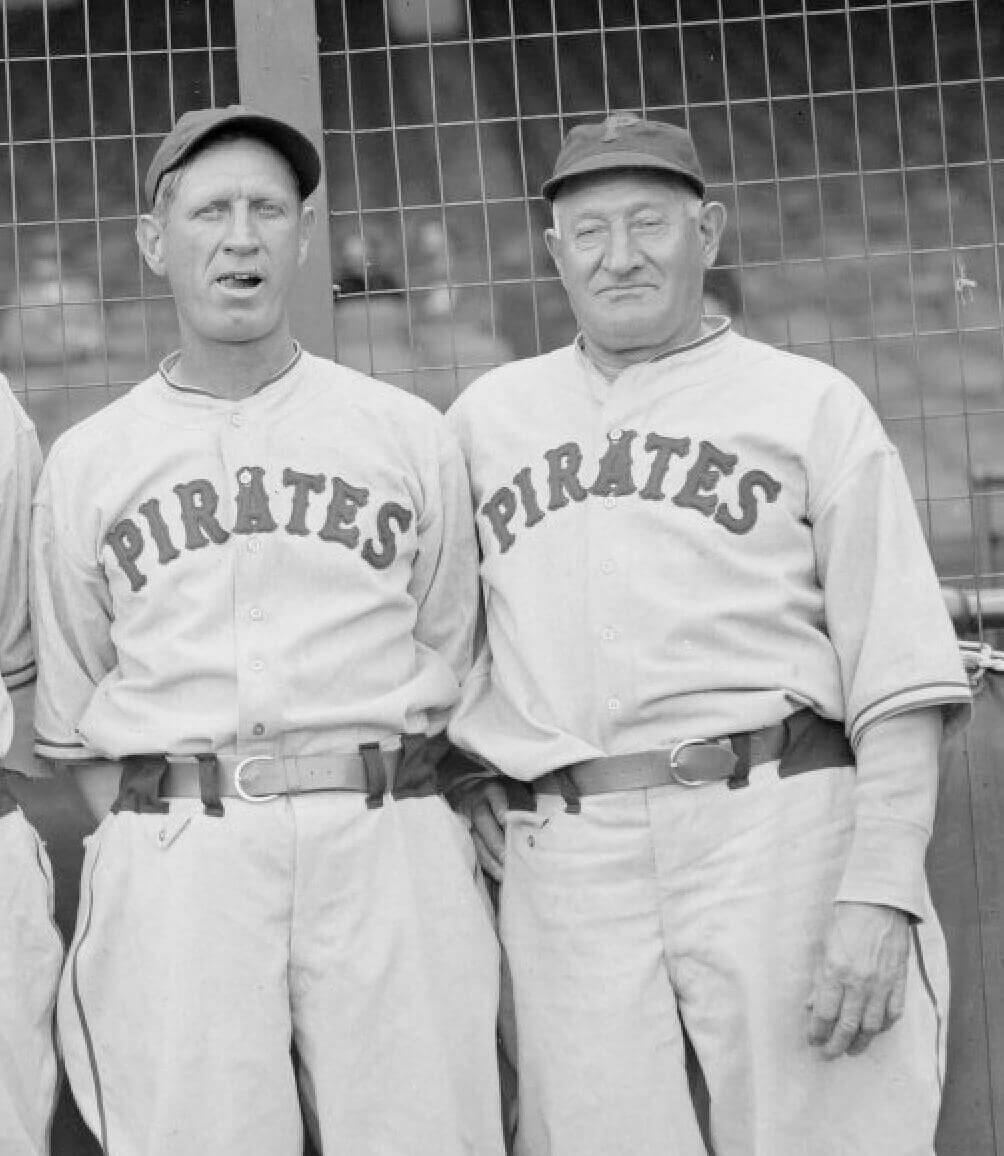 Click to enlarge
Pocket scholar: Reader Chris Hickey has emerged as our pre-eminent researcher of pants-pocketed MLB coaches and managers. His latest find, shown above, is a major one: In 1937, Pirates coaches Jewel Ens and Honus Wagner both wore flapped pockets. This is the earliest pocket example we've seen so far, and is also the first time we've seen anyone other than Casey Stengel going with the flapped variety.
Two years later, in 1939, Wagner and Ens still had their pockets (and maybe were simply still wearing the same pairs of pants), although manager Pie Traynor did not: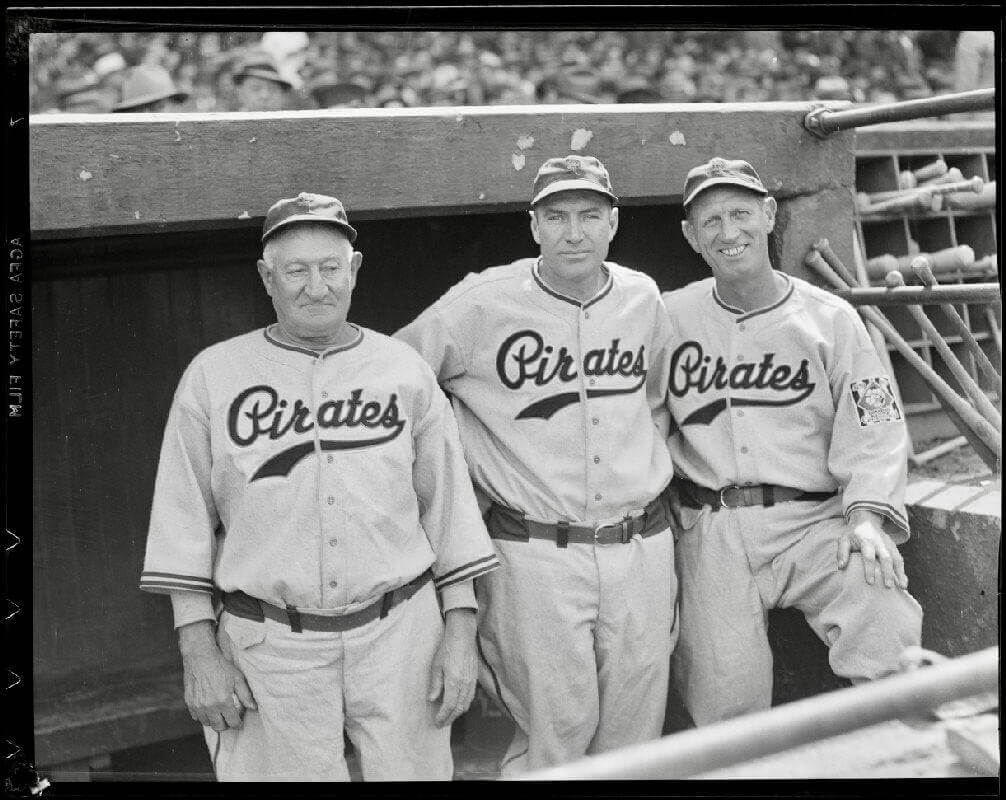 I know I've said this before, but I'll keep saying it: It's kind of mind-blowing to think that I never noticed this detail before!
• • • • •
• • • • •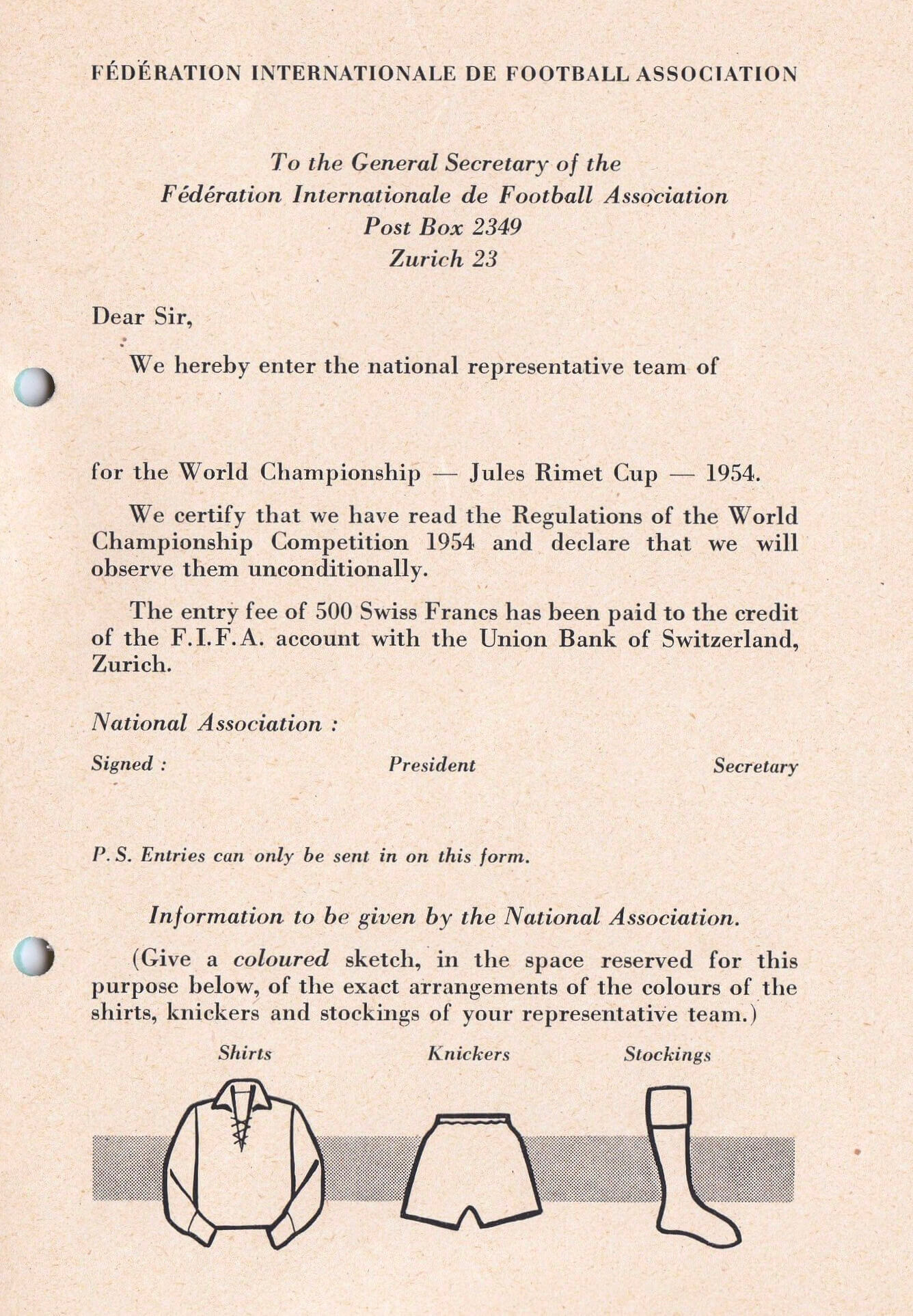 Click to enlarge
Too good for the Ticker: What you see above is the entry form that was used for countries applying to compete in the 1954 World Cup. I love love love the little bit at the bottom, where teams were supposed to sketch a mock-up showing the "exact arrangements" of their kit designs. So good!
(Big thanks to the Football Kit Podcast for uncovering the entry form, and to Jeremy Brahm for bringing it to my attention.)
• • • • •
• • • • •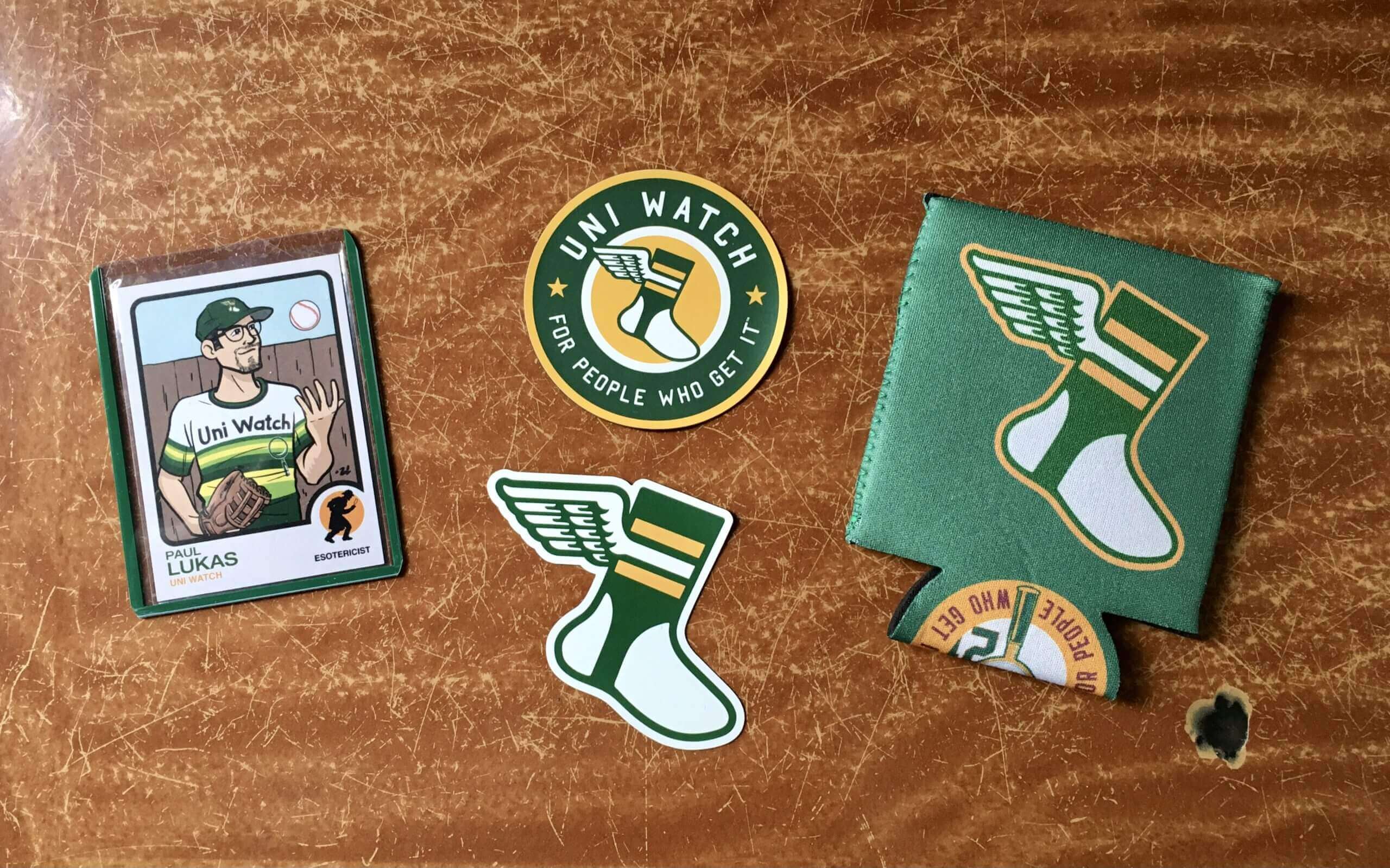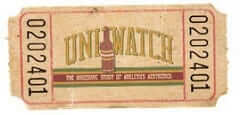 ITEM! Yet another raffle: For our fourth and final raffle of the week, I'm giving away a Uni Watch gift pack, including a koozie, two magnets, and a trading card.
This will be a one-day raffle. No entry restrictions. To enter, send an email with your mailing address to the raffle in-box by 8pm Eastern tonight. One entry per person. I'll announce the winner on Monday. Good luck!
Meanwhile: The winner of yesterday's raffle for the Uni Watch basketball shorts is Pete Svendsen. Congrats to him, and my repeated thanks to Matt Sanderson for making that one possible.
• • • • •
• • • • •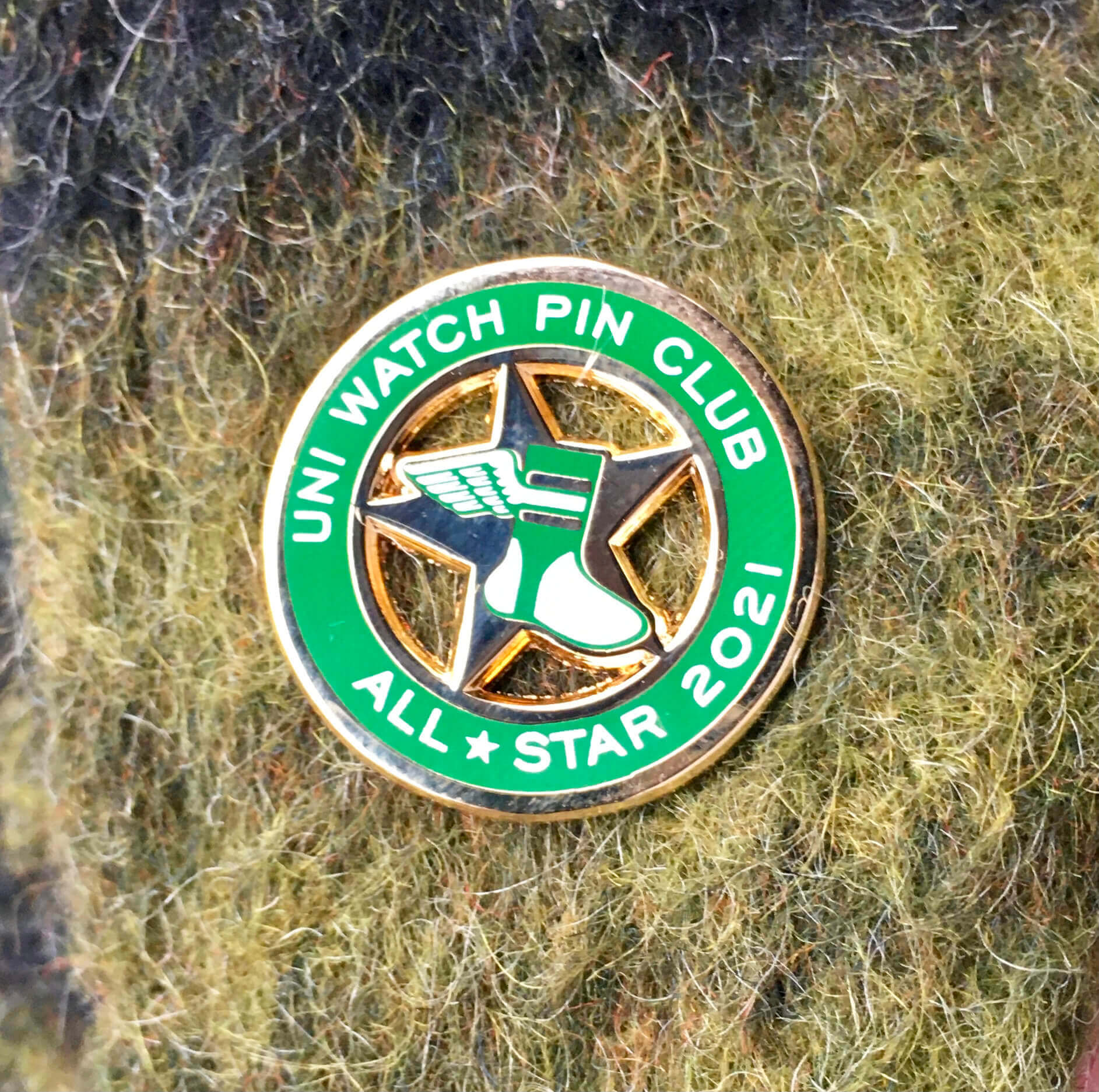 Pin Club update: All of the 2021 All-Star pins mailed out yesterday. So if you sent me proof of having collected 'em all in 2021, your bonus pin should be arriving shortly!
I have seven extra pins. So if you collected 'em all but somehow missed my earlier calls for documentation, please send me proof ASAP. Your proof can be any combination of photos of the pins themselves and your order-confirmation emails from Teespring.
While we're at it: I'm pretty sure all shipping snafus regarding the December pin have now been resolved. But if there are any lingering issues regarding that episode, let me know. Thanks!
• • • • •
• • • • •
The Ticker
By Anthony Emerson

Baseball News: Reader Bo Baize came across this photo, which appears to show Tigers players. But those are actually the Dallas Eagles, a minor league team affiliated with the Tigers in 1946 and '47. They continued using the Olde English D for some time afterward, as evidenced by this c. 1960 picture. … Quebec truck stops are still selling Expos merch.

Pro Football News: Someone is suing the Jets and Giants for calling themselves "New York" when they play in New Jersey (from Paul Bryant). … Check out John Elway's lower torso in this photo — you can see his Broncos undershirt through his jersey! Ditto for the offensive lineman (great spot by Rudy Gutierrez). … The Dolphins practiced without helmet logos yesterday, strongly hinting that they'll be going with throwbacks against the Pats on Sunday (from Bryce Starkey). … Bucs coach Bruce Arians went full G.I. Joke for his press conference yesterday. Kudos to @DSomnambulus for referring to him as "General Cosplay." … In case you hadn't heard, the USFL is back, and they've unveiled their divisional logos (from Jim Vilk).

Hockey News: The Golden Knights wore pride-themed warm-ups last night (from Wade Heidt). … Also from Wade: The WHL's Seattle Thunderbirds will be playing the Everett Silvertips at the Kraken's Climate Pledge Arena, and the event has its own logo.

Soccer News: Arsenal is launching No More Red, an official campaign to end knife crime in London. The campaign includes wearing an all-white kit with the crest and advertiser logos whited out as well. Also: No retail versions, to reinforce the notion that this is about values, not commerce. … The Africa Cup of Nations always has some of the best and most unique jerseys in international soccer. This blog ranks all of them for the 2022 tourney (thanks, Phil).

Grab Bag: Australia's men's Test cricket team are wearing pink numbers/NOBs/other accents for the ongoing fourth Ashes Test. This is a promotion they do every year for Jane McGrath day, which honors a late Australian cancer activist and wife of former cricketer Glenn McGrath (thanks, Jamie). … Sports media news: The New York Times is purchasing The Athletic.
• • • • •
That'll do it for this week. Enjoy Phil's weekend content, stay safe, and I'll see you back here on Monday. — Paul