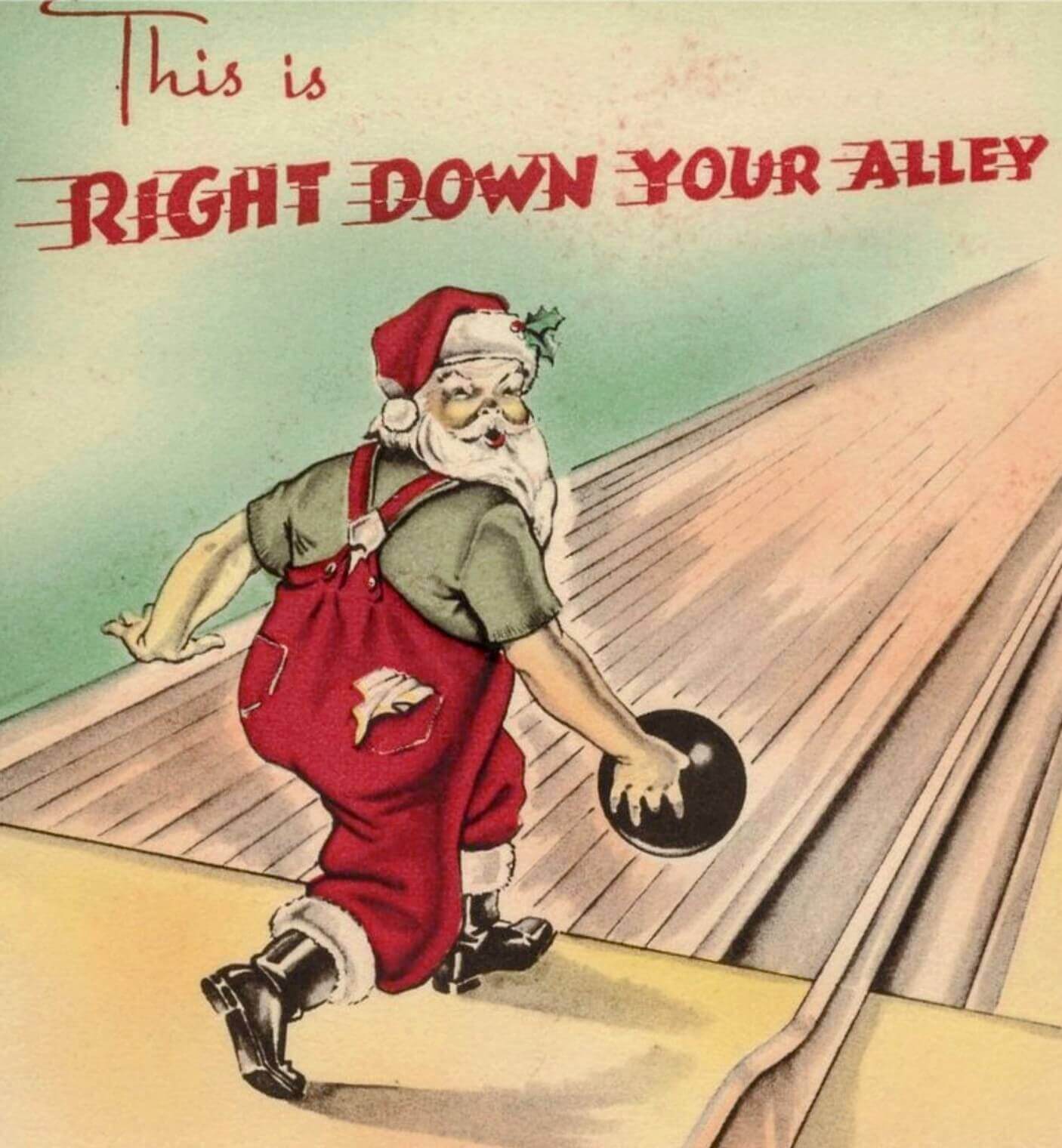 Merry Christmas from Uni Watch HQ, where "Mambo Santa Mambo" is on heavy rotation and the Irish cream and catnip are both flowing freely. Hope things are similarly festive wherever you are.
Meanwhile, Santa's left something extra under the tree this year for 47 lucky Uni Watch readers — the winners of our annual year-end raffle. Here are this year's winners and the prizes they've won (you can see photos of the prizes here):
1. Uni Watch membership card — Alex Shirley*
2. Majestic jersey — Steve Droho
3. "Ransom Note" T-shirt — Frank Seitz
4. "Ransom Note" T-shirt — William Jones
5. Fire department T-shirt — Claire New
6. Yellow football jersey — Joey Shemansik
7. Florence Flamingos T-shirt — Mike Breslau
8. Florence Flamingos cap — Kellie Hagewen
9. Uni Watch trucker cap — Mike Seefeld
10. Uni Watch "gold circle" cap — Marc Burgess
11. Uni Watch white-panel cap — Lance Casey
12. Uni Watch purple cap — Dwayne Stewart
13. Uni Watch frosted pint glass — Marc Bronitt
14. Uni Watch beverage cup — Michael Hayden
15. Kraken ski cap — Eugene Stolow
16. Tom Seaver T-shirt — MJ Kurs-Lasky
17. Victory Dog T-shirt — Andrew Schall
18. Wayne Gretzky trading cards — Mark Goldstein
19. Jacob deGrom cap — Marc A. Rivlin
20. Puppy Bowl T-shirt — Clint Harnden
21. 49ers replica jersey — Russell Koch
22. Uni Watch socks, medium — Allan Labanowski
23. Uni Watch socks, medium — Zach Carlstrom
24. Uni Watch socks, medium — Sean McReady
25. Uni Watch socks, medium — Alan Reichle
26. Uni Watch socks, large — Raymond Wroblewski
27. Uni Watch socks, large — Noah White
28. Uni Watch socks, large — Lee Wilds
29. Uni Watch stirrups — Michael Wilson
30. Uni Watch stirrups — Kary Klismet
31. A1 Steak Sauce trading cards – David K. Smith
32. Puppy Bowl fanny pack — Randall Sanders
33. 76ers pint glass — Kristian Nicosia
34. Signature Shoes book — Wyatt Beltz
35. Devils View-Master — Matthew Torino
36. Canadian postal poster — Chad Smith
37. Winning Ugly book — James Delaney
38. Harlem Globetrotters program — Tony Miller
39. Uni Watch trading card – Ingmar van der Hoek
40. Uni Watch trading card – Bill Fenbers
41. Uni Watch trading card — Dustin Kalis
42. Uni Watch koozie — Mike Rosenberg
43. Red/white/blue stirrups — Andy Moeschberger
44. Green/white stirrups — Corneal Davis
45. Blue/white stirrups — Josh Lauderdale
46. Maroon/yellow/white stirrups — Craig Van Someren
47. Uni Watch Alternate Cap — Justin Scheef

*Alex, let me know what you want for your membership card.
Congrats to all the winners, thanks to all the entrants, and doubleplusthanks to people who donated some of the prizes. I'll try to get everything mailed out by the end of next week. Meanwhile, there's more raffle action afoot tomorrow, as Phil will have his annual Vilkmas winners.
As for today, we had some fun Christmas plans, but they've been cancelled due to, well, you know. So instead we're going to make ourselves a nice dinner: oysters, herb-crusted boneless leg of lamb roast, potatoes roasted in duck fat, arugula salad, and tarte tatin for dessert. Not as much fun as hanging out with friends like we'd originally planned, but at least it should be delicious. However you're spending the day, please accept my best wishes for a safe, healthy, and happy holiday, and my thanks for being part of the very special comm-uni-ty we've all built here. Peace. — Paul
(Special thanks to Jimmy Lonnetti for the image at the top of this page.)