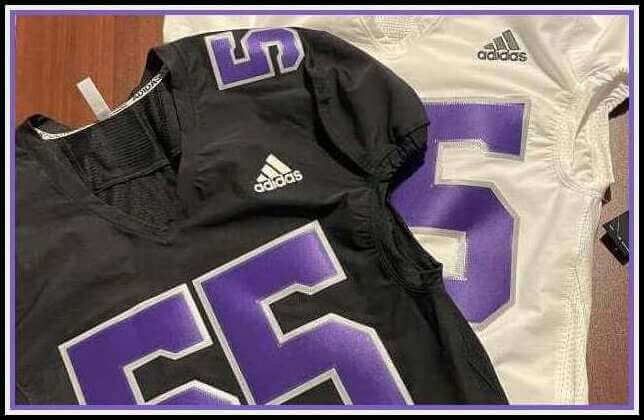 By Phil Hecken
Follow @PhilHecken

Greetings and good Saturday morning, Uni Watchers. Hope everyone had a good week.
As those of you who follow the Sunday Morning Uni Watch are aware, Ethan Dimitroff serves in the role of uniform tracker for the SEC and, starting this season, Big XII Conferences (previously he had been the B1G tracker) — but Ethan's talents extend far beyond the graphical nature. Back in 2019, I was proud to showcase some of his skills when he designed and helped produce a helmet for his alma mater, the Riverside Warriors (unfortunately, Flickr terminated my account a little over a year ago, so the photos in that article won't show, but there's good background into Ethan's design). He also is the founder of the Mountaineer Uniform Database. I've also featured a number of his uniform design ideas on here over the years.
*Please note the site experienced some technical difficulties late last night/early this morning as I was uploading sections, which may have affected the inline photos. I double checked everything and it seemed OK, but if anything is amiss, my apologies and please let me know in the comments.
Well, since creating the helmet for the Warriors, he has also been able to design and help produce their uniforms too! So here's Ethan to tell us all about…
• • • • •
Designing the Riverside Warriors Uniforms
by Ethan Dimitroff
My name is Ethan Dimitroff and most of you know me for tracking SEC, Big XII, and (formerly) Big Ten uniforms. I also started my own graphic design/uniform business in 2017. This year I had the privilege to design my high school alma mater's football uniforms. I had done mock ups in the past, mostly for fun, but it wasn't until my friend took over the head coaching job in 2018 when I really started to put real effort into the design. The process has been a ton of back and forth and I have designed what has felt like a hundred mockups. The coach really wanted the ability to do the modern "mix & match" uniforms that most colleges do and thanks to A LOT of fundraising we were able to do two jersey sets and three sets of pants. I am hoping we will add the last set of jerseys and pants for next season.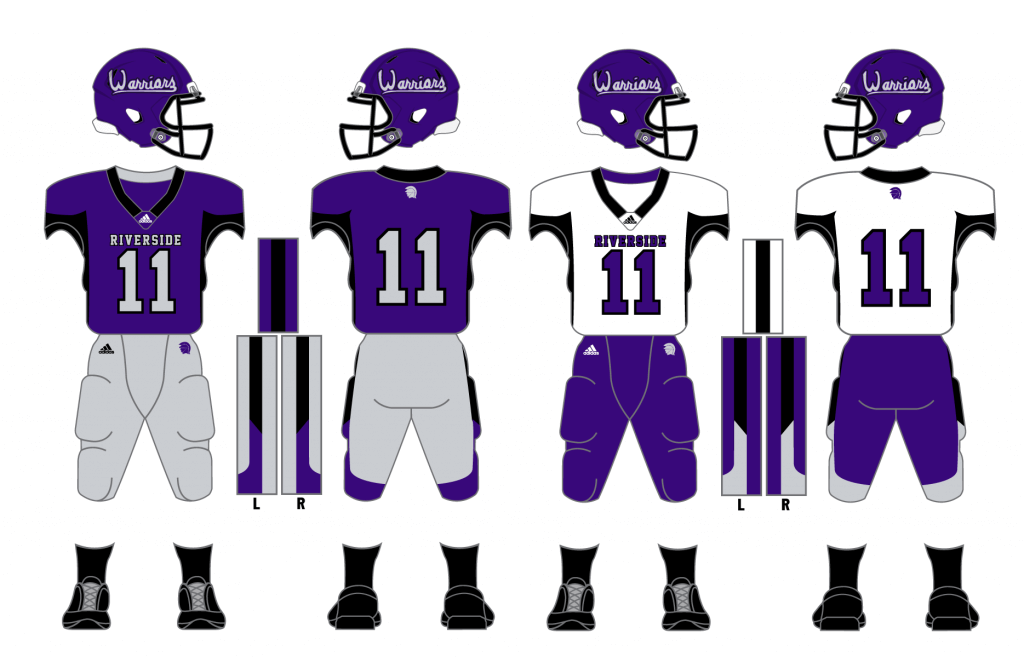 (original 2017 mockup)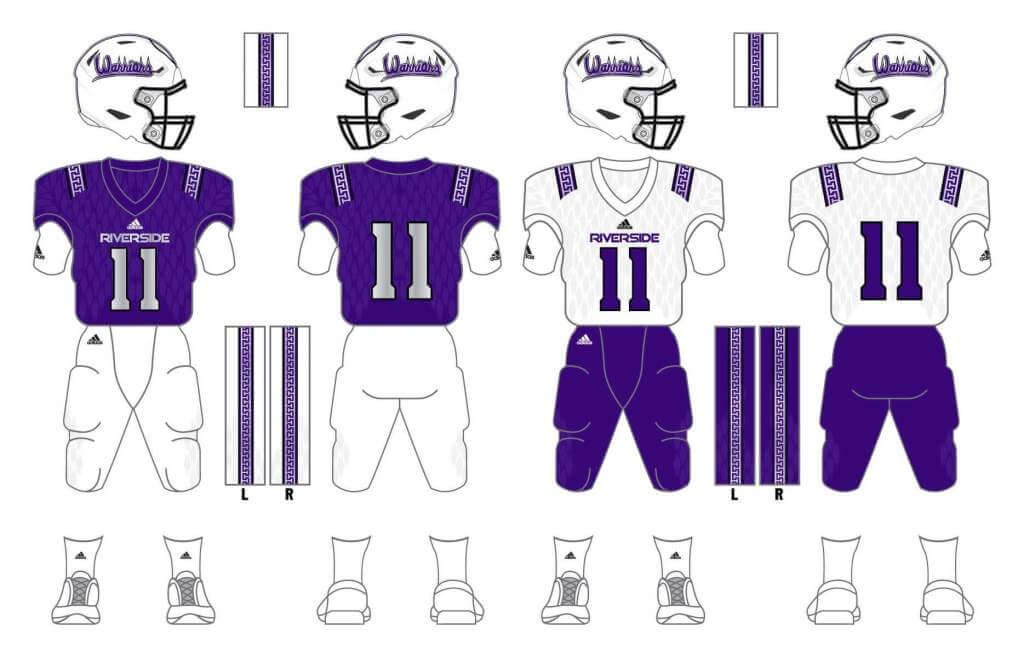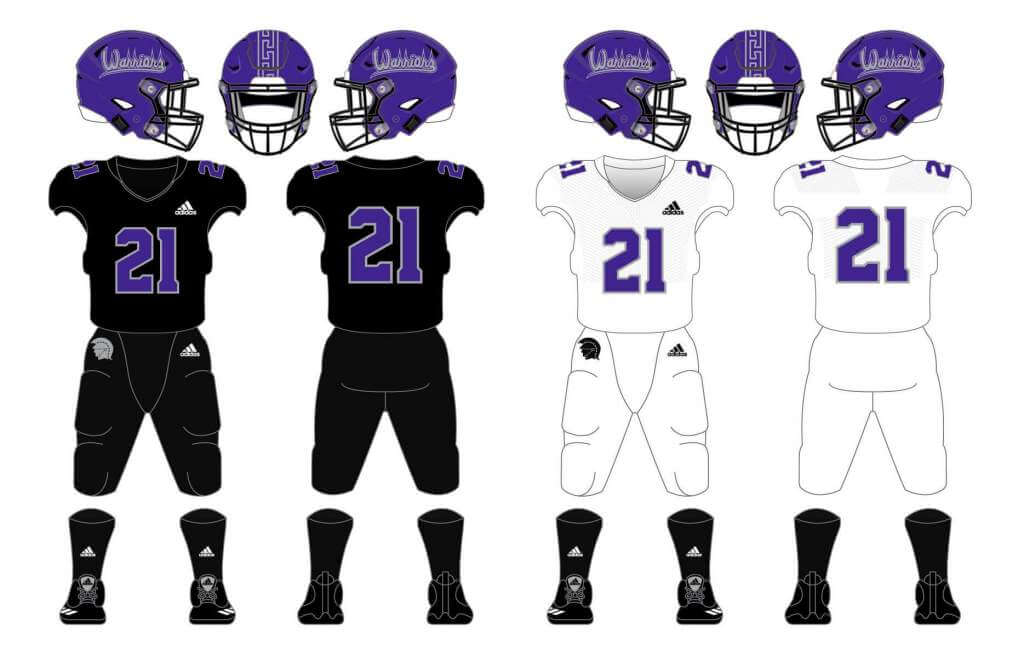 I have included just the main design mock ups. The previous coach had sent the helmets for reconditioning and had them painted white (which is not even a school color) so I had to design my first mockup with that in mind. I wanted some new but not tacky — sort of a "modern classic" if you will. I wanted some sort of UCLA stripe because that was on the football team jerseys when I was there in 2006.
After that first season however coach was able to return the helmets to purple like they were originally. Being the only AAA school with purple as a school color I really wanted it to stand out on the field and any videos or televised games. I always tried to keep cost in mind when I was designing for the team. In 2020 the football boosters finally approved me to do the new uniforms for the upcoming season, but then as we all know COVID happened and pushed everything back a year.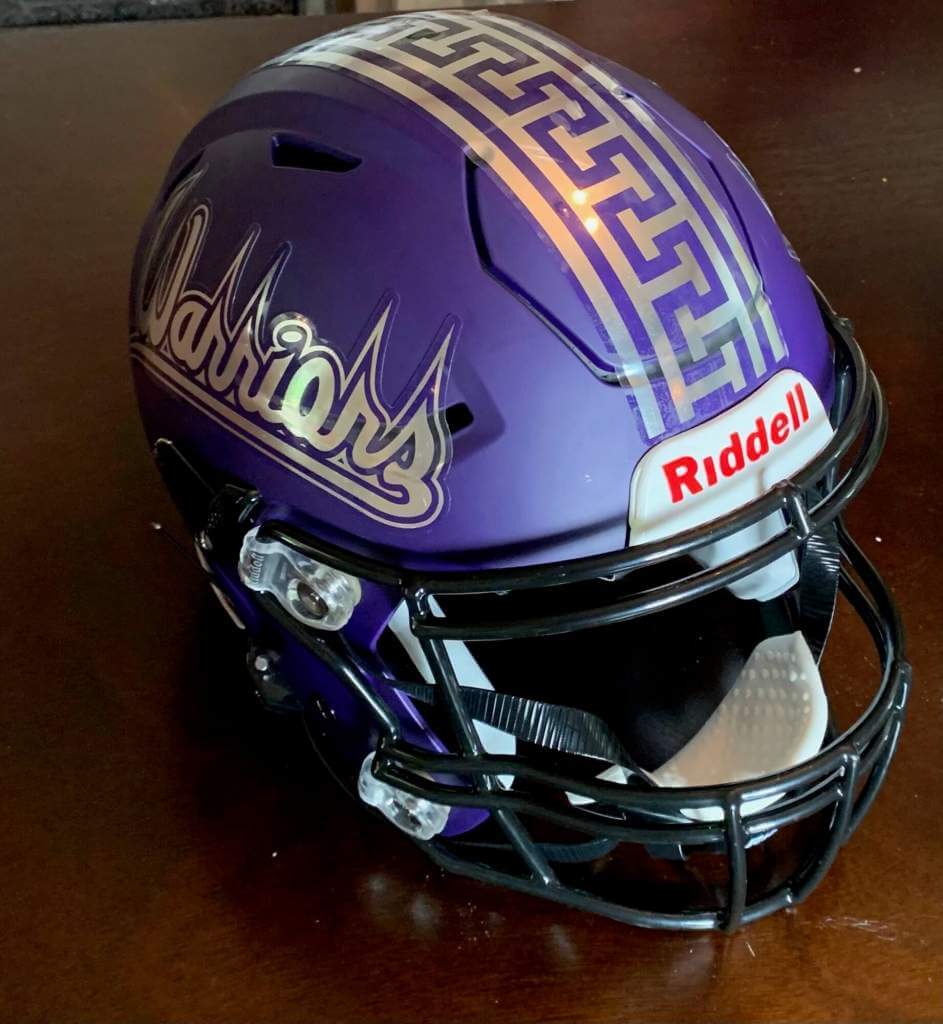 (2019 helmet)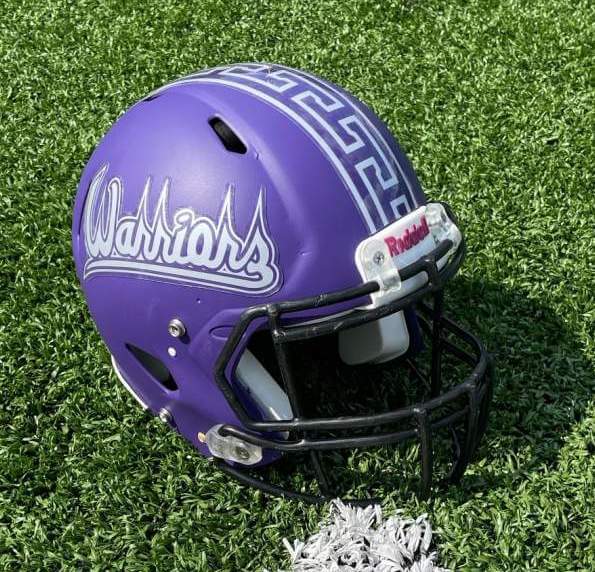 (2021 helmet)
A brief note on the helmets since they were already featured here on Uni Watch in 2019. I tweaked the helmet design from 2019/20. I altered the helmet stripe and switched the color of the decals from chrome to silver metallic. Mainly due to the fact that high school field lighting doesn't have enough light for the chrome to reflect the light which caused the helmet to be unreadable.
Overall I wanted the uniform to be a call back to the OG uniform from when the school first opened in 1999 -– the football program's most successful year. But also I wanted it to be its own modern take. The number font is a custom modified block. Thanks to a new type of lettering called SimStitch, I was able to give the jerseys that classic twill look that is much more cost effective.
Here's a look at a prototype jersey I made last December (click to enlarge):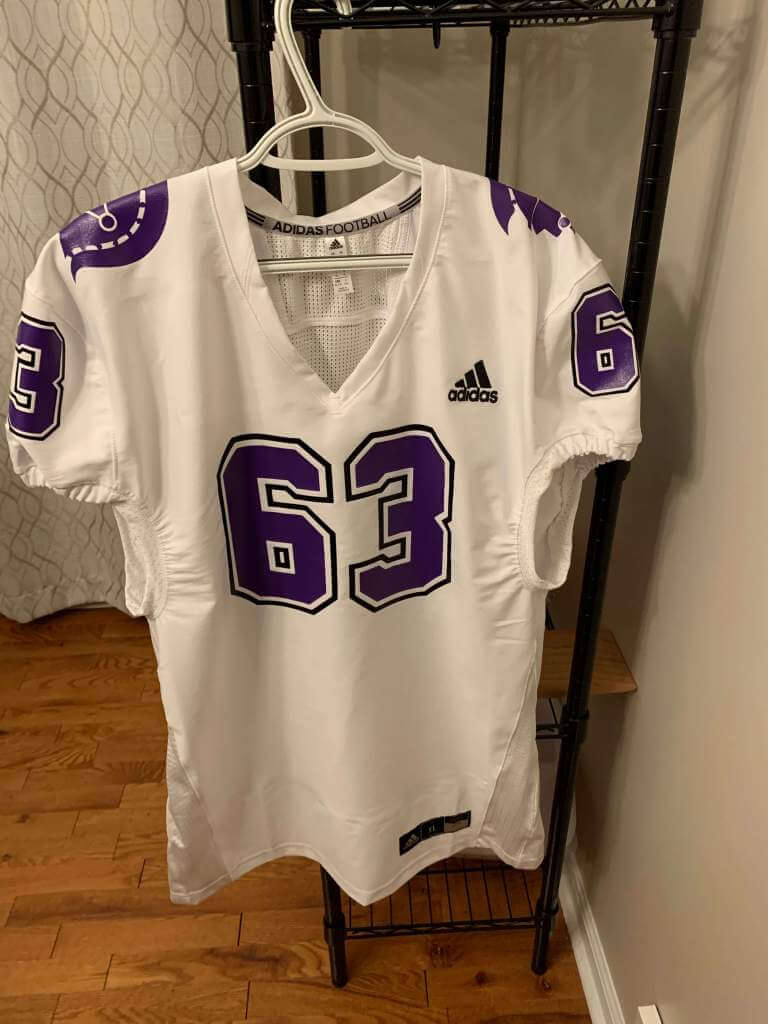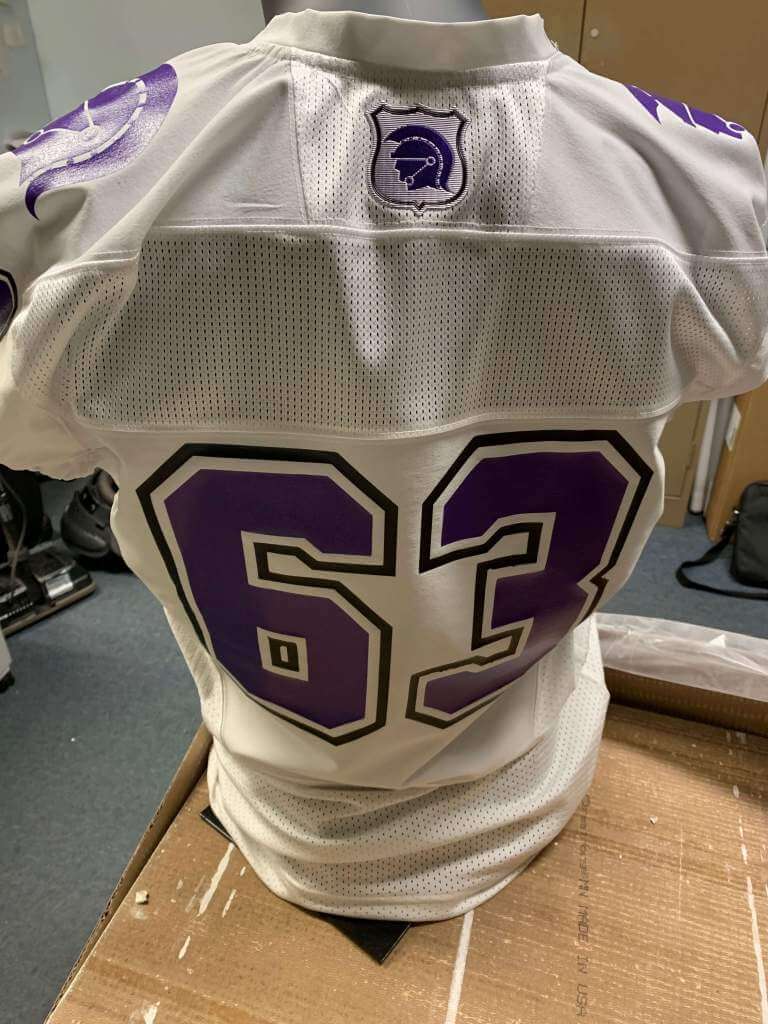 I was torn between the placement of the TV numbers and after referring to some of my fellow tracking friends on Twitter, I settled on putting them on the shoulders.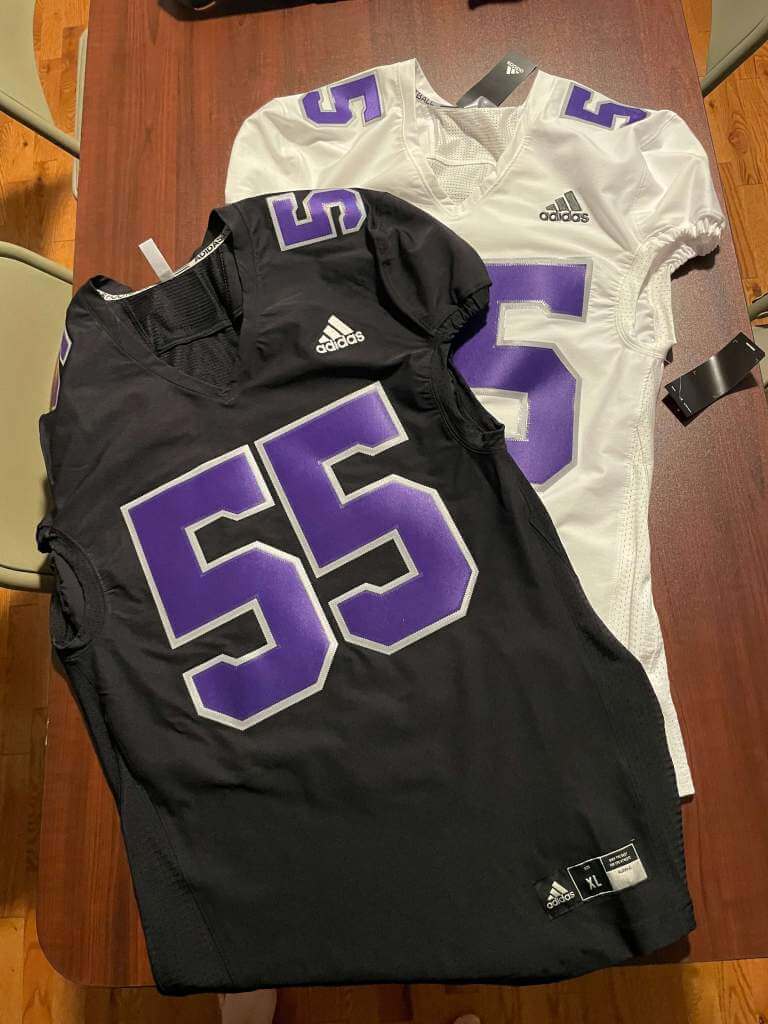 The pants are simple enough. I wanted to include the "warrior helmet logo" on the hip opposite of the Adidas Logo.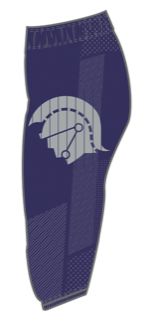 Originally I planned on something a little crazier — doing the logo on the whole side of the left leg similar to how Mississippi State used to do back in the 2010's. But I went with the more muted design due to the change in the uniform template.
Here is a look at the 2019 home and road uniforms in action: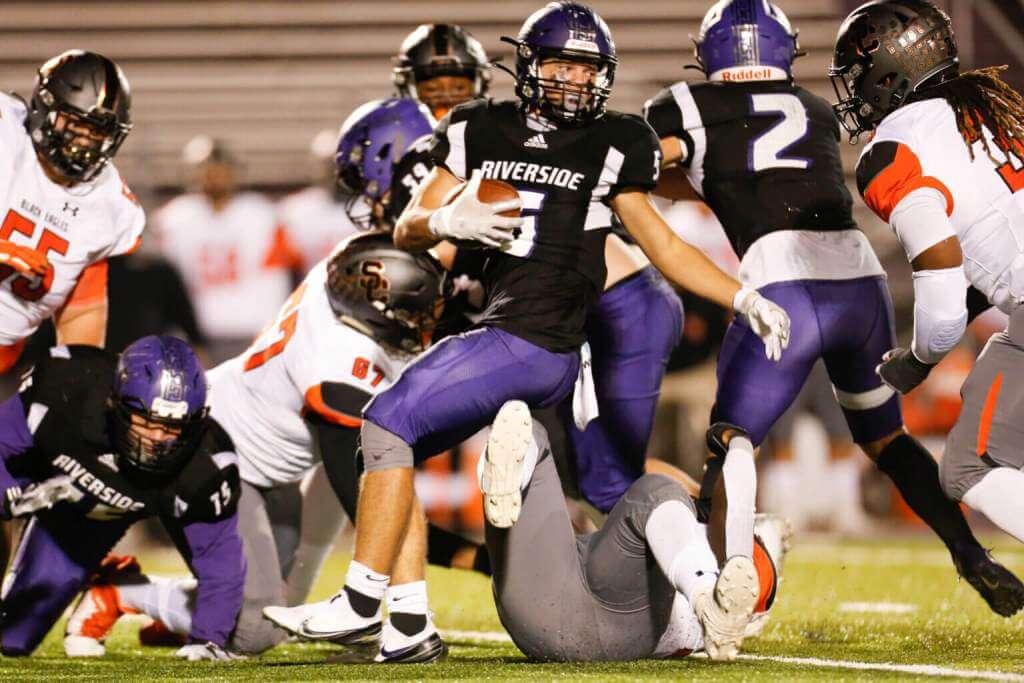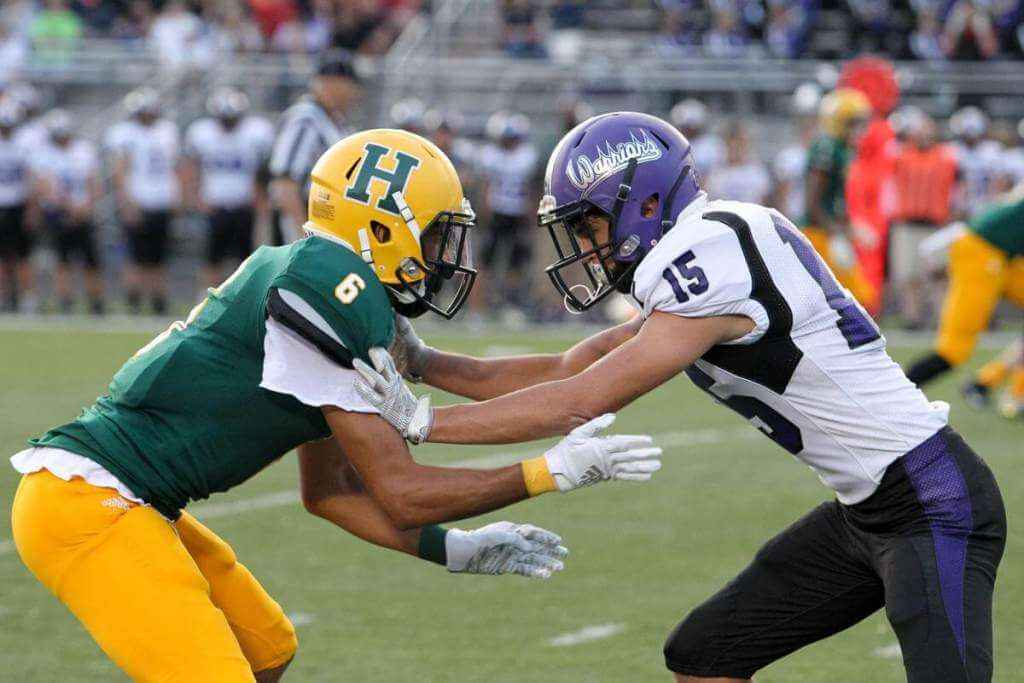 And here are the guys in their 2021 home uniforms (click to enlarge):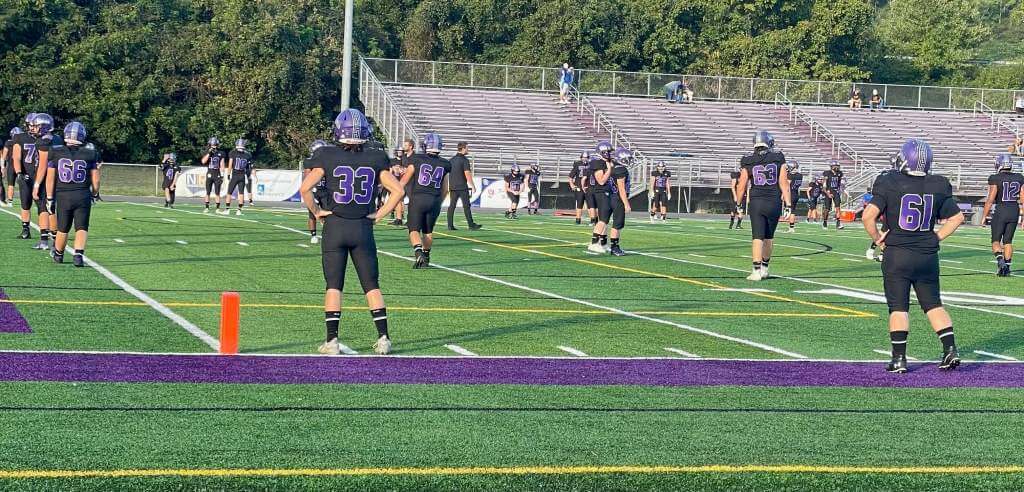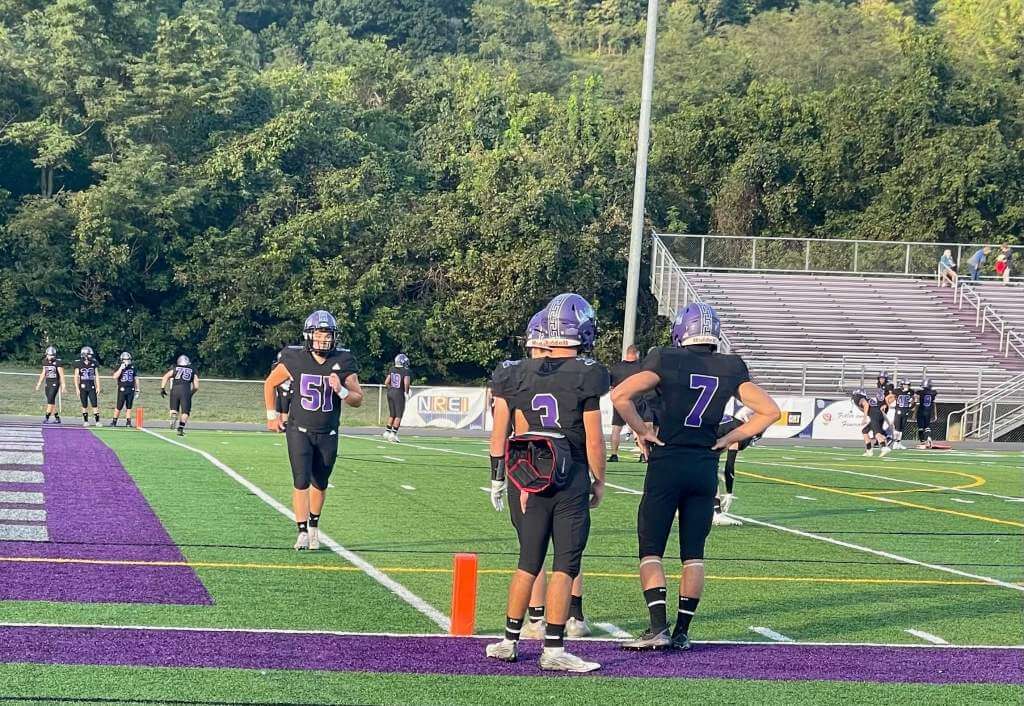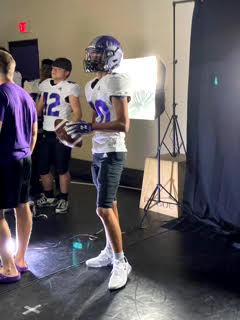 Overall it was a humbling process. When I got to see the guys take the field with something I designed, I stood back and took it all in. And to see the guys' faces when we revealed them — that they went crazy over something I put together was really special. One of my goals when I started this business was to add thoughtful design to uniforms. Now these are proof it can be done. I have already done a couple other high school sports teams and I am excited at the prospect of doing more in the future.
• • • • •
Great stuff, Ethan! Thanks for sharing your design to field experiences (and I'm very curious to see the other teams you've designed). Readers? What do you think!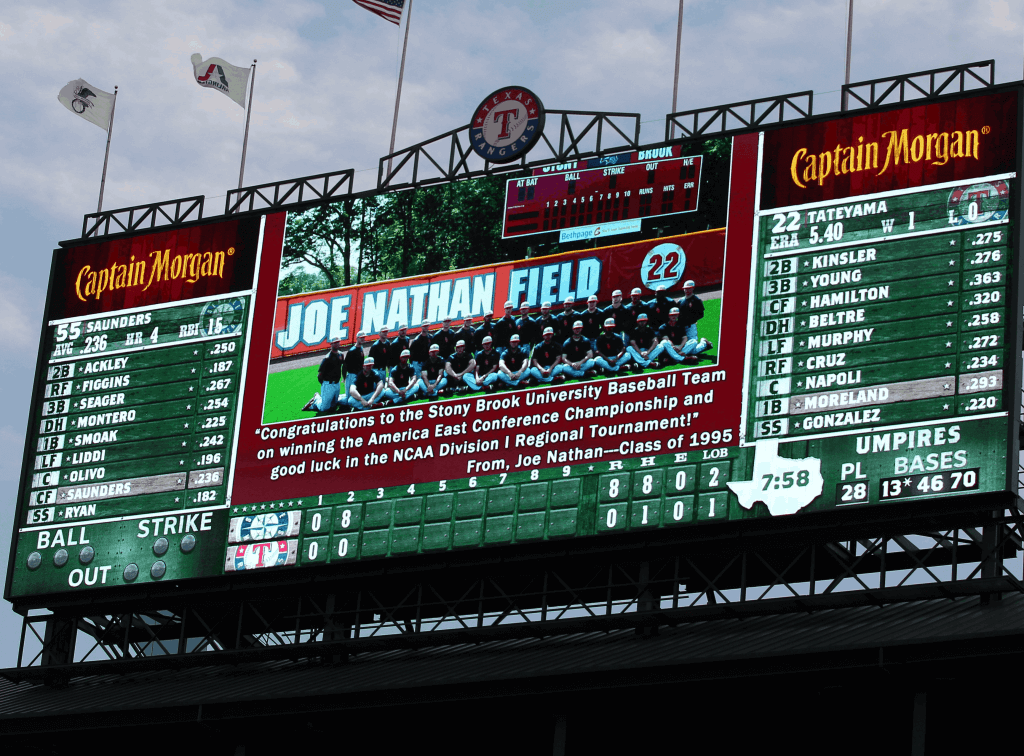 Guess The Game…
from the scoreboard
Today's scoreboard comes from Yellow Jacket Uniforms.
The premise of the game (GTGFTS) is simple: I'll post a scoreboard and you guys simply identify the game depicted. In the past, I don't know if I've ever completely stumped you (some are easier than others).
Here's the Scoreboard. In the comments below, try to identify the game (date & location, as well as final score). If anything noteworthy occurred during the game, please add that in (and if you were AT the game, well bonus points for you!):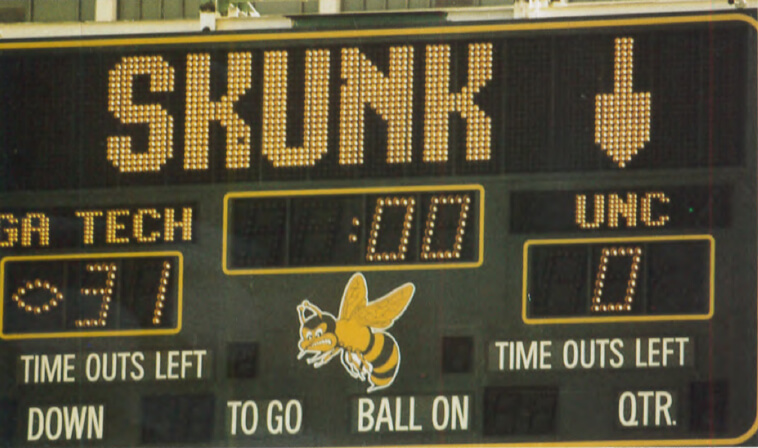 Please continue sending these in! You're welcome to send me any scoreboard photos (with answers please), and I'll keep running them.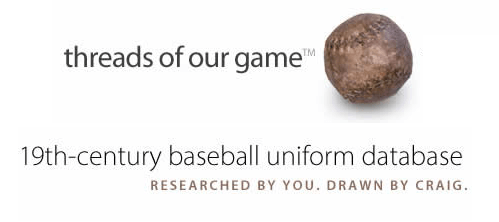 Threads of our Game…
Got an e-mail yesterday from the great Craig Brown, who runs the fantastic Threads Of Our Game website. If you're not familiar with it, the primary focus is on pre-1900 baseball uniforms and related ephemera.
He wrote:
Were they the most photographed minor-league team of the 1890s?

Hello baseball historians,

The St. Paul teams of the 19th century were certainly not camera shy. Recent discoveries by researchers Carson Lorey and Cary Smith tell us that the Apostles posed frequently for team photos, especially during the Comiskey years of 1895 to 1899, and that these images were often subsequently preserved in newsprint. These new finds also tell us that the visual universe of the early game is still expanding, and that there are undoubtedly more images to be found hiding in the printed resources of the day. We just need to keep digging.

New discoveries from the Saintly City:

1889: A new find of the Western Association team resplendent in shirts with lace ties. Bonus: boy on fence in background

1895: Another recent discovery — Comiskey's first year in town and a fine early example of an image produced with halftone dots on newsprint

1897: Two wonderful finds, both with Comiskey in the middle and one with possibly a young J. Louis Comiskey as mascot

1898: The back row of this recent discovery featured renowned trainer Gus Guererro, who, according to newspaper accounts, had many skills

1899: There are three photos of the '99 team — photos B & C are of superb quality, photo A (just discovered) not so much

To see all of the heavenly St. Paul uniforms, click here.
To see this email on a webpage, go here.

Thank you for your time,

Craig Brown
Threads Of Our Game
Thanks, Craig! Great work (as always) on this!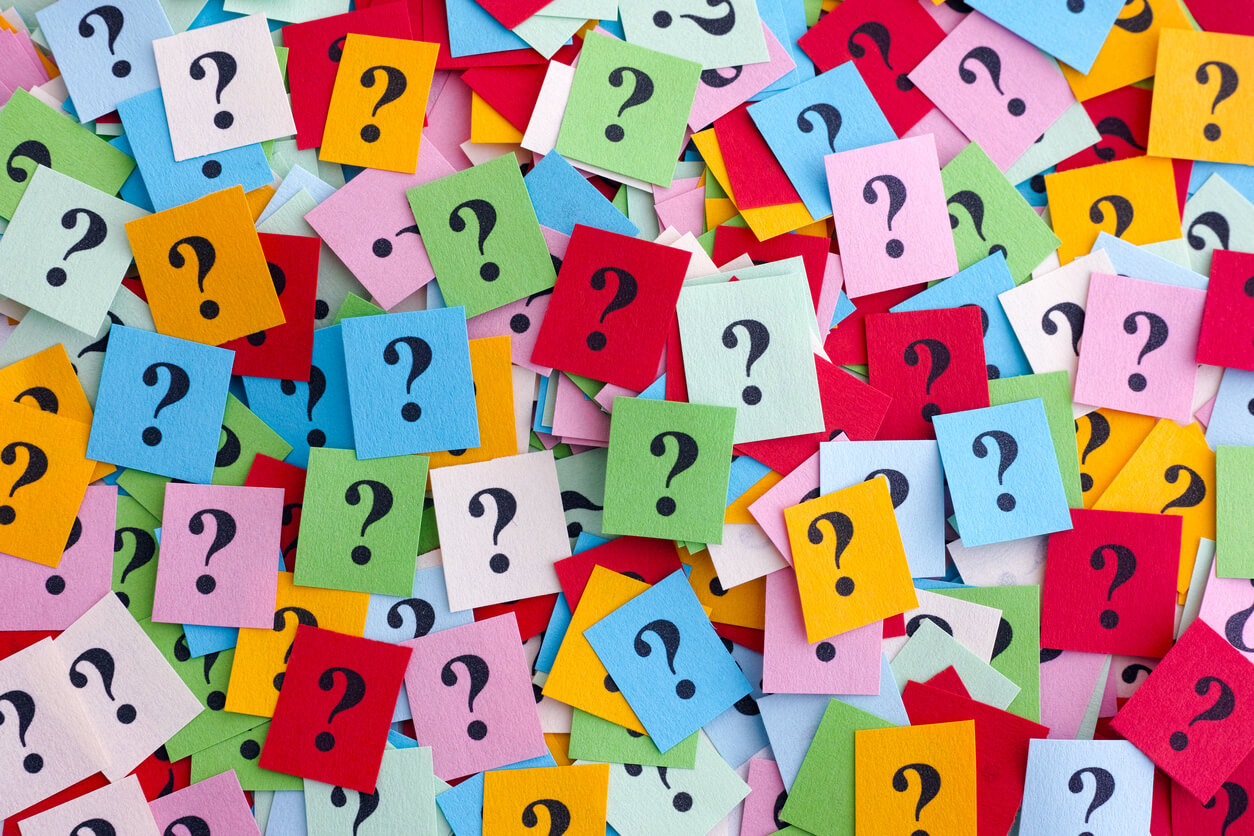 "Ask Me Anything" reminder: Paul here. In case you missed it on Friday, my latest Bulletin article is an "Ask Me Anything" installment where I answer dozens of reader-submitted questions. You can read it on my Bulletin page. Enjoy!
Also: If you use an RSS reader, like Feedly or Inoreader, you can now subscribe to my Bulletin content via RSS. Just plug "https://paullukas.bulletin.com/rss" into your reader and you should be good to go.


The Ticker
By Anthony Emerson


Baseball News: Next season, Orioles will wear a very nice patch to celebrate the 30th anniversary of Camden Yards (from Mark Pontius). … This is so cool — Astros bullpen catcher Javier Bracamonte keeps all of his special event patches on the inside of his cap. … It appears Nationals OF Juan Soto was memorializing someone on his cap last night (from Joanna Zweip). … Red Sox SS Xander Bogaerts has been wearing a pair of White Sox OF Luis Robert's cleats in recent games, after asking for a pair during a recent series between the two clubs (thanks, Phil). … Speaking of, the Red Sox lost to the Yankees last night, perhaps ending their streak of City Connect games. … The descendants of the families who lost their homes and neighborhoods due to the construction of Dodger Stadium have taken to wearing T-shirts that say "Displacers" in Dodgers script. The whole thread, and the article attached, are highly recommended (from Marc Brubaker). … Blue Jays IF Bo Bichette was challenged to draw the Jays' logo from memory and did an okay job (from Andreas Papadopoulos). … Carlos Gómez retired yesterday, and the Brewers held a ceremony for him, giving him a jersey he never wore, as he left the Brewers five years before they adopted their current set (from @wilds_lee). … Looks like next year's All Star Game caps will be black. Fantastic (from Gregory Zitelli).

NFL News: Steelers DE Cam Heyward wore Mean Joe Greene's No. 75 during practice yesterday, a nod to the legend's 75th birthday (from Jerry Wolper). … The Ravens are going black-white-black in Detroit (from Andrew Cosentino). … The Browns will wear their fauxbacks tomorrow. … The Bengals are going white at home. … The Saints are going white-on-white again this weekend in Foxborough.

College/High School Football News: Viewers had a very hard time telling who was who in yesterday's Middle Tenn/UNC Charlotte matchup (from Alex Smolokoff). … Yesterday we shared the odd Air Force jersey Shawn Dzwonkowski found while shopping at the Air Force Academy. Today, Aaron Wiens did a little sleuthing and discovered that the jersey was likely from the 1997 Fiesta Las Vegas Bowl. … 247Sports has an article on Auburn's white facemasks (from @cadair78). … New helmet logos for Muskegon (Mich.) High (from Kary Klismet). … A Liberty player had an NNOB jersey during last night's game against Cuse (from Timmy Donahue). … Here are today's uniform combos for Northwestern, GT, Oklahoma, WVU, NC State, Memphis, Kentucky, and Coastal Carolina (thanks to all who shared)

Hockey News: Here's a stop-motion video of the design process behind Canadiens G Care Price's new mask (from Brandon Weir). … The back of Canucks G Jaroslav Halák's mask features a tribute to fellow Slovak Pavol Demitra, who played his two final NHL seasons for Vancouver before moving to the KHL's Lokomotiv Yaroslavl, where he would be killed in the tragic plane crash ten years ago (from Moe Khan). … The Hurricanes have unveiled their uniform schedule, with a one-game Whalers appearance (from Wade Heidt). … New helmet ads for the Stars, Habs, Rangers, Hurricanes. … The WHL's Edmonton Oil Kings have retired all of their alternate unis, and will stick with their primary red and white jerseys for the coming season. … Penn State women have unveiled a GFGS sweater (from Chris Grosse).

NBA News: A website called Marketplace is saying the quiet part out loud: ad patches have turned NBA unis into billboards (thanks, Phil). … And of course, the very next item is ad patch news. New ad patch for the Timberwolves (from multiple readers). … Here's how the Raptors played in each of their five unis last season (thanks, Phil). … Mitchell & Ness are selling fauxback championship gear now, and their 1995 Rockets championship T-shirt features the wrong logo — the one the Rockets adopted the season after they won the '95 title.

College/High School Hoops News: Booker T. Washington High in Tulsa has gotten a new court after the previous one was damaged during a storm earlier this year (from multiple readers).

Soccer News: Scottish club Falkirk have released their third kit (thanks, Jamie). … Also from Jamie, English third tier side Bolton Wanderers are going to stop promoting betting companies as far as they can, but the league they play in has a betting company in its name.

Grab Bag: Here's a very fun article from Haruki Murakami in The New Yorker about how he grew a massive T-shirt collection (from Andrew Rader). … Reader Adam Herbst sends along this blog, called The Museum of Marketing Madness where the "curator" Lee Sachs posts about various inane marketing tactics. … At the Ryder Cup, USA captain Steve Stricker seems to be the only one wearing a New Era cap — which we can tell because he has the maker's mark, and the others do not (from Eric Lovejoy).


Uni Tweet of the Day
This is just TOO GOOD…
if we assigned work the same way football teams reveal their game day uniforms pic.twitter.com/Grn4PJaL5l

— NE Ohio Regional Sewer District (@neorsd) September 24, 2021


And finally… that's all for today — big thanks to Ethan for sharing his designing talents!
I closed up the summer place yesterday, so that's going to do it for sunset photos for this year. Hope you enjoyed them.
Everyone have a good Saturday, enjoy the football, the Ryder Cup, the playoff races and all the uni watching that goes along with them! Catch you tomorrow with the SMUW crew.
Peace,
PH