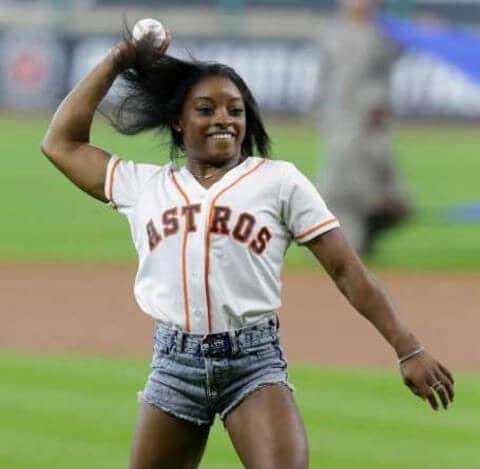 In 2018, when I was still with ESPN, I began working on a series of interviews with non-baseball athletes who threw out the first pitch at MLB games. Unfortunately, that project never came to fruition, but last summer I used one of the interviews I had conducted — with skateboarder Tony Hawk, who threw out the first pitch at several Padres games — as the basis for a blog post, and today I'm doing the same with an interview I conducted with Olympic gymnast Simone Biles.
I spoke with Biles by phone on June 15, 2018. At that time, she had tossed out the first pitch at two MLB games. The first was on July 4, 2016, in her hometown of Houston, where she wore an Astros jersey and surprised everyone by doing a little somersault as part of her "windup." Check this out:
Biles's next first pitch came on Sept. 8, 2017, when she did the honors in Cleveland (her family's roots are in Ohio). This time she wore the team's home jersey and a block-C cap and did more of a pirouette and a leap instead of a somersault:
Here's the short conversation I had with her two years ago:
Uni Watch: Did you play baseball or softball when you were younger?
Simone Biles: Never in my life.
UW: So did you practice throwing a ball around beforehand, just to get used to it?
SB: Yes, my dad made me stand in the driveway with him and throw a ball back and forth, just to make sure I knew how.
UW: Sounds like he was more concerned about how it would turn out than you were.
SB: Yes. He was like, "You're not gonna end up in one of those 'fail' videos."
UW: You did a little gymnastic routine before throwing the pitch. Did you have to rehearse that, or is that basically second nature for you?
SB: The flips were second nature, but throwing a ball afterward — I practiced that one or two times, just to make sure.
UW: You've performed in all sorts of international competitions, but you had never thrown a ball in front of tens of thousands of people. Were you nervous?
SB: Oh, I was so nervous. Much more nervous than I'd be for gymnastics.
UW: The next time you threw out a first pitch, in Cleveland, you changed the gymnastic routine.
SB: Yes. I was happy with the way the first one turned out, but I didn't want it to be the same thing, the same routine. So I switched it up a bit.
UW: Was your father happy with the results?
SB: Yes, especially the one for the Indians, since that's his team, and our family is basically from Ohio.
UW: Would you do it again?
SB: Oh, yes, I wouldn't mind. It was a lot of fun.
———
And sure enough, she did do it again, prior to Game Two of the 2019 World Series in Houston. This time she wore an orange Astros jersey (an interesting choice, since the 'Stros themselves wore white that night), which she tied off at the waist. She once again began with a gymnastic maneuver — this time it was a backflip — but this time she wasn't holding the ball while she did it. Instead, someone handed her the ball after the flip:
Very cool. I look forward to seeing how Biles can incorporate the pommel horse or the uneven bars into her next first pitch!
• • • • •
• • • • •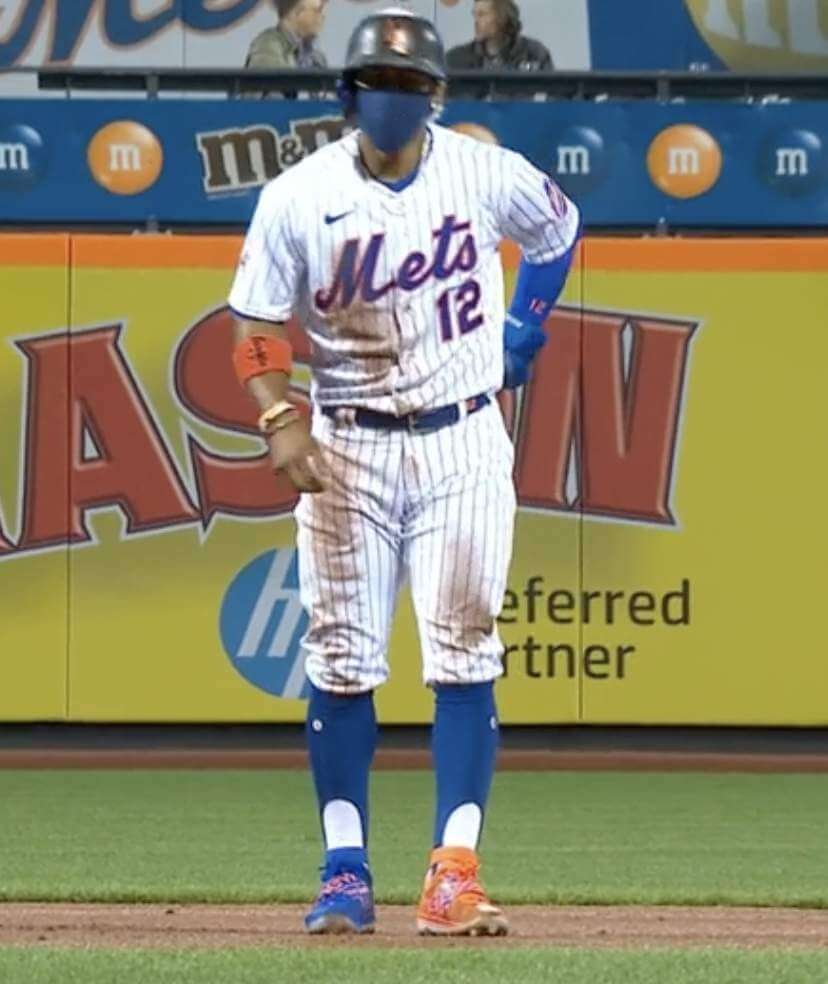 Checking all the boxes: Look at this shot of Mets shortstop Francisco Lindor taking a lead off of second base during the second game of yesterday's Mets/Phils doubleheader. How uni-notable was Lindor at this moment? Let us count the ways:
• He was wearing stirrups.
• He had mismatched shoes. (He had white shoes and socks, not stirrups, in the first game of the twinbill.)
• He was wearing a mask (something he routinely does when he reaches base).
• He's one of those players who slather pine tar on their helmets.
That's a lot of Uni Watch points right there! (And yeah, he also has a compression sleeve, a bracelet, etc., but that stuff is all pretty standard.)
Footnote: I see that Lindor, who was wearing teammate Michael Conforto's belt during the first week or so of the season, now has his own belt. Not sure exactly when he made the switch.
• • • • •
• • • • •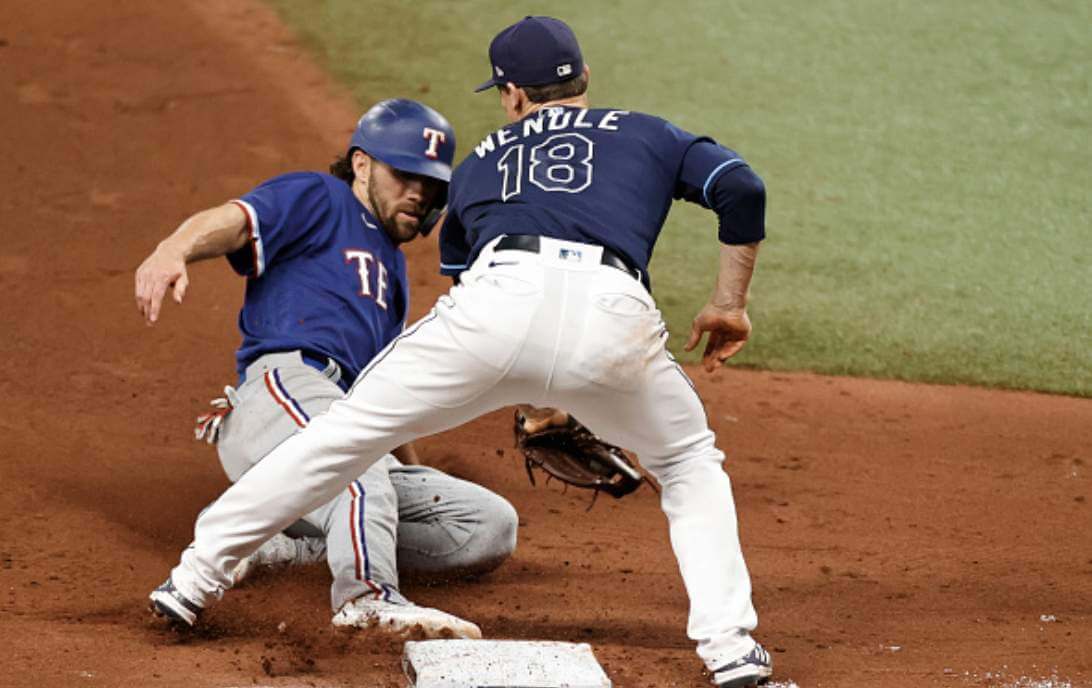 Mood indigo: I saw a lot of people pulling out their hair over the Rays and Rangers going royal vs. navy last night. Lots of "Can't tell the teams apart!" commentary.
I agree that softball top vs. softball top looks lame-o and spring training-ish, no matter what the colors are. But is royal vs. navy really that different than white vs. grey? It would be a non-starter, of course, in football, basketball, hockey, soccer, or any other sport where players need to distinguish a teammate from an opponent at a glance. But in baseball? I really don't see the problem.
• • • • •
• • • • •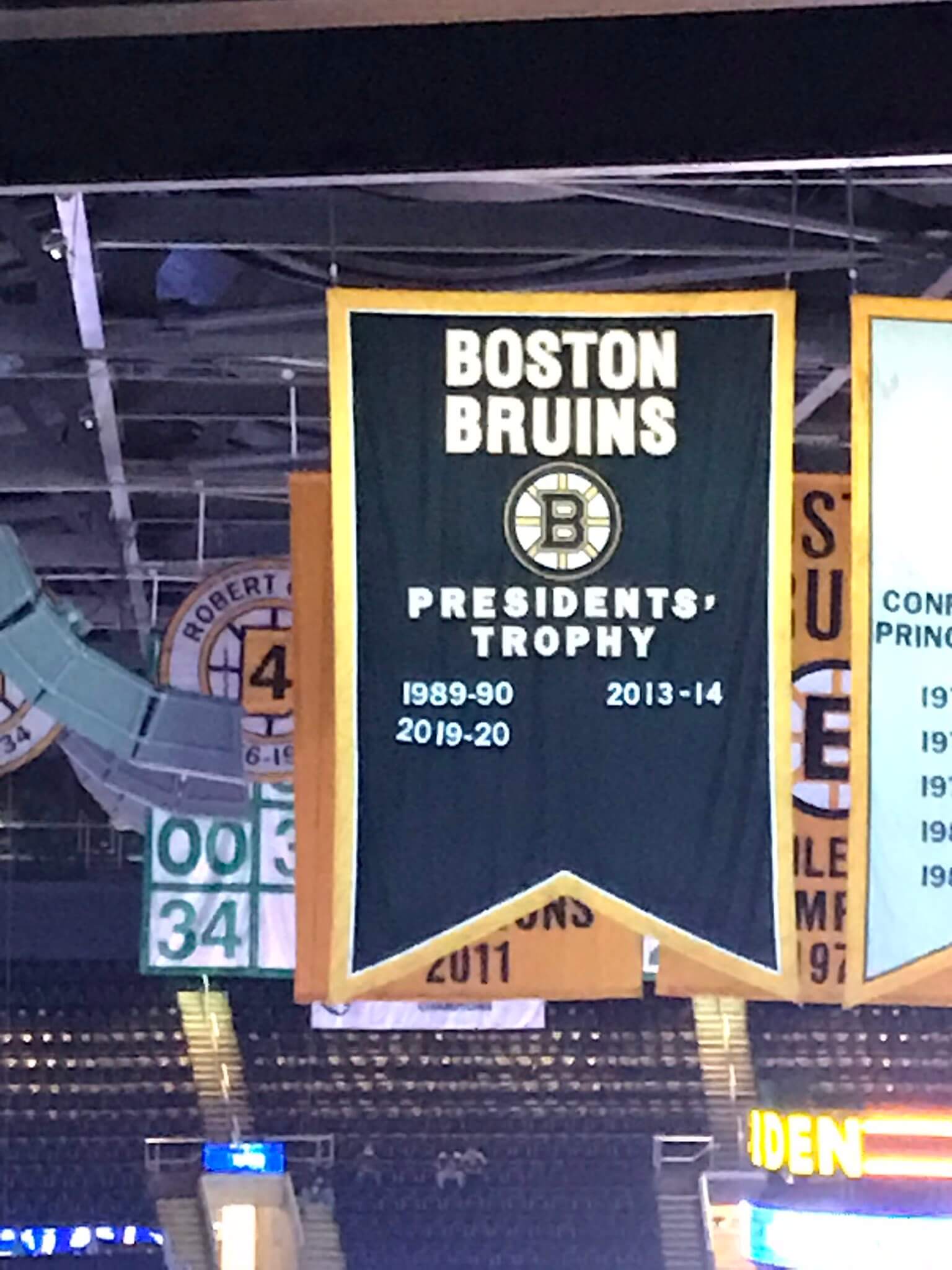 Click to enlarge
Can't un-see it: I think of the Bruins as a pretty classy organization. But man, look at that banner — not only is the "2019-20" line all messed up, but what were they thinking with that low-riding apostrophe? It's a whole new kind of apostrophe catastrophe!
(Blame Kevin Rice for this one.)
• • • • •
• • • • •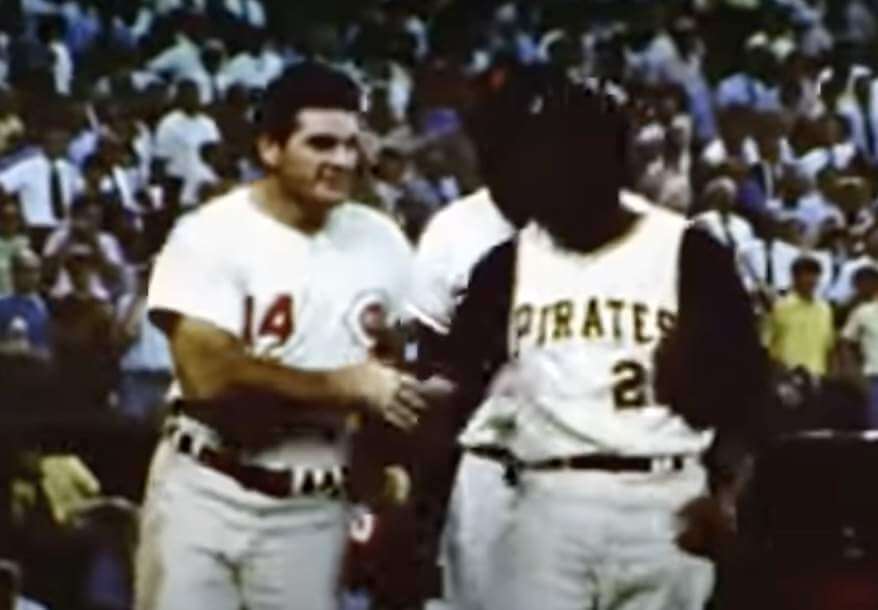 Fun trivia tidbit: The screen shot above, showing Roberto Clemente congratulating Pete Rose, is from the 1970 MLB All-Star Game, just after the famous collision between Rose and Ray Fosse. (It appears at the 0:40 mark here.)
The uni-notable thing about this is that 1970 was the year that the Pirates switched uniform sets in the middle of the season, changing from their flannel vests to their polyester pullovers as they moved from Forbes Field to Three Rivers Stadium, which opened in July.
The final game at Forbes Field was June 28, so that was the last time the flannel home vests were worn. The Pirates then embarked on a two-week road trip, which was followed by the All-Star break, and then the new uniforms debuted at Three Rivers on July 16.
But the All-Star Game took place on July 14. Clemente was the only Pirate who appeared in the game. Since the game took place in Cincinnati, the National League was the home team, and Clemente was therefore wearing Pittsburgh's home flannel vest — making him the final player to appear in a game while wearing that uniform. A great trivia question if you ever want to stump someone!
(Big thanks to Bill Balint for posting this nugget on the Forbes Field Facebook group, and to Uni Watch reader David Swank for bringing it to my attention.)
• • • • •
• • • • •
The Ticker
By Lloyd Alaban

Baseball News: Pirates P Kyle Crick had an Adidas undershirt showing through his jersey last night (from Rob Matuga). … The Columbus Chatt-a-Hoots of the Sunbelt Baseball League revealed their jerseys (from Jack Patterson). … G.I. Joke uniforms yesterday for Clemson. … Giants P Wandy Peralta is still using his glove from his days with the Reds. … An Atlanta high school disgracefully named after Confederate general and KKK pioneer Nathan Bedford Forrest is being renamed for Henry Aaron.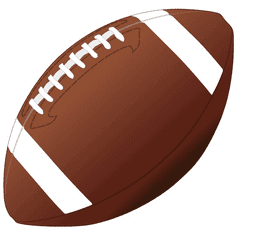 Football News: New nickel-plated facemasks for South Alabama (from @BenOnSports). … New unis for the Albany Empire of the AFL (from Timmy Donahue).

Hockey News: Maple Leafs G David Rittich was acquired by the team from the Flames on Monday. The Leafs had to wrap his mask to match his new uniform (from Wade Heidt). … Speaking of the Leafs, C John Tavares wears No. 91, but the "1" on his helmet fell off last night (from Zachary Tolson).  … Here's a short video on how the Thrashers rebranded as the Jets, including how they chose their name and uniforms (from Rick Farmer). … Avs D Jacob MacDonald has changed his number to 26 so the recently (re)acquired Carl Soderberg can have 34 back (from Jason Allen).

Basketball News: The Timberwolves and Nets wore pregame T-shirts yesterday that read "With Liberty and Justice for ALL" in response to Sunday's police shooting death of Daunte Wright (from Jakob Fox). … Reader Etienne Catalan has the latest NBA uni number assignments. … The LA Sparks have revealed their 25th-season logo (from Jakob Fox). … A sportswriter has chosen the best Bucks player to wear every number (from Geoff Poole).

Soccer News: DC United is tentatively looking at releasing cherry blossom-themed kits for the 2023 season (from John Muir). … New shirts for Lansing Common FC (from Scott Rogers). … FC Tulsa has a new patch celebrating the city's Greenwood neighborhood, which was destroyed in the 1921 Tulsa Race Massacre (from multiple readers). … For years it was standard for each player from a team's starting lineup to walk onto the field accompanied by a child. That stopped during the pandemic, for obvious reasons, but the Netherlands' women's team came up with an interesting workaround for yesterday's friendly: The players held tablets showing the kids, who appeared remotely (from our own Jamie Rathjen).

Grab Bag: Boston College, which has been outfitted by Under Armour since 2009, has inked a new 10-year deal with New Balance. The deal covers all BC sports except for football, whose new uniform provider — rumored to be Adidas — will be announced at a later date (from multiple readers). … Two new kits for Australia's Super Netball's Sunshine Coast Lightning (from our own Jamie Rathjen). … Chicago Transit Authority employees get a really cool mask-themed pin once they've been vaccinated (from Joe Schmidt). … The Marines will be testing new physical training uniforms this summer. … New 100th-anniversary uniforms for White Castle. … Pro cyclists are upset that they're no longer allowed to throw their water bottles into the crowd (NYT link).
• • • • •
• • • • •
Click to enlarge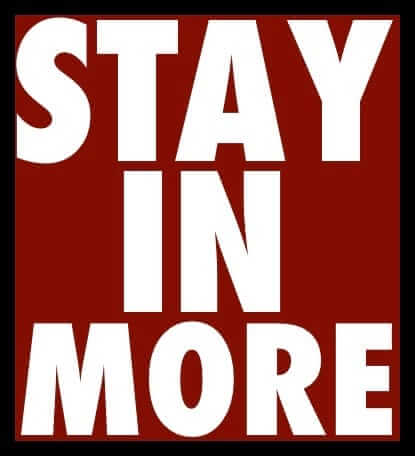 What Paul did last night: Meet Cannoli and Napoleon — aka Noley and Poley — a pair of shih tzus who live around the corner from us. They're sort of locally famous (because how could a pair of toy dogs named Cannoli and Napoleon not be famous?), and we see them all the time around the neighborhood, but I think this is the first time they've appeared in a Pandemic Porch Cocktails™ photo.
Want a closer look? Check out these little cuties: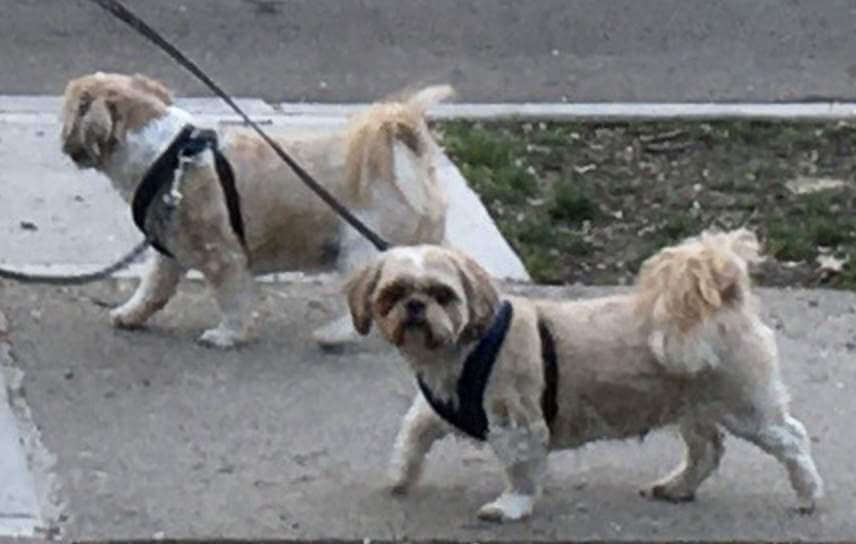 As always, you can see the full set of daily Pandemic Porch Cocktails™ photos — now almost 400 of them — here.