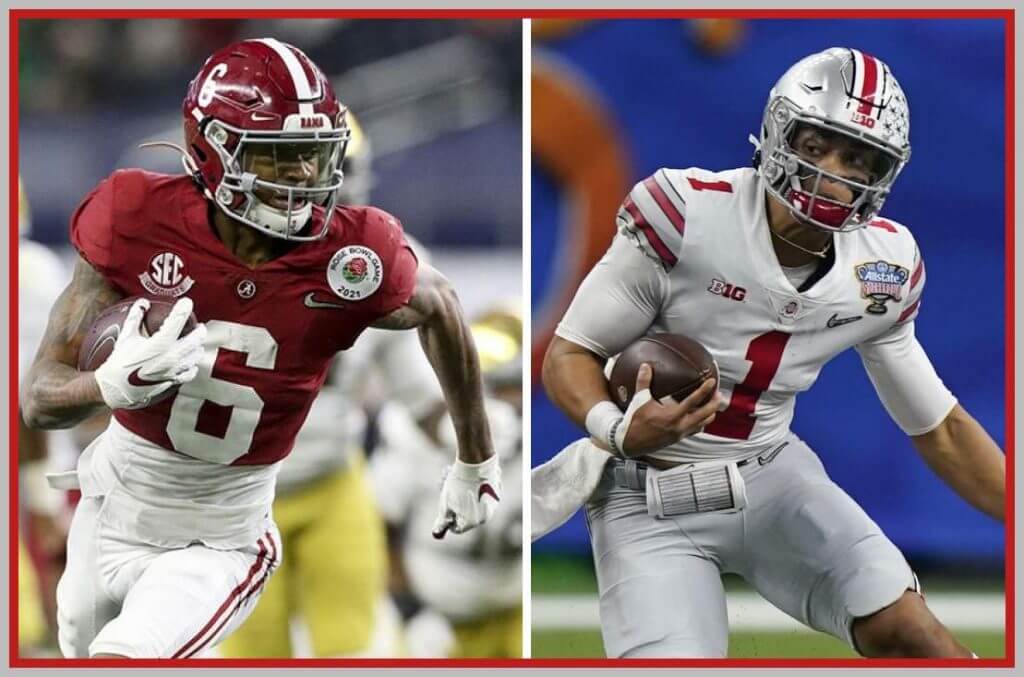 By Phil Hecken & the SMUW Crew
Follow @PhilHecken

And then there were two.
Pictured above are Alabama's DeVonta Smith (your likely Heisman winner) and Ohio State's Justin Fields, whose Sugar Bowl (and Playoff Game) performance may have moved him up to a top 5 NFL Draft pick. That's also likely your uni matchup for the Championship Game, to be played Monday January 11th, to close out the season.
But, since there's only one game to go, the SMUW crew (Terry Duroncelet, Jr., Rex Henry, Dennis Bolt, Kyle Acker and Ethan Dimitroff) are going to wrap things up today.
Unfortunately, TJ has been extremely busy over the Holidays, so he won't have a complete SMUW Bowl Wrap for us today (the unfinished portion will likely run next weekend), but he does have all of last years Bowls done for us. In a rare turn, I'll take the New Year's Day and January 2nd games following his excellent bits.
We have a lot to get to today, so let's start with TJ's…
• • •
Sunday Morning Bowl Wrap
by Terry Duroncelet, Jr.
Well… it's a weird pile of stuff due to current circumstances, but no worries; give it to Peter Brown, and he'll make a bowl out of it. This is my weird, unorthodox way of saying: let's go bowling. This season's coverage is gonna be a little different this time around, because life has finally daggered me in my sleep: work and life stress the likes of which I've never seen until now have sadly made it impossible for me to cover every game in a timely fashion, so Phil will fill in those blanks. I'll have my own writeup sometime later next week. But despite the pandemic canceling bowl games left-and-right (and the holidays almost cancelling me along with said games), there are still plenty of 'em to cover. And with that said, let's jump right into it.
_____
From Monday, December 21st, 2020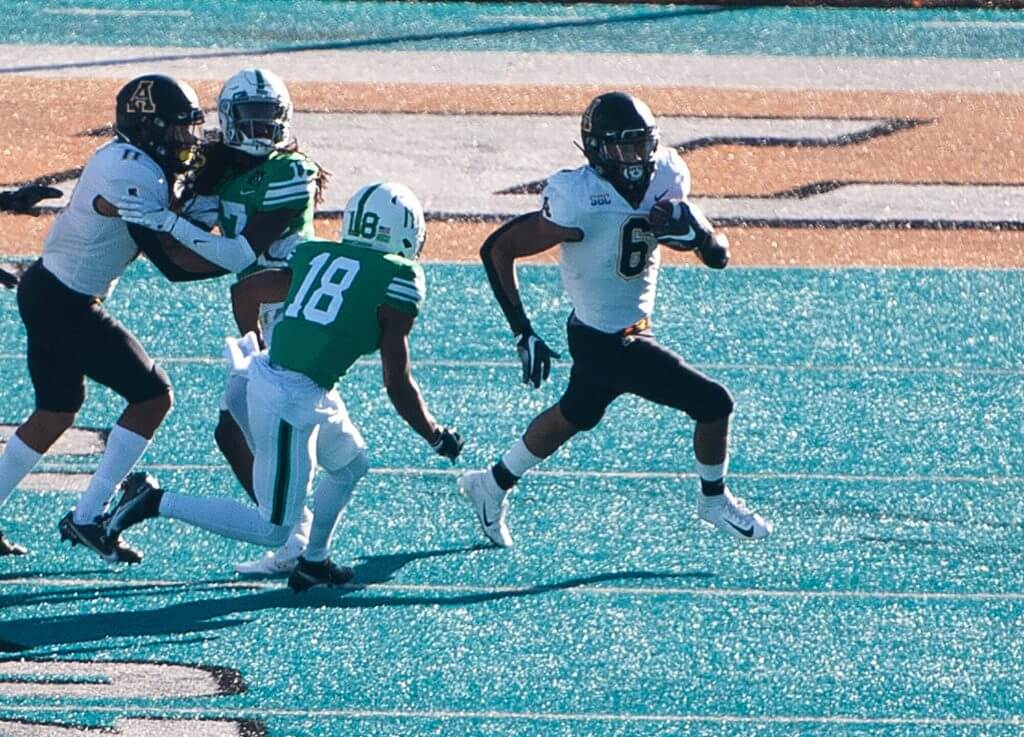 |App State vs North Texas| We kick things off with a simple and inoffensive matchup between the Appalachian State University Mountaineers in black/white/black (yes, I know that's a Marshall game, I had a miserable time trying to find photos, so let's just roll with it), and the Mean Green of the University of north Texas in their throwback white/green/white look.
___________
From Tuesday, December 22nd, 2020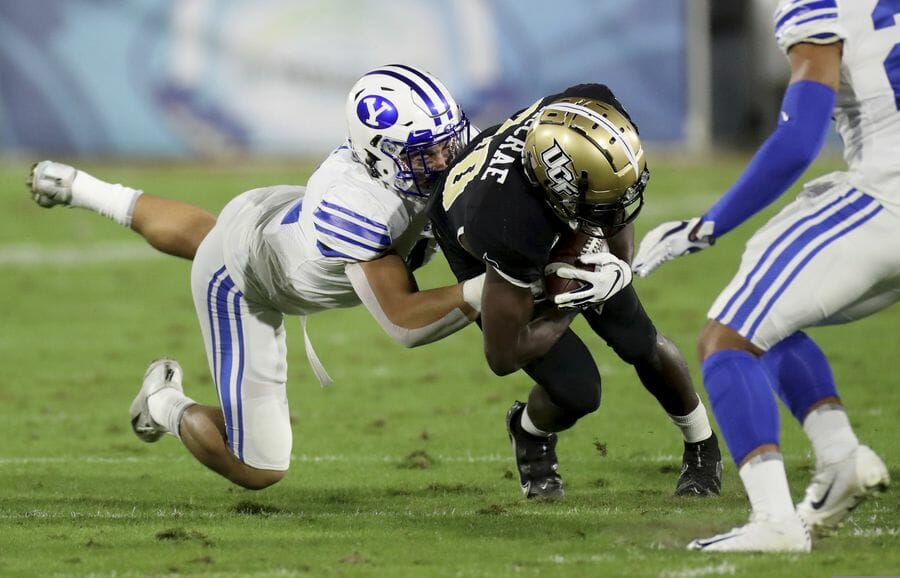 |UCF vs BYU| In this matchup, we have the Brigham Young University Cougars in what I call the "royal whites" (as opposed to their navy-accented variant), and the University of Central Florida Knights in gold/black/black. And in those photos, you'll notice how neither team was sporting a bowl game patch.
_____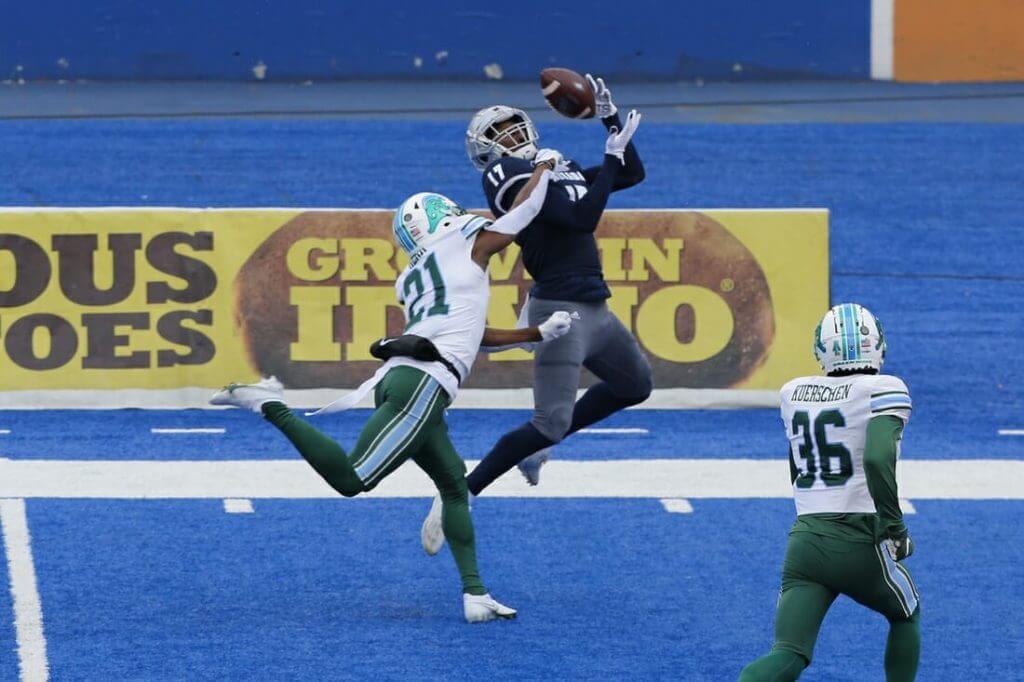 |Tulane vs Nevada| That same day, the Tulane University Green Wave (white/white/green) faced off against the Wolf Pack (two words) of the University of Nevada (Reno), who wore silver/navy/pewter???
__________
From Wednesday, December 23rd, 2020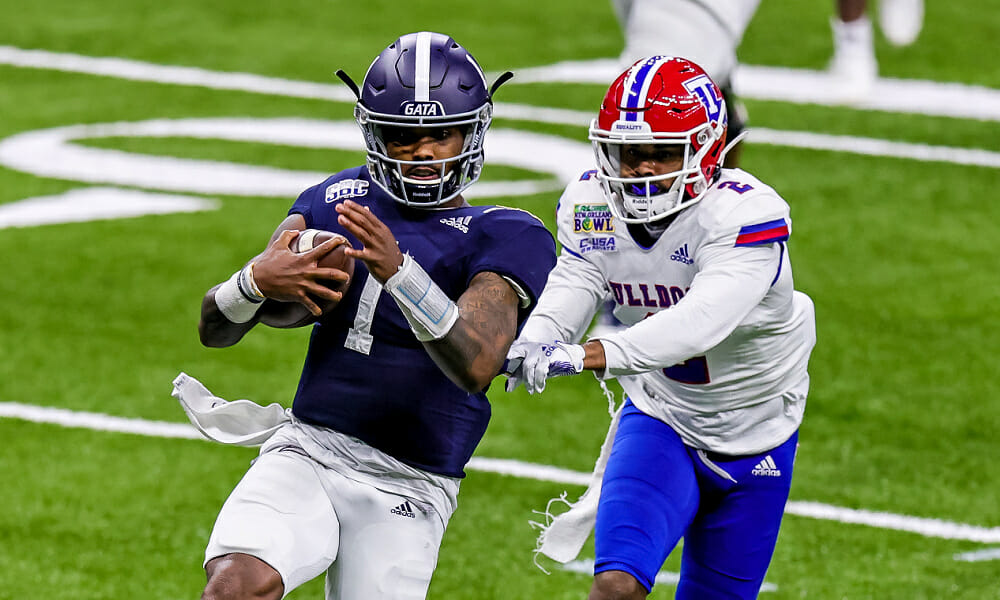 |LA Tech vs Georgia Southern| Sorry for the unwarranted trip to Watermark City, but in this matchup we have the Louisiana Tech University Bulldogs in red/white/blue, and the Georgia Southern University Eagles in navy/navy/white. Simple, but effective.
_____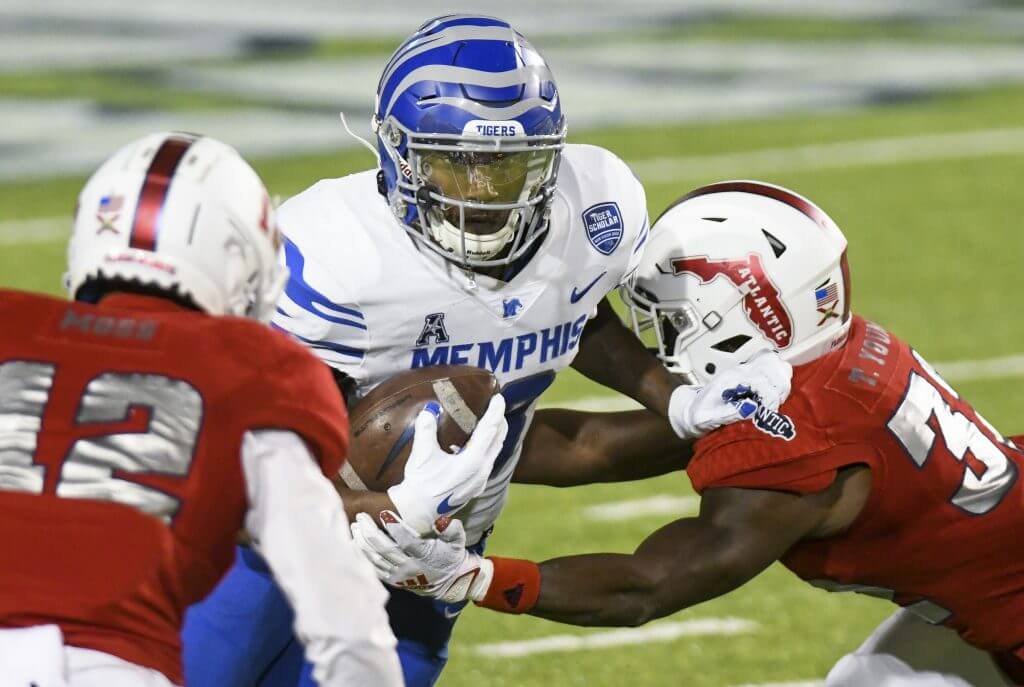 |Memphis vs FAU| A tiger never changes their stripes… unless you're the University of Memphis Tigers, who wore a blue/white/blue uni with grey helmet stripes (I like!) against the Florida Atlantic University Owls, who wore white/red/white.
__________
From Thursday, December 24th, 2020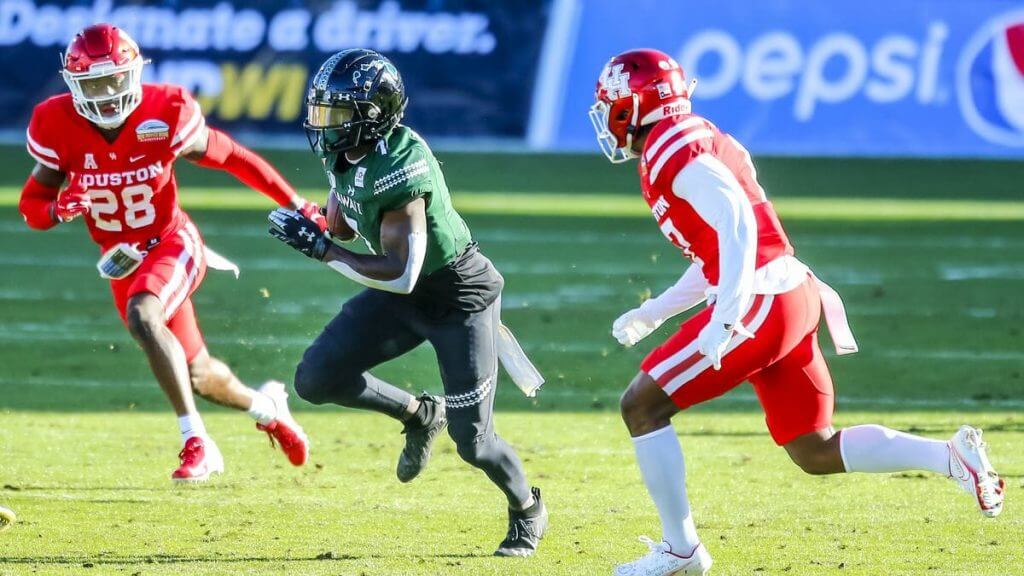 |Hawai'i vs Houston| COLOR-VS-COLOR ALERT! And what better time to take advantage of color-vs-color than on Christmas Eve? On the eve of the official holiday of doing extravagant RGB setups long before the PC community caught wind (FLASHING LIGHTS AND VOLUME WARNING ON THE LAST LINK), we have the aptly-dressed Rainbow Warriors of The University of Hawaiʻi at Mānoa, who wore green jerseys (with black helmets and pants), and their opponent –the also aptly-dressed University of Houston Cougars– wore all-red. Personally, I would've loved to see Hawai'i break out some surprise green helmets and pants, but for what we got, I'll take it. Also kind of a Liminal Spaces thing going on with the Rainbow Warriors playing on Christmas Eve in a game that isn't the Hawai'i Bowl.
__________
🎄From Friday, December 25th, 2020🎄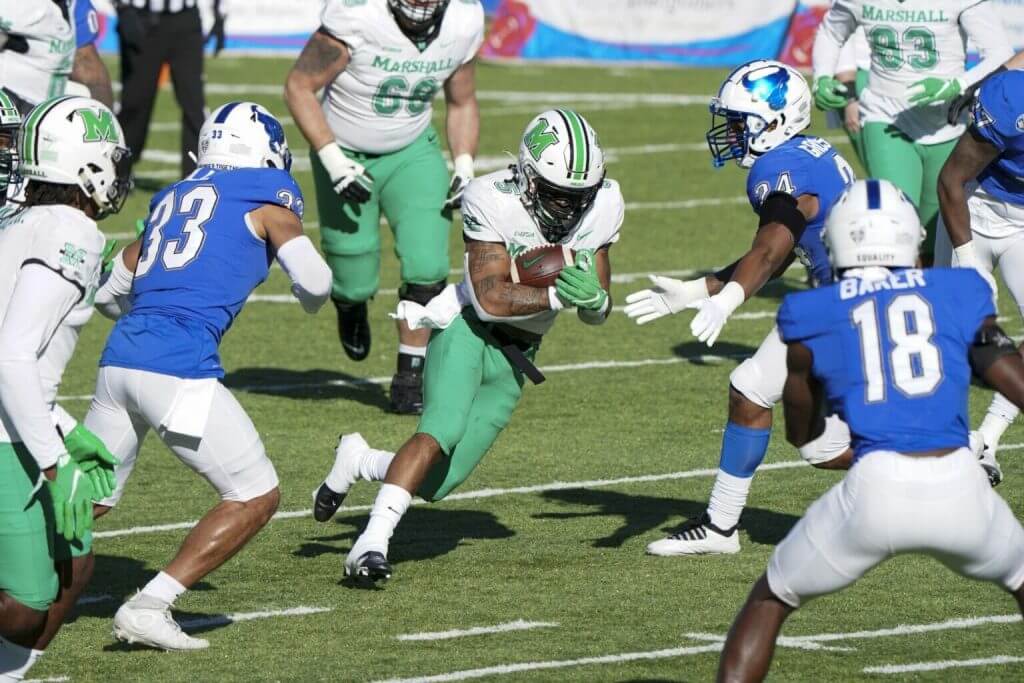 |Marshall vs Buffalo| In a bowl game that normally isn't seen on Christmas Day, we have the Marshall University Thundering Herd in white/white/green, and the Bulls of –say it with me now– the State University of New York at Buffalo (we will never forget. MAN, that was a rough look) in blue/blue/white. Bulls Senior TE Zac Lefebvre (who normally wears #86) wore #41 in memory of Solomon Jackson, a DE for Buffalo who passed away back in 2016 after collapsing during an offseason workout.
__________
From Saturday, December 26th, 2020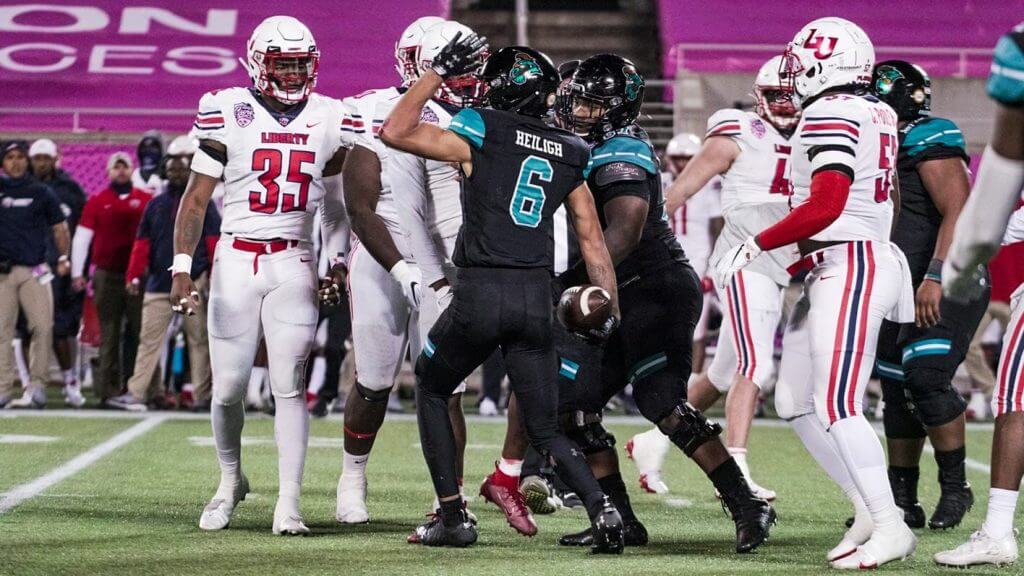 |Coastal Carolina vs Liberty| This one is short and sweet: the Coastal Carolina University Chanticleers (I LOVE that name) in all-black, and the Liberty University Flames in all-white.
_____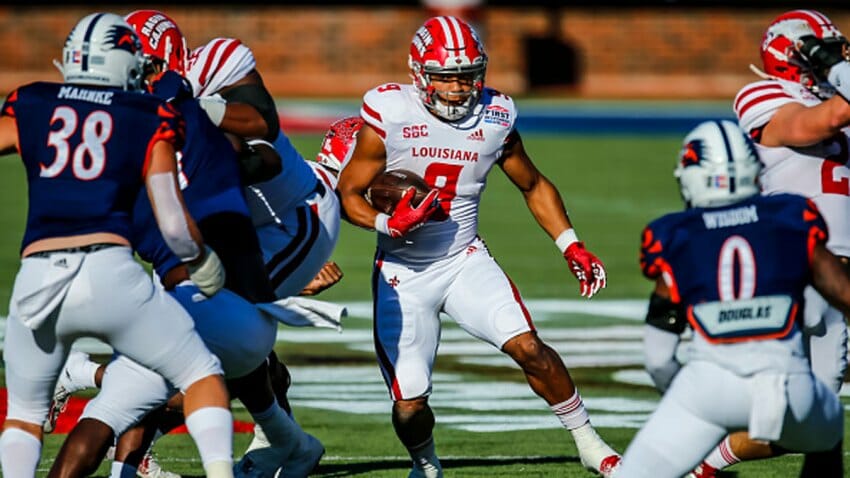 |Louisiana vs UTSA| Another to-the-point game: The University of Louisiana at Lafayette Ragin' Cajuns in red/white/white, and the University of Texas at San Antonio Roadrunners in white/navy/white.
_____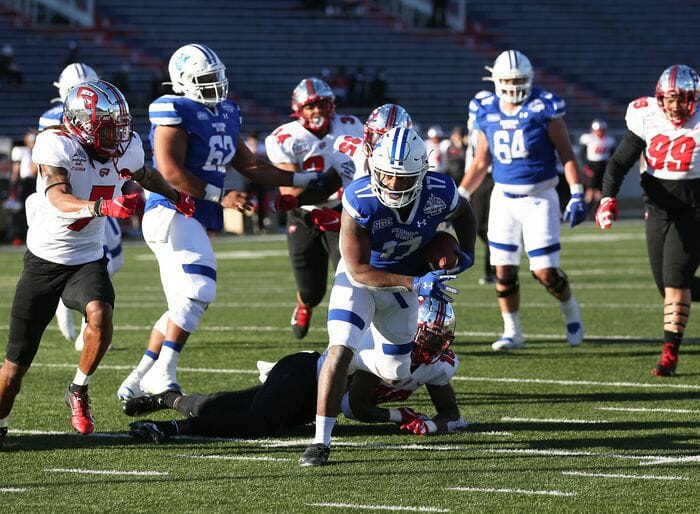 |Western Kentucky vs Georgia State| And one more no-surprises matchup to round out the last Saturday of 2020: the Western Kentucky University Hilltoppers in chrome/white/black, and the Georgia State University Panthers in white/blue/white.
__________
From Tuesday, December 29th, 2020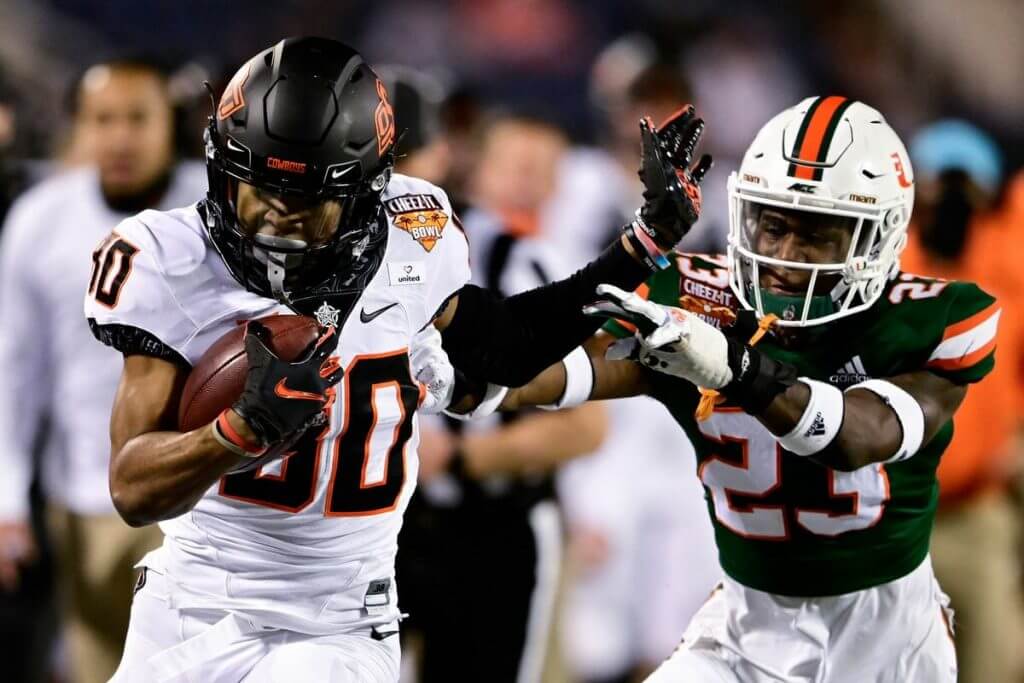 |Oklahoma State vs Miami| I was expecting an orangefest, but it was kept to a minimum, with the Cowboys of Oklahoma State University–Stillwater in black/white/white, and the University of Miami Hurricanes in white/green/white.
_____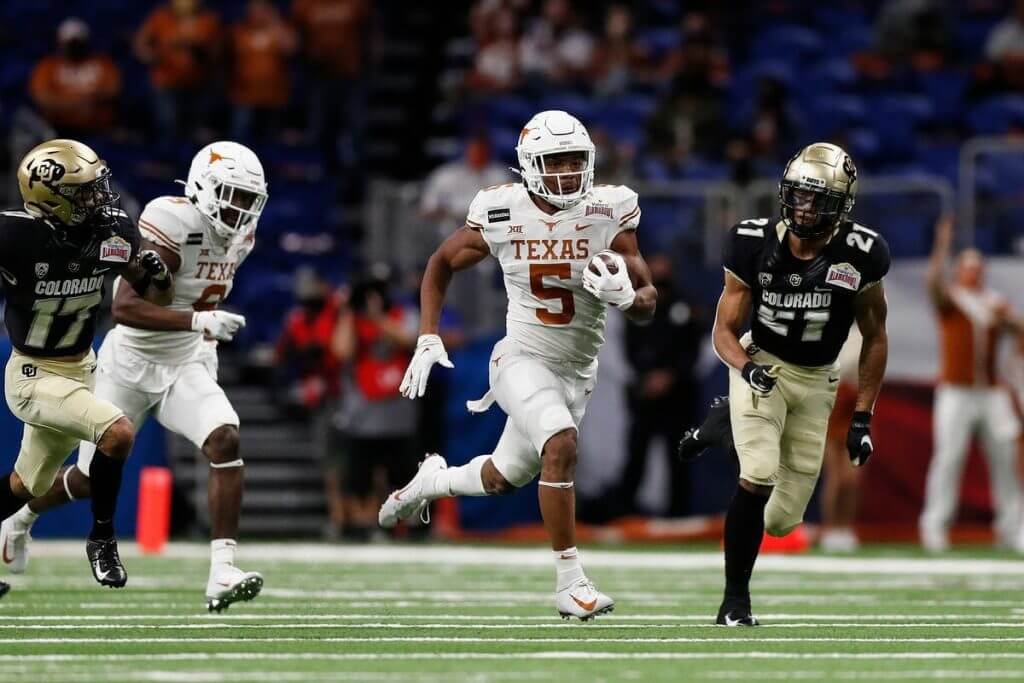 |Texas vs Colorado| Nothing like the classics. Here, we have the University of Texas at Austin Longhorns in what is objectively one of the top 3 all-white uniforms in football history. No, I will not explain. Their opponent –the University of Colorado Boulder Buffaloes– wore gold/black/gold.
__________
From Wednesday, December 30th, 2020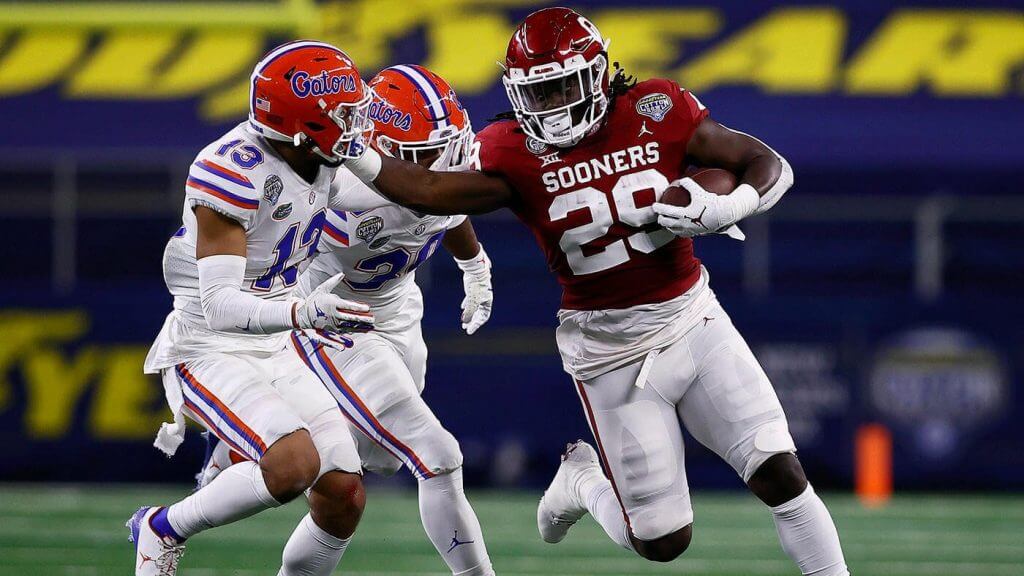 |Florida vs Oklahoma| Now we're cookin'. Two storied powerhouses in a major bowl game to pin the year. This year's bout was between the University of Florida Gators, who wore orange/white/white, and the University of Oklahoma Sooners in crimson/crimson/white.
_____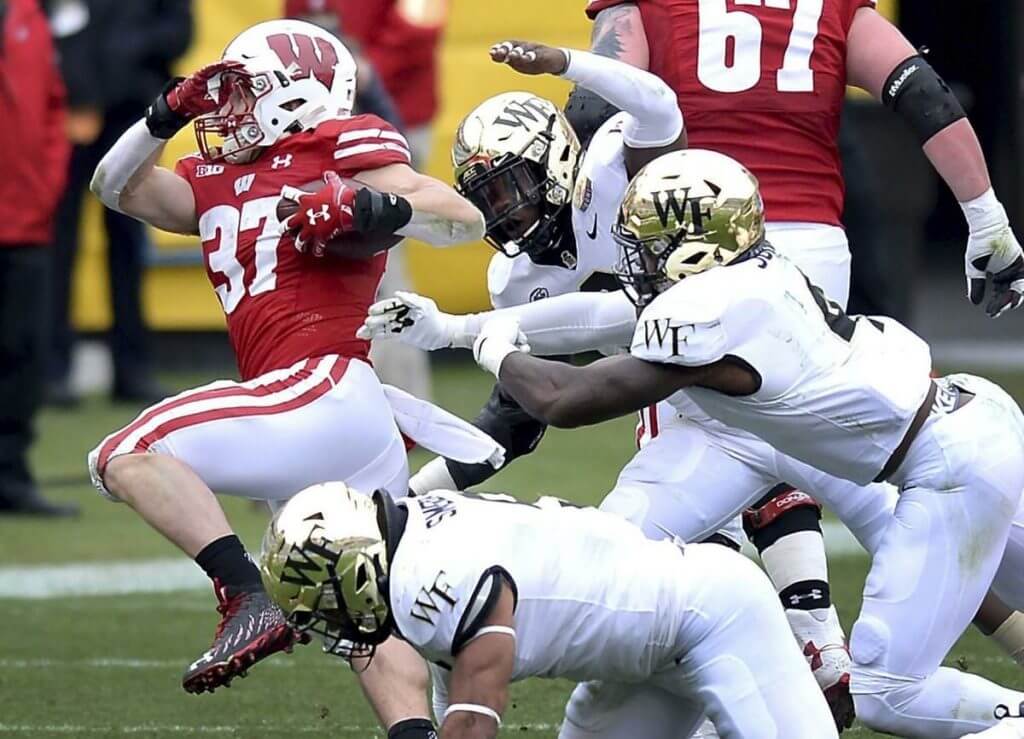 |Wake Forest vs Wisconsin| Oh boy, did this have an ending. The looks department was pretty standard fare, with the Wake Forest University Demon Deacons in gold chrome/white/white, and the University of Wisconsin–Madison Badgers in white/red/white, but here's what happened: Wisconsin ended up winning, but 2020 wasn't gonna let Sconnie go unabated. The trophy… well, see for yourself. [They probably shouldn't have covered it in mayo — PH]
__________
From Thursday, December 31st, 2020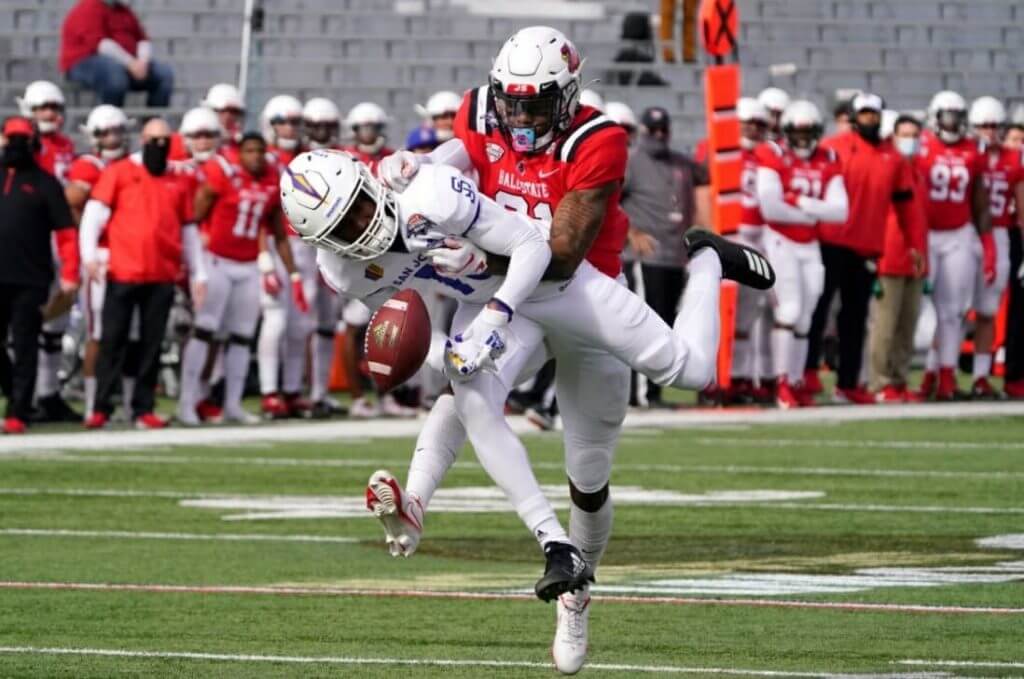 |Ball State vs San José State| And so we come to the end of 2020. G O O D. We have the Ball State University Cardinals in white/red/white, and the San José State University Spartans in all-white.
_____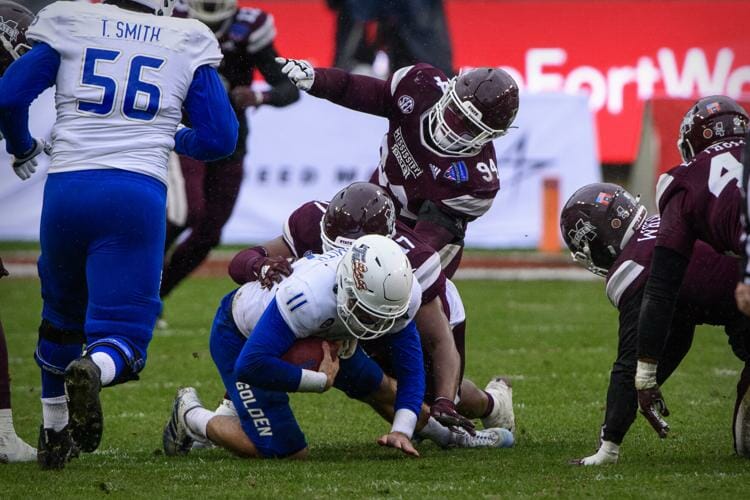 |Tulsa vs Miss. State| Up next, we have the University of Tulsa Golden Hurricane (just the one hurricane) in white/white/blue (with S&S decals), and the Bulldogs of Mississippi State University for Agriculture and Applied Science in all-maroon.
_____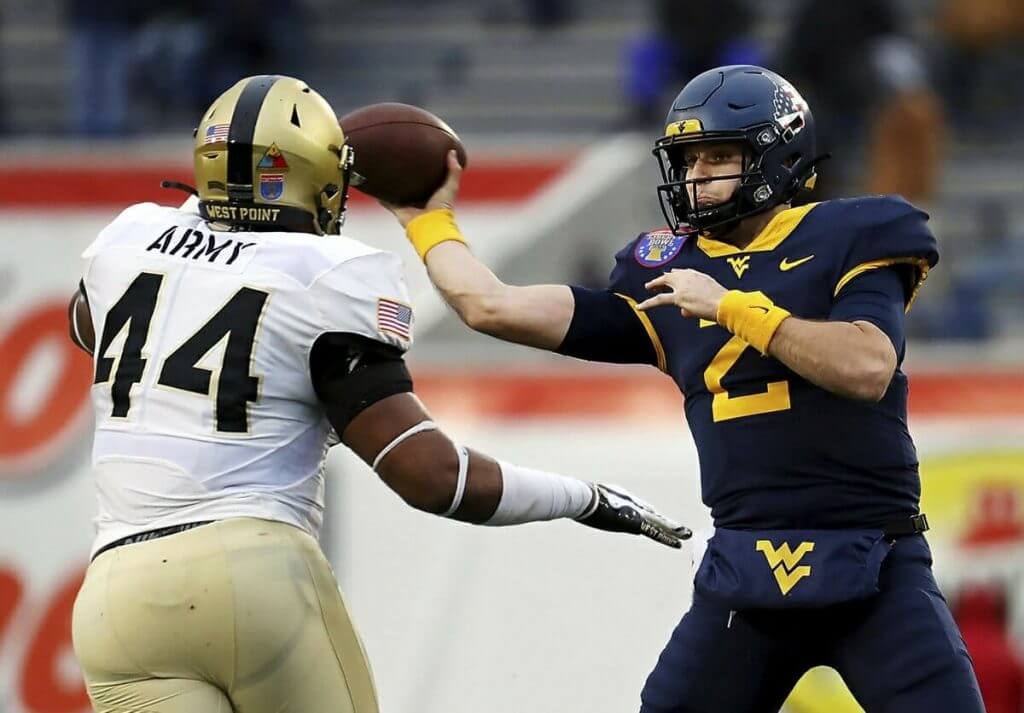 |West Virginia vs Army| West Virginia University's Mountaineers wore all-navy, and sported some S&S decals against the Black Knights of the United States Military Academy (or Army West Point), who wore gold/white/gold. On the subject of WVU's helmets, there were some occasional glitches in the matrix during the game.
__________
Phil here. Thanks for the great writeup, TJ! I'll take the handoff now.
Let's look at New Year's Day and January 2's games.
Friday, January 1, 2021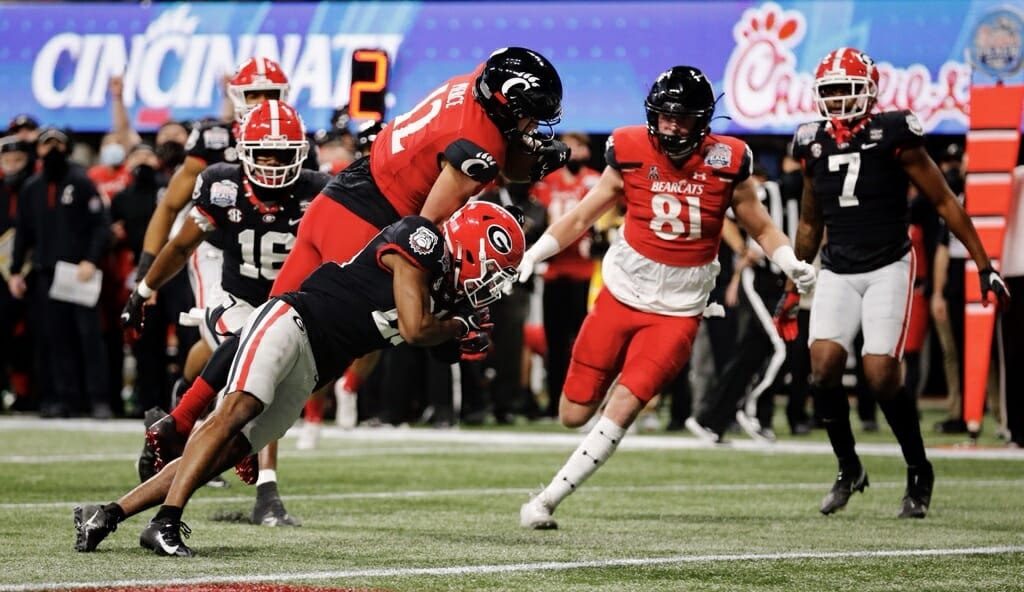 Peach Bowl: Georgia vs. Cincinnati
A color vs. color kicked off the New Year's Day games — and it was an OCD nightmare, especially since Georgia wore their black alternate dog-collar jerseys, to complete a red hat/black jersey/silver britches combo. Cincy countered the above-the-torso spectacle by sporting black helmets and red jerseys. Rather than wear contrasting pants, they went mono-red with black socks. If you enjoyed seeing Georgia in a jersey more often worn by their opponents, or really enjoyed red vs. black, this game was for you.
_____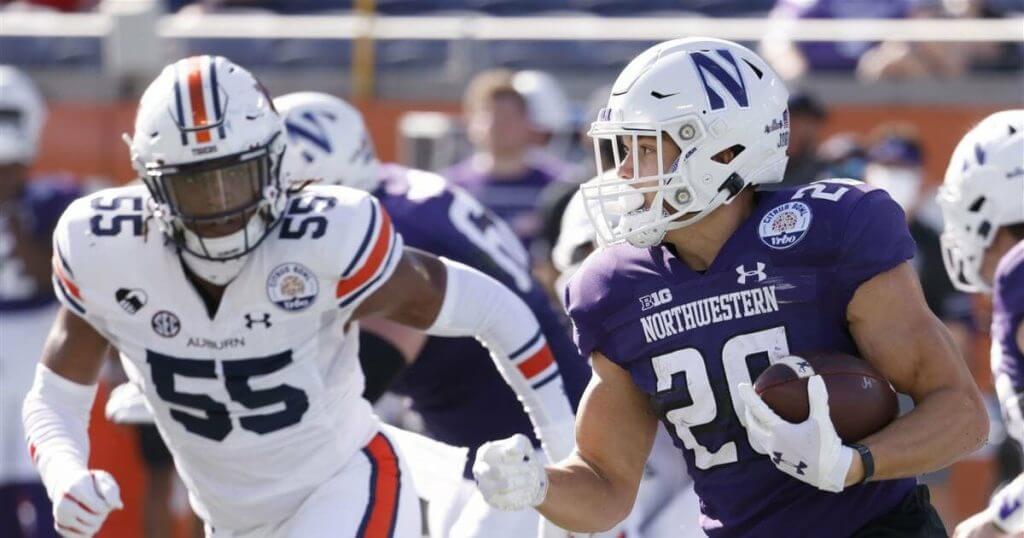 Citrus Bowl: Northwestern vs. Auburn
This had the potential to look so much better, and it wasn't a bad looking game to begin with. Since Auburn, the designated road team, always goes mono-white (a great look), Northwestern probably shouldn't have decided to wear white lids & trou. It was still a fine looking game, but with five white elements out of six, it could have used a bit more contrast. Perhaps purple/purple/white or black/purple/black might have worked a tad better.
_____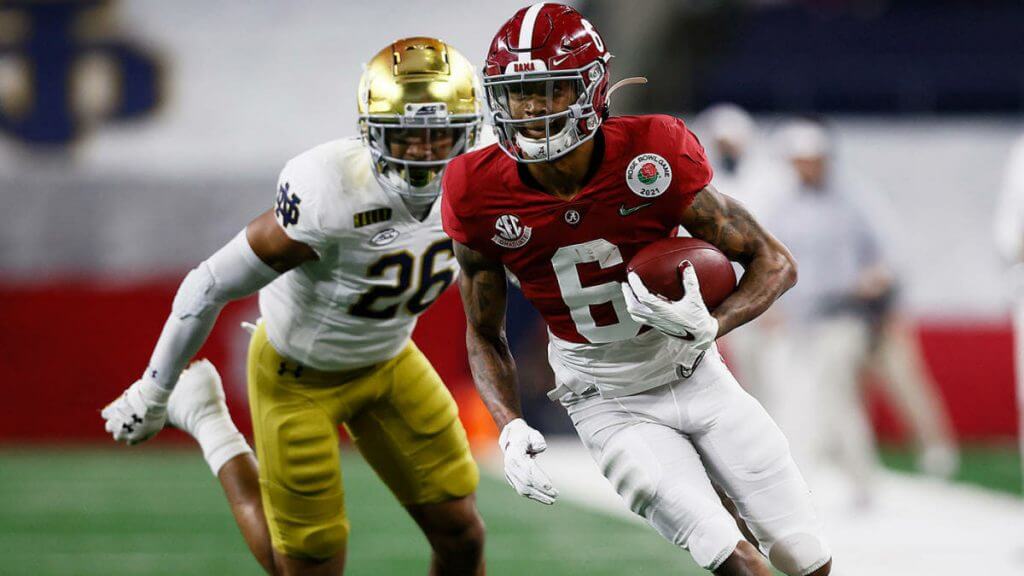 Rose Bowl: Alabama vs. Notre Dame
Now THIS is how a championship game should look. But, when you have two storied programs like the Tide & Irish, who have none and very few alternates, and their regular unis are classics, you wear your "Saturday" best. And for Alabama, that meant crimson/crimson/white vs. Notre Dame in shiny gold/white/gold. 'Nuff said.
_____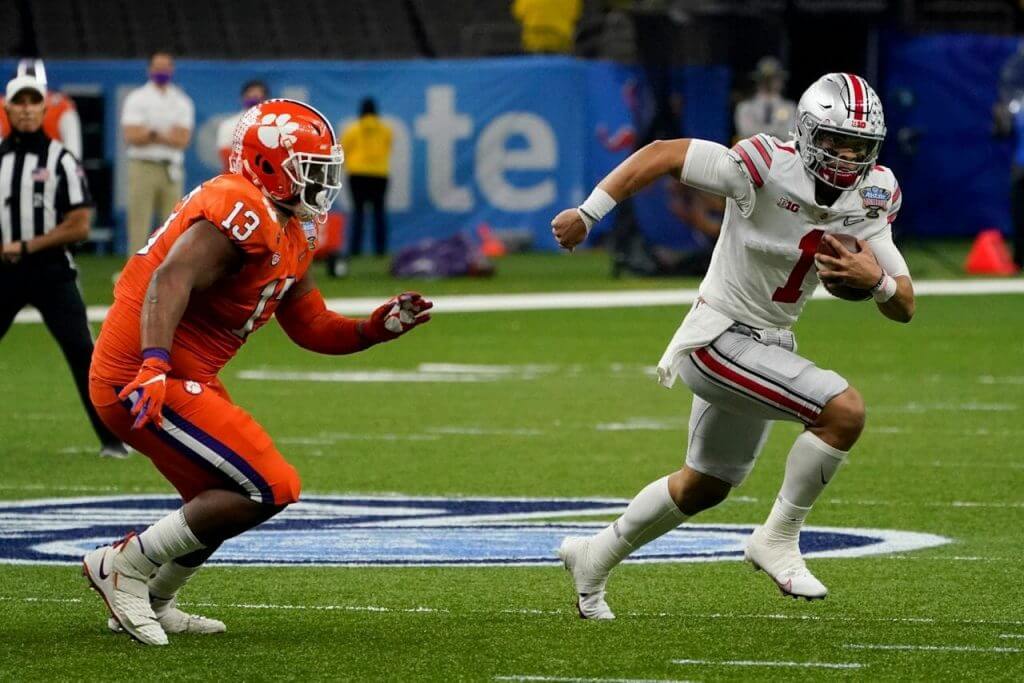 Sugar Bowl: Clemson vs. Ohio State
The second playoff game of the day was also quite the looker. As most of you know, whenever Clemson plays for a title of some kind, they bust out the orange pants (and one of my most favorite looks in all of football is when Clemson goes orange/white/orange). But as the designated home team, that means we got to see the Tigers in mono-orange. Now, normally, I'm not a fan of the full-mono look, but for some reason, Clemson pulls it off. That's probably because when they wear the orange pants, they either go bare legged or wear contrasting tights, (plus the pants have stripes) which negates the leotard look that plagues so many teams wearing dark pants. Their opponents, THE Ohio State University, changed things up for their big game, busting out their "1968 throwback" look (which they have worn in big games before). The resulting on-field look was absolute eye-candy. Well done.
__________
Saturday, January 2, 2021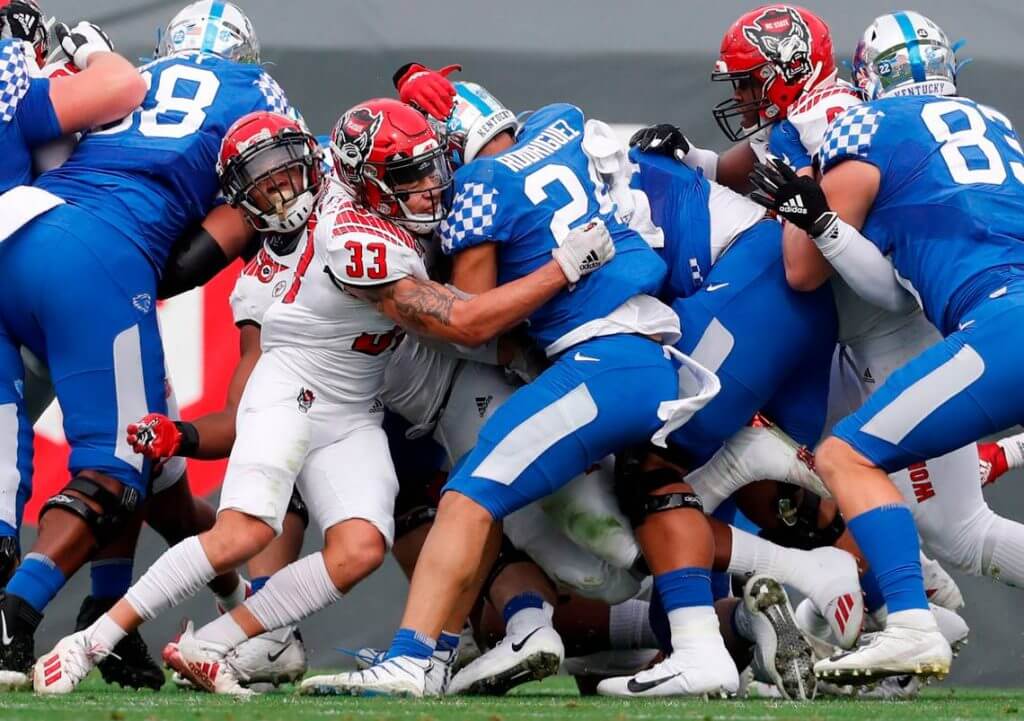 Gator Bowl: NC State vs. Kentucky
This game had all sorts of nightmare uni scenarios, with both teams sporting their fair share of alternate looks, most of which are not particularly good. But yesterday, both teams dressed as if they were playing in a bowl game in front of a nationally televised audience! For its part, the chrome/blue/blue look of the Wildcats contrasted very nicely with NC State's red/white/white offering. NC State also went the additional yard by putting their throwback Tuffy decal on their helmets (a look they first brought back in 2014, and have used with more frequency in recent years).
_____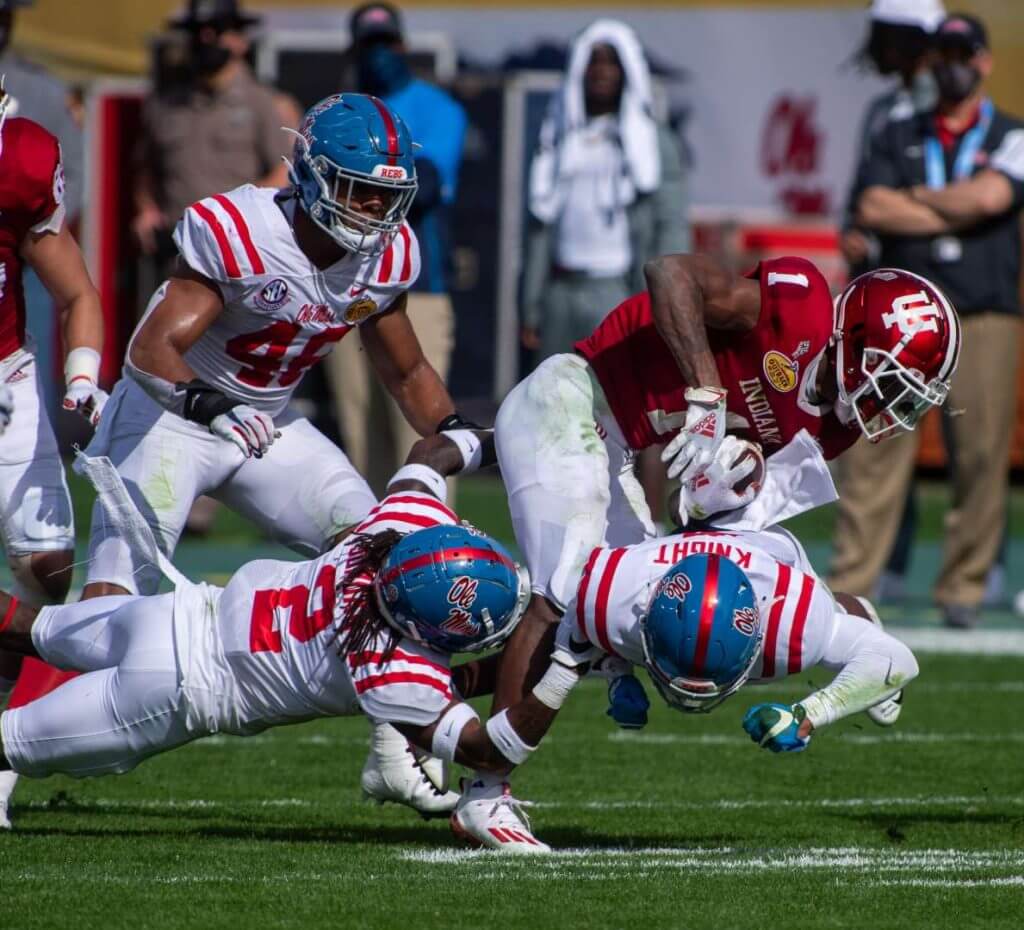 Outback Bowl: Ole Miss vs. Indiana
Yet another great matchup had the Hoosiers going with their great crimson/crimson/white look up against an equally fantastically attired light blue/white/white uni combo. As you probably heard (and there's some more info below in the ticker), Indiana felt they were "snubbed" from getting a "better bowl" (or something like that), so they covered up the B1G logos on their unis: they wore their Outback Bowl patch over the B1G logo on their jerseys, and removed the B1G nose bumper logo and replaced it with "LEO". Further details on all these machinations in the ticker below.
_____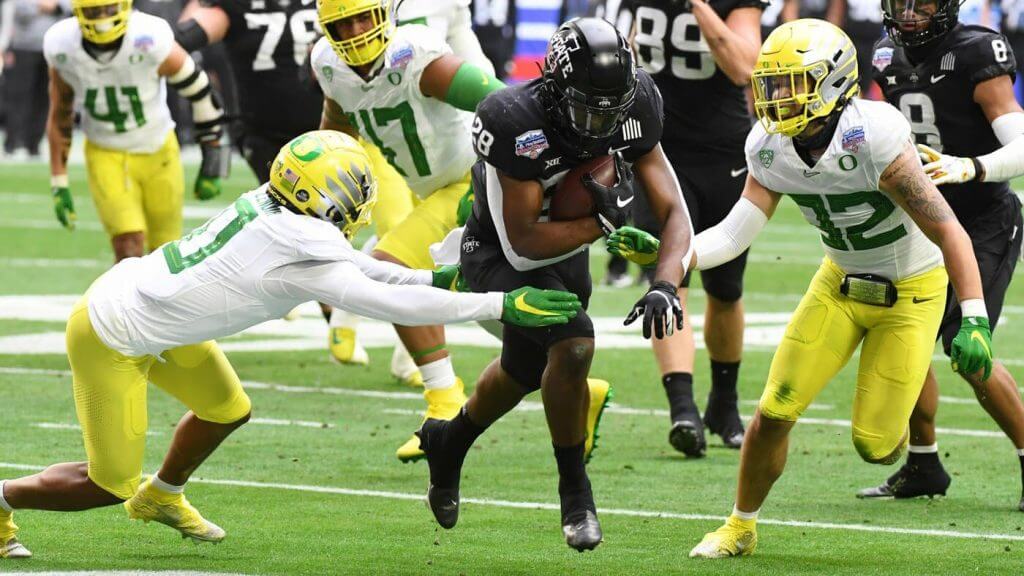 Fiesta Bowl: Iowa State vs. Oregon
I will be the first to admit I was shocked to see Iowa State break out their black alternates against UO, especially after they lost their BigXII game to Oklahoma in them. And I still wish they'd have worn something else. However the mono-black, despite not being a school color, is a pretty respectable uniform. So when paired against Oregon's gorgeous yellow/white/yellow combo, the game actually looked pretty good. With all the possible combos Oregon has at it's disposal, this is definitely one of their best.
_____
Orange Bowl: Texas A&M vs. North Carolina
This game featured both teams in throwbacks, and was a great way to cap off the bowl season (such as it was). The Heels were tossing back to their Julius Pepper-era days, which featured drop-shadow numbers. I'm not normally a fan of drop shadow, but these look great. Instead of their current argyle motif, the helmet bore a blue/white/blue stripe, with the pants having a very wide navy/carolina/navy stripe. Divine! And aTm? They were sporting 1998-era throwbacks (albeit rendered in adidas' horrible fabric (PrimeKnit or whatever they call it), which is super stretchy and tends to distort names, NOBS and numbers. It may be a bazillionth of a percent lighter, but it doesn't always look right.
• • •
Phew! And there you have it — your final SMUW, with your Sunday Morning Bowl Wrap. Now on to the rest of today's collection!


5 & 1 — Bowl Edition
As we conclude the 2020 NCAA College Football Season, I am pleased to welcome back Harrison Hamm, who earlier this year served as a guest picker on the 5 & 1. I had asked Gretchen Atwood and Doug Keklak (who were also guest pickers earlier in the season) if they were interested in doing a final 5 & 1 as well, but only Harrison was able to step up this week.
Here then is Harrison with our final five and one…
• • •
5 & 1 Bowl Edition
by Harrison Hamm
I'm happy to be back with a 5 & 1 to end this bizarre college football season. I'd like to thank Phil for giving me and the other guest contributors a shot at this valued part of the SMUW operation.
Let's get right into the last five and one of the season:
__________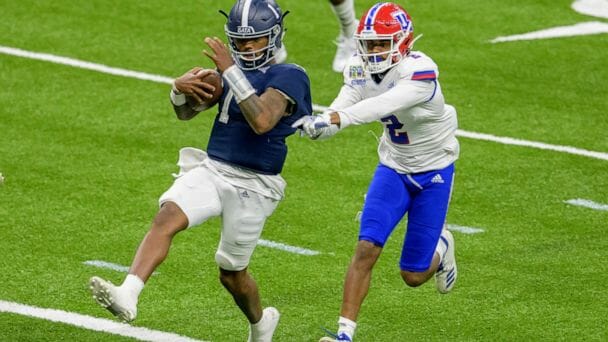 5. Georgia Southern vs. Louisiana Tech

Georgia Southern takes the cake for boring uniforms, but I've always enjoyed LA Tech's bright red helmets and the accompanying shade of blue. They look their best in these helmets, which particularly shined in the indoor stadium while playing off the dreary dark blue of Georgia Southern.
__________
4. Texas A&M vs. North Carolina

The last bowl game before the national championship, this Orange Bowl matchup gave us another look at North Carolina's retro uniform. The burst of navy accents to bring out the Carolina Blue is a welcome change from their normal sets, and against an average but inoffensive Aggies team, UNC looked great. The quality of these throwbacks was enough to push them to fourth.
__________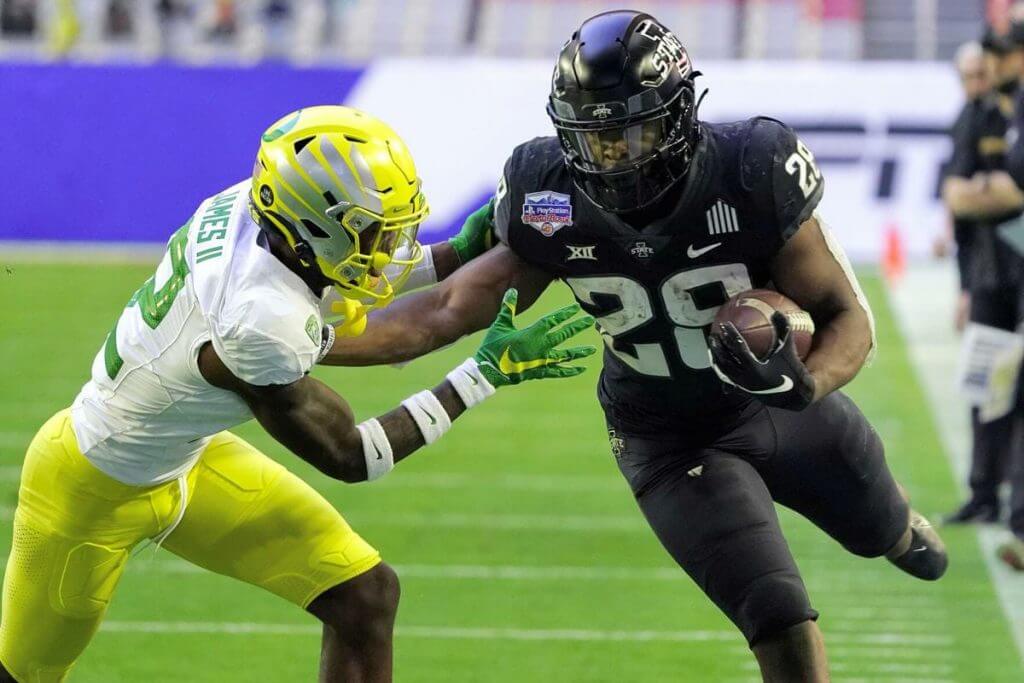 3. Oregon vs. Iowa State

As BFBS goes, Iowa State's version is pretty tolerable. I'm not sure about the decision to not wear school colors on such a national stage, but this solid-black look works well aesthetically going up against Oregon's more colorful away uniform. Credit the Ducks for not going mono-anything and instead wearing one of their best combinations.
__________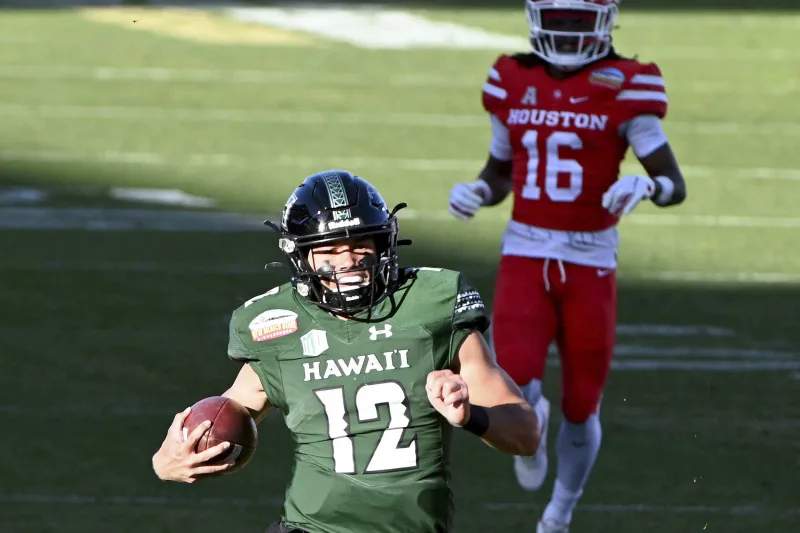 2. Hawaii vs. Houston

Now this is how you do color-on-color. Hawaii and Houston paired two completely different color schemes to great effect. I particularly enjoyed Houston's look, which thanks to its beautiful shade of red overcomes the drawbacks of going mono. Hawaii consistently has good uniforms, and their darker combination contrasts perfectly with Houston's red.
__________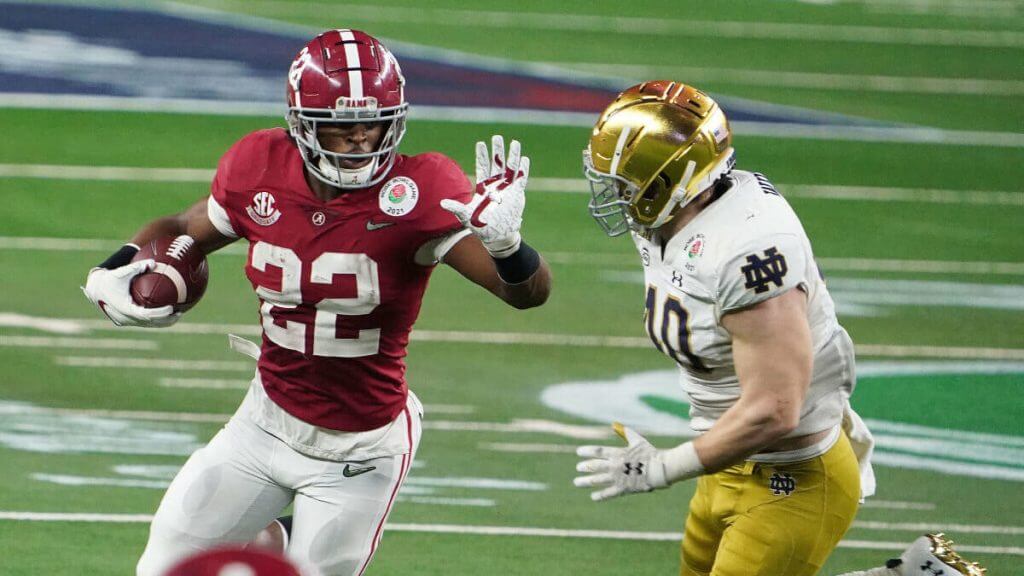 1. Alabama vs. Notre Dame

I did seriously consider giving Hawaii and Houston the nod here, but I ultimately couldn't go against this classic matchup. I had hoped Notre Dame would be the designated road team, and I was not disappointed. The shiny domes looked gorgeous indoors at Jerry World. The color contrast between these two is great, though it was unfortunate that this game couldn't be played at the Rose Bowl.
__________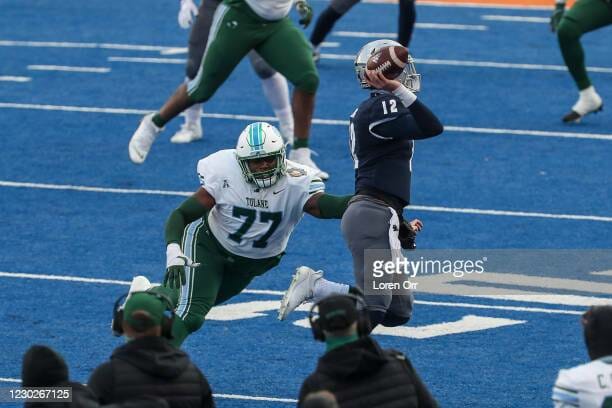 & 1: Tulane vs. Nevada

Neither of these teams has a particularly bad uniform set, but they didn't produce their best in the Famous Idaho Potato Bowl. On the blue turf of Boise, it looked pretty terrible. Nevada's gray-blue-gray combination has frustratingly mismatched helmet and pants, with the shiny helmet looking off compared to the darker gray on the pants. Tulane has looked great all year, but we didn't get a helping of their light blue, and the green pants didn't match up well with the darkness of the surroundings. The turf looks weird every year with no Boise State, but I guess that's the charm of the Potato Bowl!
__________
Thanks, Harrison! Please let him know what you think of these picks down in the comments below!


NCAA Bowl Tracking
Uni Watch will again track the uniform combinations worn by the "Power 5" conferences. All of the 2019 trackers are back, and here's their final set of graphics for all the teams in their conferences who participated in Bowl games.
Please make sure to thank Rex Henry (tracking the ACC), Dennis Bolt (tracking the PAC-12), Kyle Acker (tracking the Big XII), and Ethan Dimitroff (tracking the B1G AND the SEC) for all their efforts this season!
+ + + + + + + + + +
Rex is up first today (ACC):
• • •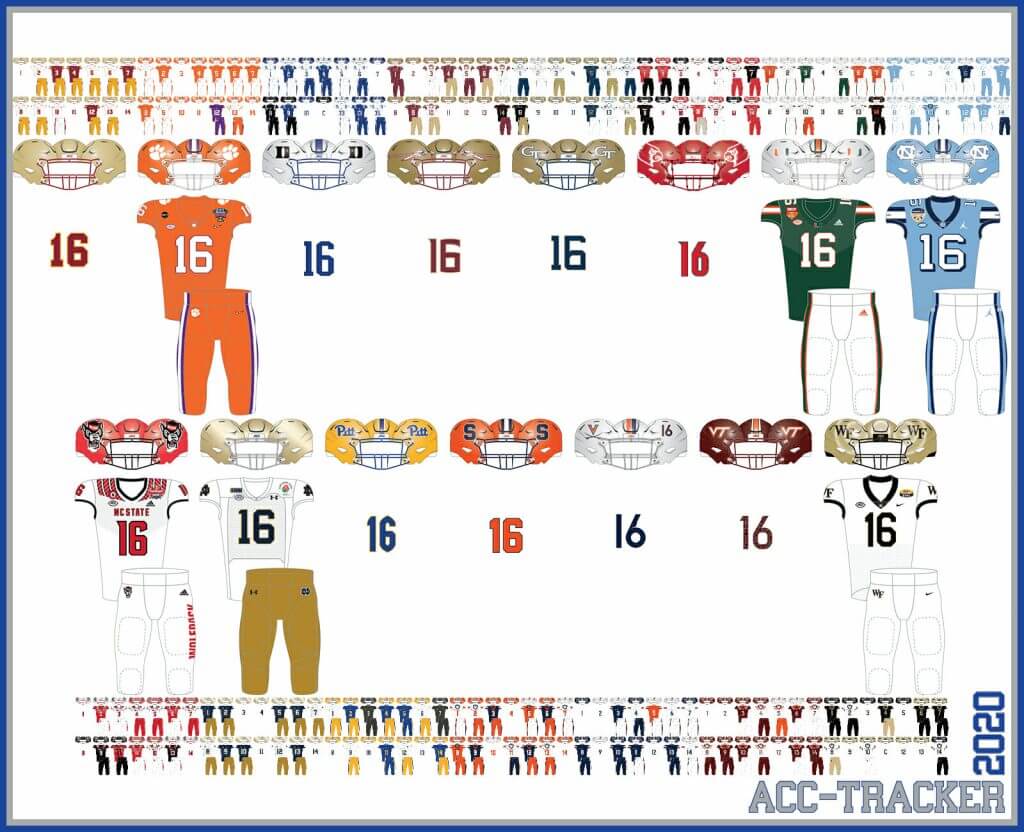 ACC

More Here.
Follow Rex on Twitter here.
• • •
And now, here's Dennis with the PAC-12:
PAC-12

More here.
Follow Dennis on Twitter here.
• • •
And here is Ethan, with the SEC:
SEC

And be sure to check out Ethan's WVU Mountaineer Tracker.
Follow Ethan on Twitter here.
• • •
And here is Kyle with the Big XII: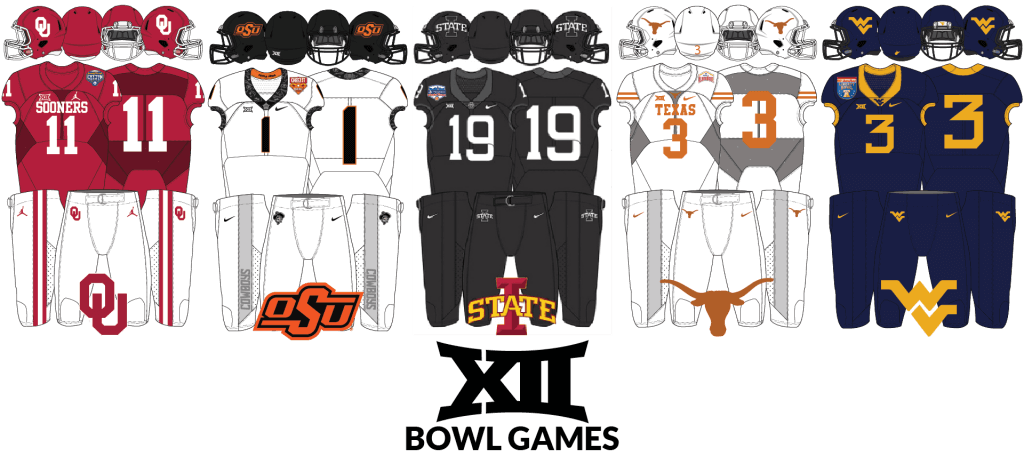 Big XII

Follow Kyle on Twitter here.
• • •
And here's Ethan with the B1G: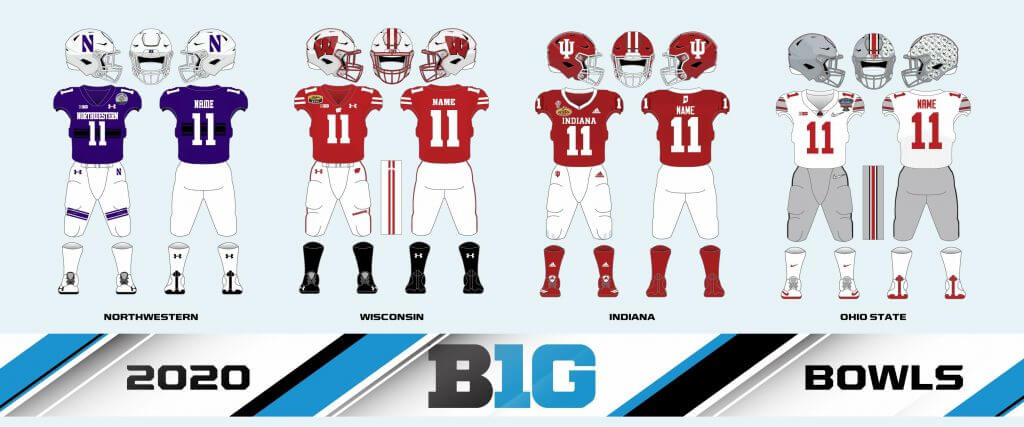 B1G




Welcome to the 2020 Oregon Ducks Bowl Tracker. Here's Dennis Bolt with the Ducks' Fiesta Bowl look (you can click to enlarge):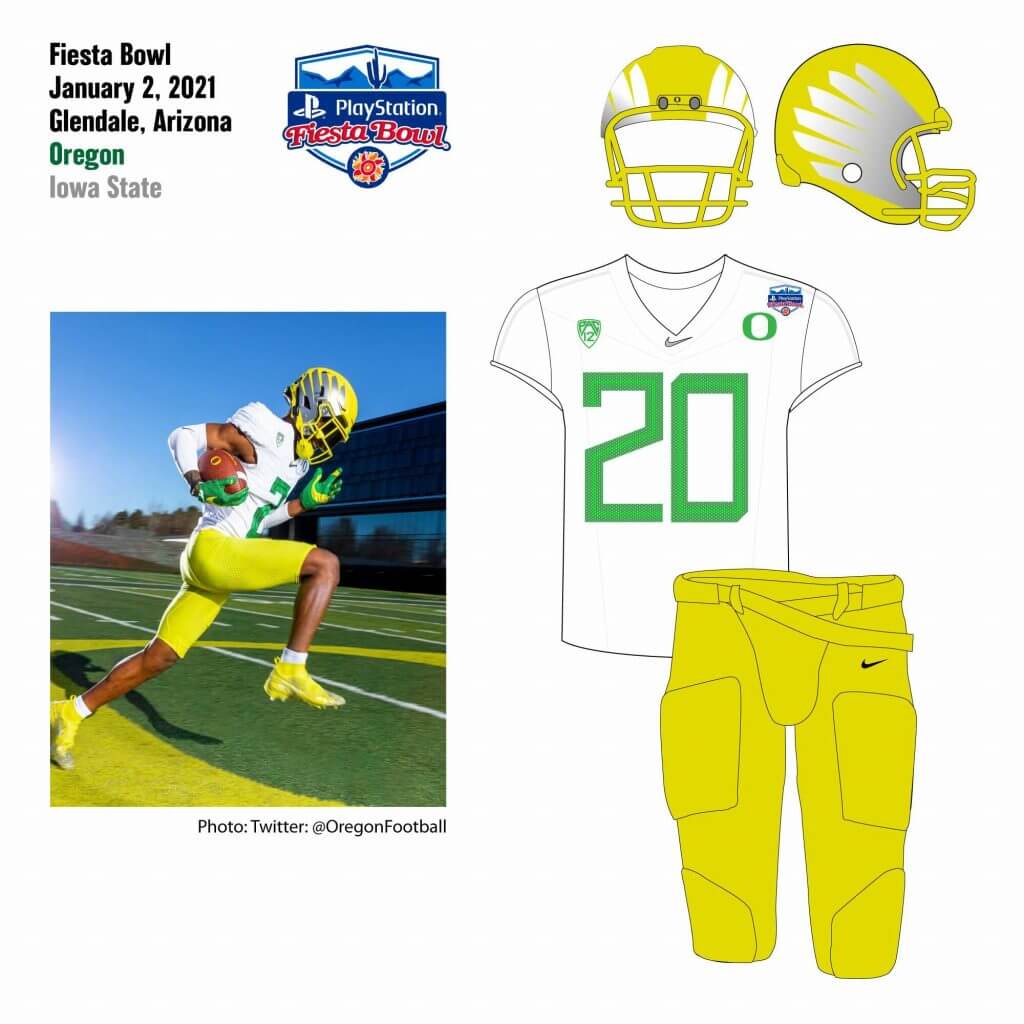 You can read about this uniform, and MUCH MORE, by checking out the Duck Tracker here!
Thanks Dennis!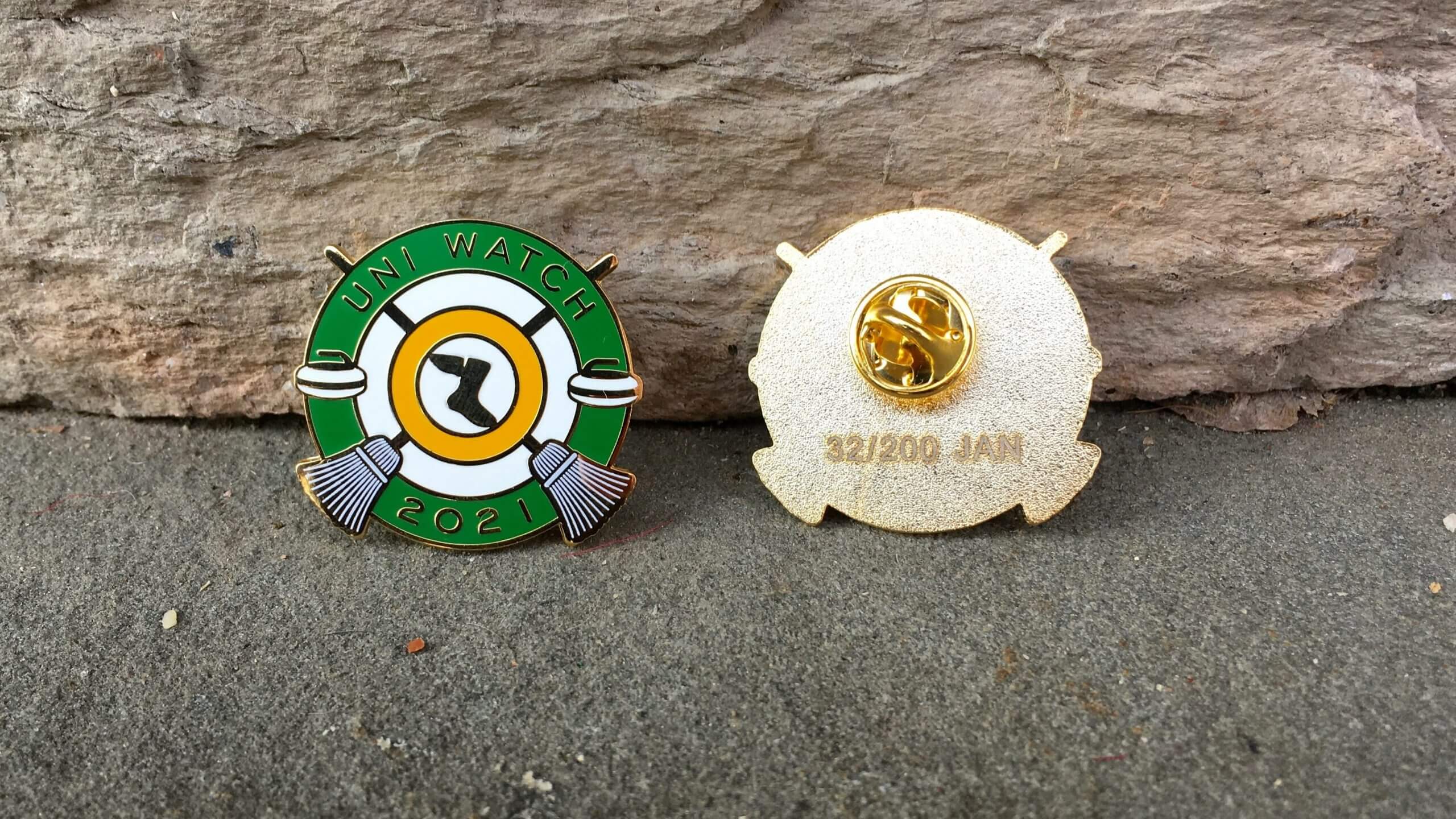 Click to enlarge
And now a few words from Paul: Hi there. Happy 2021! In case you missed it on Friday, the new year means it's time for the Uni Watch Pin Club's first pin of 2021. We're going with a curling theme this time around — highly appropriate, since curling has a rich history of decorative pins. Hurry hard!
Also: As you can see in the photo above, this pin includes the words "Uni Watch," but not "Pin Club." That's a change that designer Todd Radom and I have made for this year — all pins will include "Uni Watch" and the year on the front, with the month continuing to appear on the back. "Pin Club" will no longer be included.
This is a numbered edition of 200 pins. You can order yours here.
Just like last year, we will have some sort of bonus prize for people who collect 'em all. (Speaking of which: If you collected 'em all in 2020, you'll be receiving your bonus pin later this month.)
Finally: All of our remaining 2020 pins have been reduced in price from $13.99 to $9.99. Here they are: January, February, March, May, June (about 35 left), July (about 25 left), August, September, October (about 40 left), November (about a dozen left), December (about 20 left), and the 2020 Press Pin (just a few left). Sorry, April is sold out!
Okay, end of sales pitch. Handing the baton back to Phil!


Uni Watch News Ticker
By Phil

NFL News: NO FUN LEAGUE: The NFL fined New Orleans Saints star Alvin Kamara $5,000 for wearing red-and-green cleats in a Christmas win over the Minnesota Vikings, per source (from Mike Chamernik). Alts for SF today? Brinke reports, "Today's game will feature the 49ers wearing their white road jerseys for their "home" game against Seattle. A source close to the team says that the 49ers originally planned to wear their white-on-white '94 throwback uniforms for this game and the Seahawks made plans to wear a contrasting color uniform option. With the 49ers stay in Arizona initially set to only last through December 21, the 49ers prioritized essential equipment and gear for their extended time away from home." … Chris Hickey writes, "I know you wish all teams would wear gray face masks…agree to disagree…here's a pic of Philadelphia Stars K David Trout wearing one in '83." I think Chris may have buried the uni lede there — look at the jersey Trout is wearing! … Also from Chris, "Did some research recently and noticed that the '83 Chicago Blitz of the USFL may have had flag of Chicago decals applied to the rear of their helmets (ex: Rob Taylor, pictured in first image)." … In their season finale today, Buffalo will go white/blue/white vs. the Dolphins, who will counter with white/white/aqua. … Check out the cover of this Green Bay Packers 1962 yearbook. Submitter Kurt Rozek notes, "It's obviously been altered, as the gold facemasks featured on the two players carrying Vince Lombardi off the field jump out like a sore thumb." [Pretty sure that's a colorized photo, and obviously whoever colorized it didn't realize the Pack wore gray masks — PH]

College Football News: Indiana removed the Big Ten logos from its uniforms in the midst of a simmering controversy related to the conference's seeming indifference in helping the 6-1 Hoosiers secure a better bowl bid than the Outback Bowl, but head coach Tom Allen insists no disrespect was intended (from Kary Klismet). … Also from Kary: An Iowa State blog has humorously suggested that the Cyclones should take inspiration from Fiesta Bowl opponent Oregon's wild uniform combos and come out with alternate uniforms modeled after the well-known pair of swans who inhabit Lake LaVerne on the school's campus in Ames. … Georgia running back James Cook missed Friday's Peach Bowl following his father's unexpected death, but assistant coach Dell McGee made sure Cook was still a part of the game by wearing his jersey during the game. … Nearly 10 years into its Under Armour deal, here's a deep dive into Northwestern's uniforms. … Remember the halcyon days of tearaway jerseys? (from Jerry Wolper). … Yesterday, Texas announced former Alabama coach Steve Sarkasian as their new head coach, which Timmy Donahue noted was a Q&D photoshop.

Hockey News: The NHL is beginning its Mystery, Alaska experiment, with four teams as part of a unique two-game, two-day "Outdoor Weekend" showcase at Lake Tahoe. Looks like Colorado/Vegas and Philadelphia/Boston will be the teams involved (from Mike Chamernik).

NBA/Pro Hoops News: Bama? No Bamba: "Here's one from the SBL (Super Basketball League) late December," writes Eric Hoffman. Sarr Bamba is a Senegalese national playing in Taiwan, They had new white uniforms made recently, first coming out with the error, but it was corrected by the next set of games. … The Dallas Mavericks opened 2021 by wearing their new City alternate uniforms vs. the Miami Heat. … On New Year's Eve, the Rockets busted out their Love ya Blue alternates vs. the Kings. … Why no "EQUALITY" NOBs? The NBA has backtracked on the activist messaging it supported just last summer when NBA courts and players' jerseys displayed social justice slogans. … If you like the City new NBA alternates, you may be interested in picking up some Converse Chucks, which has teamed up with six NBA teams to bring fans a chance to design their own signature kicks with familiar alternate uni color combinations. … As you likely know, NBA "Statement" jerseys carry the "jumpman" logo, which has some fans of teams regularly torched by MJ a bit upset. Maybe Detroit has found a solution to wearing Jordan on their unis (via Eric Farrell). … Good spot by Christophe Davy who notes the Dec 31st & Jan 2nd games between the Houston Rockets and Sacramento Kings have been the first ad-patch-free games since a while.

College Hoops News: The NBA may have ditched Social Justice messaging, but a number of college teams this season have supported social justice messaging on their uniforms, and the not-particularly-often-discussed Montana Grizzlies are among them. They're sporting "SOLIDARITY" as their preferred NOB this season.

Soccer News: "Quite the hosiery range on these two Aston Villa players," notes Max Weintraub. Ankles: Jack Grealish; Over the knee: Bertrand Traore. … Yesterday's Arsenal vs. West Brom was a snow game. "Interesting that the Premier League uses a hi viz ball all winter, whilst mist leagues only break out the "snow ball" only when it actually snows," adds submitter Storm Desk. … More from that game: "Arsenal was forced to wear home kits vs West Bromwich Albion due to away/3rd jerseys clashing with the Baggies home shirt," reports Geoff Boche. … Here's one website (or at least one writer's) opinion of the worst soccer kits of 2020.


And finally… that will close the book on the 2020 NCAA College Football season, and it couldn't have been accomplished without the fantastic work of the entire SMUW crew. If you do nothing else, please take a minute in the comments below to thank everyone for all their efforts this season, particularly in light of the circumstances (which were many and trying). Each and every one of the crew performed above and beyond the call of duty. I also want to thank Michael Malinowski, who handled the 5 & 1 duties for most of the season, and guest pickers Robert Marshall, Doug Keklak, Gretchen Atwood, Harrison Hamm and Eric Bangeman, all of whom did a great job. You guys are all aces!
Everyone have a good Sunday and a better week, and I'll catch you next weekend. Enjoy the full docket of NFL games this afternoon. Meanwhile, I'll celebrating another trip around the sun today.
Peace,
PH